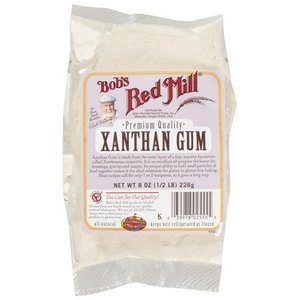 Xanthan gum may have a strange sounding name, but to those living gluten free, either by choice or out of necessity, it is a staple.
Used often in bread making and cooking, xanthan gum is an interesting product with an even more interesting background.
Just what this ingredient is and where it comes from is a bit scientific in nature.
Xanthan gum is actually a natural, fermented corn polysaccharide. The origins of xanthan gum date back to the 1950's, where it was discovered at the National Regional Research Center in Peoria, Illinois. The first commercial production of the gum was around 1960. It was approved by the FDA in 1969 for food consumption.
Xanthan gum is actually found in a number of foods. In salad dressings and sauces, it acts as a stabilizer for the solids and liquids coming together. In ice cream, it prevents that cold creamy treat we all know and love from becoming a mess of ice crystals. Toothpaste, tobacco products and even concrete used underwater, all boast an addition of xanthan gum.
But when it comes to food products, there are some things you should know about xanthan gum – some you may know, some may be the latest news.
1. A little goes a long way.
One of the properties that make this gum so remarkable is how far just a little bit goes. Most uses of xanthan gum require anywhere from a 0.5% to 0.05% viscosity. Simply put, usually less than 0.5% of the product weight will suffice. Most recipes call for a very small amount – teaspoons, not cups.
2. It is stable.
Xanthan gum is stable under a wide range of conditions – high temps, low temps and varying pH levels do not impact the performance of xanthan gum in a recipe.
3. Check your makeup.
Without something to hold all the creams and liquid foundations together, they would be an ugly mess by the time they arrived at the store for purchase. Xanthan gum helps keep that nice liquid appearance to makeup.
4. Gluten free bakers embrace it.
Where would we be without a gum to hold everything together? These gums acts as binding agents to breads and other baked goods. They give gluten free breads that bread-like texture that gluten provides in bread.
5. Xanthan gum helps people with diabetes.
According to WebMD, xanthan gum is often used by people with diabetes – it helps slow the absorption of sugar, thereby lowering blood sugar levels. And it also lowers total cholesterol levels.
6. It is used to treat Sjogren's Syndrome.
Sjogren's syndrome is a disease characterized by dry mouth. Xanthan gum acts as a saliva substitute and can help treat this debilitating condition.
7. It's fiber packed.
Xanthan gum is loaded with 7 grams of fiber per tablespoon. Because of the high fiber quality, it is also used as a laxative. The gum swells the intestine, which stimulates the digestive tract to do its thing.
8. A digital scale works best for measuring.
Because xanthan gum has the power to thicken liquids at extremely low concentrations, it is best to use the gum in weighed measurements. Thickeners like flour require a much greater amount to accomplish the same task that a very small amount of xanthan gum will do. Weight matters!
9. But what if you don't have a digital scale?
A digital scale is a cook's best friend (well one of them at least), but if don't have one, there are some standard measurements that tend to be pretty accurate. For every cup of gluten free flour, use ½ tsp. of xanthan gum in cakes and cookies and 1 tsp. in breads. And if you are interested in buying a digital scale, Amazon is a great source.
10. There are alternatives.
If you have sensitivities to corn, soy or dairy, you may have to avoid xanthan gum. In this case, a good alternative would be guar gum. This gum is made from powered guar beans – the taste might be slightly different, but the texture is comparable.
Xanthan gum may be a staple in gluten free cooking, but it also comes with some interesting other uses as well.
Is it a safe choice for everyone? Xanthan gum is perfectly safe for people without any allergies to corn, soy or dairy. Sometimes even people with celiac have to avoid xanthan gum as well. But, for the most part, you and I have been introduced to xanthan gum a time or two before, we probably just forgot its name.