Here at gluten-free-bread.org, we meet a lot of wonderful people and share in their stories, successes and even flops. Today we have the honor of introducing you to Calvin Eaton. Calvin is the chef behind theglutenfreechefblog.com. And Calvin's story is really remarkable - from troublesome illnesses to his delicious recipe for gluten free peanut butter chocolate chip cookies, you're going to enjoy hearing from him.
So tell us a little about you and what brought you to a gluten free lifestyle.
I am a twenty-nine year old educator, blogger, author, self taught chef, and all around foodie. In the fall of 2010, I was diagnosed with the debilitating illnesses of Fibromyalgia and Degenerative Bone Disease. These chronic illnesses, changed the course of my life. I also half celiac disease and have been living gluten free since 2009.
I continue to raise awareness and battle these health challenges while trying to live as full a life as physically possible.
I eat a 99% plant based and 100% gluten free diet. I  enjoy cooking, baking, running, swimming, and pilates.
I currently reside in Upstate NEW York  My personal mantra is "live each day, one day at a time".
We all have challenges with eating gluten free - what has been your biggest challenge?
I think the biggest challenge has been living gluten free with family. I currently co habitate with family and trying to keep un-contaminated has been challenging. It is much easier to eat and be safe when you live solo.
What resources would you recommend for someone just starting out on their gluten free journey?
I would recommend my carefully curated food blog www.theglutenfreechefblog.com. the gluten free chef blog is THE go to resource for all things gluten free. My blog features recipes, weekly meal plans, product reviews, and other articles and resources tailored to those with celiac disease, food allergies, and foodies who believe in clean living and clean eating.
I would also recommend the following books that are great resources for the newly diagnosed. These books help you understand the basics of celiac disease and how to cook simple healthy meals.
Cooking with Fibromyalgia A Young Man's Guide to Simple & Delicious Vegetarian, Gluten & Dairy Free Meals
Cooking for Isaiah by Silvana Nardone
Gluten Freedom: The Nation's Leading Expert Offers the Essential Guide to a Healthy, Gluten-Free Lifestyle by Alessio Fasano
Do you follow any other diet - vegan, eat clean, etc.?
I eat plant based and mainly dairy free as well. It's hard to give up cheese. I primarily eat whole real food that I cook myself. Also I advocate supporting local farmers and business as much as possible.
Where are your favorite stores to grocery shop?
Vitacost.com
Amazon.com
Wegmans
My garden
Farmers Markers
Whole Foods, Trader Joes, Aldi
What's your favorite kind of food? Favorite meal?
My favorite food is Thai cuisine. It naturally lends itself to a plant based, gluten free, and fresh palatte. My weakness are chips. Potato, tortillas it doesn't  matter. If I don't stop myself, I could easily down a bag.
I also love peanut butter. I just bought powdered peanut butter. It has over 80% less calories than regular peanut butter. I use it for smoothies.
So the big question... Do you really enjoy cooking or is it 'just a job'? And do you have a favorite recipe you could share?
I am obsessed with food, baking, and incessantlly daydreaming about and developing new and exciting yet simple meals. A recipe I'm proud of are these Grain Free PB Cookies http://wp.me/p2YcfO-1U9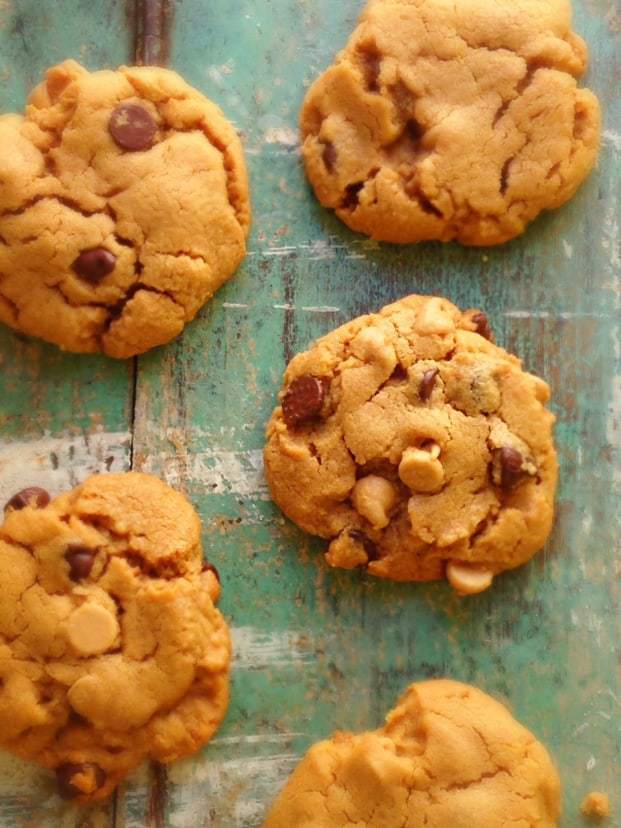 Grain-Free Loaded Peanut Butter Chocolate Chip Cookies
1 cup natural smooth peanut butter
¾ cup brown sugar
½ teaspoon baking soda
¼ teaspoon salt
1 large egg
1 teaspoon pure vanilla extract
½ cup Reese's peanut butter chips
½ cup mini chocolate chips
 Pre-heat oven to 350 degrees F
In a food processor pulse together peanut butter, sugar, baking soda, and salt until just combined. Add in egg and vanilla. Fold in peanut butter and chocolate chips.
Coat a cookie sheet with baking spray and using a tablespoon cookie scoop drop dough onto pan. (I did 2 rows of three.)
Flatten each slightly and baking for 10 minutes. Tops will crinkle slightly.
Allow cookies to cool completely before transferring from cookie sheet.
And, last question, tell us something that not many people know about you.
I am an avid reader. I try to read three books a week. Lately I've missed this goal due to all the projects I have going on this summer. Reading is fundamental.
Thank you to Calvin for his time and for sharing his delicious looking recipe with us. I know we'll all be excited to try it out!
If you enjoyed this interview with the gluten free chef, will  you do us a favor and share it?