Pancakes are one of those breakfast staples that everyone seems to love, young or old, regardless of social status, economic status or any other qualifier.
At Gluten Free Bread, we are no exception.
We love pancakes just as much as anyone. Maybe even moreso, as we tested out quite a few to come up with this recipe. But we love a different kind of pancake – we love the gluten free pancakes.
We love pancakes that prove that you don't need wheat based ingredients to have a delicious, mouthwatering, homemade pancake any time you want.
So to settle the score and make any other pancake recipe inferior, we came up with this incredible combination of ingredients that will make the best homemade pancakes you've ever tasted – gluten free or not.
This is a simple combination of ingredients – basic rice flour, sugar and milk, but that is what makes them so great –
We even experimented with adding xanthan gum or other binding agents to the recipe to see if those ingredients played a necessary role in the recipe. Turns out, they don't. You really don't need any binding agent in this recipe – the pancakes come together beautifully. In fact, these are so close to wheat based pancakes; you would be hard pressed to be able to tell the difference.
So get your griddle heated up and get ready to enjoy some out of this world pancakes…
Homemade Gluten Free Pancake Recipe
Ingredients:
1 cup white rice flour (check out our favorite one here)
1 Tbs sugar
2 tsp baking powder
pinch salt
1 cup milk
½ tsp. vanilla
1 egg
2 Tbs oil
Step 1:
Preheat both your griddle or skillet over medium heat AND your oven or convection oven to 200 degrees. We'll explain why in a minute. Prepare a cookie sheet with a foil pocket. (Take a large piece of foil and fold it in half).
Step 2:
In a medium bowl, combine the white rice flour, sugar, baking powder and salt with a wire whisk.
Step 3:
In another medium bowl, combine the milk, vanilla, egg and oil. Whisk until well combined.
Step 4:
Add the wet ingredients into the dry ingredients and whisk it together just until combined. This will actually just take a few seconds. Not to worry if there's still a few lumps, it's better to have the lumps than to overmix.
Step 5:
When your skillet is heated up to medium, then coat it well with non-stick, gluten free cooking spray. (Keep this spray handy as you'll be using it for every pancake).
Using a ¼ C. measuring cup, scoop some batter out of the bowl and gently pour it onto the skillet. If you have space, you can cook more than one at a time. We usually cook them at least two at a time, sometimes three at a time, depending on space.
Step 6:
Watch your pancakes carefully.
Don't be tempted to walk away.
As soon as you see bubbles forming on the surface of your pancakes, it's almost time to flip.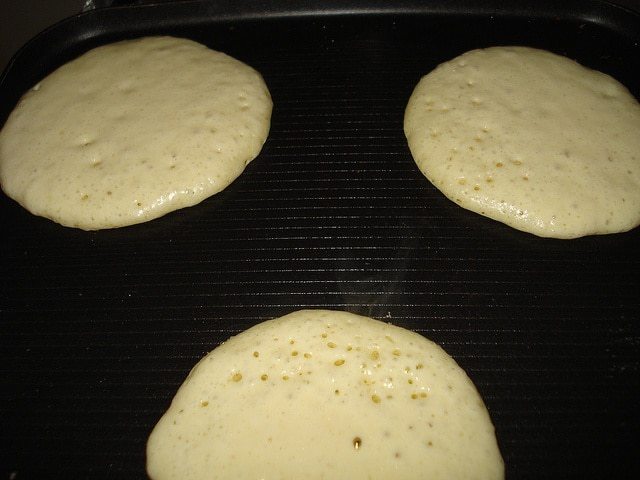 The bubbles will quickly start to pop. At this point, use a spatula and carefully flip each pancake over to cook the other side.
The second side may take anywhere from 30 seconds to one minute, depending on how hot your griddle is.
Step 7:
Once they have cooked to perfection, take them off the skillet and place them into your foil pocket on the cookie sheet.
Place the cookie sheet into the oven.
Step 8:
Repeat the process – spray with cooking spray, pour, cook, flip and remove to warm.
Note: This recipe will make about 6 yummy homemade gluten free pancakes. If you want more, simply double the ingredients.
Serve with butter, hot syrup, fruit or fruit filling and enjoy!
For more recipes using white rice flour, check out Versatile Gluten Free Sandwich Bread for the Bread Machine