Brushed with a dab of olive oil and sprinkled with Italian seasoning, if you want delightfully seasoned gluten free breadsticks that are as easy to make as they are to enjoy, these soft breadsticks are it.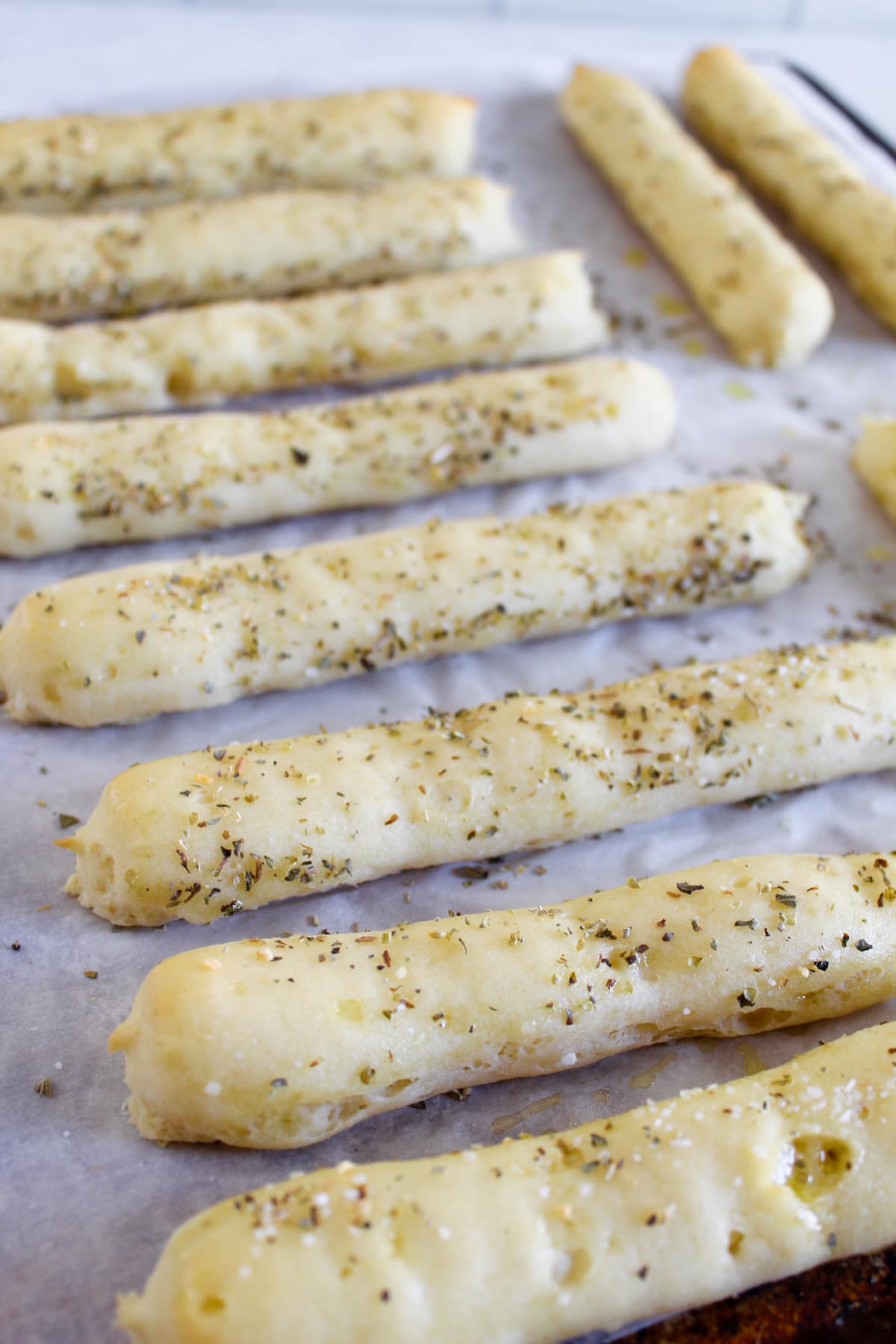 Hungry for more gluten free rolls? Check out these gluten free dinner rolls, these oatmeal rolls and these gluten free yeast rolls in under an hour!
Jump to:
Just Like Olive Garden Breadsticks
Sometimes we don't have time for yeast bread baking... something quick is in order. Usually a quick biscuit or roll or something yeast free perhaps.
Breadsticks, or any other yeast bread, are not usually the ones to turn to for a 'quick and easy bread recipe to make when you're in a rush.'
Yeast breads take time and lots of work. Otherwise it would be called a quick bread right?
Not true!
These gluten-free garlic breadsticks are truly on your table in under 45 minutes! Plus, gluten free or not, they rival ANY you'd find in a restaurant. They're incredibly soft with a mouthwatering texture that tastes like a true Olive Garden breadstick.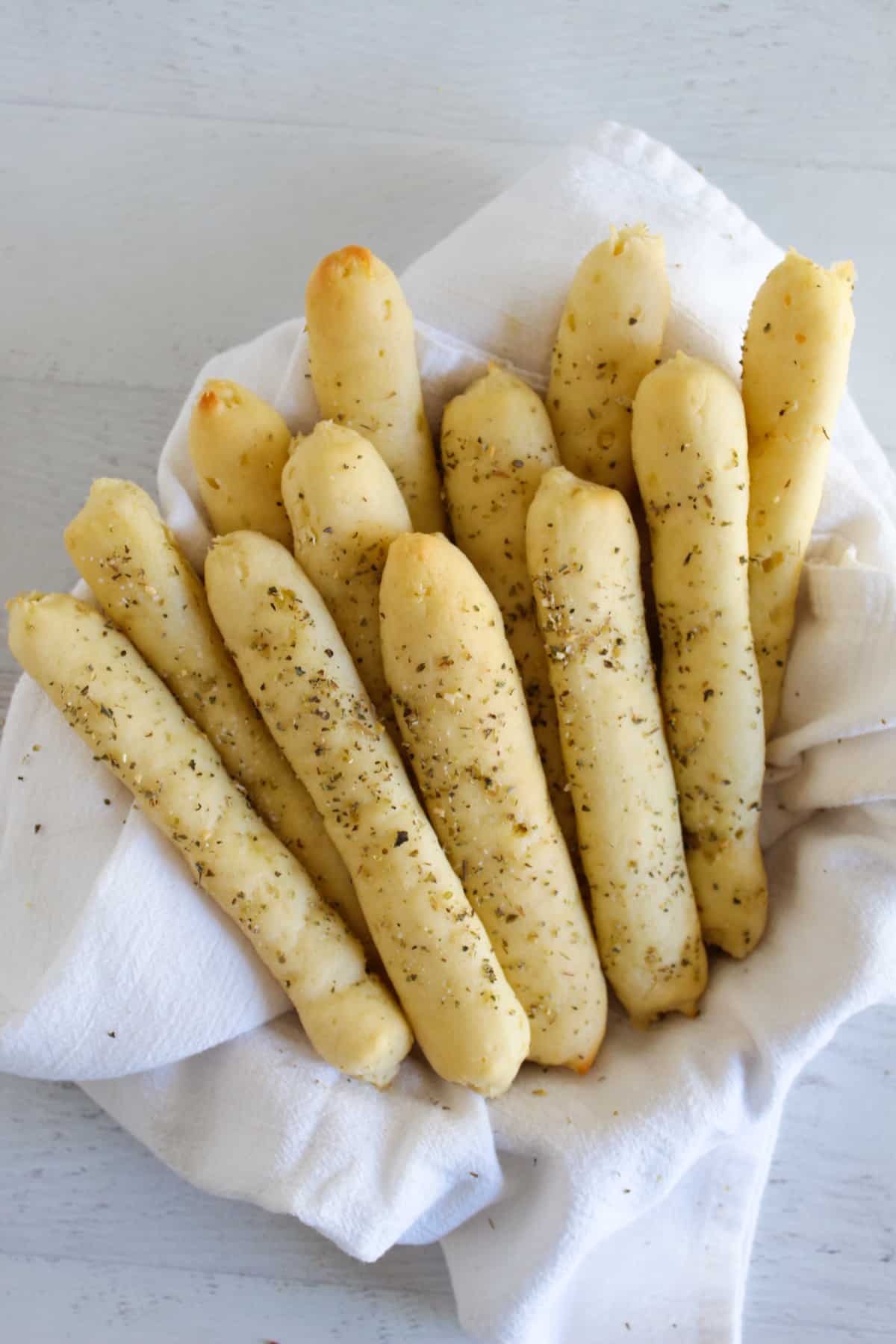 And did I mention how easy they are to make?
I made these gluten free breadsticks twice in a span of about an hour and a half. They probably could have been made in even less time, but the first time I had a slight change of plans (as in sometimes you run out of ingredients!). So making more flour blend took up a few minutes.
But once you have all your ingredients ready, the rest is just measuring and mixing.
Ingredients & Substitutions in Homemade Gluten-Free Breadsticks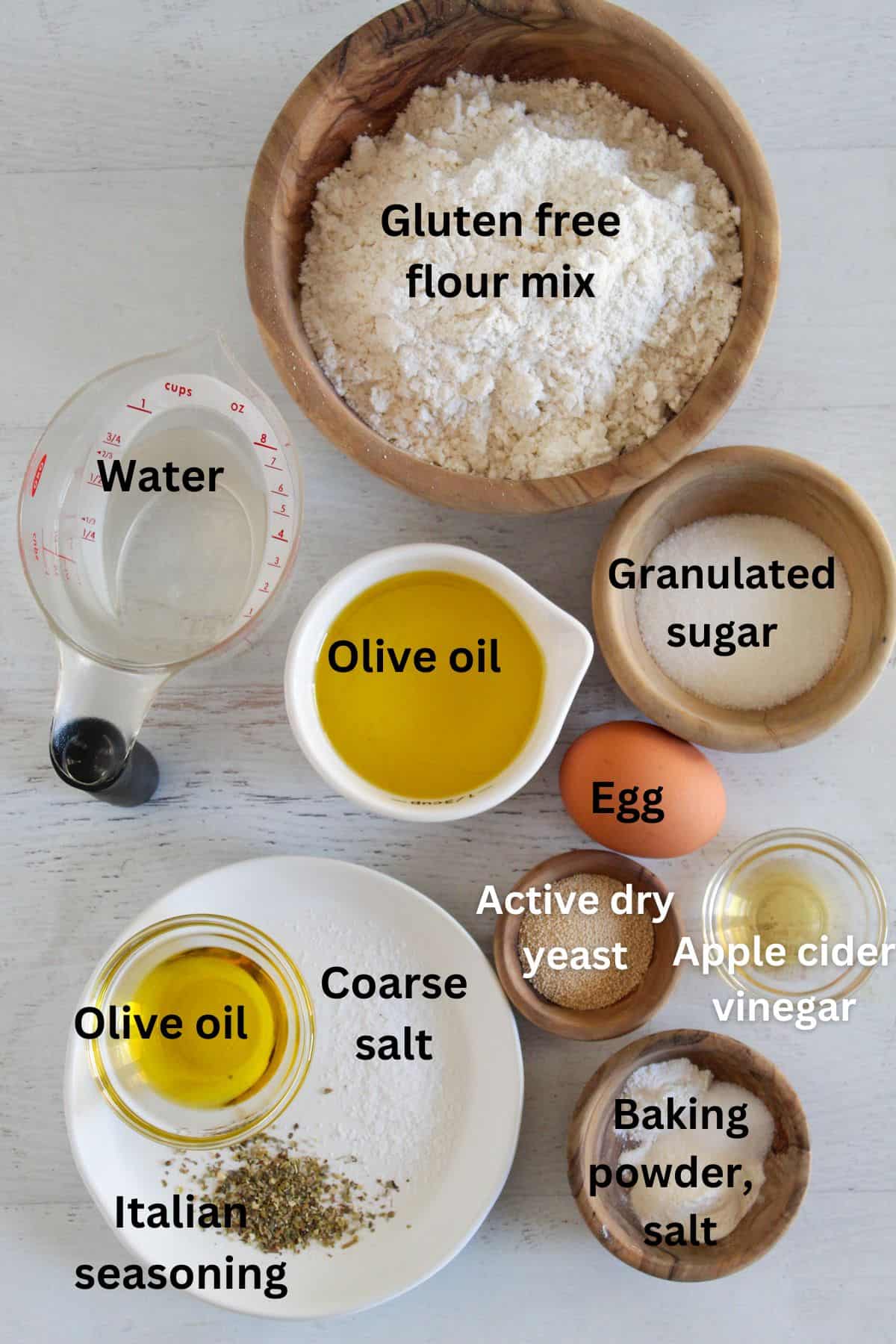 Dry Ingredients:
Gluten Free Flour Mix - the mix used in the recipe is this gluten-free flour blend. Without the presence of gluten, the flour blend has to be balanced with the right amount of flours to starches so you don't end up with a breadstick that's more like a cracker. This is a mix with brown rice flour, white rice flour, corn starch and tapioca starch (also called tapioca flour). Other mixes may work but they have not been tested.
Granulated Sugar - regular granulated sugar was used in this recipe, but Swerve granular sweetener can be used as a substitute.
Baking Powder - there is no substitute for the baking powder.
Salt - the salt may be cut down if you are following a low salt diet.
Xanthan Gum - as a binder and thickener, this is a necessary ingredient, chia or flax seeds may be substituted. See the box below for more about xanthan gum.
Active Dry Yeast - instant yeast may be used in place of the active dry yeast.
Italian Seasoning - Italian seasoning is for the topping and may be omitted or substituted.
Coarse Salt - this may be omitted or substituted.
More on Xanthan Gum
Another key component to a good breadstick is xanthan gum. This breadstick dough needs a binder. In some of my other gluten free bread recipes, I don't use it and use a substitute for xanthan gum instead, but with rolls and these breadsticks, where the results are in individual servings, xanthan is the best at mimicking that bread texture that I'm looking for.
You can check out more info about substituting xanthan gum here: Gum Substitutes
Wet Ingredients:
Warm Water - there is no substitute for the water.
Olive Oil - vegetable oil or extra virgin olive oil may be used in a pinch.
Egg - an egg substitute like chia seed or a flax egg may be substituted.
Apple Cider Vinegar - there is no substitute for the apple cider vinegar.
Measurements for each ingredient are in the recipe card below.
How to Make Gluten-Free Bread Sticks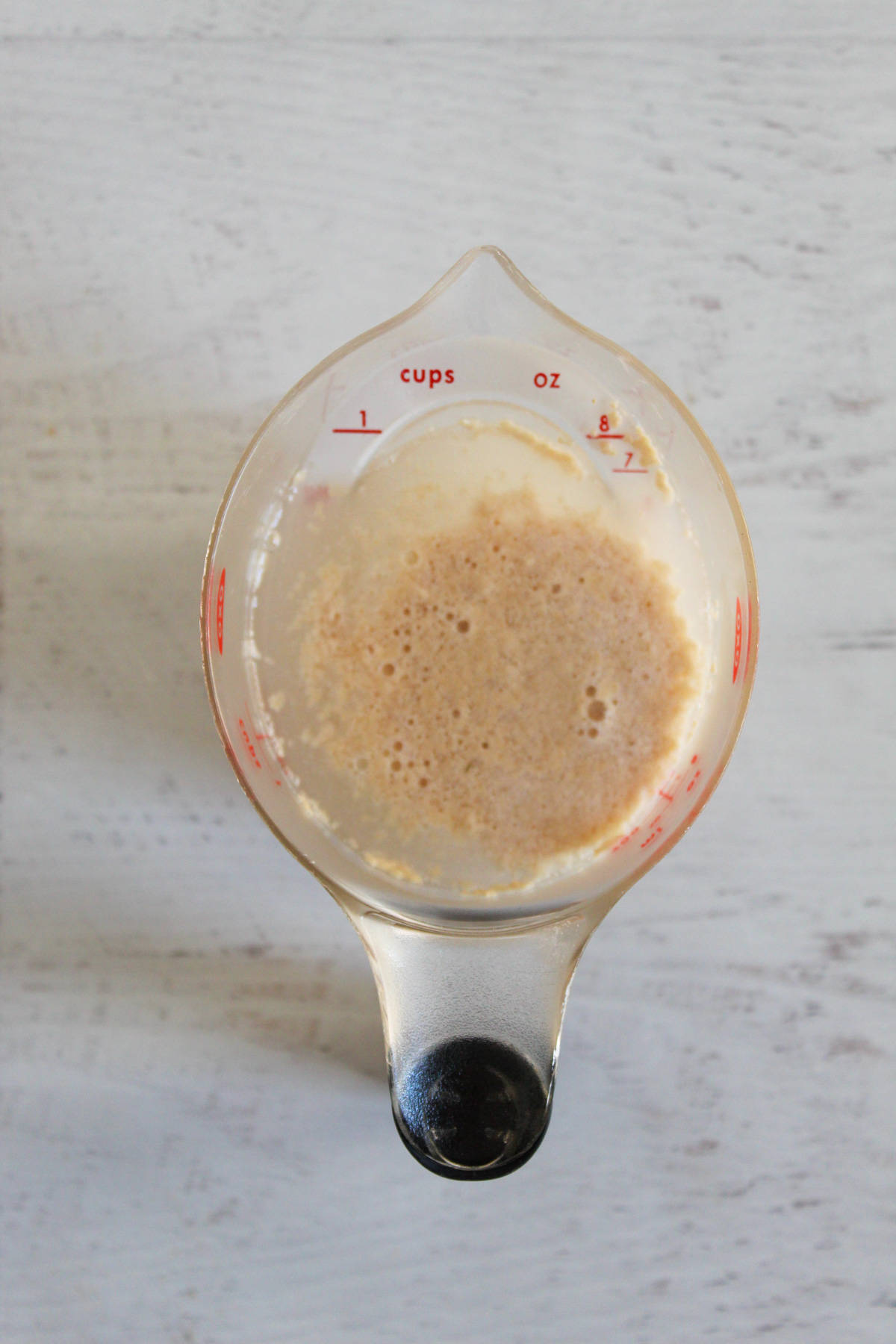 Step one: Mix the granulated sugar with the warm water. Add the active dry yeast and let it proof. (If using instant yeast, skip this step and add the yeast in with step two.)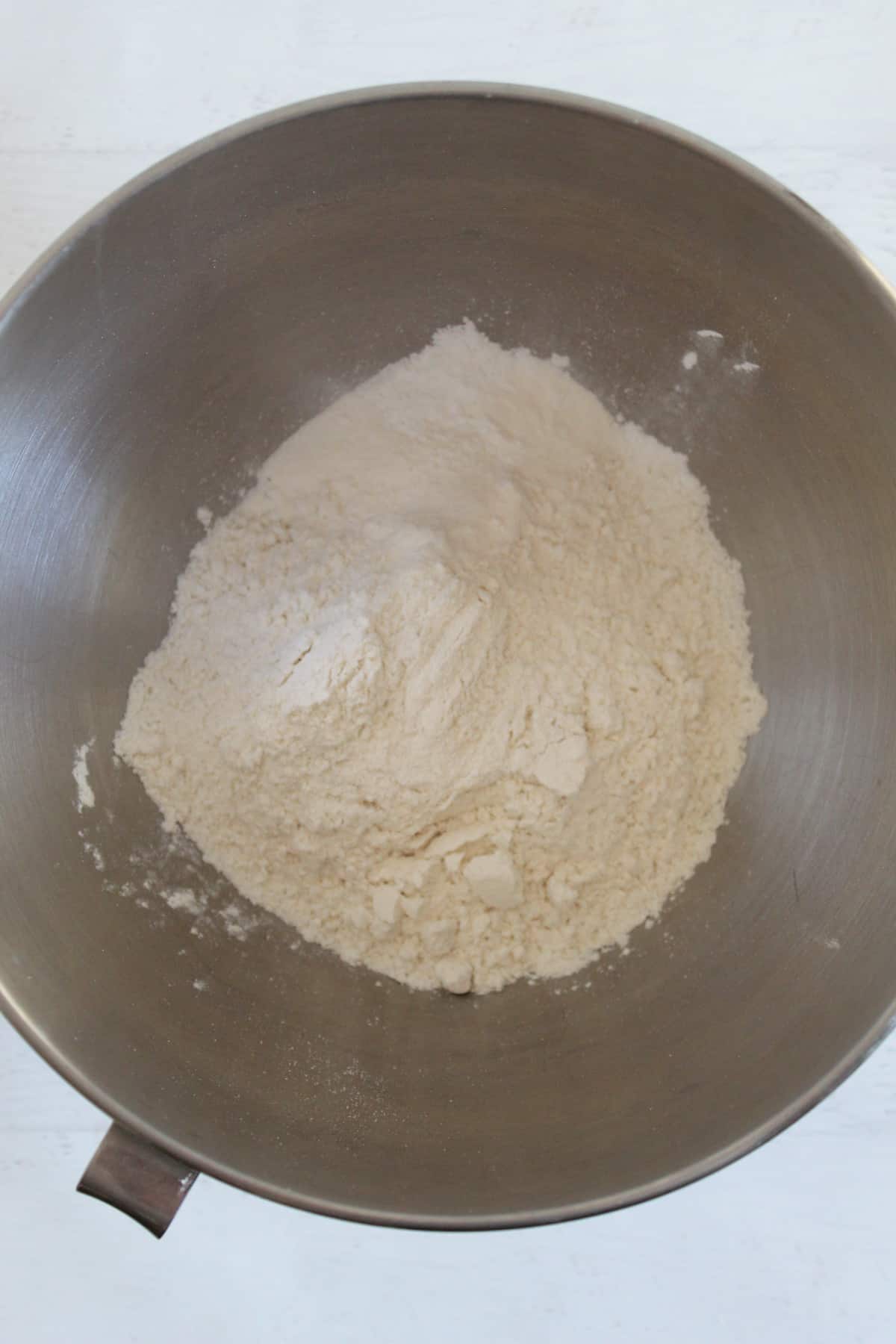 Step two: In a large bowl of a stand mixer, add the dry ingredients and mix.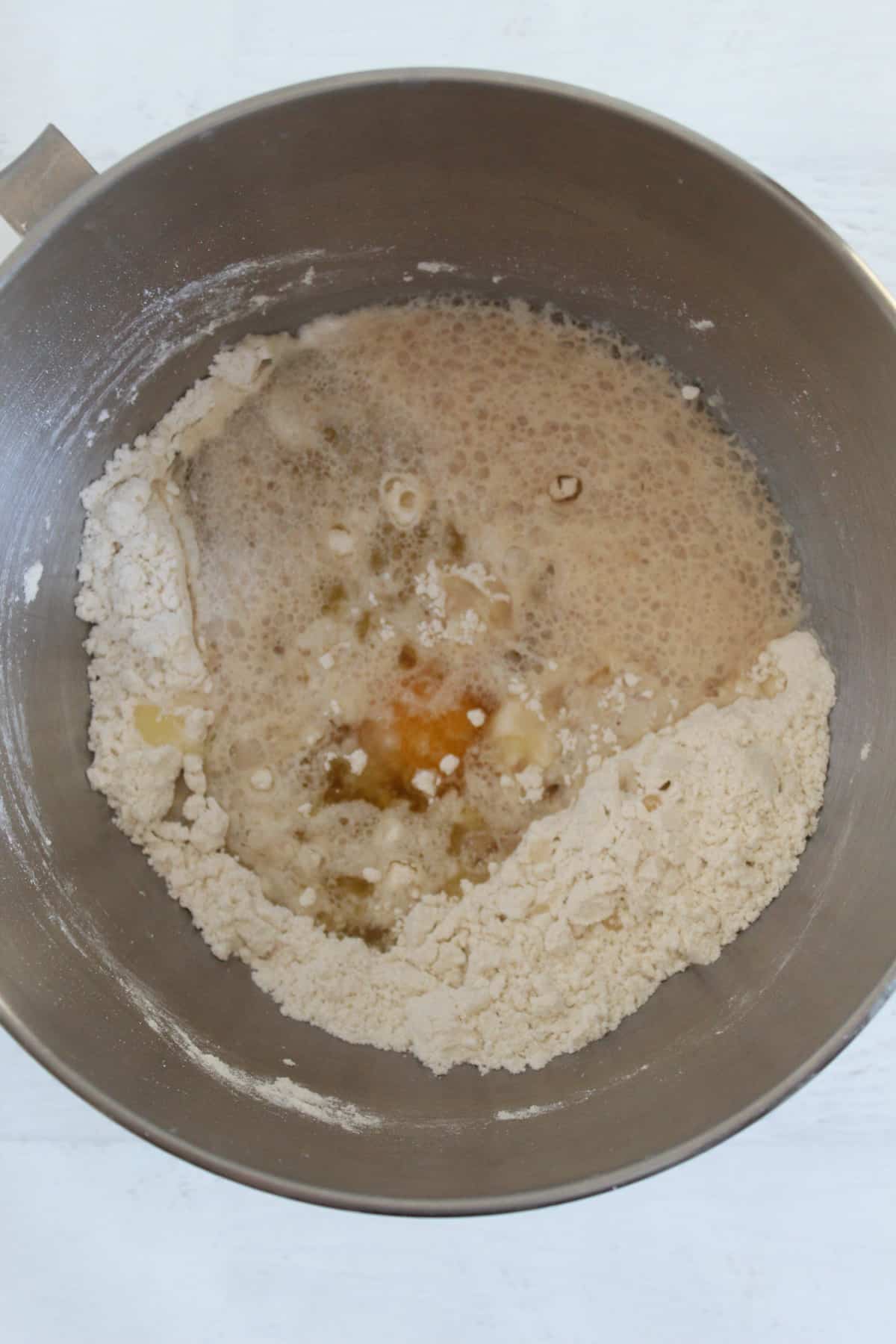 Step three: To the large mixing bowl, add the egg, olive oil, apple cider vinegar and proofed yeast.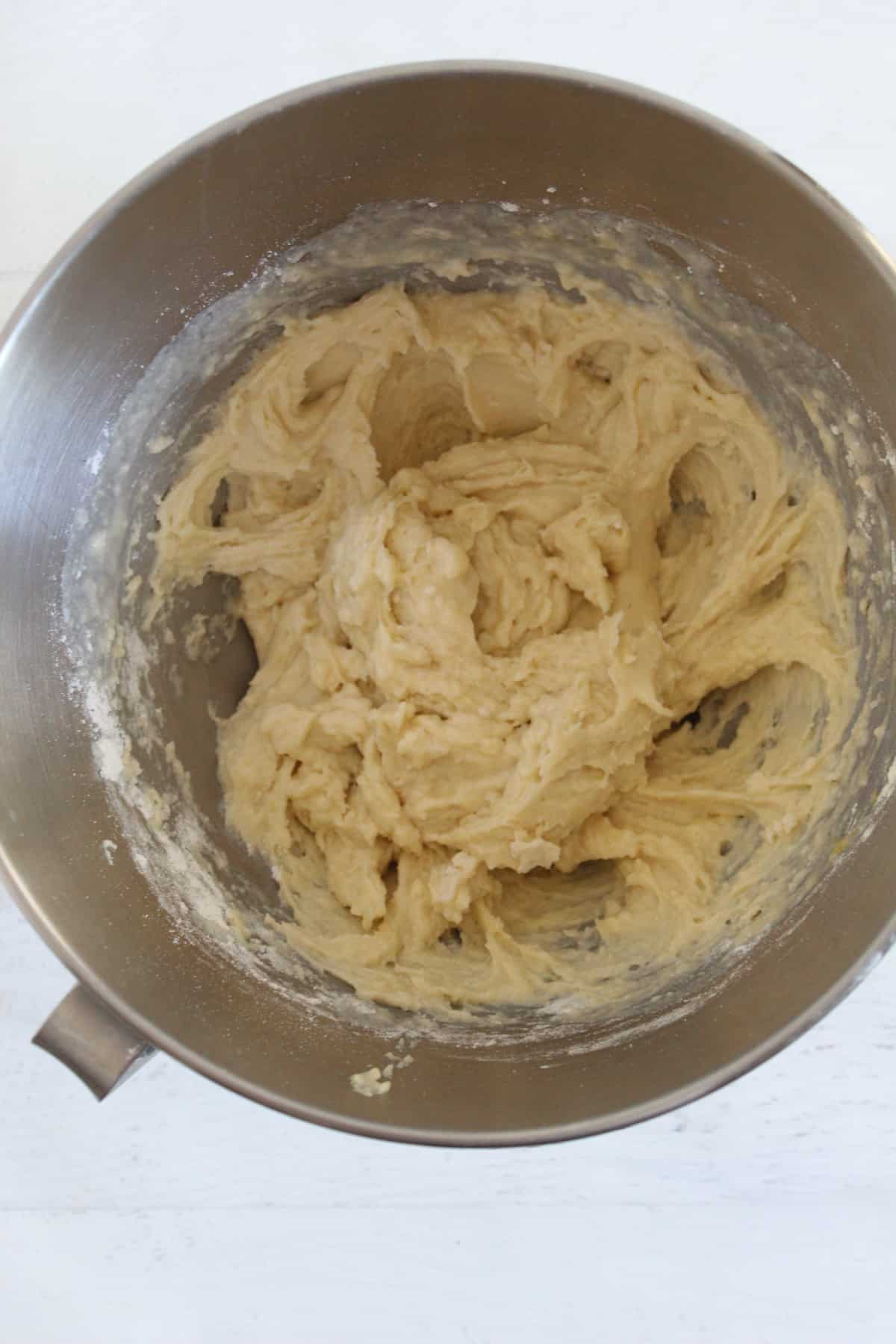 Step four: Mix the batter on low speed using the paddle attachment for 30 seconds to combine. Scrape down the bowl.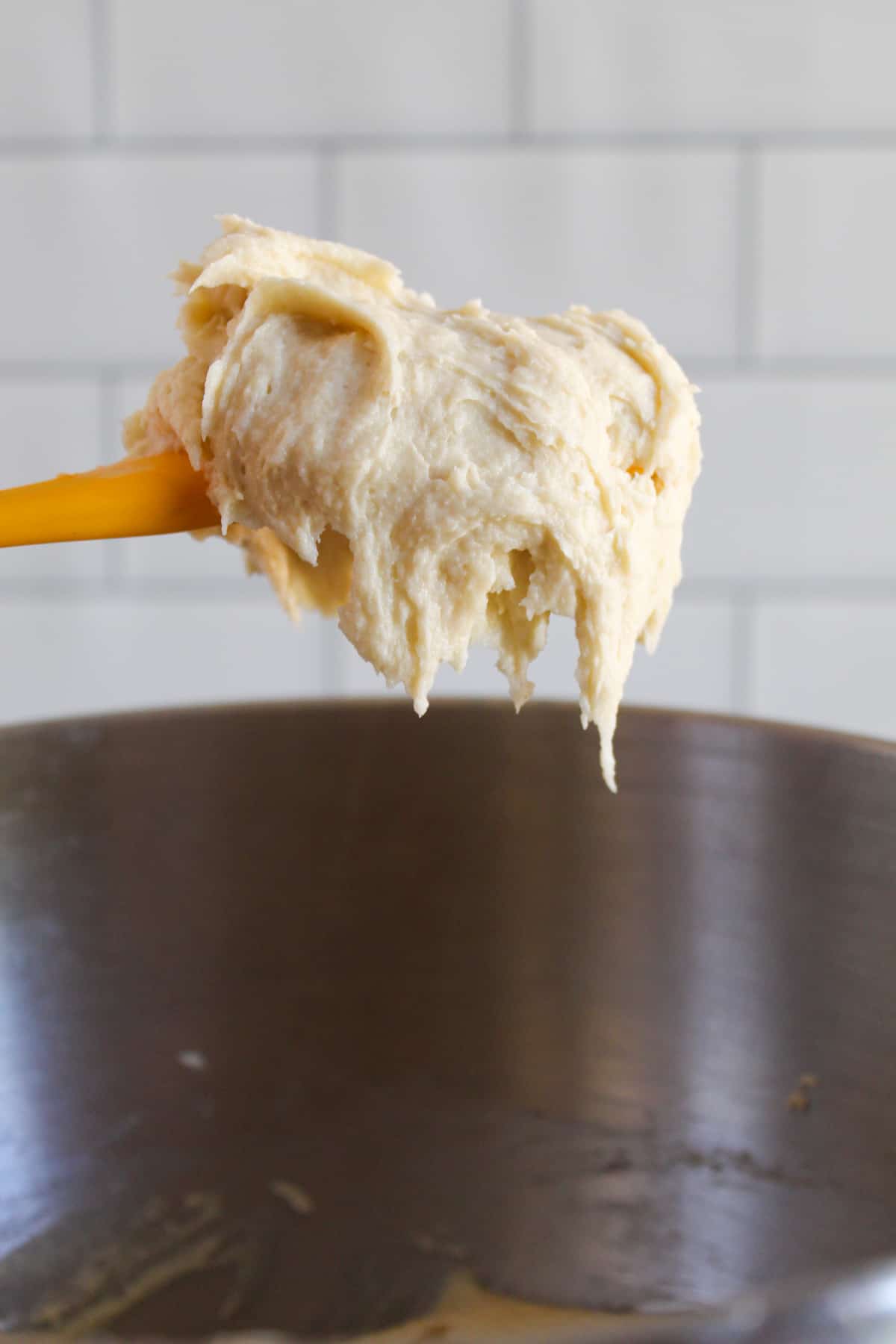 Step five: Mix the batter on medium speed for 3 minutes. The breadstick dough will be like thick cake mix.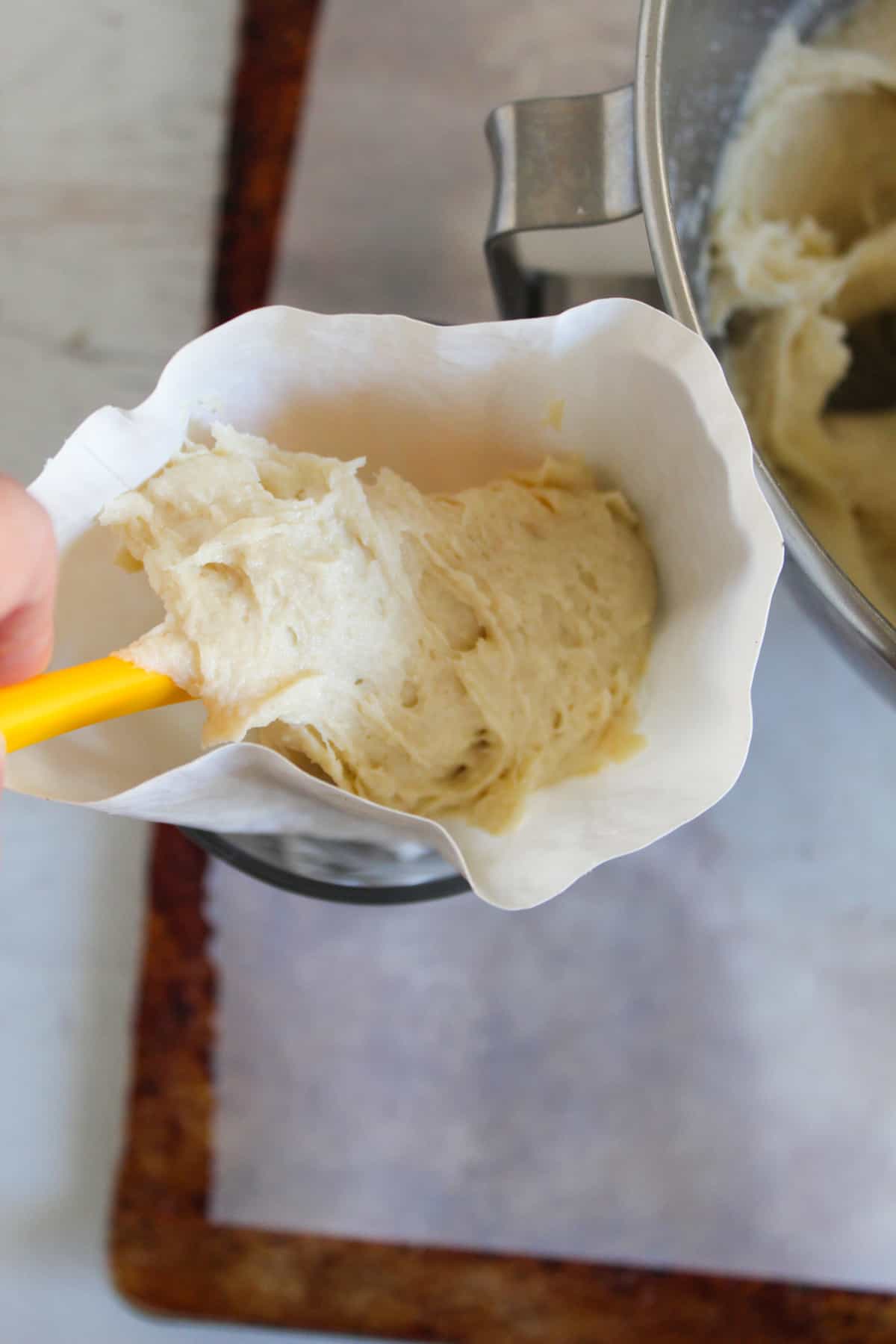 Step six: Spoon dough into a pastry bag without the coupler or a gallon size plastic bag with a ¾ inch hole cut out of the corner.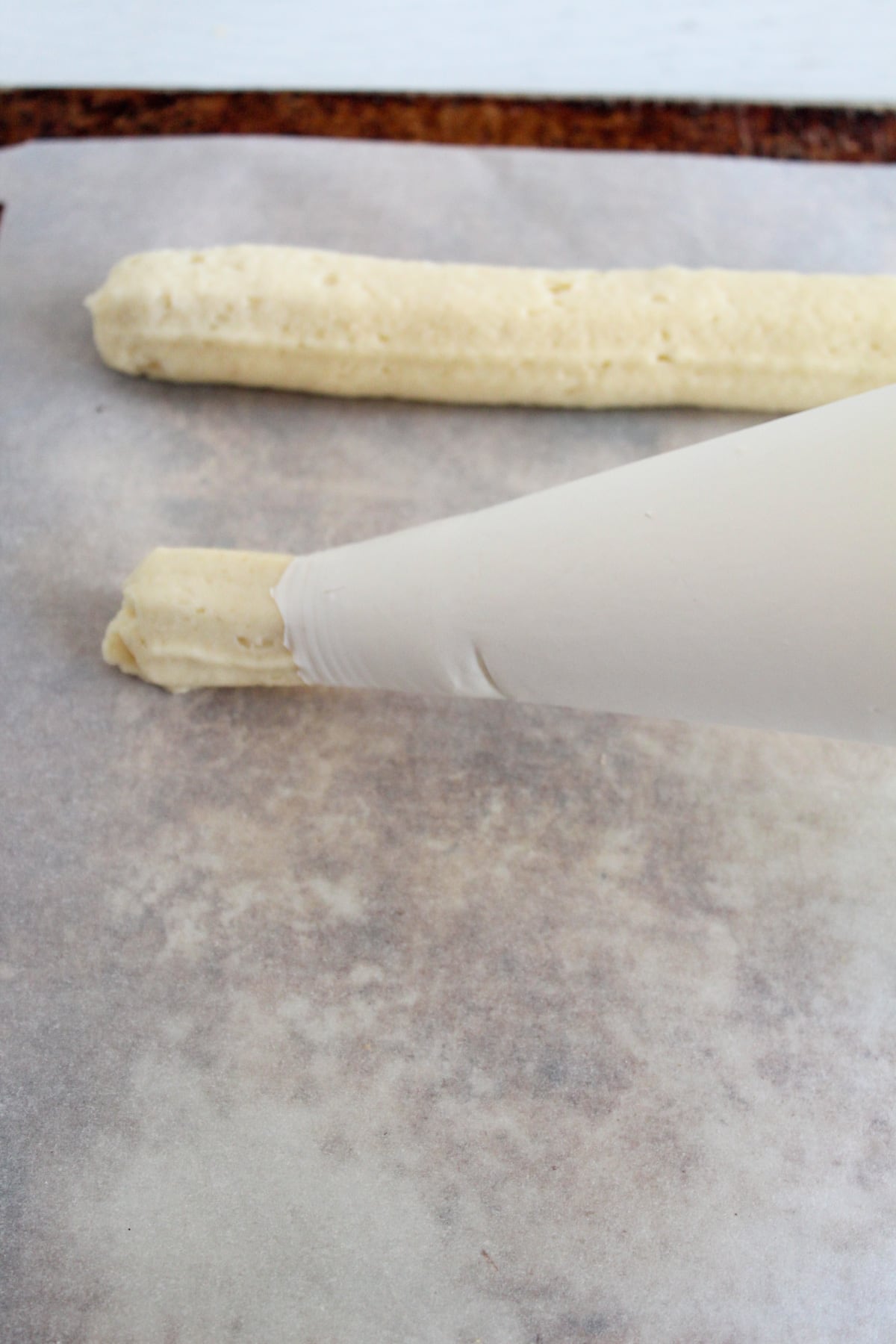 Step seven: Pipe breadstick dough onto a large baking sheet lined with parchment paper.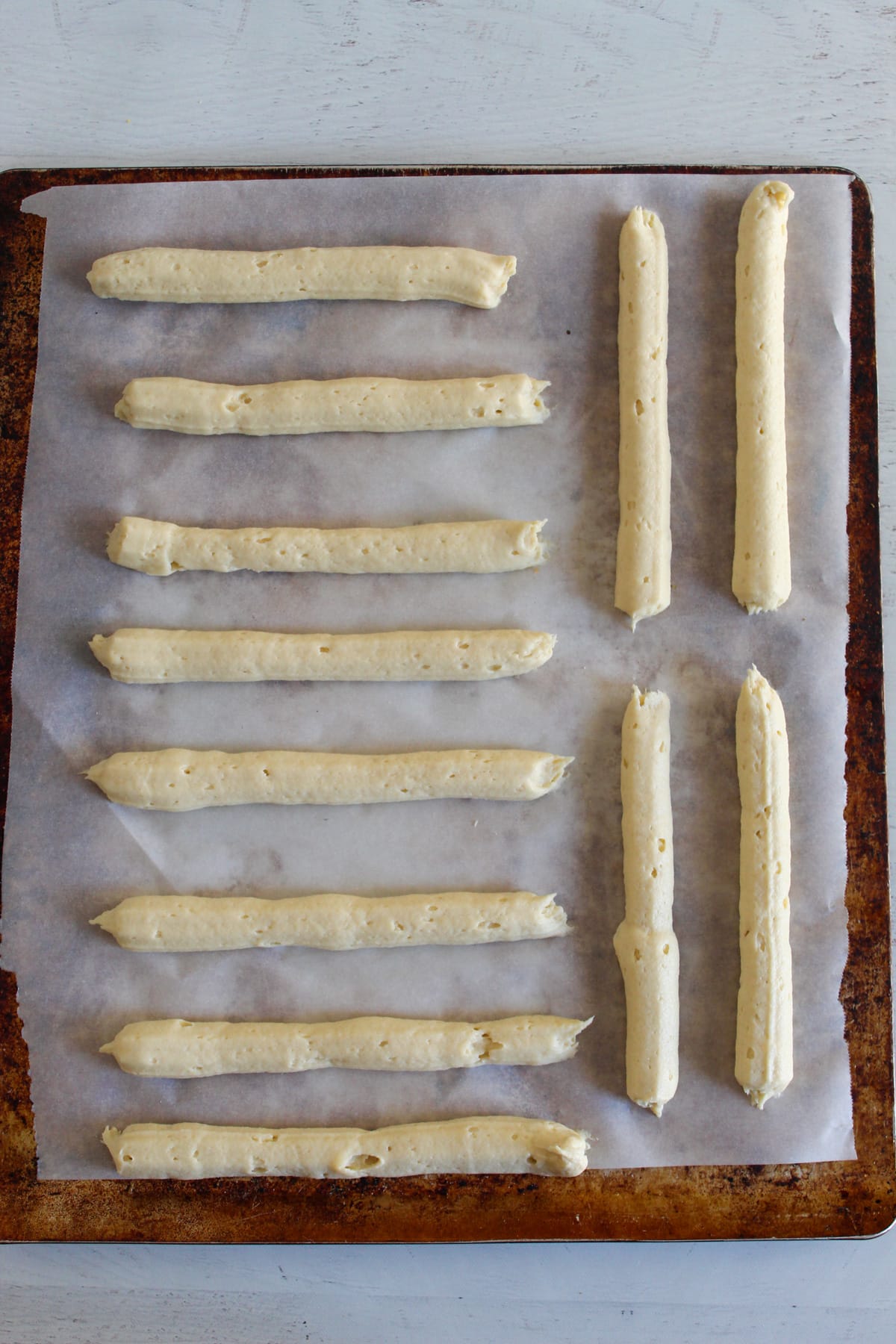 Step eight: You'll end up with 12 breadsticks, each about 7 inches long. Let rise for 10 minutes.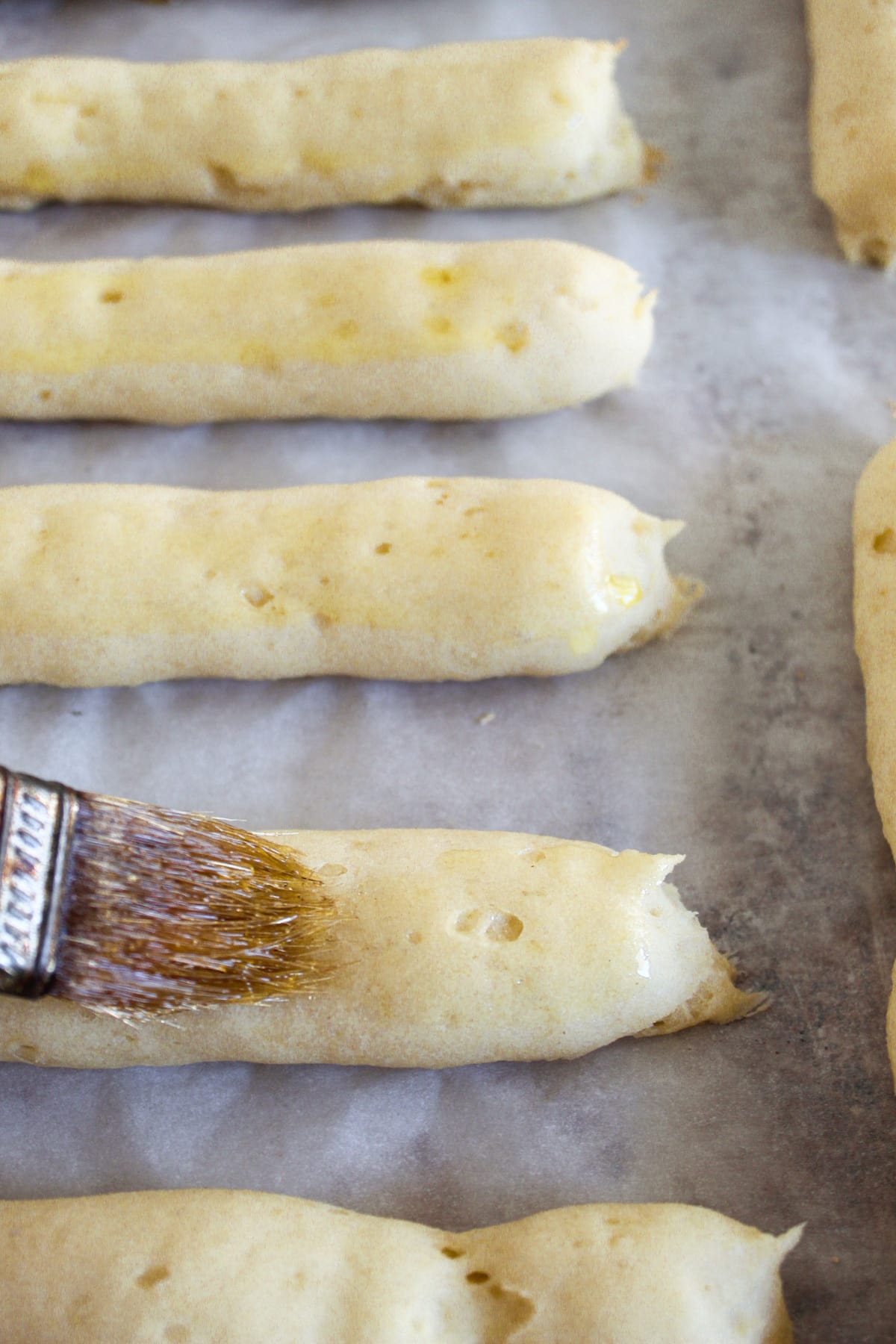 Step nine: Bake for 15 minutes or until barely golden brown. Use a pastry brush to brush each one with olive oil.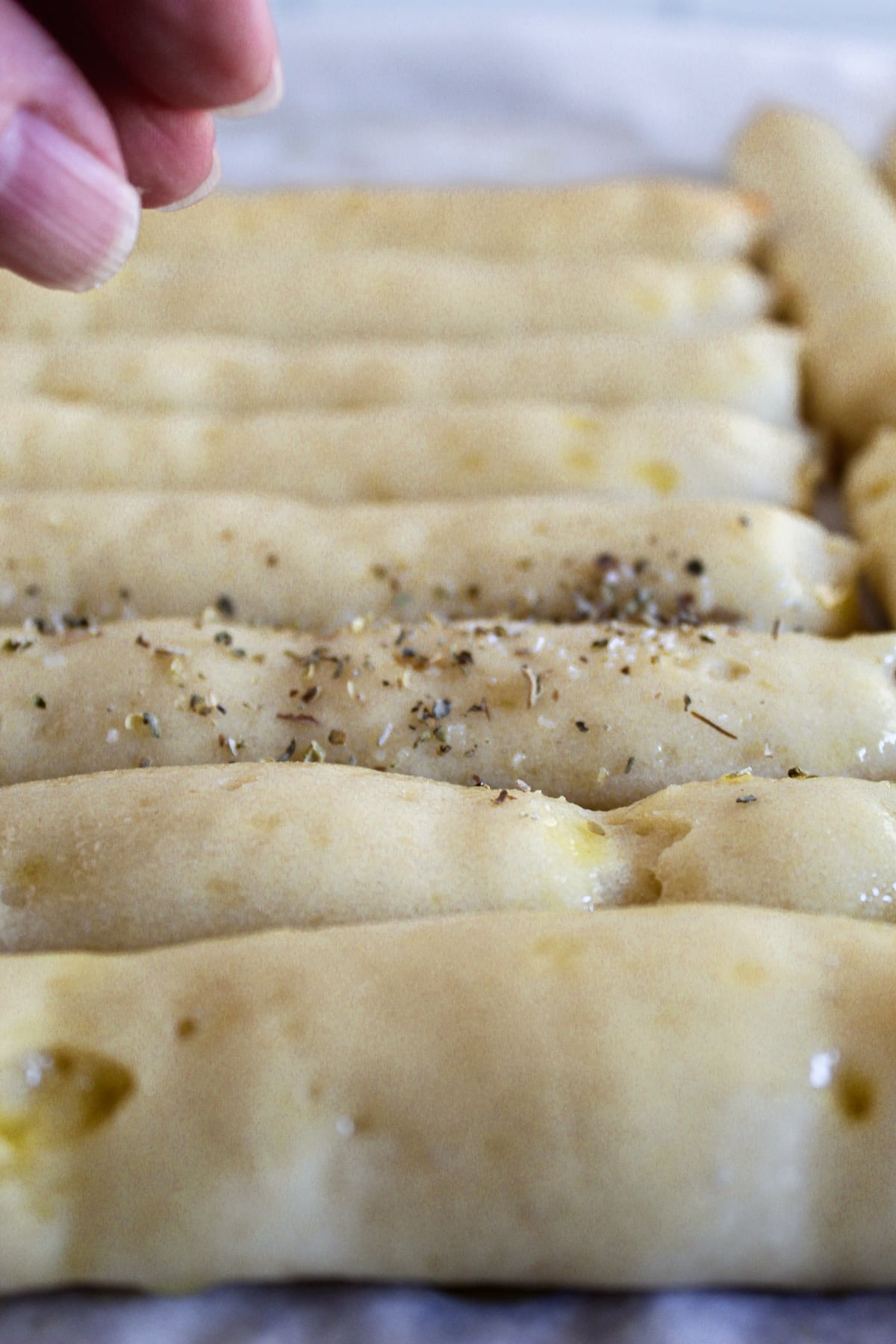 Step ten: Sprinkle each one with Italian seasoning and coarse salt. Serve warm.
Toppings for Homemade Gluten Free Breadsticks
If you'd like something different from the brush of extra virgin olive oil and Italian seasoning on top of these soft breadsticks, here are some equally delicious topping ideas:
Garlic powder
Garlic salt
Parmesan cheese (this brand is dairy free)
Sesame seeds
Poppy seeds
Everything bagel seasoning
Use vegan butter and make garlic butter
Serving Ideas
Serve these gluten-free breadsticks alongside any meal, but don't forget the plates of marinara sauce and alfredo sauce for dipping.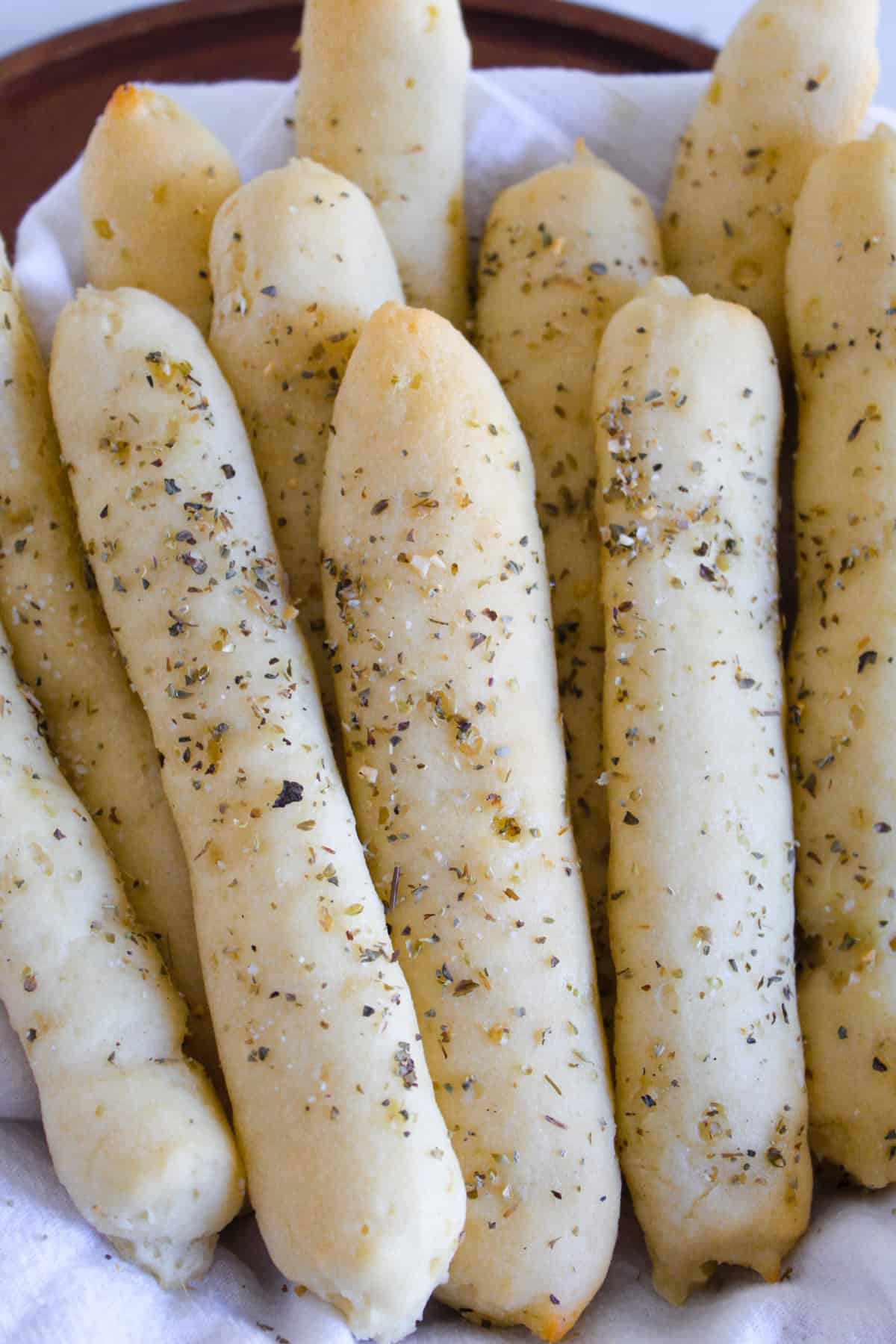 Pro Tips for this Gluten Free Breadstick Recipe
Room Temperature Ingredients
Allow all of your ingredients to come to room temperature (exception would be the water where it needs to be 100F). Room temperature ingredients mix better.
Use a Stand Mixer
Stand mixers are one of my top 3 favorite kitchen appliances. There's just so much to love about them – they're big, efficient and they do all the hard work for you. With this breadstick recipe, you just add the ingredients and turn it on. Let it mix for 3 minutes. Done.
Use a Plastic Bag for 'Piping' the Dough
This is a little trick to making breadsticks that was a complete game changer for me. Take a plastic baggie (gallon size is perfect) and add the dough in the bag. Cut of about ¾ inch at a corner. Then simply 'pipe' 7 inch long tubes onto your pan. This little trick results in uniform breadsticks that bake evenly and look amazing.
Storing, Freezing and Rewarming
As with most gluten free breads, storing your freshly baked bread for anything more than 1 day can be tricky. But good news, these breadsticks have a longer shelf life than most! Just wait until they are completely cool and then wrap them well in plastic wrap or an airtight container. They can be stored at room temperature for 2 days. Any longer than that and you'll need to stick them in the freezer.
Either way, you'll need to wrap them in foil and warm in a 250F oven for about 10 -15 minutes before serving them.
Gluten-Free Breadstick FAQs
Does Bob's Red Mill gluten free flour mix work in this recipe?
The results with Bob's Red Mill cup for cup flour mix are not reliable so I do not recommend it. Note that it does contain xanthan gum already so do not add any additional.
Can I use single gluten free flours like almond flour or even chickpea flour in this breadstick recipe?
This recipe was developed with a gluten free flour mix. I would not recommend using other flours as they may not produce the same result.
How would I use instant yeast in the recipe?
To use instant yeast instead of active dry yeast, add the yeast in with the dry ingredients and then add the warm water in with the wet ingredients.
Can I double the recipe?
Instead of doubling the recipe, make two batches of these breadsticks side by side.
Can I use Bob's Red Mill egg replacer in this breadstick recipe?
Unfortunately Bob's Red Mill egg replacer does not work. For another egg substitute option, try one of these egg substitutes.
Did you make and love this recipe? Give it your review and

rating below! And make sure to follow me on Instagram, Pinterest and Facebook too!
Recipe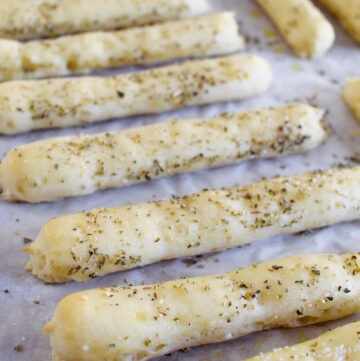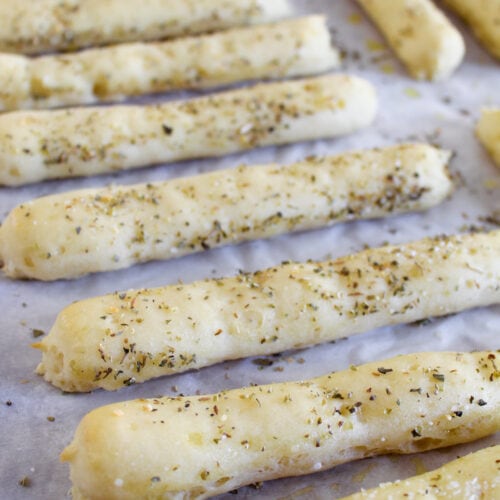 Soft Gluten Free Breadsticks: Ready to Eat in 45 Minutes
Served warm, these gluten free breadsticks taste just like they came from a restaurant. No one will even know they're gluten free! 
Print
Pin
Rate
Ingredients
⅔

cup

water

warmed to 100F

2 ¼

teaspoons

active dry yeast

30

grams

granulated sugar

about 2 Tablespoons

260

grams

gluten free flour blend

about 2 cups

½

teaspoon

xanthan gum

½

teaspoon

salt

½

teaspoon

baking powder

1

large

egg

⅓

cup

olive oil

1

teaspoon

apple cider vinegar
Topping
1

Tablespoon

olive oil

Sprinkling of Italian seasoning

Sprinkling of coarse salt
Instructions
Prepare a baking sheet by lining it with parchment paper and brushing it with a dab of olive oil. Set aside.

To the warm water, add in the yeast and granulated sugar and mix well. Set aside to proof for 5 minutes.

While the yeast is proofing, in the bowl of a stand mixer, add flour blend, xanthan gum, salt and baking powder. Mix until incorporated.

Add the egg, olive oil, apple cider vinegar and yeast mixture to the flour mixture.

Mix on low speed for 20 seconds. Stop the mixer and scrape the batter down.

Turn mixer to medium speed and mix for 3 minutes. 

Scoop dough into a gallon size plastic baggie and cut a ¾ inch wide hole in a corner of the bag.

Pipe 12 breadsticks onto the prepared pan in 7 inch long tubes. 

Set pan in a warm place to rise slightly, about 10 minutes.

While breadsticks are rising, preheat oven to 350 F.

Bake for 15 – 18 minutes or until the tops are golden brown.

Remove from the oven and set aside to cool slightly.

Brush each breadstick with olive oil and sprinkle with Italian seasoning and coarse salt.

Serve warm.
Notes
Ingredients should be at room temperature, except warm water.
Make sure to proof the yeast before adding it to the recipe.
Use a plastic baggie to act as a 'piping bag' for uniform size breadsticks.
Serve warm.
Do not double the recipe - if you want more breadsticks, make 2 batches, side by side.
Use the flour blend recommended in the recipe for best results
Updated 8/15/2023 with better pictures and clearer directions.
Nutrition
Serving:
1
g
|
Calories:
304
kcal
|
Carbohydrates:
36
g
|
Protein:
5
g
|
Fat:
16
g
|
Saturated Fat:
2
g
|
Cholesterol:
27
mg
|
Sodium:
220
mg
|
Potassium:
75
mg
|
Fiber:
6
g
|
Sugar:
6
g
|
Vitamin A:
40
IU
|
Calcium:
49
mg
|
Iron:
1.7
mg
Pictures below from original post in 2018.