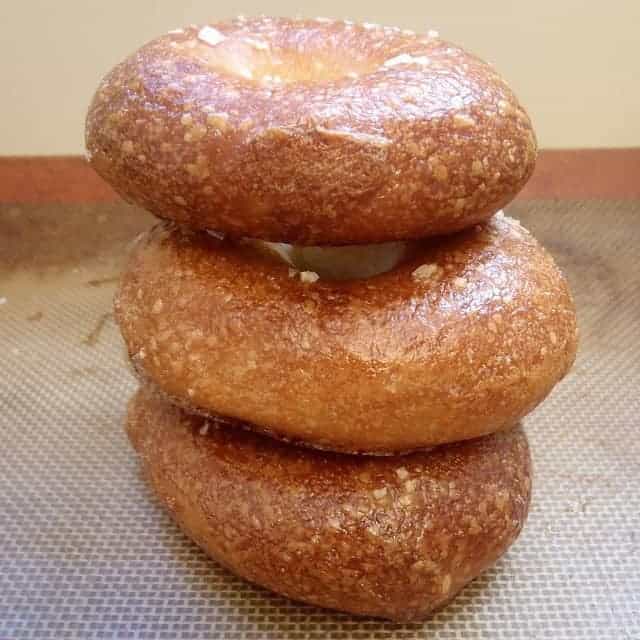 When you go to the store to get some gluten-free bagels, you might be a little confused as to which brand you should choose. You want to get your money's worth (gluten-free products aren't known for being cheap) and you want to enjoy that morning bagel. So how do you choose?
Here are some reviews of four major gluten-free bagel brands that you can find on your grocery store shelves or online.
Udi's
Udi's, which claims to be the "#1 gluten-free brand in America" has been making gluten-free bread since 2008. Besides bagels, the company also makes gluten-free cookies, dinner rolls, granola bars, and tortillas.
Udi's gluten-free bagels come in whole grain, plain, and cinnamon raisin flavors. These include eggs, yeast, brown rice, tapioca, and potato starch in the ingredients. They are soy free and dairy free, and they're kosher.
Pros: The bagels come presliced, which can be a big deal to bagel lovers. The taste has been described as "mild," meaning they go well with a variety of toppings. It has been said that these bagels make great sandwiches, even without toasting them.
Cons: Some gluten-free snackers say that Udi's bagels dry out too fast, and they are not dense enough and chewy enough on the inside to taste like a bagel should.
With the tagline "Gluten Free Has Never Tasted so Good," this company inspires high expectations. Their product line includes, besides bagels, donuts, muffins, and pizza crust.
Their line of soft bagels includes plain, cinnamon raisin, and blueberry varieties. The bagels are vegan, and also don't contain nuts or soy. They are found in the frozen foods section at your local health food store, or online.
Pros: These soft bagels are said to be absolutely delicious when they are lightly toasted. They have been described as soft and chewy.
Cons: Some have said that these soft bagels are too soft! They have even been compared to English muffins.
Glutino
Glutino has been making gluten-free products since 1983. Besides bagels and bread, they also sell English muffins, toaster pastries, cookies, and even frozen dinners.
These bagels come in packages of five and have soy, milk, and eggs in them. There are four flavors: plain, cinnamon raisin, poppy seed, and sesame.
You can get them online, in health food stores, and in larger grocery stores. They are found in the frozen foods section.
Pros: These have been described as the perfect thickness for a bagel. They are also said to be very close to a "regular" bagel, with a soft and chewy inside and a crunchy outside. They aren't dry or grainy as some other gluten-free products may be.
Cons: If not toasted, Glutino bagels tend to be crumbly and just not as tasty. Some reviewers have said these bagels just don't taste right—they just don't taste as good as a bagel should because they are gluten free.
Enjoy Life
Besides gluten-free bagels, Enjoy Life also makes gluten-free cookies, cereals, and even an oat- free oatmeal.
Pros: Besides being free of gluten, Enjoy Life bagels are also free of dairy, peanuts, eggs, and soy. They are also high in fiber, vitamins and minerals, and in omega-3's.
Cons: These bagels have been described as just too small for the price. They also have to be toasted or put in the microwave, or they just aren't very tasty. More than one reviewer of this kind of bagel has compared it to eating cardboard (although some have said they are better the second time around).
Which gluten-free bagel brand is right for you? You'll have to decide for yourself—but here are four brands to get your search started.