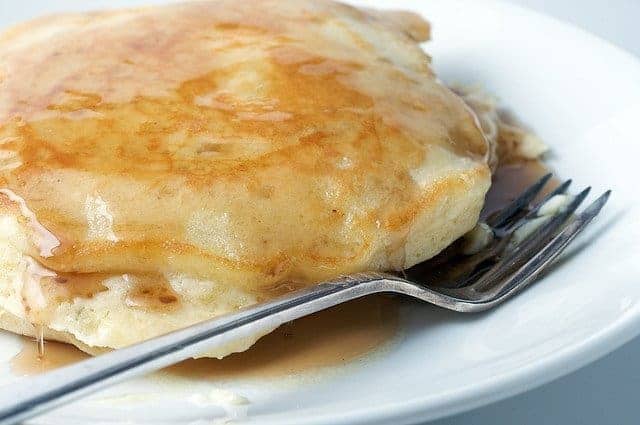 Pancakes are a classic comfort food. They are a favorite for Sunday breakfast, a holiday brunch, and for that special occasion when someone is gifted with breakfast in bed.
As with many foods, you might have thought that once you couldn't have gluten anymore, then that was the end of your life with pancakes.
Not true! There are a wide variety of ways that pancakes can be made without gluten. But is it possible to have gluten-free pancakes that are as yummy as those that contain gluten? Absolutely.
Pancakes are pretty easy to make, once you master a few simple basics. Here are a few pancake tips:
Don't over mix your pancake batter—it is okay if there are a few lumps.
A good amount of batter to put on the griddle is ¼ cup.
Once you put the batter down, let the pancake cook until bubbles form on the top. When the bubbles begin popping, it is time to flip your pancakes.
For the best results when flipping your pancakes, use a spatula that is a bit bigger than your pancake.
Once you have flipped them, wait for about a minute, then use your spatula to lift one up to peek underneath and see if they are brown enough. Or, you can make a small slice in the pancake, press down on it with your spatula, and see if there is still liquid in the middle of the pancake, in which case you should cook it more.
When you have some pancakes done but you're too busy cooking more to eat them right away, store the finished pancakes in a 200 degree oven to keep them warm. Don't forget to add more butter to your griddle before you start cooking the next batch.
If you are having a hard time making perfect pancakes, it might be what you're cooking them in. For instance, a cast-iron griddle may work better than a nonstick pan.
Love pancakes on the weekdays but don't have the time to mix them up and cook them every day? You can approach this problem in one of two ways: you can make a bunch all at once and freeze them in a plastic bag, or you can leave some batter in the fridge and cook them up every morning.
Pancakes are delicious, but if you add some bananas in you can make them nutritious, too. Bananas are low in sodium, cholesterol, and saturated fat. They are high in potassium, fiber, iron, disease-protection agents such as antioxidants, vitamin C, manganese, and vitamin B6 (whew!). If that doesn't impress you, maybe this list will: bananas are good for your heart, blood pressure, bones, digestive system, energy level, and even your mood.
To make delicious, nutritious, and gluten-free banana pancakes, you'll need….
2 medium bananas
1 cup rice flour
2 teaspoons baking powder
1/2 teaspoon salt
3 tablespoons sugar
1/4 teaspoon cinnamon (optional and to taste)
1 egg
1 cup soymilk
1/4 teaspoon pure vanilla extract (optional and to taste)
Directions:
In one bowl, mash up the bananas, then mix with the egg and the soymilk. Mix rice flour, baking powder, salt and sugar in another bowl. Combine the wet and dry ingredients.
Let your griddle heat up—you can tell it's ready when a drop of water on the griddle sizzles. Add butter or oil. After it melts, start making your pancakes, using the low heating on your stove.
Of course, after they are done you can garnish them with even more sliced bananas. Nuts, blueberries, and pieces of chocolate are tasty as well!
Enjoy!