Mouthwatering gluten free pumpkin pancakes that get a kick from delicious pumpkin spices and mix up super quick in the blender!
What do you do when you have no gluten free flour mix but want light, fluffy, melt in your mouth pancakes for breakfast? You work with what you DO have. That's just how these gluten free pumpkin pancakes went from ho-hum to delicious. Because who says pancakes need flour?!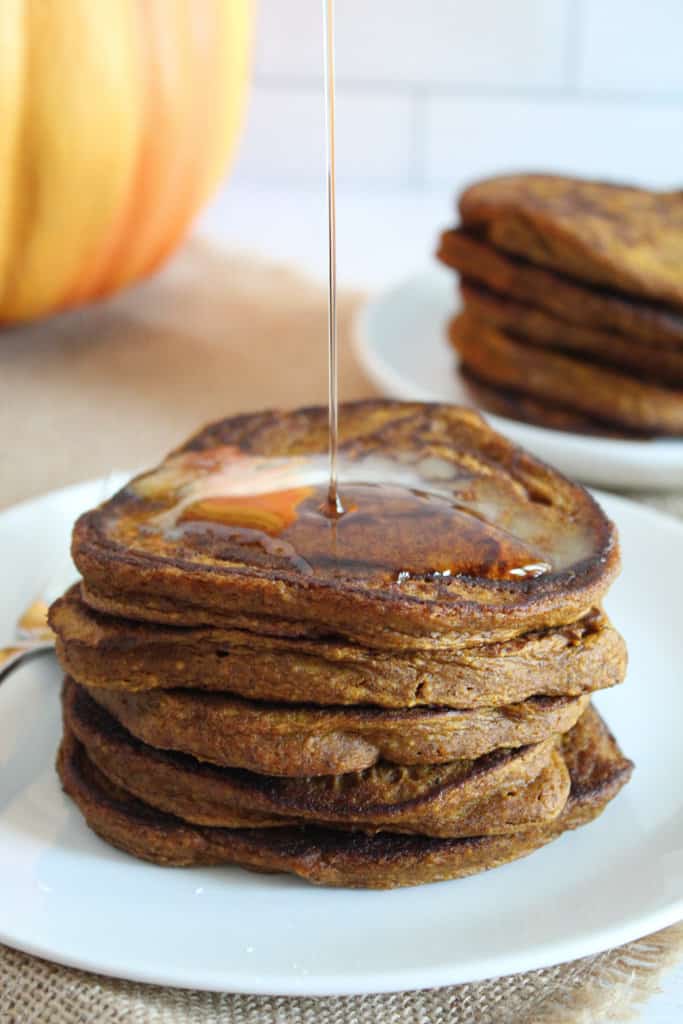 This post contains affiliate links. Affiliate links support Zest For Baking at no additional cost to you. I receive a commission if you choose to make a purchase through these links.
Table of contents
⭐Why this recipe is the best!
This recipe is along the same lines as these blender gluten free muffins recipe. Not just because they both use a blender to mix the ingredients, but they both have zero flour in them. I believe in this case, it really puts the focus on the flavor of the spices. Bold and full of taste, cinnamon, maple syrup and vanilla add a nice balance of sweet and spice. The addition of pumpkin is a great way to sneak in some good-for-you vitamins while adding an amazingly good punch of Fall. Other things to love about this recipe:
It can be on the table in 10 minutes!
It's dairy free
It's flourless
No refined sugar
And has an egg-free option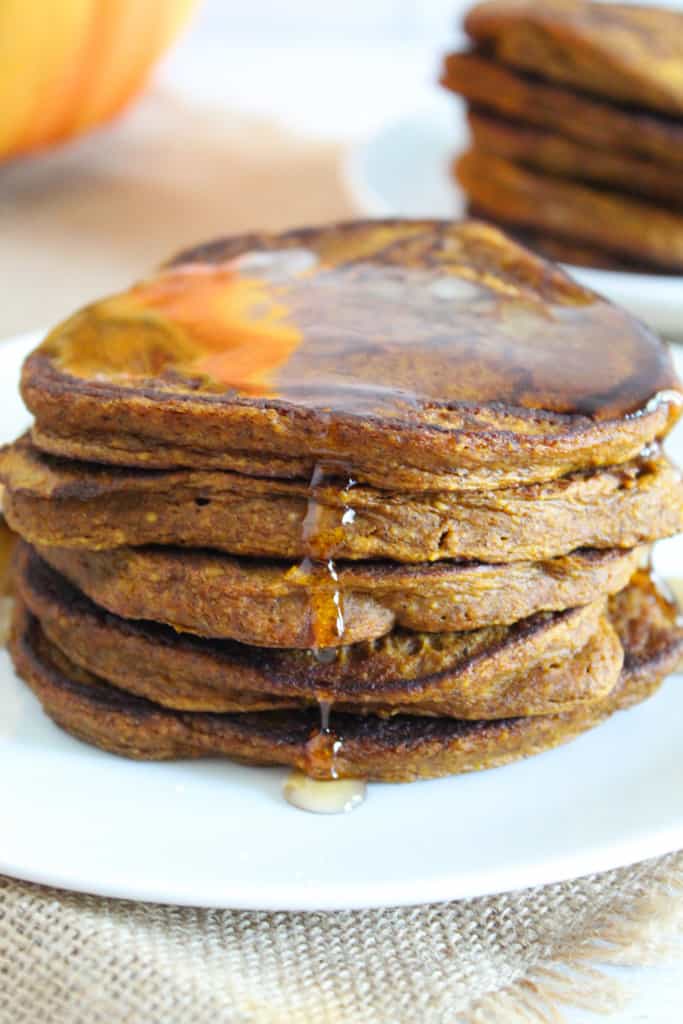 💭Pro tips
Pancakes can be tricky. Follow these tips to ensure your pumpkin pancakes turn out perfectly spiced and light & fluffy every time!
1.Use room temperature ingredients
Make sure all ingredients are at room temperature. (That goes for flours and starches if kept in the refrigerator!) Warm ingredients mix better resulting on a light and fluffy batter.
2. Measure the ingredients by weight
Gluten free baking can be especially challenging. For the best results with recipes, if weight is given in a recipe, use that measurement. Use a digital scale like this to weigh before mixing.
3. Use a flat spatula
It's a lot easier to flip pancakes using a large, wide spatula than struggling with a small one. Slide the spatula underneath and flip in one motion.
4. Helpful Tools
Here are a few tools that will ensure you have the perfect pancakes:
🧾Ingredients & substitutions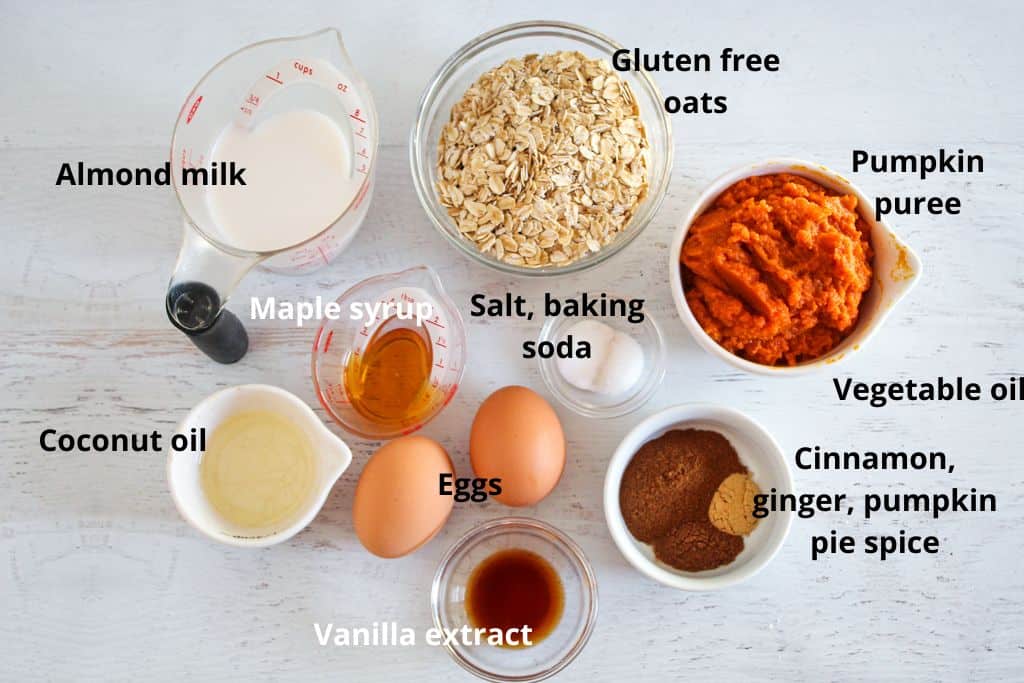 Pumpkin puree - this is the brand of pure pumpkin puree used in this recipe. There are no substitutions for it.
Eggs - Regular, large eggs were used in this recipe. Chia eggs or flax eggs or JUST egg are acceptable egg substitutes.
Gluten free oats - this is the brand of GF oats used in this recipe. Make sure your oats are certified gluten free. There is no substitute for the oats.
Pure vanilla extract - Make sure to use pure vanilla extract, not imitation.
Maple syrup - this is the brand of maple syrup used in the recipe. Honey would be an equally good substitute.
Almond milk - any non-dairy or dairy milk will work in this recipe.
Cinnamon - there are no substitutions for the cinnamon.
Ginger - there are no substitutions for the ginger.
Pumpkin pie spice - there is no substitute for the pumpkin pie spice.
Salt - the salt may be omitted if you are on a low salt diet.
Baking soda - there is no substitution for the baking soda.
Coconut oil - vegetable oil or melted butter may also be used for the coconut oil.
Pumpkin puree vs. fresh pumpkin
Pumpkin is a wonderfully versatile ingredient. There are several varieties available in both grocery stores and online. Here are some of the common ones and what they are best for:
Pumpkin puree - this is what you'll commonly use for recipes calling for pumpkin. This is a popular brand of pumpkin puree. Puree does not have any added spices or sugar. It is pure pumpkin. This pumpkin bread and these pumpkin cookies are made with pumpkin puree.
Pumpkin pie filling - this is typically used for making pumpkin pies. The spices and sugars have already been added so it's basically ready to go.
Fresh cooked pumpkin - this is the type of pumpkin you'll commonly find at farmers markets or local grocers. It may be jarred rather than canned. It's also what you could make at home by just scooping out a pumpkin and cooking the insides until a puree forms.
📖Add the ingredients to the blender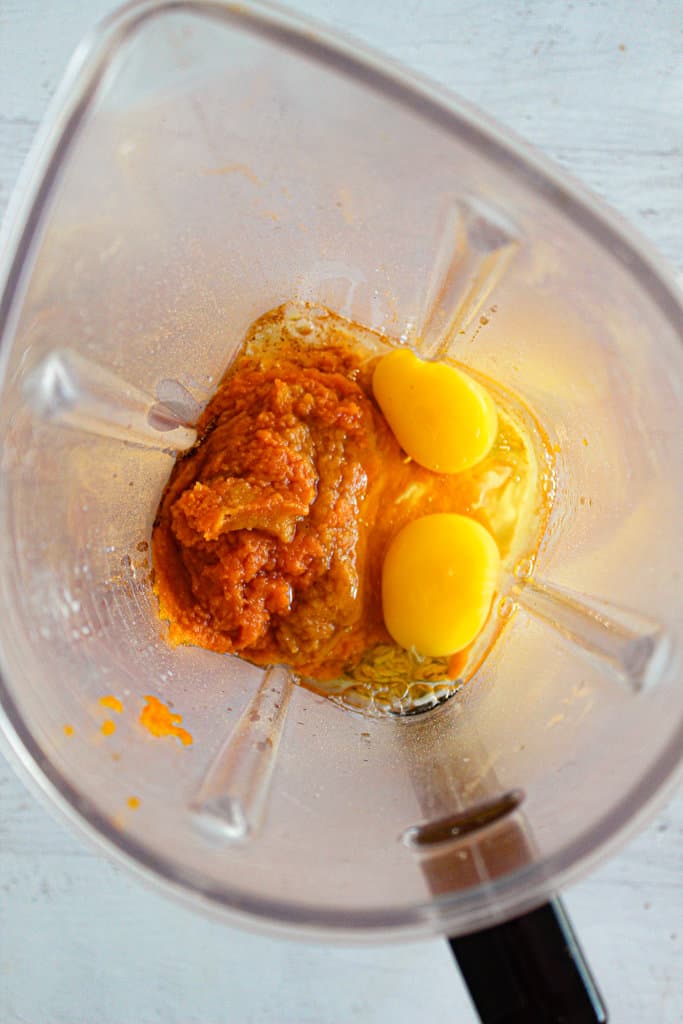 Like in these oatmeal crepes, there's no folding, stirring or alternating ingredients. Just add the ingredients to the blender and push mix to incorporate everything. If your blender has several options, choose the blend option.   
🥞Cooking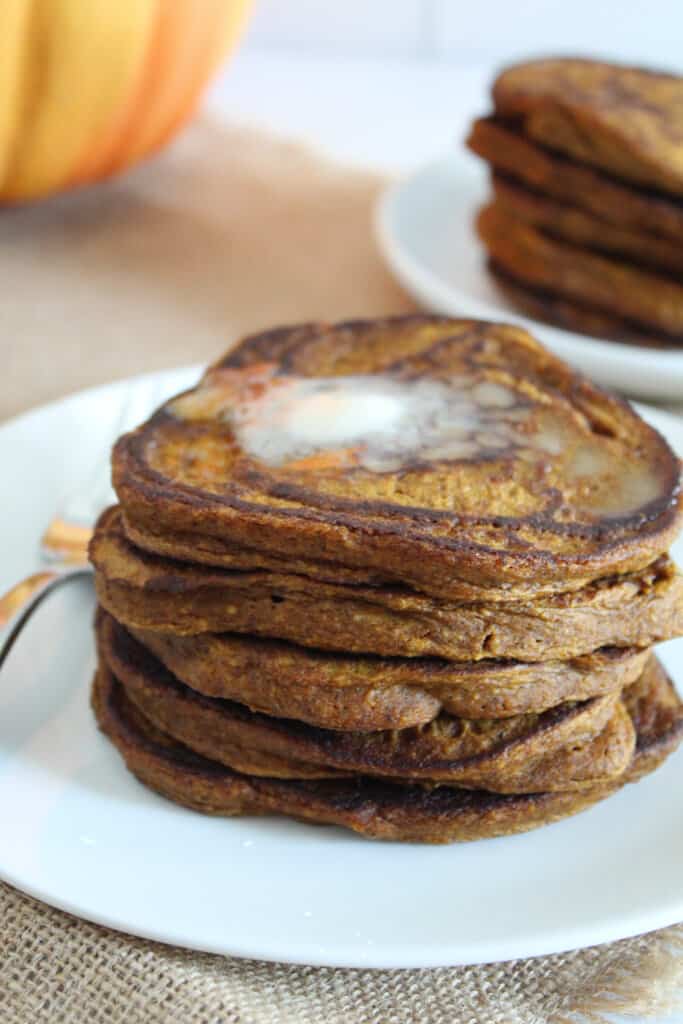 Just as with these English muffins, the trick is in the flip. Pancakes can turn from a nice golden brown to burned very quickly if you don't watch them. Use a flat spatula and flip them as soon as they get brown on the bottom.
Pancake Cooking Tip: Smooth out the pancake batter after pouring it onto the griddle to form a thinner pancake. The thicker the pancake, the harder it is to ensure they cook all the way through.
FAQ's
Can pancake batter be thinned of it's too thick?
The combination of pumpkin and oats can make for some very thick pancakes! If you prefer your pancakes on the thinner side, just increase the milk by one Tablespoon.
How do I keep pancakes warm before serving?
Another reason to love pancakes (if you need another one!) is how easy it is to keep them warm before serving. All you need is a warm, 200F oven, a cookie sheet and foil. As you remove each cooked pancake, place it on the cookie sheet, overlapping each one as you go. Cover the pan tightly with foil and stick the cookie sheet in the oven to stay warm. That way everyone gets a warm pancake!
Tip: This method works for other pancakes too, like these Blueberry Pancakes.
Can I use a bowl and spoon to stir the batter instead of a blender?
Yes, you can absolutely use a bowl and sturdy spoon to stir the batter. A blender makes pancake prep so much easier, but if you'd rather use a bowl and spoon, it's easy to do. Just add the ingredients to a large bowl and use a sturdy spoon to stir the batter. It may take a bit longer than the blender, but just keep stirring until the batter becomes smooth.
Do these pancakes freeze well?
One of the many reasons to love these pumpkin pancakes is the fact that they store really well! If you're going to use them within a day or two, just wrap them well and keep them at room temperature. But, if you're thinking ahead and would like to make a batch of these for a delicious breakfast treat any time you want, you're in luck - they freeze really well! Just position them in between sheets of wax paper and wrap them well. Stick them in the freezer and anytime you need a quick breakfast, they'll be ready!
Did you make and love this recipe? Give it your review and

rating below! And make sure to follow me on Instagram, Pinterest and Facebook too!
📋Recipe
Recipe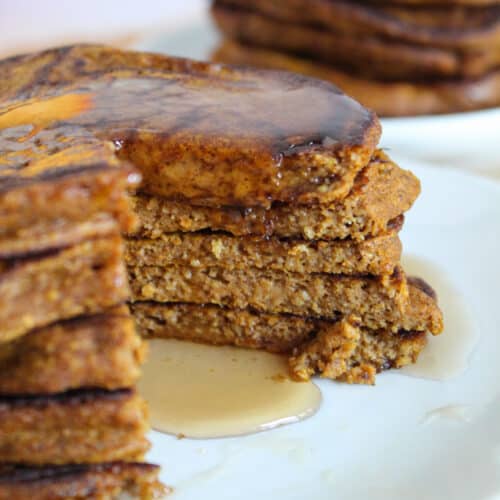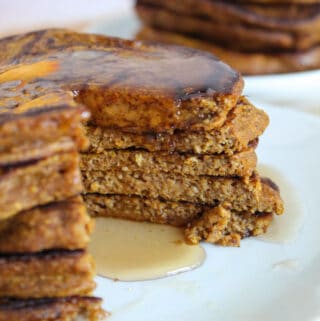 Gluten Free Pumpkin Pancakes (Dairy Free)
Gluten free pumpkin pancakes melt in your mouth with delicately spiced pumpkin flavor in every bite!
Print
Pin
Rate
Ingredients
1

cup

canned pumpkin puree

2

eggs

100

grams

gluten free rolled oats

about 1 cup

1

Tablespoon

pure vanilla extract

4

Tablespoons

pure maple syrup

½

cup

unsweetened almond milk

2

teaspoons

ground cinnamon

½

teaspoon

ground ginger

½

teaspoon

pumpkin pie spice

½

teaspoon

salt

½

teaspoon

baking soda

2

Tablespoons

coconut oil

melted
Instructions
In a blender, add all the pancake ingredients. Blend until the batter is smooth, about 15 – 20 seconds. Stop and scrape down.

Blend another 10 seconds on high.

Heat a griddle over low-medium heat.

Lightly spray your griddle with cooking spray and pour about ¼ cup of batter onto the skillet and cook for 2-3 minutes, or until bubbles form around the edges of the pancake. Flip it over and continue to cook for another 2 minutes.

Repeat this step, spraying the griddle first before cooking each pancake.

Serve the pancakes with butter and maple syrup.
Notes
For the quickest prep work, use a blender to mix the batter.
All ingredients should be at room temperature.
Almond milk can be substituted with coconut milk or oat milk.
Flip the pancakes using a wide flat spatula, using your wrist.
Keep the pancakes warm by preheating your oven to 200F and layering the pancakes on a cookie sheet. Keep in the oven, covered with foil until ready to serve.
Nutrition
Calories:
90
kcal
|
Carbohydrates:
10
g
|
Protein:
3
g
|
Fat:
5
g
|
Saturated Fat:
3
g
|
Cholesterol:
33
mg
|
Sodium:
194
mg
|
Potassium:
96
mg
|
Fiber:
2
g
|
Sugar:
2
g
|
Vitamin A:
3860
IU
|
Vitamin C:
1
mg
|
Calcium:
43
mg
|
Iron:
1
mg
Originally published 11/8/2019, updated 9/23/2022 with better directions and pictures.
Next check out these delicious pumpkin inspired recipes and a delicious bread recipe: