If you're looking for a substitute to xanthan gum or guar gum that will still give your gluten free baked goods an amazing texture, you have come to the right place! Here are ten tried-and-tested options and some help on using them as an alternative to xanthan gum.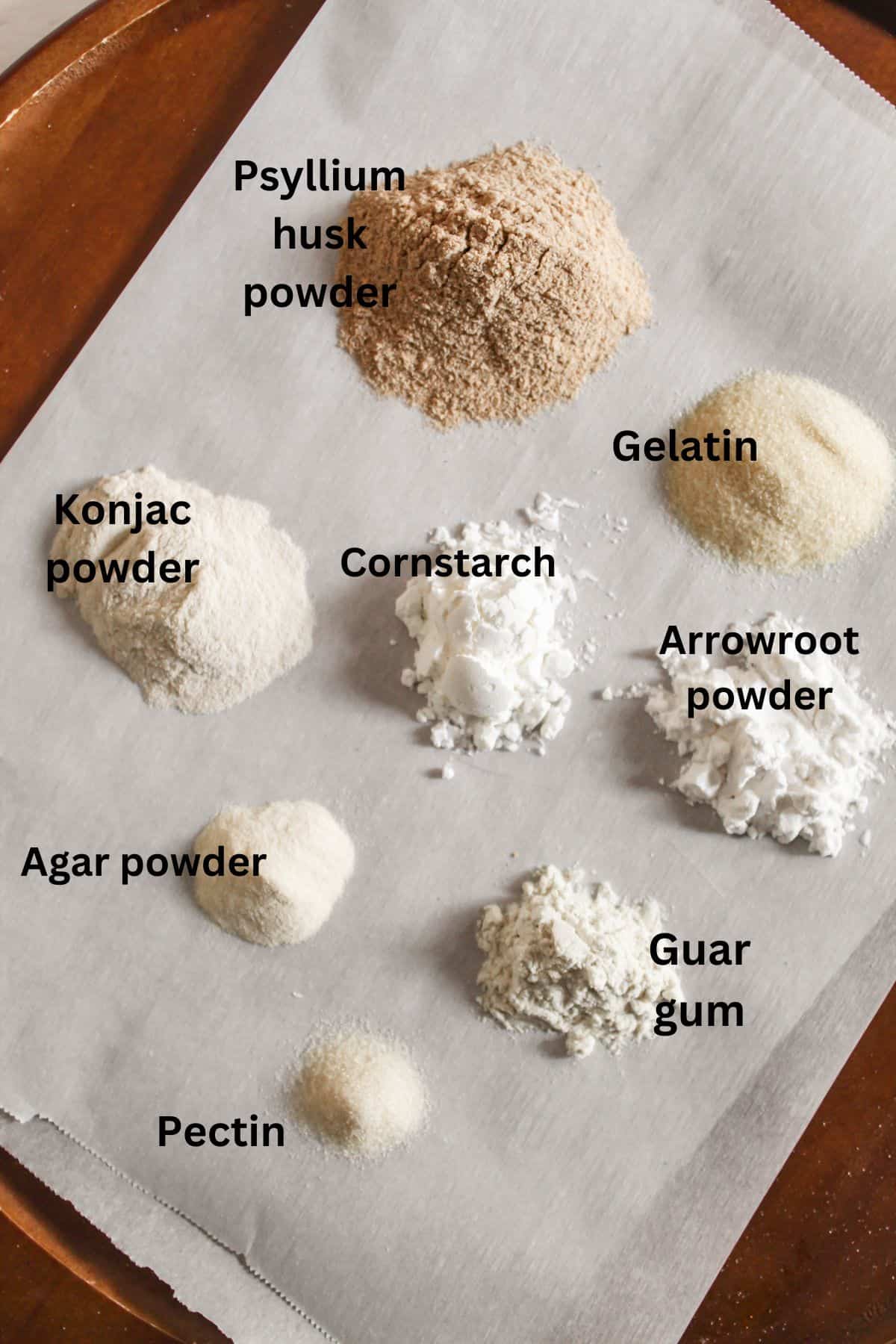 Those who have tried and failed know all too well the challenge gluten-free baking presents. Even the most seasoned gluten free baker sometimes experiences cupcakes having the hardness and dryness of a biscuit and breads that are flat and dry. Baking without gluten affects the texture, taste and structure of baked goods, which is why xanthan gum is so important in a recipe. And if you aren't using it, you need to use a xanthan gum replacement to function as the binder in your gluten-free recipes.
Jump to:
Xanthan Gum Alternative: Key Take-Aways
For the best results when substituting xanthan gum, use a binding ingredient listed below:
Psyllium Husk - can cause digestive issues in large amounts
Chia Seeds - ground into smaller chia seed before using
Flax Seeds - ground into flax meal before using
Unflavored Gelatin - NOT a vegan product
Agar Agar
Konjac Powder
Egg Whites - whipped
Arrowroot Starch - also called arrowroot flour
Pectin - vegan alternative to gelatin
Corn Starch
Find out the measurements for using each substitute in the list below.
Xanthan Gum in Baking
If you've ever wondered what exactly is xanthan gum, you are not alone! Xanthan gum is a fine powder substance that is typically used in small amounts in a variety of ways, it's most popular use is as a binder and thickening agent in gluten free baking. It acts as a stabilizer to prevent baked goods from falling apart. It's a popular ingredient and also used in salad dressings, soups, ice cream and even syrups.
This light and fluffy French bread uses xanthan gum whereas this gluten free white bread does not.
Gluten-Free Binding Ingredients: Substitutes to Xanthan Gum
Just as the name implies, a binding agent helps ingredients stick together. Gluten is a protein, but it's also a binder. It traps air bubbles inside the batter to create the perfect balance of air, wet and dry ingredients.
When you remove gluten from a baked good, it can turn into a runny mess if you don't replace it with something else. The lack of a binding agent not only affects the appearance of your baked goods, but it can affect the taste too.
Popular alternatives to gluten as a binding agent exist in the form of xanthan gum and guar gum. While they're widely used, like gluten, some people experience problems with these too. The good news is that many alternatives DO exist and most of them work just as well, giving your gluten-free baking the light, airy and melt in your mouth texture you crave. Here are 10 substitutes to xanthan gum:
1. Psyllium Fiber (Psyllium Husk Powder)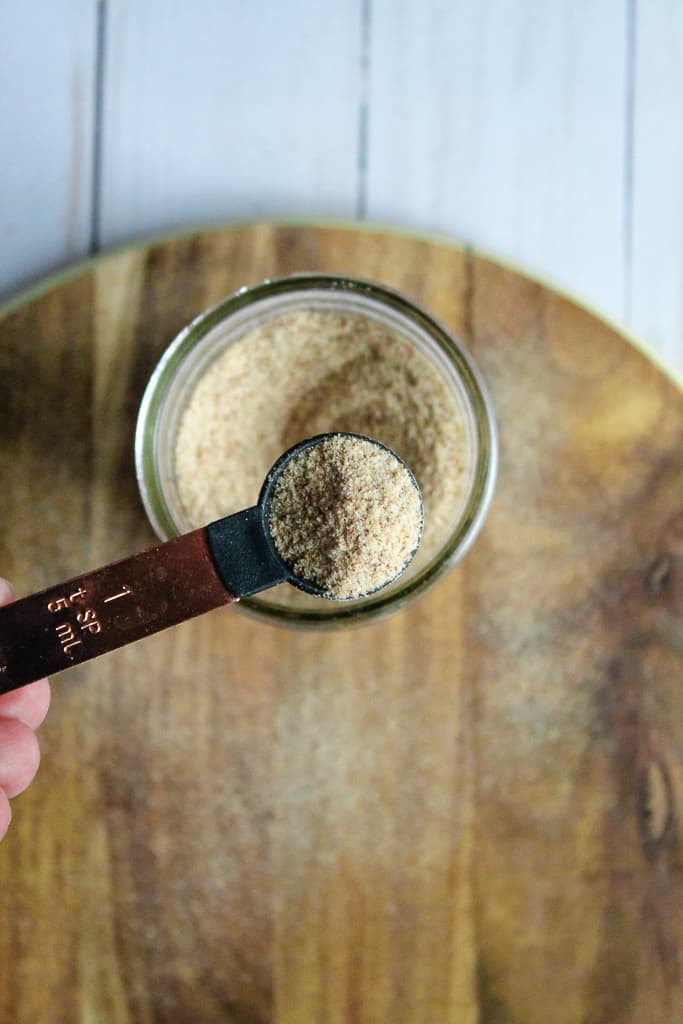 Psyllium fiber is found in most health stores as a dietary fiber supplement. It's popular among bodybuilders and athletes as it helps maintain their digestive health while actively helping to reduce cholesterol. So that's why it may come as a bit of a surprise that psyllium husk powder has been shown to be a great binding agent which improves the baking quality of bread, therefore making it a great substitute for xanthan gum.
A little background on psyllium husk powder
A study conducted in Kuwait proved it. Long story short... scientists started the research with a totally unrelated agenda – they wanted to increase the fiber content in bread. In their experiments, one of the ingredients they added in their blend of flour was 5% psyllium husk powder. The results were completely unexpected and even encouraging from a baking perspective. Not only did the bread rise a little higher, it also retained more moisture and had more volume overall.
That's not all.
An additional study was performed at the University of Milan and Michigan State University. This particular study sought to improve the structure of gluten-free dough. And guess what? "Psyllium fibre [psyllium husk powder] generally enhanced the physical properties of the doughs."
If you haven't tried psyllium husk powder as an alternative to xanthan gum or guar gum, here are two recipes that use psyllium husk powder:
Gluten Free, Dairy Free and Gum Free Dinner Rolls
Gluten Free 'Boston' Style Brown Bread
You can buy psyllium husk powder on Amazon.com.
Using psyllium husk powder as a xanthan gum substitute
Add no more than 2 teaspoons of psyllium husk powder in place of xanthan gum in a recipe. For recipes with 2 cups of flour/starch or less, use 1 teaspoon.
2. Chia Seeds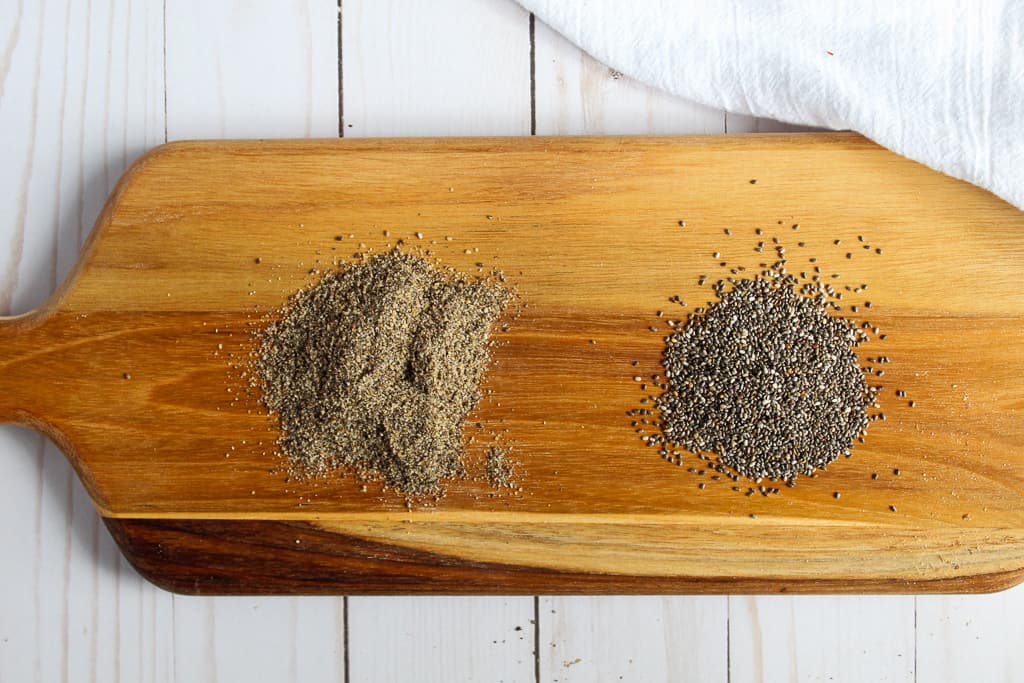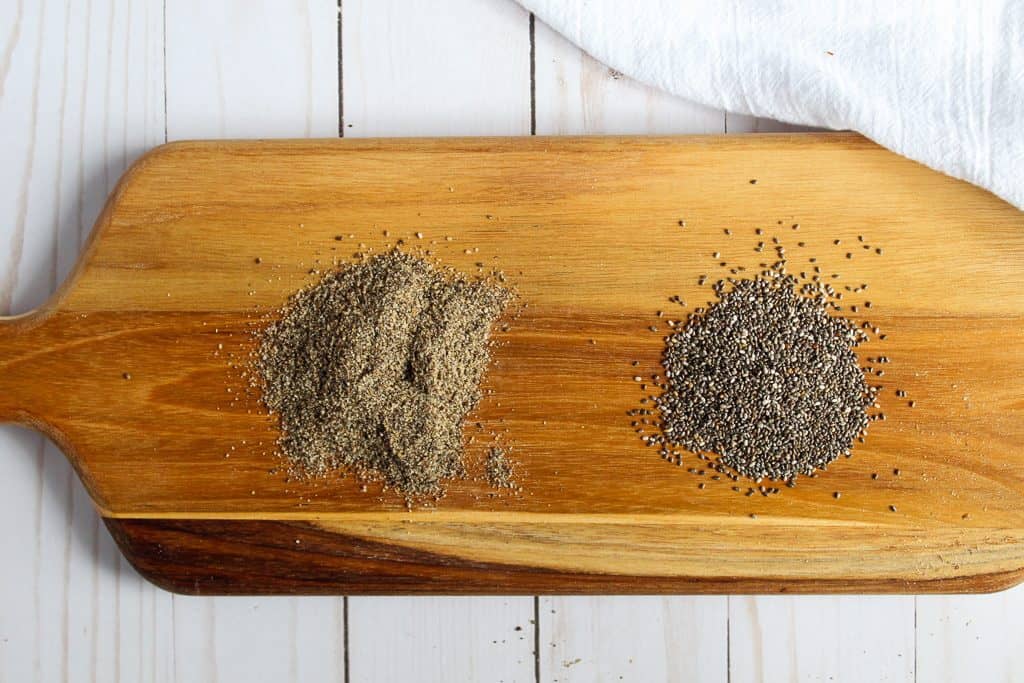 Chia seeds are used for everything from sprinkling into flour mixes to add a nutritional boost to substituting for an egg. From a nutritional perspective, chia seeds are as close to a 'superfood' as you can get. They are rich in Omega 3 fatty acids (more than 2.5 times that of flaxseed), protein and fiber, just to mention a few. On top of all that, they can be used as a binding agent too.
Besides being very high in soluble fiber, they are also hydrophilic (water absorbing). Chia seeds can absorb up to 12 times their own weight in water, forming a gel like substance which locks in moisture.
In baking, this improves the overall structure of breads, pastries and cakes as it eliminates dry or crumbly results due to lack of moisture.
While they are very small and, unlike other seeds, have no real 'shell', their 'seedy' appearance may not be most desirable thing to use in some recipes. Chia seeds can also be ground and added to flour blends although grounding is not required for their 'binding' to take effect. (The picture above shows chia seeds and then ground chia seeds.)
It is also worth noting that they have a very mild, nutty flavor which generally does not alter the overall taste of the final product.
Chia seeds can be found here: 16 oz. package.
Recipes using chia seeds: Chia seed bread and chia seed muffins.
Using chia seeds as a xanthan gum substitute
As a xanthan gum replacement, I recommend grinding chia seeds before adding to a recipe so there are no visible seeds. It can be used as a 1:1 substitute in a recipe.
3. Ground Flax Seeds (Flax Seed Meal)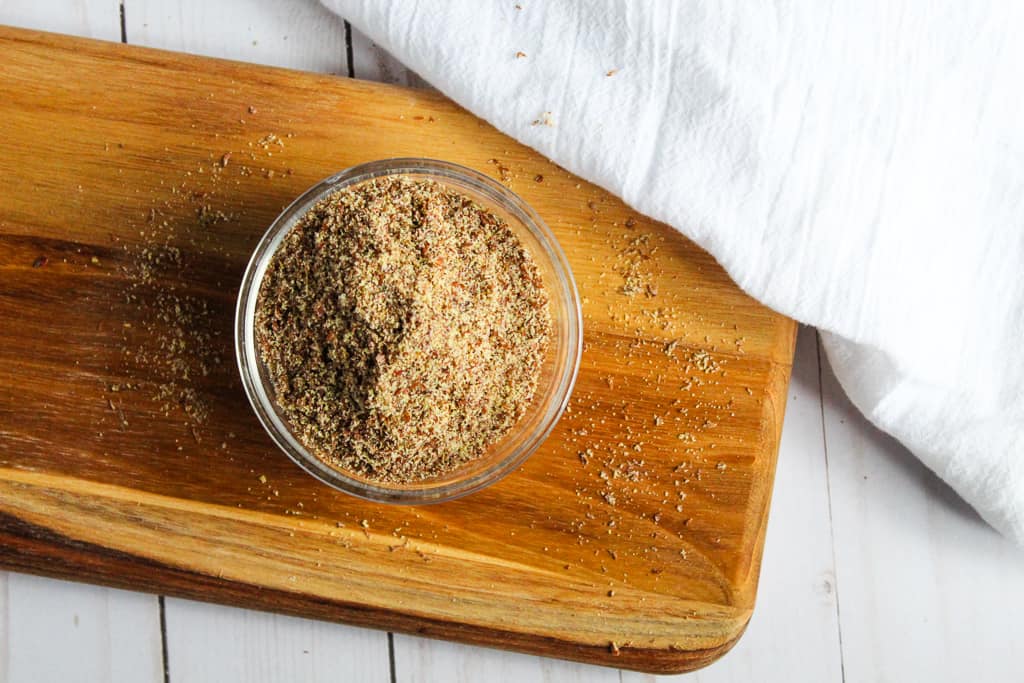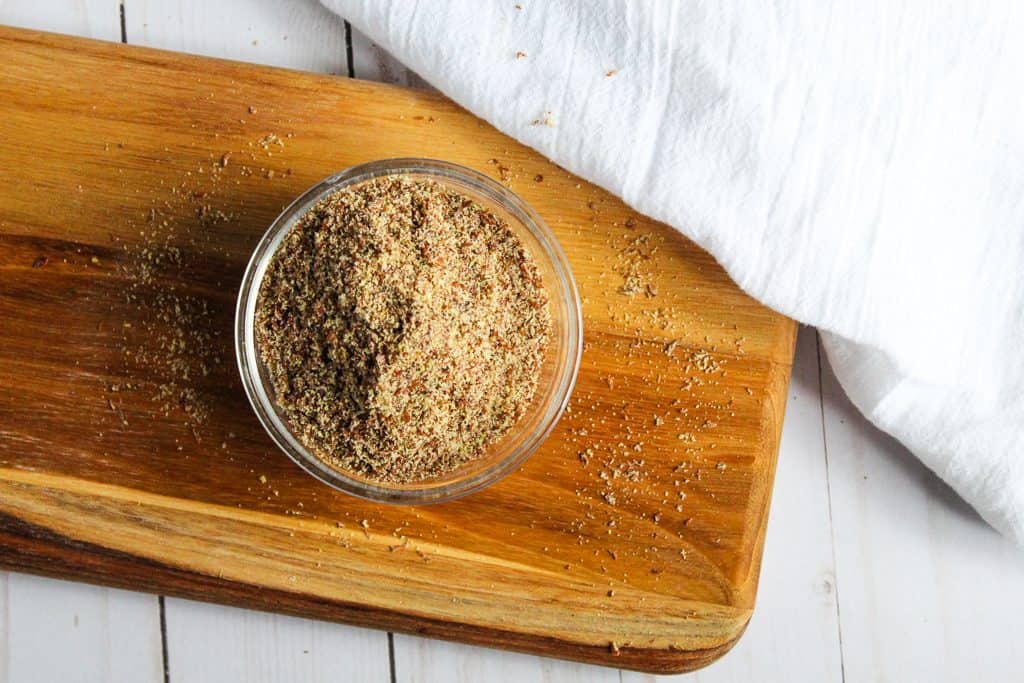 For some readers, flax seeds are more common than their chia counterparts. While we tend to associate them with baking, flax seeds are healthy too.
In gluten-free baking, ground flax seeds do a great job of binding ingredients together and mimicking that desirable 'gluten effect' by adding moisture and softness to your baking.
But be warned: Flax seeds tend to be rather large in comparison to chia seeds and they also have an outer shell. As a result, just adding them in their natural form to a gluten-free flour blend won't work as a binder.
They actually have to be ground for the binding effect to take place. Ground flax seeds are also known as flax meal.
Nutritionally, ground flax is rich in Omega 3 fatty acids (though not as high as chia seeds), iron, fiber and zinc – just to name a few.
Flax seed meal is of the best substitutes to xanthan or guar gum. Here are a couple recipes using ground flax seeds:
Quick Gluten Free Double Chocolate Biscuits
Gluten Free Italian Herb Bread for the Bread Machine
Gluten Free Outback Steakhouse Bread (Gum Free)
Flax seed meal will last a long time - here is a good one to use: Flax Seed Meal
Using flax seeds as a xanthan gum substitute
The ground variety of flax seeds are known as flax seed meal. They can be used as a 1:1 substitute in a recipe.
4. Unflavored Gelatin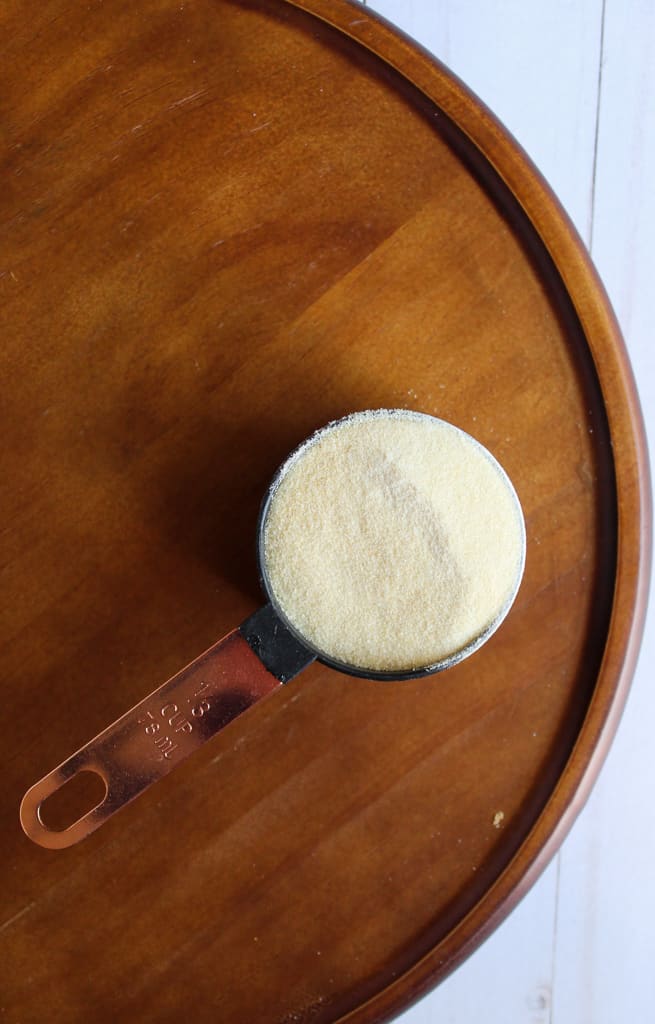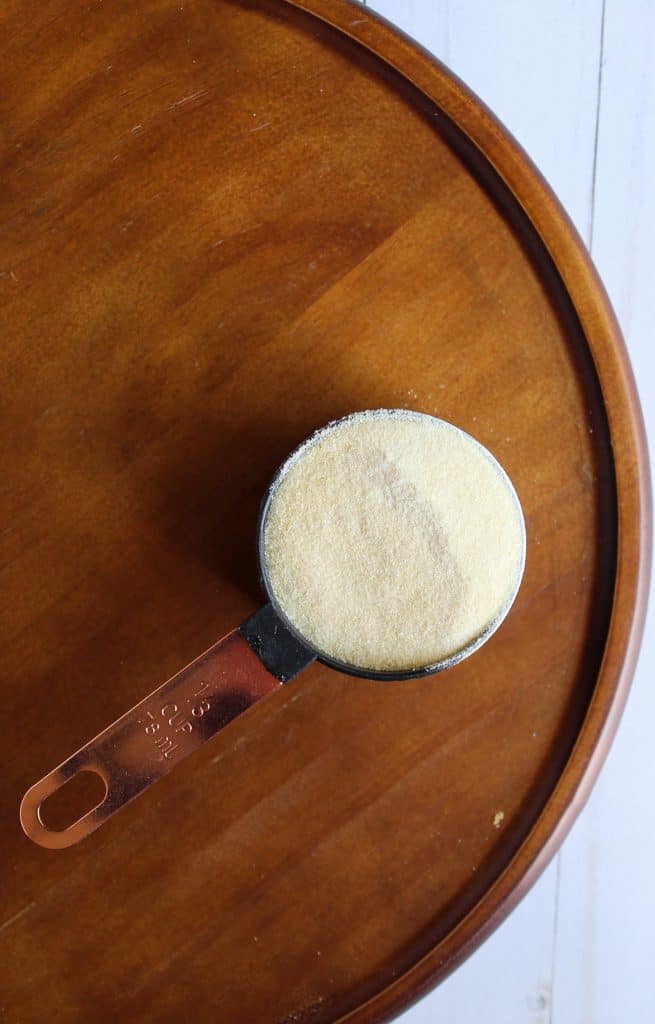 Gelatin frequently appears on the ingredients list of some popular sweet snacks such as gums and jelly beans. It's the gelatin which gives them their sticky, moist-on-the-inside texture. When mixed with a few tablespoons of water, it forms a gel-like substance which can be used in baking to make doughs stretchy and to retain moisture in baked food.
Gelatin is frequently used as an egg replacer and for this reason, it functions well as a binder.
A drawback is that gelatin is derived from animals and is therefore not suitable for vegetarians or vegans. Also keep in mind that not all gelatin is created equal - the popular flavored JELLO is not the type of unflavored gelatin for baking. Aspen Naturals is a good variety. But avoid any flavored gelatin. It is not the same thing!
Where to buy gelatin: Gelatin is on the high end in terms of cost, but it will last a long time.
Here are a few recipes that use gelatin:
Using gelatin as a xanthan gum substitute
Gelatin can be substituted as a 1:1 substitute in a recipe.
5. Agar Agar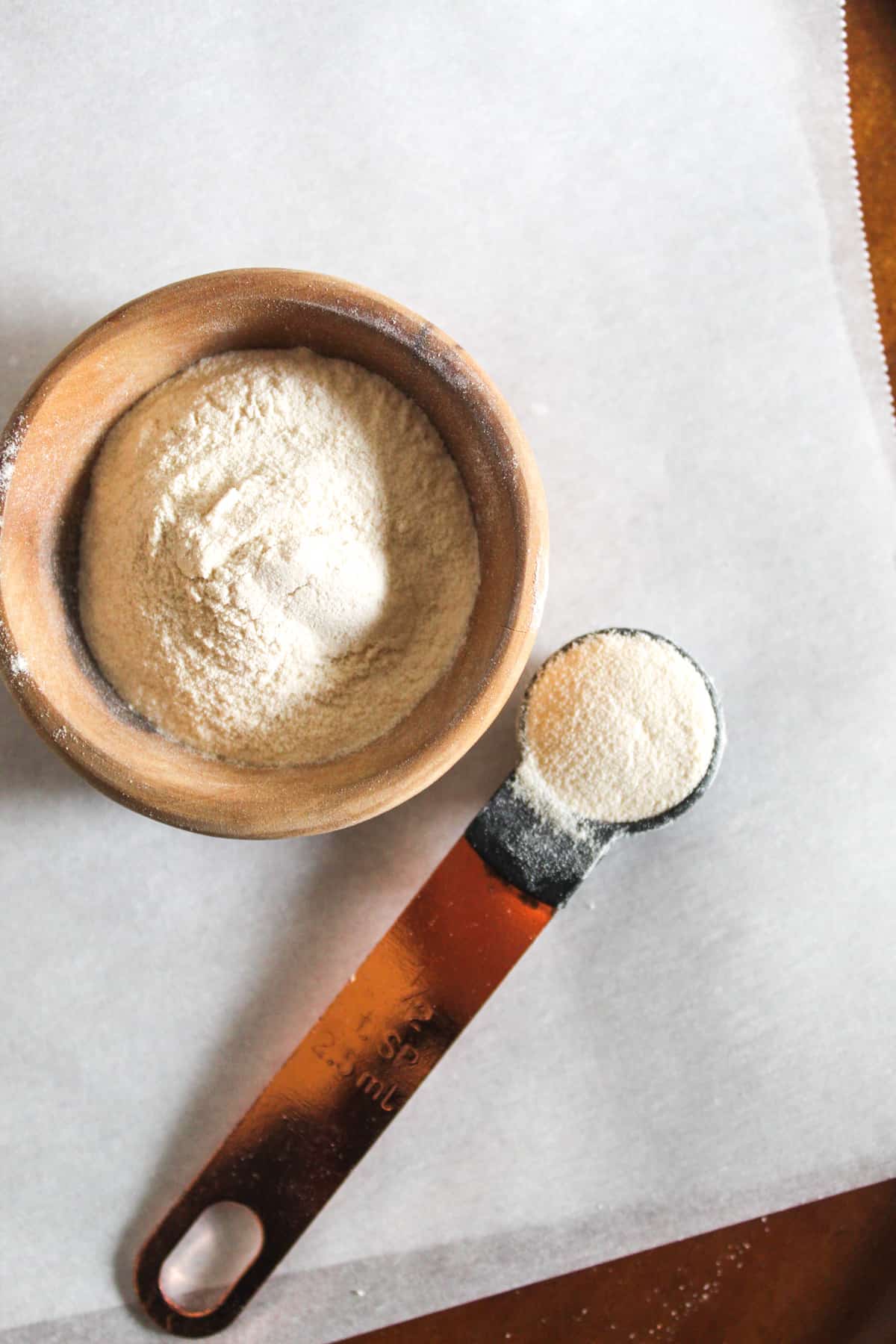 Agar agar is a vegan alternative to gelatin (and less expensive!). It is derived from the cell walls of red algae and has a low carb count making it great for a keto diet. This seaweed is a common food additive in food processing plants. Much like gelatin, agar agar can be found in a flavorless variety and it acts as a thickener, stabilizer, texturizer, forming a gel-like substance when mixed with water.
In gluten-free baking, this would result in a stretchier dough, chewier breads and (more) moist cakes. That said, it's a good idea to exercise caution when using agar agar as using too much can result in excess moisture being retained, making your bread or cakes soggy.
Agar agar is available here and since a little goes a long way, you'll have it for a while.
Using agar agar as a xanthan gum substitute
Use no more than 2 teaspoons of agar agar to 3 cups of flour/starch. Typically 1 teaspoon to 1-2 cups of total flour/starch is a perfect amount.
6. Konjac Powder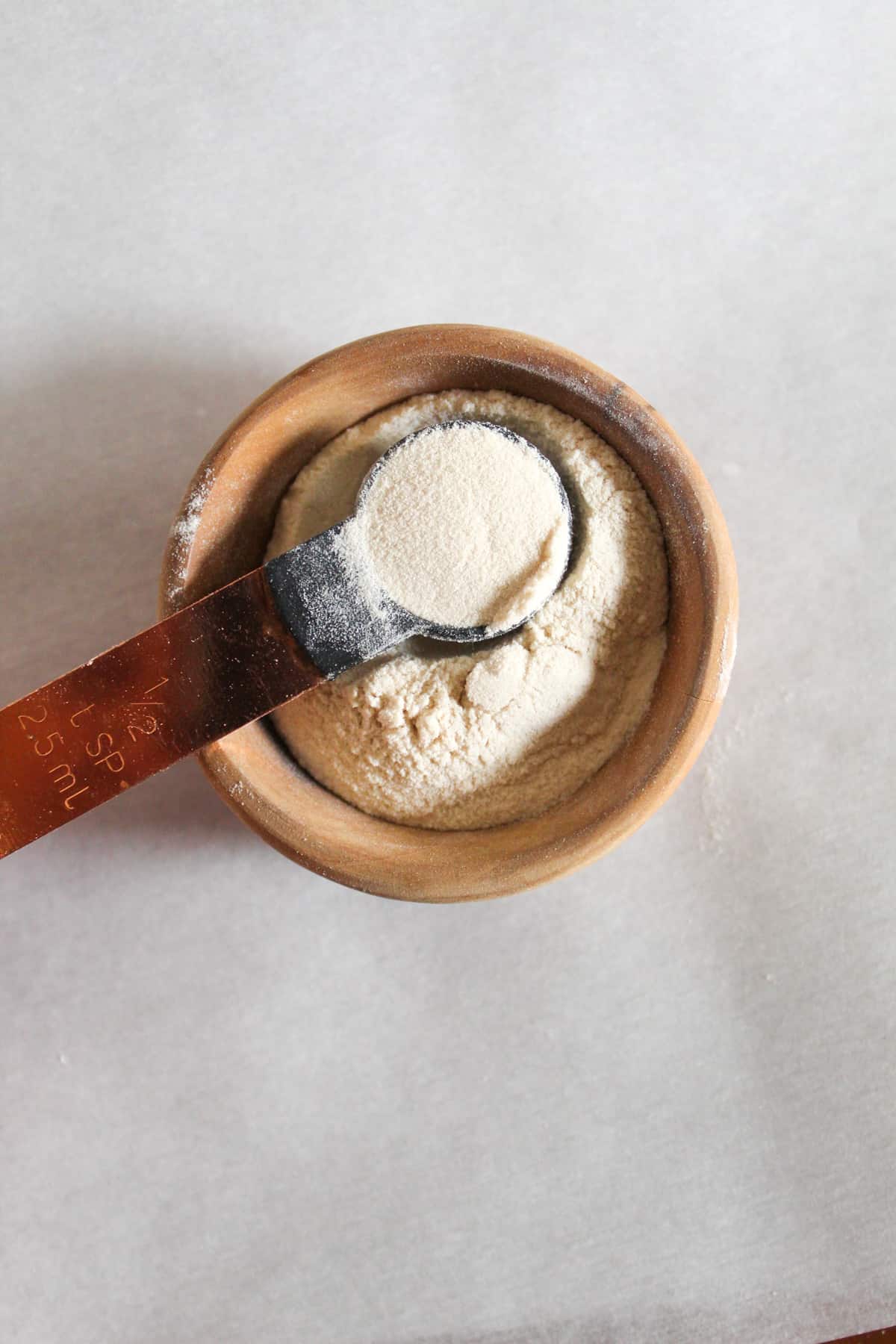 Konjac powder (also known as konjac glucomannan) is a fine powder made from the konjac, a root vegetable that grows in Asia. The powder is made from the root of this starchy plant, so it's an excellent thickener in cooking.
This powder is commonly used to thicken sauces, soups, puddings, and more. Konjac powder also absorbs moisture very well, which makes it great for gluten free baking. By now, it's pretty clear that good replacements for gluten must be able to absorb moisture and give baked goods the structure they need. Konjac powder is definitely one such replacement!
This is a good brand of konjac powder.
Using konjac powder as a xanthan gum substitute
Because konjac powder is great at absorbing moisture, use it in a reduced amount... In most cases, ½ teaspoon to 1 teaspoon is plenty.
7. Egg Whites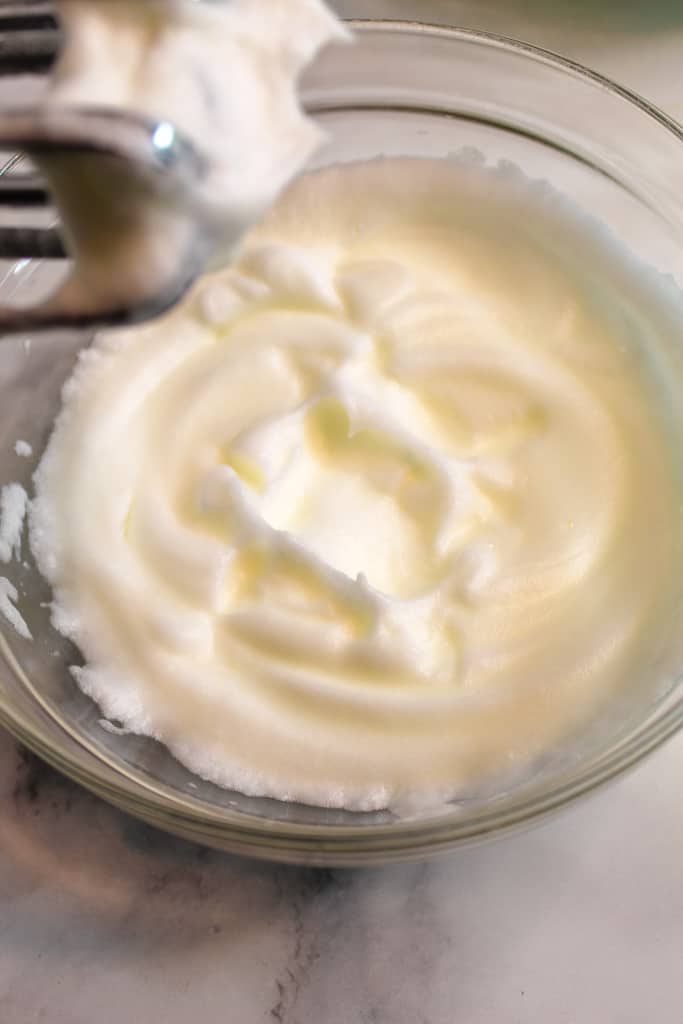 We all know where egg whites come from! But did you know that egg whites are mostly water? Yep, they mainly contain water and a bit of protein. If you've ever whipped them up to make a meringue, you'll know how good they are at reaching a light and fluffy texture.
This is true for baking gluten free goods with them, too. They can give moisture, structure, and a light texture to whatever you're baking. Since egg whites are such a good binder option, they are an excellent choice to prevent baked goods from having a dry and crumbly texture that no one wants to end up with.
Here are a few recipes that use egg whites:
Amazing Gluten Free White Bread
Golden Gluten Free French Bread
Using egg whites as a xanthan gum substitute
Use 1 whipped egg white for up to 1 Tablespoon of xanthan gum.
8. Arrowroot Starch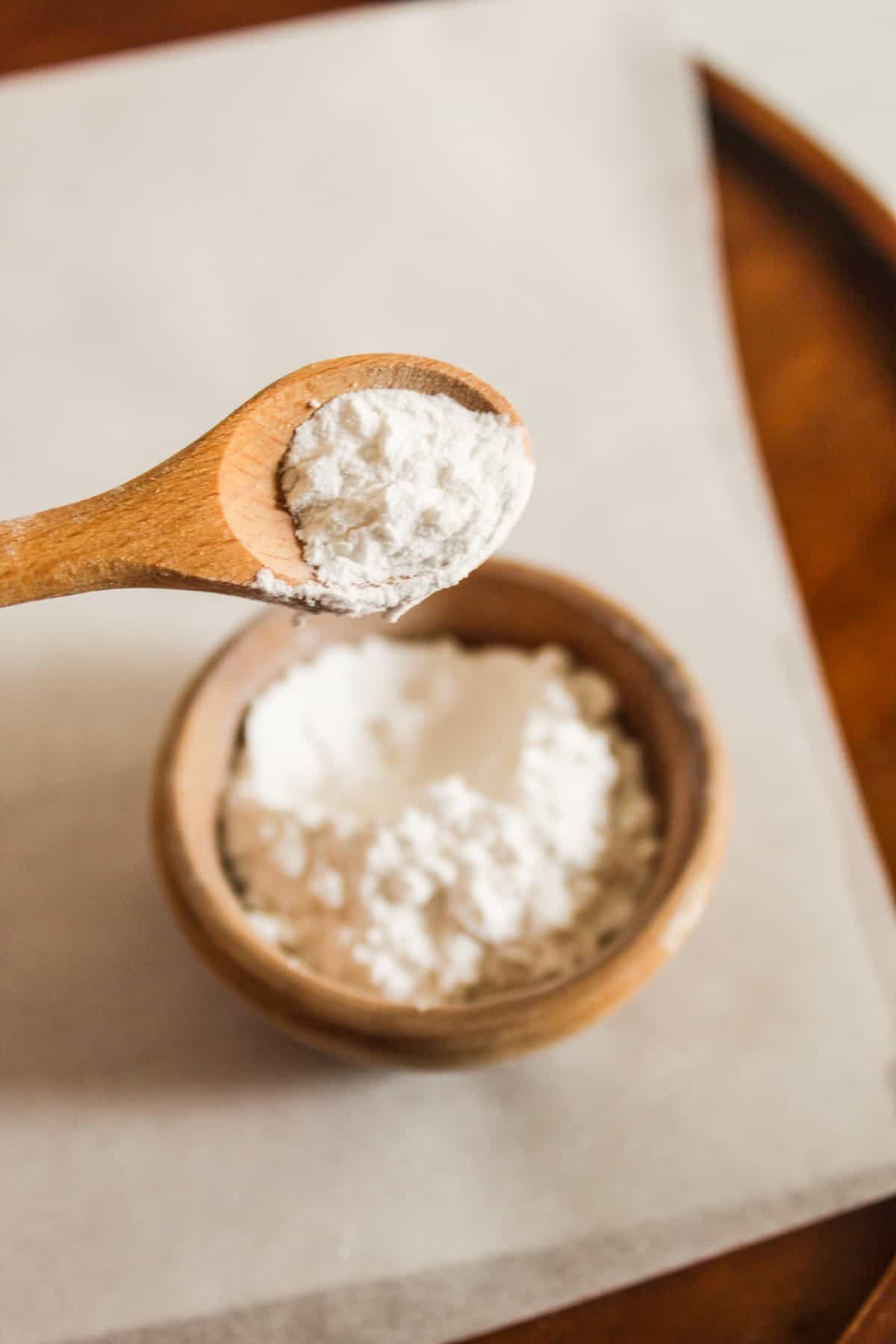 Arrowroot starch (also known as arrowroot powder and arrowroot flour) is a flavorless fine powder made by grinding up the root of the arrowroot plant. Since it's starchy with no strong flavor, arrowroot is one of the popular gluten-free flours in gluten free baking.
Arrowroot starch is yet another common ingredient that's great at thickening. It also helps create the structure that is so needed in baking without gluten. These qualities make it an excellent substitute for xanthan gum.
Here are a few recipes with arrowroot starch:
Quick and Easy Gluten Free Crepes
You can find arrowroot starch online - this size package will last a long time.
Using arrowroot as a xanthan gum substitute
Arrowroot flour can be substituted for xanthan gum in a 1 Tablespoon to 1 teaspoon ratio. So 1 Tablespoon of arrowroot for every teaspoon of xanthan gum.
9. Pectin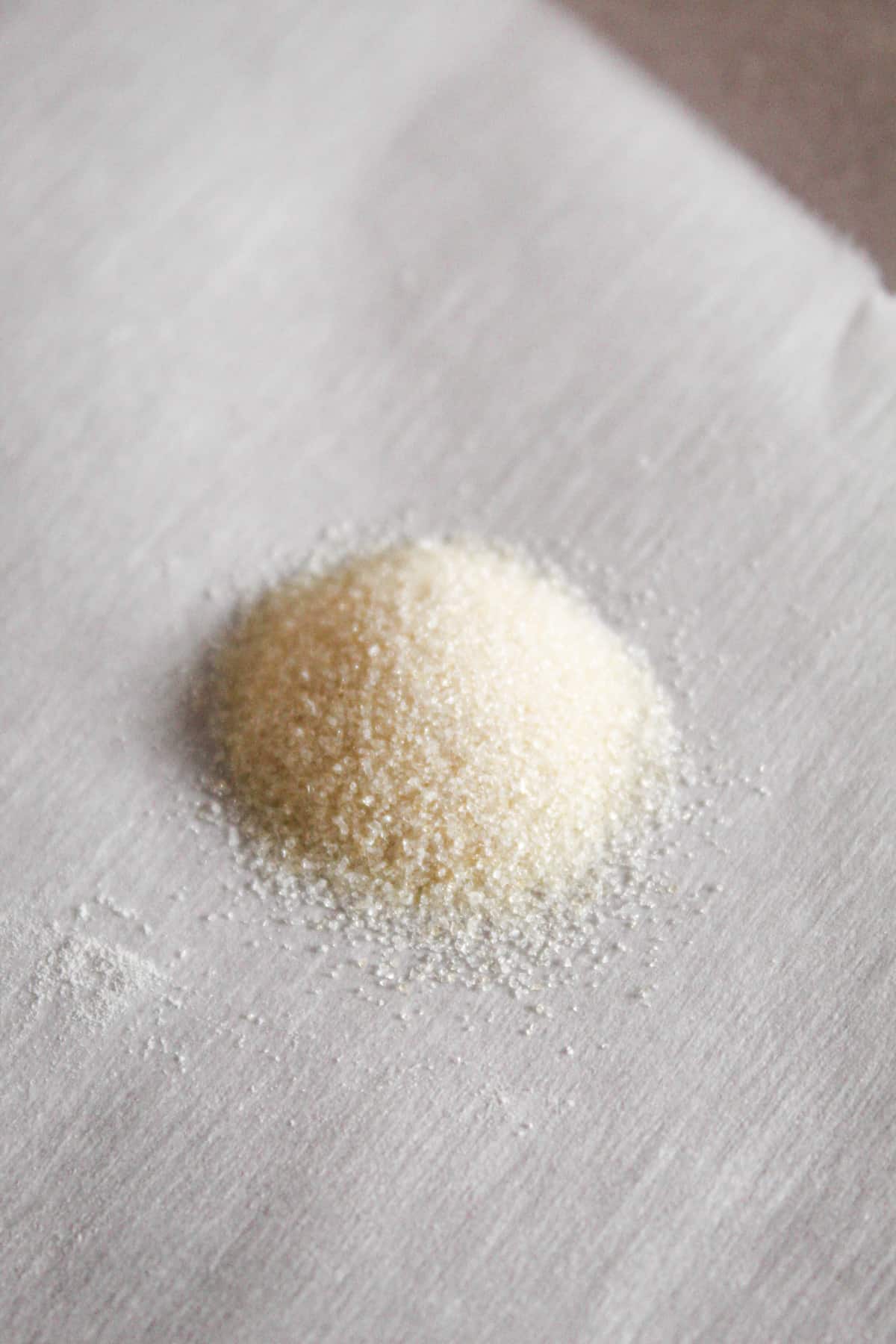 Pectin is white powder, polysaccharide found in the cell walls of certain fruits. It's similar to agar agar since it is a vegan gelatin. Pectin is commonly used to thicken fruit jelly and give it the body it needs to be more solid rather than runny.
Since it's completely plant-based, pectin is a wonderful ingredient to use in gluten free (and vegan) baking. Pectin is great at retaining moisture, creating structure, and giving baked goods a soft texture. So if gelatin and agar agar aren't your cup of tea (or you don't have access to them), pectin may be the xanthan gum alternative for you!
This brand of pectin works well.
Here is a recipe that uses pectin: Gluten Free Croissants
Using pectin as a xanthan gum substitute
Pectin can be substituted for xanthan gum is smaller amounts - use ½ teaspoon for every 1 teaspoon of xanthan gum.
10. Cornstarch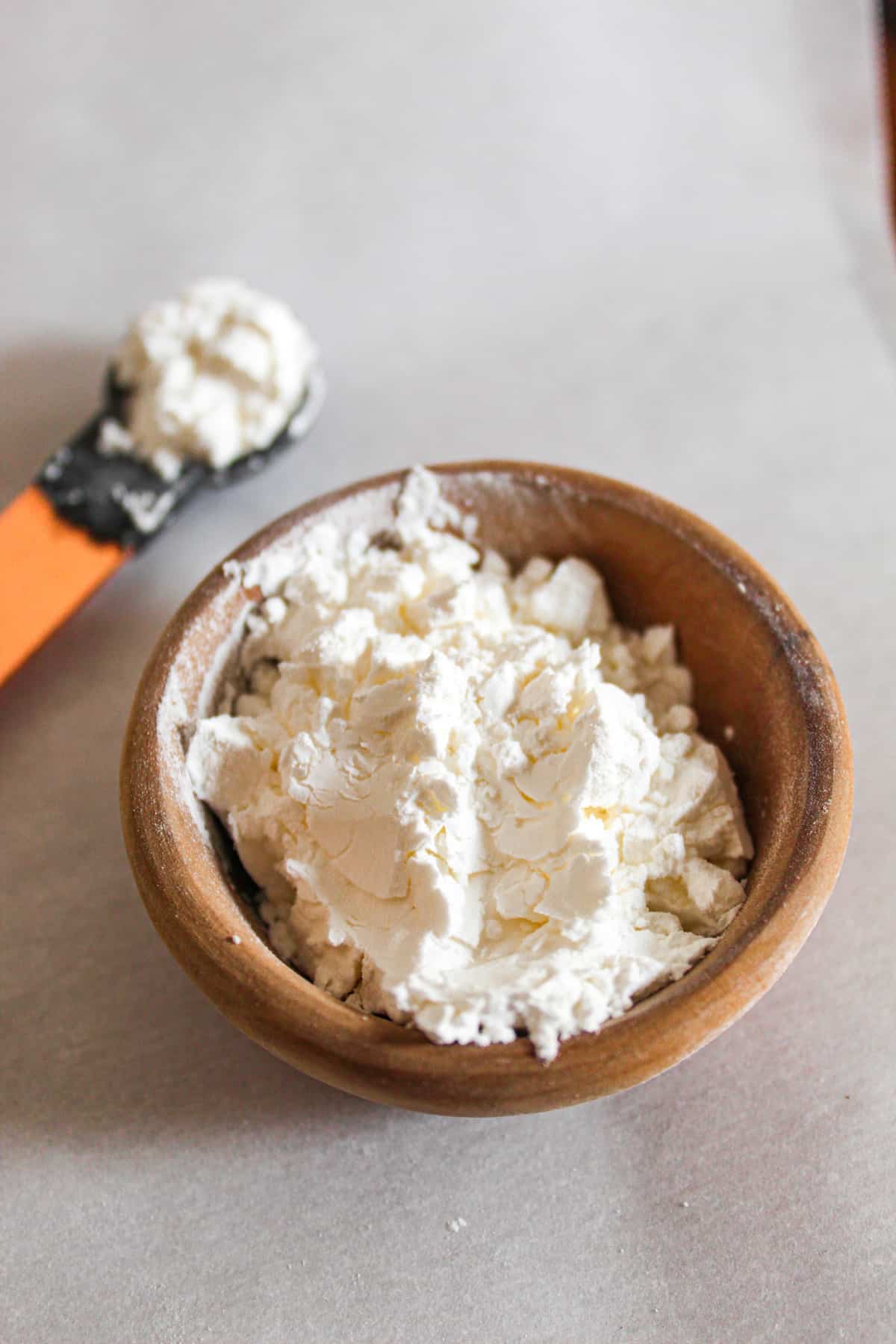 Corn starch is a starch derived from corn, and it's probably the most commonly used gluten free ingredients. Most of us have cornstarch in our pantry already, as it's widely used as a thickener in sauces, and soups. It's also one of the five ingredients in my gluten free flour mix.
The starch molecules in cornstarch absorb the moisture of whatever it's mixed into, which makes the mixture thicker (rather than on the runny side). But what exactly does it do in baking? In gluten free baking, cornstarch can be a wonderful binder that "glues" everything together and also gives a tender but structured texture.
You can find cornstarch in your local grocery store and online.
Here are a few recipes with cornstarch:
Using cornstarch as a xanthan gum substitute
Cornstarch can be added to a recipe to replace the xanthan gum in a 1:1 ratio.
What is the Best Xanthan Gum Substitute?
Xanthan and guar gum may be the heavy hitters when it comes to binding agents for gluten-free recipes, but they aren't the only game in town! What's more, these alternatives promise to deliver results that are just as tasty as using xanthan gum or guar gum in your breads, rolls, muffins, cakes and pretty much anything else you'd like to substitute it for.
The thing to keep in mind when working with any alternative is that ingredients perform differently in different recipes. What may be a good substitute in a bread recipe may not do well in a cookie recipe. Overall, I've had the most success substituting with flax seed meal, chia seed and psyllium husk powder, however.
Substitute for Xanthan Gum FAQs
What can be used instead of xanthan gum?
There are several alternatives for xanthan gum: psyllium husk, chia seeds, flaxseeds, unflavored gelatin, agar agar, konjac powder, egg whites, arrowroot starch, pectin, or cornstarch.
Can xanthan gum be substituted for cornstarch?
Xanthan gum is not a one-for-one substitute for corn starch. In some gluten-free recipes it may work, but not all.
Is xanthan gum the same as gelatin?
Xanthan gum and gelatin are not the same thing. Gelatin is an animal by-product, while xanthan gum is not. They are one-for-one substitutes however.
What xanthan gun substitute is good for a keto diet?
There are many great options for a xanthan gum substitute for a keto diet, psyllium husk is probably the best option, but chia seeds, flax seeds, unflavored gelatin, agar agar, konjac powder, pectin, corn starch, arrowroot flour, and egg whites are also good options.
Gluten-Free Recipes to Check Out:
This article was originally published 10/26/2013, then updated 3/23/2018 and updated again with new pictures 8/28/2019. Updated 4/7/2023 with new information.