Your ultimate guide to gluten free flour substitutes and what to expect from each type of flour.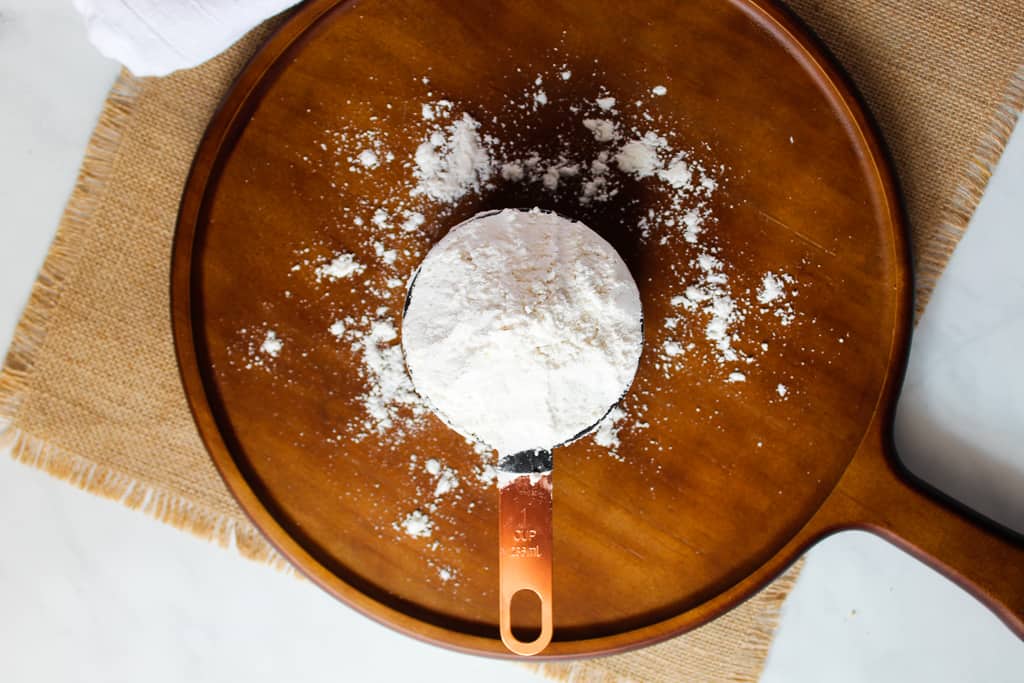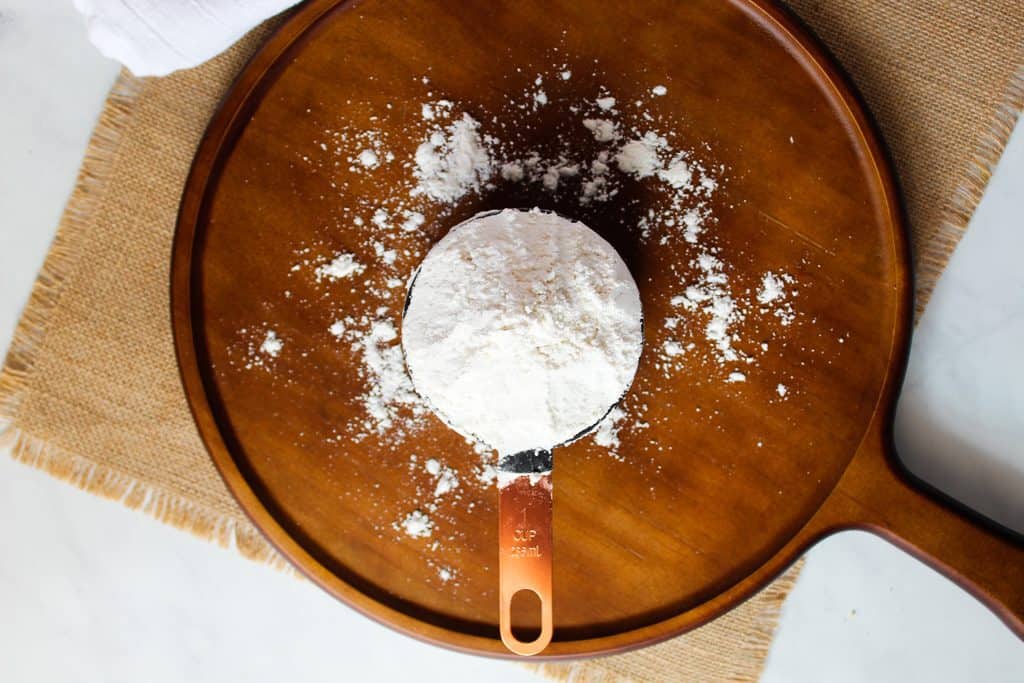 How often have you scanned a recipe only to find you have everything you need except for a few gluten free flours. Millet flour… Sorghum flour… Sweet rice flour… Yikes…
So you start playing the guessing game of 'what flours do I have and will they work for this recipe'. After googling for what seems like forever, trying to find out if tapioca starch can be substituted for cornstarch, you almost give up.
Sound familiar?
Well this guide is the answer to your gluten free flour substitutes dilemma. We'll look at all the most common flours and starches and offer an easy guide for substituting gluten free flour successfully.
Gluten Free Flour Substitutes Chart
If you've ever wondered why some flours can be successfully substituted and others simply have no substitute whatsoever, this chart explains why. (And I have a bonus at the bottom of the post too, with a free printable PDF version of this chart, so you can print it off and keep it handy!)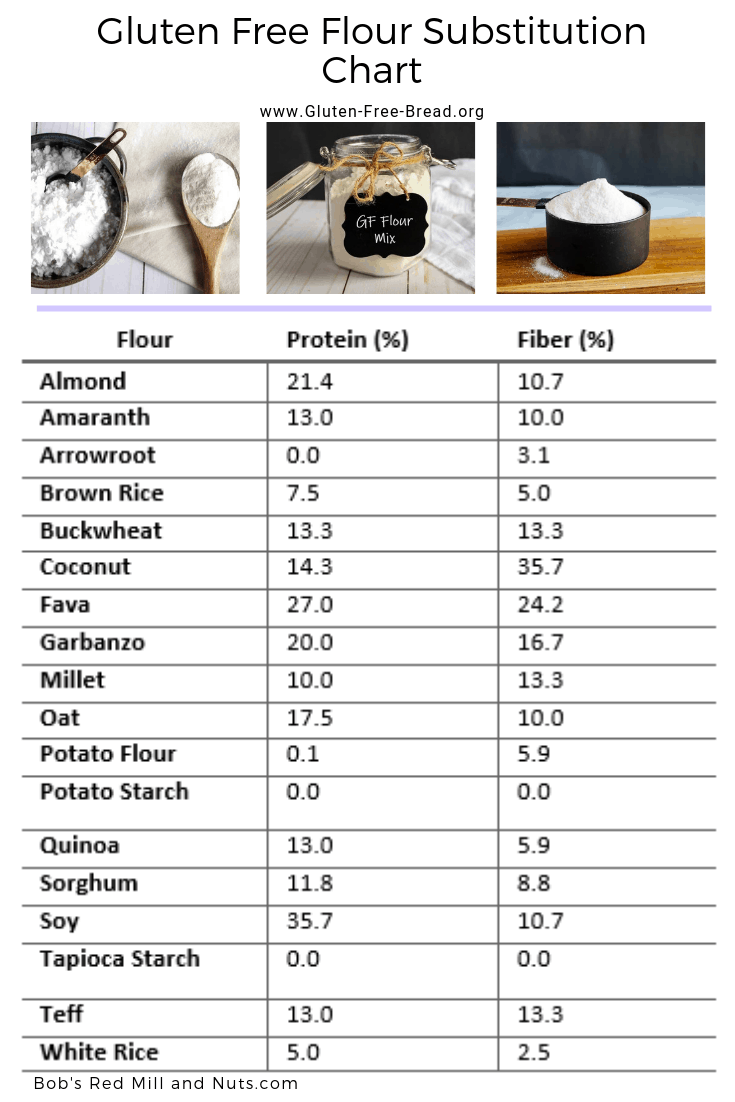 Here's a brief explanation of what this means… all flours and starches have a different structure. Think of it like white sugar and honey. They're both sweeteners, but the makeup of them is so different, you can't just swap one for the other. The white sugar is granulated and functions as a dry ingredient. Honey on the other hand, is a liquid. Adding more liquid to a recipe will no doubt change the end result.
Well, for gluten free flours, protein and fiber are the major components when it comes to gluten free baking.
That's why a high protein, high fiber flour like almond flour can't be cup for cup substituted with something like white rice flour, which is a low protein, very low fiber flour.
So a good rule of thumb with these flours and starches is to substitute one that most closely matches the flour you are trying to replace.
Gluten Free Flours and Their Substitutes
So using almond flour as an example, if it has a protein content of 21.4% and fiber content of 10.7%, what would a good substitute be?
If you picked oat flour, you'd be correct!
What about with potato flour? Arrowroot starch is actually the closest.
In most of the recipes you find on Gluten Free Bread, starches can be substituted cup for cup.
I've never run into a recipe where cornstarch doesn't work but tapioca starch does. It may be different when cooking, but baking is an even swap.
Common Questions about Gluten Free Flour Substitutes

Which gluten free flour can be substituted for all purpose flour?
There's no denying that all purpose flour is convenient. Just one bag and it bakes up all kinds of breads. Fortunately, you can do the same thing with a good gluten free flour mix. A good mix can make converting all your beloved gluten-recipes super easy. A word of caution though – you may need to add a teaspoon of xanthan gum or a gum substitute to mimic the consistency of gluten in breads.
Which gluten free flour is best for baking?
It really depends on what you're baking. For yeast breads, brown rice flour, light buckwheat flour, oat flour and sorghum flour work great. Biscuits do well with light buckwheat also. Many recipes, like this Gluten Free French Bread, use a gluten free flour mix that's already been balanced with rice flours and starches so you can count on a perfectly textured bread every time.
Can I use almond flour instead of ______ gluten free flour?
Almond flour is a great grain free option for gluten free baking. And the question often comes up – can I use it instead of (fill in the blank) flour? But with it's high protein content, it can't always be swapped out cup-for-cup. But all is not lost on this beloved gluten free, grain free flour – just start small. Start with ¼ cup almond flour to ¾ cup of the flour called for in the recipe. Little changes are easier to work with than drastic cuts.
How does gluten free flour affect baking?
Quite a bit! Since gluten is missing from gluten-free flours, that crucial protein in baked goods either needs to be replaced or somehow mimicked in gluten free baking. Fortunately, there are alternatives that can do the trick. Gums, like xanthan gum or guar gum, or other binders like psyllium husk powder or flax seed, work to create that much needed structure.
Read more about Xanthan Gum here.
Does gluten free flour taste different?
About as different as white sugar and honey! Gluten free flours each have a distinct flavor that can sometimes add a lot of flavor to baked goods. One whiff of coconut flour and you'll see what I mean! Other flours like rice flours don't add anything as far as taste or smell goes.
Looking for the printable version of the chart? Here it is: Gluten free flour substitutes chart
Check out these delicious gluten free recipes next!