If you're looking for a grain free, gluten free biscuit, you have come to the right place! These almond flour biscuits are so light and so tender, they just might be your new favorite biscuit!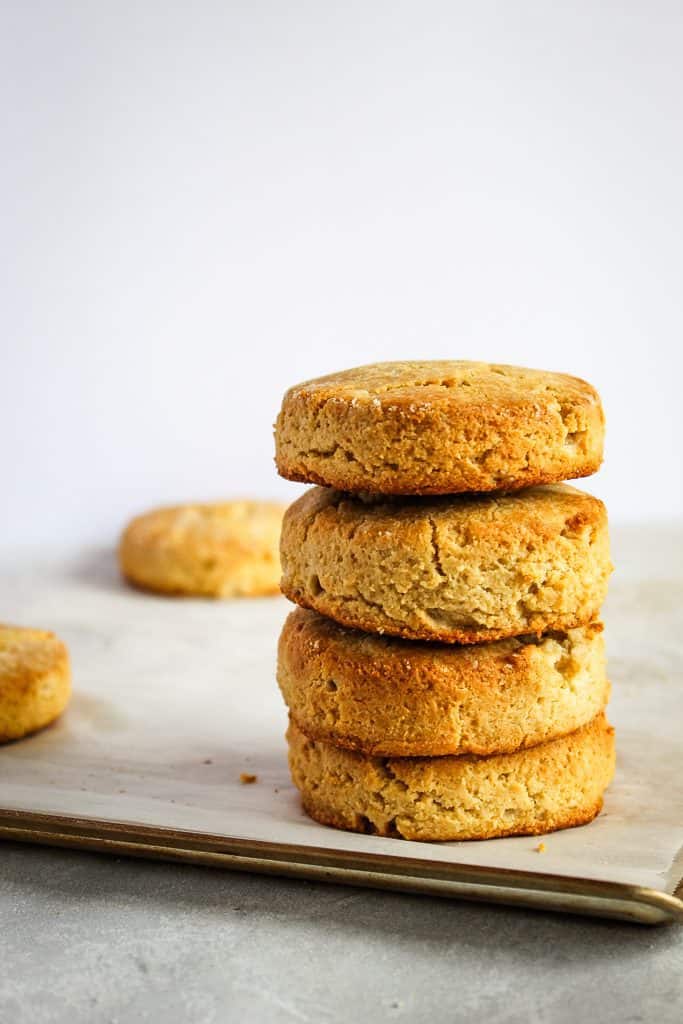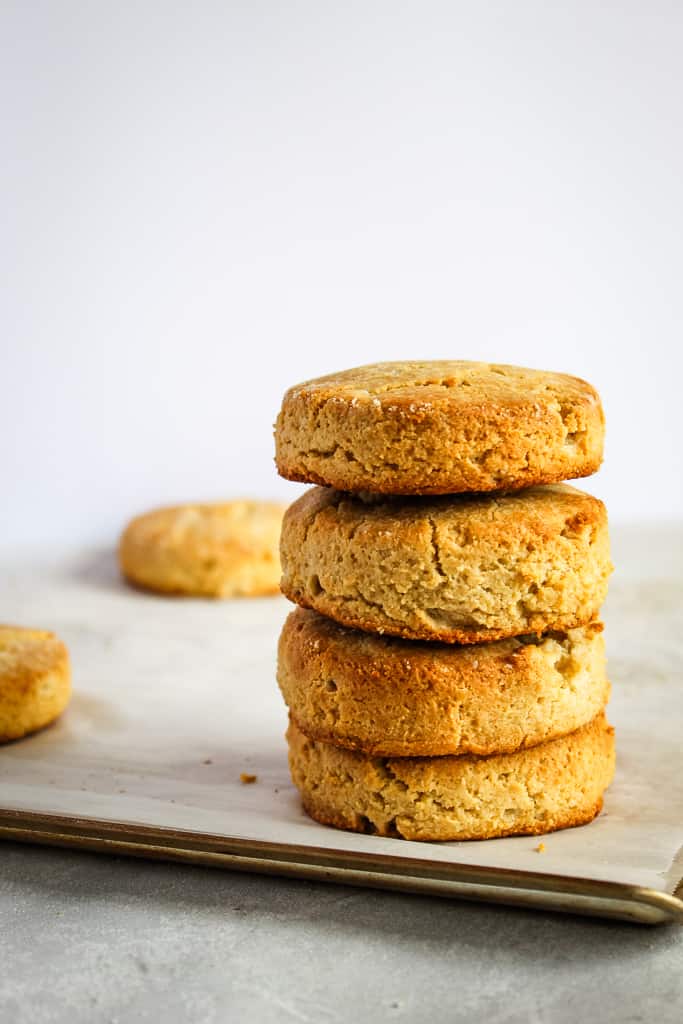 When it comes to reader requests, a low carb biscuit that's still light and fluffy has been a welcome challenge. And it was definitely a challenge - Either they were too dense, too crumbly or just didn't taste right.
After many different types of flours and flour combinations, almond flour was the answer to that biscuit dilemma. These biscuits taste amazing, without that gritty, crumbly taste sometimes found in baked goods with almond flour. But it's a delicate balance. The butter balances out the almond flour and the milk helps with the texture. Every ingredient is important for the success of these light and airy biscuits (but there's only 7 ingredients, so it's a short list!).
Is Almond Flour Low in Carbs?
Almond flour is just what it sounds like—almonds that have been ground into flour. Almonds, and therefore almond flour, are packed with nutrients and a great choice if you're avoiding grains or gluten.
Almonds are:
Gluten free
High in manganese
High in vitamin E
High in protein
Low in carbohydrates
Low in sugar
High in monounsaturated fats
High in fiber
High in omega 3 essential fatty acids
Studies show that almonds are good for your heart, brain, complexion, colon, digestive system, cholesterol, and blood sugar. 
So with all that good stuff that almonds do - almond flour must be good too, right? Yes, it is! In fact almond flour is 21% protein and 11% fiber. And yes, low in carbs! And it's delicious, with a flavor and texture that adds not only moisture, but an extra dimension of taste to dishes it's used in.
Are these biscuits dairy free?
Good news - the recipe is dairy free as written. Now you can always use cow's milk and regular butter if you'd prefer. And no other modifications would be needed.
Can I double the recipe?
Since this recipe makes 6 biscuits, it would make sense that for 12, you'd just double the recipe. Unfortunately that's not the case with this one. Rather than doubling it, make 2 batches, side by side.
What's the best way to roll out biscuit dough?
Biscuit dough should be soft, yet firm enough to not stick to the rolling pin.
Follow these tips to ensure your dough produces the tastiest biscuits:
Use wax paper - wax paper allows for ease in rolling and moving the cut biscuits to the baking pan
Flour the wax paper well - use about 1 Tablespoon of gluten free flour on the sheet of paper before adding the dough
Freeze the dough - a quick 10 minute freeze time will do two things... 1. Firm up the dough for rolling and 2. Solidify the butter a bit for a super buttery flavor.
Roll quickly with just a couple swipes - the more you roll the dough, the flatter the biscuits. Aim for dough that is about 1 inch thick.
Tips for Making Almond Flour Biscuits
Ingredients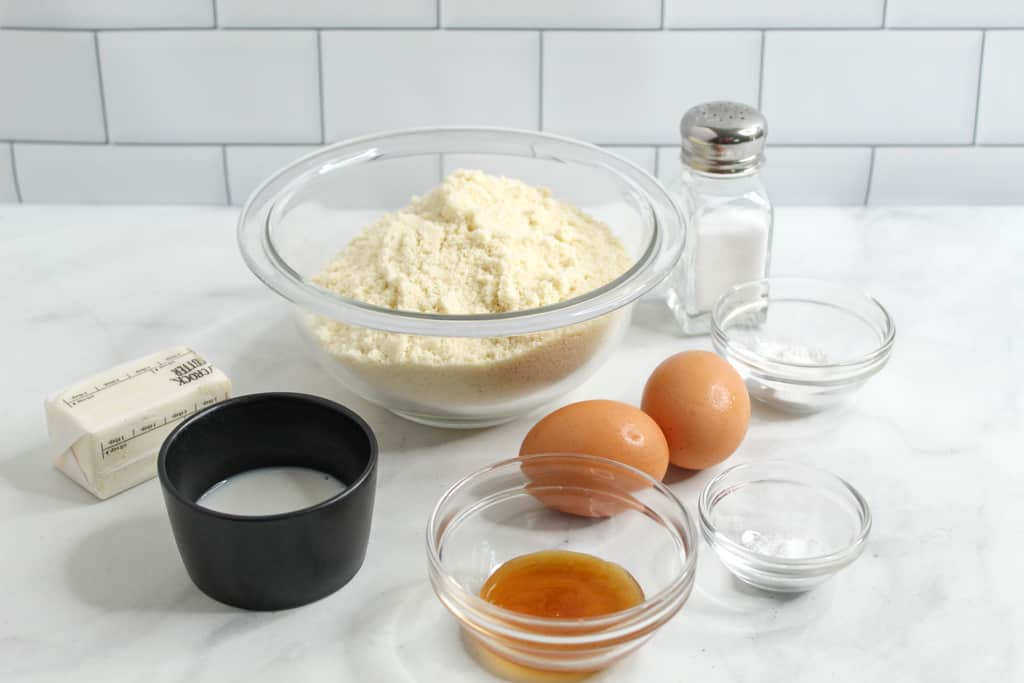 The ingredients list for these biscuits is wonderfully short and sweet. Just 7 items and you are on your way to ooo's and ahhh's. Almond flour is the shining star but some butter and a touch of honey are important too.
Cutting in the Butter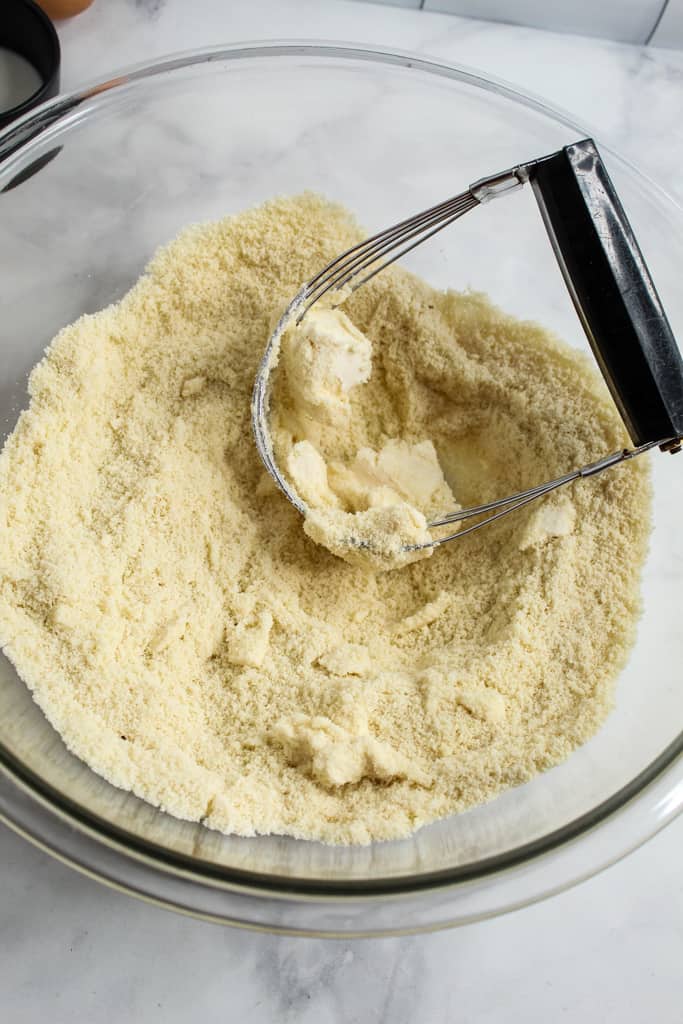 For the tallest, lightest biscuits ever, a pastry blender is a must-have tool. The unique design means each piece of butter is gently 'cut' into the flour mixture. It's a technique used in biscuits that helps with a tall rise and buttery taste.
Almond Flour Biscuit Dough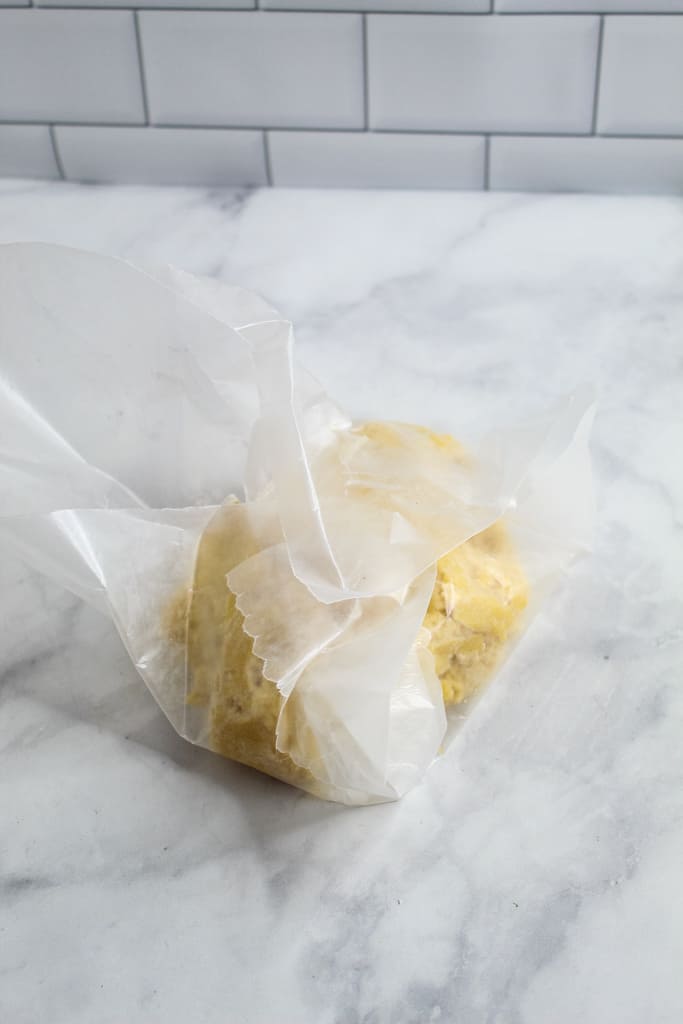 Working with this dough is like a sitting on a beach with a good book - easy, easy. The dough shouldn't be too sticky, but sprinkle a bit of gluten free flour on the wax paper before putting the ball of dough on it and then sprinkle a bit more on the top of the dough before putting the next piece of wax paper on.
A quick freeze helps solidify the butter.
Roll the dough
A quick roll or two is all it should take to firm up the dough. Aim for about 1 inch thick dough. If it's too thin, quickly start over. These biscuits won't rise or get much taller than the way they are rolled out. Keep them thick!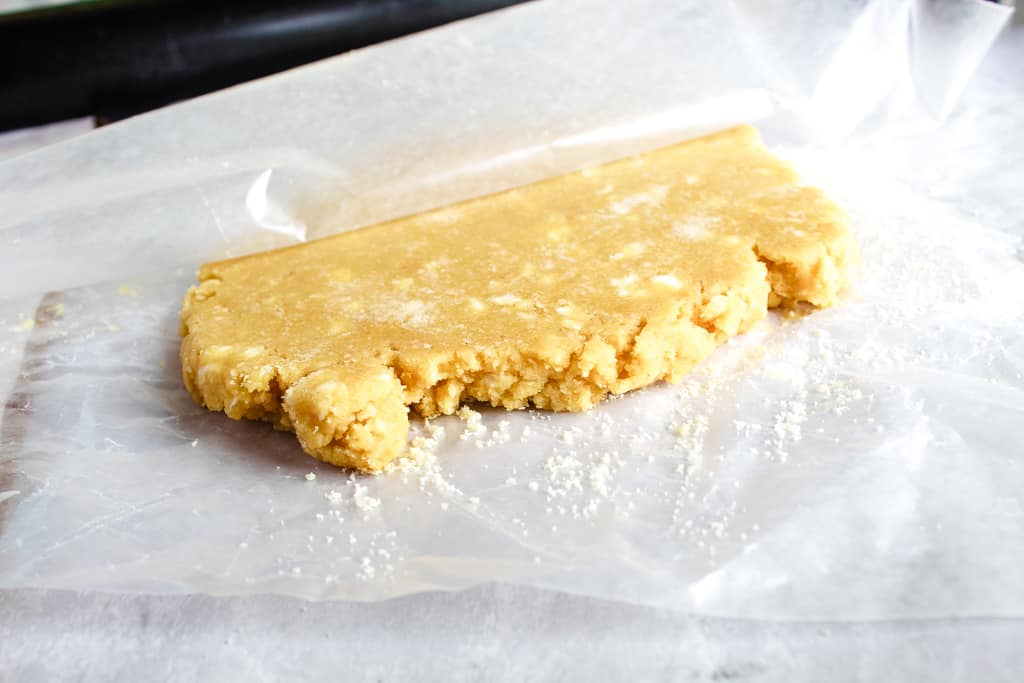 Cutting out the Biscuits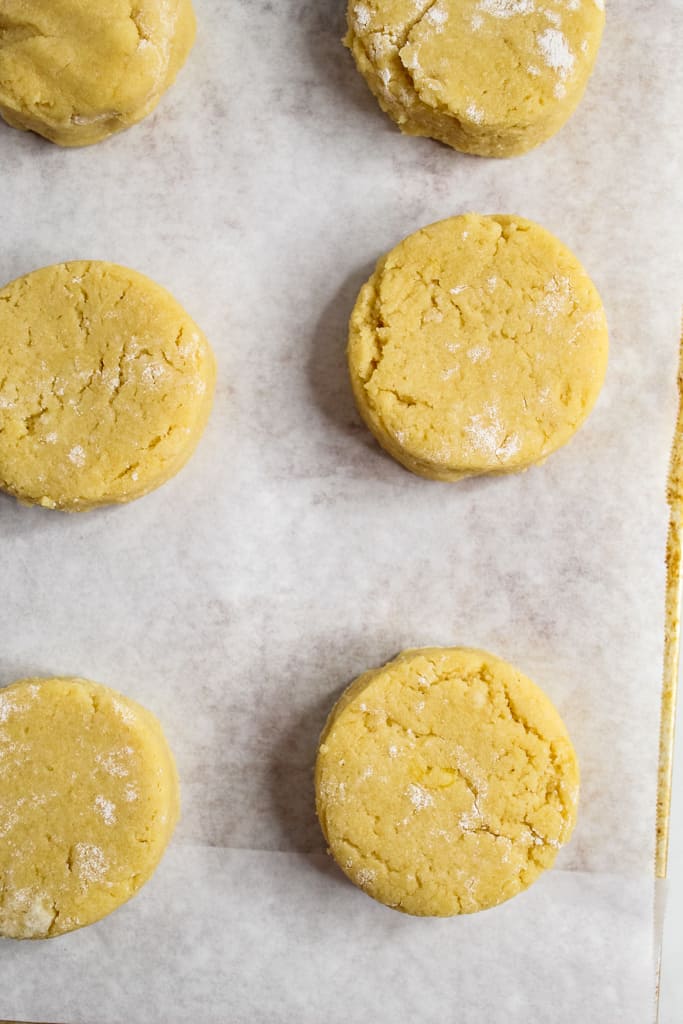 A 2 inch round cookie cutter works great for cutting biscuits. Just drop a bit of flour next to the dough, twist your cookie cutter in the flour and press it into the dough.
You'll get 6 full-size biscuits total.
Note: If you need more almond flour biscuits, make 2 batches side-by-side, rather than doubling the recipe.
Baking
The baking time will be between 14 - 16 minutes depending on your oven. You'll want them to be golden brown on top.
Remove them from the oven and let them cool for a few minutes on a wire rack before serving.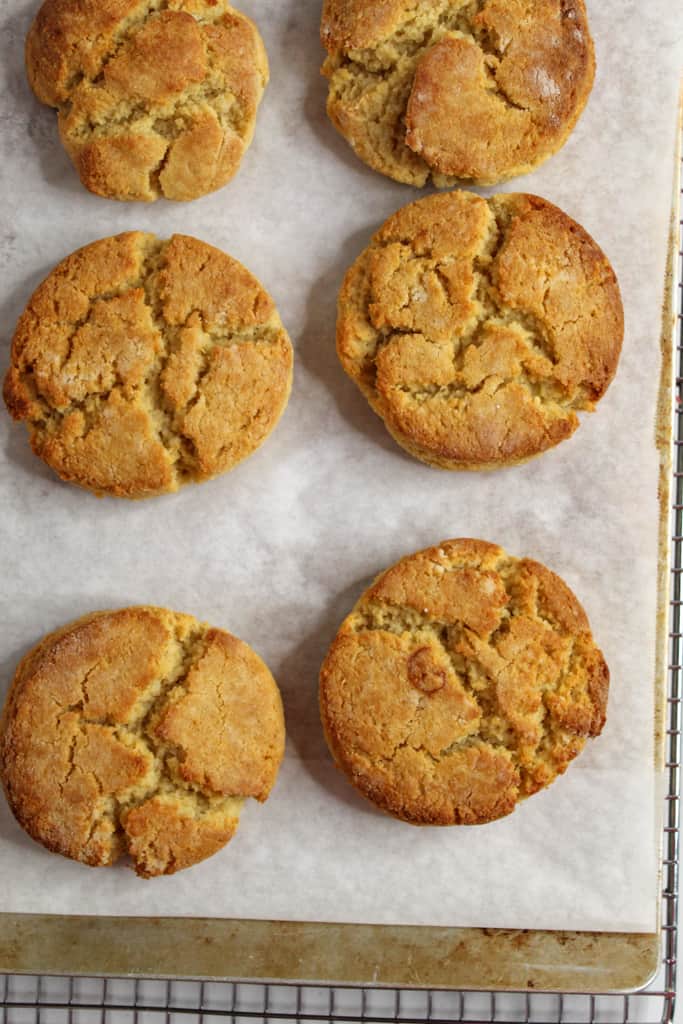 Butter, jelly or gravy... biscuits are a must-have for so many meals. And some high protein, low carb almond flour biscuits make those meals even better!
Did you enjoy this recipe? Will you give it a rating?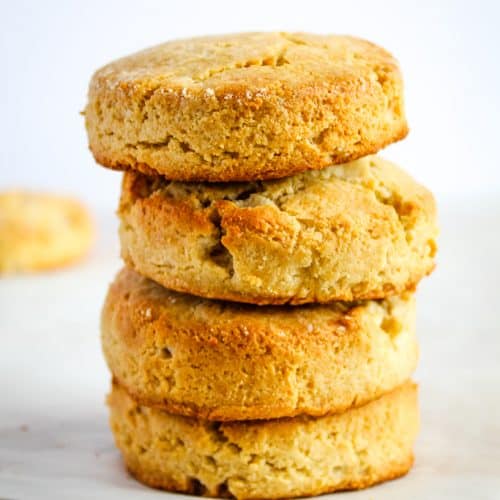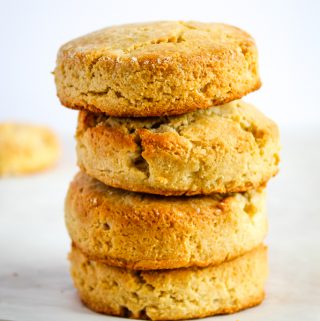 Almond Flour Biscuits
The almond flour biscuits are grain free and gluten free but have a delicious buttery taste so you can have your cake and eat it too!
Print
Pin
Rate
Ingredients
250

grams

almond flour

about 2 ½ cups

½

teaspoon

salt

½

teaspoon

baking soda

1 ¾

teaspoon

baking powder

¼

cup

vegan butter

2

eggs

1

Tablespoon

honey

1

Tablespoon

almond milk

unsweetened
Instructions
In a large bowl, add the almond flour, salt, baking soda and baking powder and mix well with a whisk.

Using a pastry blender, cut in the butter until the mixture resembles crumbs.

In a medium bowl, mix together the eggs, honey and milk.

All at once, add to the dry ingredients and stir until dough comes together.

Form the biscuit dough into a ball and place it on a sheet of wax paper sprinkled with a bit of gluten free flour.

Cover with another sheet of wax paper and place the dough into the freezer for 10 minutes.

Remove dough from the freezer and remove top sheet of wax paper. Using a floured rolling pin, roll dough to 1 inch thickness.

Cut out biscuits with a 2 inch round cookie cutter.

Place the biscuits on a nonstick cookie sheet.

Bake for 14 - 16 minutes.

Set pan on a wire rack to cool completely.
Notes
Mix the ingredients just until a ball of dough forms.
Freeze the dough to firm up the butter and create a light biscuit.
Roll the dough just to a 1 inch thickness.
Dip the cookie cutters in a bit of flour if they stick.
Nutrition
Calories:
360
kcal
|
Carbohydrates:
12
g
|
Protein:
11
g
|
Fat:
32
g
|
Saturated Fat:
6
g
|
Cholesterol:
74
mg
|
Sodium:
293
mg
|
Potassium:
20
mg
|
Fiber:
5
g
|
Sugar:
3
g
|
Vitamin A:
315
IU
|
Calcium:
108
mg
|
Iron:
2
mg
Love biscuits? Check out these other biscuit and quick bread recipes too!