One of my first tastes of the famous 'Red Lobster' biscuits was years ago at the place where these biscuits got their start.
I remember thinking wow, these are some amazing biscuits and I think I can make a meal out of them. And I may have a time or two!
Now, when I think of those biscuits or get a craving for them, I just flip to this recipe. They're full of flavor and taste EXACTLY like the biscuits I remember. They even have that buttery topping of parsley and garlic.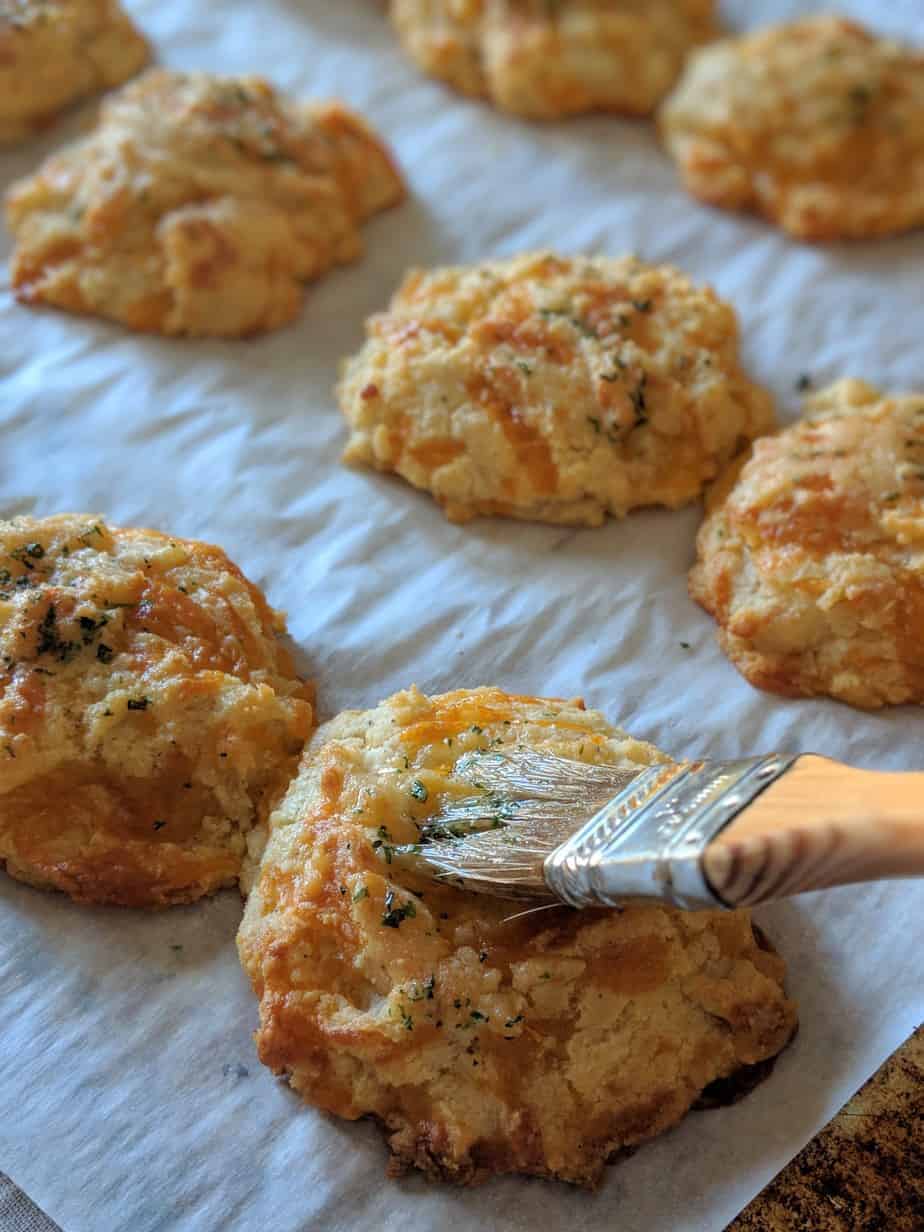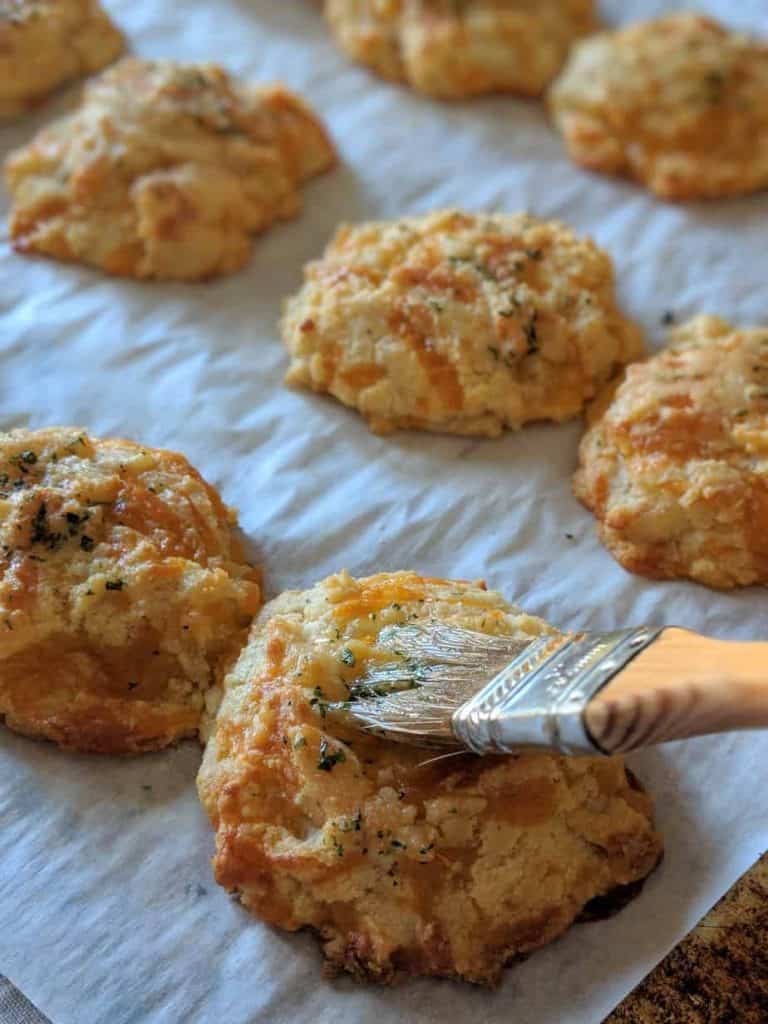 But what makes these even more appealing is that there is no xanthan gum in them. Instead I use a substitute for xanthan gum so the biscuits don't even miss it. I use psyllium husk powder as the substitute because it works the best. Chia seed and/or golden flaxseed meal don't have the height that I like in my biscuits.
Here are some other tips to ensure you get the best looking and best tasting biscuits:
Refrigerate the biscuit dough
Refrigerating the biscuits after positioning them on the pan does a couple things… first it helps firm up the butter in the biscuits and second, the biscuits bake up nice and tall and keep their shape better when they're cold.

Easy fix for Buttermilk
Buttermilk makes the beauties rich and tasty. But what if you don't have it on hand? Do you have to put these biscuits off till another time? Not at all! Buttermilk is easy to substitute. Simply add 1 Tbls. of white vinegar to a 1 cup glass measuring cup. Fill up the rest of the glass with milk to the 1 cup marker. Let the mixture sit for a few minutes to develop, then use it in the recipe.
Biscuit size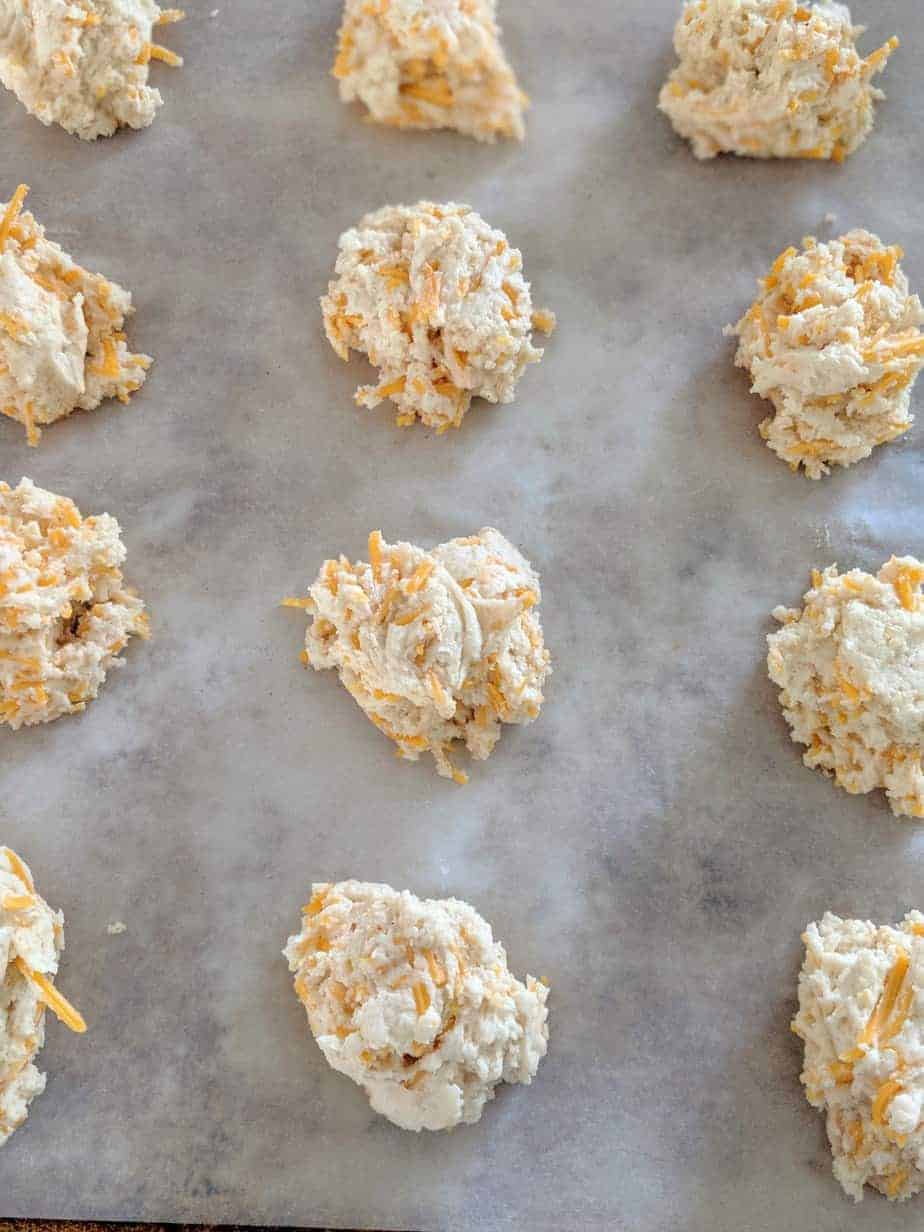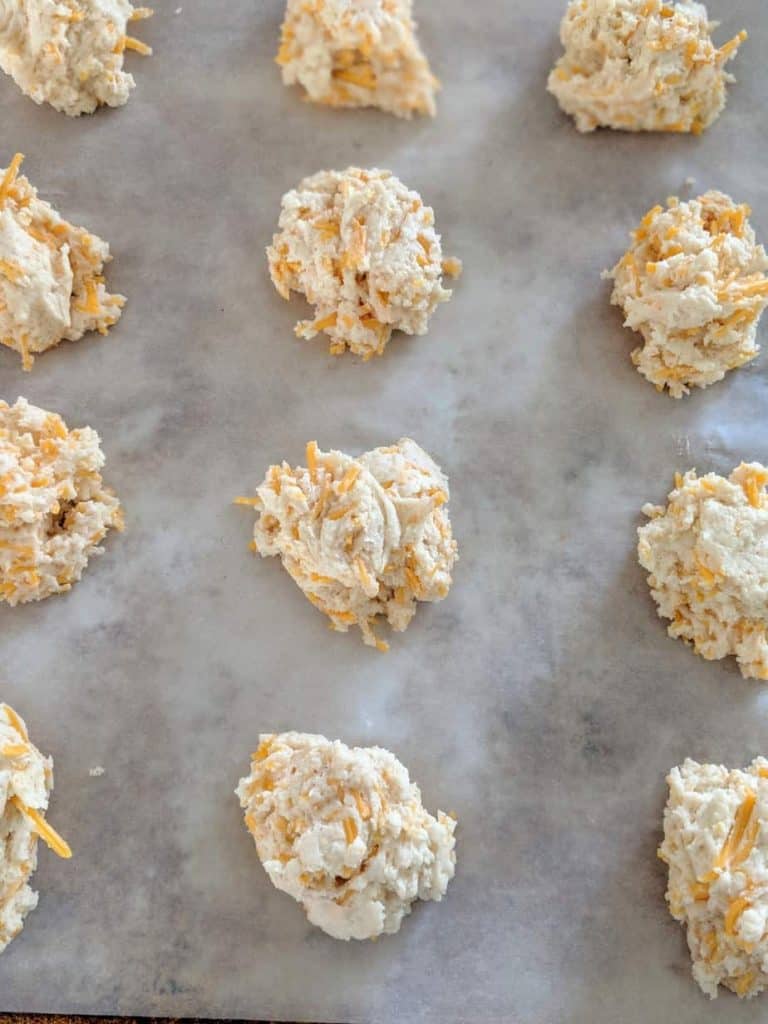 This recipe is versatile so whether you need 10 or 12 biscuits, you can stretch it to what you need. A larger scoop will yield about 10 biscuits. If you need to serve more people, use a smaller scoop and make 12 biscuits. Watch them and adjust the baking time as needed.
Turn to this biscuit recipe when you need a bread that's easy, delicious and impressive!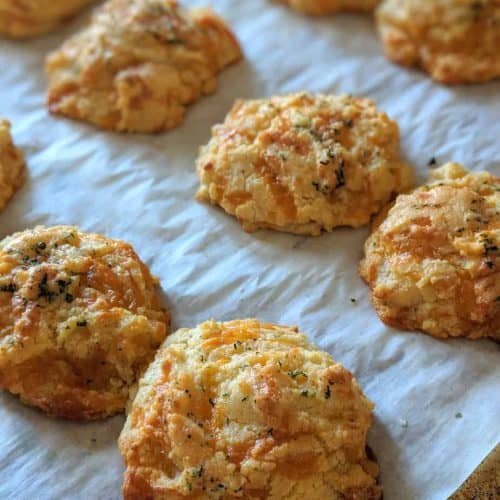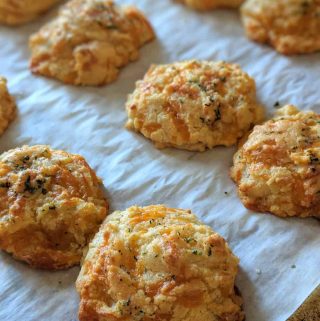 Gluten Free Cheddar Bay Biscuits: Gum Free and Perfectly Seasoned
No one will ever know these gluten free cheddar bay biscuits are gluten free! They're perfectly seasoned, with a taste that keeps you coming back for more!
Print
Pin
Rate
Servings:
10
large biscuits
Ingredients
1

Tbsp.

white sugar

1

Tbsp.

baking powder

2

tsp.

garlic powder

2

tsp.

psyllium husk

½

tsp.

salt

⅛

tsp.

cayenne pepper

1

cup

buttermilk

½

cup

unsalted butter

melted

1 ½

cups

finely shredded sharp cheddar cheese
Topping
3

Tbsp.

unsalted butter

melted

1

tsp.

dried parsley

½

tsp.

garlic powder
Instructions
Prepare a baking sheet with parchment paper. Set aside.

In a large bowl, combine the flour blend, sugar, baking powder, garlic powder, psyllium husk, salt and cayenne pepper. Mix with a plastic whisk.

In a small bowl, combine the buttermilk and butter. Pour mixture into the dry ingredients and stir just until combined.

Using a rubber spatula, fold in the cheddar cheese.

Using a large scoop, measure equal portions of batter onto baking tray. Batter will make 10 large biscuits or 12 medium size biscuits.

Place tray in the refrigerator for 25 minutes.

Preheat oven to 450 F. Bake biscuits for 17 – 20 minutes or until golden brown. Remove from oven.

Combine topping ingredients in a small bowl. Brush over biscuits.

Serve warm.
Notes
Preheat the oven first as these biscuits will be baking in no time.
Placing the biscuits in the refrigerator for a few minutes helps the biscuits bake up nice and tall rather than flattening with the warm butter and cheese.
For the best gluten free cheddar bay biscuits, serve them warm.
Nutrition
Calories:
293
kcal
|
Carbohydrates:
23
g
|
Protein:
8
g
|
Fat:
20
g
|
Saturated Fat:
12
g
|
Cholesterol:
54
mg
|
Sodium:
232
mg
|
Potassium:
223
mg
|
Fiber:
3
g
|
Sugar:
4
g
|
Vitamin A:
640
IU
|
Vitamin C:
0.6
mg
|
Calcium:
242
mg
|
Iron:
1.3
mg