No celebration is complete unless these sweet, frosted gluten free dairy free sugar cookies are on the menu! This fun, versatile cookie recipe is so simple to make and the dough rolls out easily for the most perfect cookie to share some sweetness with those you love.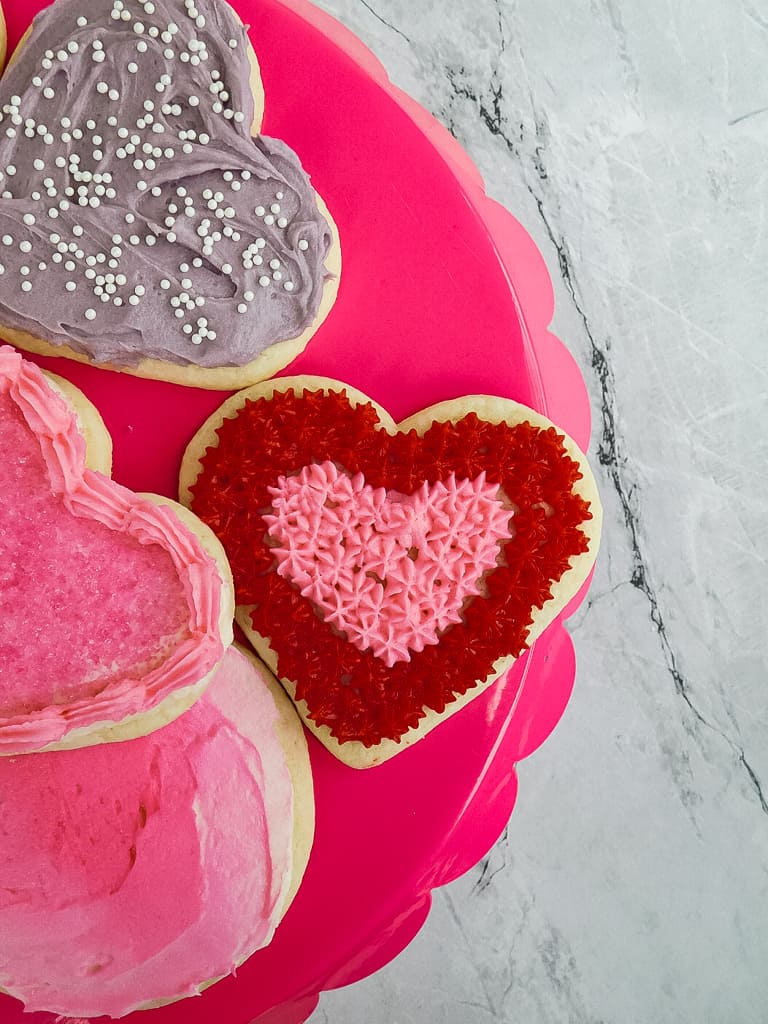 Topped with a homemade frosting, these gluten free dairy free sugar cookies will bring cheer to brighten anyone's day.
I'll admit, convenience mixes, like my gluten free Bisquick, are very handy to have around. And even some of my favorite cookies - yes, looking at you Gluten Free Strawberry Cake Mix cookies and Gluten Free Chocolate Cake Mix cookies - even they start with the M word... mix!
But as much as easy mixes work wonders for a quick cookie, nothing compares to a homemade sugar cookie with HOMEMADE FROSTING.
Butter, powdered sugar, a little vanilla extract and a little milk... that's all you need for a frosting that is out of this world delicious. (The recipe for my gluten free buttercream frosting is here!)
Top a cake mix cake with that and I guarantee it'll transform it into a delectable dessert worthy of 'Mmmm, that's got to be homemade'. Top a sugar cookie with it and you have a little taste of heaven in every bite!
Are these good gluten free cut-out sugar cookies?
Yes, this recipe makes amazing cut out sugar cookies! Once you have the dough mixed, it's just a few hours in the refrigerator and then it's just rolling out the dough and cutting with your favorite cookie cutters.
Are they soft cookies?
So there's two things that can impact how soft a sugar cookie is...
The dough
Baking time
This recipe makes a wonderfully soft dough that produces equally soft cookies, but if they are overbaked, even by a minute, they'll become hard. So watch the baking time carefully - the cookies will look pale, but they're the perfect doneness for decorating!
Would they be good for Christmas cookies or Valentines cookies?
Oh yes! These cookies make a perfect addition to a Christmas cookie platter or Valentine's Day platter!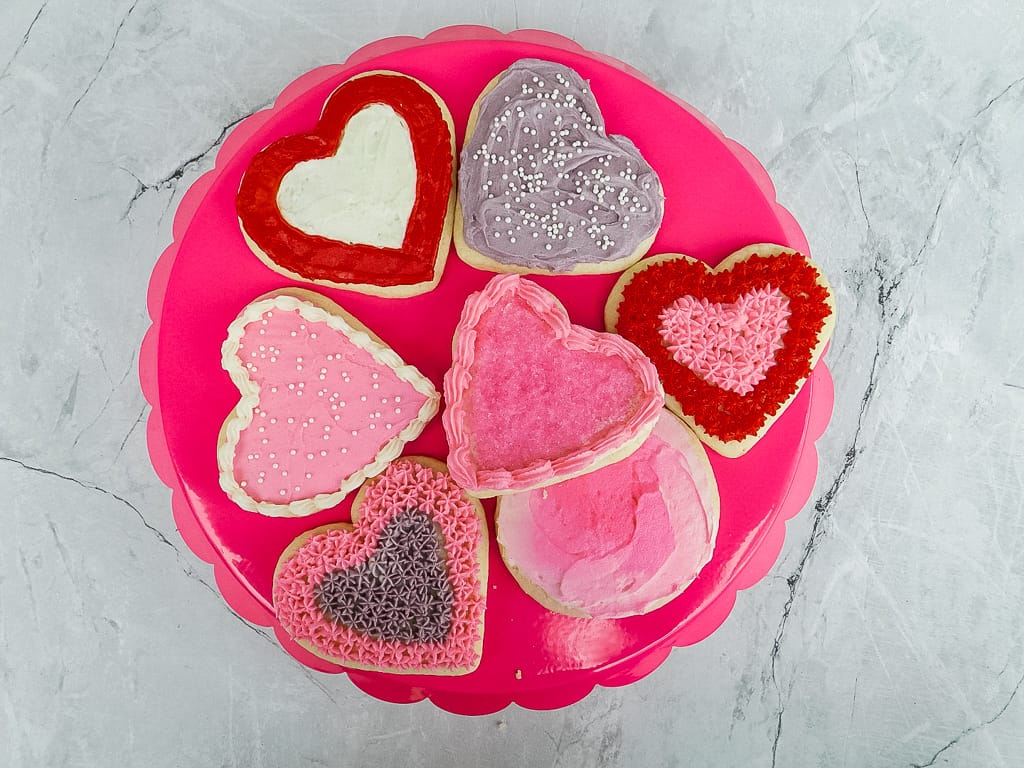 What gluten free flour blend should I use in this recipe?
This recipe works beautifully with two particular gluten free flour blends. The first is the Zest For Baking flour blend. If you haven't mixed up a big batch of my gluten free flour mix, head over there and mix that up first. You'll need 390 grams, or 3 cups, of it for this recipe. Plus, it's a versatile mix to keep on hand (convenience mix!) for future recipes that call for gluten free flour mix.
The other option is King Arthur's Cup for Cup flour mix. It also works very well in this recipe.
What frosting recipe is best for frosting sugar cookies?
A good old fashioned buttercream is my go-to! This goes for anything from strawberry cakes to banana cake. And yes, this frosting can easily be made dairy free too - just swap the butter with dairy free butter (the same kind used in this recipe) and the milk with almond milk.
What should gluten free sugar cookie dough look like?
Remember the gluten containing sugar cookie dough? Well, gluten free sugar cookie dough looks just like it! Soft, fluffy, pale yellow and holds it's shape nicely!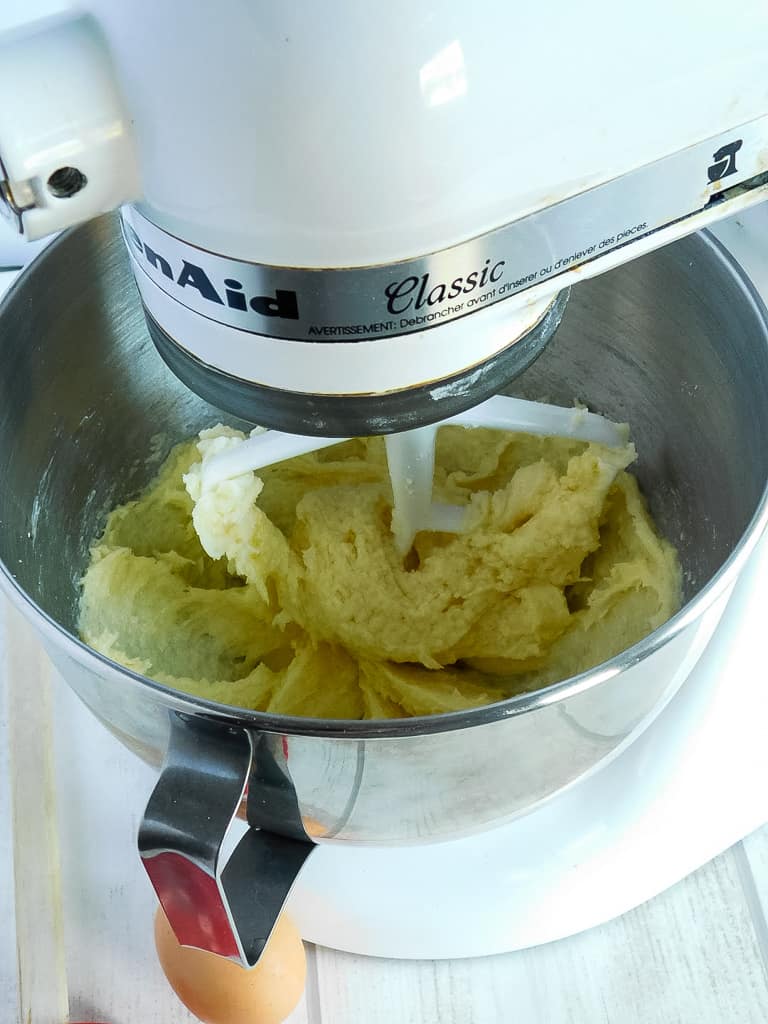 Tips for Making Gluten Free Dairy Free Sugar Cookies from Scratch
Pro tip #1 - Ingredients
The ingredients list for this recipe is short but there are still some important things to keep in mind - temperature and measuring ingredients.
Allow the ingredients about 30 minutes to sit at room temperature to warm up. Cold eggs and butter will not work in this recipe!
And then make sure to weigh the flour. You'll want 390 grams of flour mix. It's about 3 cups, but may be more or less depending on the flour, the scooping and even the measuring.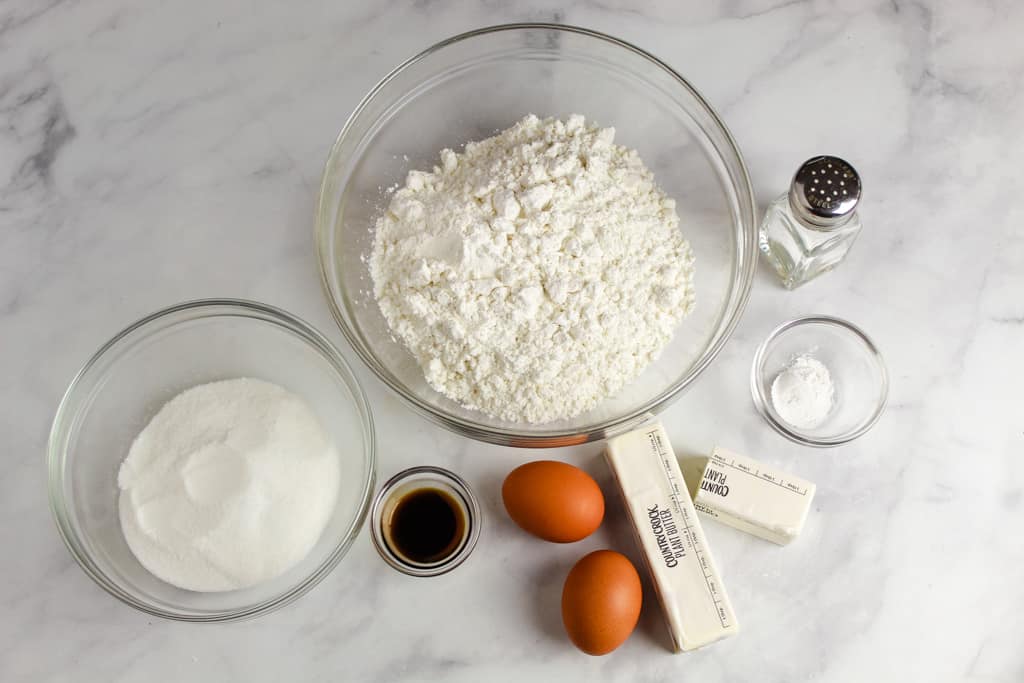 Pro Tip #2 - Mixing
Like a lot of recipes, this one requires the dry ingredients to be mixed separately from the wet. The butter and sugar need to get that lovely creamy texture before incorporating the flour.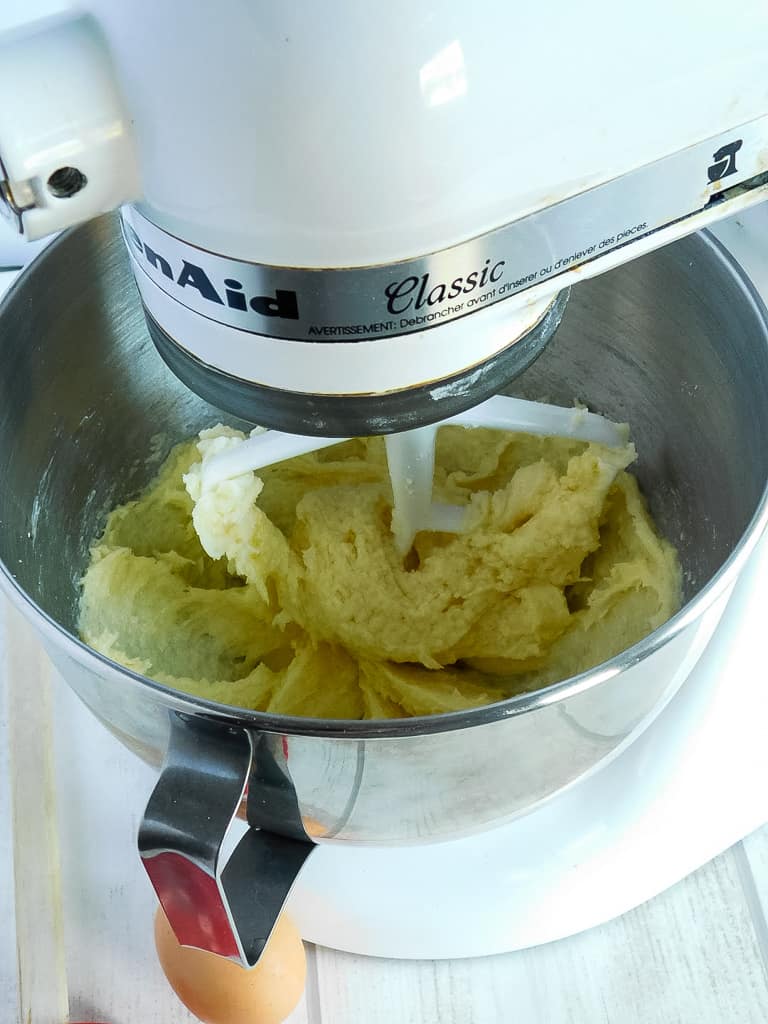 Add the dry ingredients gradually until you end up with a nice ball of dough.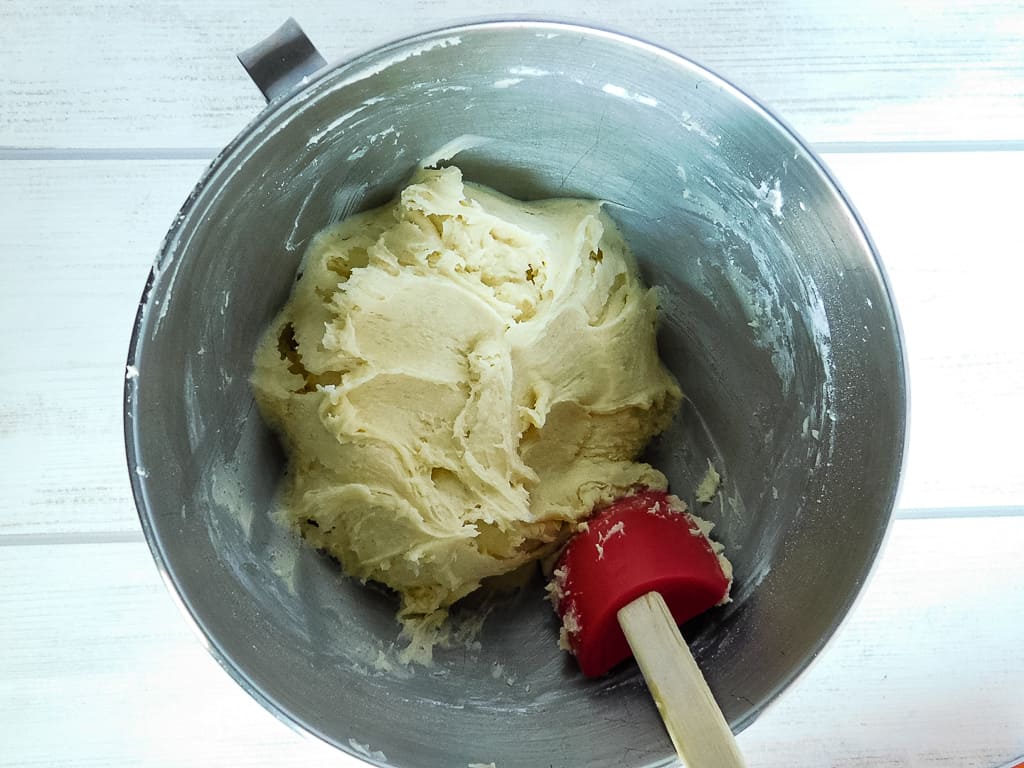 Pro Tip #3 - Refrigerating / Storing
For the best gluten free dairy free sugar cookies, wrap the cookie batter in plastic wrap, pat it into a disk and refrigerate for at least 2 hours. The disk of dough should be firm when you remove it from the refrigerator. Two hours is minimum, overnight is optimal.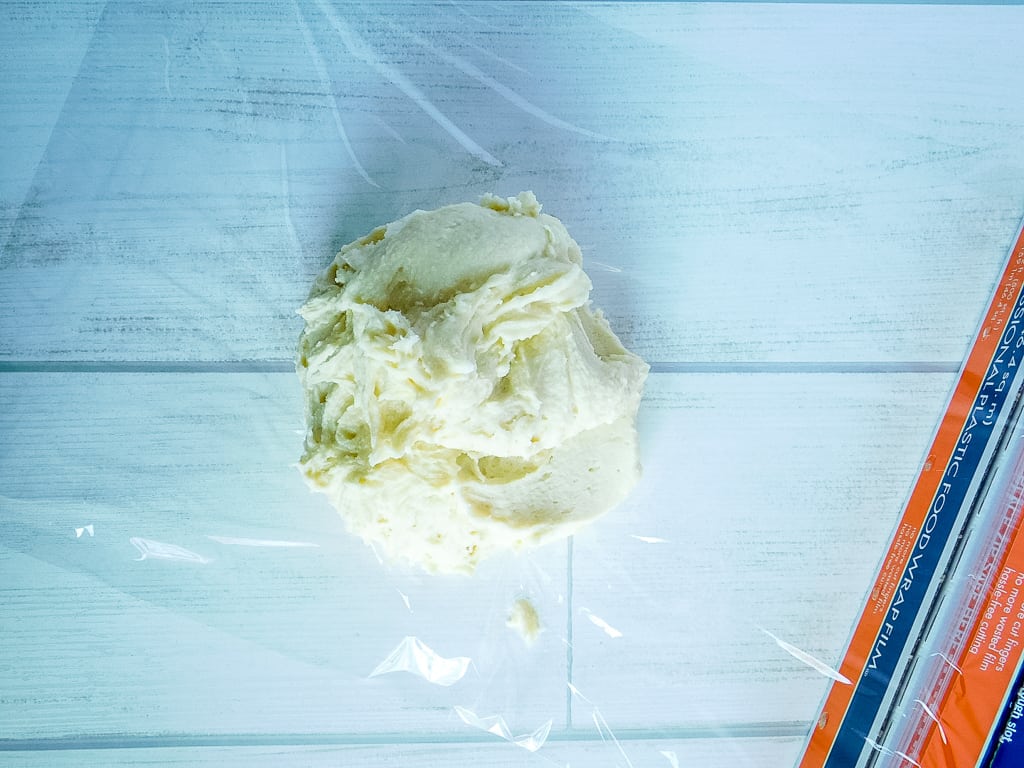 Pro Tip # 4 - Rolling out the cookie dough
Even though this cookie dough is easy to work with, you'll still want to dust the surface with flour before putting the refrigerated dough on it.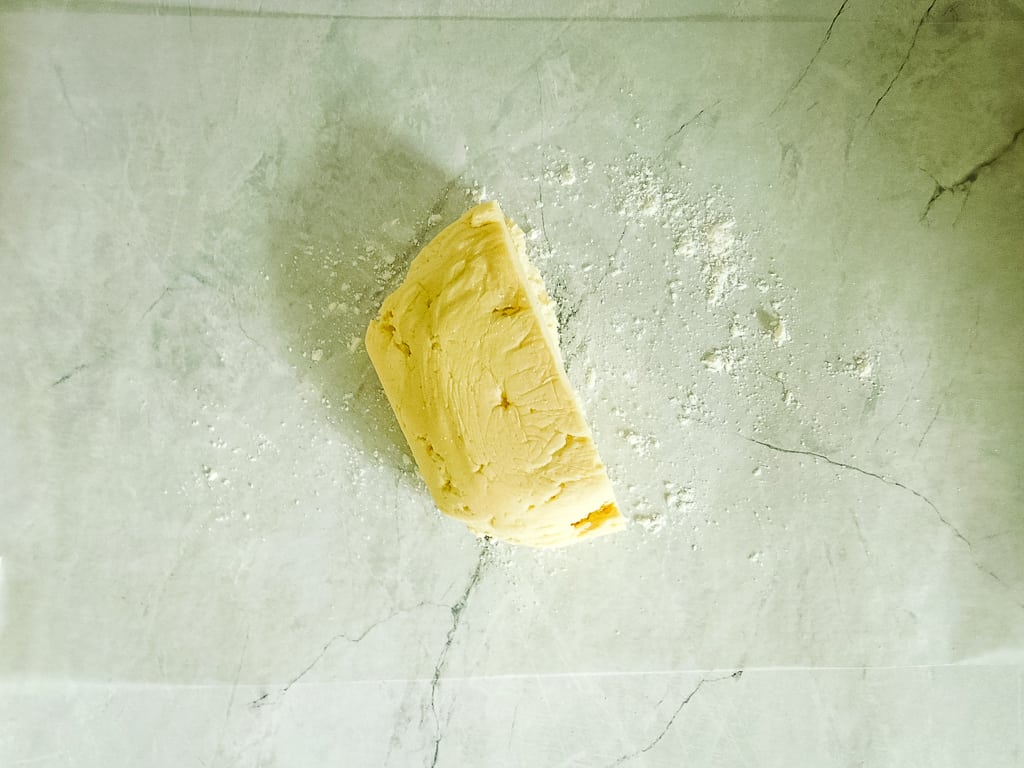 Using a rolling pin, roll ½ of the dough to a ¼ inch thickness. Refrigerate the remaining dough until the first batch is complete.
Make sure your cookie cutters have a slight dusting of flour on them too.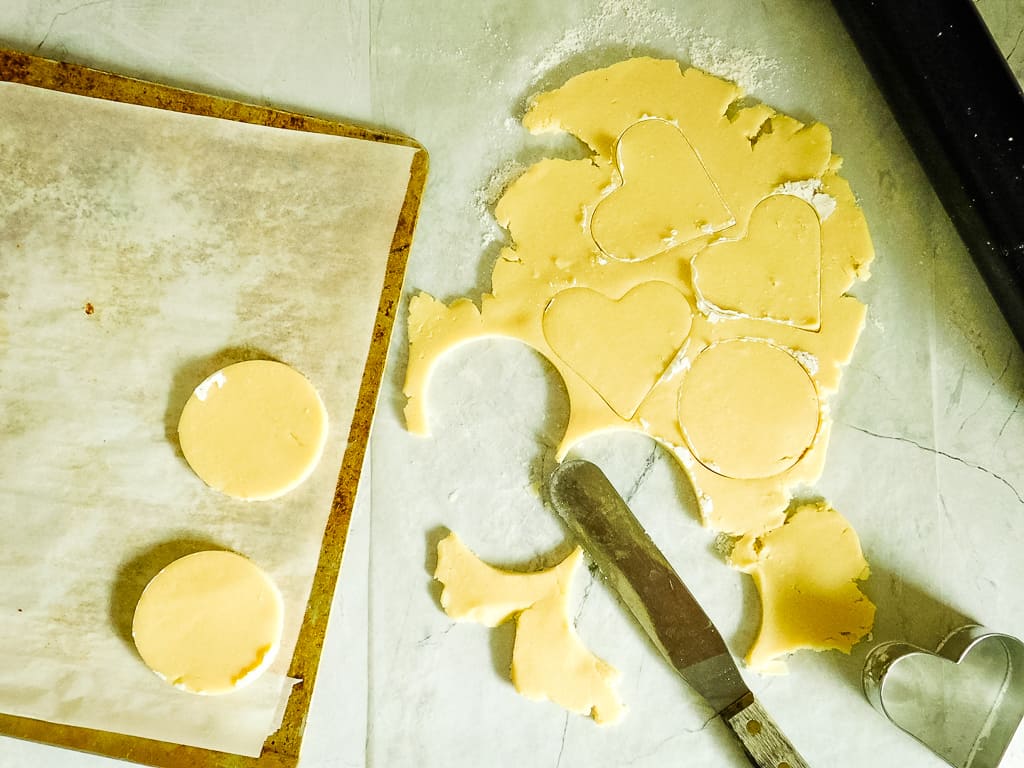 Tip for picking up the shaped cookies: Use a thin metal spatula to slide under each one and carefully move it onto the prepared pan.
Pro Tip #5 - Baking
These cookies can be deceiving, but don't let them fool you into leaving them in the oven for too long. Bake them for only 11 - 12 minutes. They will look pale, but they are baked to perfection!
Tools for the Best Gluten Free Dairy Free Sugar Cookies
Stand mixer - using a stand mixer makes baking so much easier as it does all the hard work for you!
Rolling pin - for this recipe, I'd stay away from the wooden ones as cookie dough tends to stick to them
Metal spatula - this is a must-have! Not just for cookies, but for getting bread loaves out of the pan and muffins out of the tin - just about anything!
Baking sheets - insulated ones are my favorites. They seem to bake more evenly than non-insulated ones.
These gluten free dairy free sugar cookies are not just delicious, but they'll brighten up any cookie platter too!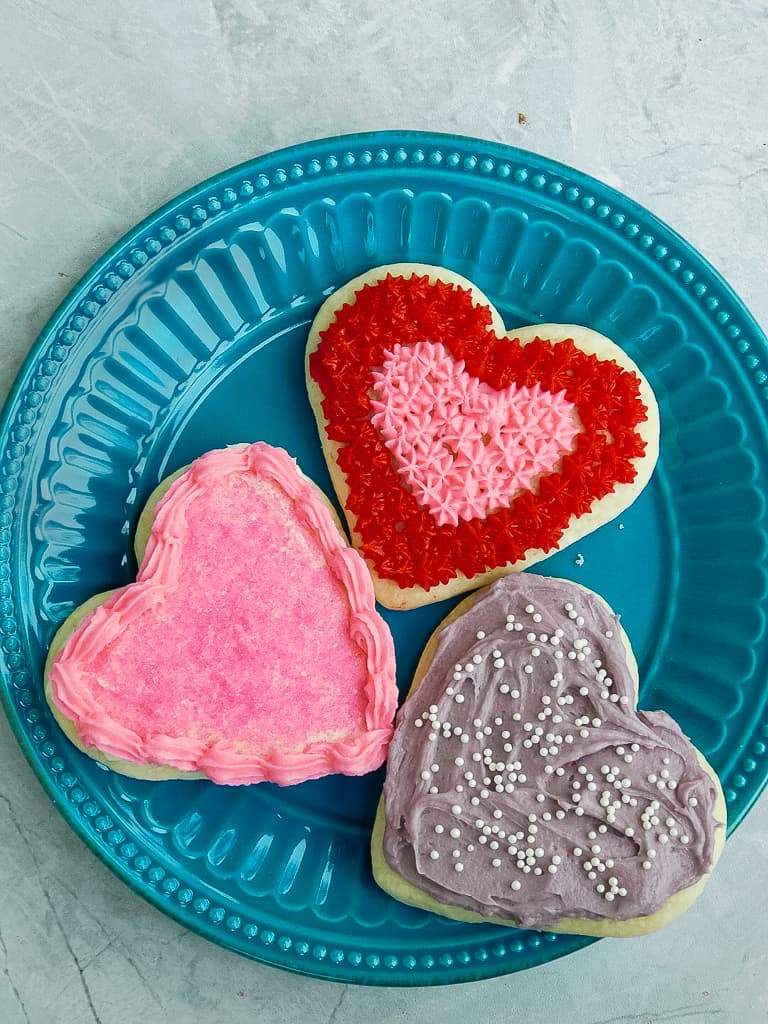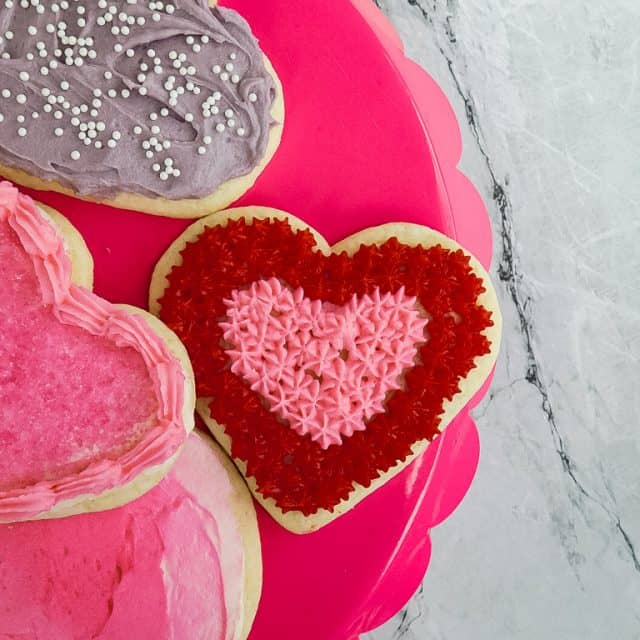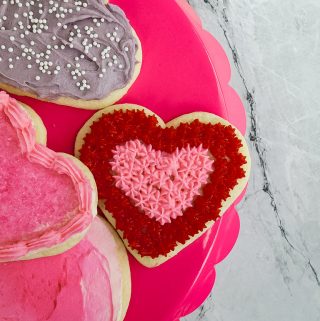 Gluten Free Dairy Free Sugar Cookies
For the best gluten free dairy free sugar cookies, look no further than these 7-ingredient frosted beauties. They're super easy and taste heavenly.
Print
Pin
Rate
Ingredients
390

grams

gluten free flour blend

3 cups

1

teaspoon

baking powder

½

teaspoon

salt

1

cup

white sugar

¾

cup

dairy free butter

softened

1

teaspoon

pure vanilla extract

2

large eggs
Instructions
In a large bowl, stir together flour blend, baking powder and salt.

In the bowl of a stand mixer, beat white sugar and butter until mixture is creamy. It should be thick and well incorporated.

Add vanilla extract and mix again for a few seconds. Beat in eggs, 1 at a time. The mixture should be more thin, but still hold together.

Gradually add flour mixture to butter mixture. Mix well after each addition. The end result will be a ball of dough.

Wrap ball with plastic wrap and lightly pat it into a disk. Refrigerate for at least 2 hours or overnight.

Preheat oven to 325 degrees F. Prepare baking sheets by placing parchment paper on each one.

Remove disk from the refrigerator and divide the dough in half. Refrigerate one half. Sprinkle surface lightly with flour blend and roll dough to ¼ inch thick.

Cut with floured cookie cutters. Move each cookie to the prepared baking sheets.

Bake in the preheated oven for about 11 - 12 minutes. They will not brown. Cool cookies on the baking sheet for 5 minutes before transferring to a wire rack to cool completely.

Frost using gluten free buttercream frosting
Notes
Make sure ingredients are at room temperature.
Weigh the flour with a kitchen scale.
Refrigerate dough for at least 2 hours.
Roll half the dough at a time. Keep the other half refrigerated.
Sprinkle the surface with flour to prevent the dough from sticking.
Don't use a wooden rolling pin.
Bake the cookies for the indicated time - they will not get brown.
Frost with the gluten free buttercream frosting.
Nutrition
Calories:
89
kcal
|
Carbohydrates:
13
g
|
Protein:
1
g
|
Fat:
4
g
|
Saturated Fat:
1
g
|
Cholesterol:
9
mg
|
Sodium:
65
mg
|
Potassium:
15
mg
|
Fiber:
1
g
|
Sugar:
6
g
|
Vitamin A:
13
IU
|
Calcium:
13
mg
|
Iron:
1
mg
Updated 1/8/2021 with new pictures and better directions.
Also check out these delicious gluten free recipes and tips!