The search for the best gluten free flourless chocolate cake is over - this decadent cake , dripping with a homemade chocolate ganache, is the best tasting cake you will ever sink your teeth into. AND it's made in just one bowl with 8 easy ingredients plus it's gluten and dairy free!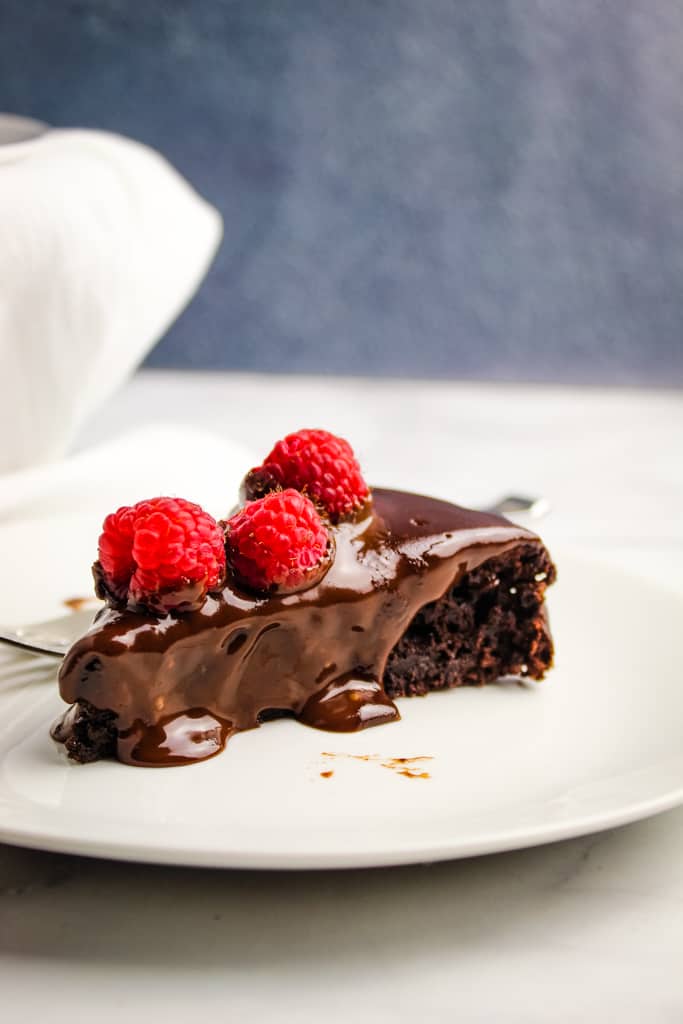 This decadent flourless chocolate cake is the perfect gluten-free dessert that tastes like it came from a fancy restaurant only it's from YOUR kitchen and it couldn't be simpler. The rich chocolate cake is a go-to dessert for any special occasion - Valentine's day or birthdays - this is the perfect dessert for chocolate lovers! It's loaded with luscious ingredients like semi-sweet chocolate, cocoa powder and even some espresso powder for extra richness. Get your bowl ready, this cake will make any occasion super special.
Want more gluten-free cake recipes? Check out this gluten free lemon cake, this gluten free chocolate fudge cake, this gluten free birthday cake, and this gluten free white cake.
Jump to:
Flourless Chocolate Cake at a Glance
This easy flourless chocolate cake is also gluten free since it has no flour whatsoever. But that just means it's extra rich and extra fudgy! Besides that, here are some other reasons to love this cake:
It's dairy free as written.
It's a single layer cake, but deeply rich and flavorful.
It's a one bowl recipe.
No special ingredients or tools, like an electric mixer or stand mixer are needed.
A note about cakes vs. tortes: This cake could also be considered a flourless chocolate torte. A flourless cake is like a torte in many ways. But the terms have more to do European vs. American baking. Torte is a term used to describe European baked goods that are more on the dense side, more topping based (rather than frosting based) and can be either single or multilayer.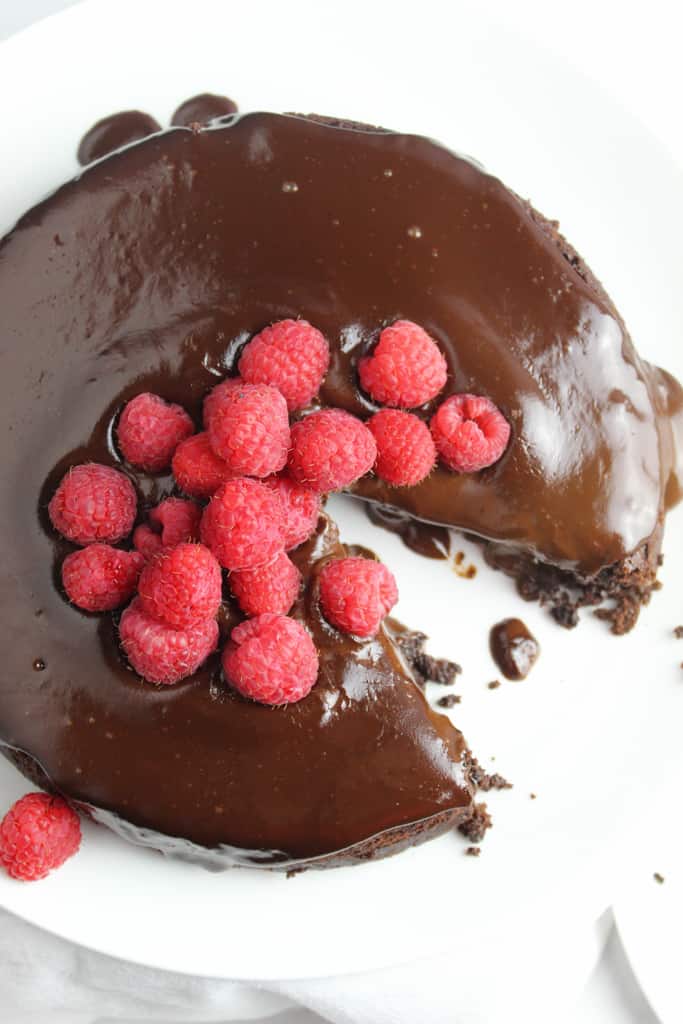 Ingredients & Substitutions in This Gluten Free Chocolate Cake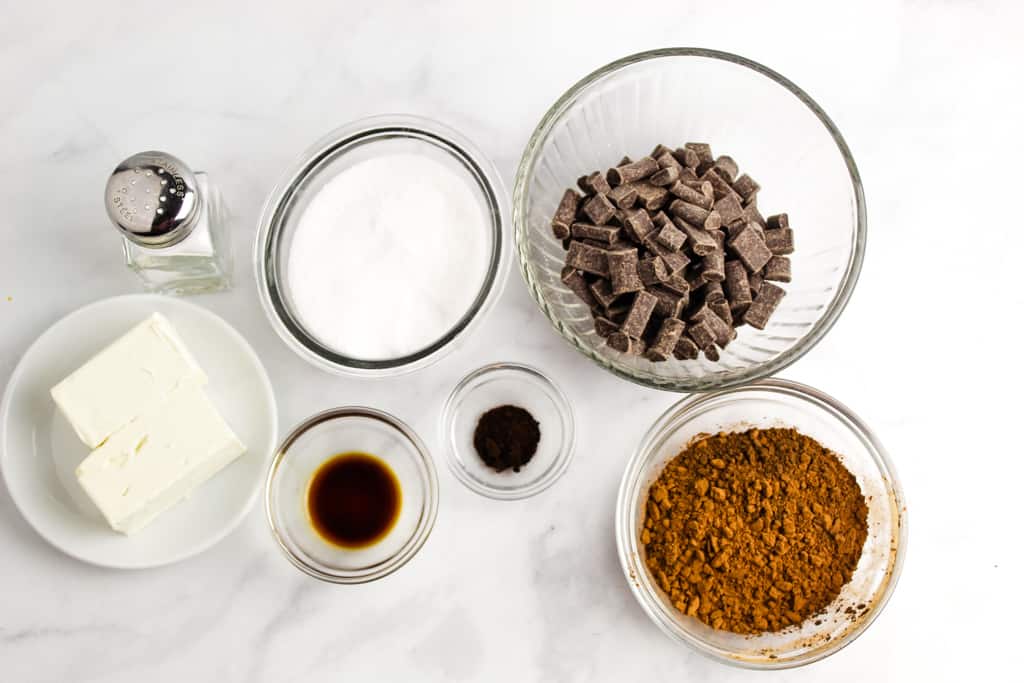 Below is the simple ingredients list and any acceptable substitutions:
Semi-Sweet Chocolate: As one of the main ingredients, chocolate is very important to the success of this recipe. These chocolate chunks were used in this recipe. Bittersweet chocolate or dark chocolate has not been tested. Regular semi-sweet chocolate chips may be used instead of the dairy free chips.
Vegan Butter: This brand of vegan butter was used in this recipe. Regular, dairy butter may also be used. Oils like coconut oil or vegetable oil are not recommended.
Granulated Sugar: Regular, white sugar was used in the recipe. Coconut sugar or a sugar alternative like maple syrup has not been tested.
Instant Espresso Powder: This is essential for deepening the rich chocolate flavor.
Salt: The salt may be reduced or omitted for a low-salt diet.
Vanilla Extract: The vanilla extract is essential.
Eggs: Unlike other recipes, in this recipe, you'll use both the egg yolks and the egg whites together - no need to use whipped egg whites, just add the whole eggs.
Cocoa Powder: This recipe was tested using Hershey's cocoa powder. Do not use dark or deeply intense cocoa as the cake will be too dense.
Dairy Free Ganache: Use this ganache to drip over the cake. No double boiler or complicated steps involved!
Fresh Berries: Any combination of berries or fresh fruit for decorating the top of the cake will look amazing.
Exact measurements and instructions for making the cake are in the recipe card below.
How to Make The Best Flourless Chocolate Cake Recipe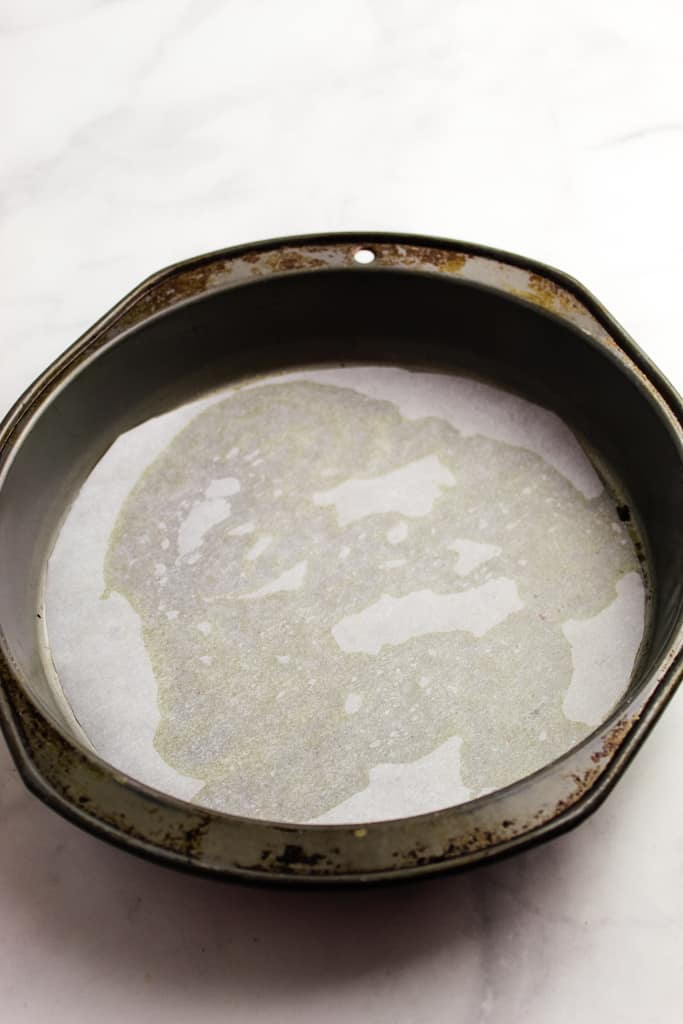 Step One: Prepare an 8" regular cake pan by spraying the bottom and sides of the pan with cooking spray. Then line it with parchment paper.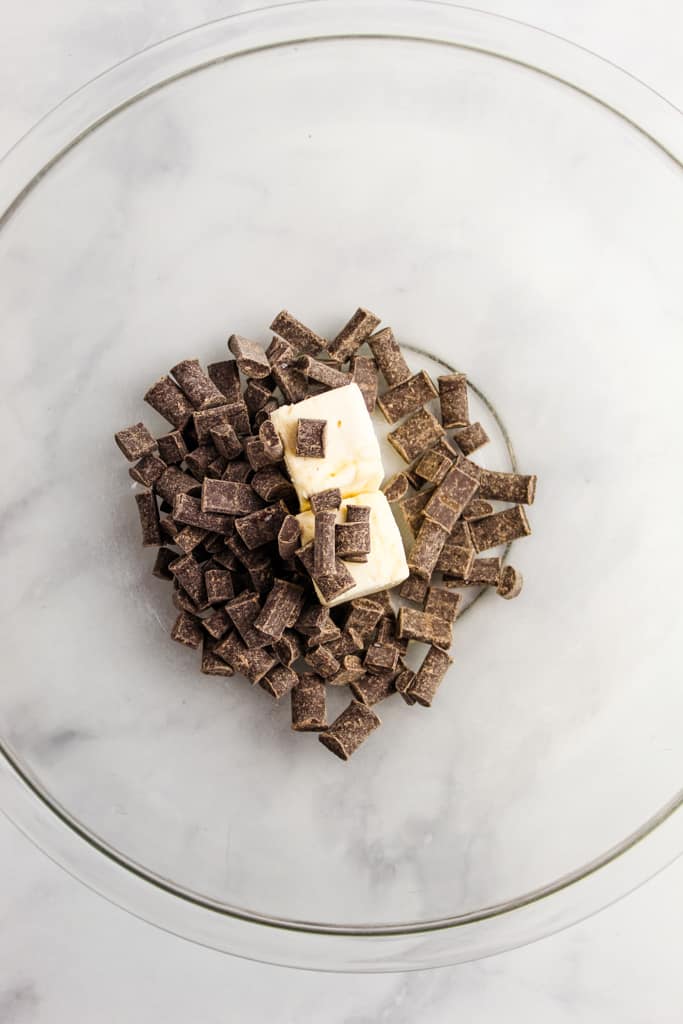 Step Two: In a large microwave-safe bowl, add the chocolate and vegan butter. Microwave in 30 second intervals until you end up with a melted chocolate mixture.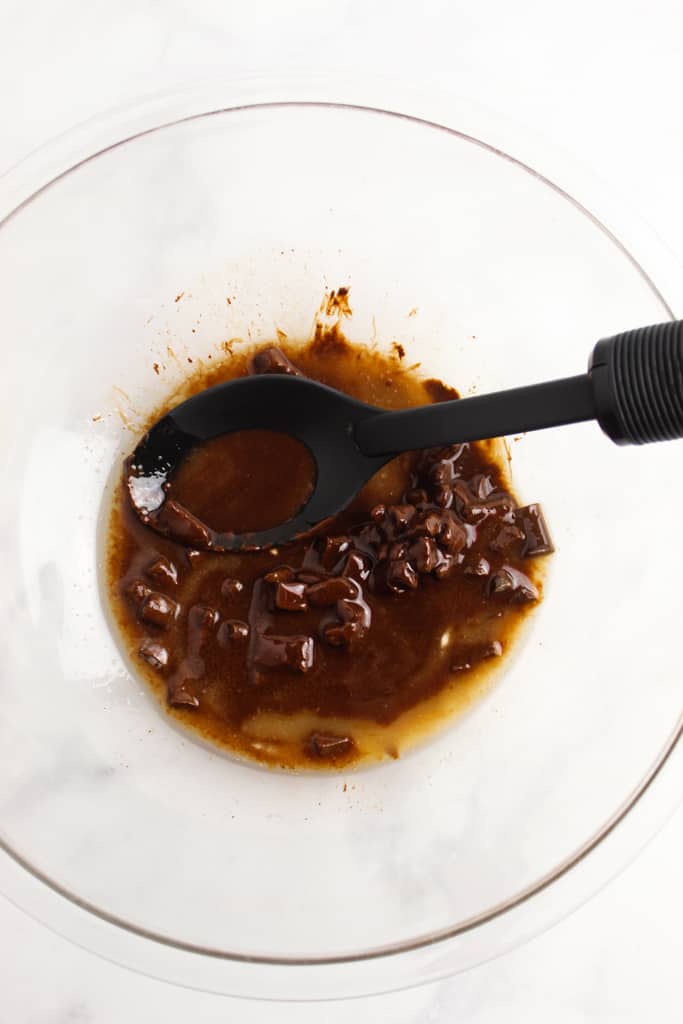 Step Three: Add the white sugar, espresso powder, salt, and vanilla extract to the heatproof bowl. Stir until well combined.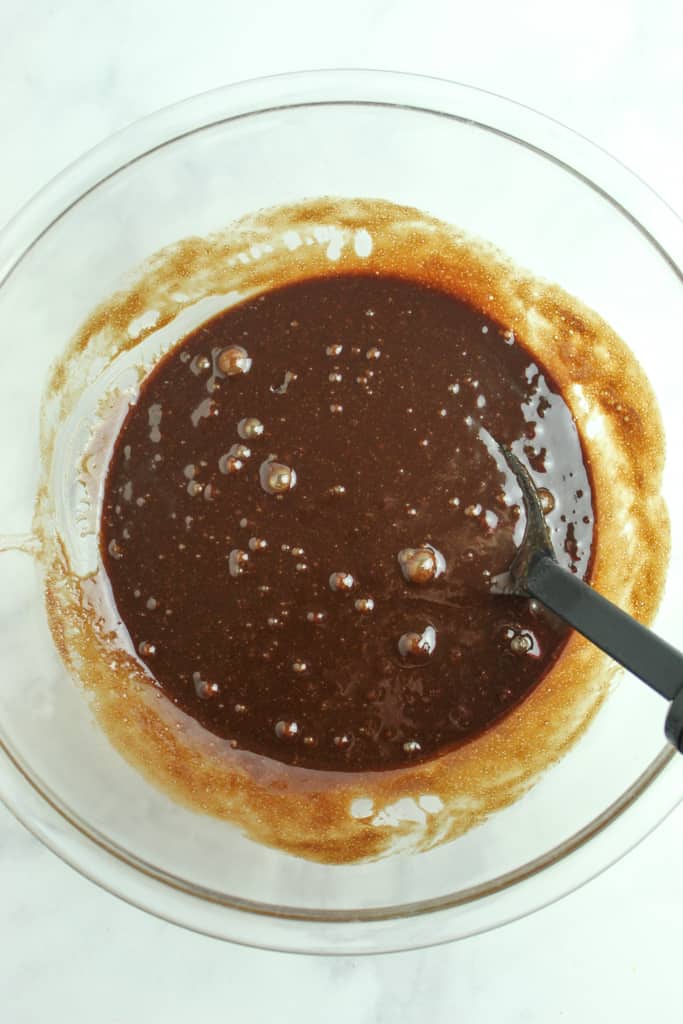 Step Four: Add the eggs and mix thoroughly.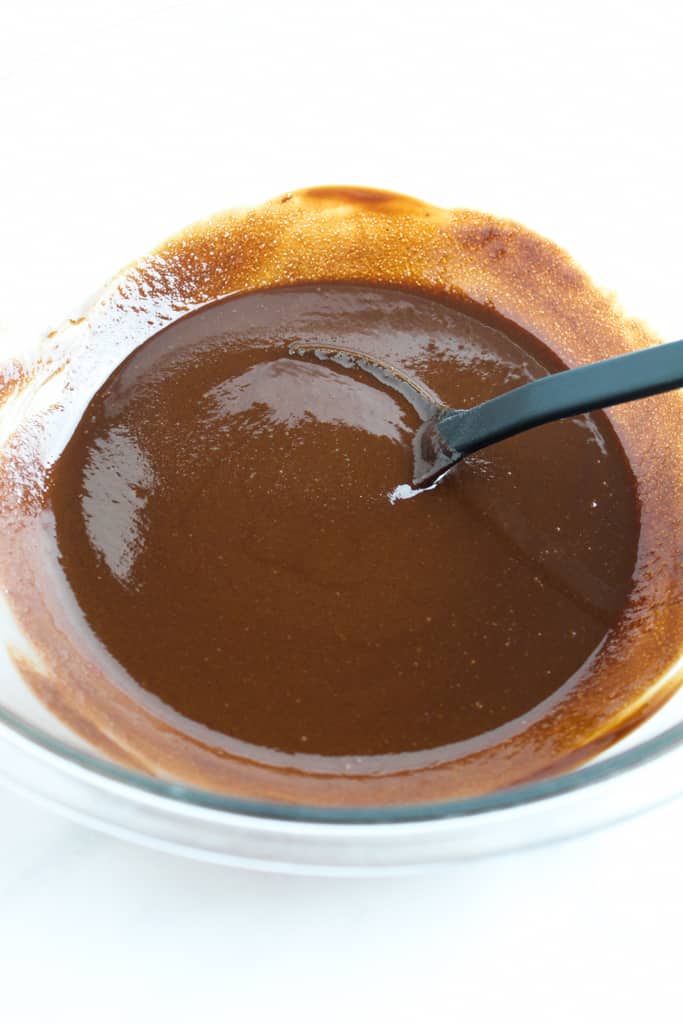 Step Five: Add the cocoa powder and stir until fully combined, scraping the bottom of the bowl as you stir.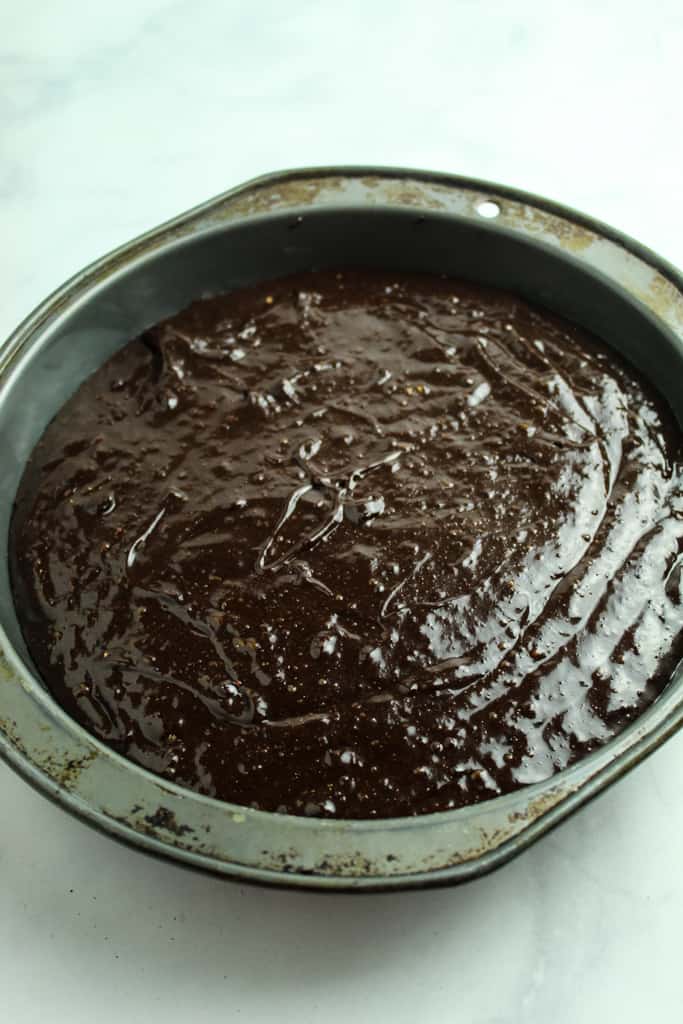 Step Six: Pour cake batter into the prepared pan, smoothing the top of the cake with a rubber spatula.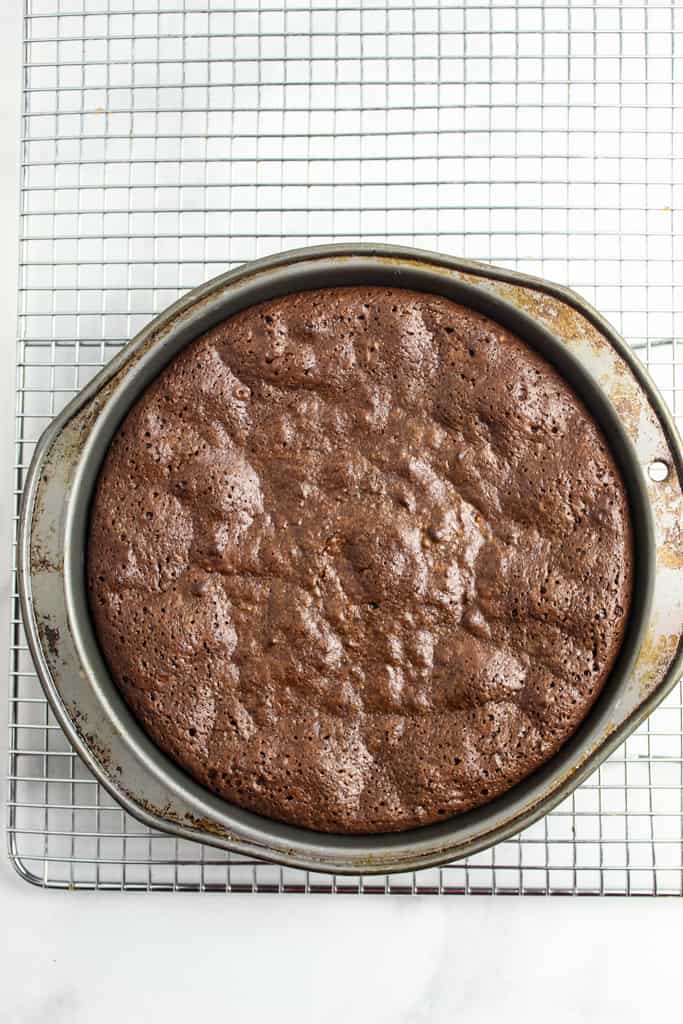 Step Seven: Bake at 375F for 25 minutes or until a toothpick inserted into the center of the cake comes out clean. Baking time may vary.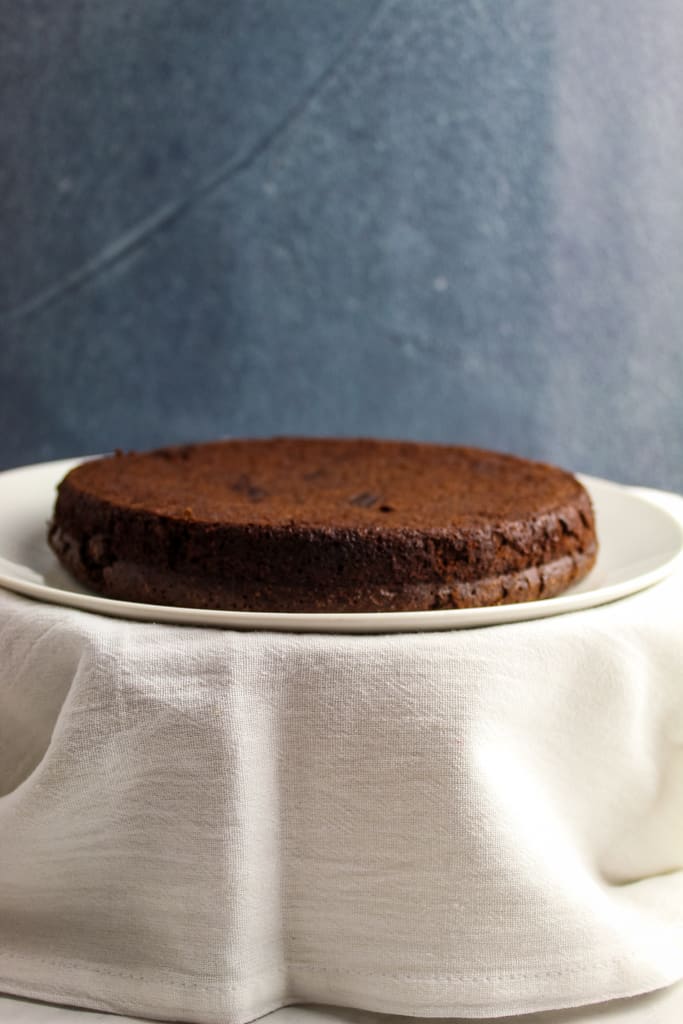 Step Eight: After cooling on a wire rack, turn the cake onto a serving plate to serve with either a sprinkle of powdered sugar or the dairy free ganache.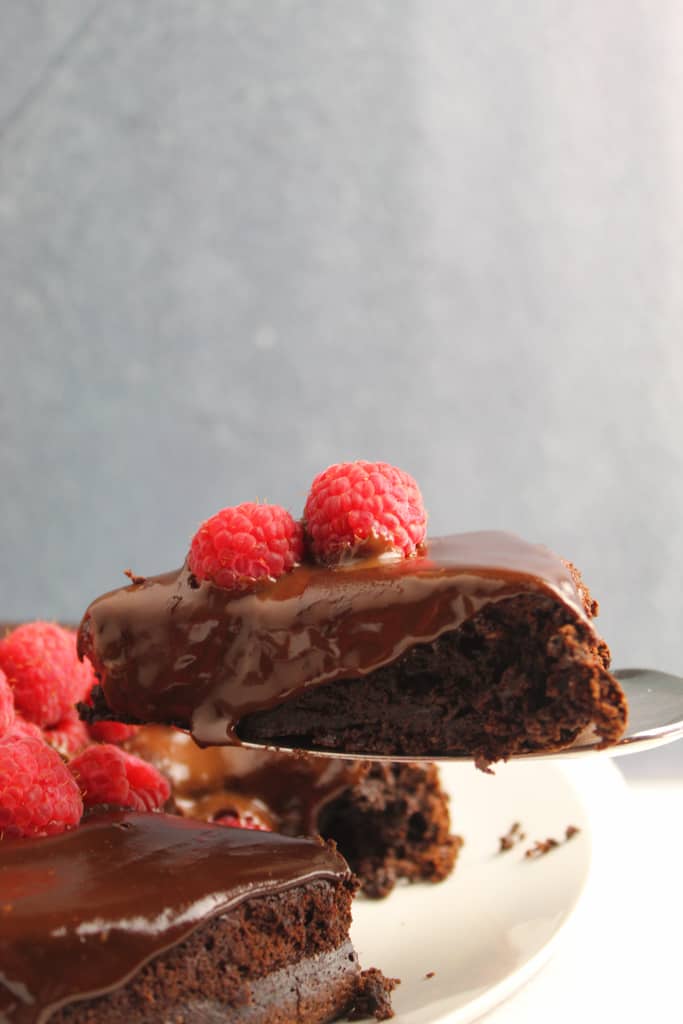 How to Serve and Serving Ideas
There are a couple equally delicious options for serving this cake...
One of the best ways is with this dairy free ganache! It's rich and delicious.
Or opt for a sprinkling of powdered sugar instead. The cake is delicious as-is and some powdered sugar adds a nice touch.
Or leave the cake and serve it with a scoop of vanilla ice cream!
How To Store Leftover Cake
If you have any cake leftover, store it in an airtight container in the refrigerator for up to 3 days. Freezing is not recommended.
Pro Tips for Making This Flourless Chocolate Cake
1. Room Temperature Ingredients
Ok so the butter and chocolate chips don't have to be warm (they're melted in the microwave anyway), but the eggs, cocoa powder and other dry ingredients must be at room temperature.
Tip for quickly warming eggs: Measure ¾ cup water in a measuring cup and microwave on high for 45 seconds. Remove from the microwave and place the 3 eggs in the water cup and let sit for 5 minutes. They'll be warm and ready to use.
2. Watch the Chocolate and Butter Carefully
Microwaving the chocolate chips and butter is a quick and easy way to melt the ingredients. As long as they are melted properly. Start with just 1 minute, then give it all a good stir. Then give them another 30 seconds and stir again. The key is to get the butter melted – after that, it's just a matter of stirring to get the chocolate chips to follow suit.
3. Line the Pan
If you're wondering why the directions say to spray the 8" baking pan, then line it with parchment paper, I promise it's not just extra work. The spray helps the parchment paper stay put in the pan. And the parchment paper helps keep the cake from sticking in the pan. It's a terrible thing when this gorgeous looking cake won't turn out of the pan and STICKS, ruining what you've worked so hard on.
FAQs about This Flourless Chocolate Cake Recipe
What kind of cocoa powder is best in this recipe?
Without a doubt, cocoa powder is the star of this recipe. It provides the rich chocolate flavor and even contributes to the consistency. This recipe has been successfully tested with both Dutch process cocoa powder and 100% natural, unsweetened cocoa powder. Both result in an excellent cocoa-infused cake.
What kind of dairy free chocolate chips are best?
Like the cocoa powder, the chocolate chips are incredibly important in this recipe. A good, high quality DF chocolate chip like Enjoy Life or Nestle's works best.
Did you make and love this recipe? Give it your review and

rating below! And make sure to follow me on Instagram, Pinterest and Facebook too!
Recipe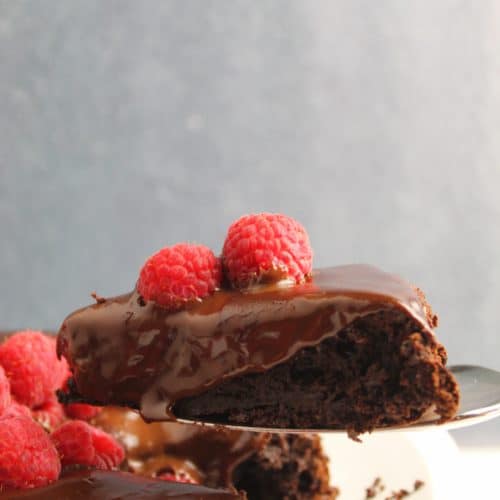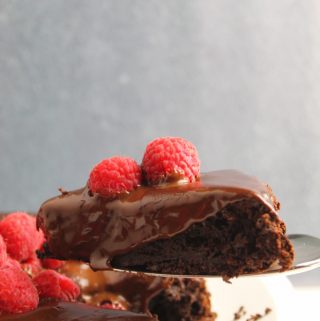 BEST Flourless Chocolate Cake Recipe: Easy & Dairy-Free
The most decadent flourless chocolate cake recipe EVER! And it's dripping with a luscious dairy free chocolate ganache - an impressive dessert for any occasion!
Print
Pin
Rate
Ingredients
1

cup

dairy free semisweet chocolate chunks

½

cup

vegan butter

145

grams

granulated white sugar

about ⅔ cup

½

teaspoon

instant espresso powder

¼

teaspoon

salt

1

teaspoon

pure vanilla extract

3

large

eggs

lightly beaten

45

grams

cocoa powder

about ½ cup
Instructions
Prepare an 8" round cake pan by spraying lightly with cooking spray.

Cut a round circle of parchment paper to fit the pan and place on the bottom of the pan. Set aside.

Place chocolate chips and butter in a large, microwave safe bowl. Microwave for 1 minute. Stir.

Microwave again for another 30 seconds. Remove and stir until mixture is smooth and completely melted.

Add the granulated sugar, espresso powder, salt and vanilla extract to the bowl and stir until combined.

Add the eggs to the bowl and stir with a whisk until incorporated.

Add the cocoa powder and stir until combined.

Pour batter into the prepared pan.

Bake cake for 25 minutes.

Cool on a cooling rack for 15 minutes.

Turn cake out of the pan to finish cooling on a wire rack.

Top with dairy free chocolate ganache (recipe link in the notes below) and serve.
Notes
All ingredients should be at room temperature.
Unlike other gluten free batters, this batter does not need to rest. 
The parchment paper in the pan helps the cake turn out of the pan cleanly.
The ganache recipe for topping the cake is here.
No substitutions are recommended in this recipe.
The Enjoy Life brand of semi-sweet chunks were used in this recipe.
The Country Crock brand of vegan butter sticks were used in the recipe.
Cake can be stored covered in the refrigerator for up to 3 days. 
Nutrition
Calories:
222
kcal
|
Carbohydrates:
22
g
|
Protein:
3
g
|
Fat:
14
g
|
Saturated Fat:
5
g
|
Cholesterol:
42
mg
|
Sodium:
124
mg
|
Potassium:
157
mg
|
Fiber:
2
g
|
Sugar:
18
g
|
Vitamin A:
67
IU
|
Calcium:
20
mg
|
Iron:
2
mg
How about some more delicious cakes and cookies?! Check out these recipes: