The search for the best gluten free flourless chocolate cake is over - this decadent cake is the best tasting cake you will ever sink your teeth into. AND it's made in just one bowl with 8 easy ingredients plus it's gluten and dairy free!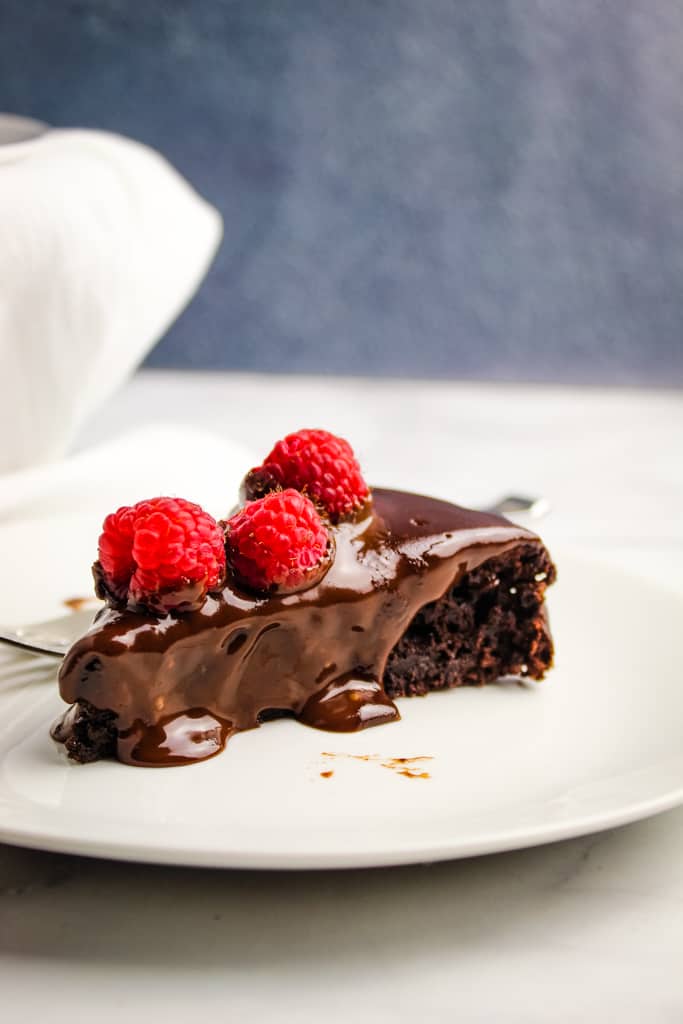 This gorgeous flourless chocolate cake has all the makings of an indulgent dessert straight from a high end bakery, only it's from YOUR kitchen and it couldn't be simpler. It's loaded with luscious ingredients like chocolate chips, cocoa powder and even some espresso powder for extra richness. Get your bowl ready, this cake will make any occasion super special.
Torte vs. Cake – what's the difference?
Hm, a delicious flourless chocolate cake or a delicious flourless chocolate torte? Which one is it? Well, this is a tricky one because a flourless cake is like a torte in many ways. But the terms have more to do European vs. American baking. Torte is a term used to describe European baked goods that are more on the dense side, more topping based (rather than frosting based) and can be either single or multilayer.
Cakes on the other hand are described as light and airy, with thick frosting and typically multilayer. So ultimately, this recipe could be called a torte as well.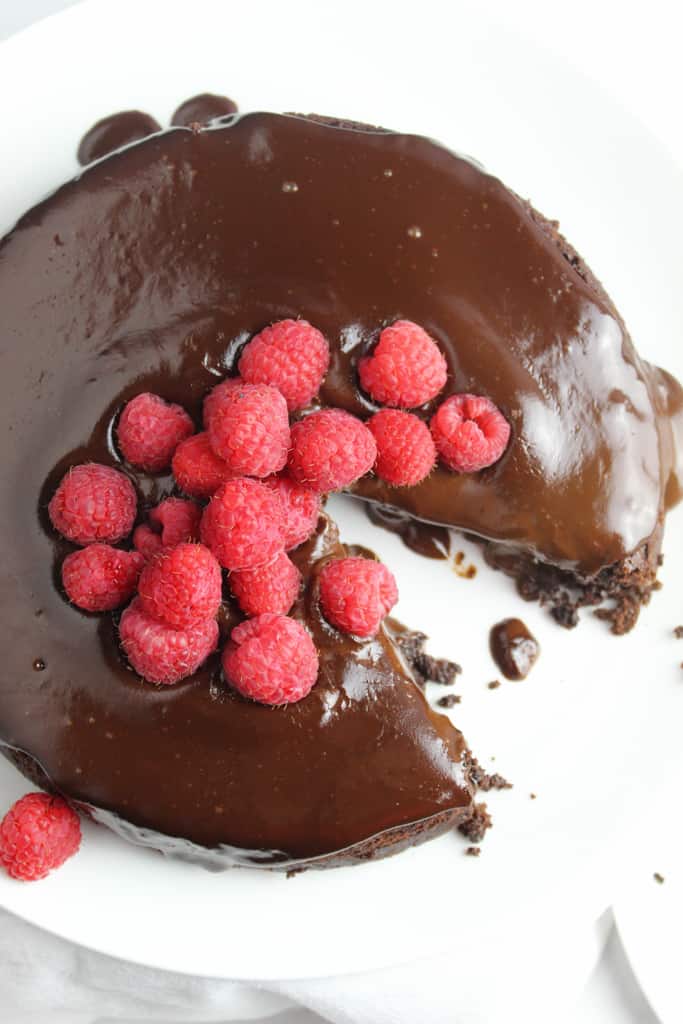 What kind of cocoa powder is best in this recipe?
Without a doubt, cocoa powder is the star of this recipe. It provides the rich chocolate flavor and even contributes to the consistency. This recipe has been successfully tested with both Dutch process cocoa powder and 100% natural, unsweetened cocoa powder. Both result in an excellent cocoa-infused cake.
What kind of dairy free chocolate chips are best?
Like the cocoa powder, the chocolate chips are incredibly important in this recipe. A good, high quality DF chocolate chip like Enjoy Life or Nestle's works best.
Can I top this gluten free flourless chocolate cake with ganache?
Glad you asked! Yes! The dairy free chocolate ganache used with the cake is right here: Dairy Free Chocolate Ganache. It's incredibly easy to make and takes this cake over-the-top delicious.
Can I substitute the eggs in this flourless chocolate cake?
Unfortunately no. Eggs are essential in this recipe. For some egg free recipes, check out this carrot muffin recipe and these baked blueberry donuts.
What's the best way to store a flourless chocolate cake?
Once it's topped with the chocolate ganache, this cake is ready to be enjoyed… but if you find yourself with cake left over, the best way to store it is covered in the refrigerator. It will keep for up to 3 days.
How to make gluten free flourless chocolate cake
Pro tip #1: Room temperature ingredients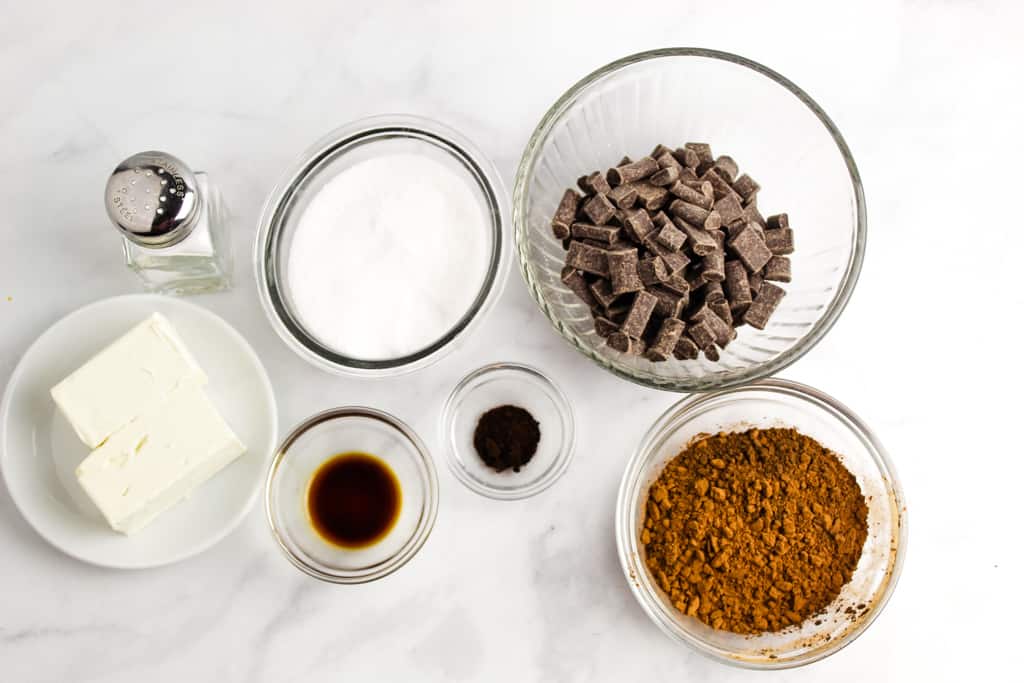 Ok so the butter and chocolate chips don't have to be warm (they're melted in the microwave anyway), but the eggs, cocoa powder and other dry ingredients must be at room temperature.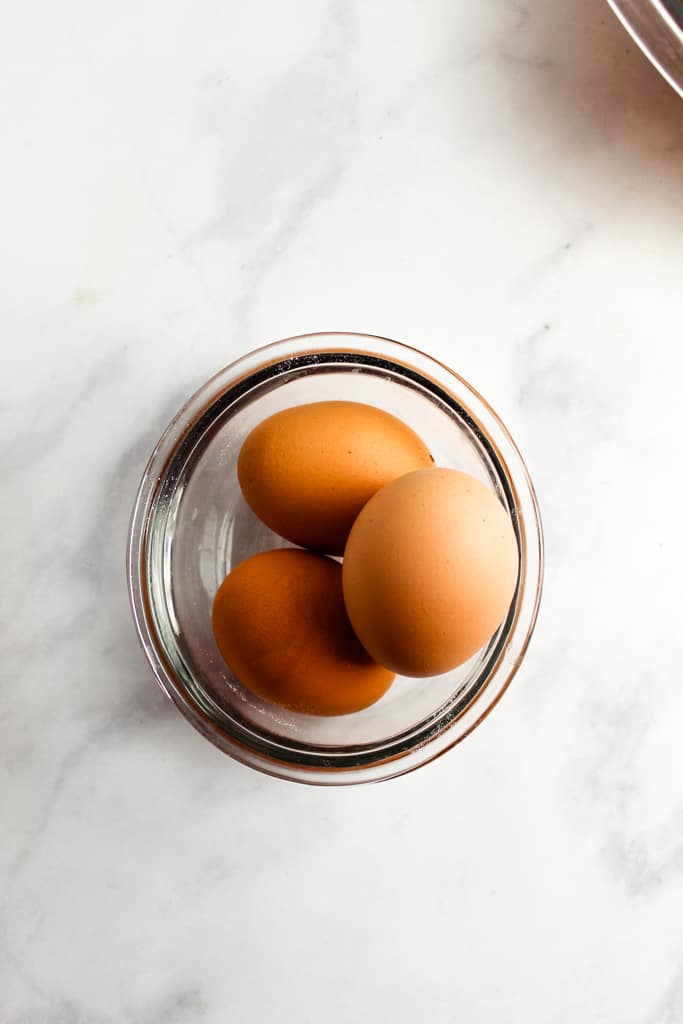 Tip for quickly warming eggs: Measure ¾ cup water in a measuring cup and microwave on high for 45 seconds. Remove from the microwave and place the 3 eggs in the water cup and let sit for 5 minutes. They'll be warm and ready to use.
Pro tip #2: Watch the chocolate and butter carefully
Microwaving the chocolate chips and butter is a quick and easy way to melt the ingredients. As long as they are melted properly. Start with just 1 minute, then give it all a good stir. Then give them another 30 seconds and stir again. The key is to get the butter melted – after that, it's just a matter of stirring to get the chocolate chips to follow suit.
Pro tip #3: Stir in the ingredients in order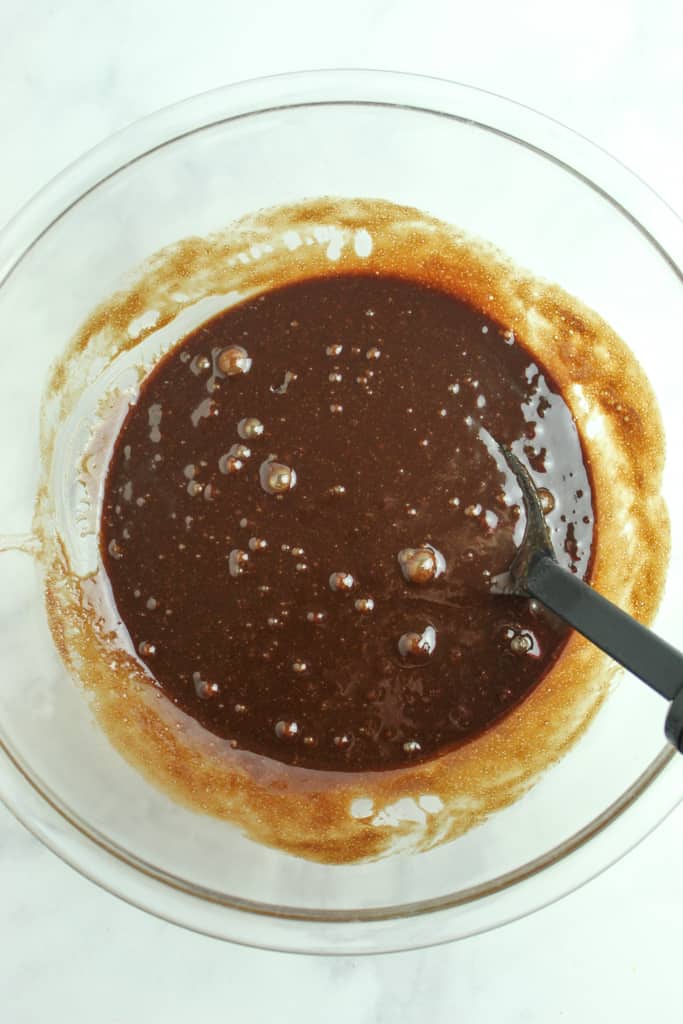 It's tempting to just add everything and stir but for the best results, stir the sugar, espresso powder, salt, vanilla extract in first. Then the eggs. THEN the cocoa powder last.
Pro tip #4: Rest time is important
Several things can be said about gluten free batter, but the overall sentiment is that it is super picky. For that reason, it benefits from a rest time before the big show (baking!). After the batter has been completely mixed and is ready to go, push the bowl aside and let it sit for 30 minutes. Then proceed with baking.
Pro tip #5: Line the pan
If you're wondering why the directions say to spray the 8" baking pan, then line it with parchment paper, I promise it's not just extra work. The spray helps the parchment paper stay put in the pan. And the parchment paper helps keep the cake from sticking in the pan. It's a terrible thing when this gorgeous looking cake won't turn out of the pan and STICKS, ruining what you've worked so hard on. Use the parchment!
Pro tip #6: Bake and cool
A 25 minute bake in the oven and this cake is almost ready to be topped and served. After baking, allow it to cool on a wire rack. Then turn it out onto a serving plate (because of the parchment, it should turn out easily).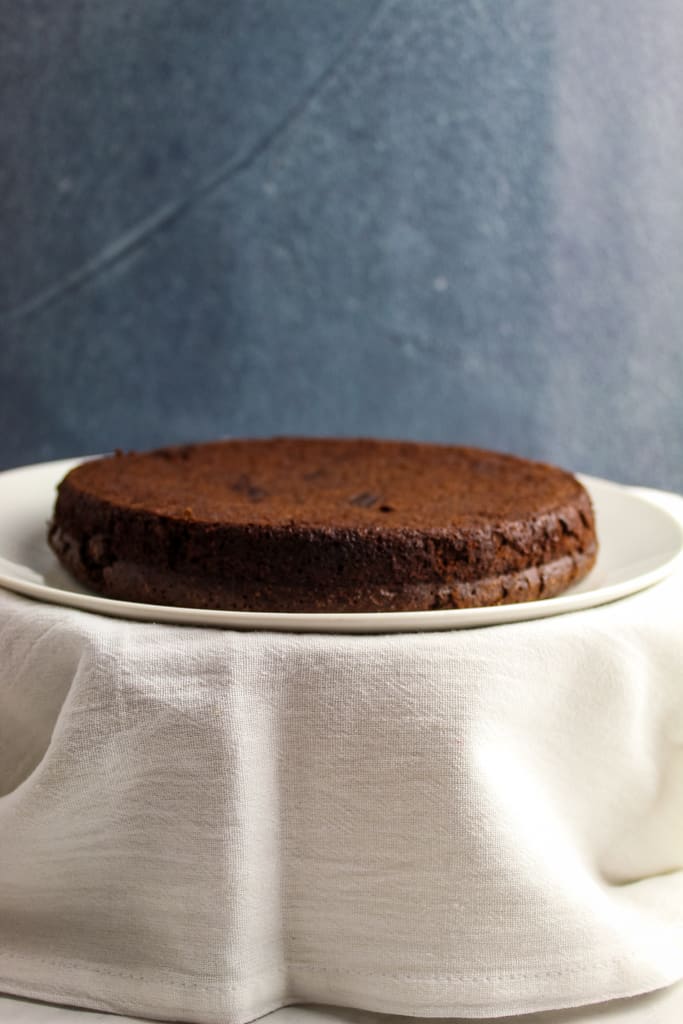 Looking for a good topping for this gluten free flourless chocolate cake? Check out the Dairy Free Ganache!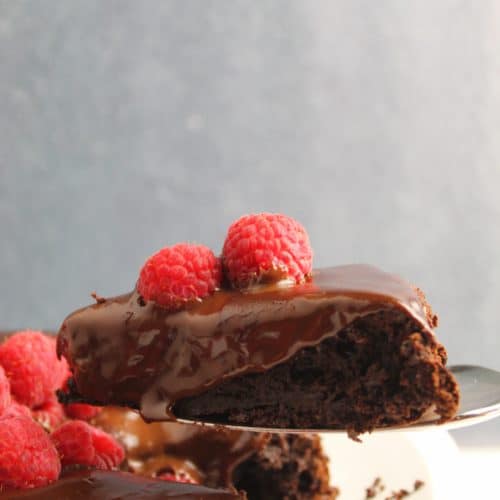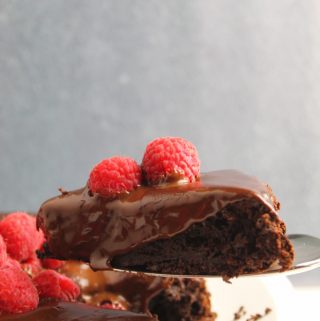 Gluten Free Flourless Chocolate Cake
The most decadent gluten free flourless chocolate cake EVER! And it's dripping with a luscious dairy free chocolate ganache - an impressive dessert for any occasion!
Print
Pin
Rate
Ingredients
1

cup

dairy free semisweet chocolate chips

½

cup

dairy free butter

145

grams

granulated white sugar

about ⅔ cup

½

teaspoon

instant espresso powder

¼

teaspoon

salt

1

teaspoon

pure vanilla extract

3

eggs

lightly beaten

45

grams

cocoa powder

about ½ cup
Instructions
Place chocolate chips and butter in a large, microwave safe bowl. Microwave for 1 minute. Stir.

Microwave again for another 30 seconds. Remove and stir until mixture is smooth and completely melted.

Add the granulated sugar, espresso powder, salt and vanilla extract to the bowl and stir until combined.

Add the eggs to the bowl and stir with a whisk until incorporated.

Add the cocoa powder and stir until combined.

Set batter aside to rest for 30 minutes.

Prepare an 8" round cake pan by spraying lightly with cooking spray. Preheat oven to 375 F.

Cut a round circle of parchment paper to fit the pan and place on the bottom of the pan.

Pour batter into the prepared pan.

Bake cake for 25 minutes.

Cool on a cooling rack for 15 minutes.

Turn cake out of the pan to finish cooling on a wire rack.

Top with dairy free chocolate ganache and serve.
Notes
All ingredients should be at room temperature.
Let the batter rest for the full 30 minutes before baking.
The parchment paper in the pan helps the cake turn out of the pan cleanly.
The ganache recipe for topping the cake is here.
Nutrition
Calories:
222
kcal
|
Carbohydrates:
22
g
|
Protein:
3
g
|
Fat:
14
g
|
Saturated Fat:
5
g
|
Cholesterol:
42
mg
|
Sodium:
124
mg
|
Potassium:
157
mg
|
Fiber:
2
g
|
Sugar:
18
g
|
Vitamin A:
67
IU
|
Calcium:
20
mg
|
Iron:
2
mg
How about some more delicious cakes and cookies?! Check out these recipes: