Light, fresh and delightfully sweet, this gluten free strawberry cake is the kind of cake that's stunning and impressive but incredibly easy to make! It's the perfect cake for birthdays, potlucks and special celebrations or just an ordinary weekday treat!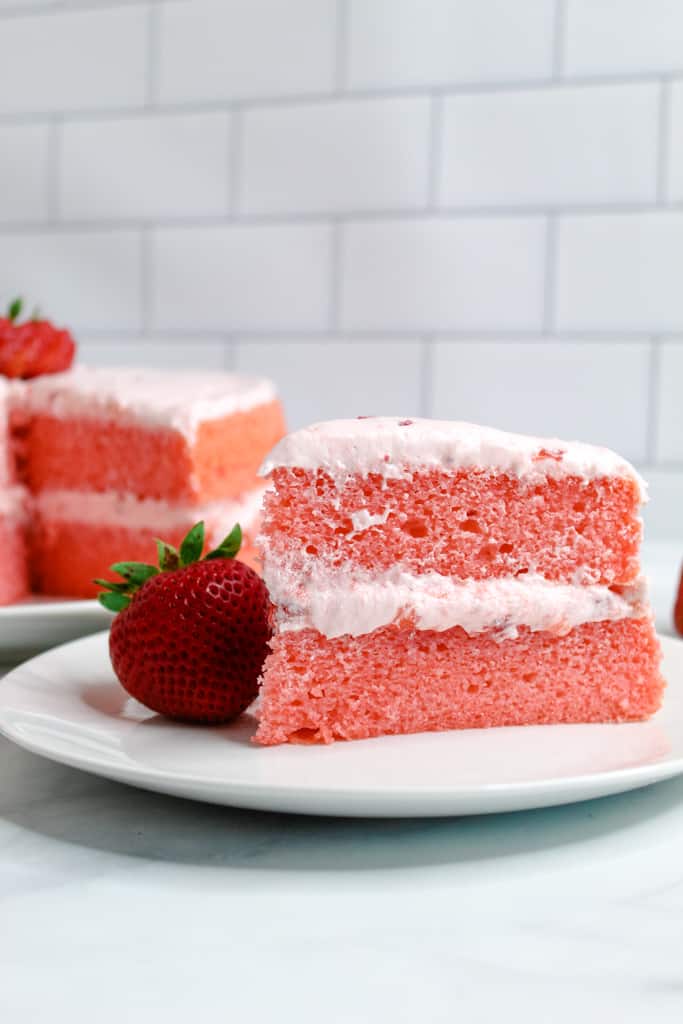 "I'll have another slice please!" (This is a phrase you'll hear all the time when this cake is on the dessert menu!) And between you and me… it's an incredibly easy cake to make. Even the fluffy strawberry frosting is easy. And aside from the frosting, it's a one bowl cake recipe. Just one mixer bowl is all you need to mix this glorious cake. In the instructions I mention a stand mixer bowl, but you could easily use a hand mixer too – just use a large enough bowl to hold the batter.
Mix it up and portion it in the cake pans – you'll have strawberry cake with strawberry frosting in about an hour and 15 minutes!
Can I make this recipe into cupcakes?
Yes! Just follow the instructions as written all the way down to preheating the oven. They'll bake at the same temperature but you'll portion the batter into 24 cupcake cups. The baking time will be reduced to about 25 minutes (check the middle one with a toothpick though).
What's the Best Frosting Consistency for Frosting this Cake?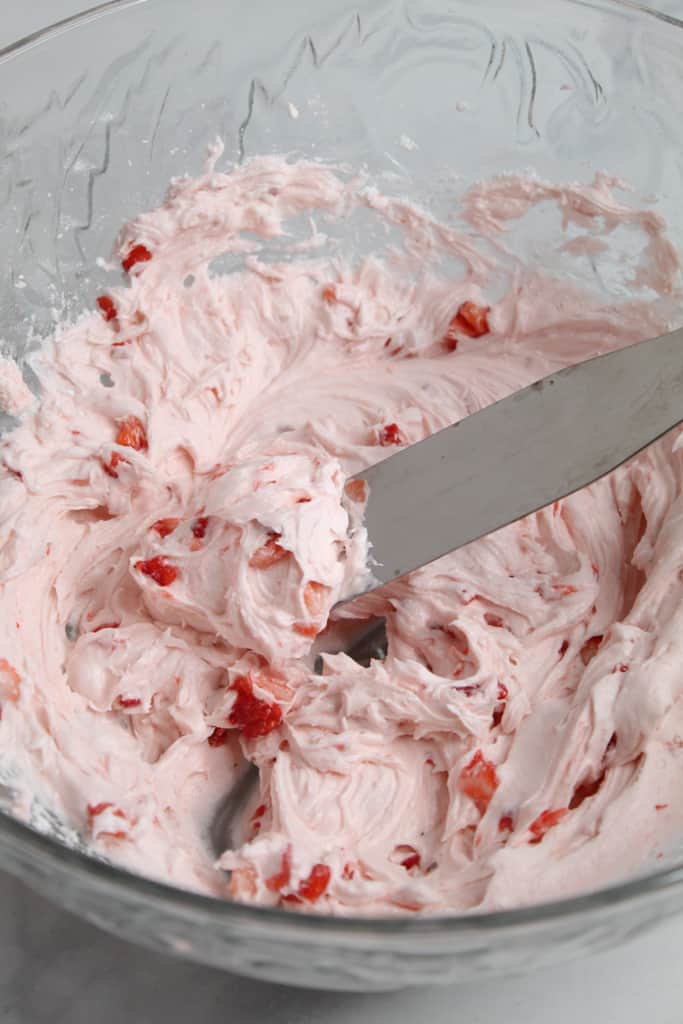 You may have looked at the frosting ingredients and wondered why there is a range for the powdered sugar and the milk… that's because it may vary depending on where you live, even the conditions in your kitchen. And even personal preference. I like my frosting to be a bit thinner, fluffier and easy to spread. So using the lower end of the powdered sugar and the higher end of the milk, produces this consistency perfectly. If you are looking for frosting that's a bit more solid, use the full 3 ½ cups of powdered sugar.
What's the Best Way to Store This cake?
If you have any cake left over, the easiest way to store it is to slice it into individual slices and place them in a plastic storage container. Then refrigerate these pieces for up to 3 days.
Tips for Making this Gluten Free Strawberry Cake
The ingredients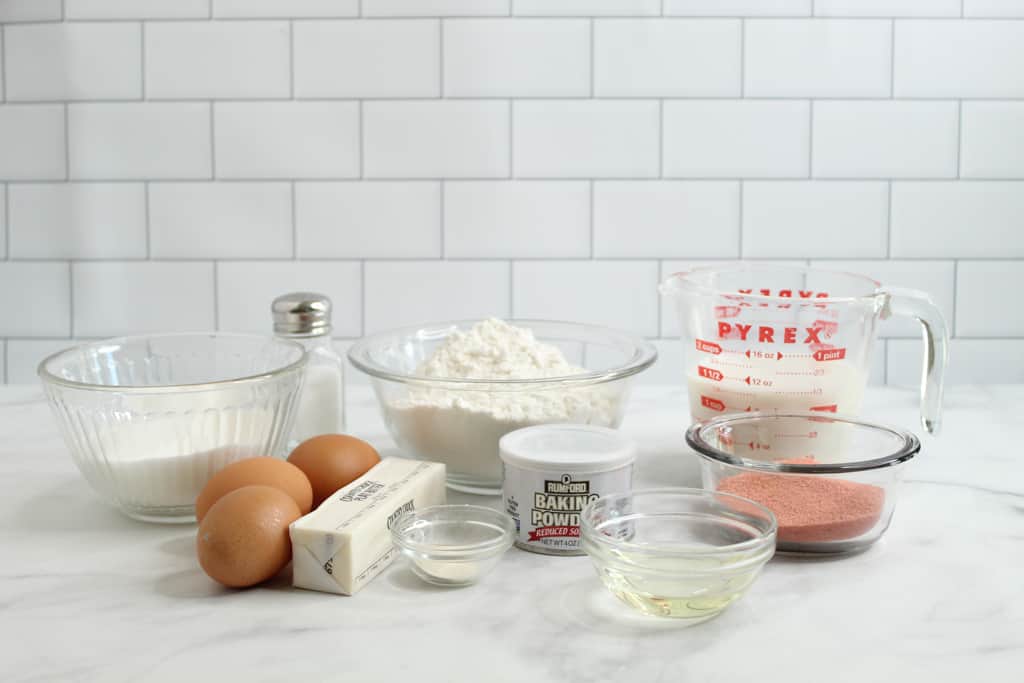 There are 3 tips that will give you the best results with this strawberry cake:
The recipe has been tested and retested several times with this gluten free flour mix. It works beautifully in this recipe. Other flour mixes may work, but I just haven't tested them.
As with other gluten free baking recipes, make sure to allow all ingredients to come to room temperature before combining or mixing.
And lastly, weigh the gluten free flour mix for the best results. Weight is a much more accurate measurement than cups.
Mixing
I said one-bowl cake and I mean it! Use either your stand mixer bowl or a large bowl for a hand mixer. Add the dry ingredients first and mix, then add the butter and oil, then add the rest of the cake ingredients. And that's it!
Rest time
Another thing to add to the list of important tips for gluten free baking is the rest time for batters. After mixing together the ingredients, it's important to let the batter rest for a period of time before portioning it into the pans and baking. That period of time in this recipe is about 10 minutes (which is a good minimum amount to shoot for).
Baking and Cooling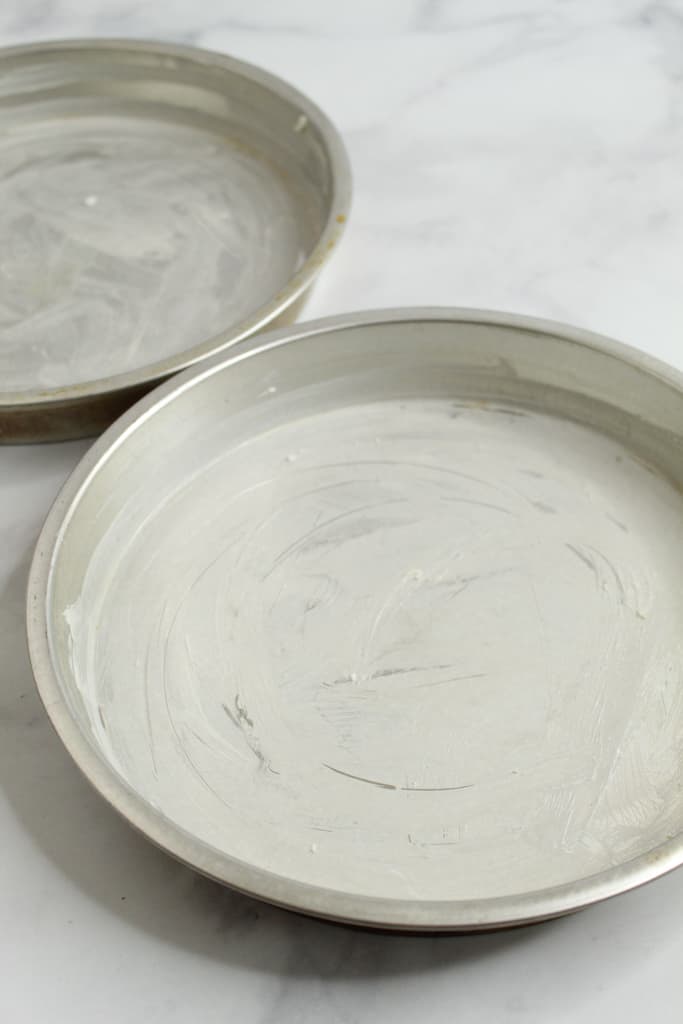 While the batter is resting, it's time to preheat the oven and prepare the pans. A simple butter coating helps these cakes bake beautifully and not stick to the pans. The key is to really coat them well with butter.
Bake the cakes for between 35 and 40 minutes and then let them cool on a wire rack. After they've cooled for about 20 minutes, turn them out of the pans and let them finish cooling.
Frosting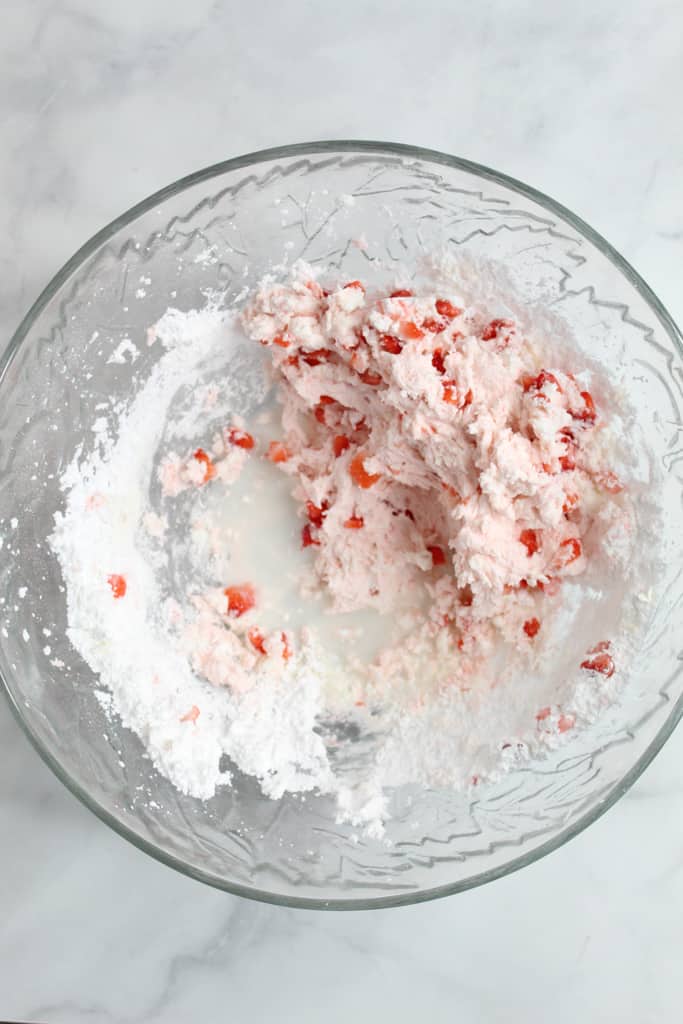 While the cakes are finishing their cooling process, prepare the delicious frosting that will take this cake over the top!
Softened butter is the key here – it needs to be soft enough that squeezing it easily leaves an indention. Not melted, but soft. And you can either sift your powdered sugar ahead of time or sift it directly into the bowl with the butter.
Then mix to combine the first cup (Make sure to use a large, deep bowl as the powdered sugar may fly everywhere).
Add in the next cup and a half and mix again.
Finish off with the last portion of powdered sugar and add the milk too. Start with the lower measurement of the milk and add more as needed. Then mix in the strawberries.
Take a taste!
Serving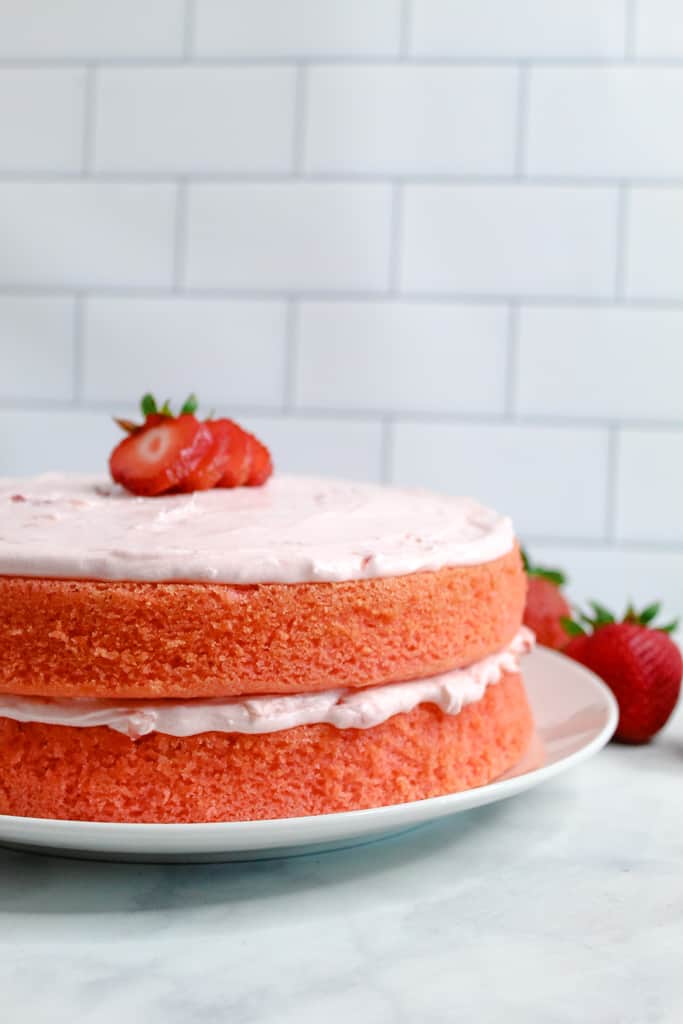 Frosting cakes can be as simple as frosting the top layer, then adding the other layer, frosting the top and serving. (Which is what I did with this cake) Or you can double the frosting recipe and really coat it well and even decorate it. Either way, the cake frosts easily and cuts well, so they'll be rave reviews regardless of how fancy or simple you make it.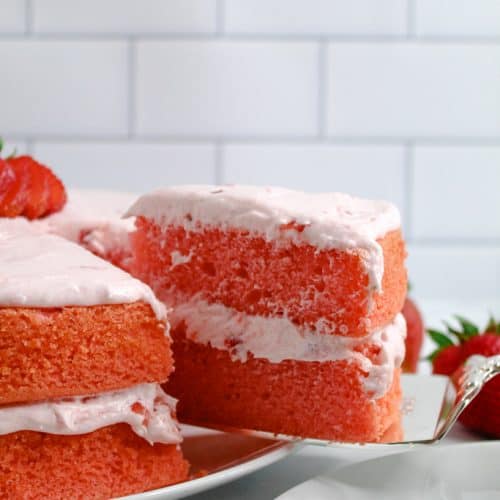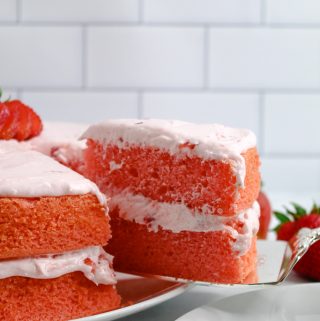 One-Bowl Gluten Free Strawberry Cake
Light,fresh and delightfully sweet, this gluten free strawberry cake is the kind of cake that's stunning and impressive but incredibly easy to make!
Print
Pin
Rate
Ingredients
For the Cake
325

grams

Gluten free flour mix

about 2 ½ cups

1

teaspoon

xanthan gum

1

cup

granulated sugar

1

Tablespoon

baking powder

1

teaspoon

salt

½

cup

vegan butter stick

softened

2

Tablespoons

vegetable oil

1 ¼

cup

almond milk

3

large eggs

3

oz.

package strawberry Jello
Strawberry Frosting
½

cup

vegan butter

3

– 3 ½ cups powdered sugar

sifted

½

cup

diced strawberries

2

– 4 Tablespoons almond milk
Instructions
For the Strawberry Cake:
In the bowl of a stand mixer, add the flour mix, xanthan gum, sugar, baking powder and salt. Mix on low speed for about 30 seconds or until completely combined.

Add the butter and oil and mix again on low speed for 30 seconds.

Add the almond milk, eggs and Jello. Mix for another 30 seconds on low, stop mixer and scrape the bowl down. Turn the speed up to low medium and mix for 2 minutes.

Let batter rest in the bowl.

Meanwhile, preheat the oven to 350 F. Prepare two 8 inch round baking pans by buttering them well with a vegan butter stick. Set aside.

After oven has preheated, portion batter equally into the pans, smoothing the tops out.

Bake for 35 – 40 minutes or until a toothpick inserted in the middle of the cake comes out clean.

Place 2 wire racks on the counter for cakes to cool on.

Once cakes test done, place them in the pans on the wire racks to cool for 20 minutes.

Turn the cakes over on the wire racks, out of the pans, and allow them to cool completely.

Place one cake layer on a serving plate and frost the top with 1 ½ cups frosting.

Carefully place the other layer on top and lightly press down.

Frost the top with another cup to 1 ½ cups frosting.

Refrigerate until serving. Serve straight from the refrigerator or let warm up for 20 minutes.
For the Strawberry Frosting:
Add butter to a large mixing bowl. Add 1 cup of powdered sugar to the bowl.

Mix on low speed until combined.

Add another 1 ½ cups powdered sugar, mix well.

Add the final amount of powdered sugar and mix well.

Add milk and mix on low just until spreadable consistency.

Mix in the strawberries and frost the cooled cake.
Notes
Make sure all ingredients are at room temperature.
Let the batter rest for a few minutes while the oven is preheating.
Butter the baking pans well to prevent cakes from sticking.
Refrigerate leftovers in plastic containers.
Nutrition
Calories:
334
kcal
|
Carbohydrates:
42
g
|
Protein:
5
g
|
Fat:
18
g
|
Saturated Fat:
5
g
|
Cholesterol:
41
mg
|
Sodium:
403
mg
|
Potassium:
125
mg
|
Fiber:
3
g
|
Sugar:
24
g
|
Vitamin A:
419
IU
|
Vitamin C:
4
mg
|
Calcium:
98
mg
|
Iron:
1
mg
Hungry for more gluten free recipes? Check out these tasty treats!