Looking for a versatile gluten free flour mix that's as perfect for yeast bread as it is for muffins? Look no further! This flour mix fits the bill and mixes easily in a stand mixer!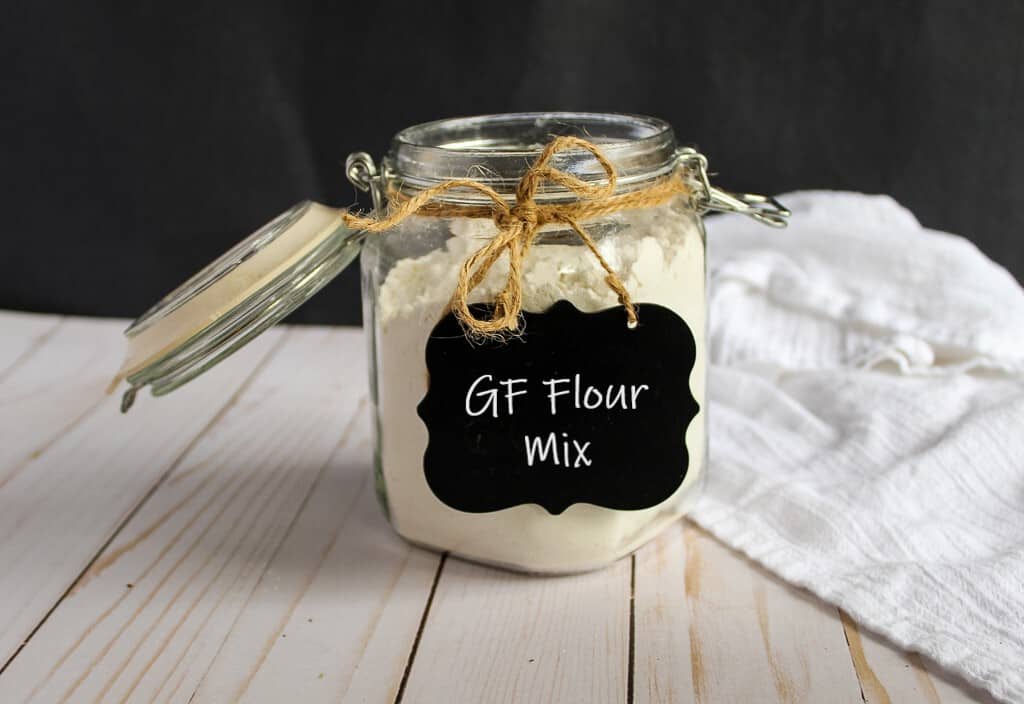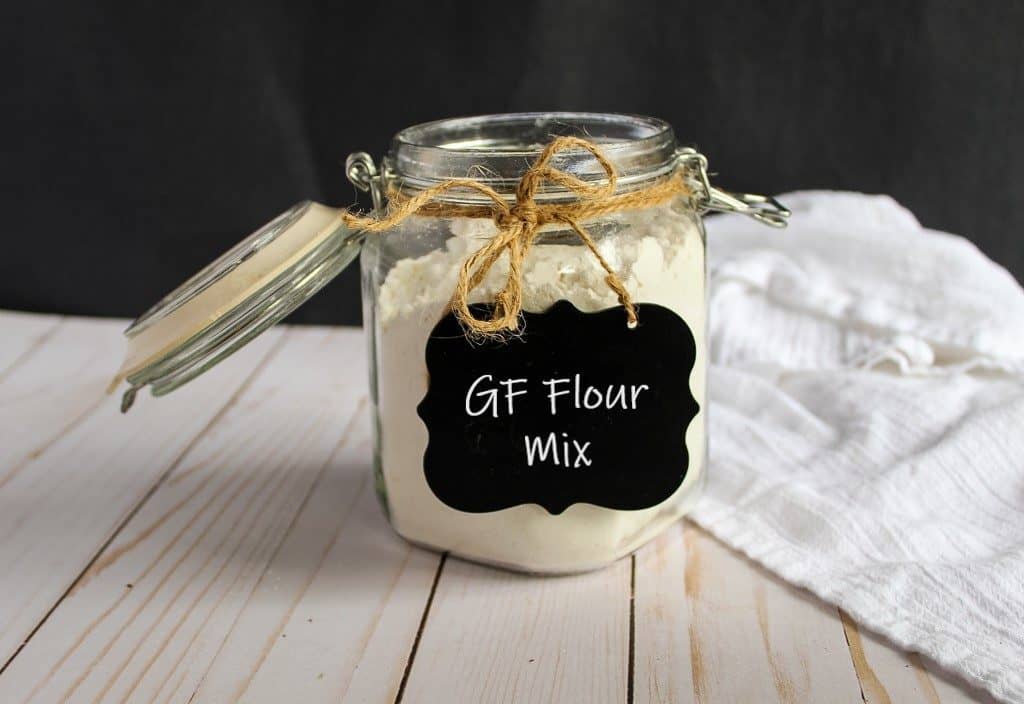 A great gluten free flour mix can do wonders for your gluten free baking. It can transform recipes and take your baking to new heights. Think of it as the substitute for all purpose flour that you need for all those recipes that call for all purpose flour.
But finding the right gluten free flour mix can be tricky. Do you go with the one on the shelf at the store? It sure looks convenient. But before grabbing that bag of pricey flour mix, with half of the ingredients list looking kinda mysterious (looking at you calcium sulfate!), try making your own gluten free flour mix.
Substituting gluten free flour mix for all purpose flour
Before jumping in to gluten free flours, it's helpful to know what gluten really does in baking so substituting for it is easier. The strange thing is, fresh milled wheat flour does not contain gluten. That's right – there is no gluten in the flour itself. What creates the gluten is when two proteins, glutenin and gliadin, come into contact with a liquid.
When those two proteins are combined with water or any liquid, gluten molecules begin developing. They will multiply, resulting in dough with that "doughy" texture. The more liquid is added, the more elasticity the dough will have.
Think of gluten as the "glue" for dough.
For people who cannot tolerate gluten or those suffering from celiac disease, one single flour does not offer all the qualities of an all purpose flour. For example, you can't use just almond flour or just tapioca starch. Instead, you need a combination of flours and starches. Flours, to provide protein and fiber and starches to provide, well, starch.
The result is this gluten free flour mix that provides just the right balance of flours and starches for gluten free baking.
Making a Gluten Free Flour Mix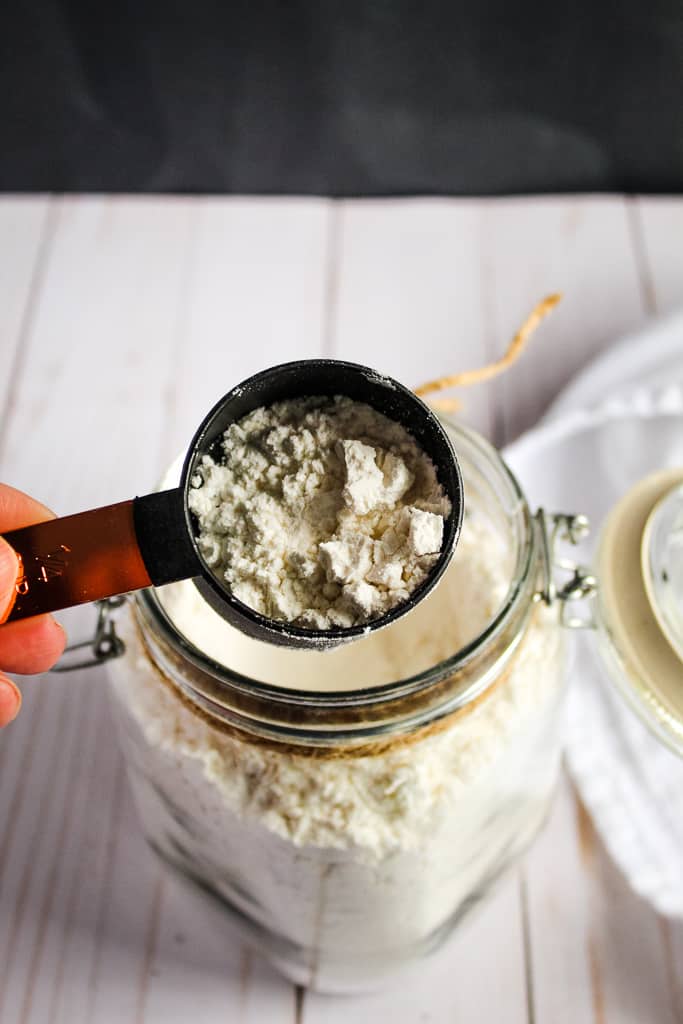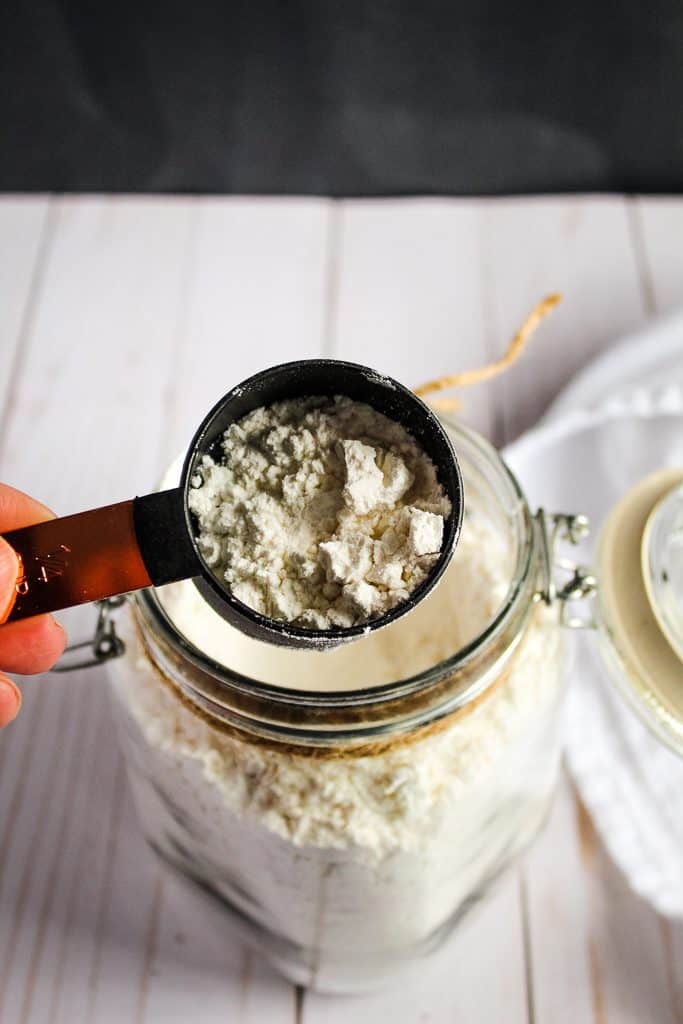 The easiest way to make this gluten free flour mix is to use a stand mixer to do the mixing. You'll end up with about 9 cups of flour mix, so a large stand mixer is a big help with getting this mega batch of flour all mixed together.
Just add all the flours and mix on low-medium for 5 minutes.
Can this gluten free flour mix be subbed for all purpose flour?
Well, fortunately, by creating the right balance of different gluten free flours, this gluten free flour mix can substitute for regular flour most of the time. Keep in mind that this mix does not include xanthan or guar gum, which is added to many gluten free breads to give them that elasticity and doughy texture. If you'd rather not add it, we have a guide for alternatives to xanthan gum that work really well.
These tips also come in handy for working with gluten free flours:
Different flours work for different uses. Check out the long list below, but substituting different gluten free flours requires matching up the protein and fiber content of the flours. Buckwheat flour is not an equal substitute for white rice flour!
Adding some protein when you're using gluten free flours is a good idea. Gluten is a protein, so with gluten-free baking, you aren't getting that extra protein. Substituting in some egg white for ½ cup of the water will give you a much needed protein boost. Or try out one of the high protein flours mentioned below.
Gluten free flours should be stored in the refrigerator. This is a big one. The first time you encounter rancid flour will be all the convincing you need to always make space in your refrigerator for your flours. You may also freeze them, but make sure to bring them to room temperature before using. This may take a few hours. An alternative with this batch of flour mix would be to store some of it at room temperature and the rest in the refrigerator.
Gluten Free Baking Tip: Check out the Ultimate Guide to Gluten Free Flours for a printable, handy substitution chart!
List of Gluten Free Flours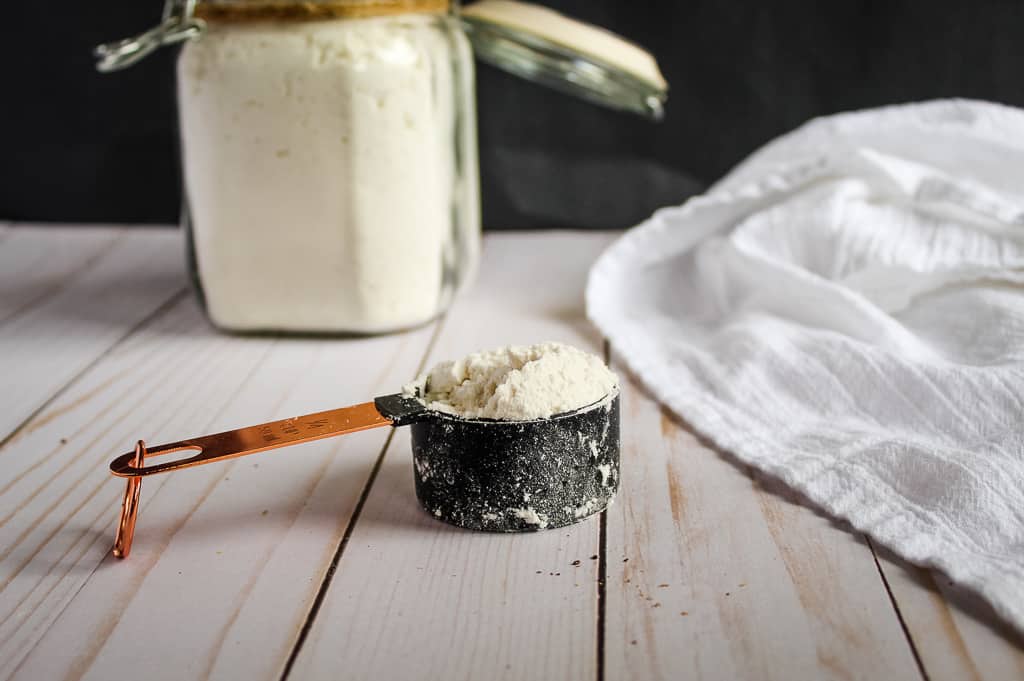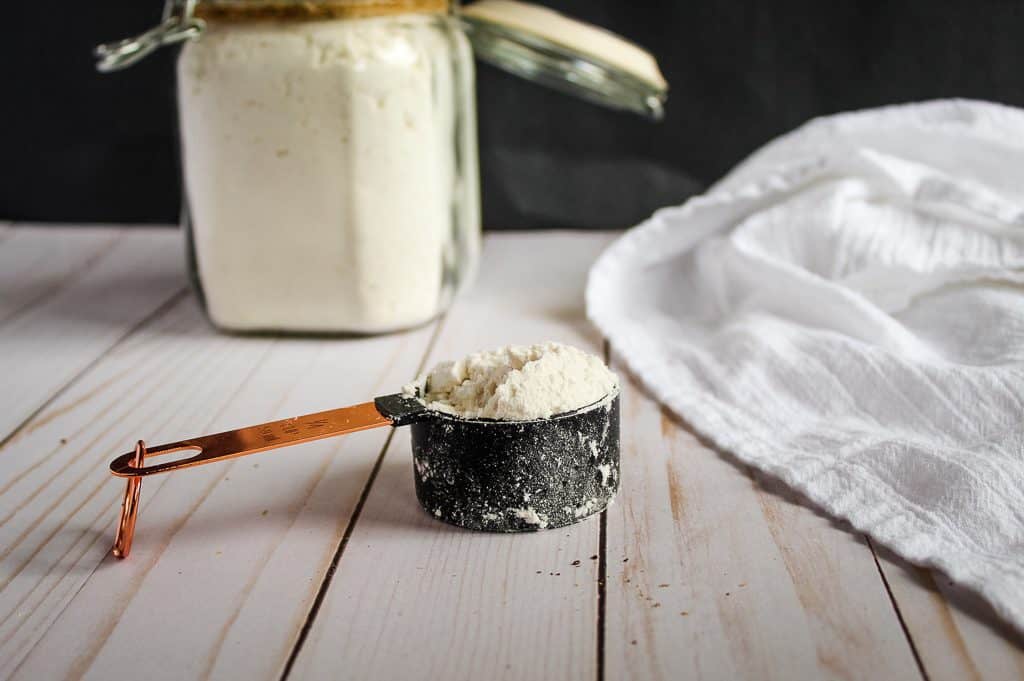 The following flours are gluten free and can safely be used in gluten free recipes…
Sorghum flour – gluten free baking staple; adds protein with a mild taste - perfect in this Gluten Free Outback Steakhouse Bread
White rice flour/brown rice flour – either one is great in a gluten free baking mix recipe
Sweet rice flour – great for breads, like this Gluten Free Irish Soda Bread
Tapioca starch/flour – a thickener; also works well in combination with other flours
Potato starch – a thickener for gravy; adds moisture to baked goods
Arrowroot starch – one of the most neutral thickeners for gravy
Teff flour – great for desserts, has a slightly sweet flavor
Buckwheat flour – great for waffles and these pancakes
Quinoa flour – a great source of protein in your baked goods; nice nutty taste
Certified oat flour – make sure it is certified gluten-free; good in breads - like this Oatmeal Bread
Coconut flour – great for desserts; coconut pairs well with anything sweet like this Omega-3 Loaded Gluten Free Cinnamon Bread
Almond meal – great for desserts, makes delicious crusts for pies
Hazelnut meal – great for special desserts
Beware of the following flours…
All-purpose flour
Bulgar flour
Brown flour
Bread flour
Cake flour
Durham flour
Granary flour
Graham flour
Kamut flour
Plain flour
Sauce flour
Self-rising flour (packaged)
Semolina flour
Spelt flour
Triticale flour
Wheaten flour
Wholemeal flour
Please note that these lists are by no means complete.
And now for the most versatile gluten free flour mix ever - make sure to rate it if you enjoy it!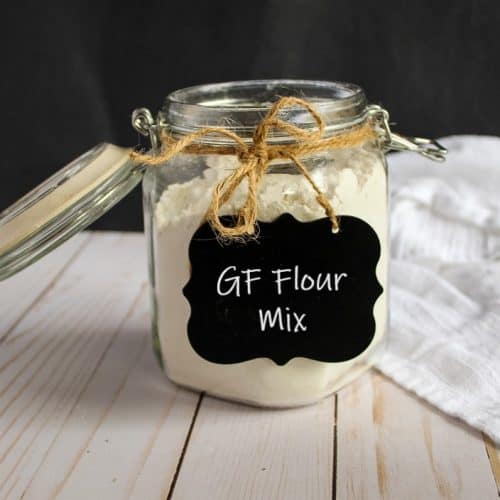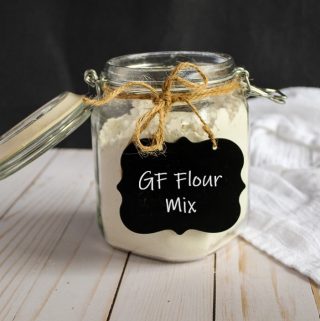 Gluten Free Flour Mix
A versatile gluten free flour mix that produces excellent breads, rolls, biscuits, pancakes and other breads!
Print
Pin
Rate
Ingredients
350

grams

white rice flour

about 2 cups

310

grams

brown rice flour

about 2 cups

360

grams

tapioca flour

about 3 cups

270

grams

cornstarch

about 2 cups

45

grams

potato flour

about 3 Tbsp.
Instructions
Add flours and starches to a large mixing bowl or bowl of a stand mixer.

Mix on low until fully combined.

Store flour mix in a large plastic bag or an airtight container.

For longer storage, store in the refrigerator.
Notes
Use a large mixing bowl to ensure all the flour mixes.
You can store a portion of it in an airtight container at room temperature and refrigerate the rest for later use.
Nutrition
Calories:
517
kcal
|
Carbohydrates:
120
g
|
Protein:
5
g
|
Fat:
2
g
|
Saturated Fat:
1
g
|
Sodium:
8
mg
|
Potassium:
186
mg
|
Fiber:
3
g
|
Sugar:
1
g
|
Vitamin C:
0.2
mg
|
Calcium:
11
mg
|
Iron:
1.5
mg