Oats are high in protein and fiber, making them one of the best flours to bake breads with. This gluten free oat bread is made with homemade oat flour. One bag of oats can quickly turn into a mountain of lovely oat flour and this amazing gluten free oat bread recipe.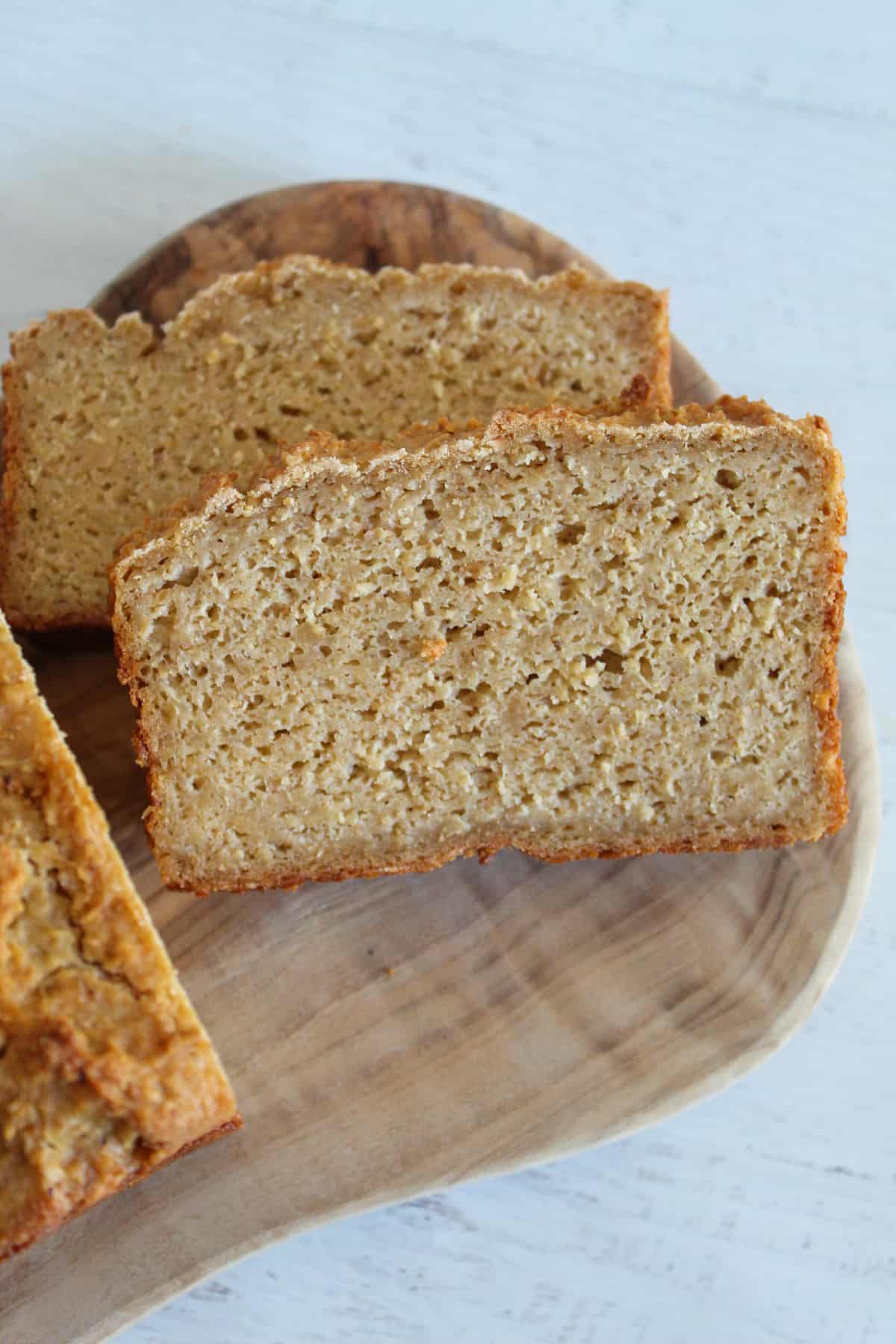 Looking for more recipes with oats and oat flour? Check out these oatmeal banana muffins, these oatmeal chocolate chip muffins and these gluten free oatmeal raisin cookies.
Jump to:
Oats & Oat Flour Recipes: Safe for Celiac and Gluten-Sensitivity?
Oats on their own are gluten free. But not all oats are certified gluten free because of cross contamination in production. Meaning those with celiac disease need to watch the labels to ensure the brand is certified gluten free.
How to Make Oat Flour
Oats are easy to make into oat flour
All you need is a blender or food processor and viola, you have oat flour. Grind it longer for more fine flour and shorter for a coarser blend. I don't normally grind my own flour, but oat flour, I do.
Toasted oats bring out the flavor
Toasting the oats beforehand is not necessary to make oat flour, but it sure does bring out the deep, robust flavor of the oats. It's a lot like toasting nuts – if you've ever had a toasted walnut, they have that darker and more intense flavor than an untoasted walnut.
Oats produce a nicely balanced bread
Oats are high in protein and fiber, but just how high and what does that mean for bread baking? Well, according to our flour guide, oat flour contains about 17% protein and 10% fiber. Compare that to brown rice flour that has 7.5% protein and 5% fiber and almond flour with 21% protein and 10.7% fiber.
Both of these are key factors in how much water the flour will absorb during mixing. The oat flour with a higher protein and fiber count will absorb more water than the rice flour, but the almond flour will absorb more than the oat flour. Oat flour is an excellent choice for yeast breads as it it a nice balance.
Ingredients & Substitutions in this Oatmeal Bread Recipe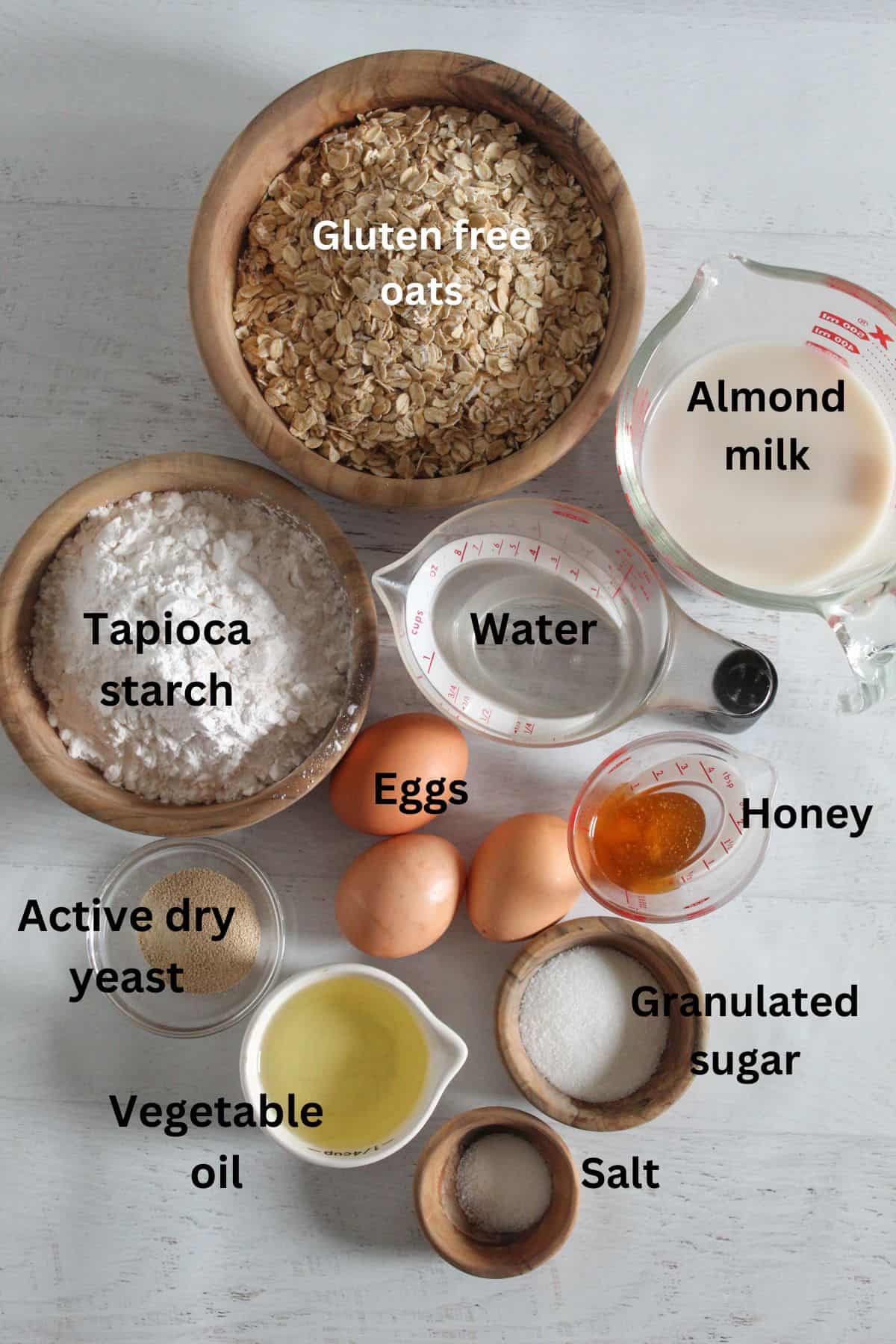 Fortunately, the simple ingredients list for this bread isn't too complicated. You'll want to make sure all ingredients are weighed and at room temperature. For where to purchase these ingredients - I recommend somewhere like Nuts.com where the oats are certified gluten free.
Below are the ingredient brands I use and recommend and the substitutions:
Gluten free oats - These rolled oats by Bob's Red Mill work wonderfully. If you need to substitute the whole oats, I'd suggest going with a different bread recipe... this sorghum bread is delicious. Oats are a main ingredient in this bread so substituting them changes the whole recipe.
Tapioca starch (also called tapioca flour) - Use the one from Nuts.com - they are not only budget friendly, but also really high quality. Instead of tapioca starch, you could use cornstarch, potato starch or arrowroot starch as well.
Almond milk - Here's a great almond milk at a great price (make sure you pick unsweetened!). If you don't want to use almond milk, go for oat milk or coconut milk.
Oil - I used vegetable oil, but peanut or canola or even melted coconut oil would work well too. I have not tested olive oil.
Yeast - use the active dry yeast. The recipe has not been tested with instant or quick rise yeast.
Sugar - regular white, granulated sugar was used in the recipe. A substitution for it would be Swerve sweetener. I use Swerve in this sandwich bread and in these lemon poppy muffins and it works the best of all the artificial sweeteners I've tried. Swerve isn't cheap but this oat flour bread is not a sweet bread, so you just use a small amount of sweetener.
Honey - there's only a Tablespoon but honey adds such a wonderful flavor to this bread. I used this raw honey. Instead of honey, maple syrup would be an equally great substitute.
Eggs - So there are 3 eggs in this recipe. I used organic eggs from my local grocery store. But if you need to substitute the eggs, go for chia eggs or flax eggs (my guide to substitutes covers this extensively).
How to Make Gluten-Free Oat Bread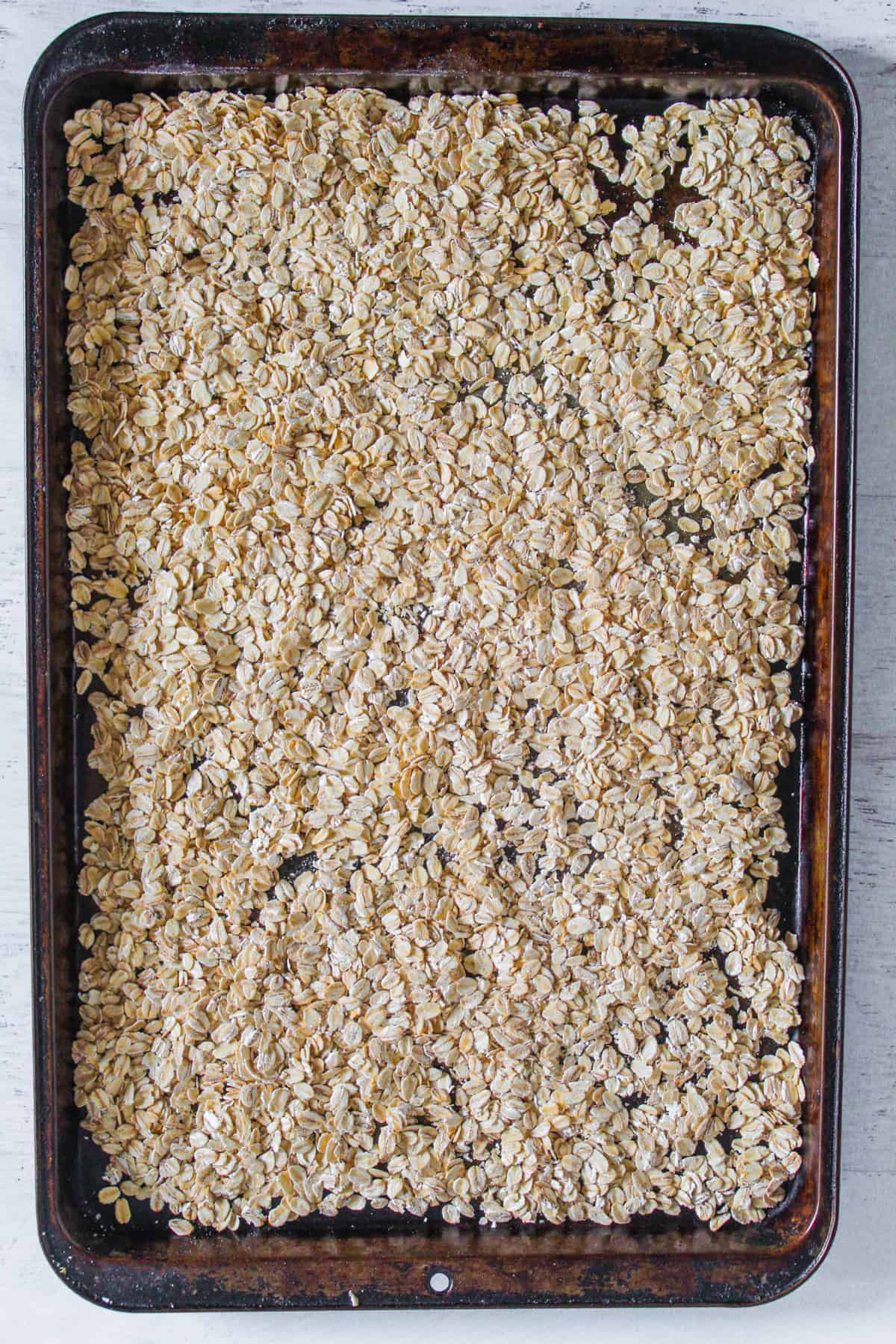 Step 1: Make the oat flour: After toasting the oats, add the oats, tapioca flour and salt to the food processor. Mix for about 4 minutes to make the finely ground flour.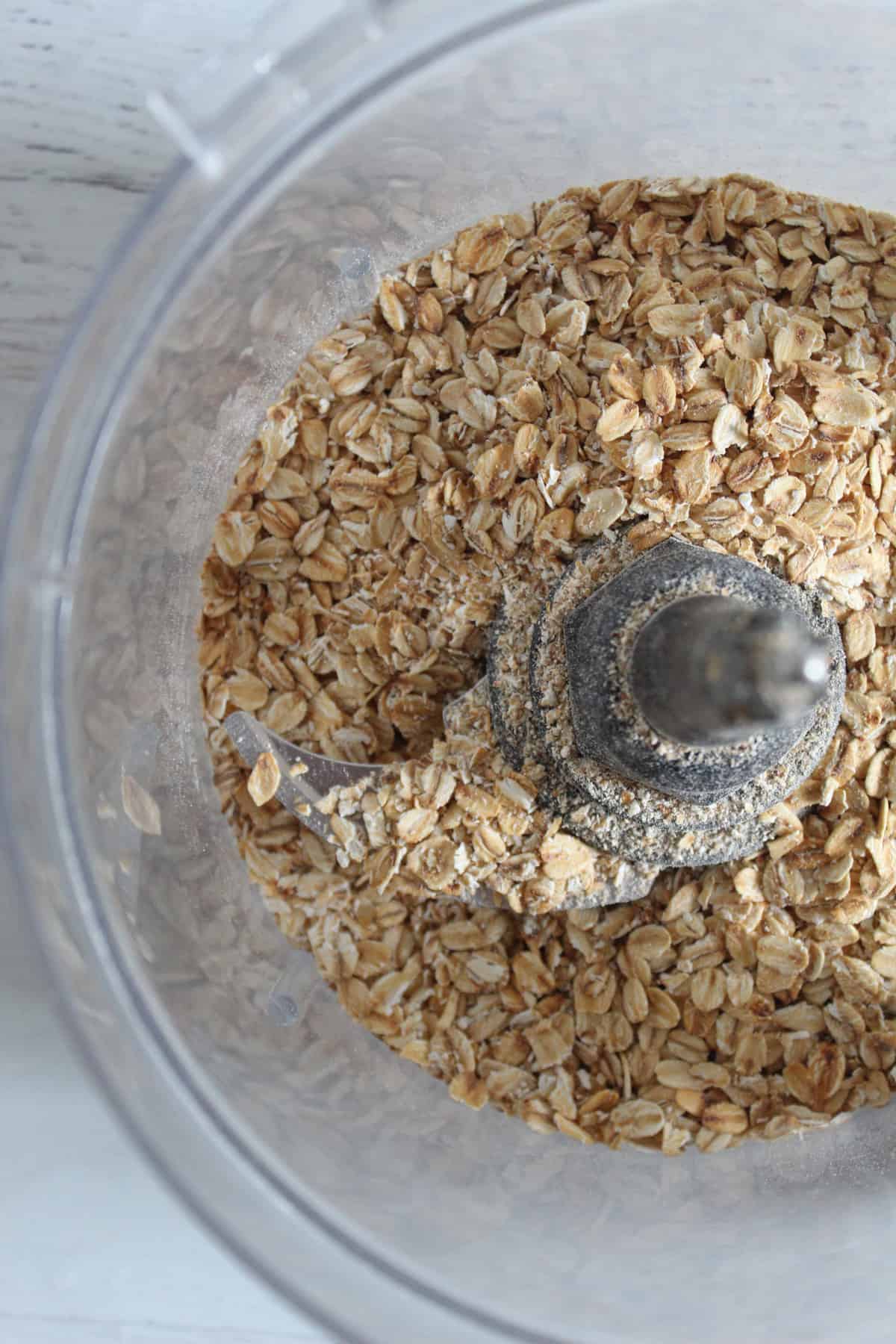 Step 2: After the oats are toasted, add to the bowl of a food processor.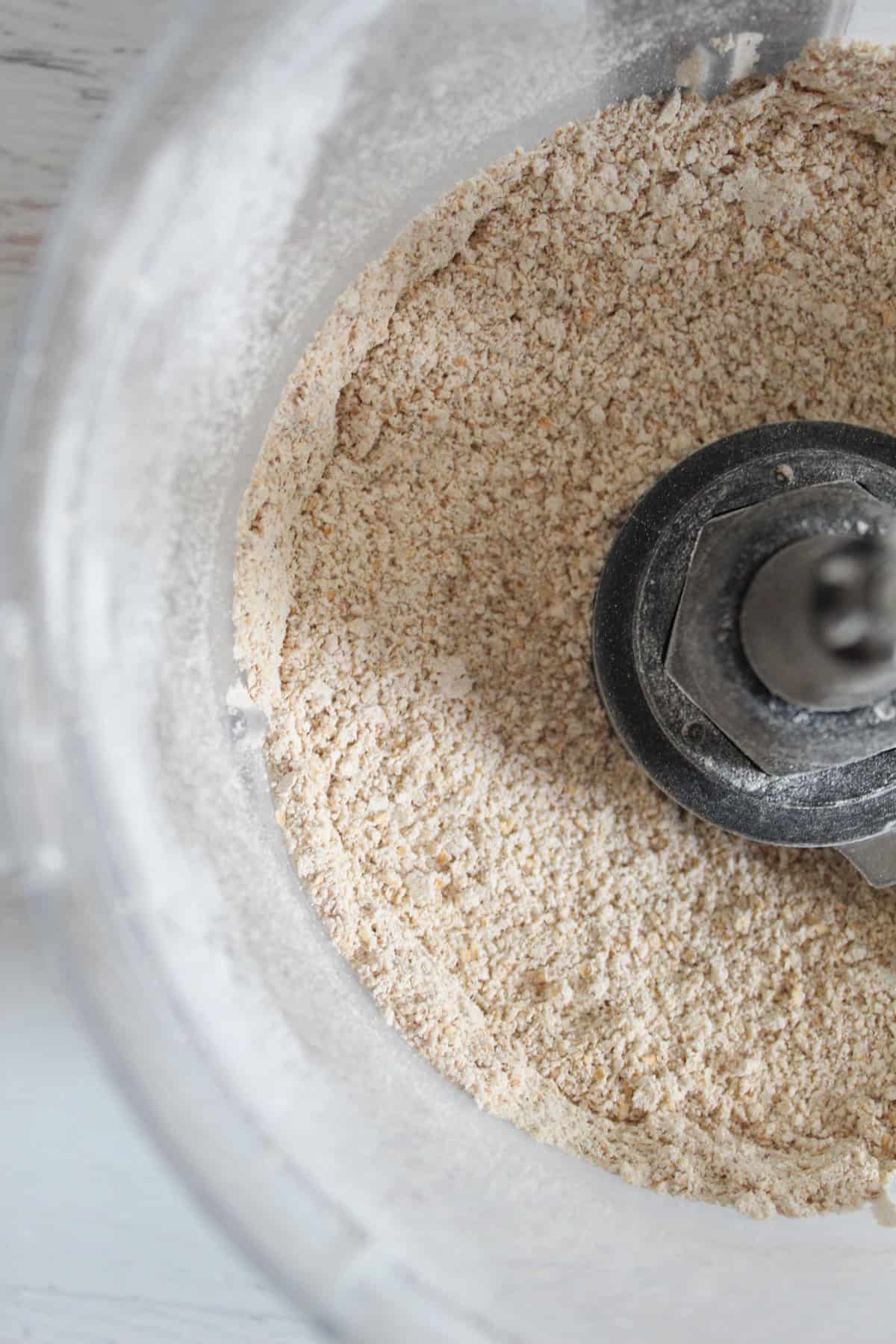 Step 3: Process until a flour forms - about 5 minutes.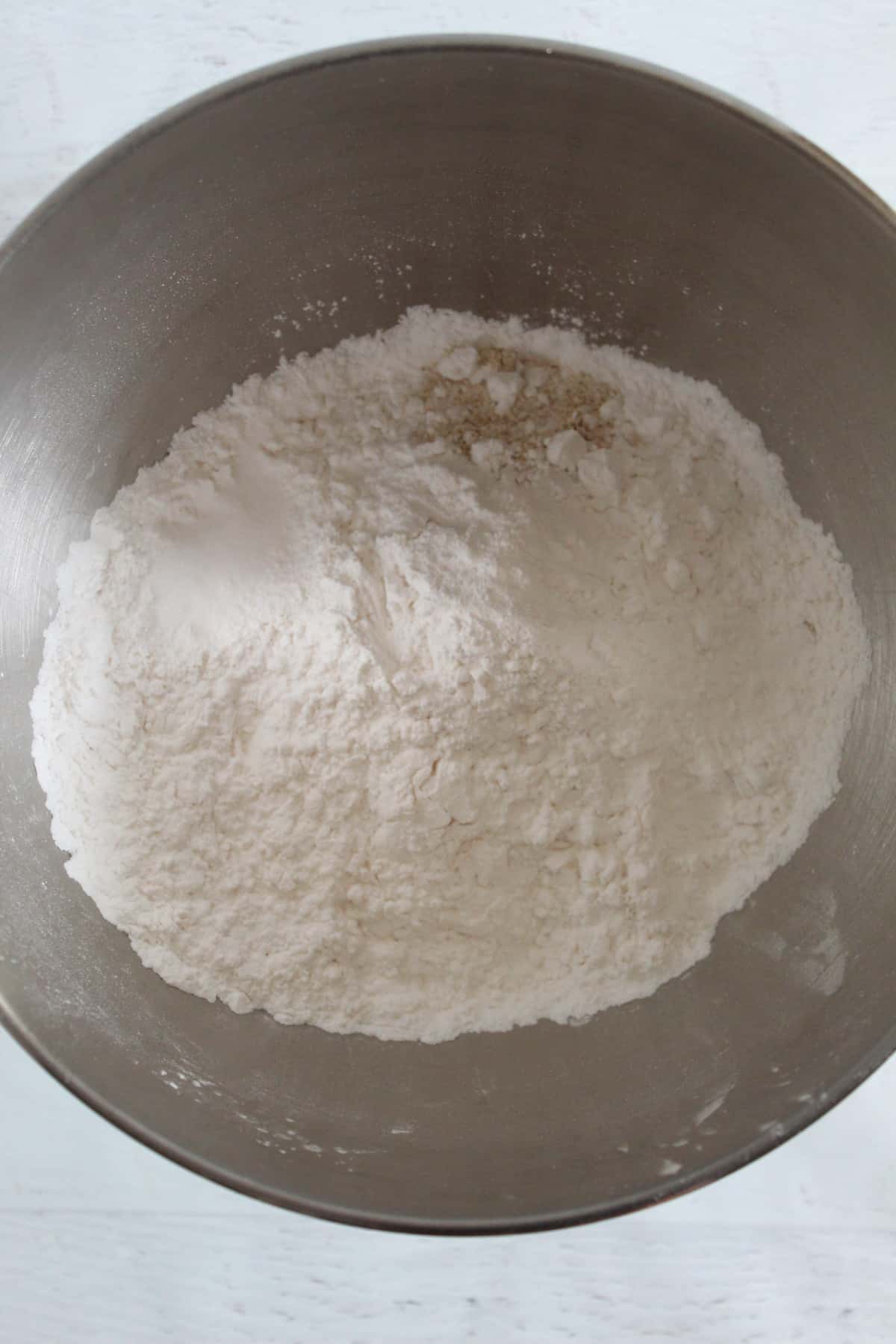 Step 4: Add oat flour, salt and tapioca starch to the bowl of a stand mixer.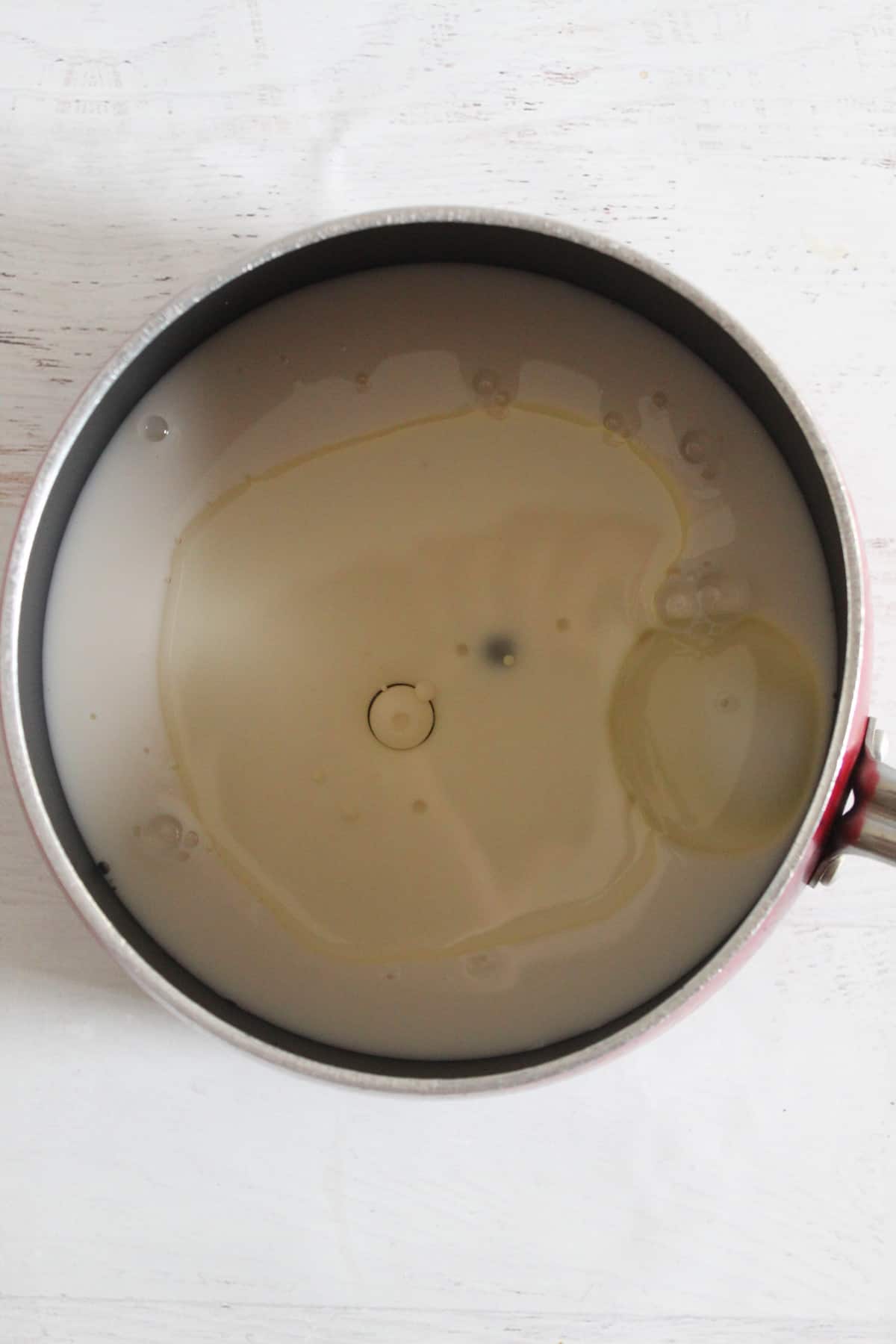 Step 5: Use a small pot and heat the milk and oil just to a rolling boil.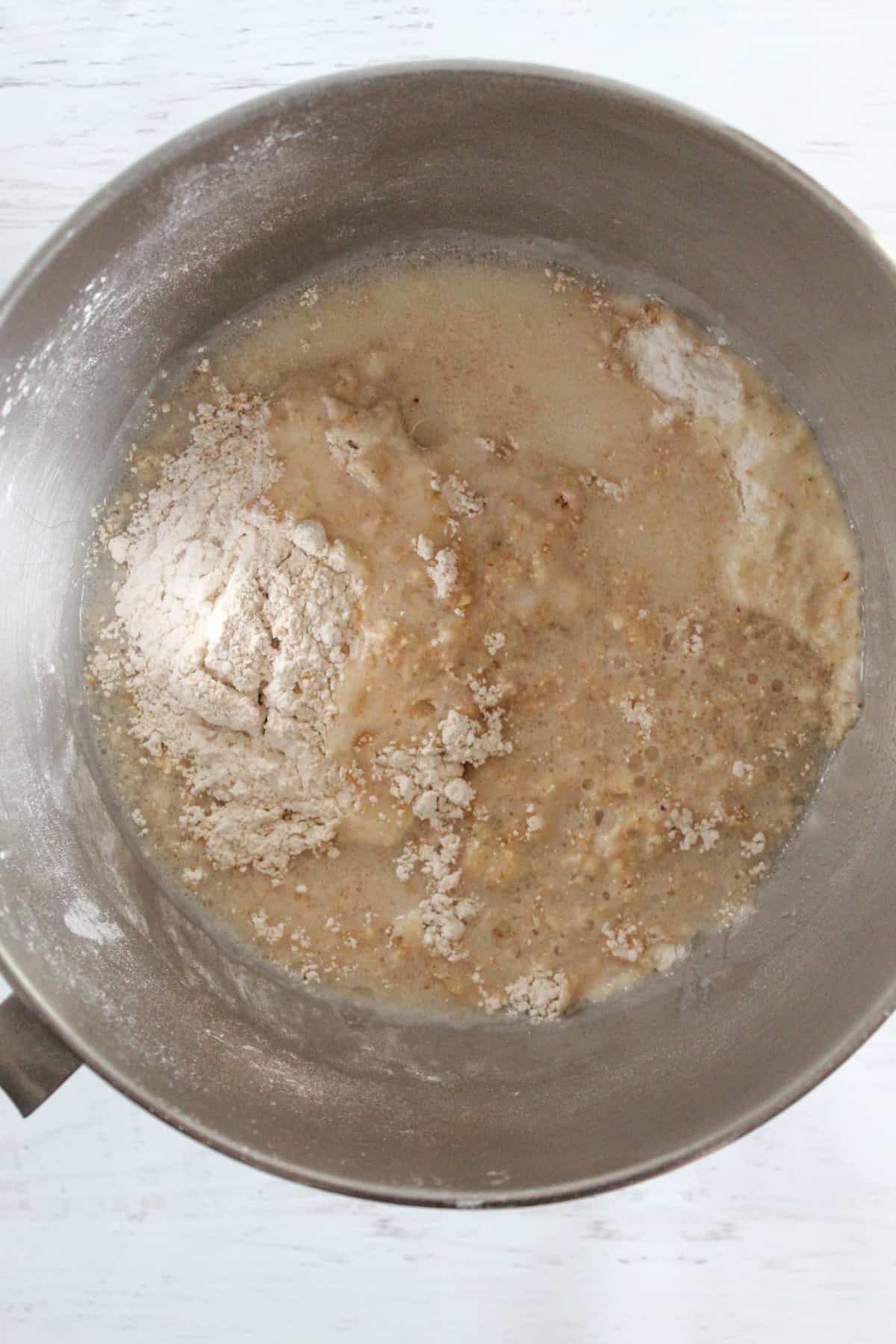 Step 6: Immediately remove from the heat and pour it into the bowl with the dry ingredients.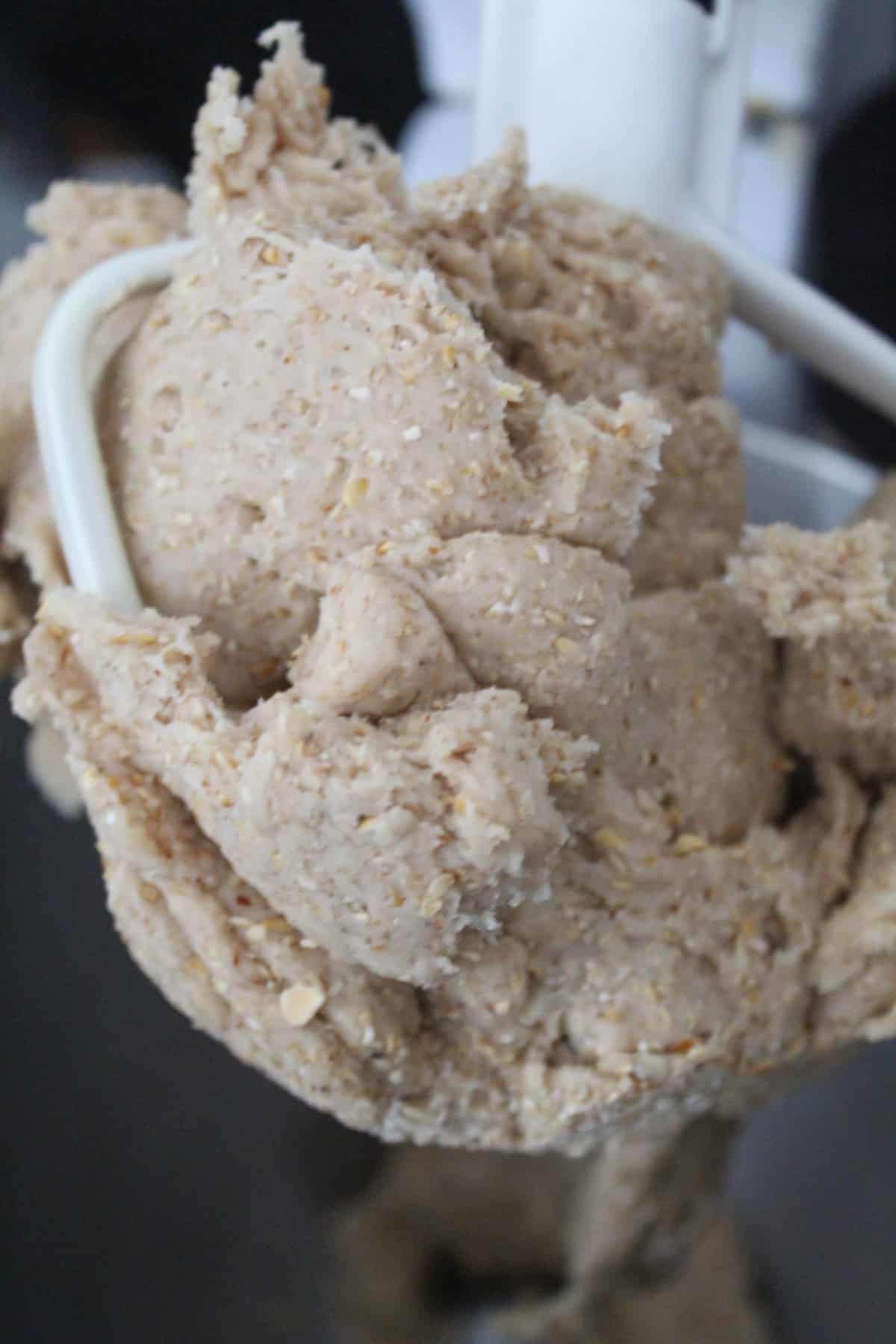 Step 7: Mix on medium speed until fully combined. The batter will be very firm and not soft. Let cool for 20 minutes.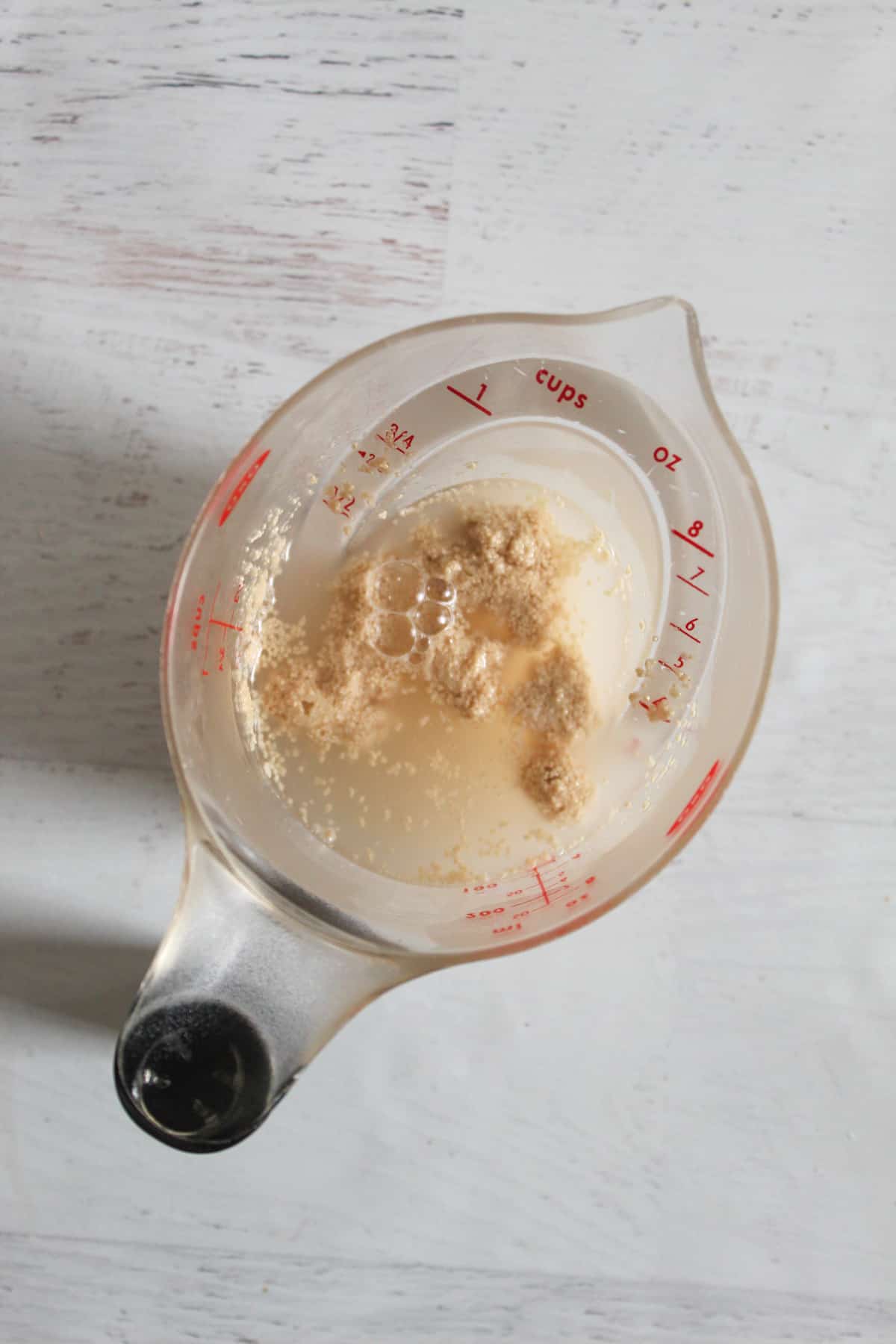 Step 8: Meanwhile, stir the yeast into the warm water and let proof for 5 minutes.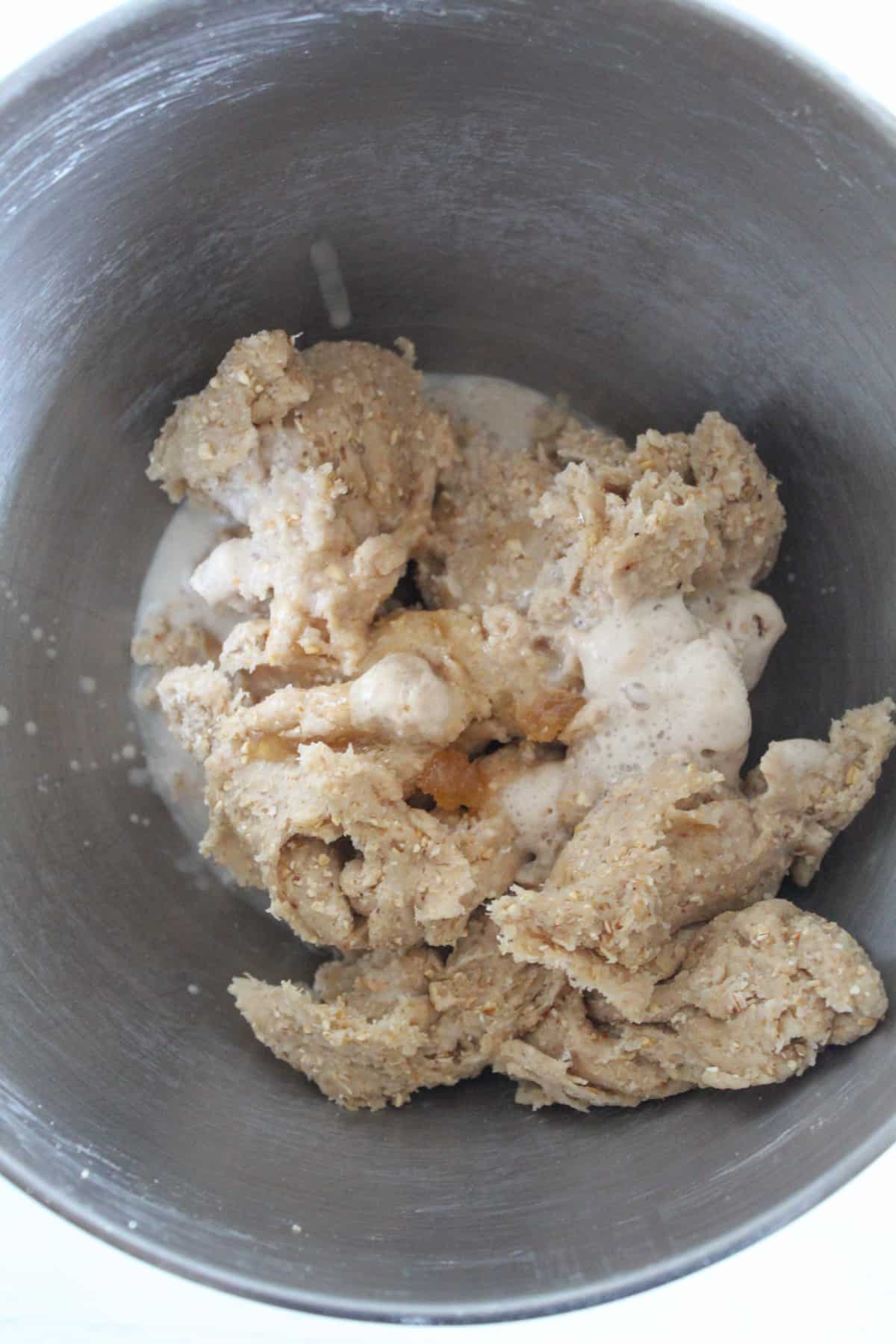 Step 9: Add the proofed yeast mixture and the honey to the stiff batter and mix for about 30 seconds on medium.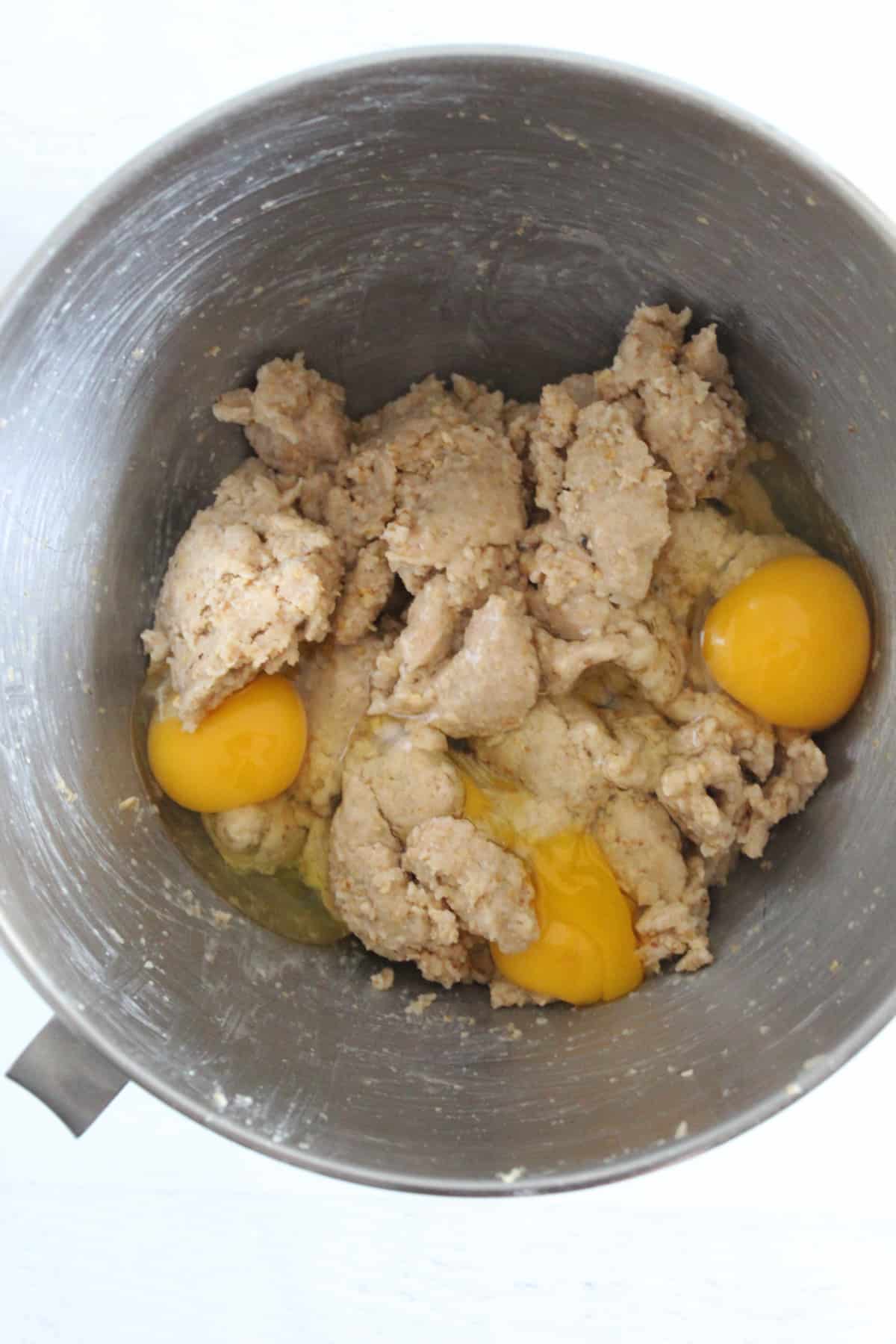 Step 10: Then add the eggs and mix again for 1 minute. The batter will not look like traditional bread dough. It will be stiff, but not able to be kneaded.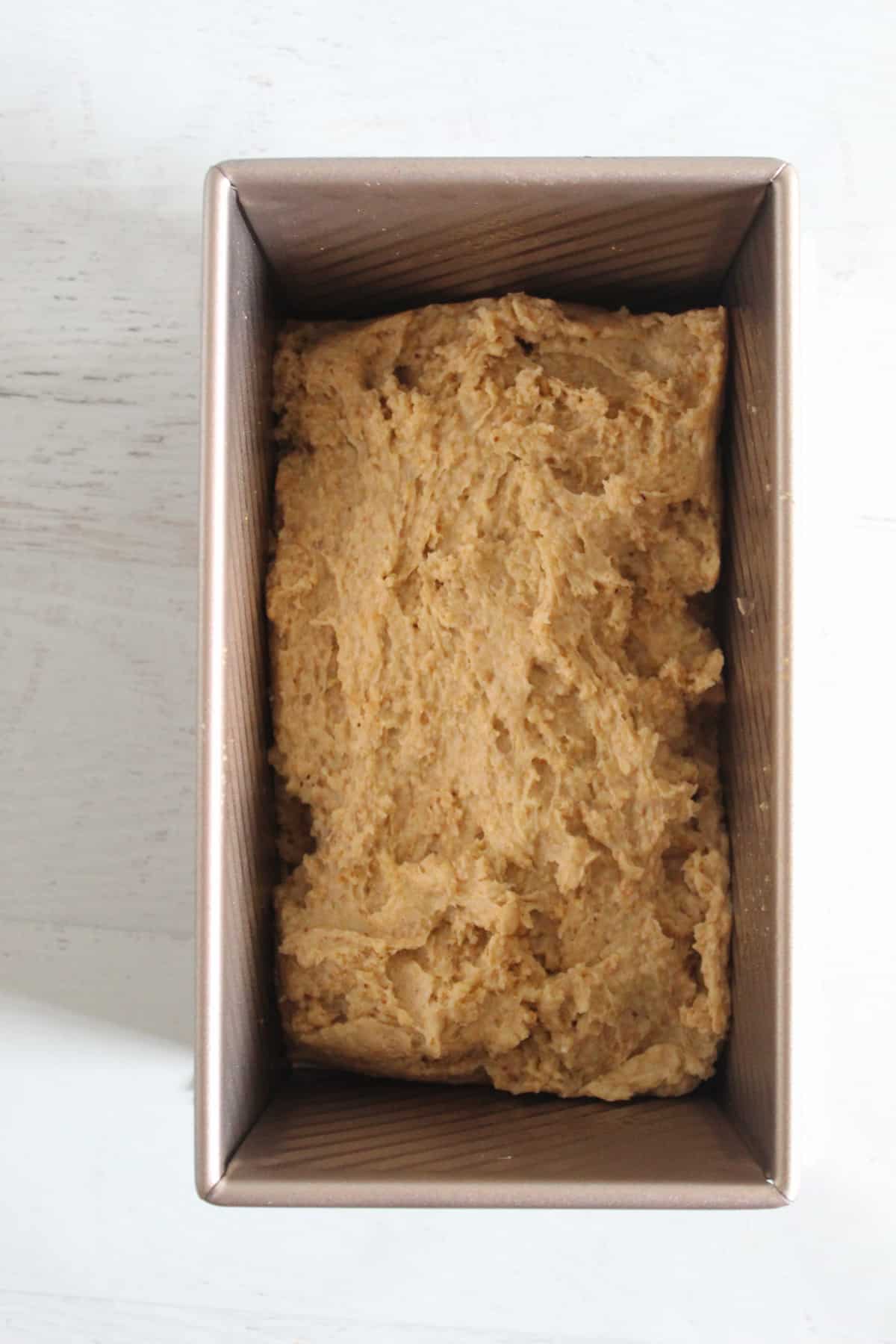 Step 11: Scrape the batter into the prepared baking pan. Use a 10 inch size bread pan or a 9"x5" loaf pan.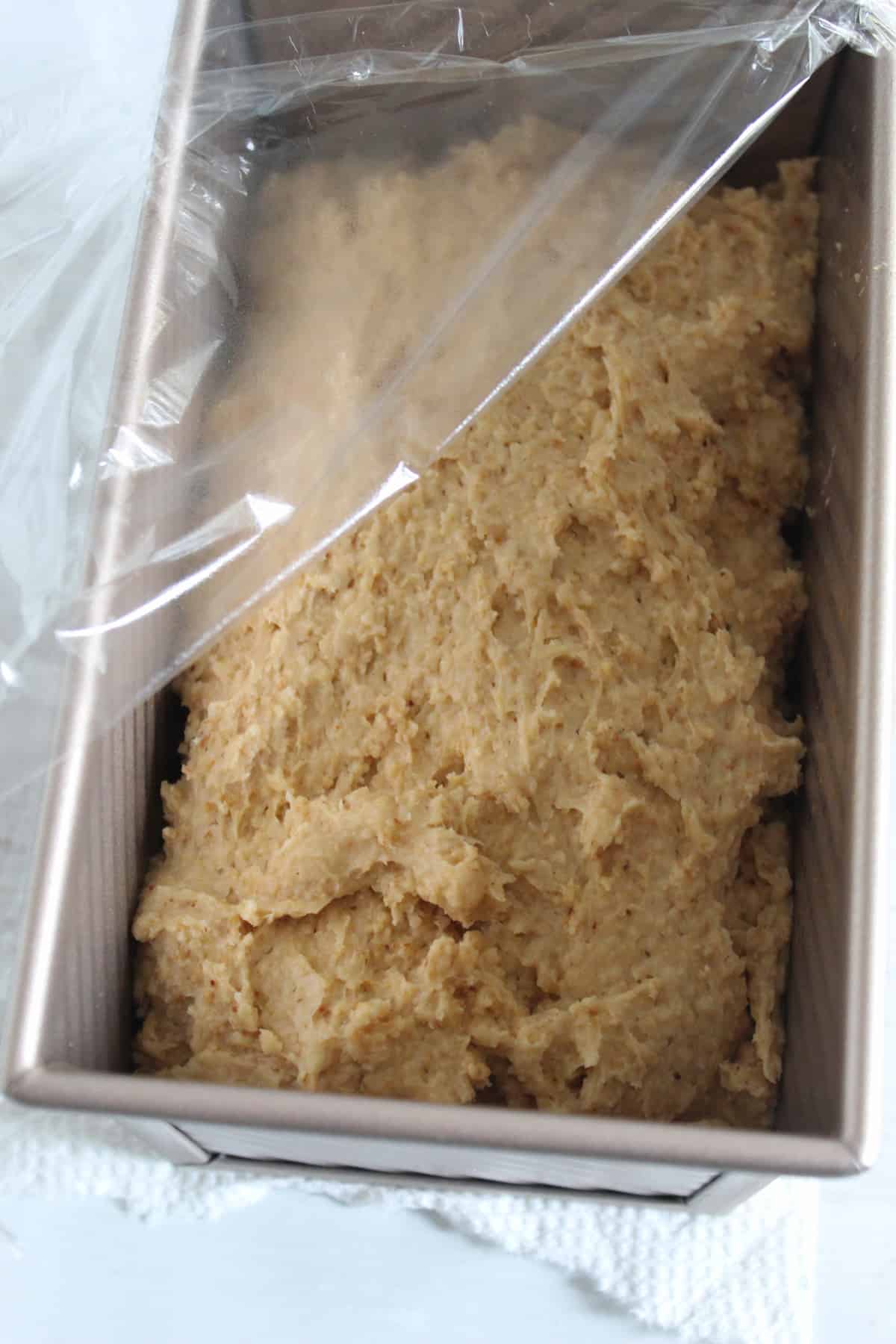 Step 12: Cover with a piece of plastic wrap and let it rise just until the top of the batter touches the rim of the pan. This may take anywhere from 15 to 30 minutes.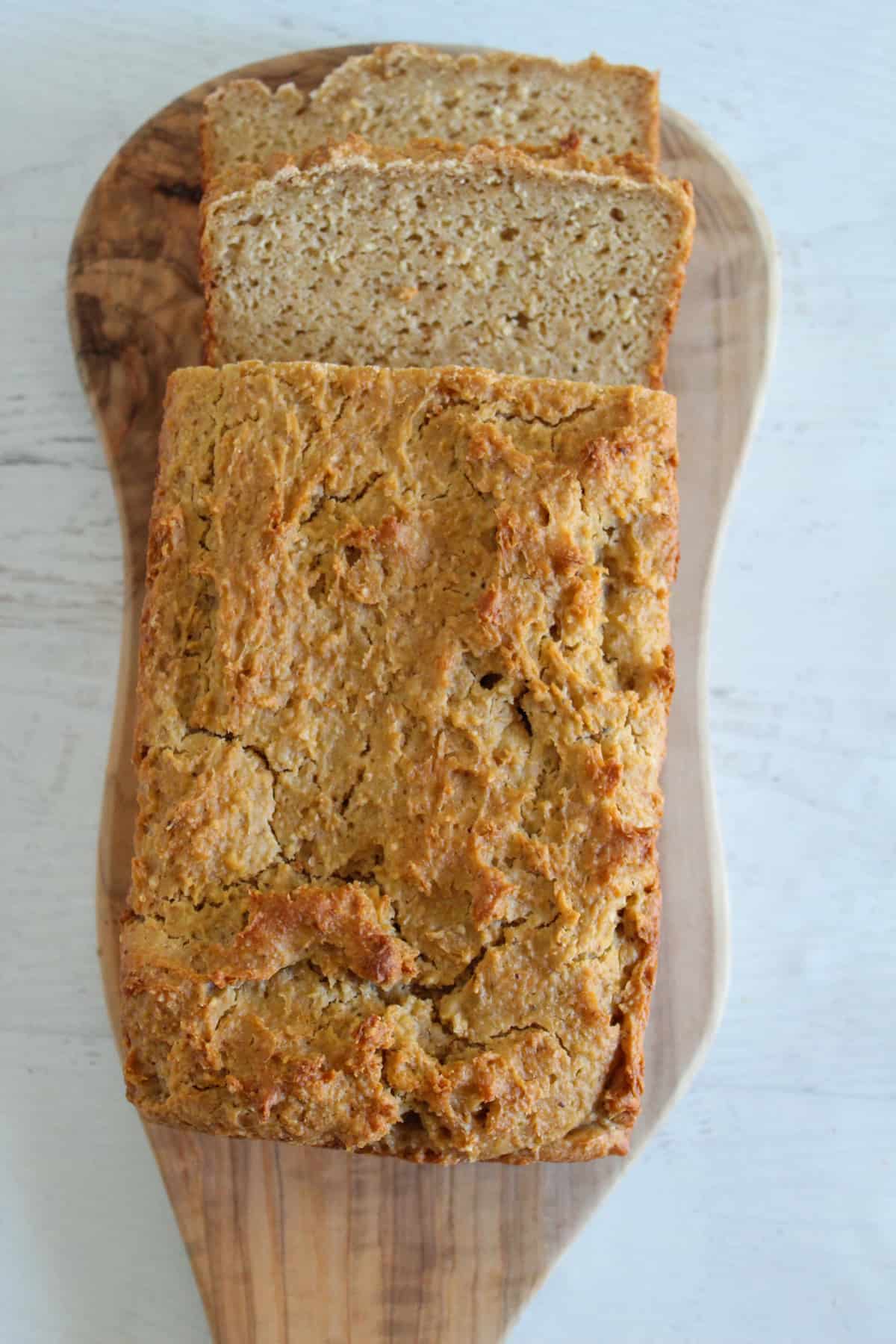 Step 13: Bake the loaf for about 50 minutes or until an instant read thermometer reads between 205 - 210 F. Start checking it at 45 minutes.
Storing this Healthy Oat Flour Bread
Store this bread in an air tight plastic bag or airtight container for up to 2 days at room temperature. Any longer than that and you'll need to slice it and freeze it. Individual slices may be toasted directly from frozen.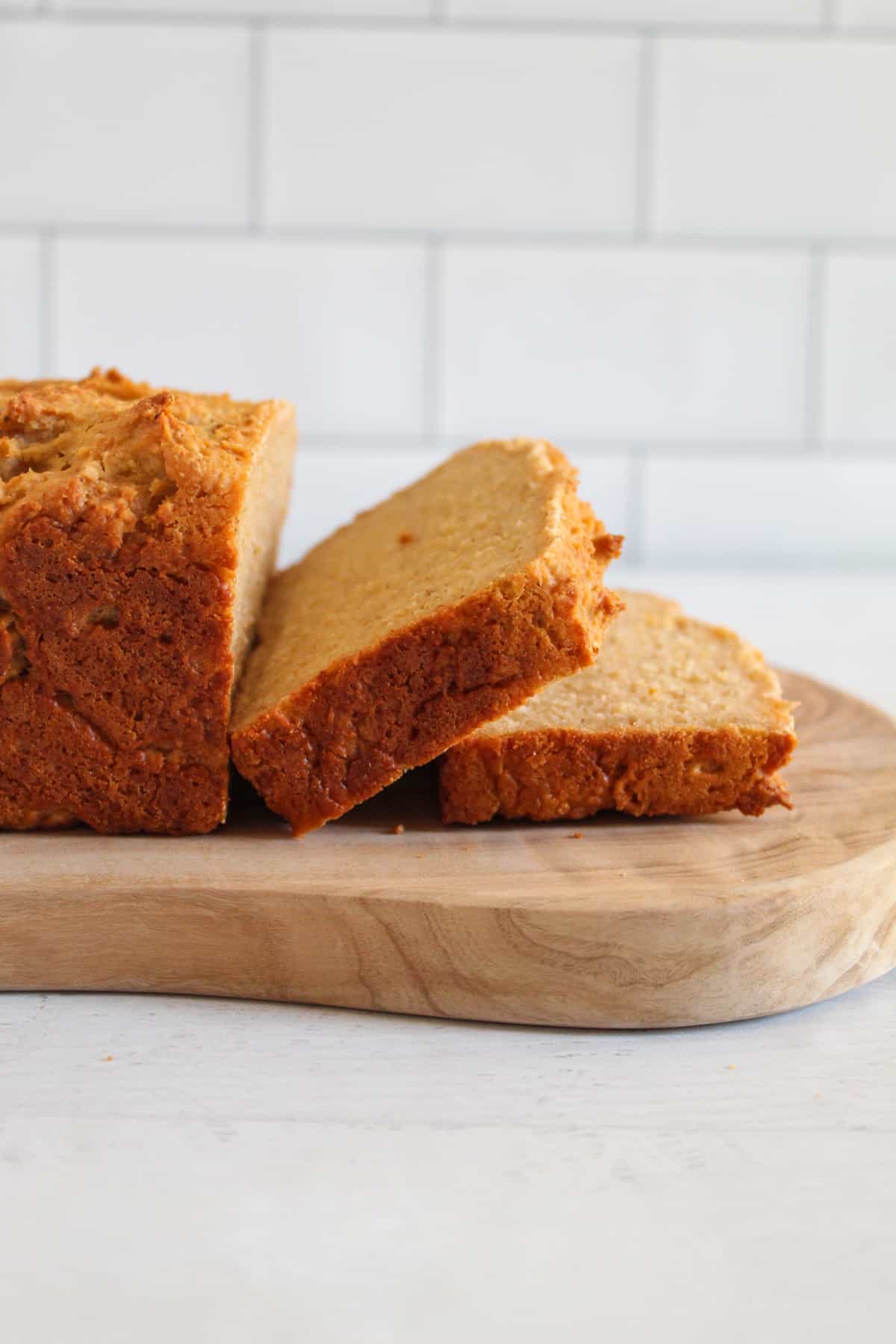 Pro Tips for this Gluten Free Oat Bread Recipe
This loaf has been tested and retested and retested again - it's an absolutely delicious bread with a slightly nutty flavor, but for the best results, it's important to follow these pro baking tips:
1. Use room temperature ingredients
Room temperature ingredients, as opposed to straight from the refrigerator, are a crucial factor in the success of this oat flour bread. It's tempting to just pull that milk straight from the refrigerator and add it to the recipe, but cold ingredients do not mix well and do not make for a nicely risen bread. The same goes for the flours and starches.
Tips for quickly warming eggs: Take a glass measuring cup like this one and fill it ⅔ full of water. Heat the water in the microwave for about 45 seconds. Remove the cup and float the eggs in the warm water for 2-3 minutes. (Watch your water temperature as hotter water will mean the eggs warm faster, less warm water may take a little longer).
2. Measure the flours and starches by weight
As you probably know, gluten free baking is so much different than baking with regular flours. From the use of starches in baking to the multiple flours, everything is different. And so is the way we measure ingredients. Now more than ever, a digital kitchen scale, like this one, is more important in your baking than ever before. You'll want to weigh everything in grams and then keep it exact. I talk about this more in my baking masterclass, but these measurements need to be exact. And cups may be vastly different from cup measure to cup measure.
3. Tools for successful bread
Some of these you may have on hand, but these are the tools you'll need to make this recipe:
Gluten Free Oatmeal Bread FAQs
How do I serve this bread?
The bread is excellent with just about anything from breakfast with some honey and butter to lunch sandwiches. My personal favorite is a mid afternoon snack with a dab of honey!
Can I substitute the oats with another flour?
The oats are an essential ingredient in this oat bread. If you don't want to use oats, have a look at this buckwheat bread or this gluten free white bread. Both equally delicious loaves of bread.
What's the best way to store this bread?
The best way to store this bread is to wrap it well or place it into a plastic bag and either freeze it or keep it at room temperature for up to 2 days.
My batter is like a ball of dough and tough to mix, is this correct?
After mixing together the milk mixture and oat flour mixture, the batter will not be like batter, it will be very stiff. Not until after you mix in the eggs will it look like softer batter.
Did you make and love this recipe? Give it your review and

rating below! And make sure to follow me on Instagram, Pinterest and Facebook too!
Recipe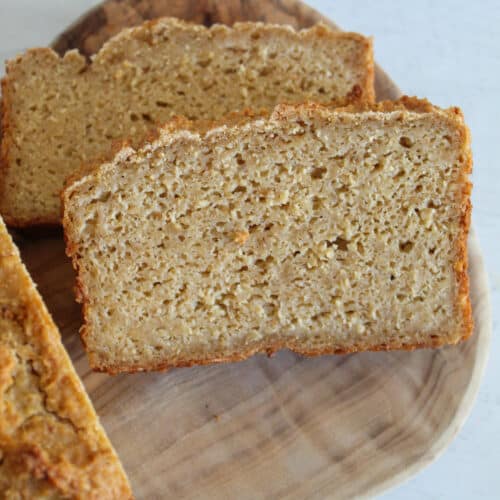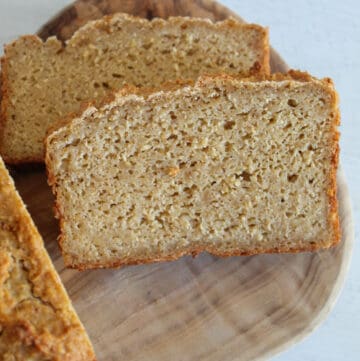 Hearty Gluten Free Oat Bread
So hearty and full of flavor - this gluten free oat bread is a nutritional powerhouse and still incredibly tender and delicious.
Print
Pin
Rate
Ingredients
193

grams

gluten free oats

about 2 cups plus 2 Tablespoons

175

grams

tapioca starch

about 1 ⅓ cup

1 ½

teaspoon

salt

1 ¼

cups

almond milk

¼

cup

vegetable oil

1

Tablespoon

active dry yeast

1

Tablespoon

white sugar

⅓

cup

water

warmed

1

Tablespoon

honey

3

large eggs
Instructions
Prepare the oats
Preheat oven to 350 F. Spread oats on an ungreased cookie sheet.

Bake for 12 minutes or until light golden brown. Set aside to cool.
Prepare the batter
In a food processor, combine the toasted oats, tapioca starch and salt. Pulse for about 4 minutes until mixture results in flour.

Transfer flour mixture into the bowl of a stand mixer.

In a small saucepan, add the milk and vegetable oil. While stirring constantly, heat to a rolling boil.

Immediately pour mixture into the bowl with the flour and mix on medium speed until fully combined, about 30 seconds - 1 minute.

Let mixture sit for 20 minutes to cool.

Meanwhile, in a small bowl or measuring cup, combine the yeast, sugar and water. Stir to combine and let sit for 5 minutes to proof.

Into the cooled batter in the stand mixer bowl, add the honey and yeast mixture and mix just until combined, about 30 seconds. Scrape the bowl down.

Add the eggs and mix on low-medium speed for 1 minute.

Prepare a 10 x 4 inch or 9 x 5 inch baking pan by spraying with cooking spray and dusting with gluten free flour.

Using a rubber spatula, scrape batter down and scoop into prepared pan.

Let rise for 15-30 minutes, until batter hits the top of the rim.

Preheat oven to 350 F and bake for 50 - 55 minutes.

Remove from the oven and let the bread cool in the pan on a wire rack for 15 minutes.

Remove the bread from the pan and lay it on its side on the wire rack for 15 minutes to finish cooling. Flip to the other side to cool for another 15 minutes. Turn the bread upright for another 30 minutes of cooling time.
Notes
Make sure ingredients are room temperature.
Note: tapioca starch is also called tapioca flour - they are the same thing.
Use a food processor to grind oats into a flour - it will take about 4 minutes to completely grind.
After adding the boiling milk and oil to the flour and mixing, the batter will be very stiff.
Let the batter rise just to the top of the pan.
Cool the bread as instructed.
Nutrition
Calories:
172
kcal
|
Carbohydrates:
25
g
|
Protein:
5
g
|
Fat:
7
g
|
Saturated Fat:
4
g
|
Cholesterol:
42
mg
|
Sodium:
267
mg
|
Potassium:
112
mg
|
Fiber:
2
g
|
Sugar:
4
g
|
Vitamin A:
108
IU
|
Calcium:
43
mg
|
Iron:
1
mg