Whipped cream, strawberries and tender biscuits... that's all you need for these gluten free strawberry shortcakes! Plus you can easily make them dairy free if you need!
For the easiest and best classic strawberry dessert, look no further than these light, fresh tasting shortcakes. The recipe uses almond flour biscuits, but if you'd rather use our classic biscuits, those will work great too!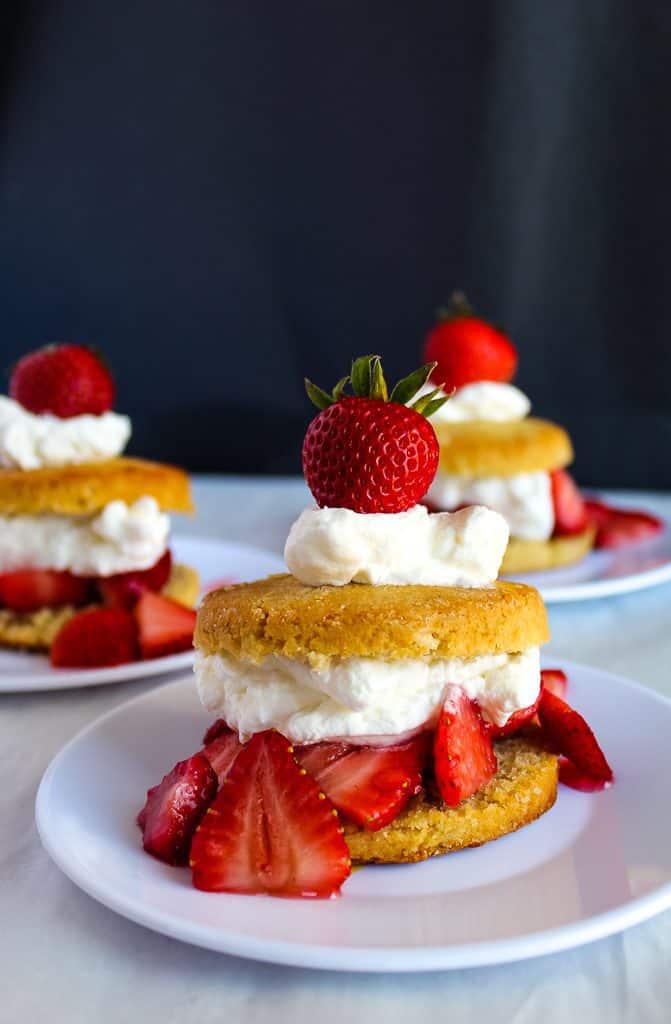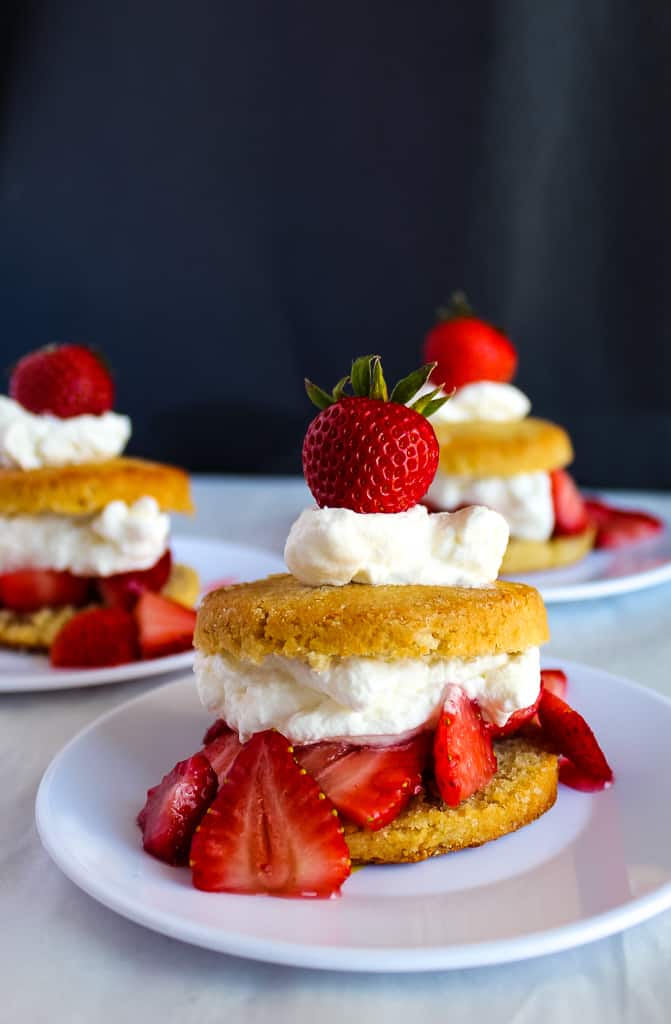 This delightful strawberry dessert combines the freshness of strawberries with grain free almond flour biscuits and whipped cream – they are so simple to make, yet never fail to impress.
Making these delicious desserts starts with our Almond Flour Biscuits, so head over there to prep those beauties (not to worry, they're quick and easy to make too). While those are cooling, get the strawberries and whip cream ready.
Why this is the best strawberry shortcake recipe
There's definitely lots to love about a fresh, fruit filled dessert. From the cut strawberries to the sweetened cream, it doesn't take much to impress your guests with this spring and summer treat! Besides that, this recipe is also:
Super easy to make - once you make the biscuits, the rest is just slicing, whipping and assembling. The shortcakes can be ready to serve in about 20 minutes.
A make-ahead dessert - Need something that you can make ahead and serve later? This is it!
Grain free, gluten free and dairy free - We've got your food allergies covered! The almond biscuits are gluten free, grain free and dairy free as written, then if you use coconut cream, you have a dessert that is fit for everyone!
Biscuits vs. Cake - It might be a debated topic, but we opt for biscuits for our strawberry shortcakes... cake is good too, but we like the density of the biscuit, combined with the strawberry syrup!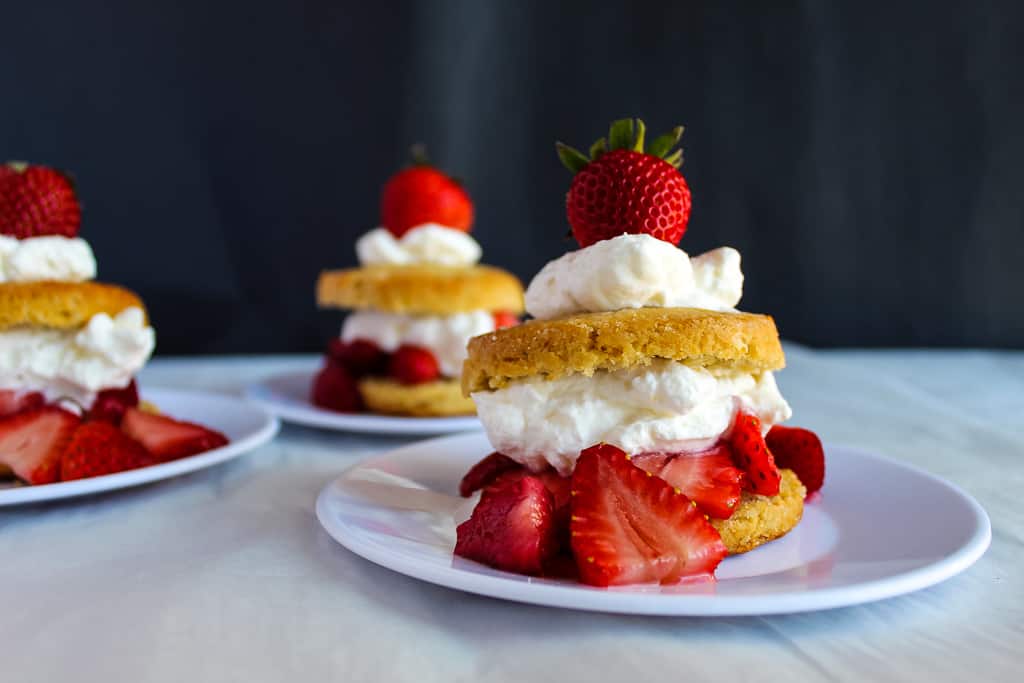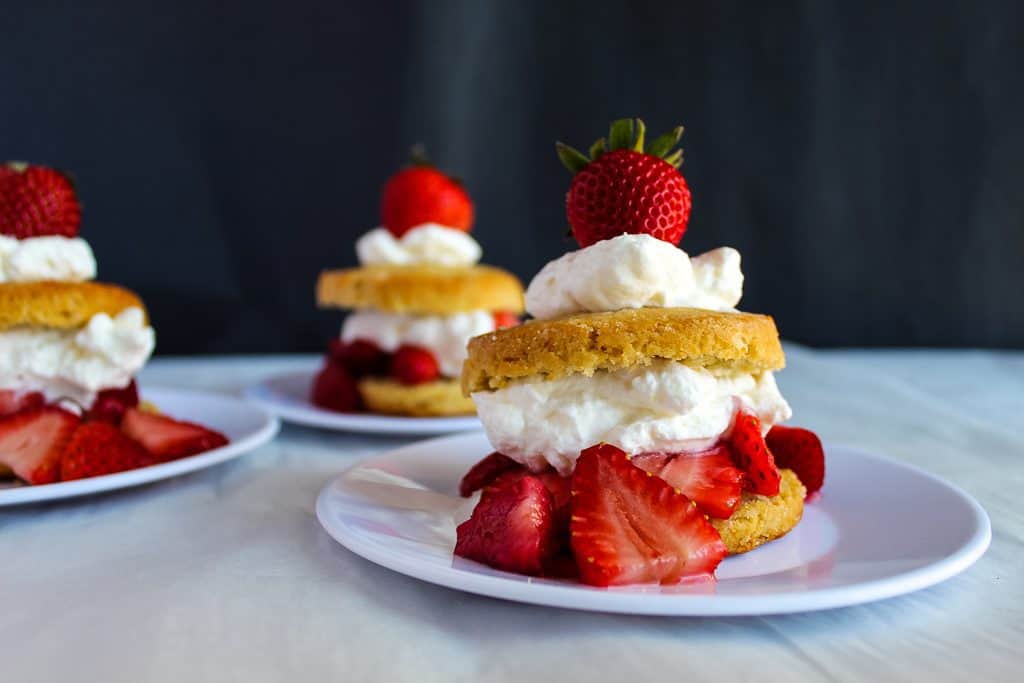 How to Make Gluten Free Strawberry Shortcakes
Prep the strawberries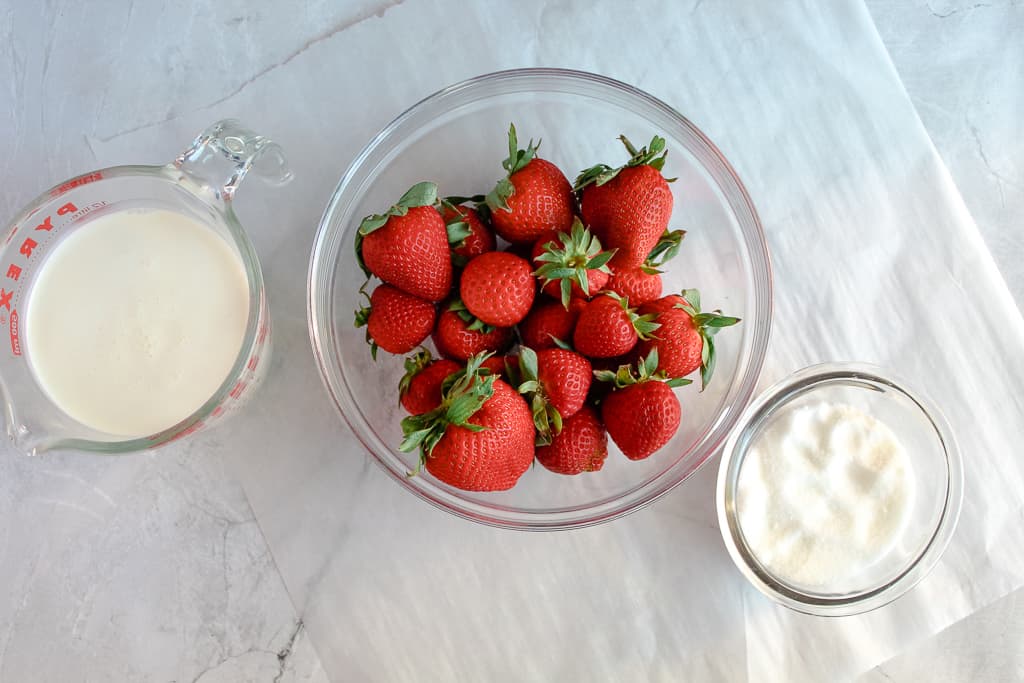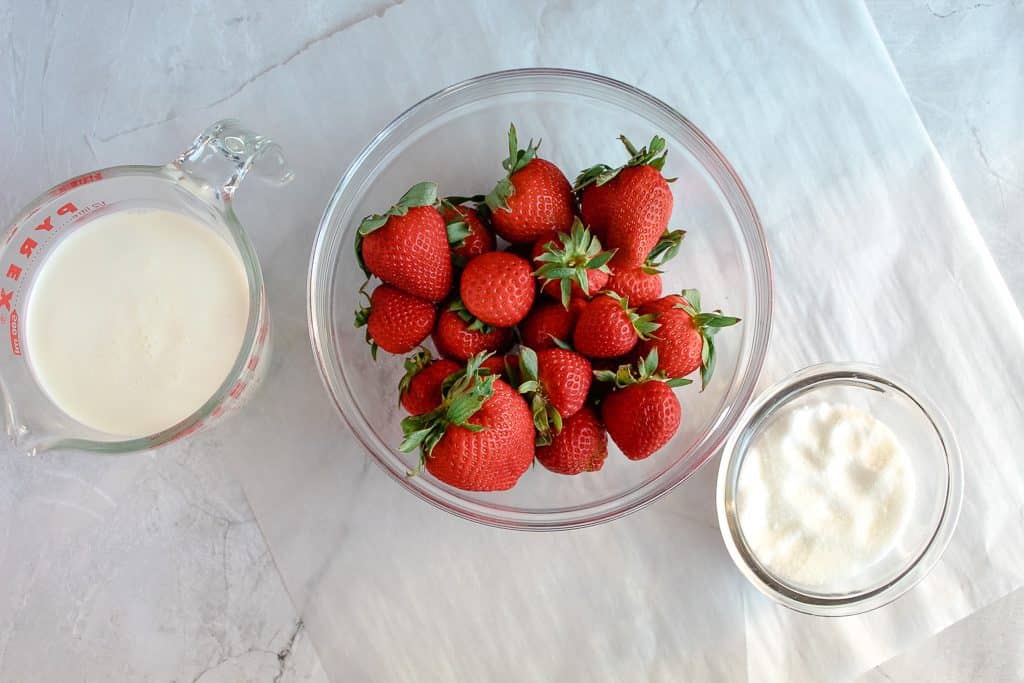 Just look at these beautiful strawberries – taste bud tempting for sure!
You'll need about 1 ½ cups of sliced strawberries for 6 shortcakes. Cut them into medium size slices. Large enough that they aren't bits, but small enough to easily bite into.
Then sprinkle some granulated sugar on them – ⅓ cup is plenty - and let them sit for about 15 minutes.
You'll know they're ready when you see beautiful strawberry syrup forming.
Whipping the cream
Note: if you're making these dairy free, check out the 'Tip for making these dairy free' section, then continue as directed below...
Something about homemade whipped cream makes these shortcakes extra special. It's the richness or the ability to sweeten it as much or as little as you like… either way, it is a must. And it's really simple to do.
Cold cream and cold beaters are the makings for light and fluffy, high rising whipped cream. Right before pouring the cream in to whip, place the beaters in the freezer for 5 minutes - especially if it's a warm summer day.
Use a 2 pint container of heavy whipping cream (or 16 ounces of canned coconut cream).
Drape a paper towel over the bowl
This is especially true if you're using a hand mixer. Whipping cream tends to splatter as it's being whipped. A paper towel over the mixer catches all of those messes.
It may take anywhere from 5-10 minutes to whip the cream (or less than a minute for coconut cream!). Once it starts to come together, add the 3 Tablespoons of granulated sugar and continue to whip.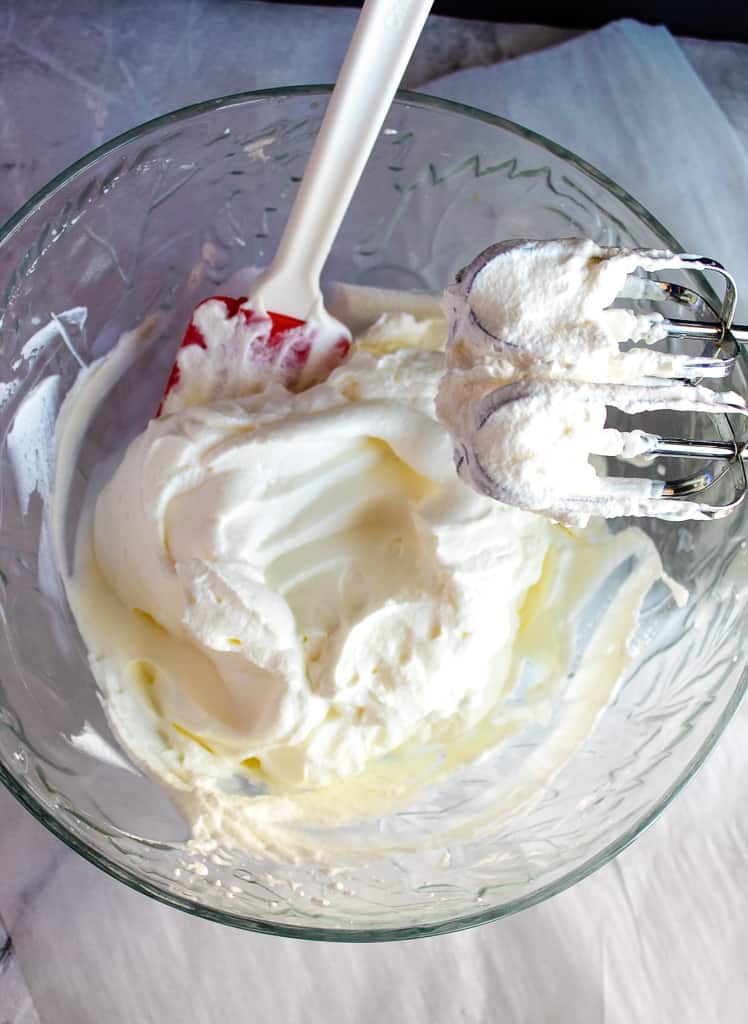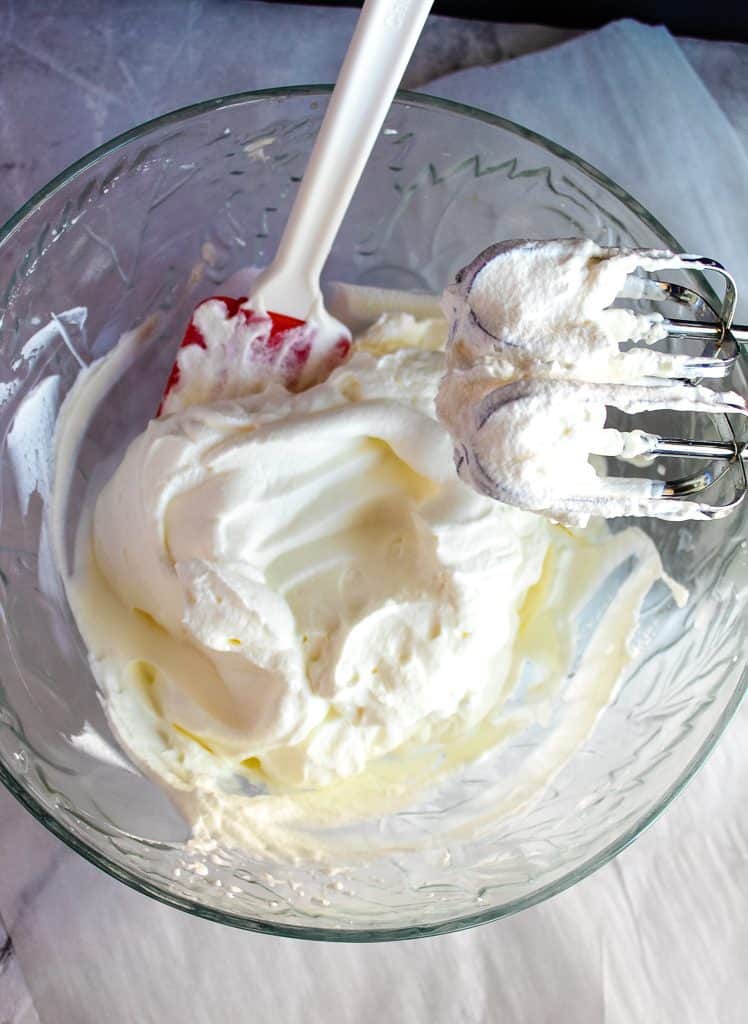 If you've ever been guilty (yes, me!) of over-whipping, then you know what 'just until stiff peaks form' means. Resist the urge to just keep that mixer going. Over worked whipped cream will look curdled and start to lump together. Watch it carefully and scrape the bowl down as you go.
Assembling the shortcakes
The strawberries are ready, the cream is whipped – almost time for shortcakes!
Assemble the shortcakes just before serving. This part will take about 5 minutes if you have the strawberries and whipped cream ready…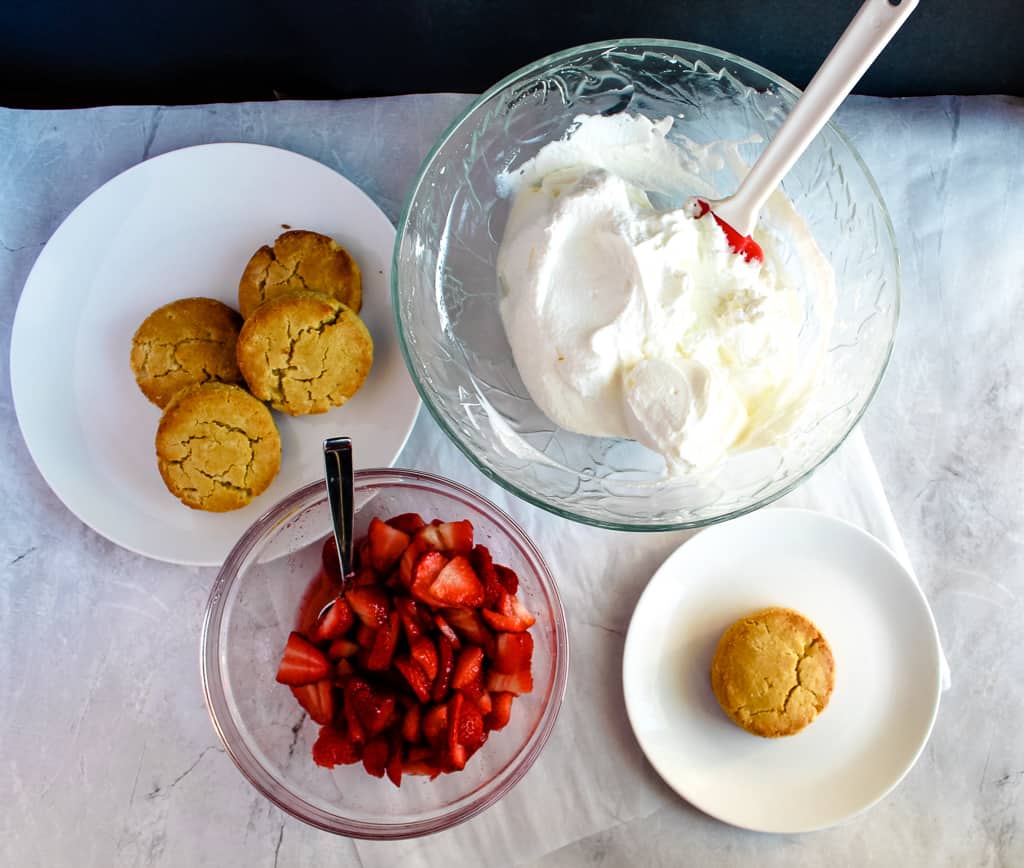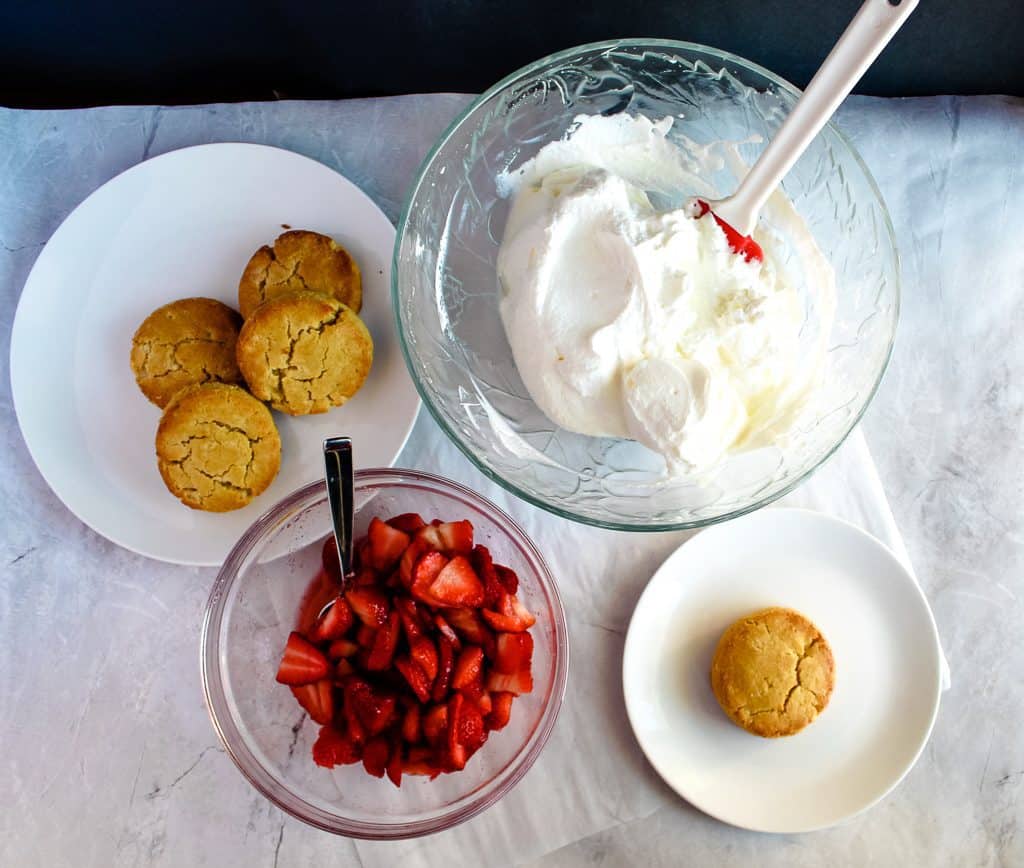 Step 1 - Slice each biscuit in half lengthwise. Place the bottom parts on individual plates.
Step 2 - Add 2 or three large spoonfuls of strawberries to each bottom half (make sure to get a little of the delicious strawberry juice on each). Top with a dollop of whipped cream.
Step 3 - Repeat the process with remaining bottoms.
Step 4 - Top with the top half of the biscuits.
Step 5 - Place a dollop of whipped cream on the top half and finish off with a strawberry.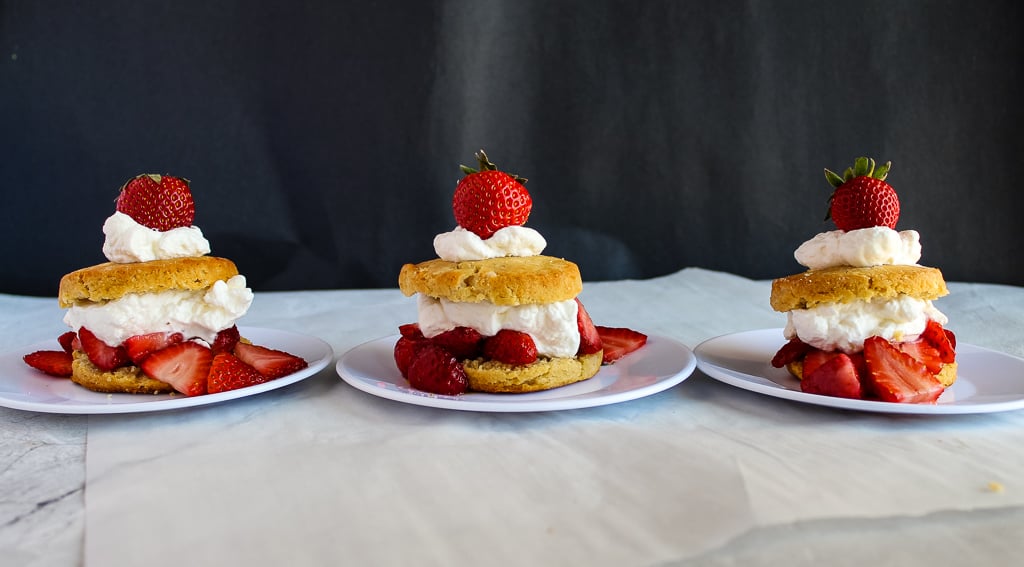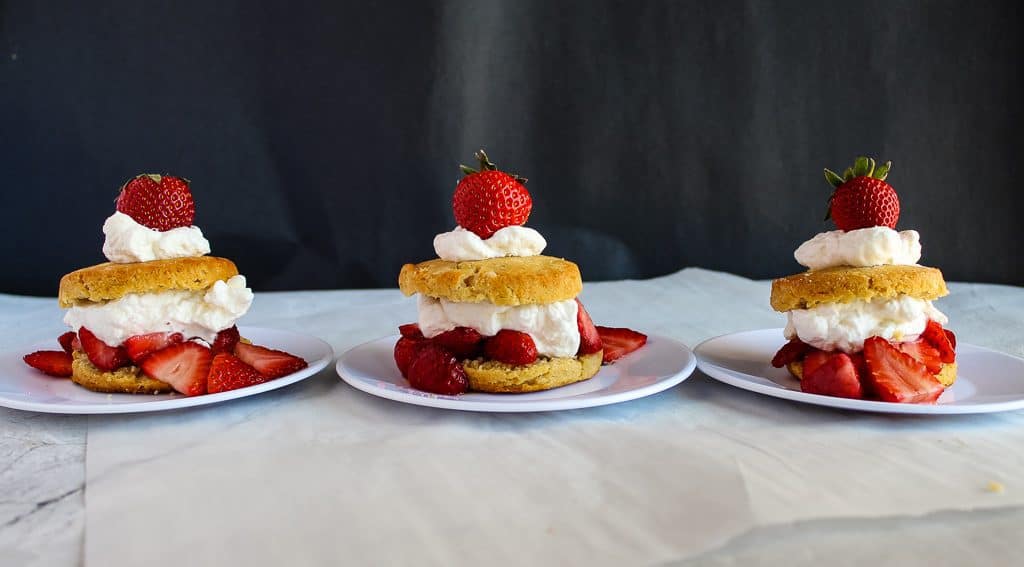 Tip for making these dairy free
Here's how to make the best dairy free version of these shortcakes...
Take two 13-16 ounce cans of coconut cream and place them in the refrigerator the night before making the shortcakes.
The cold will firm the cream so when you open the cans the next day, simply use a spoon to scoop the cream out of the cans. (The coconut milk will be at the bottom)
Whipping coconut cream should only take about 30 seconds - 1 minute.
Add the sugar as directed.
FAQ's about these biscuit style strawberry shortcakes
Can I make these shortcakes using something like Bisquick or a baking mix?
Absolutely! Homemade biscuits, like these Bisquick biscuits, are quick and easy - they would make an excellent biscuit to use in this recipe.
Do I have to use fresh strawberries?
Have to? No, but I'd highly recommend it! Frozen strawberries just don't have that amazing texture that fresh strawberries do.
What kind of whipping cream is best?
For the best texture and consistency, use Heavy Whipping Cream. It will whip up very light and fluffy.
So is this a healthy dessert?
Strawberries are healthy right?! They do have sugar on them though and the coconut cream is full fat... However, the biscuits are made with almond flour so they're low in carbs. Definitely not as low as these graham crackers though!
How do I store the shortcakes?
The best way to store them is by covering and refrigerating the ingredients separately. Once they're assembled, they will not store well. But the bowl of strawberries and the bowl of whipped cream will last a couple days in the refrigerator. The bag of biscuits will last a couple days on the counter or several months in the freezer.
Enjoy these gluten free strawberry shortcakes anytime strawberries are making their seasonal appearance!
If you enjoy this recipe, please give it a rating!
Next check out this amazing gluten free English muffin recipe!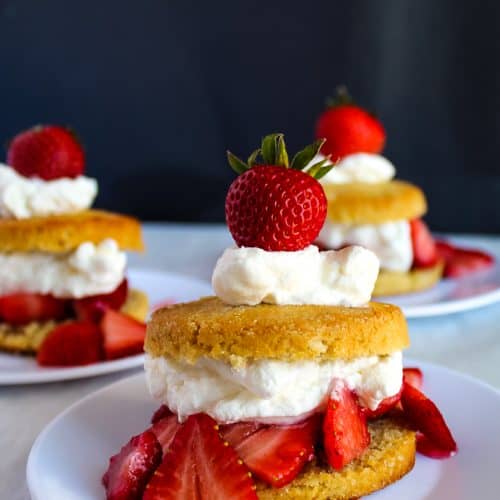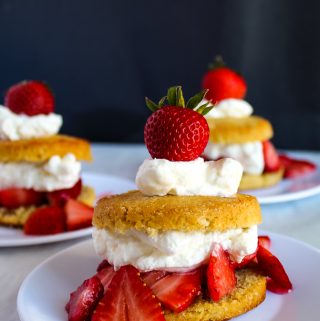 Gluten Free Strawberry Shortcakes
Gluten free strawberry shortcakes are a must-have when the warm weather hits. Serve them with our freshly made whipped cream!
Print
Pin
Rate
Ingredients
For the strawberries:
1 ½

cups

sliced strawberries

⅓

cup

granulated sugar
For the whipped cream:
2

cups

heavy whipping cream

2

Tablespoons

granulated sugar
Instructions
Prep strawberries
In a medium bowl, sprinkle sugar over strawberries and mix well.

Set aside for 15 minutes.
Make whipped cream
In a large glass bowl, add the heavy whipping cream and beat on high for 5 minutes or until soft peaks form.

Add the 2 Tablespoons of sugar and beat on high for another minute or until stiff peaks form.
Make the shortcakes
Slice each almond biscuit in half lengthwise. Place on serving plates.

Place about 3 large spoonfuls of strawberries on each half. Add a bit of strawberry syrup too.

Add a dollop of whipped cream. Place biscuit top on top.

Add another dollop of whipping cream. Place a strawberry on top.

Serve immediately.
Notes
Set strawberries aside to develop that delicious strawberry juice
Use whipped cream immediately or refrigerate for longer storage
For a dairy free version, use coconut cream and see the tips above the recipe for preparing it
Serve shortcakes on individual plates and garnish with extra strawberries 
Nutrition
Calories:
344
kcal
|
Carbohydrates:
20
g
|
Protein:
2
g
|
Fat:
29
g
|
Saturated Fat:
18
g
|
Polyunsaturated Fat:
1
g
|
Monounsaturated Fat:
8
g
|
Cholesterol:
109
mg
|
Sodium:
31
mg
|
Potassium:
115
mg
|
Fiber:
1
g
|
Sugar:
17
g
|
Vitamin A:
1171
IU
|
Vitamin C:
22
mg
|
Calcium:
57
mg
|
Iron:
1
mg
More delicious gluten free strawberry recipes:
Biscuits, rolls, breads and more!