This Gluten Free Peach Cobbler will send your tastebuds into overdrive with fresh peaches and a biscuit style cobbler topping made with just 7 ingredients!
Being from the South, homemade cobbler and ice cream just go hand in hand. It makes for a great dessert that's as perfect on a special Sunday as it is on a typical Wednesday. And bonus that this recipe uses a more hands-off method for baking the peaches than the typical stovetop method.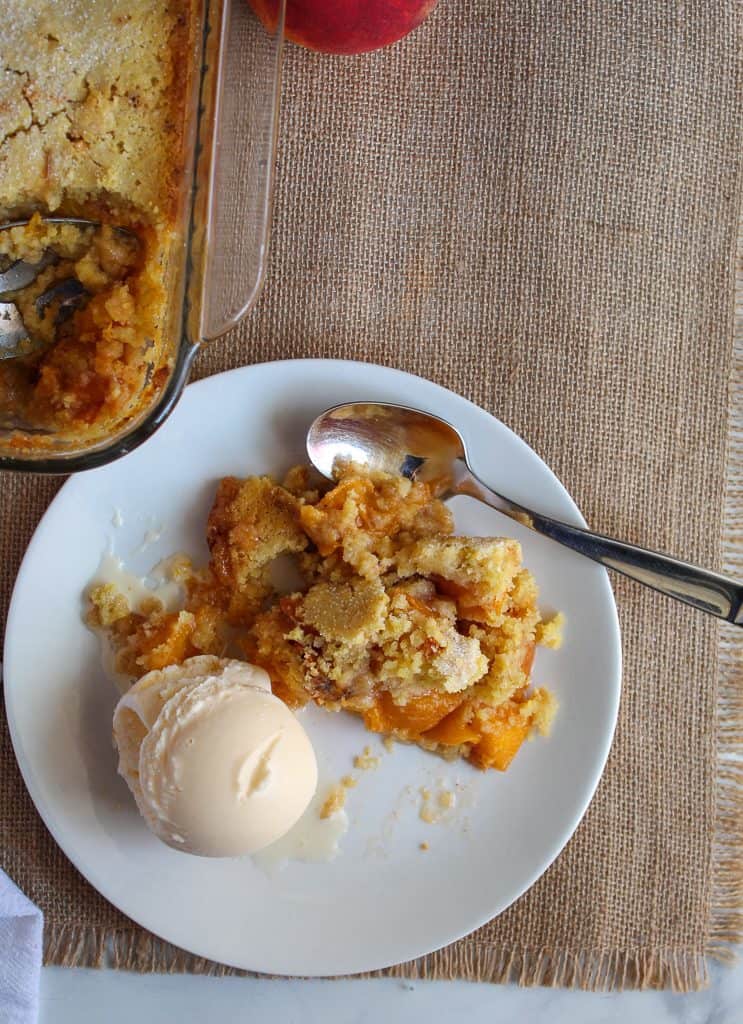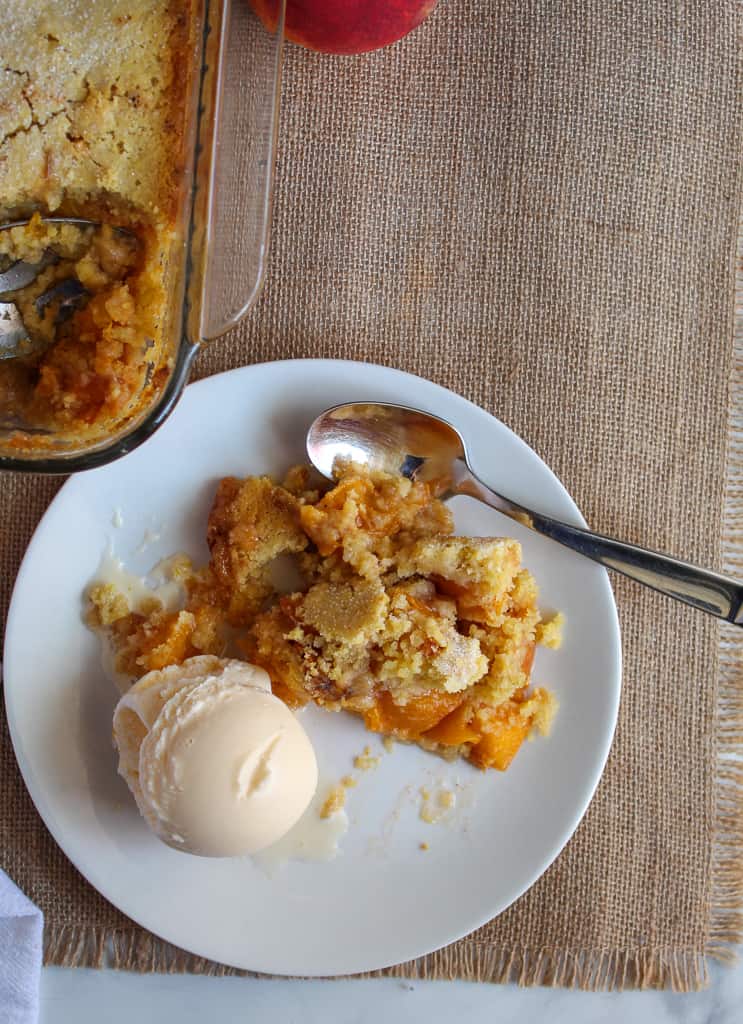 If you are a fan of juicy sweet peaches, you will love this gluten free peach cobbler recipe – heck, even if you aren't a fan, make it and give it to someone who is because this gluten free peach cobbler is just that good! With delicious ripe peaches and a cornmeal biscuit topping, this peach cobbler is one of those delicious desserts that, when topped with a scoop of ice cream, suddenly becomes everyone's favorite. Even those who don't normally like peach cobbler will LOVE this one!
Why this recipe is the best!
Besides being a quick mixing recipe, this homemade cobbler also boasts:
Easy peach prep - no need to peel the peaches, just dice them and mix with the seasonings!
Dairy free option - instead of the heavy cream, substitute coconut cream for equally delicious results
Delicious served warm - unlike gluten free breads like this buckwheat bread or this gluten free oat bread, this cobbler can be served warm from the oven!
Serves a crowd - don't let the dish size fool you - this cobbler serves a crowd. You'll get 12 good sized servings from this recipe.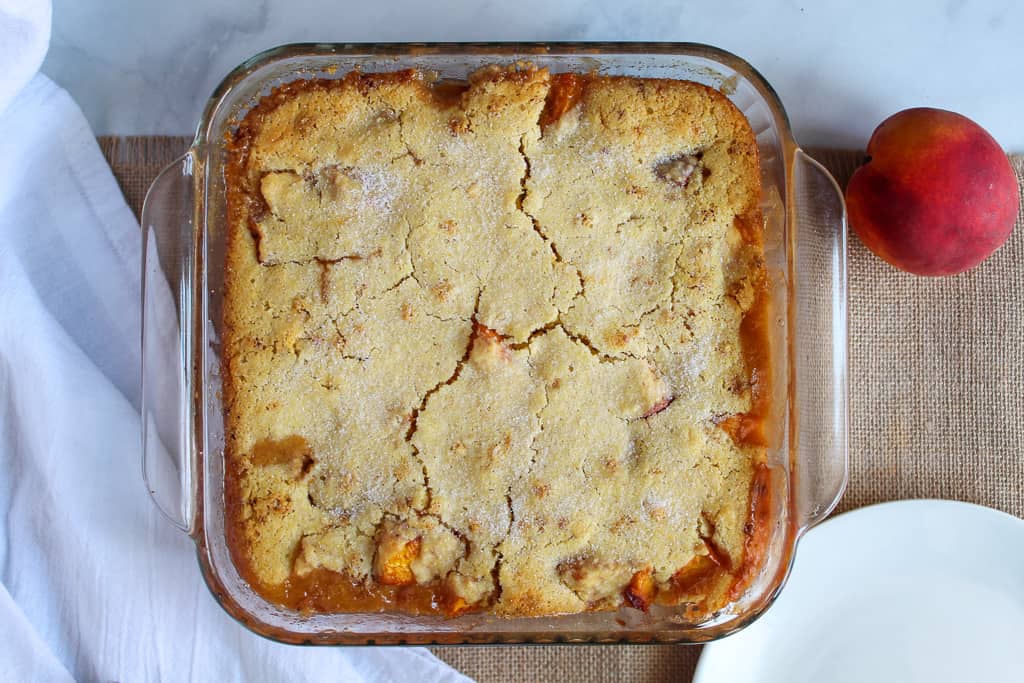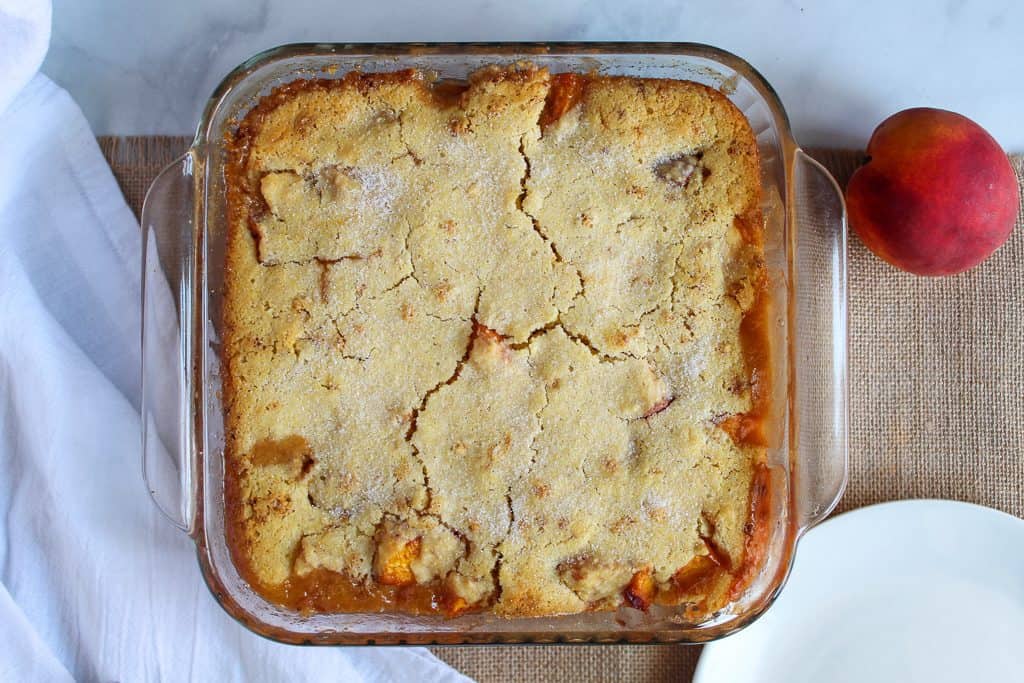 Baking Pro Tips
For the best peach cobbler, follow these easy tips:
Use room temperature ingredients - resist the urge to pull those flours or heavy cream straight from the refrigerator - allow at least 30 minutes for them to come to room temperature before mixing. This is one of the 'gluten free baking essentials' that is sometimes hard to follow, but will result in higher rising and better textured baked goods.
Let the batter rest for 30 minutes - This step is equally as important as the room temperature ingredients. This 30 minute rest time gives the batter time to hydrate which will mean a nicely textured biscuit topping. Don't skip it!
Use the oven to pre-bake the peaches - instead of the stovetop method of cooking the peaches, use the baking pan and the oven. Simply mix the peaches with the seasonings and then place into the baking pan. This way they get a nice pre-bake without dirtying another pan!
Serve it warm - the best peach cobbler is served warm from the oven. Could you serve it cool or even cold? Sure, but that's the purpose of the ice cream... however, cool peach cobbler also makes a tasty breakfast!
How to Make Gluten Free Peach Cobbler
Ingredients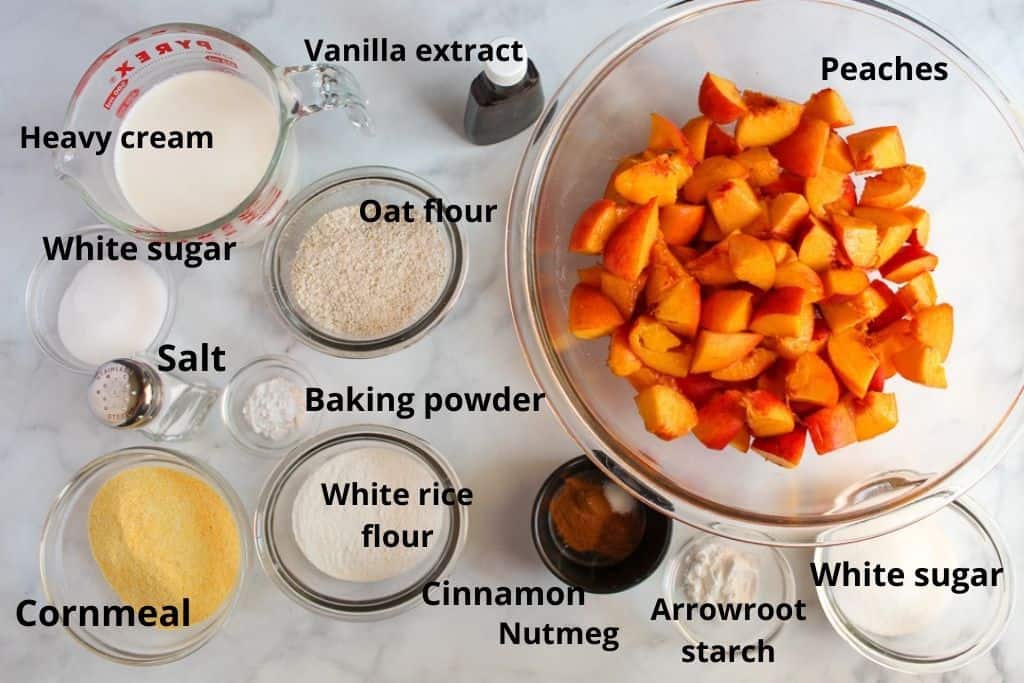 This peach cobbler is so easy to make – the recipe is broken down into two parts: the peaches and the biscuit cobbler topping. Each part takes about 10 minutes, so start to finish is about 20 minutes. The remaining time is just rest and bake time. 
From the ingredient picture above, all of the peach ingredients are on the right hand side and the topping ingredients are on the left side.
First start the topping…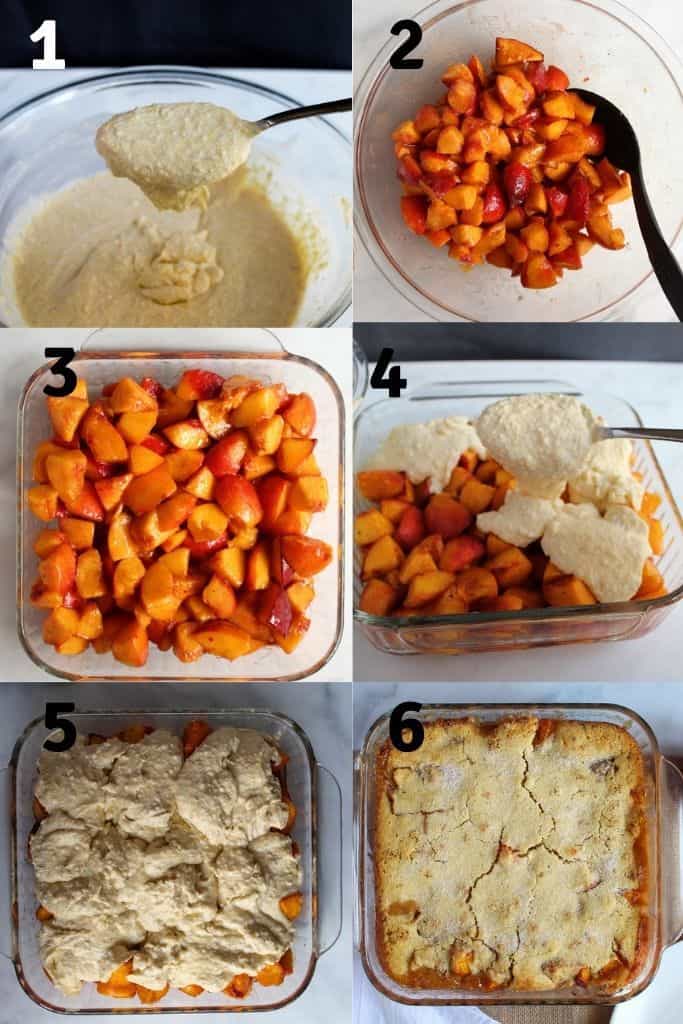 Gluten free cobbler is one of the few gluten free baked goods that you can eat fresh from the oven. This gluten free garlic bread is one too, but we're in dessert mode here. The combination of hearty oat flour and cornmeal makes this cobbler an easy to mix treat. The batter should stay on a spoon without pouring off (image 1). And, after a 30 minute rest time, should be easy to dollop onto the peaches (images 4 & 5).
Now for the peaches…
Peaches and more peaches. Use a big bowl because you'll end up with a bounty of beautiful peaches. There's no need to peel them, just pit them and cut them into ½ inch chunks. Then sweeten them with cinnamon, sugar, nutmeg, a dash of salt and some vanilla extract (image 2). A bit of arrowroot starch helps thicken the mixture to give it that signature thick, syrupy texture. Mix it all up and stick them in the oven to start the baking process (image 3) while waiting for the 30 minute rest time for the biscuit topping.
Bake time
After a nice bake in the oven, the top should look golden brown with cracks down the middle and the peaches may be oozing from the edges (image 6).
FAQ's about this recipe
What's the difference between a cobbler and a crisp?
A cobbler has more of a biscuit style topping (check out this blueberry cobbler recipe as another example) whereas a crisp will have more of a crunchy topping that's typically made by cutting in butter.
What kind of cobbler topping is best for gluten free peach cobbler?
There are so many cobbler topping styles – cake-like, dry and crumbly, pastry-like and biscuit style – but this recipe uses a cornmeal biscuit style that is the best, hands down! It's the perfect combination of heartiness and melt in your mouth deliciousness that uses cornmeal and oat flour so it's a substantial biscuit, perfect for topping this gluten free peach cobbler.
Can I make this dairy free?
Yes! The heavy cream can easily be substituted with coconut cream.
Can gluten free peach cobbler be frozen after baking?
If you have any left, and that's a big if, but if you have any peach cobbler left over, you can easily freeze it for another time! Just cover it tightly with foil and stick it in the freezer. To defrost a frozen gluten free peach cobbler, place it in the oven to warm at 250 F for about 45 minutes to an hour.
If you enjoy this gluten free peach cobbler recipe, will you give it a share and a rating?!
Recipe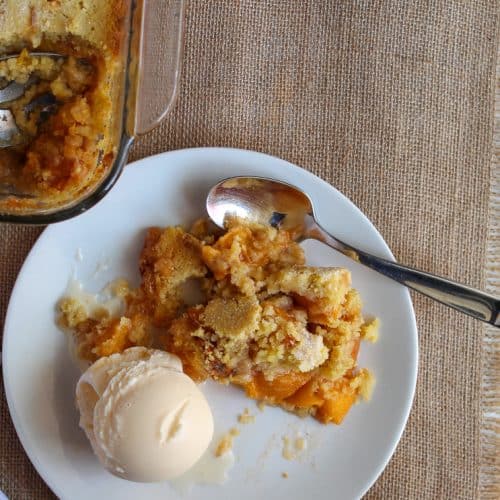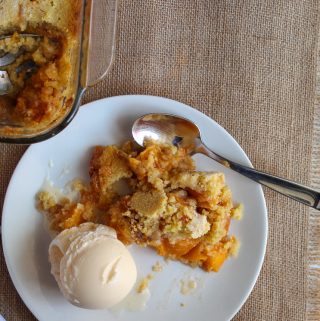 Gluten Free Peach Cobbler
This Gluten Free Peach Cobbler will send your tastebuds into overdrive with fresh peaches and a biscuit style cobbler topping made with just 7 ingredients!
Print
Pin
Rate
Ingredients
For the peaches:
2

lbs.

peaches

about 9

½

cup

granulated sugar

2

teaspoons

arrowroot starch

¾

teaspoon

ground cinnamon

⅛

teaspoon

ground nutmeg

⅛

teaspoon

salt

1

teaspoon

pure vanilla extract
For the cobbler:
85

grams

cornmeal

about ½ cup

65

grams

oat flour

about ½ cup

60

grams

white rice flour

about ⅓ cup

3

Tablespoons

granulated sugar

plus ½ teaspoon extra

1 ½

teaspoon

baking powder

¾

teaspoon

salt

1 ¼

cup

heavy cream
Instructions
Prepare the cobbler:
In a medium bowl, whisk together the cornmeal, oat flour, white rice flour, 3 Tablespoons sugar, baking powder and salt.

Add the heavy cream and mix until all cream has been incorporated.

Set batter aside to rest for 30 minutes.
Prepare the peaches:
Heat oven to 375 F. Prepare an 8" square baking dish by buttering it generously. Set aside.

Pit peaches and cut into ½ inch chunks. Add to a large glass bowl.

Add the sugar, arrowroot, cinnamon, nutmeg, salt and vanilla extract to the bowl and mix well.

Place the peaches into the baking dish and spread into an even layer.

Bake for 10 minutes to soften the peaches.

Drop even mounds of batter onto hot peaches.

Bake for 40 minutes.

Remove from oven and sprinkle with remaining ½ tsp. sugar and return to oven for another 10 minutes to finish baking.
Notes
No need to peel the peaches beforehand, just dice and place them in the baking dish!
The cobbler batter should be thick enough that it stays on the spoon.
Bake the cobbler and then add sugar the last few minutes of baking.
Cobbler can be frozen after it's baked.
Nutrition
Calories:
229
kcal
|
Carbohydrates:
33
g
|
Protein:
3
g
|
Fat:
10
g
|
Saturated Fat:
6
g
|
Cholesterol:
34
mg
|
Sodium:
151
mg
|
Potassium:
268
mg
|
Fiber:
2
g
|
Sugar:
19
g
|
Vitamin A:
610
IU
|
Vitamin C:
5.1
mg
|
Calcium:
53
mg
|
Iron:
0.7
mg
For some other delicious gluten free recipes, check out:
And if you'd like more gluten free baking recipes, join the Zest For Baking email community!