Brushed with a dab of olive oil and sprinkled with Italian seasoning, if you want a delightfully seasoned breadstick that's as easy to make as it is to enjoy, these breadsticks are it.
It probably comes as no surprise that I love bread. In fact, I serve it with just about every meal. But between work, home and kids, there are times when I am planning dinner at the last minute (you can relate right?), so in those times I have even less time to think about the (essential) bread to serve with it too. Usually a quick biscuit or roll hits the table, mostly because I can put them together while prepping the main meal. But also because I know they're good. And reliable.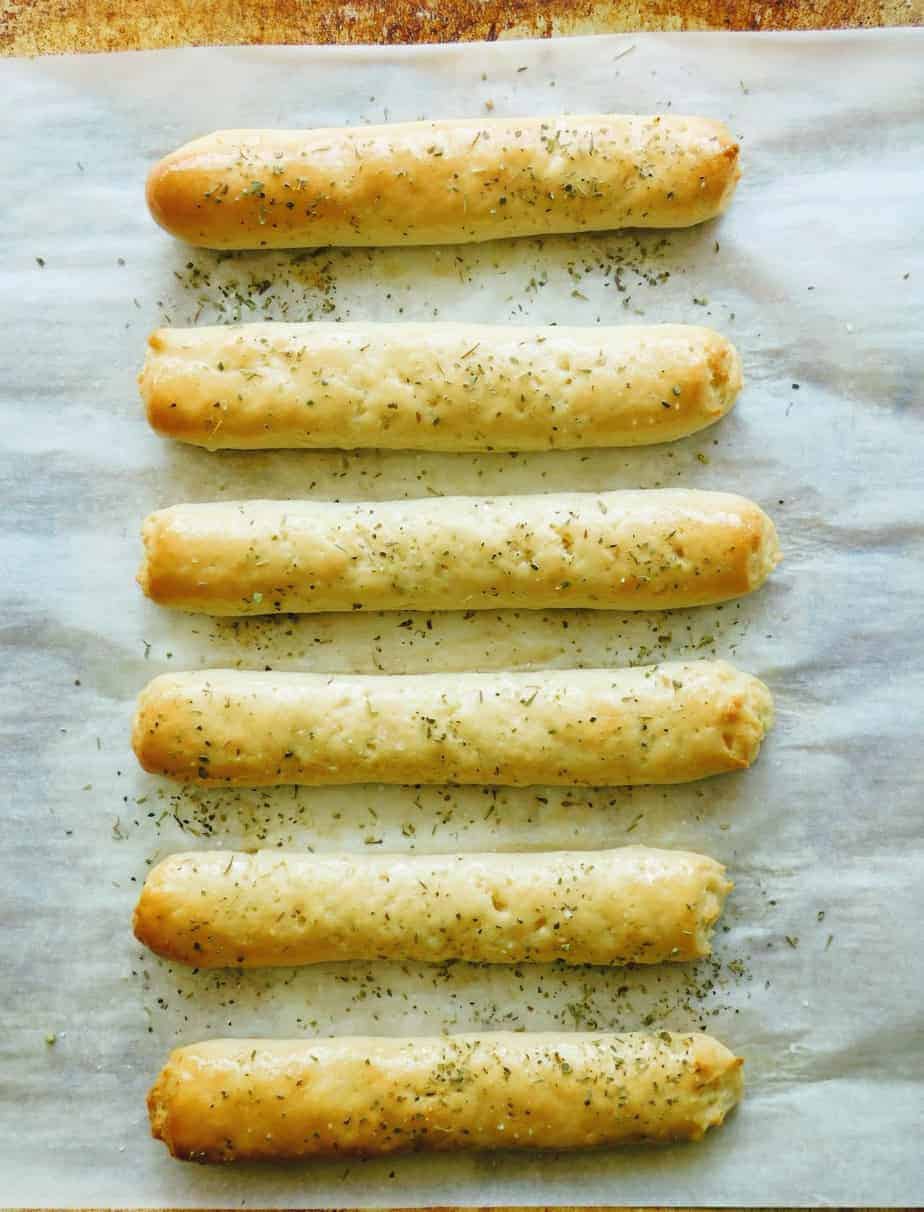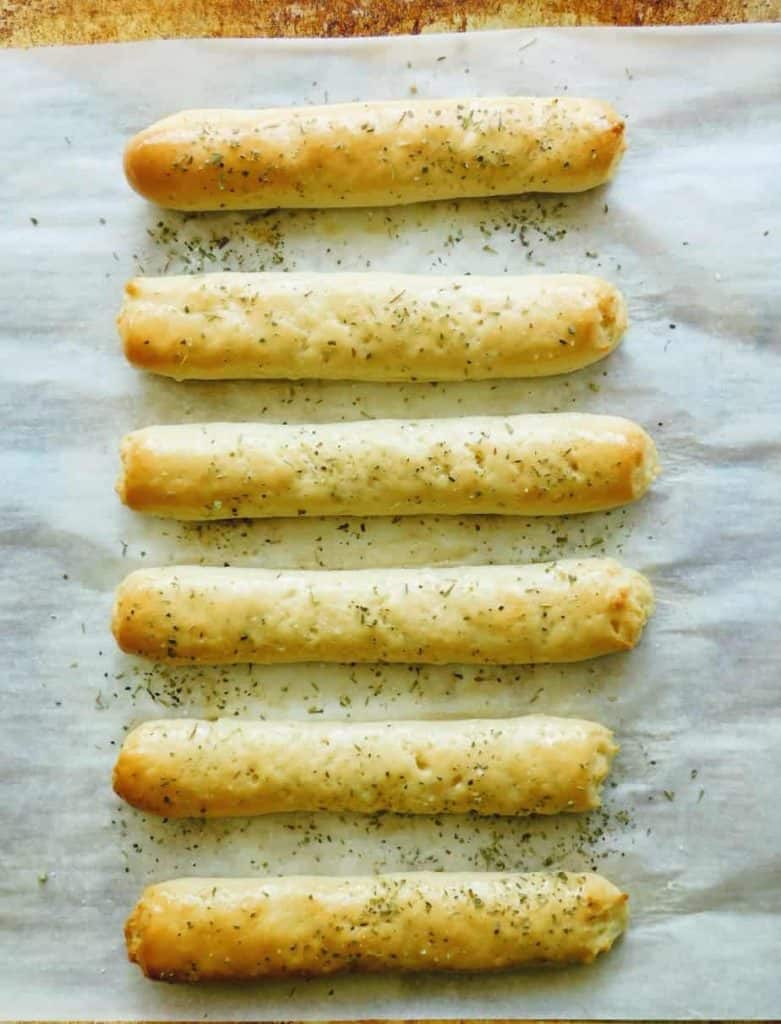 Breadsticks, or any other yeast bread, are not usually the ones to turn to for a 'quick and easy bread to make when you're in a rush.'
Yeast breads take time and lots of work. Otherwise it would be called a quick bread right?
Not true!
Gluten Free Bread takes our bread making seriously and we believe that even yeast breads can be quick and delicious.
And so that's how the gluten free breadstick recipe that's on your table in under 45 minutes was born!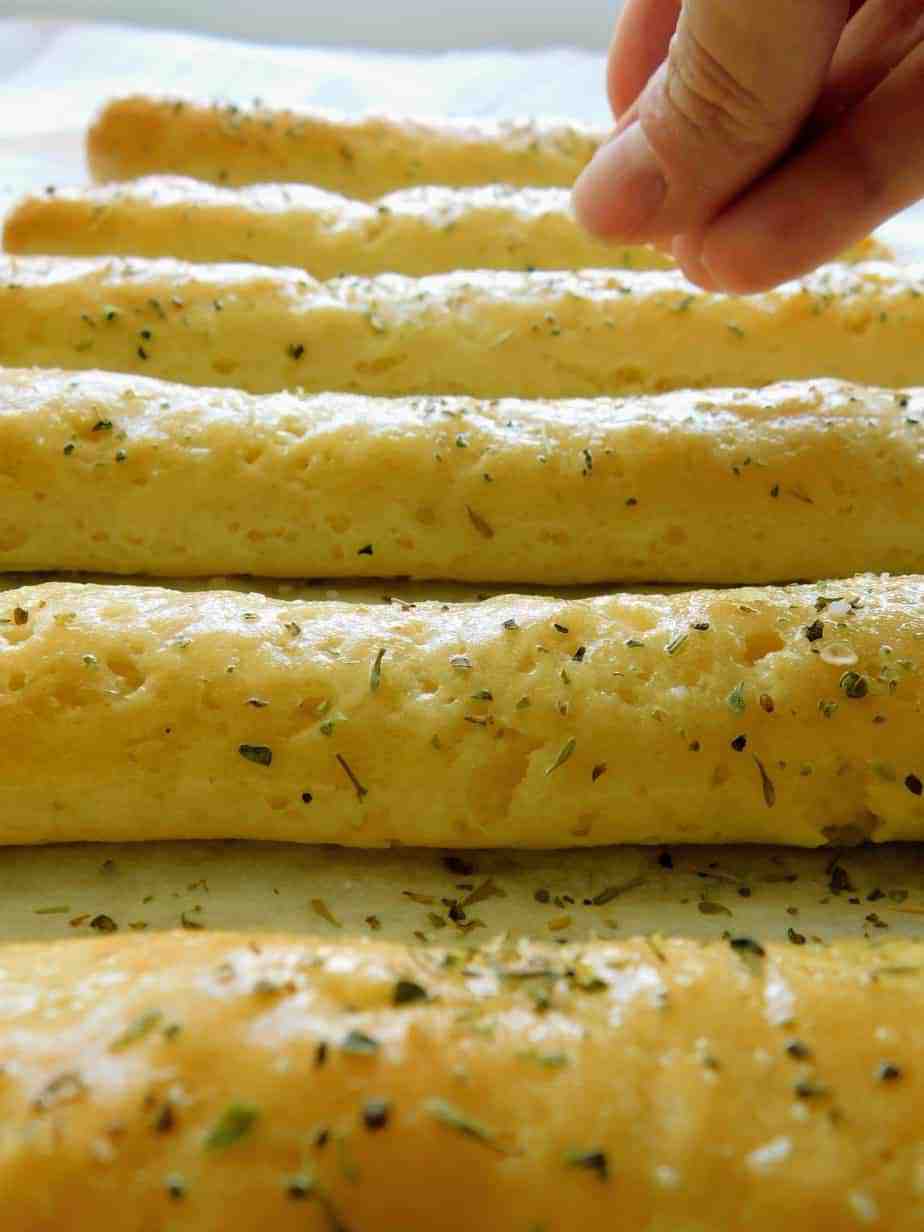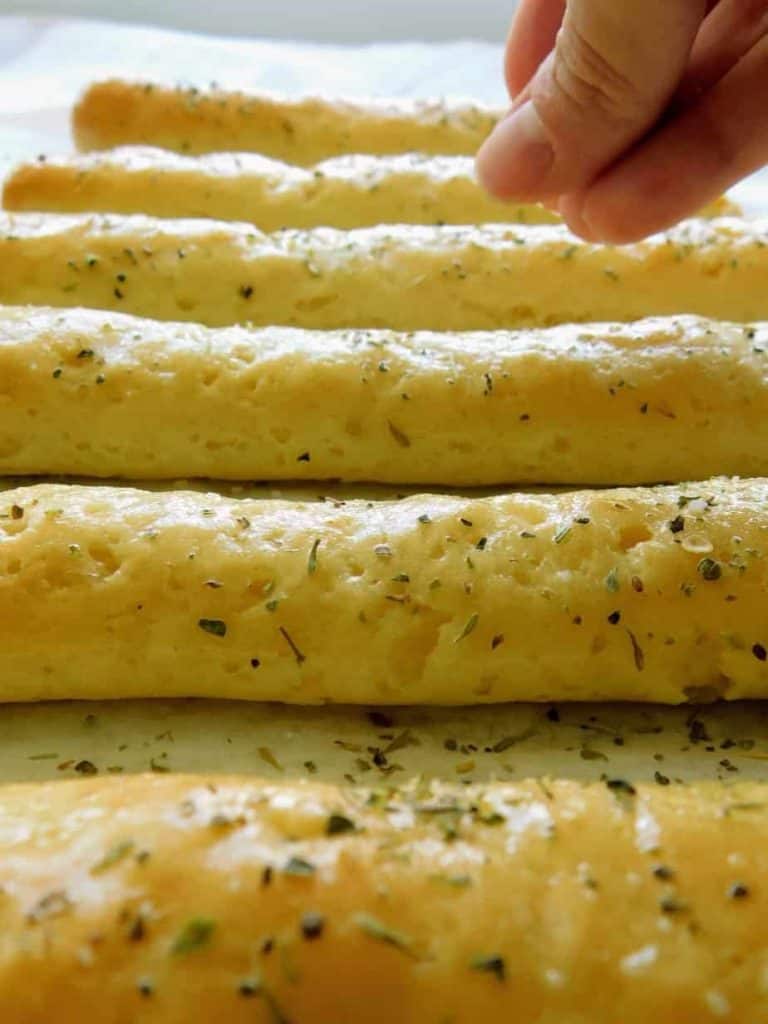 Breadsticks, yes good gluten free breadsticks rely on a good gluten free flour blend. Without the presence of gluten, the flour blend has to be balanced with the right amount of flours to starches so you don't end up with a breadstick that's more like a cracker.
Another key component to a good breadstick is xanthan gum. I've written a lot about this gluten substitute, and although I don't use it nearly as often as I have in the past, this recipe preforms well with it. In some of my other gluten free bread recipes, I don't use it and have a special substitute for it, but with rolls and these breadsticks, where the results are in individual servings, xanthan mimics that bread texture that I'm looking for, the best.
You can check out more info about substituting xanthan gum here: Gum Substitutes
Plus, gluten free or not, these breadsticks rival ANY you'd find in a restaurant. They're incredibly soft with a mouthwatering texture that tastes like a true breadstick.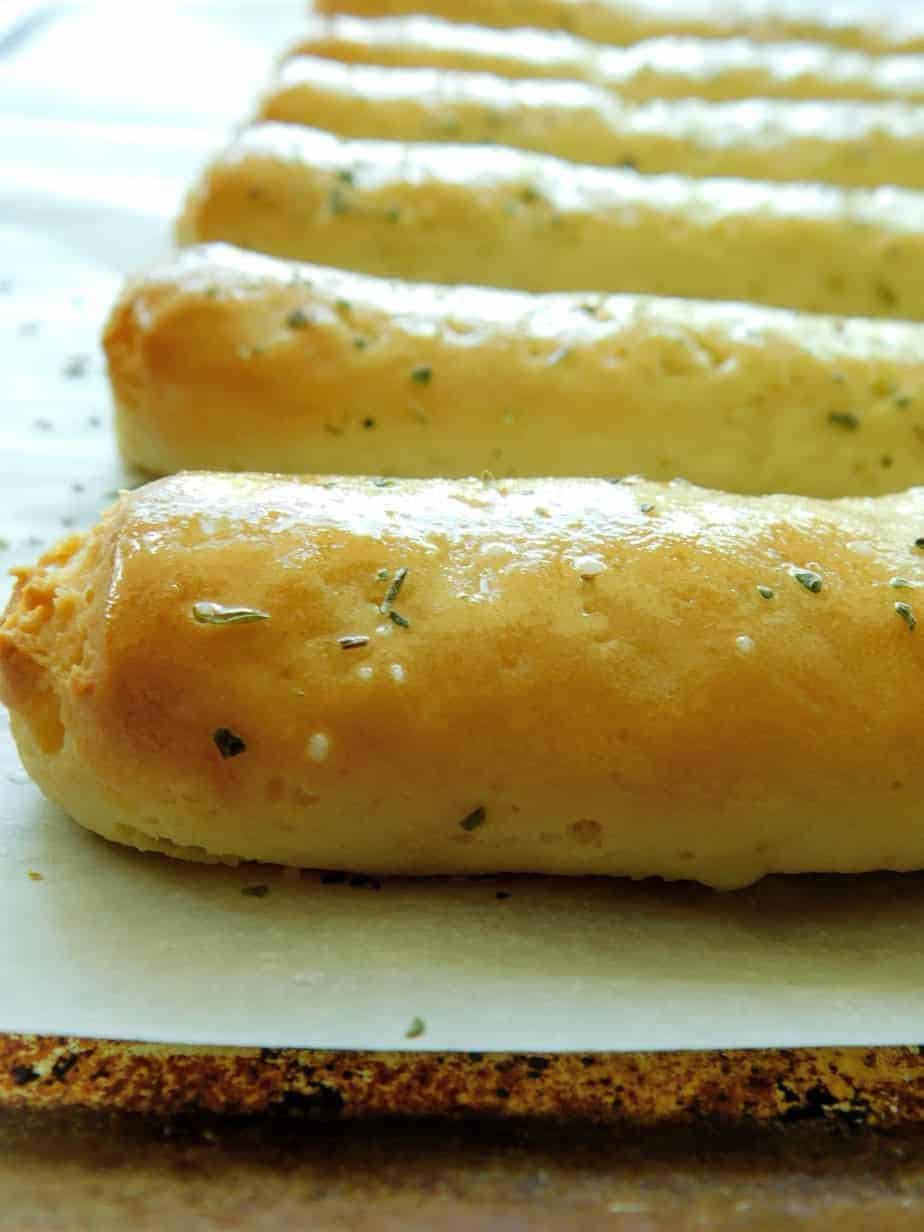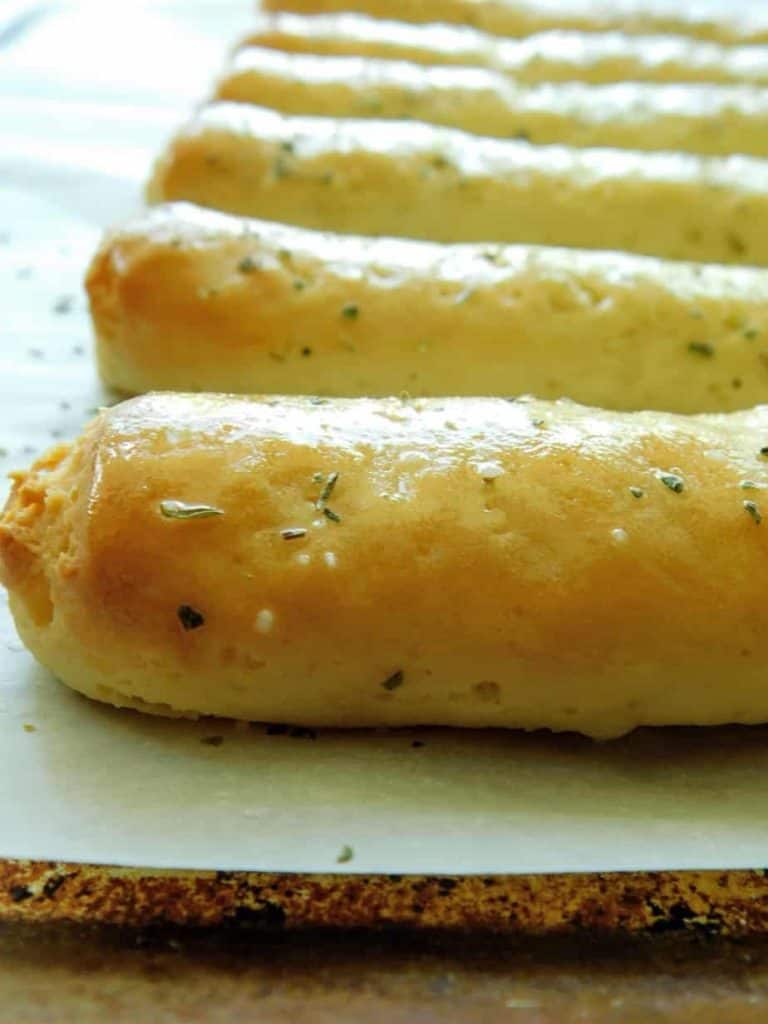 And did I mention how easy they are to make?
I made these twice in a span of about an hour and a half. They probably could have been made in even less time, but the first time I had a slight change of plans (as in sometimes you run out of ingredients!). So that was a shift that took up a few minutes.
But once you have all your ingredients ready, the rest is just measuring and mixing.
Here are some tips to help you get these gluten free breadsticks ready for hungry tummies in no time:
Proof the Yeast
I've made this recipe without proofing the yeast first and I swear they did not turn out as well. In theory, proofing the yeast is just 'proving' that the yeast is still active and good to use in recipes. So it shouldn't have any bearing on the end result. But in this recipe, getting the yeast to the point that it's foamy seems to result in an even lighter and better textured bread.
Plus, proofing it gives you time to prep the flour ingredients.
Use a stand mixer to mix up the dough
Stand mixers are one of my top 3 favorite kitchen appliances. There's just so much to love about them – they're big, efficient and they do all the hard work for you. With this breadstick recipe, you just add the ingredients and turn it on. Let it mix for 3 minutes. Done.

Use a plastic bag for 'piping' the dough out
This is a little trick to making breadsticks that was a complete game changer for me. Take a plastic baggie (quart size is perfect) and add the dough in the bag. Cut of an inch at a corner. Then simply 'pipe' 8 inch long tubes onto your pan. This little trick results in uniform breadsticks that bake evenly and look amazing.

Storage
As with most gluten free breads, storing your freshly baked bread for anything more than 1 day can be tricky. But good news, these breadsticks have a longer shelf life than most! Just wait until they are completely cool and then wrap them well in plastic wrap. They can be stored at room temperature for 2 days. Any longer than that and you'll need to stick them in the freezer.
Either way, you'll need to wrap them in foil and warm in the oven for about 10 minutes.
Ready to enjoy some delicious gluten free breadsticks? If you like this recipe, will you do me a favor and give it rating?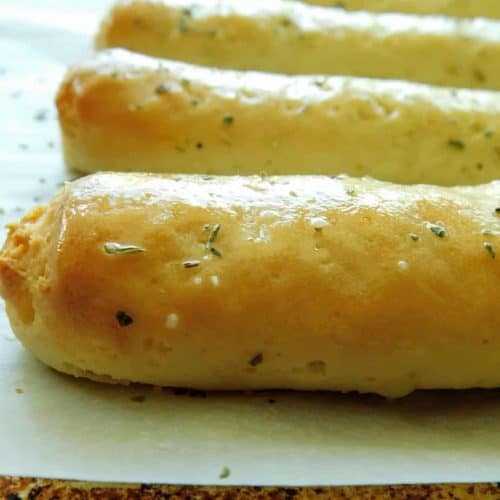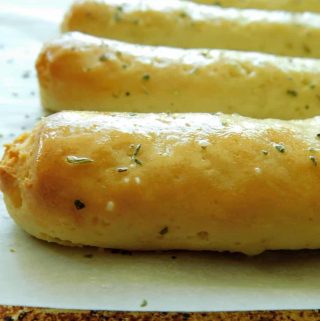 Soft Gluten Free Breadsticks: Ready to Eat in 45 Minutes
Served warm, these breadsticks taste just like they came from a restaurant. No one will even know they're gluten free!
Print
Pin
Rate
Ingredients
⅔

cup

water

1

Tablespoon

active dry yeast

2

Tablespoons

white sugar

260

grams

gluten free flour blend

about 2 cups

1

teaspoon

xanthan gum

½

teaspoon

salt

½

teaspoon

baking powder

1

large egg

⅓

cup

olive oil

1

teaspoon

apple cider vinegar
Topping
1

Tablespoon

olive oil

Sprinkling of Italian seasoning

Sprinkling of coarse salt
Instructions
Prepare a baking sheet by lining it with parchment paper and brushing it with a dab of olive oil. Set aside.

Measure water into a 2 cup measuring cup and set in the microwave for 30 seconds to warm slightly. Add in the yeast and sugar and mix well. Set aside to proof for 5 minutes.

While the yeast is proofing, in the bowl of a stand mixer, add flour blend, xanthan gum, salt and baking powder. Mix until incorporated.

Add the egg, olive oil, cider vinegar and yeast mixture to the flour mixture.

Mix on low speed for 20 seconds. Stop the mixer and scrape the batter down.

Turn mixer to medium and mix for 3 minutes.

Scoop dough into a quart size plastic baggie and cut a 1 inch wide hole in a corner of the bag.

Pipe 6 breadsticks onto the prepared pan in 8 inch long tubes.

Set pan in a warm place to rise slightly, about 10 minutes.

While breadsticks are rising, preheat oven to 350 F.

Bake for 15 – 18 minutes or until the tops are golden brown.

Remove from the oven and set aside to cool slightly.

Brush each breadstick with olive oil and sprinkle with Italian seasoning and coarse salt.

Serve warm.
Notes
Ingredients should be at room temperature.
Make sure to proof the yeast before adding it to the recipe.
Use a plastic baggie to act as a 'piping bag' for uniform size breadsticks.
Serve warm.
Do not double the recipe - if you want more breadsticks, make 2 batches, side by side.
Use the flour blend recommended in the recipe for best results
Nutrition
Serving:
1
g
|
Calories:
304
kcal
|
Carbohydrates:
36
g
|
Protein:
5
g
|
Fat:
16
g
|
Saturated Fat:
2
g
|
Cholesterol:
27
mg
|
Sodium:
220
mg
|
Potassium:
75
mg
|
Fiber:
6
g
|
Sugar:
6
g
|
Vitamin A:
40
IU
|
Calcium:
49
mg
|
Iron:
1.7
mg