Amazingly soft and tender, this gluten free yeast free bread is the perfect quick bread for when you don't want to wait for rise time but want the same texture and taste you'd find in a loaf of yeast bread.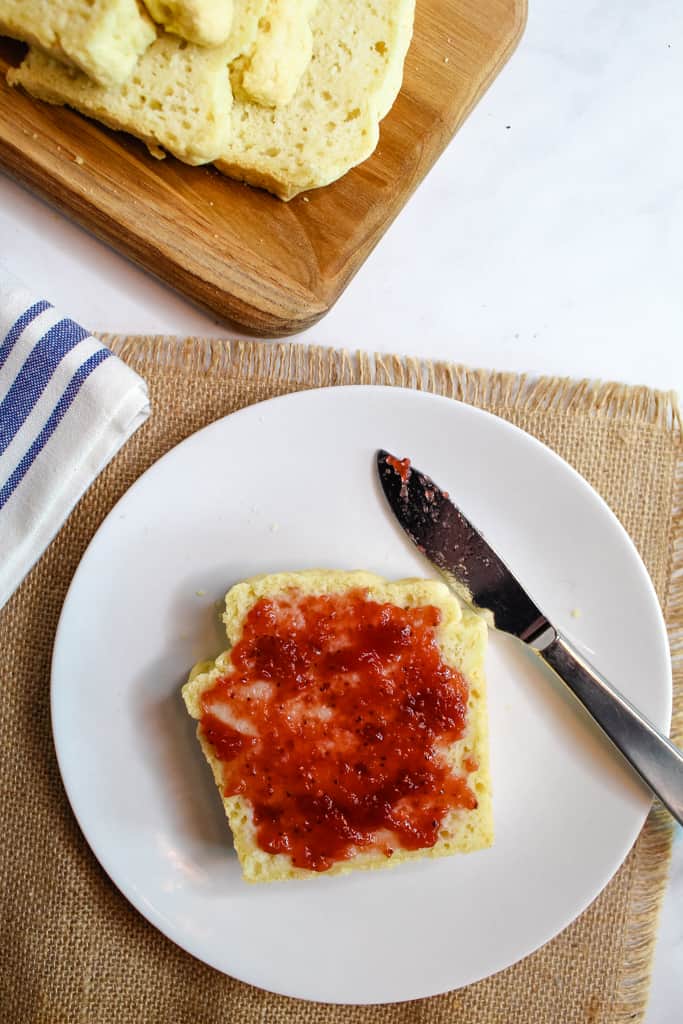 A good yeast bread is a great thing, but for those times when yeast free is the way to go, this recipe comes to the rescue. The bread is incredibly soft and could really fool anyone into thinking it's a loaf of regular bread. We can thank the egg whites for that high rise and characteristic, bread texture. And the best news of all… you don't have to wait until it's completely cool to cut it, just use a sharp, serrated knife to slice warm, mouthwatering slices of it.
Can I use another flour mix?
The flour mix I use in my recipes is this one: Gluten Free Flour Mix. It has the right balance of flours and starches that make for a really great loaf of bread. This recipe hasn't been tested with another brand or combination of flours so I can't be sure of the results you'll get.

Is there a substitute for the eggs?
Unfortunately, not in this recipe. Egg whites are essential for the texture of the bread.
Is there any easy way to separate eggs?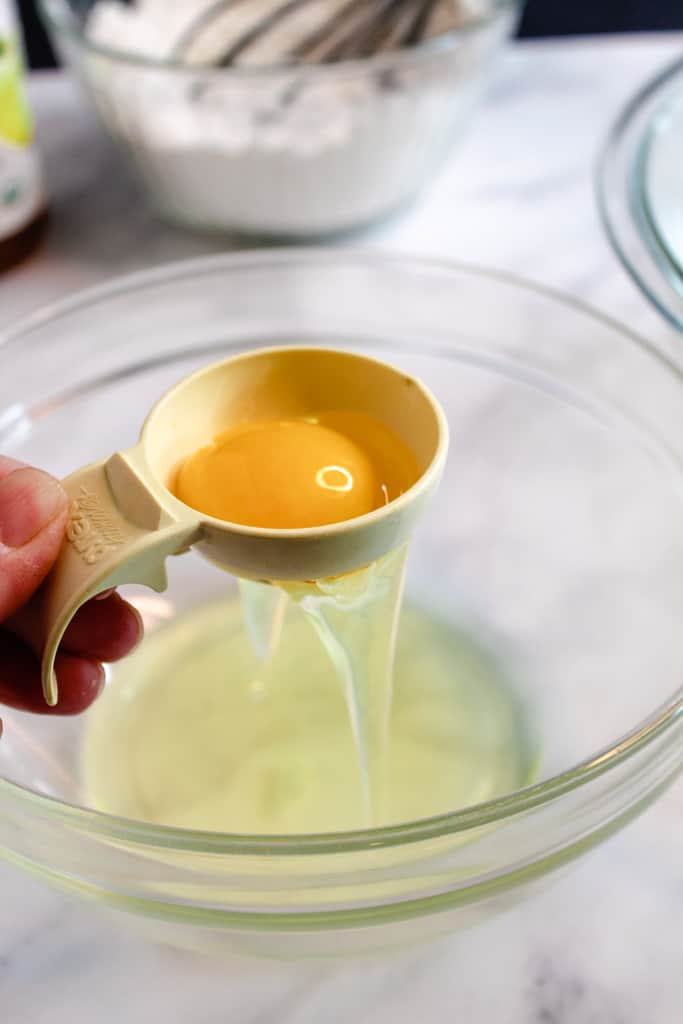 Yes! The easiest way to do make sure you get all the whites in one bowl and the yolks in another one is to use a tool like this one. Just make sure to have the bowls ready to go.
Use a medium size bowl to place the whites into and a large bowl for the yolks.
What's the best way to cool gluten free breads?
Gluten free breads are picky about the cooling process. Just like in this sandwich bread recipe, they need to cool a certain way to maintain height and even texture.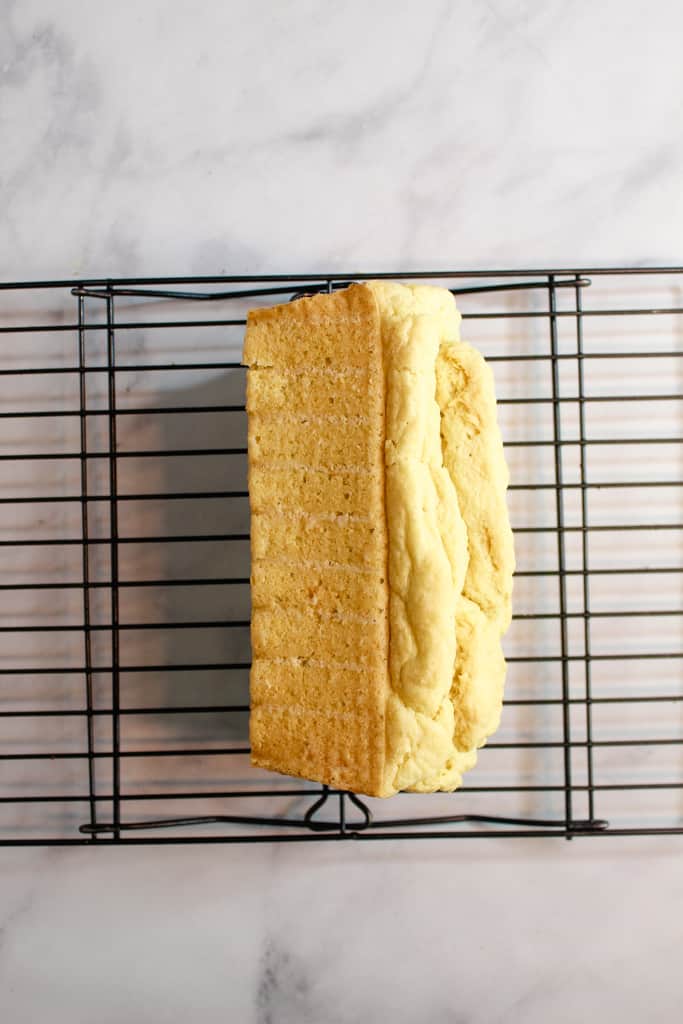 So here's a tip for cooling: Let the bread cool in the pan on a wire rack first for 10 minutes. Then, using a potholder since the pan will still be hot, turn the bread out onto a wire rack but lay it on its side. Allow to cool for 15 minutes. Then flip to its other side and cool another 15 minutes. Then stand the bread upright to completely cool.
Then slice and enjoy.
Does this Gluten Free Yeast Free Bread store well?
One of the many reasons to love this bread is how well it stores. It can be stored as a complete loaf or pre-sliced on the counter for up to 3 days. For longer storage, place pieces of wax paper in between each slice and seal it in a plastic bag and place it in the freezer. Defrost by warming in an oven or toaster and it still tastes amazing.
How to Make Gluten Free Yeast Free Bread
The ingredients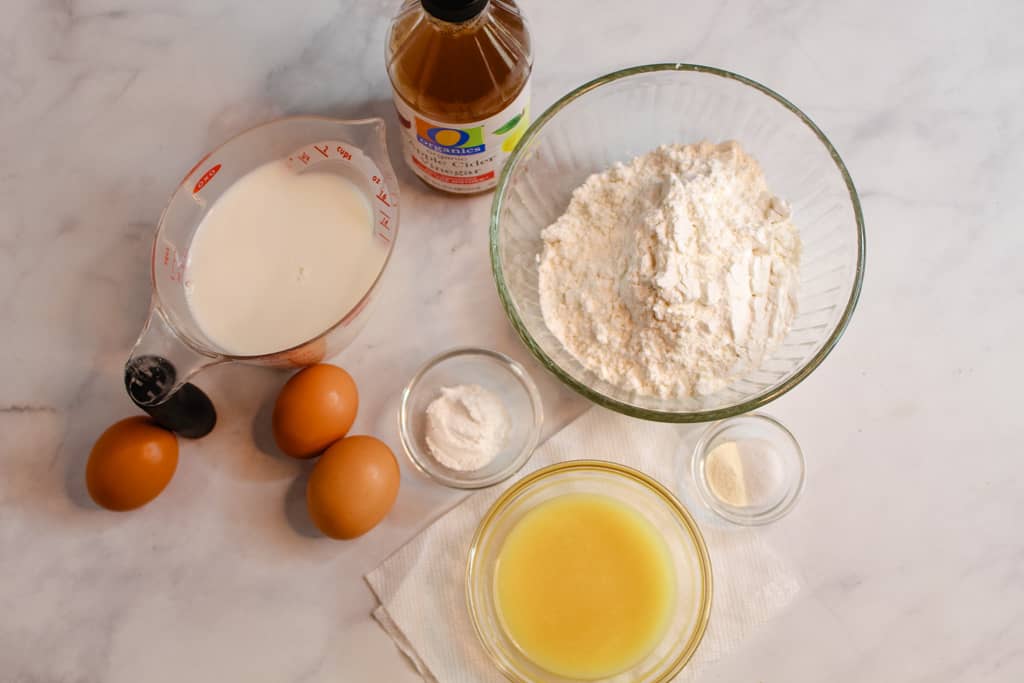 The ingredients list isn't long here, but make sure everything is at room temperature before mixing. Eggs can be quickly brought to room temperature by floating them in a bowl of warm water for a few minutes. It doesn't take long so just a few minutes should do it.
Mixing dry ingredients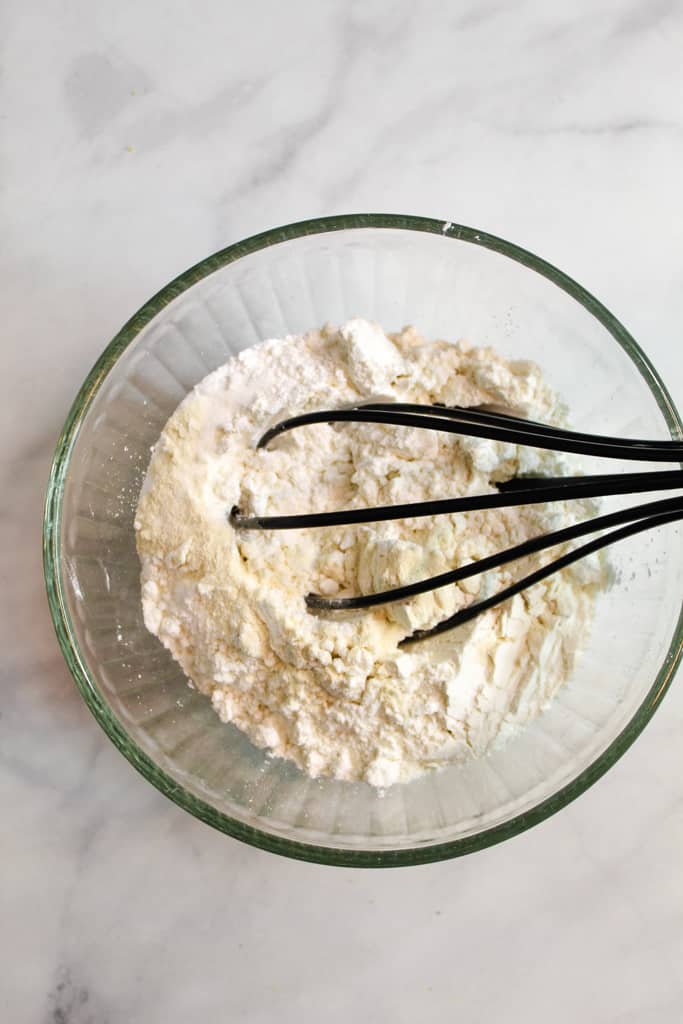 No matter how you work it, the recipe is going to require 3 separate bowls (I've condensed it as much as possible, but 3 bowls are still needed). One medium sized one for the dry ingredients, one large one for the wet and another medium one to whip the egg whites. Start with a medium sized bowl for the dry ingredients. Use a whisk to mix it thoroughly.
Mixing the wet ingredients
Once you've separated the eggs (see the tip above), beat the egg yolks at medium speed for about 2 minutes.
They'll start to get lighter in color.
Then add the vinegar, milk and butter and continue to beat for 1 minute. The mixture will get foamy.
Mix the batter
Once the wet ingredients are mixed, take the dry and add them all at once to the large bowl. Use a whisk to mix everything together. Aim for mixing for about 1 minute or until the batter is smooth and has very little to no lumps. Let the batter rest while you whip the egg whites.
Whipping the egg whites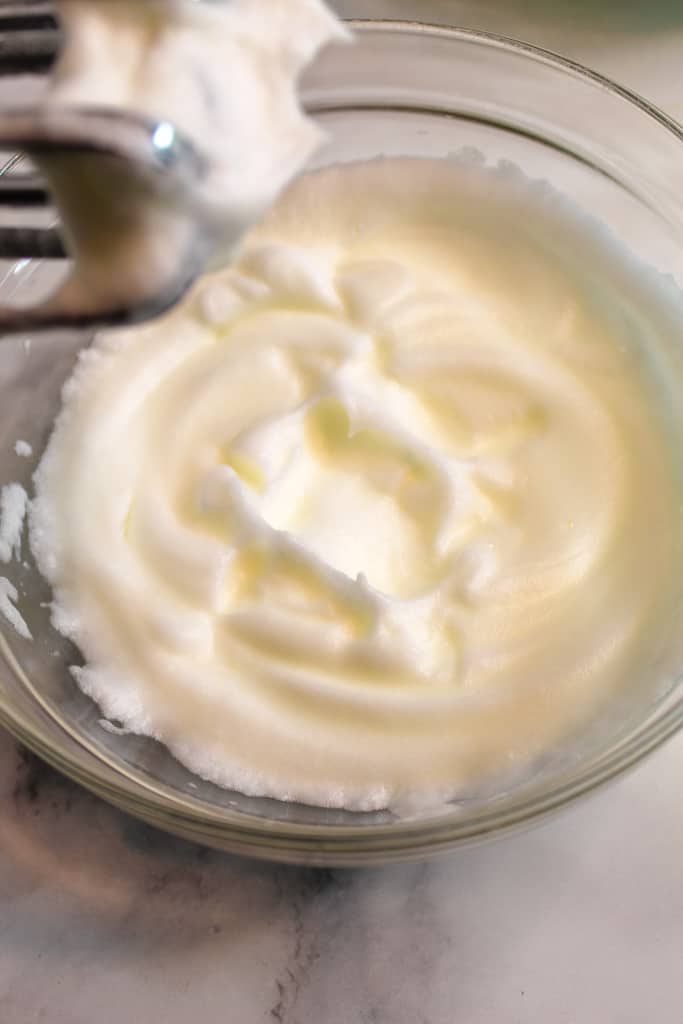 In the last medium bowl with the egg whites, start the beaters on medium high and whip the egg whites. Depending on the weather and humidity, this will take between 3 – 5 minutes. But you want egg white that are glossy and fairly stiff peaks when you lift the beaters up.
Folding in the egg whites
In the batter bowl, start by gently mixing a large spoonful of the egg whites into the batter. Use a spatula and gently fold a small amount in. This lightens the batter up a bit.
Now add the rest of the whipped egg white and gently fold and fold and fold. Folding takes longer than if you were to just stir, but the process creates a light bread (with no yeast!). Fold just until all egg white is completely incorporated into the batter, being careful not to overmix.
Overdoing it crushes the lightness that the egg whites are creating.
Baking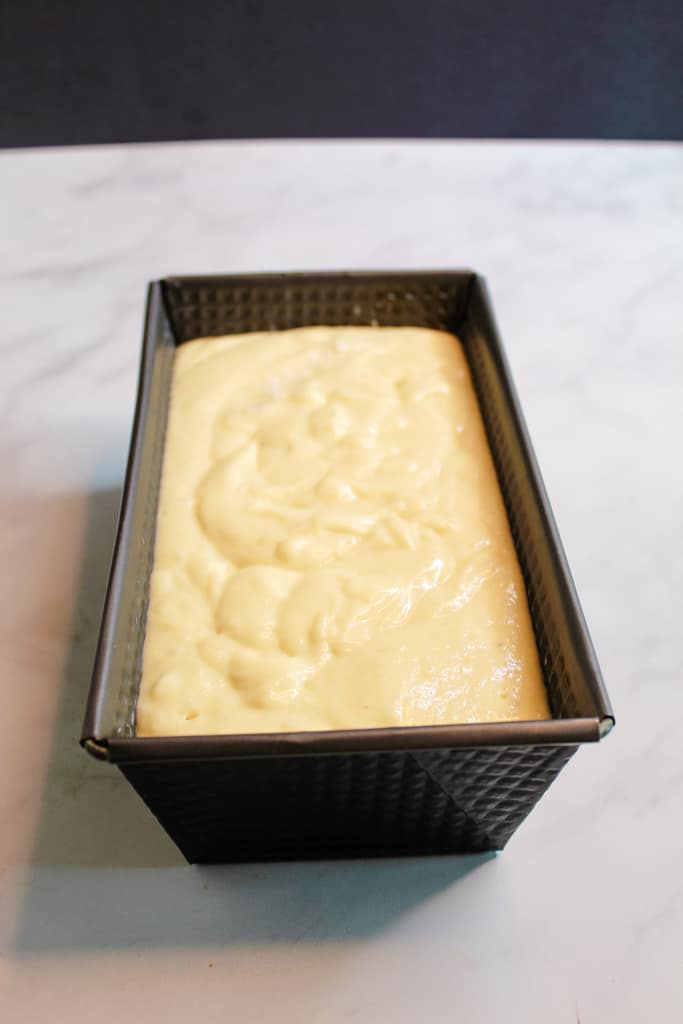 The baking pan will be nearly full with batter – it should be just below the rim. Bake for 60 minutes at 350 F.
Then it's just cooling and slicing!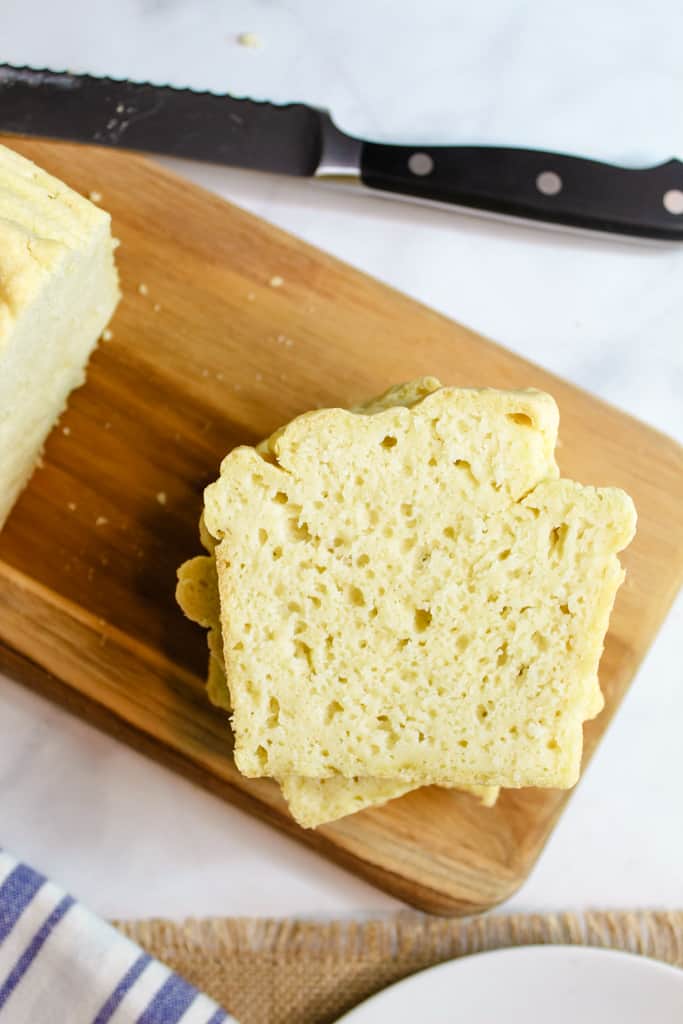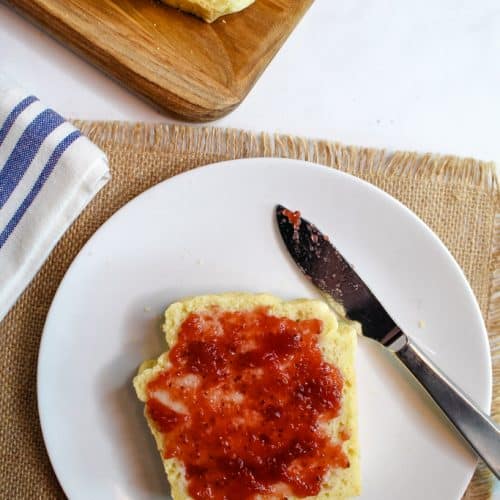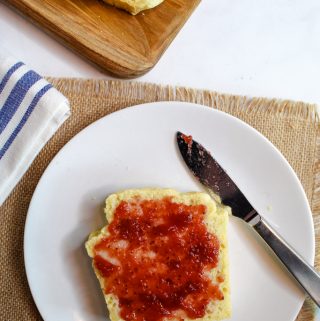 Gluten Free Yeast Free Bread
Amazingly soft and tender, this gluten free yeast free bread is a delicious quick bread that rises nice and tall and tastes delicious!
Print
Pin
Rate
Ingredients
290

g.

gluten free flour mix

about 2 ¼ cups

1

Tbsp.

baking powder

1 ½

tsp.

salt

1

tsp.

xanthan gum

3

eggs

room temperature

1 ½

cups

almond milk

1

tsp.

apple cider vinegar

6

Tbsp.

plant based butter

melted and cooled
Instructions
Prepare an 8" x 4.5" pan by brushing with butter and lining with a small piece of parchment paper. Butter the parchment. Set aside.

In a medium bowl, add the flour mix, baking powder, salt and xanthan gum. Mix with a whisk until fully combined. Set aside.

With a large bowl and medium bowl close together, separate the eggs, placing the yolks in the large bowl and the whites in the medium bowl.

Beat the yolks on medium speed until they get pale yellow in color. It should take about 2 minutes. Add the milk, vinegar and butter and milk and mix for another minute.

Add the dry mixture to the egg yolk mixture and use a whisk to full mix the ingredients. The batter should be smooth or nearly smooth. Set batter aside to rest.

Preheat the oven to 350 F.

In the medium bowl with the egg whites, beat on medium high speed until they form nearly stiff peaks. This could take between 3 – 5 minutes.

Start by folding a large spoonful of egg whites into the batter. Once completely folded in, add the rest of the egg whites to the batter.

Gently fold in the egg whites, until everything is incorporated.

Pour the batter into the prepared pan.

Bake at 350 F for 60 – 65 minutes.

Remove from the oven and place on a wire rack to cool for 10 minutes. Then remove from the pan and lay the bread on one side to finish cooling for 15 minutes, then flip to the other side for another 15 minutes. Bread can be sliced slightly warm with a sharp, serrated knife.
Notes
Mix the batter with a whisk to fully incorporate the dry ingredients. 
Whip the egg whites until nearly stiff peaks form.
Carefully fold them into the batter being careful not to deflate the batter.
Bake in a parchment paper lined baking pan.
Cool by laying the bread on its side.
Nutrition
Calories:
147
kcal
|
Carbohydrates:
17
g
|
Protein:
4
g
|
Fat:
8
g
|
Saturated Fat:
1
g
|
Cholesterol:
41
mg
|
Sodium:
356
mg
|
Potassium:
140
mg
|
Fiber:
3
g
|
Sugar:
1
g
|
Vitamin A:
59
IU
|
Calcium:
111
mg
|
Iron:
1
mg
Ready for more delicious gluten free recipes?
And check out these gluten free baking tips: