If you've been searching for an amazing gluten free sandwich bread that not only makes mouthwatering sandwiches, but could also be enjoyed straight from the bag, then this is your loaf! Bonus that it's dairy free and refined sugar free too!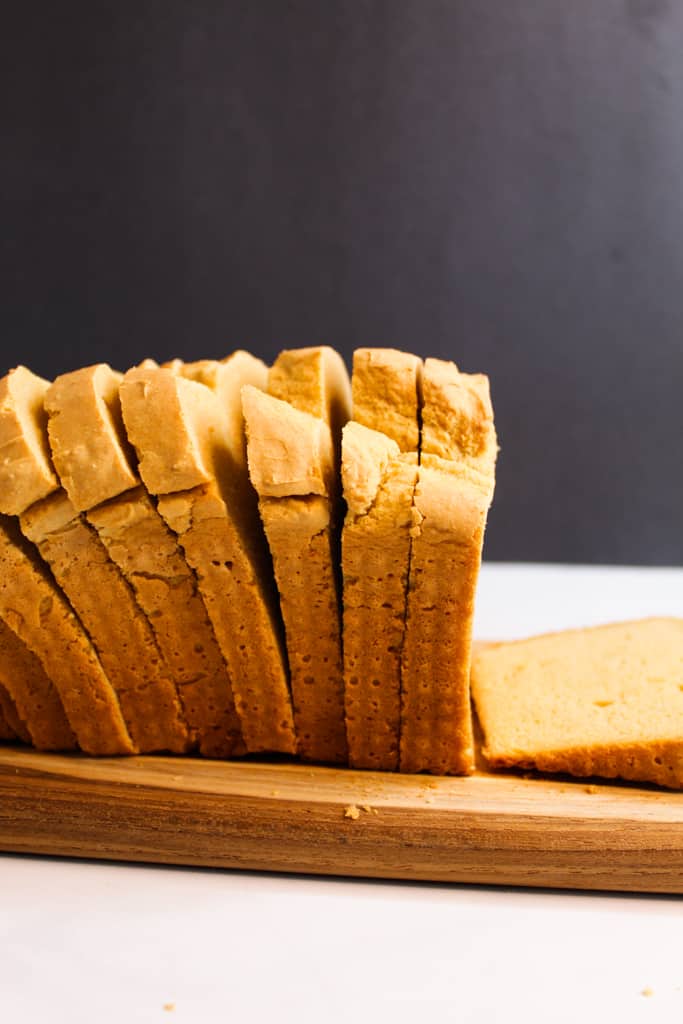 If the thought of a delicious sandwich bread that you can actually eat right out of the bag, one that doesn't fall apart when you try to use it, doesn't have unexpected holes throughout the interior and has the most amazing flavor, then you are going to love this recipe! Storebought loaves are ok, sometimes even good, but this bread is just like the title says, the best ever. And it's not difficult to make. The biggest challenge will be deciding what sandwich to make first!
This gluten free sandwich bread is:
Soft and tender with a light texture
Golden brown with a slightly crusty exterior
Easy to store
Easy to slice
Delicious in a sandwich
Gluten free, dairy free and refined sugar free
Made with just 9 ingredients
Can I make it in a bread machine?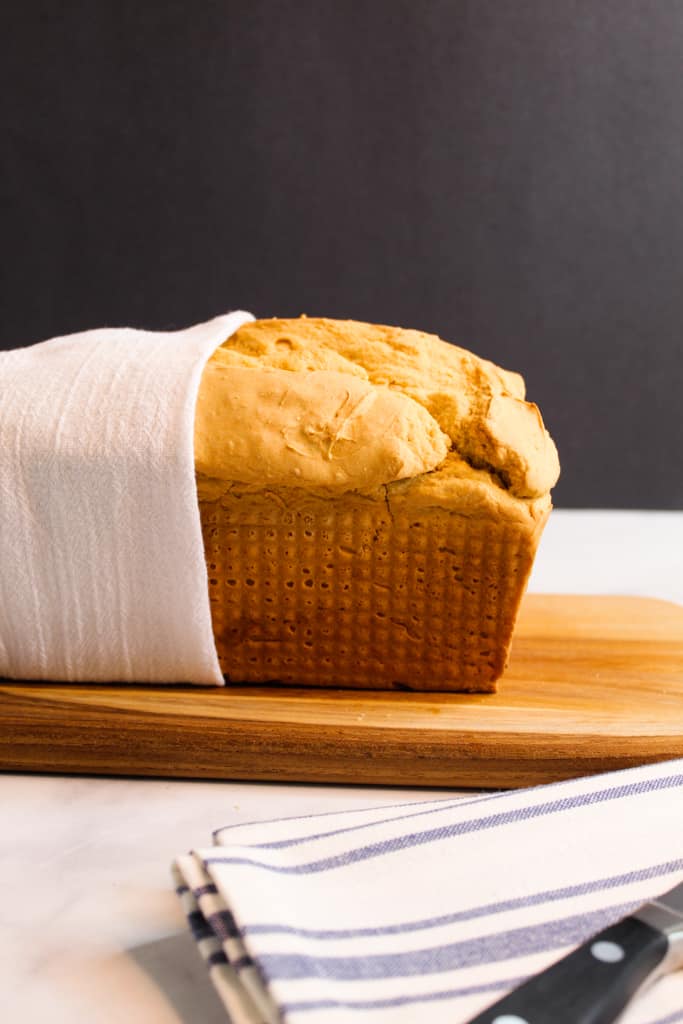 I love bread machines. I really do, but I don't make this recipe in it. And here's the only reason why – my bread machine pan's design bakes taller loaves rather than long loaves. And for this sandwich bread, I was going for more of a traditional, sandwich style bread slice. So while you can make it in the bread machine, if you want that sliced bread that most closely resembles a slice of gluten sandwich bread, a bread machine is not going to give you that nice long shape and crowned top like you'd expect.
Can I use a different flour blend?
My go-to flour blend for my recipes is the one found here: Gluten Free Flour Mix. It's a great blend to make it bulk so it's always on hand for recipes like this sandwich bread and even these biscuits. I haven't tested other flour blends in the recipe, so I can't say for certain what the resulting loaf will be like.
What equipment do I need to make this sandwich bread?
While it doesn't require much in terms of tools and equipment, a stand mixer comes in really handy for making this bread. It makes the mixing process easier since you're adding ingredients a little at a time. These bread pans are my go-to pans for baking all my gluten free breads. A rubber spatula is also a must-have tool for scraping the batter into the pan. And a high quality, serrated knife for slicing is also essential.
What's the best way to store this bread?
As with most gluten free breads, and homemade bread for that matter, it's the absolute best the same day it's made. However, if you're looking at storing this bread for future use, here is what I recommend:
Slice the completely cooled loaf with a serrated knife (aim for slices on the thin side)
Place small pieces of wax paper in between each slice
Form the loaf again and place the entire loaf in a plastic freezer bag
Get all the air out and place the bag in the freezer
Slices can be taken directly from the freezer and placed in the toaster
How to Make Amazing Gluten Free Sandwich Bread
Room Temperature Ingredients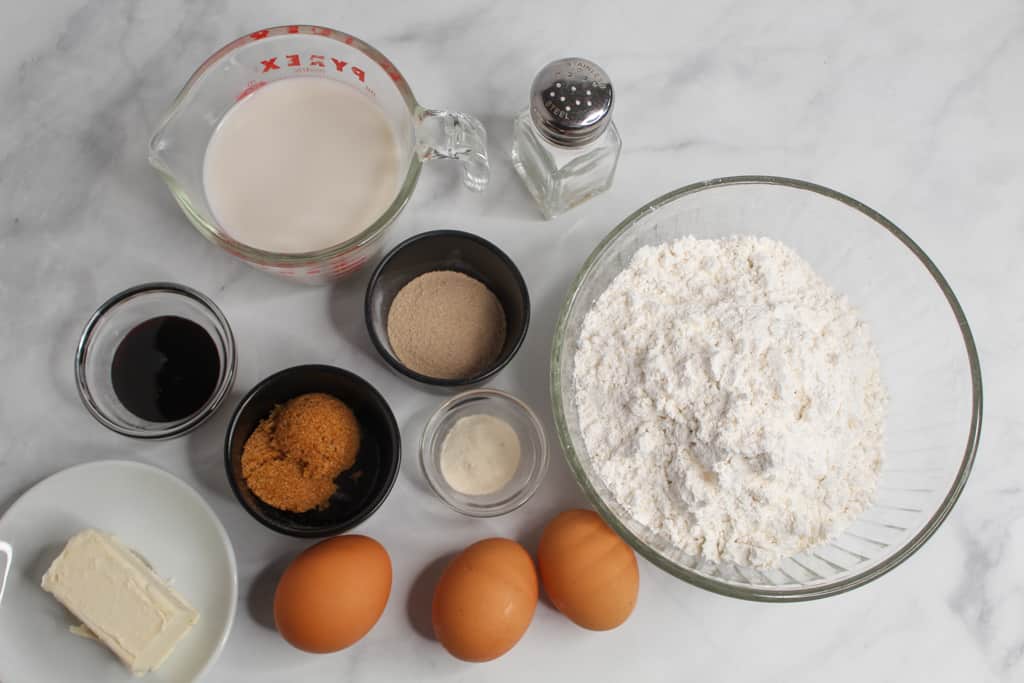 As with other baking recipes, room temperature ingredients are very important. This goes for flours too, if you store those in the refrigerator. Allow everything to warm to about 75 F before starting your mixing. (It should only take about 20 – 30 minutes.)
Add the milk gradually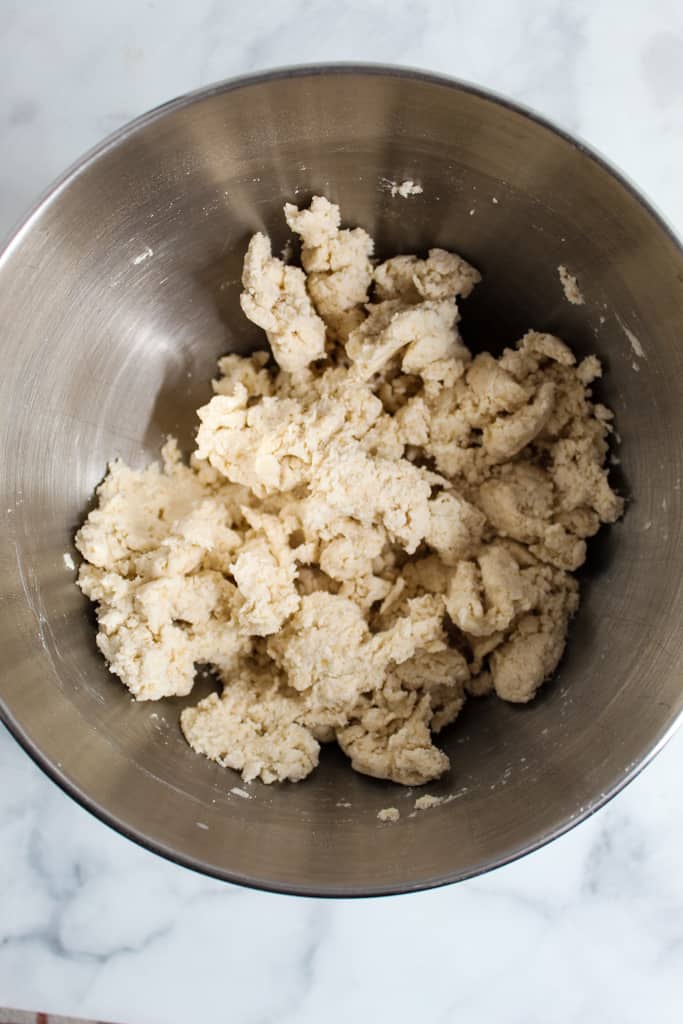 After you've mixed the dry ingredients together in the stand mixer, you'll start to add the milk to form the batter. It's important to keep the mixer on low and continually add the milk. It will be crumbly, then gradually come together.
Mix thoroughly
After all the milk has been mixed in, the batter should still be quite thick. Add in the softened butter and give it a good mix until its fully combined. Then add the molasses and mix again.
Adding the eggs is the last step – the key is to add them one at a time and mix thoroughly between each addition.
After all 3 eggs have been added, the batter will be very smooth, but still thick. Keep in mind that it will not look like traditional bread dough with a ball of dough, it will be more like thick cake batter.
Rise in a warm place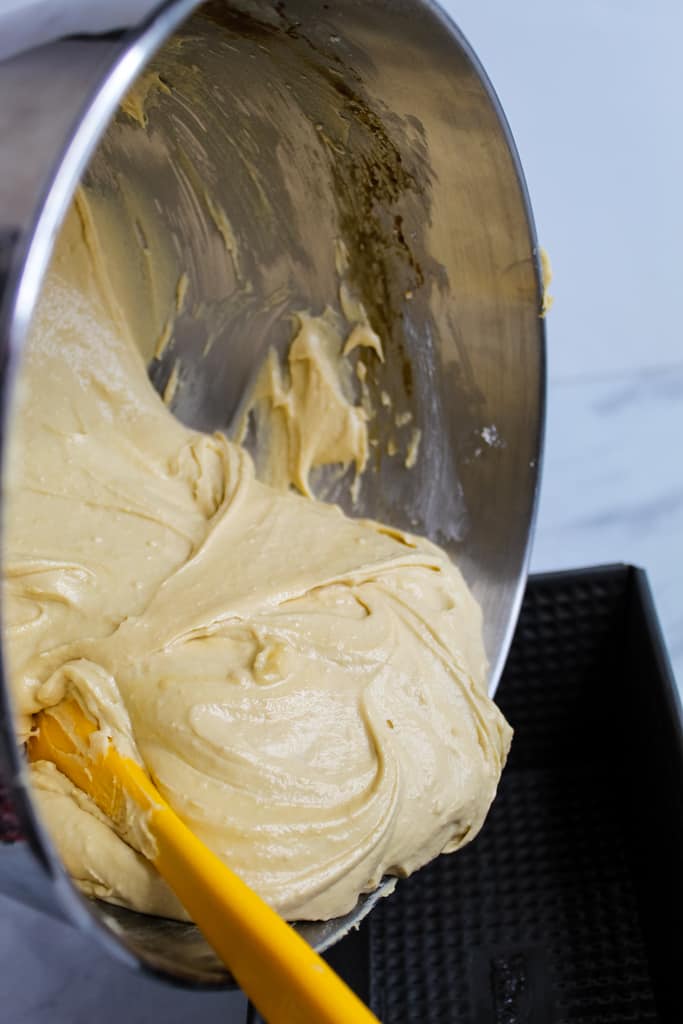 After all the batter has been mixed, use a rubber spatula and scrape it into a baking pan. Smooth the top with the spatula to level out any peaks or dips in the batter.
Set the pan to rise in a draft-free spot for 1 hour. An empty oven or toaster oven works great for this.
Baking and cooling
After about 50 minutes into the rise time, preheat your oven to 350 F. The bread will have risen to just to the top of the pan. (Not to worry if you think it should have risen more, it will rise when baking too!)
Bake the loaf of bread for about 50 minutes or until a toothpick tests done.
Remove it from the oven and place the pan on a wire rack to cool for 5 minutes in the pan. Remove it from the pan and cool completely using our bread cooling tip…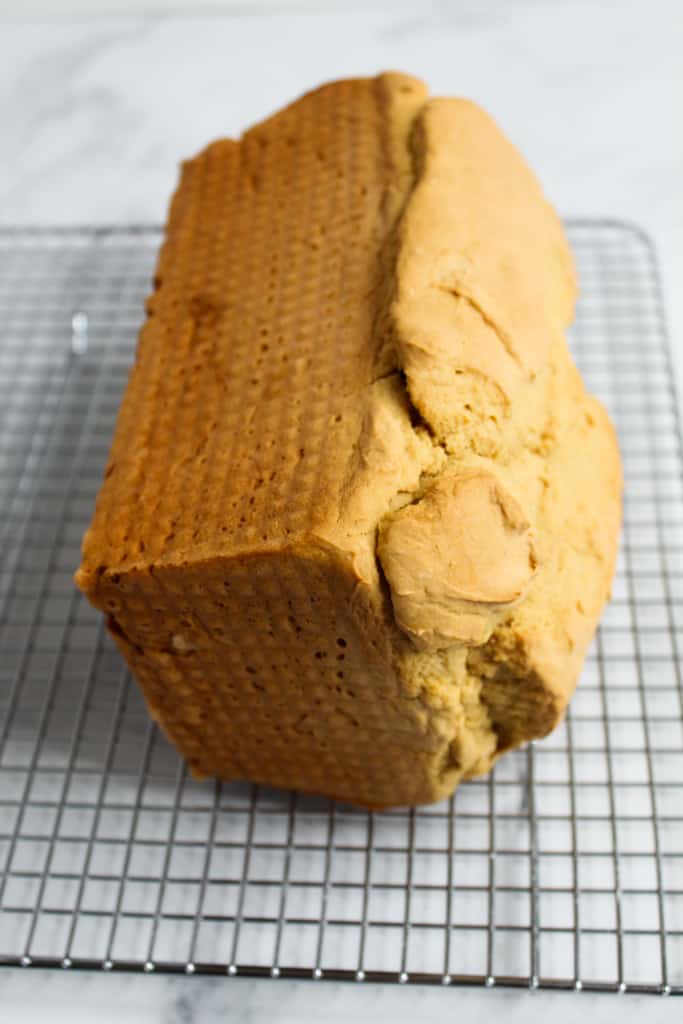 Pro tip for cooling breads: Instead of placing the bread upright to finish cooling, turn the bread on its side to cool for 15 minutes. Then flip it on its other side to cool for another 15 minutes. As to why this works? Well, the cooling process is important for gluten free breads. This method seems to balance out the baked loaf and keep it nice and tall.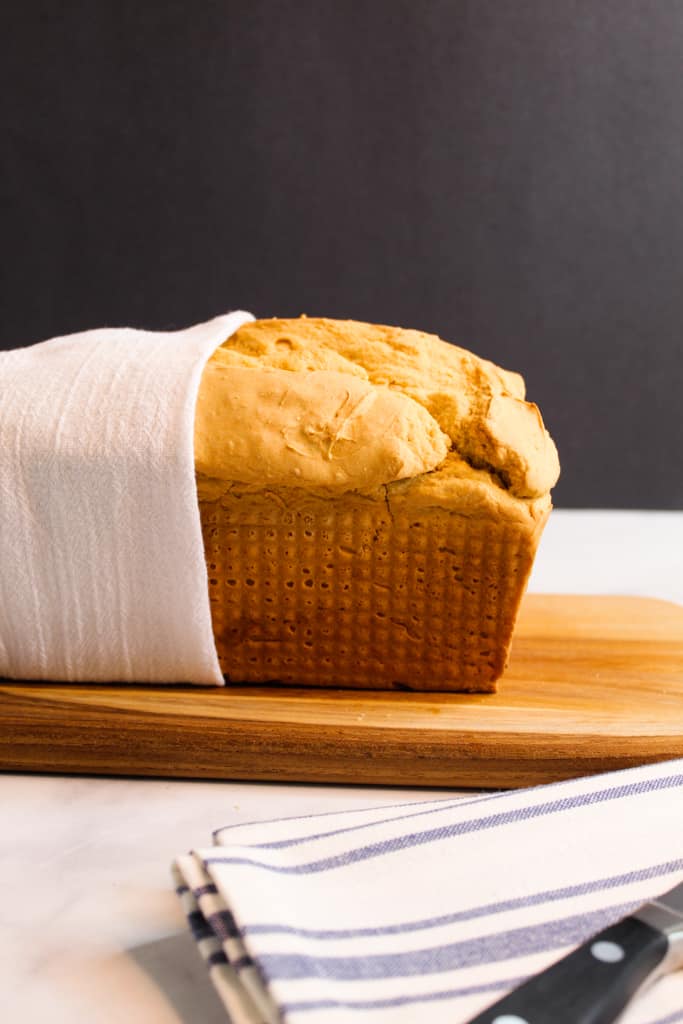 If you enjoy this recipe, will you give it a share or two ?
Recipe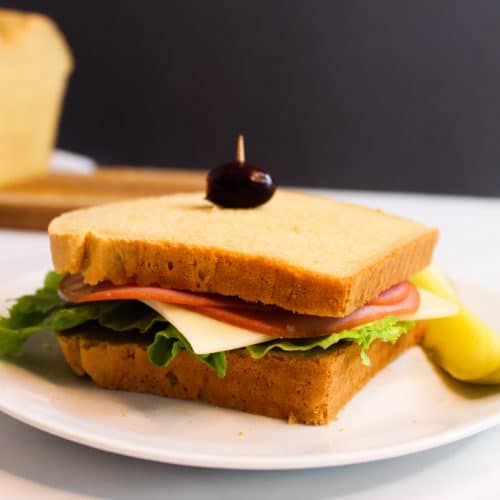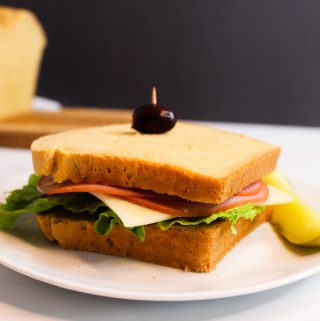 Best Ever Gluten Free Sandwich Bread
If you've been searching for an amazing gluten free sandwich bread that not only makes mouthwatering sandwiches, but you could also eat just as-is, then this is your loaf! Bonus that it's dairy free and refined sugar free too!
Print
Pin
Rate
Ingredients
420

grams

gluten free flour blend

about 3 cups

2

Tablespoons

Swerve brown sugar

or use regular brown sugar

2

teaspoons

instant yeast

also called bread machine yeast

1 ¼

teaspoons

salt

1 ½

teaspoons

xanthan gum

1

cup

almond milk

4

Tablespoons

plant based butter

softened

1

Tablespoon

molasses

3

large eggs
Instructions
Grease an 8" by 4½" loaf pan with butter. Set aside.

Place the flour blend, brown sugar, yeast, salt, and xanthan gum in the bowl of your stand mixer. Use the paddle attachment and mix on low speed until combined (about 30 seconds).

Drizzle in the milk, beating all the time on low speed; the mixture will be crumbly at first, but once all the milk is added, it'll come together.

Add the softened butter and beat until thoroughly blended.

Add in the molasses. At this point, the batter will look thick, much like a very thick waffle batter.

Beat in the eggs one at a time, beating each in thoroughly before adding the next. Scrape the bottom and sides of the bowl as you add them. Mix it at low speed to incorporate and then beat at medium speed for 2 minutes. The batter will become very smooth and thick, but not even come close to forming a ball.

Scrape the dough into the baking pan. Smooth it level using a spatula. Set in a draft-free place to rise for 30 minutes to 1 hour. The loaf should barely crown above the rim of the 8″ x 4 ½″ pan.

When 10 minutes are left in the rising time, preheat the oven to 350°F.

Bake the bread for 50 minutes, until golden brown. Check for doneness with a toothpick.

Remove the bread from the oven and let it cool in the pan on a wire rack for 5 minutes.

Then turn it out of the pan and lay it on its side to cool for 15 minutes. Flip to the other side and cool an additional 15 minutes.

Slice with a serrated knife when completely cooled.
Notes
Mix the eggs one at a time into the batter.
Place the pan in a draft-free place to rise - rise time will vary between 30 minutes and an 1 hour. As soon as the bread hits the rim of the pan, it's ready to bake.
After baking, cool the bread in the pan for 5 minutes. Then remove it and allow it to cool using the 'side cooling method'. 15  minutes on each side.
Use a sharp, serrated knife to slice the bread into thin slices.
Store in a plastic bag and freeze for longer storage.
Nutrition
Calories:
130
kcal
|
Carbohydrates:
27
g
|
Protein:
5
g
|
Fat:
2
g
|
Saturated Fat:
1
g
|
Cholesterol:
41
mg
|
Sodium:
260
mg
|
Potassium:
41
mg
|
Fiber:
4
g
|
Sugar:
2
g
|
Vitamin A:
59
IU
|
Calcium:
54
mg
|
Iron:
1
mg
Want more gluten free bread recipes? Check out these next!