The title of this recipe sure sets the bar high, doesn't it? Well, I promise, it will live up to its name! This Amazing Gluten Free White Bread Without Xanthan Gum is everything you've been wanting in a gluten free bread and more. It takes the qualities like texture, aroma, and appearance and combines that with a bread that's actually delicious to eat as well. And with no xanthan gum!
It doesn't get any better than that.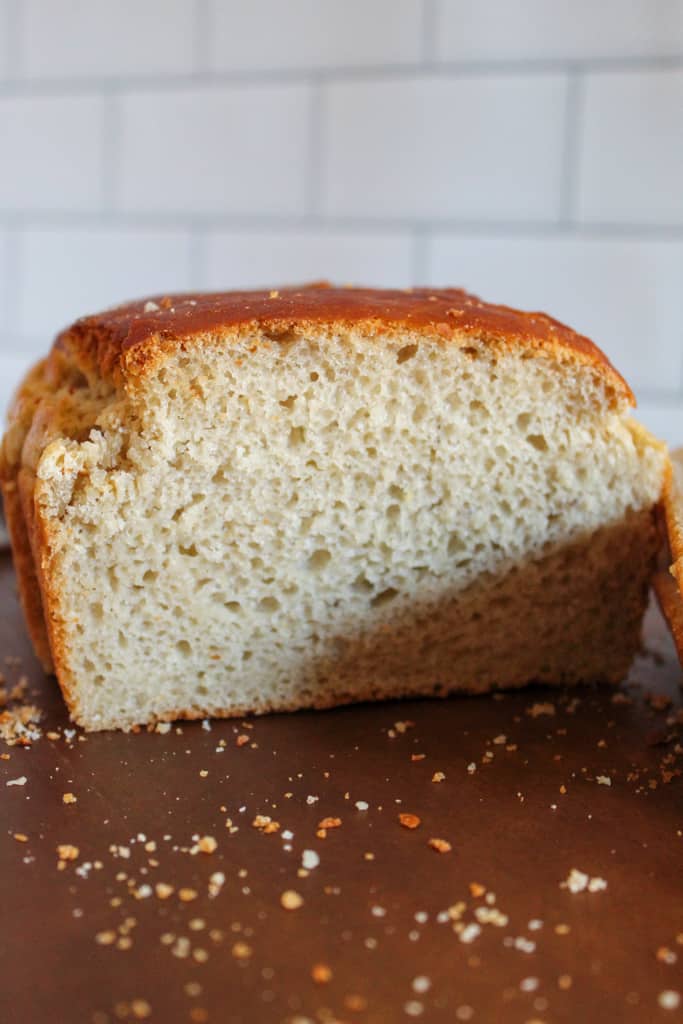 And even better... scroll down and have a look at the ingredients…
There is nothing in it that will bankrupt your pocketbook! Double win!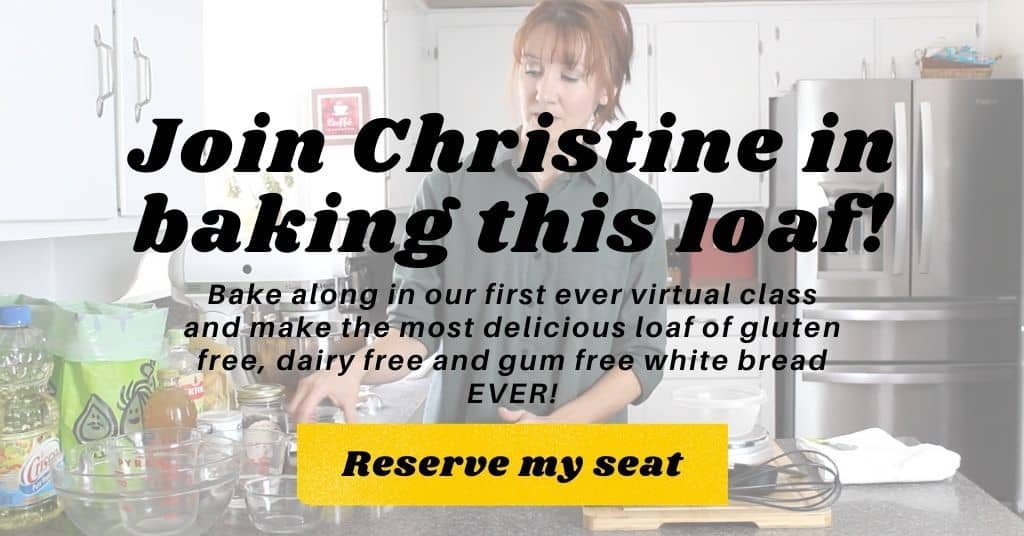 Tips for making the most amazing gluten free white bread recipe
Besides this being one of the tastiest gluten free breads ever, it comes together really easily. Slice it sandwich thin like this sandwich bread, or thick, hearty slices (like this French bread), either way works for a perfect sandwich! Below are a few easy tips for a delicious loaf every time...
Tip #1 - Prep your space and 9" x 5" baking pan. AND, allow the ingredients to come to room temperature.
Tip #2 – Use the flours in the recipe. They create a lovely loaf of amazing bread because the fiber and protein content of these particular flours work perfectly together.
Tip #3 - Proof the yeast. Is that yeast really fresh and active? Proofing it before adding the rest of the ingredients not only gets that lovely bread-yeast smell flowing throughout the kitchen, but it also reveals if the yeast is fit to use.
Tip #4 - Use golden flax seeds. You can find them online and at Whole Foods, labeled golden flax seed meal. The texture is different from regular ground flax seed – the golden variety seems finer.
Here's another recipe that uses golden flax seeds: Gluten Free Outback Steakhouse Bread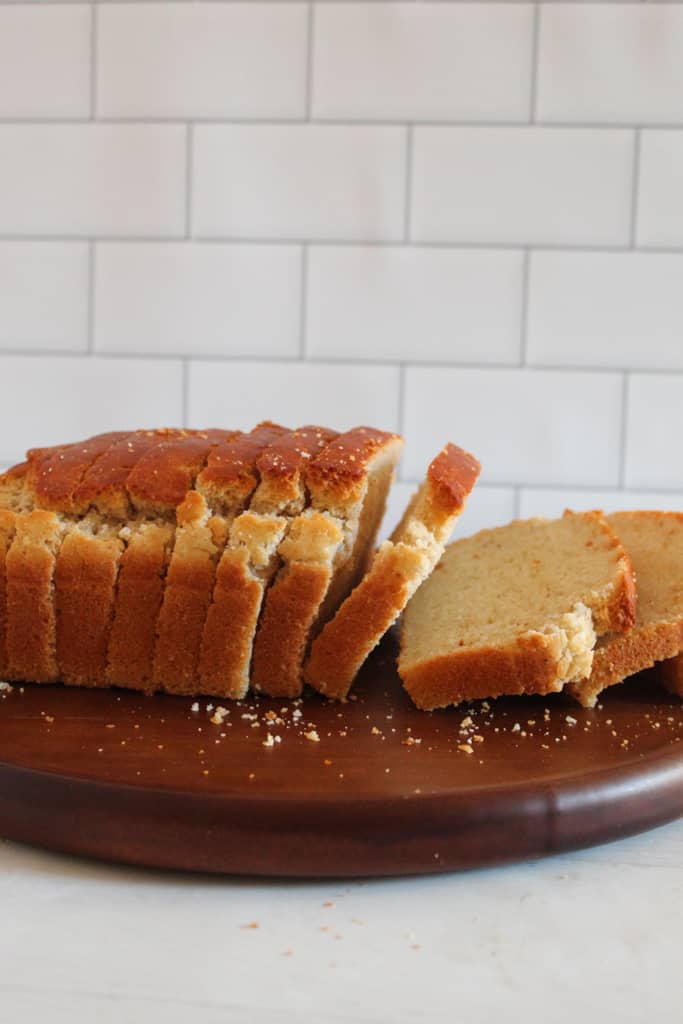 Tip #5 - Whip the egg whites until stiff peaks form. See that lovely golden brown crust and delicious interior you could just sink your teeth into? That's the lighter than air properties of whipped egg whites.
Tip #6 - Use a large bowl and add in the rest of the ingredients. The batter will look more like thin cake batter than bread dough.
Tip #7 - Add the batter to the pan and let it rise. The pan will be quite full after the 30 minute rise time. Place it into the oven just before it hits the rim. You should be able to grab the pan without getting batter all over your hands.
How to make this bread
Ingredients & substitutions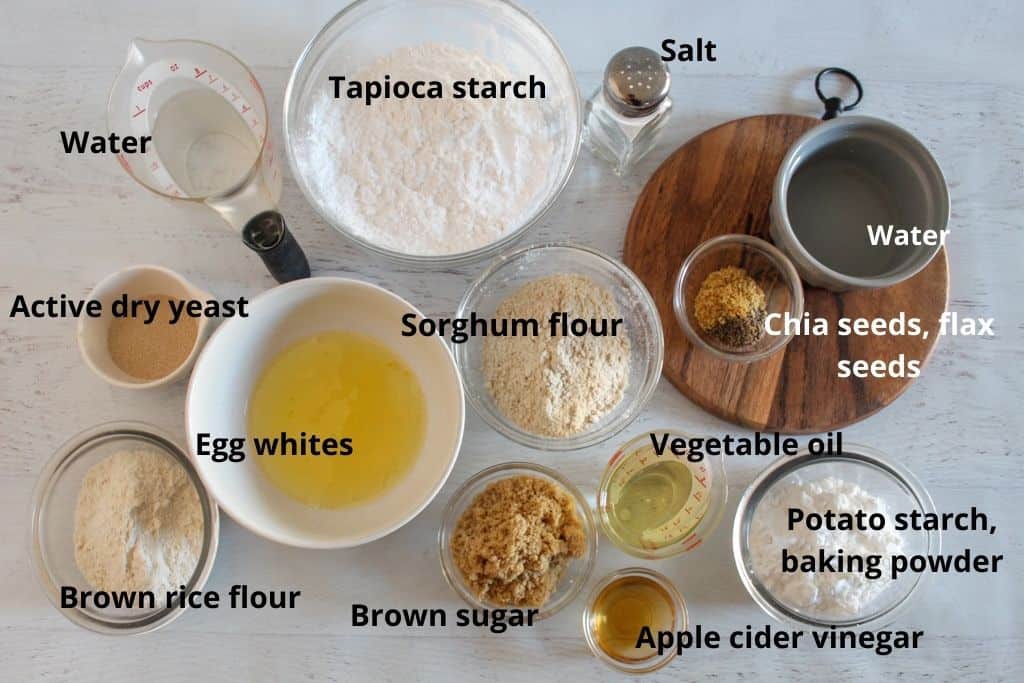 Since brands of flours and starches are always a hot topic, here are the specific brands I use and recommend and then an alternative if a substitute will work equally well. (I use Nuts.com flours and starches for almost everything, the exception is this Buckwheat bread / flour)
Tapioca starch - Tapioca starch and tapioca flour are the exact same thing, the names are interchangeable. I recommend the 5 pound bag from Nuts.com as it is a great price and will last you a very long time - in fact, find flour storage tips here!
Sorghum flour - I would not recommend substituting the sorghum flour as it has a distinct protein and fiber content. And I haven't tested another flour. So unless I've tested it, I won't recommend it.
Potato starch - Starches are an interesting ingredient. They are an important part of gluten free baking (as I talk about in my baking class) but a lot of the time, they can be substituted pretty easily. Cornstarch or more tapioca starch would also work well.
Brown rice flour - I use the brown rice flour from Nuts.com because it works great and the price is right. I haven't tested out a substitute for this flour so I wouldn't recommend it.
Egg whites - I've gotten a lot of questions about these egg whites over the years (this recipe is over 5 years old). The only thing that I would recommend for the egg whites is aquafaba. It's not an exact match as far as flavor and taste, but it works well as a substitute for the egg whites.
Brown sugar - For the brown sugar, I recommend Imperial brown sugar as it never fails me in delicious flavor or quality. As a substitute for the brown sugar, I would recommend Swerve brown sugar.
Vegetable oil / olive oil - I use these interchangeably. In my baking masterclass I use a combination of both olive oil and vegetable oil, but I've also tested just the vegetable oil - either way works just fine in this recipe.
Active dry yeast - There are different types of yeast - you may see bread machine yeast, instant yeast, quick rise yeast... but the one for this recipe is active dry yeast. And I recommend the Fleischmann's brand as it never disappoints in quality and a beautiful rise.
Salt - I've had readers ask me if this is an essential ingredient or what they can substitute for it. Since I haven't found a salt alternative that tastes great in this bread, if you're following a low sodium diet, then the salt can be cut down to ¼ teaspoon. I wouldn't advise completely eliminating it but it can be cut down for diet reasons.
Apple cider vinegar - This is another ingredient I get a lot of questions on. Apple cider vinegar is important for helping with the rise. It combines with the baking powder to activate and contribute to a nice tall rise in the bread. There is no substitute for this. White vinegar is not the same and will lend a hint of vinegar to the bread whereas apple cider vinegar won't.
Chia seeds - Chia seeds and flax seeds are important because they are the xanthan gum replacements. Use ground chia seeds for the best results (ground seeds are smaller so you won't bite into a seed!). I use the 365 brand of whole seeds and then ground them with a coffee grinder to a fine ground.
Flax seeds - I use and recommend the Bob's Red Mill brand of golden flax seeds. I would suggest storing them in the refrigerator (same for the chia seeds) to prolong the life of them.
Baking powder - The baking powder helps with that gorgeous rise. I use Clabber Girl as it's a gluten free product I trust. I would not recommend substituting the baking powder.
Mixing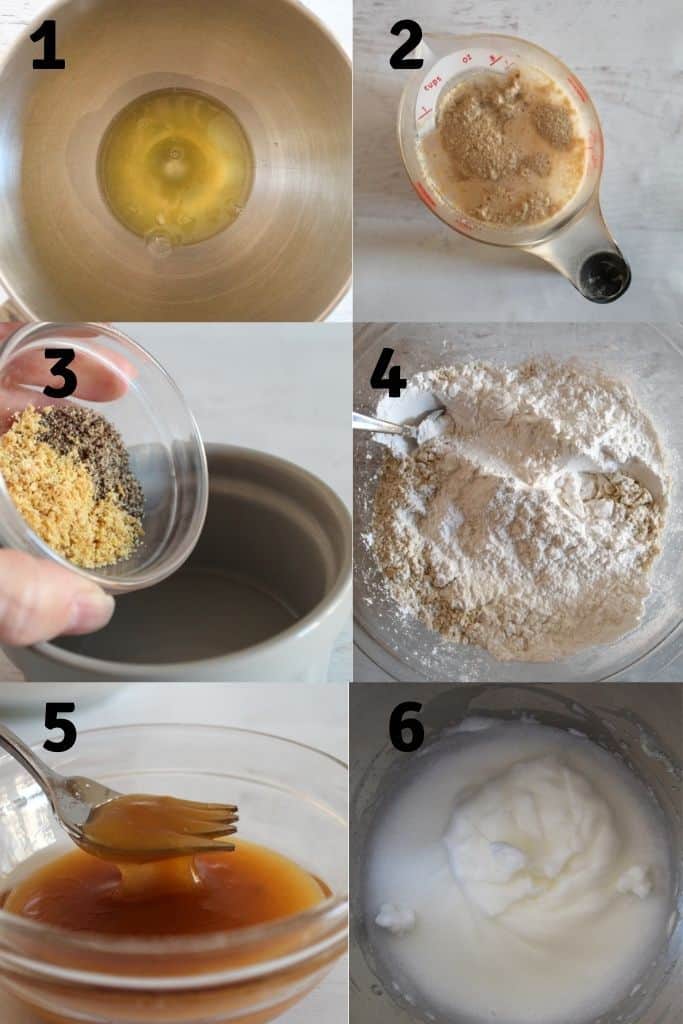 Mixing this bread batter is best done by breaking everything down into small steps... if you're more of a hands-on, visual person, we make this in my baking class so that might be worth checking out here.
The first thing is to separate the eggs (image 1), eggs are easiest to separate when they're cold so do this step first, then set the bowl aside to warm up while prepping the remaining ingredients. Steps 2-5 show preparation of the yeast, flour and brown sugar mixtures.
Image 6 is the egg whites after they're whipped.
Note on whipping egg whites: This process can take anywhere from 5 - 8 minutes. Be patient and let the machine do the work. They are done when you see stiff peaks.
Making the bread dough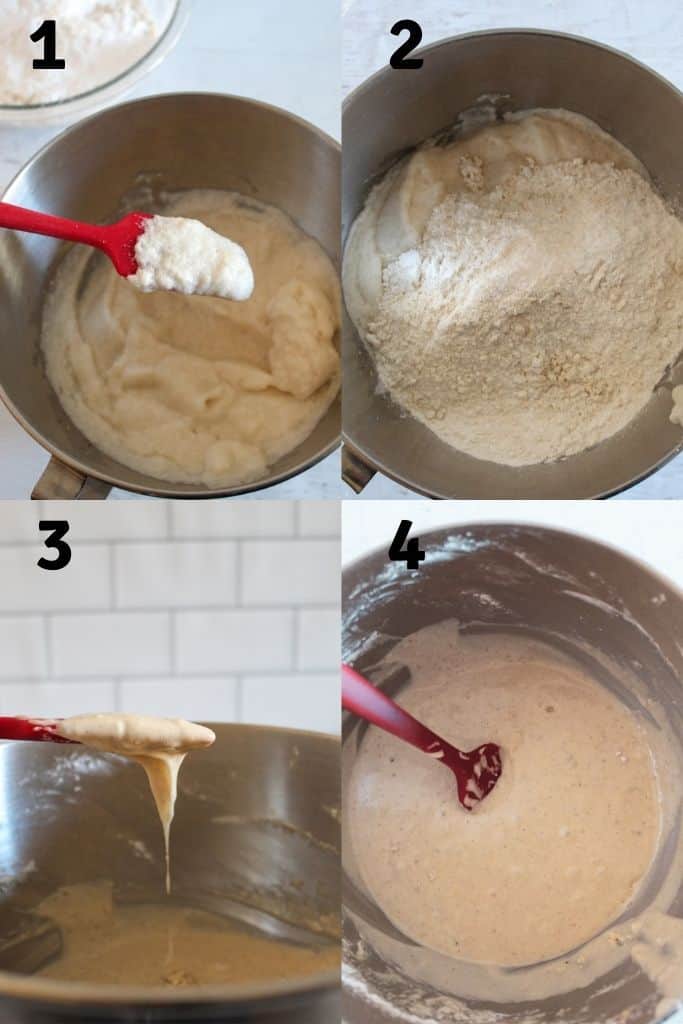 Image 1 above is what the batter / bread dough will look like after adding the yeast/brown sugar mixture to the whipped egg whites. Then you'll add the flour to this mixture (step 2). Once you mix that for 2 minutes, you'll end up with batter that looks like image 3. Image 4 is an overhead view of it - the batter is thin. Not thick like bread dough. But that's how it's supposed to be.
Baking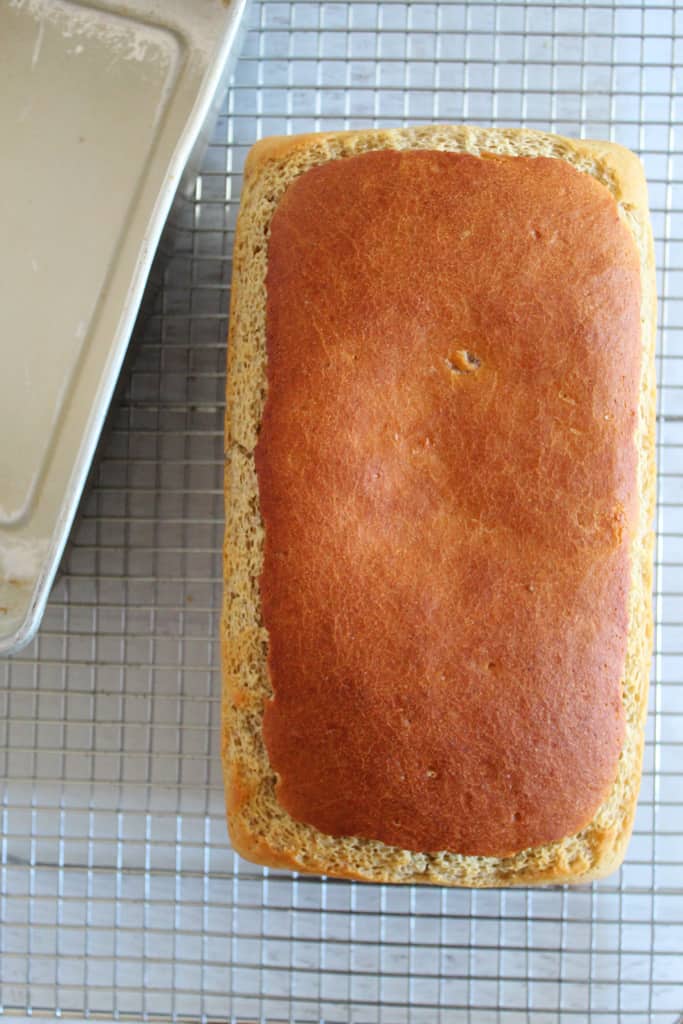 This is a fully baked loaf of bread - you'll want to use an instant read thermometer to be sure the temperature reaches 205 F. Once it does, remove the pan from the oven and let it cool for 5 minutes on a wire rack before turning it out of the pan to finish cooling.
FAQ's about this bread
Can I use different flours in this recipe?
I would not recommend it - the flours have been tested and retested and this combination works best!
Can I substitute the egg whites?
Yes - aquafaba is an acceptable substitute.
How do I store this bread?
The best to store this loaf is by slicing the bread (once it's cooled completely) and place pieces of wax paper in between each slice, then freeze the entire loaf. Unfortunately, gluten free bread goes stale much faster than other breads.
My batter is really thin - is this correct?
Yes! Resist the urge to add more flour or starch, the batter is supposed to be thin.
Other recipes you may like!
Are you ready for the best gluten free white bread recipe ever?! Here it is!
Updated 12/19/2018, then again 1/2022.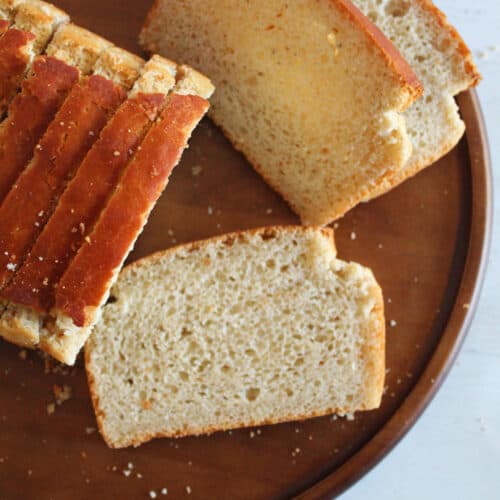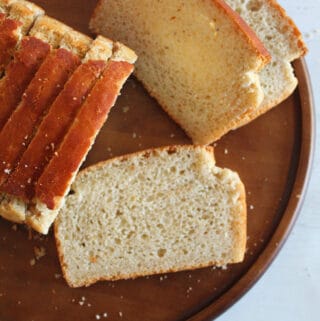 Amazing Gluten Free White Bread Without Xanthan Gum
A delicious, tender bread and a golden brown crust - it can only mean only thing - gluten free white bread without xanthan gum!
Print
Pin
Rate
Ingredients
Brown sugar mixture
55

grams

brown sugar

about ¼ cup

2

Tablespoons

olive oil

2

Tablespoons

vegetable oil

1

Tablespoon

apple cider vinegar
Yeast mixture
¾

cup

warm water

for mixing the yeast

1 ½

Tablespoons

active dry yeast
Chia seed mixture
4

teaspoons

hot water

1

teaspoon

chia seeds

1

teaspoon

golden flax seeds
Flour mixture
175

grams

tapioca flour

about 1 ½ cups

65

grams

sorghum flour

about ½ cup

70

grams

brown rice flour

about ½ cup

80

grams

potato starch

about ½ cup

¾

teaspoon

salt

½

teaspoon

baking powder
Instructions
In a large bowl, separate the egg whites. Set aside to warm to room temperature while preparing the remaining ingredients.

In a small bowl, mix together the brown sugar, oils and vinegar. Set aside.

In a medium bowl, mix together the warm water and yeast. Set the timer for 2 minutes to allow it to proof.

In the meantime, in a small bowl, mix together the hot water and chia and flax seeds. Set it aside (it will become a slurry mixture within a few minutes).

Add the brown sugar mix to the yeast, mix and set aside.

In a medium bowl, mix together the flours, starch, salt and baking powder. Set aside.

Whip the egg whites for 5-8 minutes, until stiff peaks form.

Slowly pour in the yeast – brown sugar mixture and add the chia slurry. Beat the mixture on medium speed for 1 minute.

Add the flour mixture and beat for 3 minutes. At this point the 'bread dough' will not resemble bread dough at all. It will be thin. 

Grease, or spray with cooking spray, a 9" x 5" baking pan generously. Set aside.

Pour batter into the prepared pan.

Set the pan in a warm place to rise. Let rise for 30 minutes. It will still be well below the rim of the pan.

Preheat the oven to 350 F. Bake for 45 minutes or until an instant read thermometer reads 205 F and the crust is golden brown.

Let the bread cool in the pan on a wire rack for 10 minutes.

Remove the bread from the pan and lay the loaf on its side to cool for 15 minutes. Turn to the other side and cool for another 15 minutes.

Turn the bread upright and allow the bread to finish cooling.
Notes
Use the flours called for in the recipe.
Proof the yeast before adding to the batter.
Whip the egg whites until stiff peaks form. (About 5-8 minutes on high)
Batter will be thin when poured into pan.
Let rise for no more than 30 minutes.
Let cool completely before slicing.
Nutrition
Calories:
190
kcal
|
Carbohydrates:
33
g
|
Protein:
3
g
|
Fat:
5
g
|
Saturated Fat:
2
g
|
Sodium:
139
mg
|
Potassium:
164
mg
|
Fiber:
1
g
|
Sugar:
4
g
|
Vitamin C:
0.2
mg
|
Calcium:
21
mg
|
Iron:
0.7
mg