Flour is one of the foundations of baking. And if you're like most of us, you never give a second thought to how long flour lasts. But if you accidentally used an expired or rancid batch of flour, you and your taste testers will know immediately that something doesn't taste right.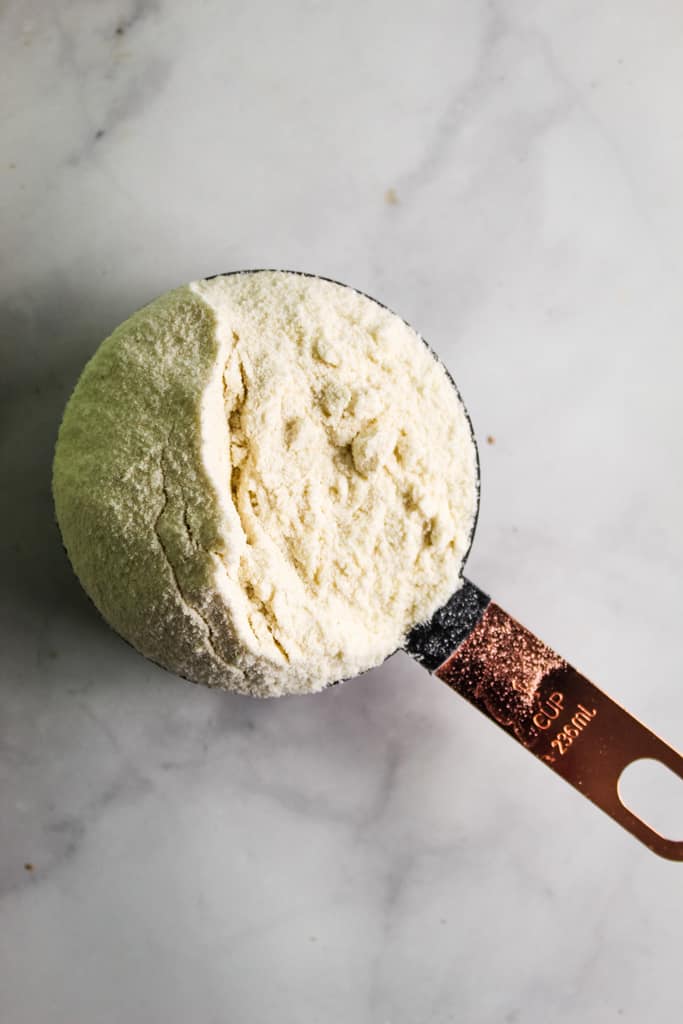 Aside from that, flour that is past it's shelf life, doesn't produce the best breads, muffins and cakes. In order to avoid this baking flop from happening to you - it's important to note your the shelf life of flour, how to store flour so it stays fresh and the signs of spoilage. 
Find more gluten free baking tips on xanthan gum replacements, brown rice flour alternatives, and even arrowroot flour substitutes.
Jump to:
How long does flour last?
The short answer is typically, flour can last from 3-8 months. Of course, this will vary depending on several factors, such as:
Storage container
Storage area temperature
The type of flour
Flour storage containers & storage area temperature
When it comes to flour storage, you have a few options:
An air-tight storage canister works very well for keeping bugs out plus, they typically have a wide mouth, which makes it convenient for measuring.
A large plastic bag is another good option but only if it seals well. Make sure the zipper or closure seals well and check the bag for holes. Plastic bags can be prone to holes.
Tin storage containers are another option. If opting for this container, make sure the lid has a seal to make it air-tight.
Usually, a cool and dry pantry works well in preserving your container of flour's freshness. But from my experience - placing your flour supply inside the fridge or freezer is a good move if you have a lot of flour and are not planning on using it right away.
Types of flour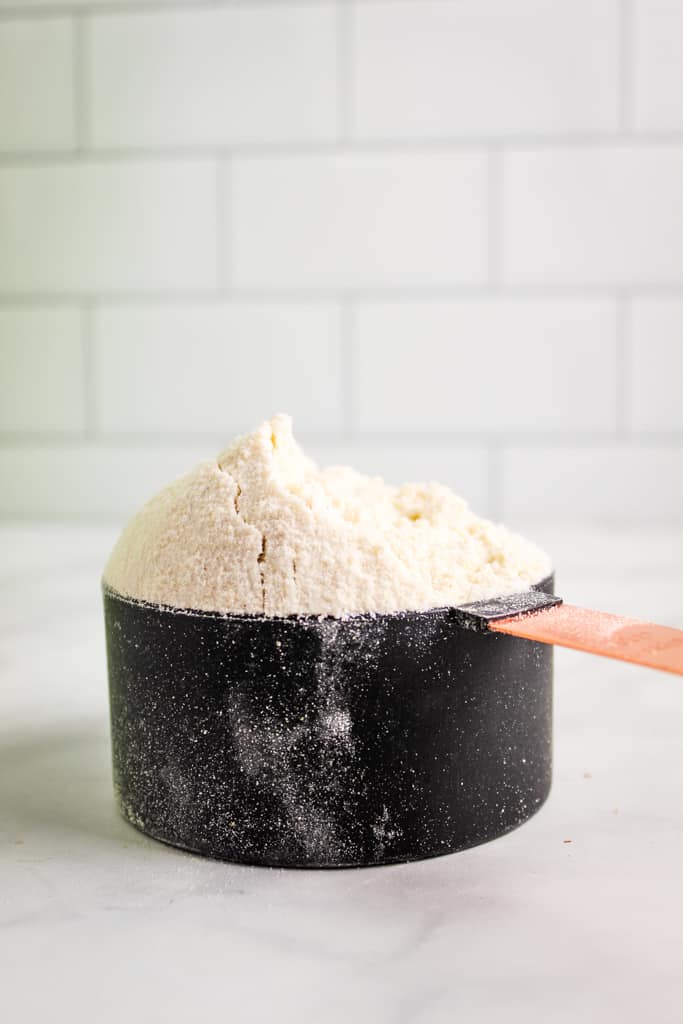 Flour is a product of milling grains, legumes, vegetables, nuts, or seeds, specifically rice, barley, maize, wheat, or rye. Whereas ground almond, coconut, tapioca, or potato makes gluten-free flours.
Wheat flour is the most popular type of flour. Included in this category are all-purpose flour, gluten flour, self-rising flour, among others. 
Some of your gluten-free flour options include almond, coconut, rice, potato, tapioca flours, and gluten-free bread mixes. Gluten-free bread mixes are usually a combination of flours from different plant or grain sources.
In general, whole grain and nut flours turn rancid faster than other types of flour.  
Why?
Because whole grain and nut flours contain higher amounts of natural fats or oils. And when exposed to moisture and air, your flour becomes rancid. However, no need to worry! In the next section, we'll tackle a few tricks you can do to extend their shelf life. 
Chart on shelf life of flour
Here's a general guideline of how long each type of flour usually lasts when you store them in the pantry, fridge, or freezer.
| Type of Flour | Shelf Life | | |
| --- | --- | --- | --- |
| | Pantry (50 to 70°F) | Fridge (at or below 40°F) | Freezer (0°F) |
| Amaranth | Two months | 2-3 months | Four months |
| Barley | Three months | 2-3 months | Six months |
| Brown rice | Three months | 4-5 months | Six months |
| Buckwheat | One month | One month | Two months |
| GF flour mixes | 1-3 months | 2-3 months | 2-3 months |
| Millet | One month | 1-2 months | Two months |
| Oats | Two months | 2-3 months | Two months |
| Quinoa | Two months | 2-3 months | Four months |
| Rye | Three months | 4-5 months | Six months |
| Sorghum | Two months | 3-4 months | Four months |
| Teff | Two months | 3-4 months | Four months |
| Almond | Three months | Six months | Six months |
| Coconut | Three months | Six months | Six months |
| White rice | Three months | 4-5 months | Six months |
| Starches | One year | One year | Two years |
How to properly store your flour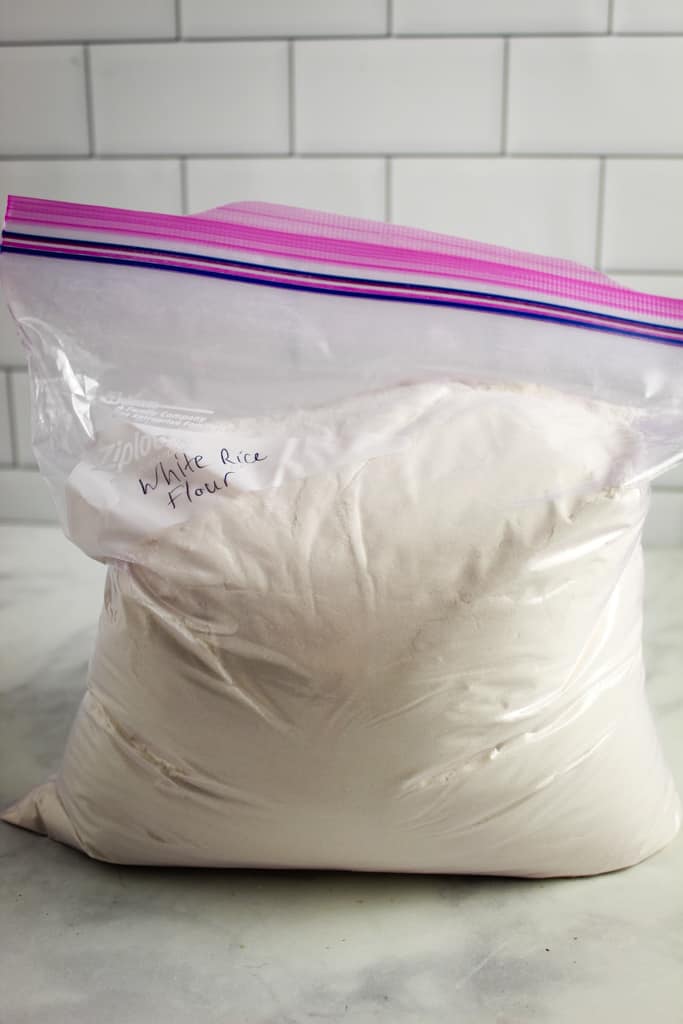 If you found yourself with a flour supply that's more than you can utilize for your baking day, you can put them in an airtight (and moisture-proof) container at room temperature. 
Just keep in mind that you'll need to use the proper container for the storage method... freezing will require something 'freezer safe'.
To help estimate the space you'll need when storing flour, take note of this list for pounds to cups of flour: 
1 pound (between 454 -520 g) flour = about 4 cups
5 pounds flour = about 20 cups
10 pounds flour = about 40 cups
It's also a good practice to put labels on the individual flour containers, indicating best by dates and the type of flour. Also, keep in mind that you shouldn't mix old with new flour. 
Note on keeping flour fresh
A bay leaf added to the flour container will help keep bugs and insects away, since bay leaves are a natural insect repellent.
Signs that your flour has gone bad…
The bottom line is... if you notice your flour has a rancid smell, change in color, mold growth, or small bugs, then, by all means, discard it!
Tips when handling flour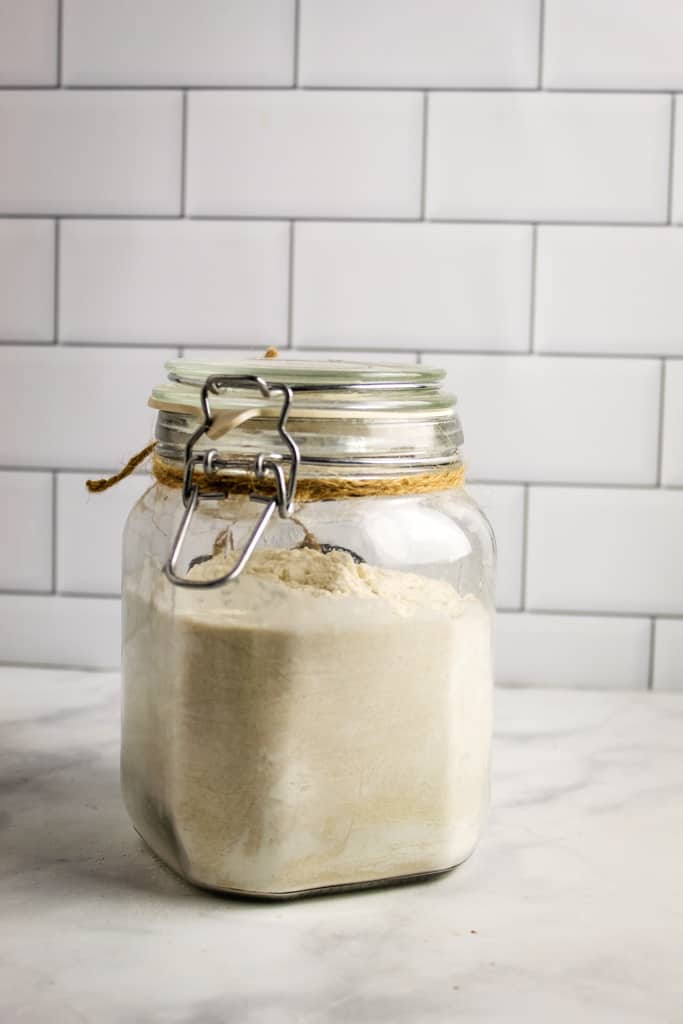 Keep in mind, flours are raw. And they are from milled grains or nuts that are grown in soil. So, there's a risk of exposure to harmful bacteria and pathogens such as Salmonella and Escherichia coli (E. coli).
Here are a couple of reminders when handling flour: 
Follow package instructions, especially cooking time and temperature 
Only refrigerate cookie and pastry dough according to the manufacturer's directions (appropriate temperature etc.) 
Have separate storage for your raw and ready-to-eat food 
Wash your hands with soap and water after handling flour or pastry dough 
Wash utensils, baking pans, workspace, etc. with warm soapy water 
Don't use raw cookie dough in ice cream or milkshakes 
Throw away recalled flour
Don't let your kids play with raw dough 
Storing flour FAQs
Can expired flour make you sick?
Don't panic yet. Usually, nothing happens when you accidentally incorporated flour that has gone bad in your baked treats. However, if the flour contains mycotoxins, your treats can make you feel sick. Consult your doctor if this is the case.
Is it OK to use expired flour?
No…it's not okay to use expired flour. An expired flour has a musty, sour, or rancid odor due to its natural oils reacting with oxygen, discolored, sometimes has molds and bugs (weevils).
Can you store flour in ziplock bags?
You can store flour in a ziplock bag or any airtight and moisture-proof container. Then, place them in a cool, dry pantry, fridge, or freezer, depending on how long you want them to last. Opt for the freezer for more extended storage.
What can you do with expired flour?
Be creative. There are tons of things you can do with expired flour. To start, here are some things you can do with expired flour: 
DIY glue and paste for handmade crafts such as collage and paper mache 
Cleaning agent for stainless steel appliances, copper, and a deck of cards 
DIY organic repellant for insects such as ants
DIY fabric starch
What does rancid flour taste like?
Instead of the usual moisture, sweetness, and feel and taste of fresh bread or cookies, you'll be greeted with a sour or musty taste. To avoid this, properly store your flour or smell it before starting your baking spree.
Can I put flour in the compost bin?
You can put expired flour in your compost bin for your gardening needs. Make sure, though, that it is not infested with weevils or bugs. If the flour has bugs, put the flour in the freezer for at least 24 hours before finally putting it on your compost bin.
More help on flours!