An essential part of baking is measuring the ingredients correctly. Unlike cooking, where dashes and pinches are more forgiving, baking is more of a science where exactness matters. This is especially true when it comes to both gluten free baking and measuring flour. Believe it or not, there is a super accurate and a not-so-accurate way to measure flour. In this post, I'll tell you everything you need to know about how to measure gluten free flour.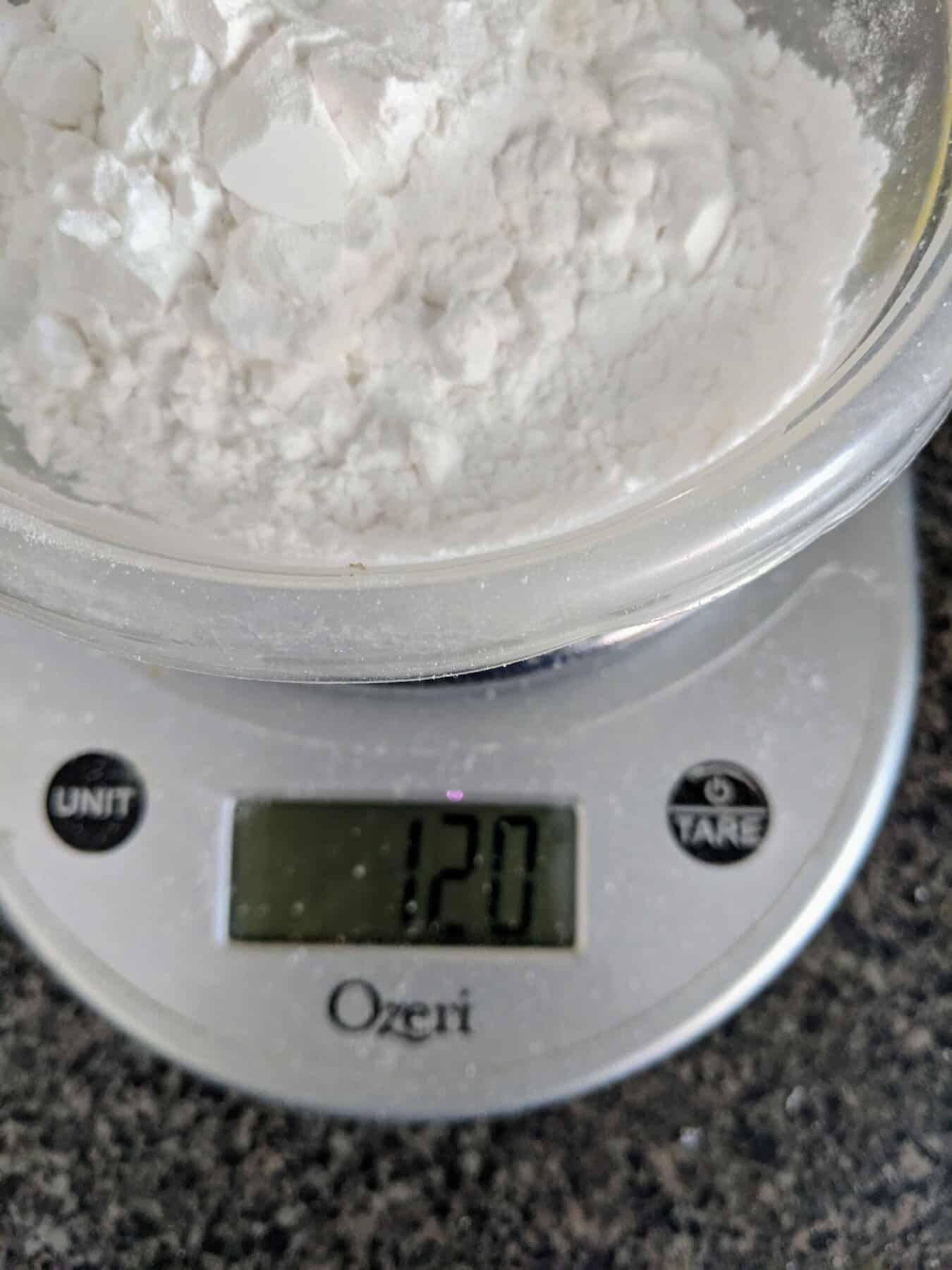 The most accurate way to measure flour is by weighing it. Since flour is a fine powder, it can be compressed down with even a little force. What may look like one cup of flour when you pack it into a cup can often end up being way more than you intended to measure. The only way to truly know you're measuring the right amount of flour is to weigh it. So let's talk about how exactly you can do that!
Looking for more gluten free flour resources? Check out this Guide to Gluten Free Flour Substitutes.
Jump to:
Why it's important to measure flour accurately
As I mentioned above, it's alarmingly easy to measure far too much flour with a measuring cup. But why is too much flour a bad thing? Well, using the wrong amount of flour in any recipe can greatly impact the outcome of the baked good. Use too much flour and you may have a dry, crumbly mess on your hands. Use too little flour and you may end up with a wet blob that has no structure, doesn't rise properly and turns out gummy.
It's especially important to accurately measure flour in gluten free baking, since it often requires a combination of different flours and starches. Each flour has a unique texture and weight, whether it be rice flour, almond flour, tapioca flour, or another option. Weighing gluten free flour out to measure the correct amount is crucial for the best result.
How to measure gluten free flour with a digital scale
The preferred method of measuring flour is with a scale. If you don't already have a digital scale, getting one will take your baking to the next level. Most recipes should list a weight next to ingredients that can be weighed out. If there's not one you can look up a conversion to find out, for example, how many grams are in a cup (and be sure to specify what type of gluten free flour).
Once you know how many grams of flour you need, simply place a bowl on the scale, press zero so that the scale isn't measuring the weight of the bowl, and slowly pour flour into the bowl until the scale reads the amount you need.
This goes for starch as well. Both flours and starches should be weighed to ensure you always measure the same amount of flour, starch or sugar every time you make a recipe.
Note on measuring sugars
I recommend weighing sugars for both ease and accuracy.
1 cup of granulated sugar: 200 grams
1 cup brown sugar: 210 grams
Weights of common gluten free flours
| | | |
| --- | --- | --- |
| Gluten free flour mix | 1 cup | 130 grams |
| Tapioca starch | 1 cup | 120 grams |
| White rice flour | 1 cup | 175 grams |
| Brown rice flour | 1 cup | 155 grams |
| Almond flour | 1 cup | 100 grams |
| Oat flour | 1 cup | 120 grams |
| Buckwheat flour | 1 cup | 160 grams |
| Sorghum flour | 1 cup | 125 grams |
| Coconut flour | 1 cup | 110 grams |
| Cornstarch | 1 cup | 135 grams |
How to measure gluten free flour with cups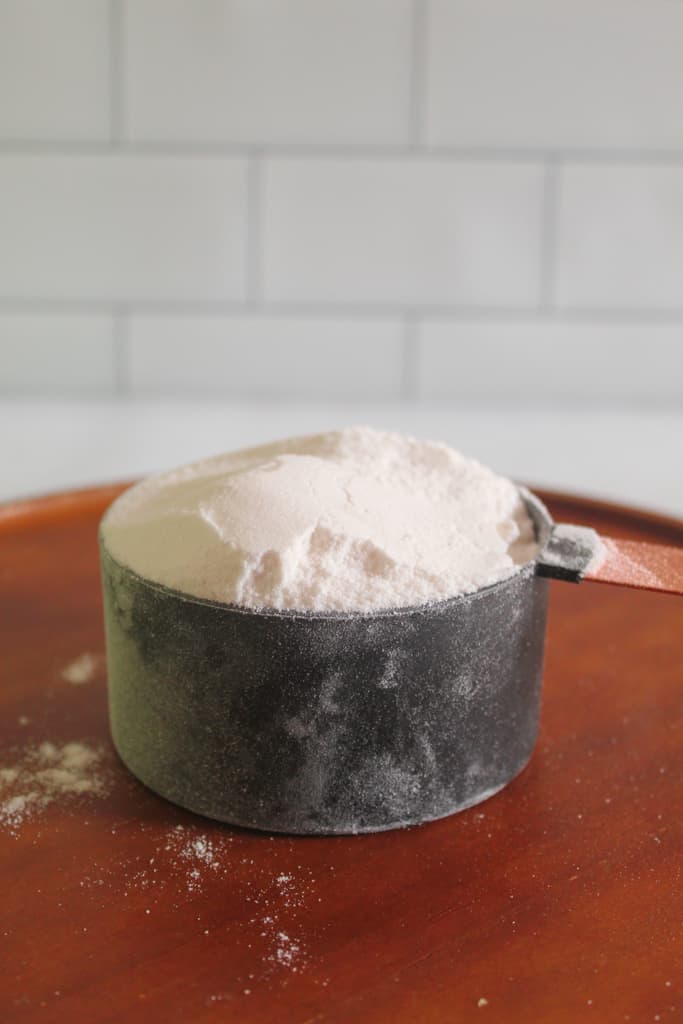 Although this isn't the preferred method since it can be less accurate, there is a certain way to measure flour with cups. The "spoon and level" method is better than just scooping your measuring cup into the flour. To follow this method, first "fluff" the flour in whatever container it is stored in by stirring it with a whisk or fork. When the flour sits for a while it becomes pretty clumped together.
Use a spoon to transfer the flour to the measuring cup. Spoon flour into the cup (not pressing it in or packing it down at all) until it's slightly over the top of the cup. Then level it by moving the back of a knife across the top of the cup and letting the extra flour fall back into your flour container. In terms of accuracy, this method falls in between weighing and scooping with a cup.
Flour measuring FAQs
What is the right way to measure flour?
The most accurate way to measure flour is to weigh it. Weighing it to the exact number of grams you need for a recipe will help you use the same amount of flour each time. It's the only way to know if you're using the precise amount of flour a recipe calls for!
Why shouldn't you pack a dry measuring cup down into the flour container?
Scooping a measuring cup and packing it with flour may make it seem like you've measured as much as you need, but since flour is so fine, it packs down easily. This means you can fit much more flour in a cup than you need. Using too much flour can cause your baked goods to be dry and crumbly.
How much does gluten free flour weigh?
It depends on the type of gluten free flour. Reference the table above for exact measurements of some common flours and starches. There are so many different kinds, and they each have a unique set of characteristics between their texture, weight, fiber content, and protein content. When in doubt, it's always best to research each specific flour you're wondering about. Here's a Guide to Gluten Free Flour Substitutions that covers some of these different attributes.