Almond flour is easily one of the most common flours used in gluten free baking today. It has gained a lot of popularity due to its versatility and ability to provide the indulgence and satisfaction of baked goods that are traditionally made with wheat flour, but without the gluten. Because almond flour isn't always a viable option for everyone, I have put together a list of the very best almond flour alternatives for gluten free baking.
With so many things to consider when baking gluten free, swapping out the flour may not be as simple as it seems. It's important to keep in mind that not all flours are created equal. In baking, the flour contributes greatly to the overall taste and texture of the baked good, so any variation can make a significant difference in the final result.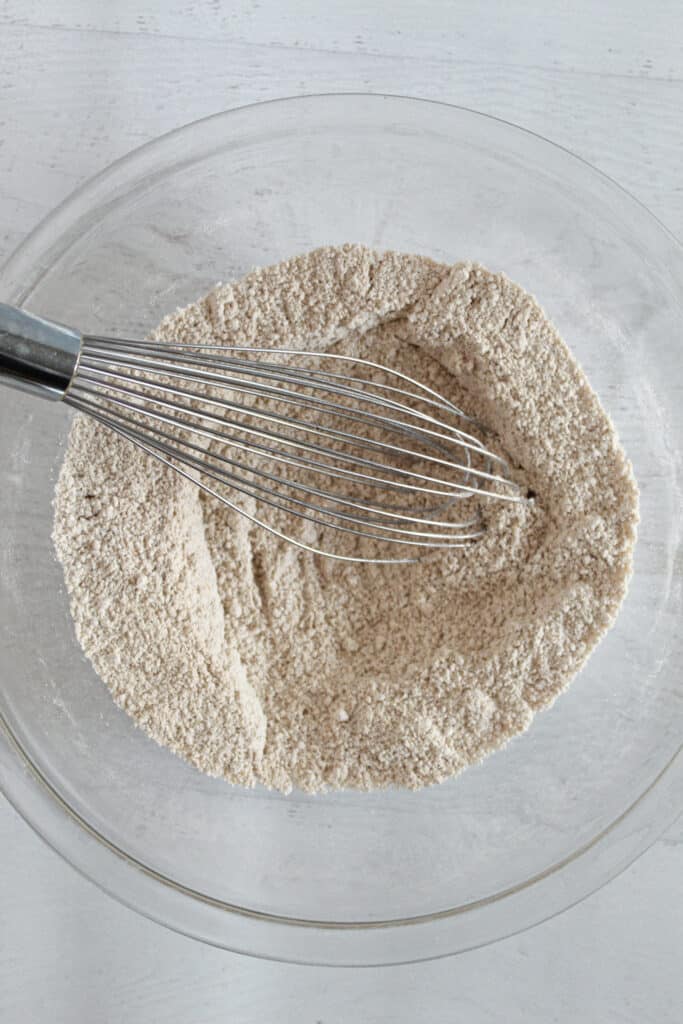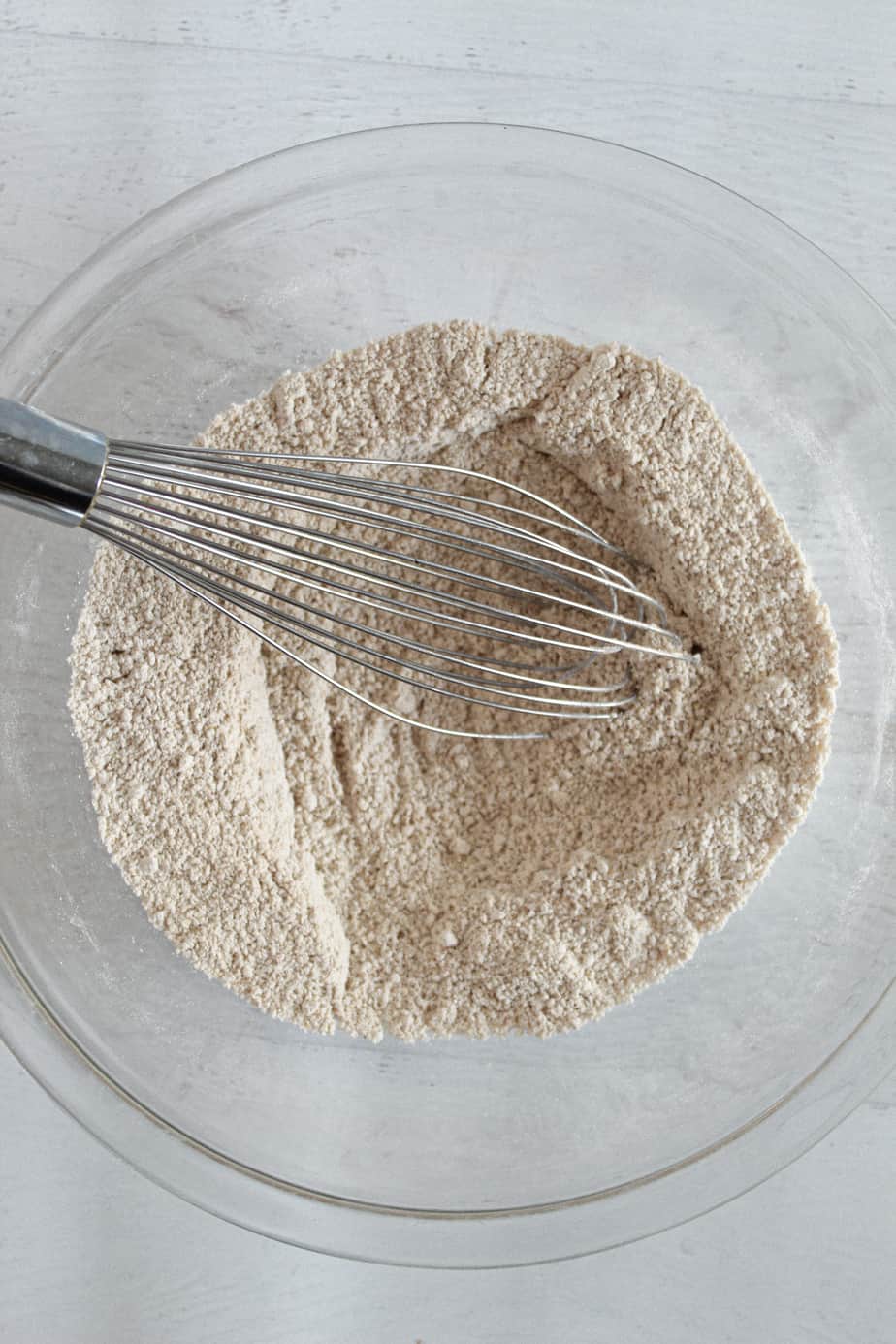 This post contains affiliate links. Affiliate links support Zest For Baking at no additional cost to you. I receive a commission if you choose to make a purchase through these links.
What is almond flour?
Almond flour is made by grinding blanched almonds down to a very fine, powdery flour. Blanched almonds have had the dark brown outer skin removed, yielding a light-colored flour. If they are ground without removing the skin (unblanched), the product is almond meal. Almond meal has a much coarser consistency and darker color than almond flour.

Because almond flour is higher in fat and moisture than regular wheat flour, it works very well in baked goods such as cakes and pie crusts. It adds tenderness and helps keep foods light and moist.
Flour substitutions for baking
The two main components to account for when determining almond flour alternatives are protein and fiber content. Because these two factors vary among different flours, many of them cannot be used as a cup for cup substitution for almond flour. Although it can be difficult to replicate the exact taste and texture that almond flour provides, there are several gluten free flour substitutions that produce great results.
1. Oat flour
The best almond flour alternative is oat flour because it contains similar amounts of protein and fiber. Oat flour is a bit lighter than almond flour and is extremely versatile in baking. It will make your baked goods light and fluffy (like these waffles!) as well as contribute a warm, nutty flavor (and these biscuits). Another benefit to oat flour is that it can be used as an equal substitution for almond flour.

Oat flour is simply just oats that have been ground down into a fine powder. You can buy oat flour at the store or make your own using a high-speed blender or food processor. I use Bob's Red Mill brand oats to make my oat flour, but any rolled oats work great – just make sure they are labeled as "certified gluten free".
2. Cashew flour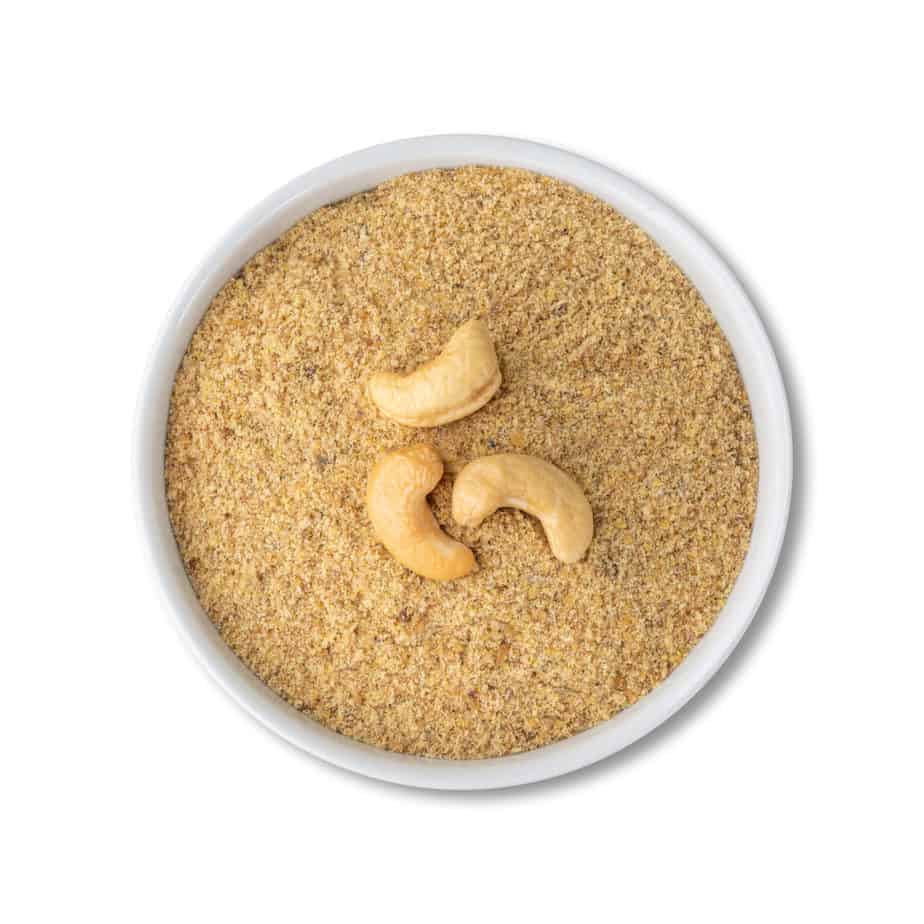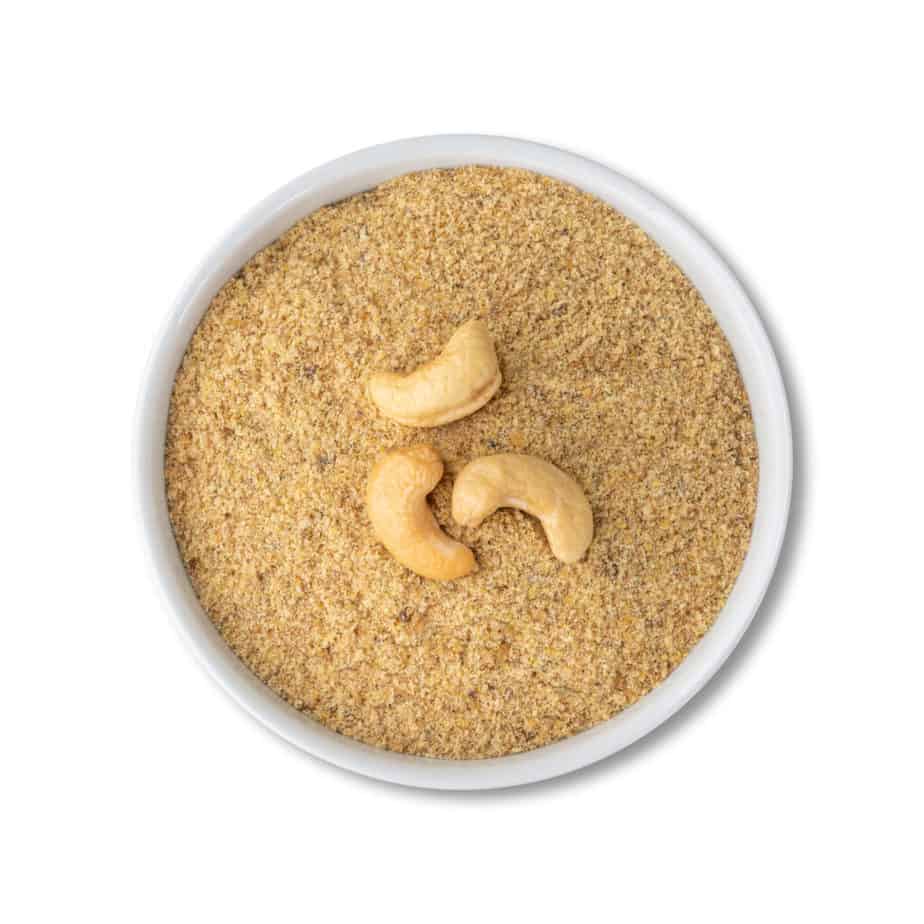 The next best almond flour substitution is cashew flour which, like oat flour, can be used as a cup for cup replacement. Cashew flour has a natural sweetness and gives baked goods a rich and creamy flavor. This is a great alternative to almond flour because it has a similar taste and texture.
Cashew flour is made using a similar process to almond flour in which cashews are ground into a fine powder. However, cashews do not have a skin that needs to be removed before grinding. You can easily make your own cashew flour at home or purchase it here.
3. Sunflower seed flour
Sunflower seed flour is a great nut-free almond flour alternative because it has a deep nutty flavor and a similar consistency to almond flour. It can be substituted in equal amounts and will not have a large impact on the texture of your desserts.
Note that sunflower seed flour has the potential to give off a green tint in some recipes. This is due to the presence of chlorophyll in the seeds and its reaction with the leavening agents (e.g. baking soda or baking powder). You can counteract this reaction with the addition of an acid such as lemon juice or apple cider vinegar. Just add a tablespoon of one of these acids to your recipe to offset the discoloration. This is usually not necessary for chocolate desserts since the dark color of the cocoa will disguise the green color.
This flour is made simply by grinding sunflower seeds into a fine, powdery substance. If you want to make this flour homemade, be sure to purchase sunflower seeds that have been removed from the shell. If you have a nut allergy, make certain that the seeds or flour you purchase have not been processed in a facility that also processes nuts.
4. Macadamia nut flour
Another excellent almond flour substitute is macadamia nut flour. The color and texture are very similar to that of almond flour and it can be used as a 1:1 almond flour replacement. Macadamia nut flour has a little bit stronger flavor than almond flour but works very well in baking.
This is a great flour to make at home because pre-made macadamia nut flour can get a bit pricey. Use unsalted, unflavored macadamia nuts to make your flour. Grind them in your blender or food processor until they reach the consistency of a fine powder.
5. Peanut flour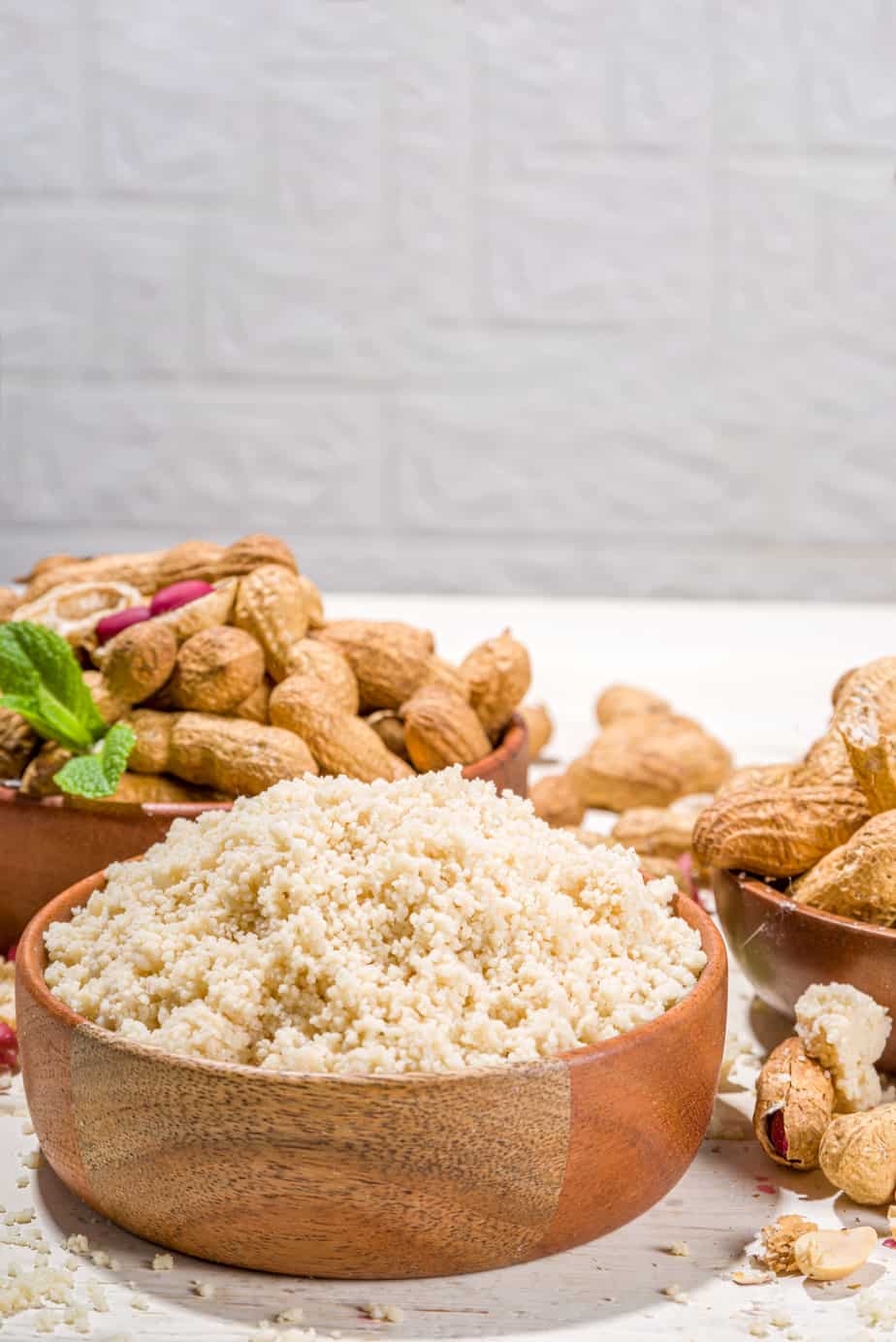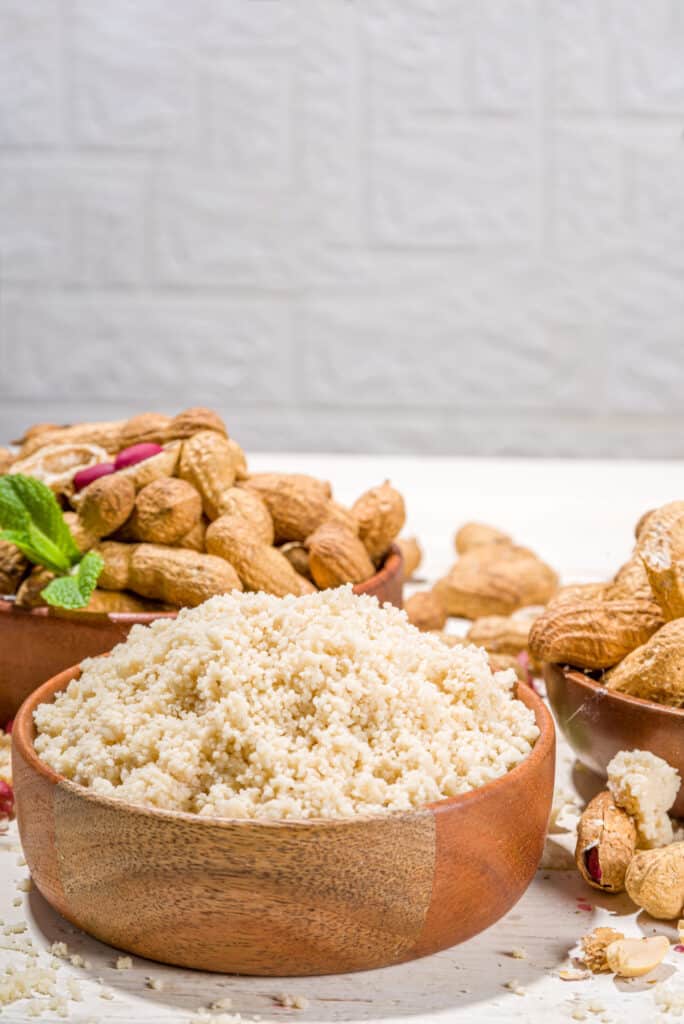 Peanut flour adds a rich nutty flavor to baked goods, making it a good substitution for almond flour. Not only is it versatile and easy to work with, but it's also an alternative that can be used in equal amounts to almond flour.
Making peanut flour is not as simple as the other types of flour because the excess oil has to be removed after the peanuts are ground. This defatting process is done by pressing out the oil until a flour-like consistency is attained.
6. Chickpea flour
Chickpea flour, aka garbanzo bean flour, is another nut-free almond flour alternative that works well in baking. It's not quite as sweet as almond flour but it does have a similar texture making it an acceptable substitution.
This flour is made by grinding down raw garbanzo beans to a powdery consistency. You can purchase pre-made chickpea flour or you can buy dried chickpeas to make your own flour using a blender or food processor. If needed, sift the flour after grinding to remove any large pieces.
Flour substitutions to avoid
Coconut flour should not be used as an almond flour alternative. It is not a good substitute for almond flour because it absorbs a much larger amount of liquid than nut flours (but check out some great uses for coconut flour here). Without the addition of extra liquid to the recipe, using coconut flour would leave your dessert dry and crumbly. In order to successfully use coconut flour as a replacement, several other changes to the recipe may be required.
Almond flour recipes to check out!