Gluten free crepes are great for eating just about any time of day. They're light, delicious and super versatile. And perhaps the best part is that they are incredible easy and quick to whip up!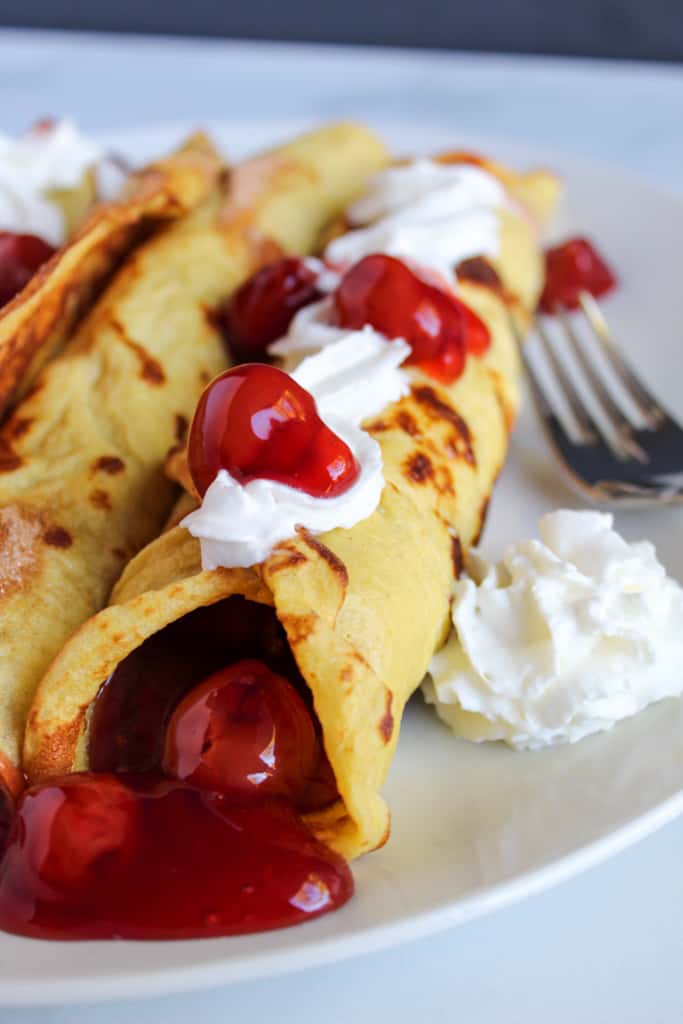 A 6-ingredient crepe recipe? Yes, please! Six ingredients is all it takes to make these simple gluten free crepes that are so easy to eat, everyone will be grabbing for seconds.
What ingredients are in these crepes?
There's a reason these are called quick and easy crepes. The ingredients list is super short with convenient ingredients.
As with most crepe recipes, eggs are the star ingredient. Use large eggs for the best results. Besides eggs, you'll also need:
Almond flour - make sure to look for almond flour, not almond meal. This brand is the one I recommend.
A quick note about almond flour while we're on the subject: while almond flour and almond meal are 'technically' the same, the consistency is not. Almond meal is coarser and not as fine as almond flour. This recipe for almond crepes use a mix of almond flour and arrowroot flour, but just to get an even smoother texture.
Arrowroot flour - Arrowroot flour acts as a starch and binder to help the batter stick together. Find arrowroot flour here.
Honey - just a touch, but definitely adds a wonderful flavor.
Vanilla extract
Salt
What's the best way to flip a crepe?
Believe it or not, these crepes are easier to flip than pancakes. Even with their large size, they flip really easily. Besides a large skillet, the best tool to use for that perfect flip is a flat spatula. Simply slide it under the cooked side of the crepe and flip it over. The crepe will fall back into place in the pan.
Can I make these ahead of time?
Yes! These crepes are ideal for making ahead of time. You actually have a couple options...
1. Make the batter ahead of time and refrigerate until cooking. Use the batter within 24 hours though!
2. Make the crepes ahead of time and refrigerate until serving. Keep them tightly sealed in the refrigerator for 2-3 days.
How do I store extra crepes?
If you have any crepes left over, you can either store them in the refrigerator for up to 3 days or freeze them for longer storage. For either the refrigerator or the freezer method of storage, place a piece of parchment paper in between each crepe before placing them in a tightly sealed plastic bag. This helps keep them fresh!
What do I serve these almond flour crepes with?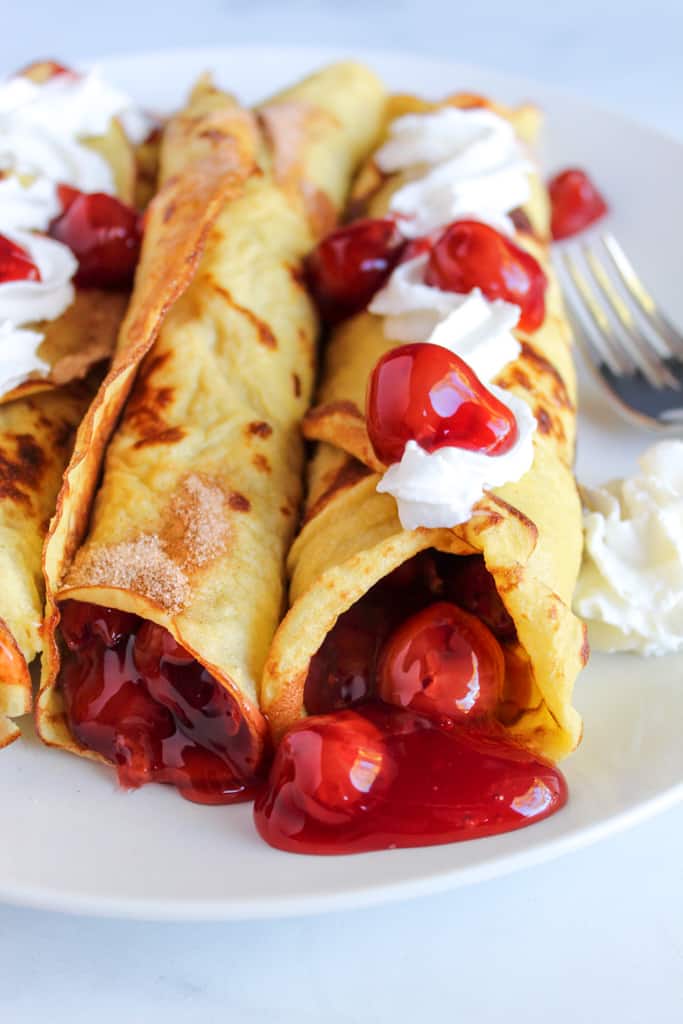 The beauty of crepes is how versatile they are - here are some delicious ways of enjoying them:
Add some cherry pie filling and a dollop of whipped cream
(Any kind of pie filling and whipped cream!)
Fill them with melted butter and cinnamon sugar
Fill them with Nutella - maybe a sprinkle of powdered sugar if you feel like it
Use a mixture of cream cheese and fruit
Spread them with herb cream cheese and top with sliced ham or turkey
Fill them with feta cheese and your favorite sandwich meat
Smear some peanut butter on them and top with sliced bananas
Or peanut butter and jam
Fill them with sliced bananas and drizzle with chocolate syrup
Spread them with marshmellow cream and drizzle with chocolate syrup
Place sliced ham and Swiss cheese and roll them up for a delicious sandwich
Add scrambled eggs and cooked sausage or bacon slices and roll them up
The possibilities are endless!
How to Make Gluten Free Crepes
The ingredients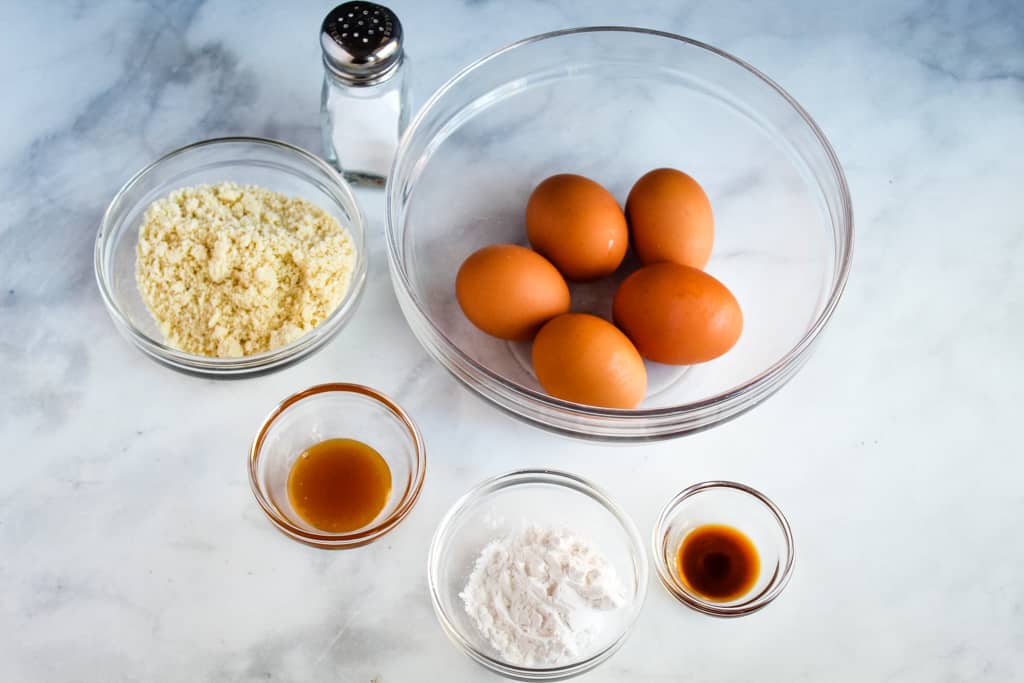 Isn't it nice when it's a short ingredients list?! Just eggs, almond flour, arrowroot flour, vanilla extract, honey and bit of salt. That's all you need to be on your way to delicious crepes. Make sure the ingredients are at room temperature for the best crepe texture.
Mixing
Crepe batter can be tricky. You're looking for a smooth, nearly lump free batter. The best way to get that ideal batter is to use a whisk to mix the ingredients. With about 5 minutes of mixing time, it'll go from lumpy to nice and smooth.
Pouring the batter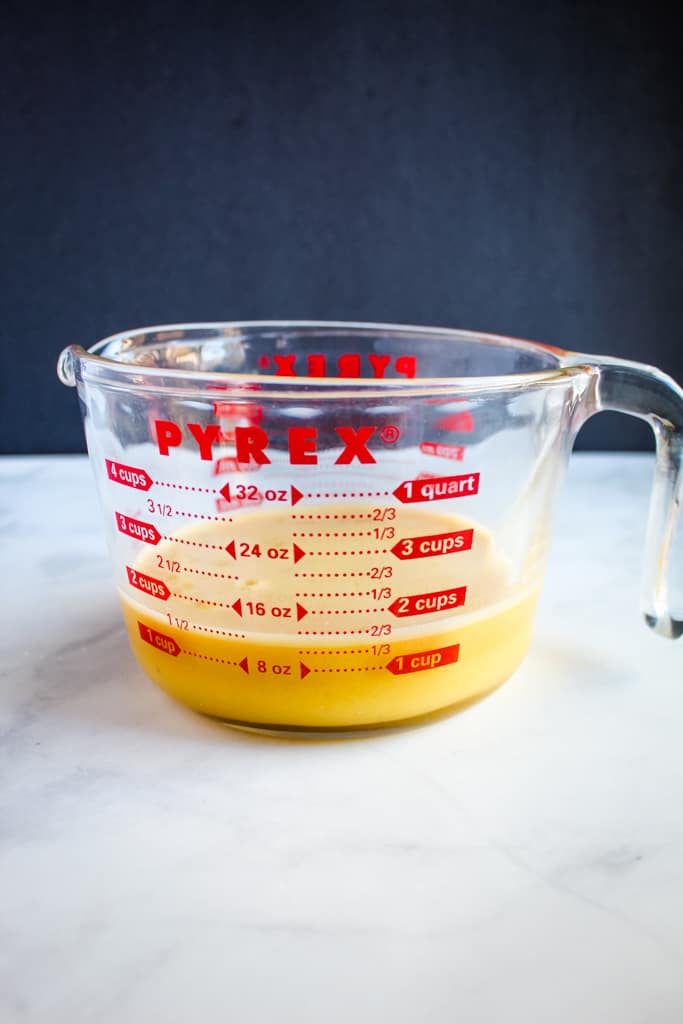 To get wonderfully thin crepes, aim for about ¼ cup of batter per crepe. But measuring the batter into a cup and then pouring it out can be tricky. The easiest and least messy way to measure out the batter accurately is to pour all of it into a measuring cup and then pour it from there. No mess and you get nice, same size crepes every time.
Flipping
Flipping a crepe is actually much easier than flipping a pancake. Despite the large size, they really are easy to work with. Just pour the batter, let it cook just until the underside is slightly brown, then flip and let the other side cook for a bit.
Pro Tip: They will cook fast. Don't be tempted to tun and do something else, crepes are quick!
Filling
Because crepes are so thin, they cool really quick. As they come off the pan, stack them between sheets of parchment paper until ready to fill with one of the many delicious options listed above. They can be served warm or cool.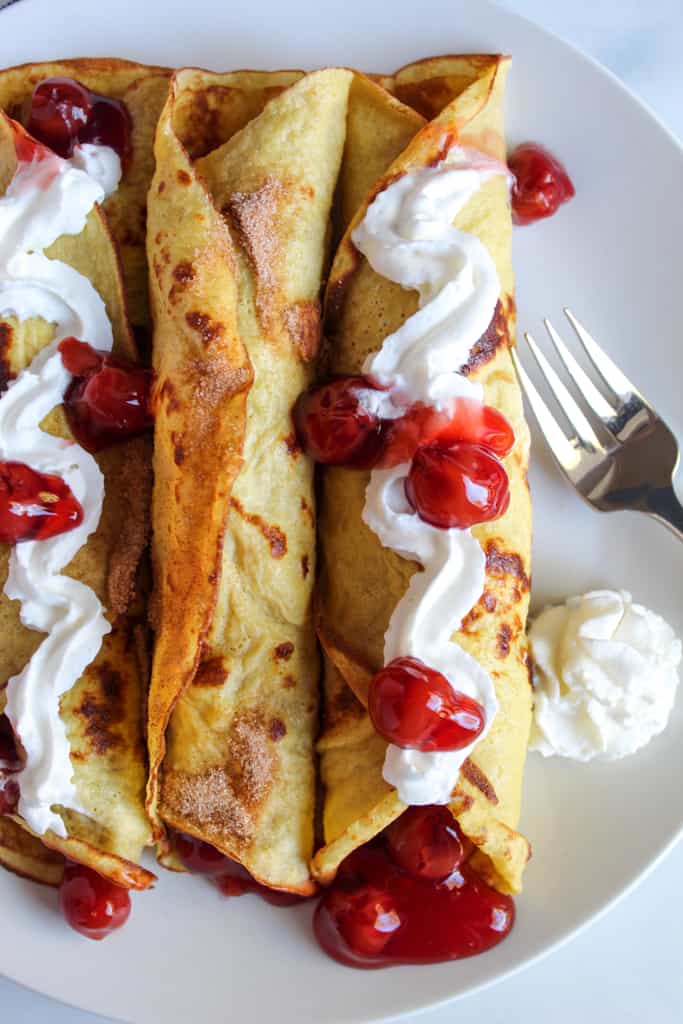 Also check out these delicious gluten free recipes:
Recipe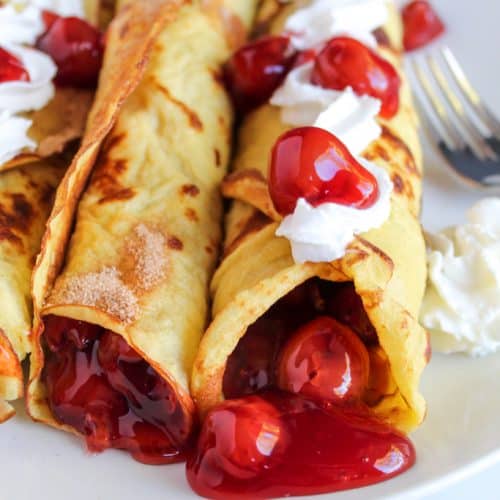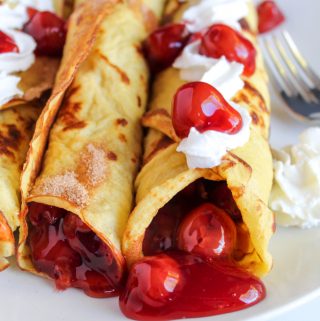 Gluten Free Crepes Made with Almond Flour
Gluten free crepes are great for eating just about any time of day. They're light, delicious and super versatile. And perhaps the best part is that they are incredible easy and quick to whip up!
Print
Pin
Rate
Ingredients
5

eggs

60

g

almond flour

½ cup

2

Tbsp.

arrowroot flour

2

tsp.

honey

1

tsp.

vanilla extract

⅛

tsp.

salt
Instructions
In a medium-sized bowl, break the eggs and whisk them until they are well-mixed. Add the flours, honey, vanilla, and salt and combine well. You are done stirring when there are no lumps in the batter; it should have a similar consistency to thickened milk.

Heat your pan hot enough that water will sizzle and dance if you flick a few drops on it. Spray with cooking spray.

Pour about ¼ cup of batter onto the pan and tilt and swirl it until it cannot get it any wider.

Flip the crepe when the top is shiny and the edges are quite dull—this should take less than a minute so don't walk away!

Cook the other side for about one more minute.

Repeat with remaining batter - spraying the pan in between cooking each crepe.

Serve your crepes with whatever toppings you desire, either folding them in half or in quarters, or rolling them up into delicious little tubes.
Notes
Bring all ingredients to room temperature.
Mix the batter until no lumps remain.
Use a measuring cup to easily pour the batter into the pan.
Refrigerate unused crepes for up to 3 days.
Nutrition
Calories:
134
kcal
|
Carbohydrates:
8
g
|
Protein:
7
g
|
Fat:
8
g
|
Saturated Fat:
1
g
|
Cholesterol:
136
mg
|
Sodium:
92
mg
|
Potassium:
51
mg
|
Fiber:
1
g
|
Sugar:
2
g
|
Vitamin A:
198
IU
|
Calcium:
44
mg
|
Iron:
1
mg