These gluten free no yeast cinnamon rolls are a like a little bite of heaven - rich, sweet and incredibly tender. They're the perfect breakfast roll to turn to when you need something quick yet impressive. And the best part is, they have no dairy and no yeast!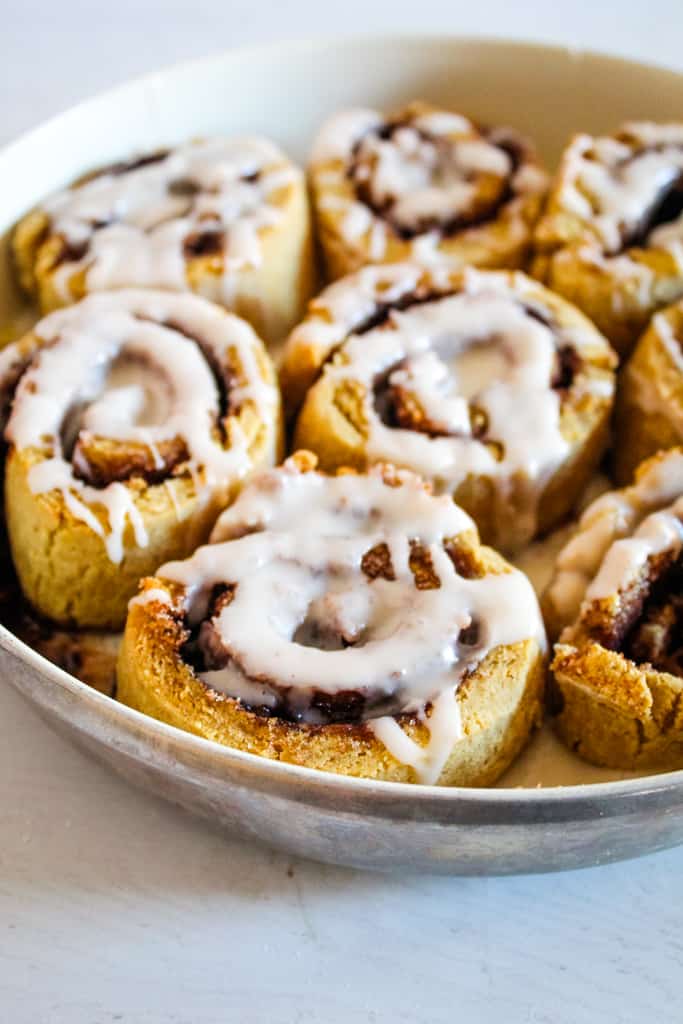 This post contains affiliate links. Affiliate links support Zest For Baking at no additional cost to you. I receive a commission if you choose to make a purchase through these links.
Yeast breads like these dinner rolls and this white bread, are typically one of the most time consuming baked goods to work with. (They're worth it though of course!) But they take time. And cinnamon rolls? Well they take A LOT of time! That's why this recipe is so perfect. No more waiting for hours for bread to rise - with this yeast-free cinnamon roll, you'll be serving a pan of piping hot cinnamon rolls in no time.
Why this recipe is the best!
While I have nothing against traditional yeast cinnamon rolls, in fact, they're one of my favorite breakfast/treat/snack breads - But I also love an easy-to-mix recipe, especially on those days when you just want something a little quicker without hours of rise time. So this recipe is really a home run. A soft, tender roll, not as tender as a yeast roll of course, but still soft. But it's cut the waiting time in half.
Besides being gluten-free and yeast-free, this recipe is also:
It's an easy-to-prepare recipe–no rise time required!
The ingredients are quick to mix–no mixer needed.
It's perfect for special occasions or just an ordinary weekday treat.
Pro tips for making these yeast free cinnamon rolls
If you've taken my baking masterclass or referenced my how to substitute potato starch and potato flour article or even the alternatives to xanthan gum article, you know there is a lot that goes into gluten free baking. Here are some tips to ensure you have the best gluten free, no yeast cinnamon rolls ever:
1. Room temperature ingredients
It may not seem like cold eggs would have that much of an impact on your gluten free baked goods, but it really does. Unless otherwise noted, all ingredients should be at room temperature - that includes flours, water, everything. Reference why this is so important here in my baking tips.
2. Measure by weight
I talk about this in my baking masterclass but weighing ingredients with a digital scale is essential for successful gluten free baking. And if you're new to measuring by weight, I feel your pain. It took me a while to get used to this too, but even 1 teaspoon more or less of flour or starch can mean the difference been a light baked good and a dense one.
3. Helpful tools
Here are some tools to make prepping these rolls much easier:
No stand mixer required! Although this Kitchen Aid is something you'll use all.the.time.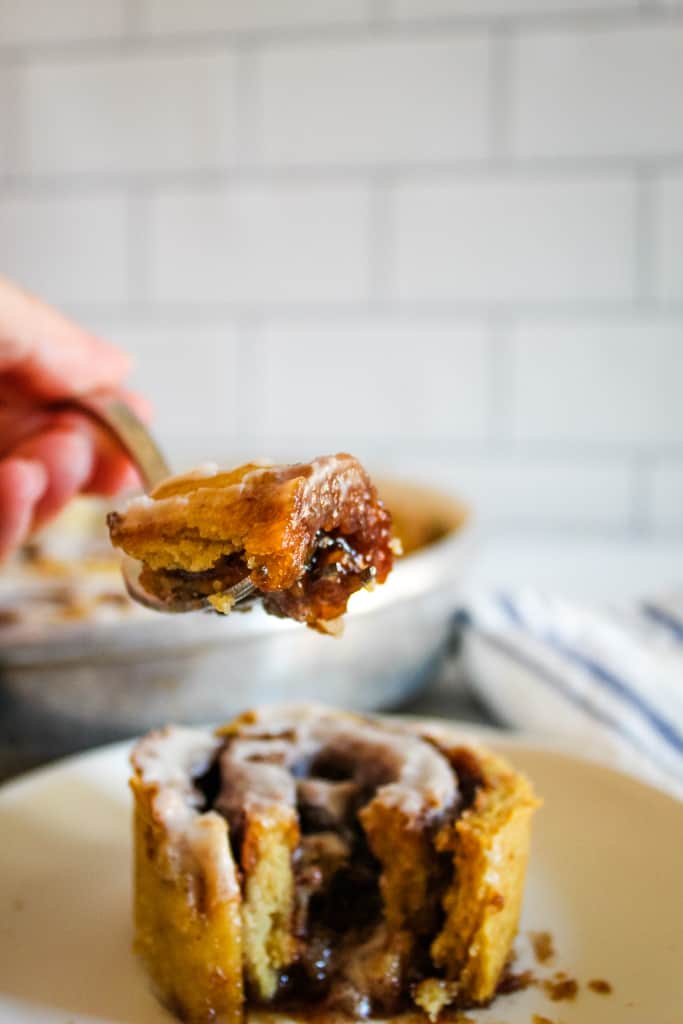 Steps to making quick, no yeast cinnamon rolls
Ingredients & substitutions
The recipe can be divided into 3 sets or ingredient groups: the rolls, the filling and icing.
Starting with the rolls, here is the ingredients that were used in the recipe and then a substitution if we've found one that preforms equally well.
Gluten free flour mix - the recipe was tested with the flour mix here. I would not recommend substituting this as it can result in really dense rolls.
Potato flakes - the recipe was tested with Idahoan potato flakes. Most brands are gluten free, but this brand is dairy free also. I would not recommend substituting the potato flakes for a different flour or starch (though a different brand is fine).
Baking soda - Arm & Hammer is my go-to, though another brand would work well too. There's no substitute for the baking soda in the recipe.
Psyllium husk powder - the recipe was tested using this brand of psyllium husk powder (it's a large container so it lasts forever). An equal alternative to it would be ground chia seeds. Find out more information about how to use them in this guide.
Salt - the salt is just enough to punch up the flavor, but not enough to overwhelm the rest of the recipe. If you're following a low salt diet, it can be omitted though.
Pure maple syrup - pure maple syrup is one of my go-to's for baking. This organic brand has a wonderful flavor. Other brands would work well too, as long as they are pure maple, not maple flavored syrup. Honey would be a good substitute.
Vegan butter - Earth Balance was the brand tested in this recipe, but Country Crock non dairy sticks work excellent too. As a substitute, things like regular butter, margarine or even solid coconut oil would work well also.
Almond milk - Unsweetened Blue Diamond almond milk was the brand tested in the recipe. As a substitute, coconut milk, oat milk or even dairy milk would work well.
Apple cider vinegar - the recipe was tested with 365 Organic, but any brand would work well. There is no good substitute for apple cider vinegar. Even though it's vinegar, distilled white vinegar is not an equal substitute - apple cider is very mild, whereas white vinegar is strong!
Filling:
Brown sugar - the Imperial brand was tested in the recipe, but any brand of quality brown sugar will work. Swerve brown sugar is a decent substitute, it's not exactly the same, but it's the closest I've found.
Granulated sugar - the Imperial brand was tested in the recipe, but feel free to use what brand you have on hand. Swerve granulated sugar would be a substitute. Again, not exact, but close.
Vegan butter - Earth Balance is again the winner. Country Crock sticks are great too. I would not advising substituting this as the rolls need it for making the delicious, cinnamon filling.
Cinnamon - the recipe was tested with McCormick brand, but any quality cinnamon will work. There's no good substitute for cinnamon.
Icing:
Powdered sugar - the recipe was tested with the Target brand, but any quality brand of powdered sugar will work. I have not tested a substitute for this, but Swerve does make a powdered sugar as well that would be my first choice.
Vanilla extract - the recipe was tested with McCormick brand of pure vanilla extract, but any quality brand would work.
Almond milk - Blue Diamond almond milk was tested in the recipe and works wonderfully for the icing.
Mixing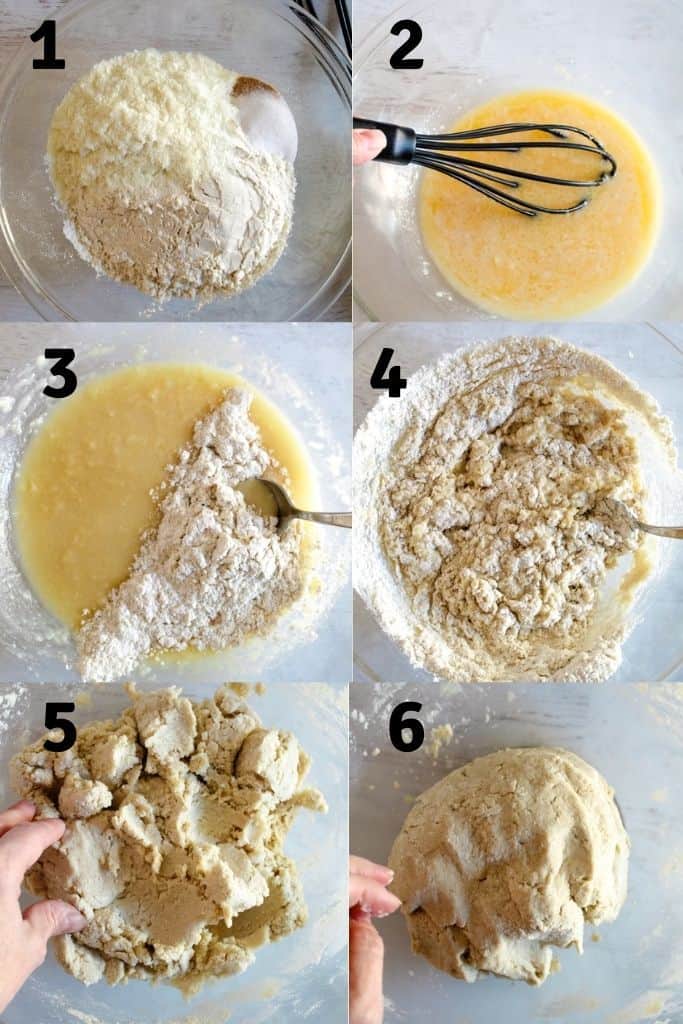 The roll dough comes together easily and quickly. After combining the dry ingredients (step 1 above), the use another, large bowl and mix together the wet ingredients (step 2). Gradually add the dry ingredients (step 3) to the wet and mix the flour in (step 4). The dough will form (steps 5 and 6) and eventually be able to hold it's shape without sticking to your hands.
Rolling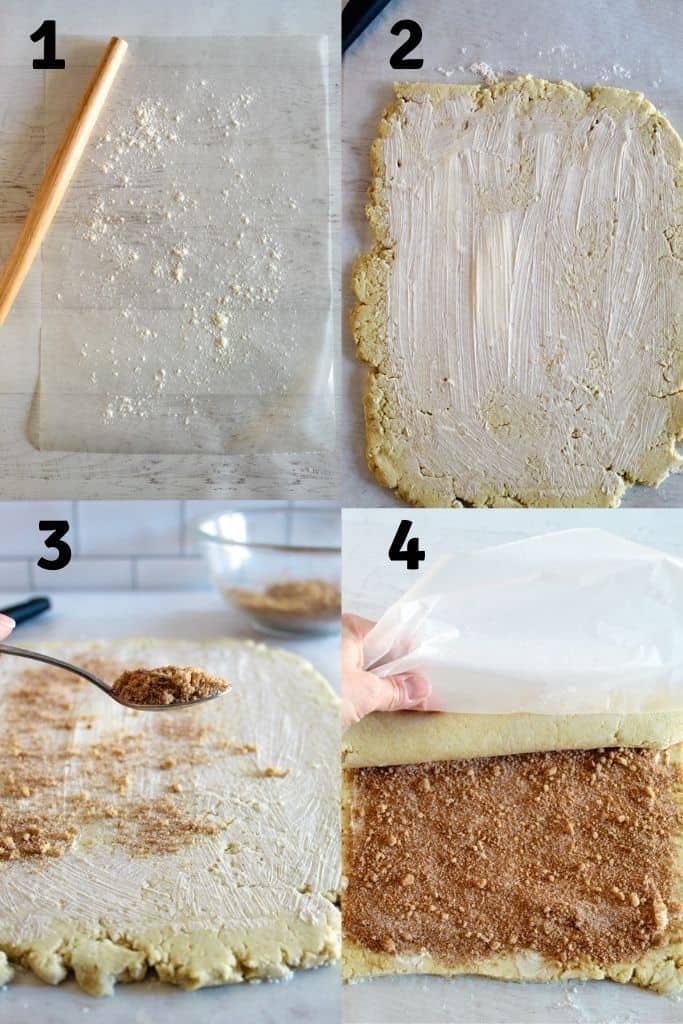 The easiest way to roll these cinnamon rolls is to use a piece of wax paper on your surface (step 1 above). Sprinkle it with a dusting of flour. Then roll the dough out until it's ¼ inch thick or about 10.5" x 14" rectangle. Spread it with the softened butter (step 2). And sprinkle it with the sugar-cinnamon mixture (step 3). Now, using the help of the wax paper, roll up the dough, starting with the short end, as tight as you can get it (step 4).
Slicing and baking
Once the log of dough is rolled, use a sharp knife to score the top of the loaf where the slices will be - aim for 8 rolls, about an inch thick each.
Tip for cleanly slicing the rolls: Use a piece of unflavored tooth floss and slide it underneath each score mark. Bring each piece up over the dough to slice right through it.
Place each roll in the greased pan and let them rest for 30 minutes. After the rest time, bake them for 30-35 minutes and then drizzle with a nice coating of frosting. Serve warm!
FAQs about this recipe
Can I use another flour blend in the recipe?
Unfortunately no. The consistency is too dense with other flour blends.
How long will these rolls last once baked?
One day, after that they will need to be frozen for longer storage.
Can I make these ahead of time?
Yes! The dough could be made ahead of time, then refrigerated until ready to roll out and use. Once you're ready to use it, make the dough comes to room temperature before trying to roll it otherwise it may break.
Can I substitute an ingredient?
Possibly, reference the substitutions list above under the 'Steps for making quick, no yeast cinnamon rolls' section.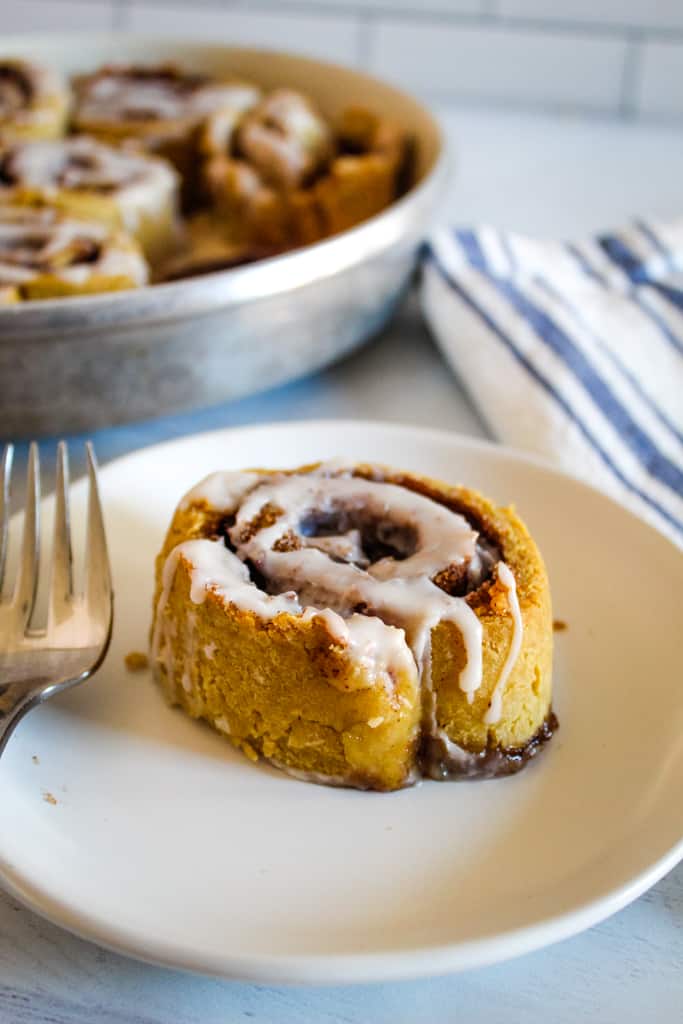 Other recipes you may like!
Recipe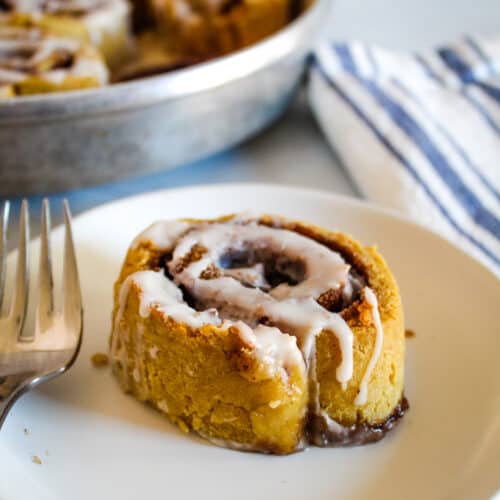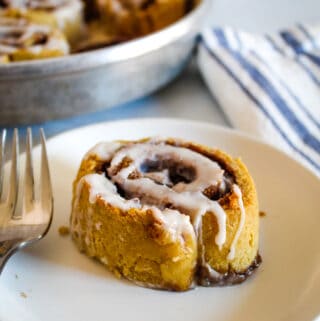 Gluten Free No Yeast Cinnamon Rolls
The best, lightest gluten free no yeast cinnamon rolls ever! So fluffy and tender and they're yeast free and dairy free!
Print
Pin
Rate
Ingredients
For the cinnamon rolls
355

grams

gluten free flour mix

about 2 ¾ cup

30

grams

potato flakes

2

teaspoons

baking soda

½

teaspoon

psyllium husk powder

¼

teaspoon

salt

3

Tablespoons

pure maple syrup

4

Tablespoons

non dairy butter

melted

1

cup

almond milk

1

teaspoon

apple cider vinegar
For the filling
55

grams

brown sugar

about ¼ cup

50

grams

granulated sugar

about ¼ cup

1

teaspoon

cinnamon

2

Tablespoons

vegan butter

softened
For the icing
112

grams

powdered sugar

about 1 cup

½

teaspoon

vanilla extract

3

Tablespoon

almond milk
Instructions
For dough:
In a medium bowl, mix together the flour mix, potato flakes, baking soda, psyllium husk powder and salt.

In a large bowl, whisk together the maple syrup, vegan butter, almond milk and vinegar.

Using a sturdy spoon, slowly stir the dry ingredients into the wet. Dough will come together.

Sprinkle a surface or a sheet of wax paper with a sprinkling of gluten free flour mix. Place dough on the surface and roll into a 10.5" x 14" rectangle, about ¼" thick.
For filling:
In a small bowl, mix the brown sugar, white sugar and cinnamon together.
For assembly:
Spread the 2 Tablespoons of softened butter over the rolled dough.

Sprinkle the sugar-cinnamon filling mixture all over the butter.

Once completely covered, start at the short end of the dough and roll up, into a log, keeping the log as tight as possible.

Score the log with a knife, making 8 rolls.

Using a piece of unflavored dental floss, slide the floss under each score mark and use the floss to slice through each roll.

Spray an 8" round baking pan with cooking spray. Place each roll in the pan, cut side up.

Cover the baking pan with a towel an allow the rolls to rest for 30 minutes.

Toward the end of the rest time, preheat the oven to 350 F.

Bake the rolls for 30-35 minutes. Let cool for a few minutes then top with icing.
For icing:
In a small bowl, combine powdered sugar, vanilla and milk. Stir until smooth and lump free.
Notes
Roll dough to ¼" thick. 
Feel free to trim the edges if you want perfectly formed rolls. 
Using dental floss keeps the rolls nicely formed without the knife crushing as it slices them. 
If not enjoyed the same day, store rolls at room temperature for up to 1 day. After that, they will need to be frozen.
Nutrition
Calories:
347
kcal
|
Carbohydrates:
64
g
|
Protein:
5
g
|
Fat:
10
g
|
Saturated Fat:
2
g
|
Polyunsaturated Fat:
3
g
|
Monounsaturated Fat:
4
g
|
Trans Fat:
1
g
|
Sodium:
470
mg
|
Potassium:
72
mg
|
Fiber:
5
g
|
Sugar:
33
g
|
Vitamin A:
135
IU
|
Vitamin C:
3
mg
|
Calcium:
88
mg
|
Iron:
2
mg