These gluten free lemon blueberry scones taste as delightful as the name sounds. The irresistible flavor of blueberries combined with the tartness of lemon make for a scone that will seal the deal on 'most requested blueberry scone recipe.'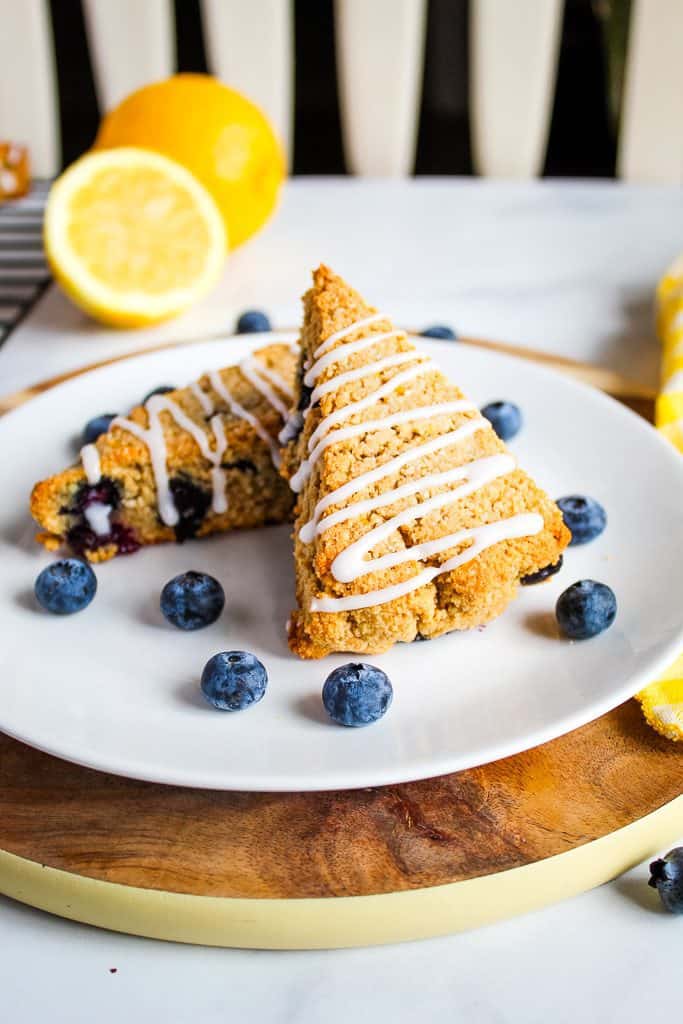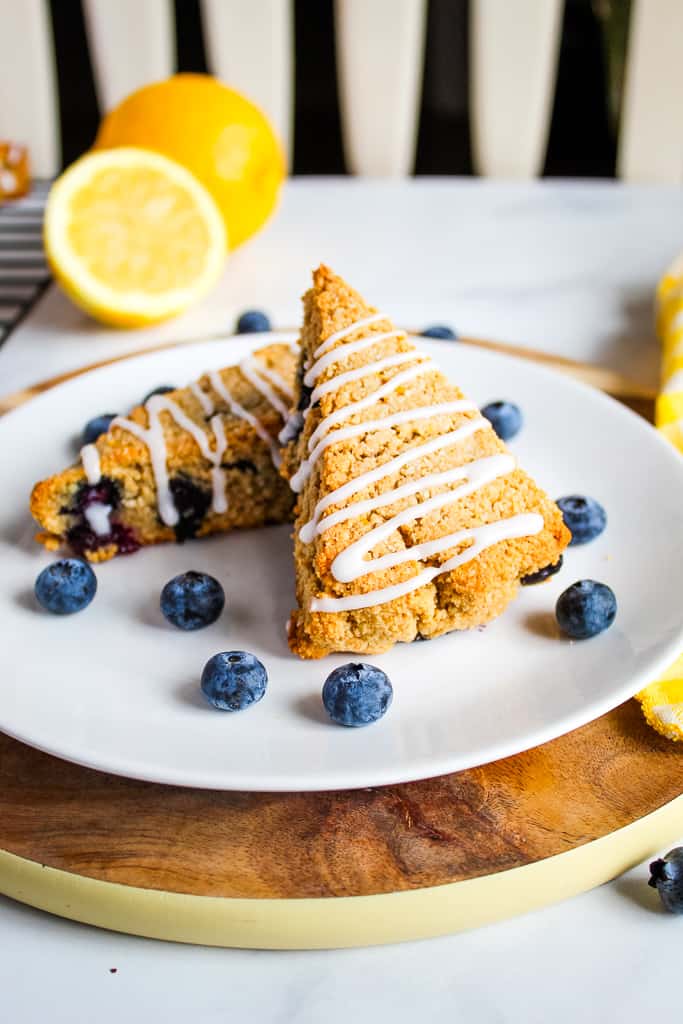 If you've gotten the feeling that Spring is right around the corner, then pull up a chair and let's talk Springtime scones.
Lemon and blueberries are a combination that just has Spring written all over it. And scones, just happen to be one of my all time favorite treats. Spring time or not! Check out these gluten free pumpkin scones for example.
Want more fresh fruit recipes? Check out this gluten free blueberry cobbler, these gluten free strawberry shortcakes and these gluten free blueberry pancakes!
Jump to:
Why these are a must make!
Scones get a bad rap for being dry and dense. I say that because I just heard it from a well-meaning friend. "They look good, but then one bite and they crumble and leave you reaching for a drink because of the dryness."
Well, step aside dry, crumbly scones and make room for these a-mazing gluten free lemon blueberry scones that also happen to be grain free and dairy free.
Not only are they delicious, they're also the type of scones that you can make in under an hour. No refrigeration time required!
Ingredients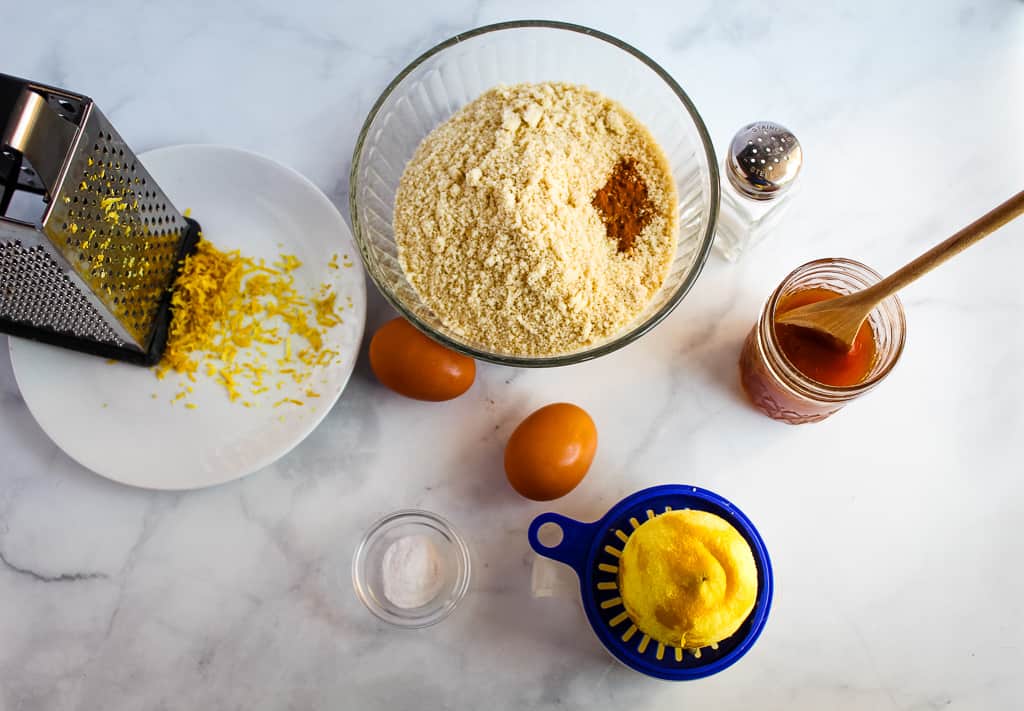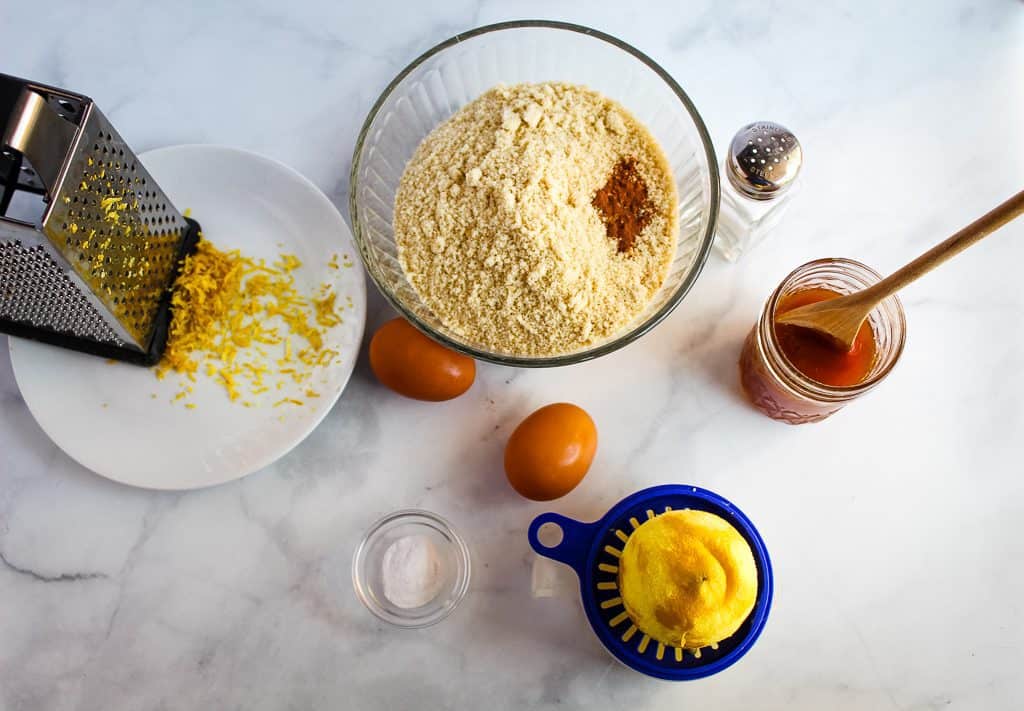 Sometimes the most simple things produce the best results. And this recipe definitely proves that point. The ingredients list here is pretty short, sweet and convenient. And for all the requests for grain free and dairy free recipes, I hear ya! And this scone recipe is right on the money.
Weighing the almond flour is an essential must-do here. My almond flour actually measured 3 cups + 2 Tablespoons, so measuring by weight is very important for accuracy.
A note about the lemon zest and lemon juice here - if you are using a small lemon, you'll use the entire lemon, both for the zest and for the juice. But if you've got larger lemons, half of the lemon will give you what you need for the recipe.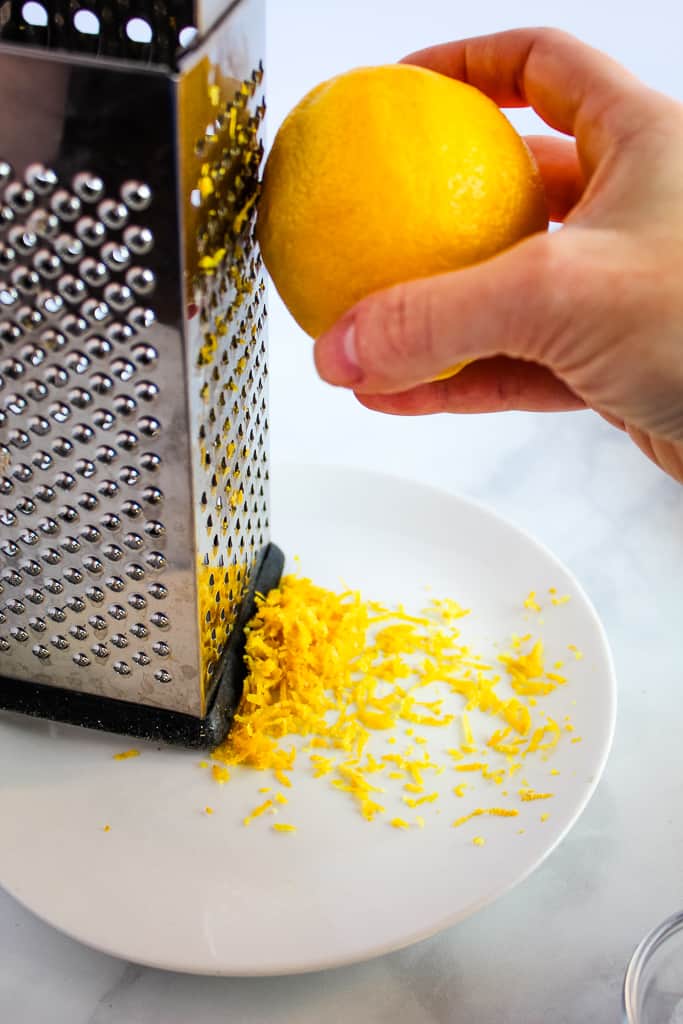 Gluten free blueberry scones step by step
If you love one bowl recipes as much as I do, you'll be reaching for this recipe any time the baking mood strikes. Simply add the dry ingredients into a large bowl and mix in the lemon zest too. Make a deep well in the center to add the liquid ingredients...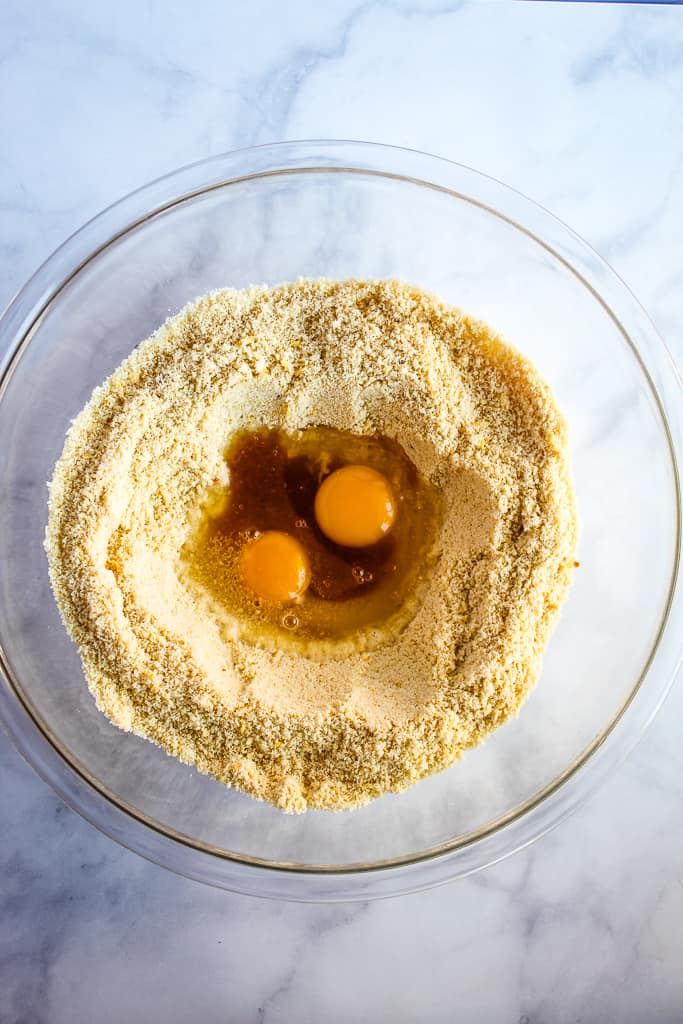 Then add the eggs, honey and lemon juice. Use a sturdy spoon and mix up the dough. It will all come together and hold it's shape, like biscuit dough.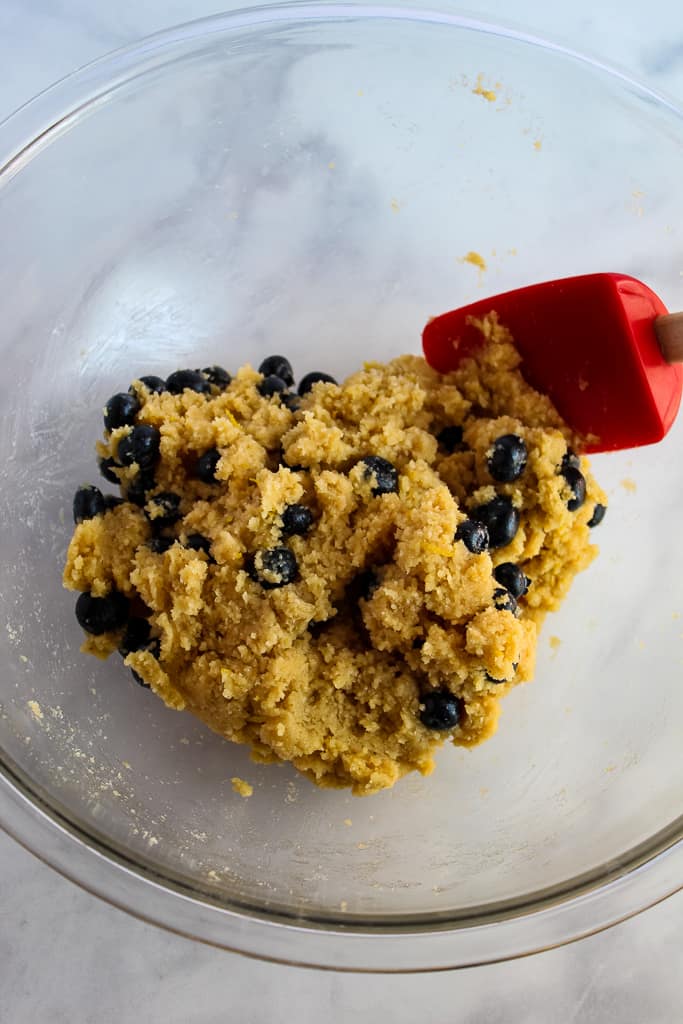 When adding the blueberries, you'll want to use a rubber spatula to fold them into the dough. Just a few light folds is all you need.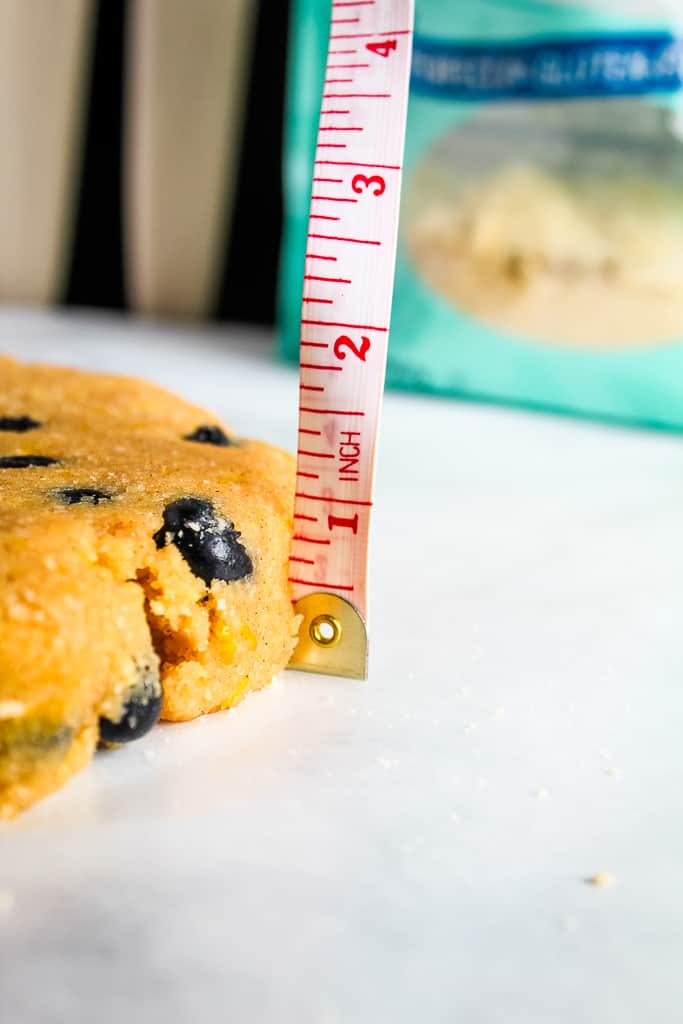 Scrape dough onto a sheet of lightly floured wax paper and form it into a ball. Use a very light roll and roll the dough out into a 8 - 9 inch disk. You'll want the dough to be at least 1 inch thick. Even a bit thicker is fine too.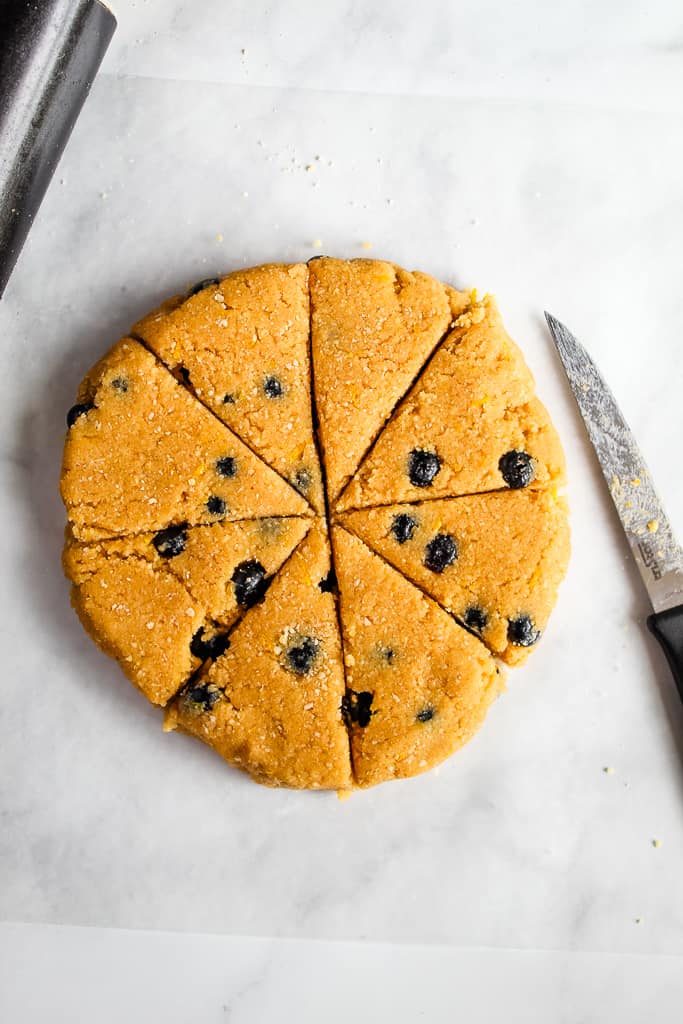 Using a sharp knife, slice the disk of dough like a pizza - into slices. Use a straight down motion, as opposed to 'sawing' the dough.
Reminds me of these almond flour biscuits, which are amazing too!
An easy way to get the scones from the wax paper to the baking sheet is to slide a long spatula underneath and gently move them. They are easy to work with, but the dough also has a bit of 'stick' to it.
Baking and Icing
A quick 20 minute bake time will turn these scones a nice golden brown - and ready for enjoying!
A light layer of icing brings these scones full circle. Could you go without? Sure. But the icing just moves them over-the-top. If you're wondering how to get that 'piped' look, I'll share it with you - it's super easy and doesn't required anything more than a plastic sandwich baggie. Just mix up the icing in small bowl and scoop it into a plastic bag. Cut a tiny slit at the bottom corner and use that cut area to pipe the icing on. No extra tools needed!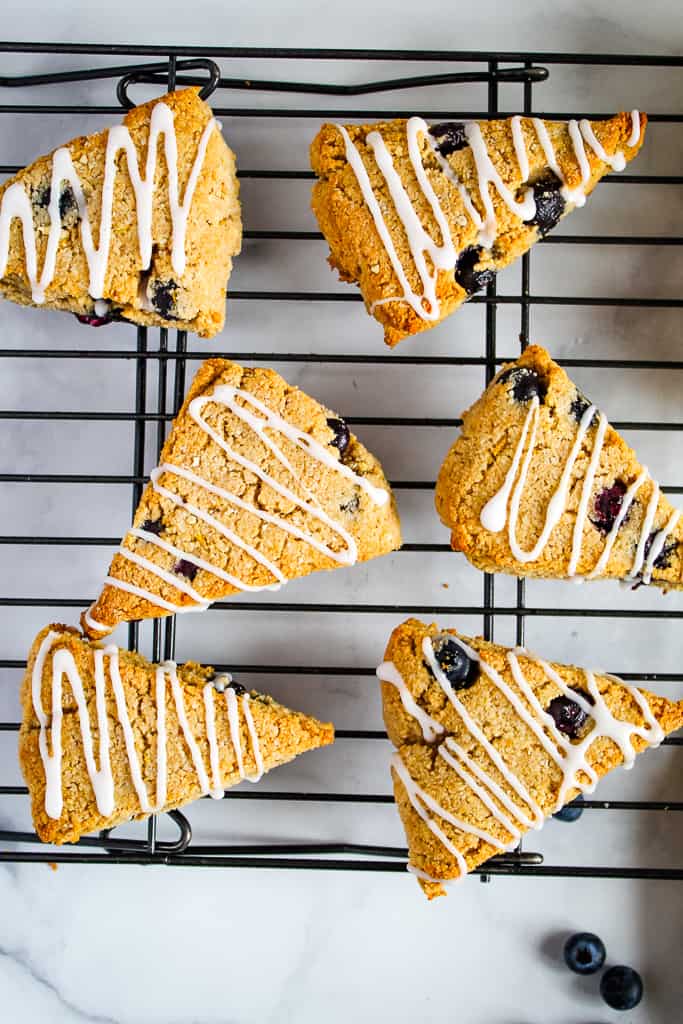 Pro tips
1. Measure ingredients by weight
Weighing flours, starches and even sugars (if it's given) is a very important step in gluten free baking. You'll want to use a digital kitchen scale that has the grams function.
2. Use wax paper for less mess
The wax paper allows for quick clean up and virtually no mess.
3. Form dough into a disk
No rolling pin needed, but the disk should measure 8 - 9 inches in diameter and about 1 inch in height.
Recipe FAQs
Can I substitute the almond flour?
I would not recommend it as this recipe was developed with almond flour.
Can I substitute the honey?
Maple syrup would be an alternative to the honey.
How do I store these scones?
Store these scones in a sealed plastic bag, at room temperature for up to 2 days. They freeze well, so they can be frozen for up to 1 month as well. Defrost each one, in the microwave for 30 seconds - 1 minute.
More blueberry recipes
Ready for some delicious gluten free lemon blueberry scones that are also grain free and dairy free? If you enjoy this recipe, give it a review and rating!
Recipe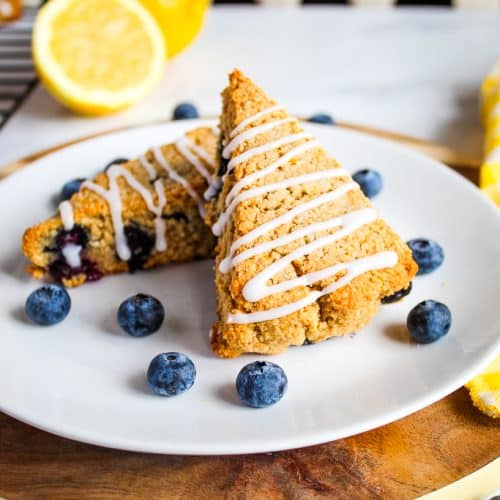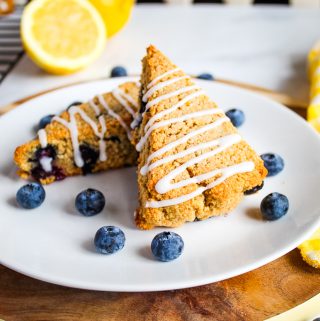 Gluten Free Lemon Blueberry Scones (Grain Free + Dairy Free)
These Gluten Free Lemon Blueberry Scones are just the right balance of sweet and tart and melt in your mouth goodness - no dense scones here!
Print
Pin
Rate
Ingredients
Scones
315

grams

almond flour

about 3 cups + 2 Tbsp.

1

teaspoon

baking soda

⅛

teaspoon

salt

⅛

teaspoon

ground cinnamon

zest of 1 lemon

2

eggs

lightly beaten

2

Tablespoons

honey

2

Tablespoons

granulated sugar

2

Tablespoons

fresh lemon juice

¾

cup

fresh blueberries
Icing
½

cup

powdered sugar

1

Tablespoon

almond milk
Instructions
Preheat your oven to 325 degrees F.

In a large bowl, add the almond flour, baking soda, salt, cinnamon and lemon zest and stir to combine.

Make a well in the center of the flour mixture and add the eggs, honey, sugar and lemon juice. Stir the dough with a sturdy spoon until well combined. Fold in blueberries.

Turn dough out onto a lightly floured sheet of wax paper. Form it into a round disk about 8 – 9 inches in diameter.

Lightly roll the dough out to 1 inch thickness. Using a sharp knife, cut the dough into 8 'slices'. Move each slice to a baking sheet lined with parchment paper.

Bake 20 minutes, or until the tops are golden brown. Cool on wire rack.
Prepare icing
In a small bowl, mix the powdered sugar with the almond milk. The mixture should be slightly thick.

For easy 'piping', add the icing to a small plastic baggie. Make a very small cut in one end of the baggie.

Pipe icing onto each cooled scone.
Notes
Almond flour cannot be substituted.
Form the scone dough to about 1 inch thickness and 8-9 inches in diameter.
Drizzle icing over cooled scones using a plastic baggie for easy piping.
Store the scones in a sealed plastic bag for up to 2 days. Freeze for longer storage.
Nutrition
Calories:
287
kcal
|
Carbohydrates:
21
g
|
Protein:
9
g
|
Fat:
20
g
|
Saturated Fat:
1
g
|
Cholesterol:
40
mg
|
Sodium:
216
mg
|
Potassium:
25
mg
|
Fiber:
4
g
|
Sugar:
13
g
|
Vitamin A:
65
IU
|
Vitamin C:
2.8
mg
|
Calcium:
91
mg
|
Iron:
1.7
mg