No matter how many blueberry muffins you taste, it can't quite compare to THIS one. With a perfect balance of a tender crumb and a burst of lemon, these gluten free lemon blueberry muffins will disappear as fast as you set them down.
And the fact that they are dairy free too is just the icing on the cake.
Serve them with breakfast or as an afternoon snack, but either way, they will have everyone asking you for the recipe!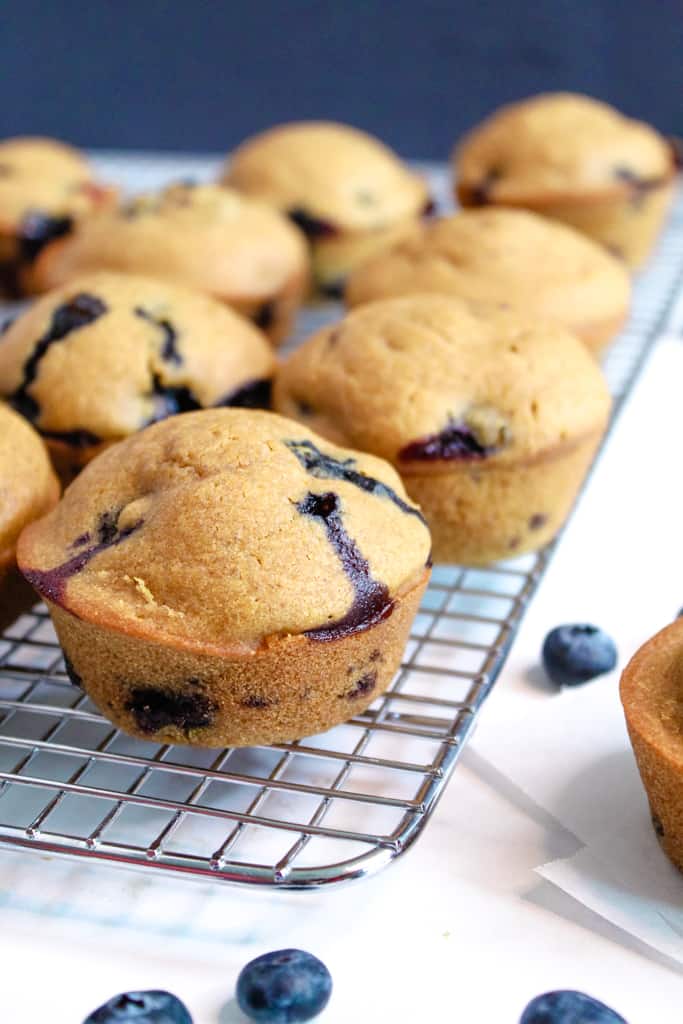 Why these fluffy blueberry muffins are the best!
There are so many things to love about lemon blueberry muffins. But the ease of preparation has got to be pretty high on the list. Basically two bowls is all you need – mix the dry ingredients together in one and then mix the wet ingredients together in the other and then bring it all together. You don't even need a mixer – a large spoon will do it.
And the texture – it's as close to bakery perfection as you can get! It's a cross between a coffee cake, like this blueberry cake, and a Bundt cake – so tender and delicate yet holds its shape so you can actually slice them or tear them apart and they won't crumble and fall apart. That's the best way I know how to describe them. These almond flour blackberry muffins and chocolate chip muffins have that same amazing texture. And the bit of lemon zest just makes the flavor pop even more.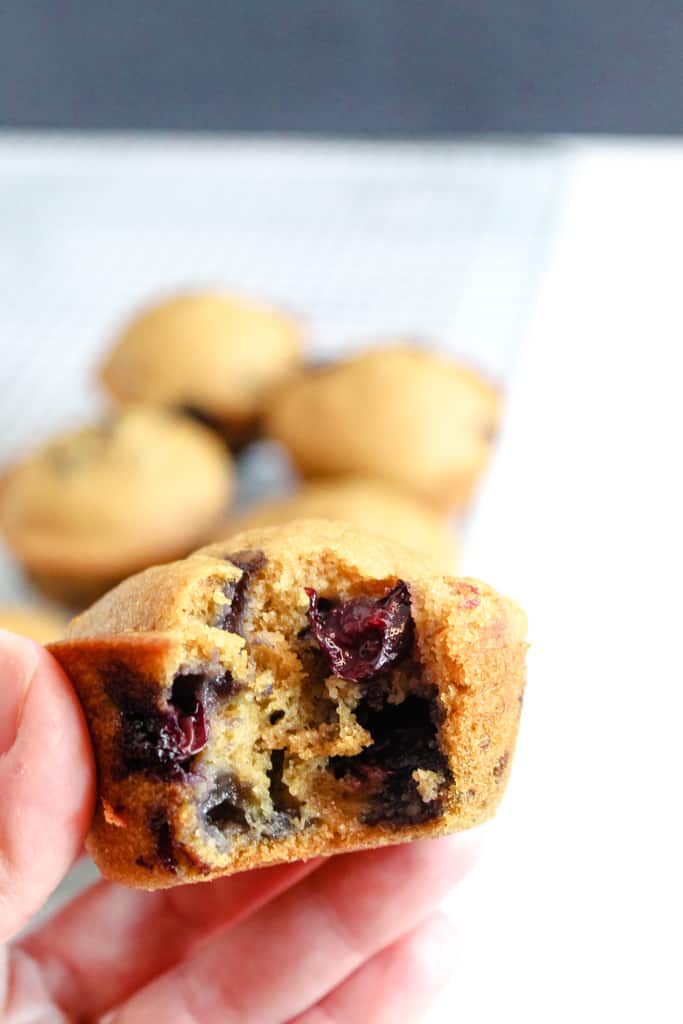 Baking pro tips
When working with any of these flours, be sure to let the batter 'rest' for 30 minutes before pouring into the baking pan. The rest time is essential for properly hydrating the flours and starches.  
Always bring your ingredients to room temperature before mixing - this includes flours too. So if you store your flours in the refrigerator, they'll need some time to come to room temperature as well.
Measuring flours is super simple - just use a digital kitchen scale and spoon it into a plastic container. Always measure by weight and not cups!
Unique to this recipe:
Toss the blueberries in a bit of flour before adding to the batter so they don't sink to the bottom of each muffin cup.
Paper liners can be used, but they are not necessary. A quick spray of baking spray should do it.
How to make gluten free lemon blueberry muffins
The ingredients list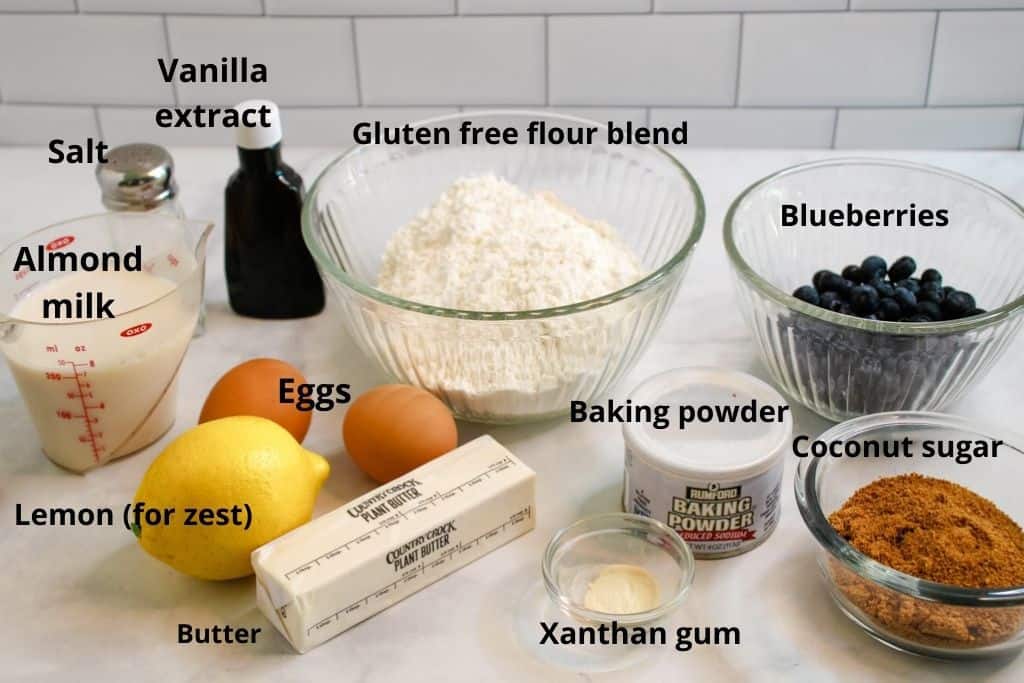 Two of the best things you can do for you gluten free baked goods are: 1. To make sure the ingredients are at room temperature and 2. To weigh the flour.
Gluten free breads already are at a disadvantage without the gluten to help give them texture and stability. Add in cold ingredients and the batter just gets pulled down even more. Room temperature ingredients allow air to be distributed in the batter, which creates wonderful lightness in baked goods.
Like in these oatmeal crepes, weighing flours is essential for accuracy. Different flour and starch brands can have varying cup-capacities, but weight is accurate every time. 10 grams is 10 grams.
Mixing the batter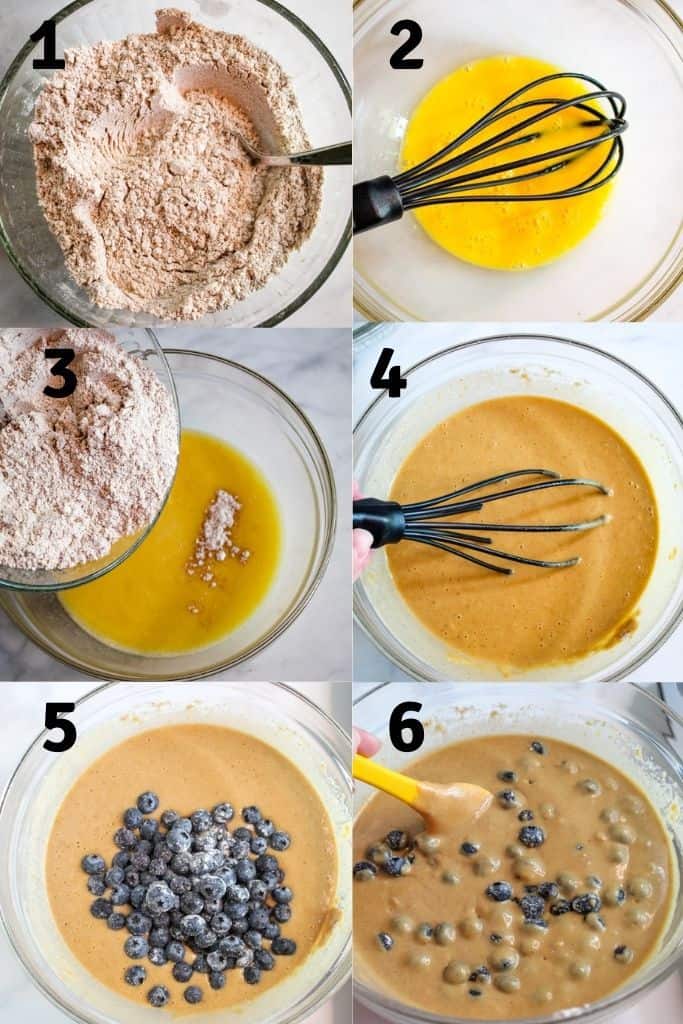 Start with mixing the flours in a medium bowl (step 1 in the picture above). Set them aside. Then whisk the eggs in a large bowl and add the milk, lemon zest, vanilla and butter together (step 2). All at once, add the flour ingredients to the wet ingredients and stir with a spoon (steps 3 & 4). No mixer required!
Then let the batter rest for 30 minutes and then move on to adding the blueberries.
The best way to fold in these blueberries is to first toss them with a dash of the flour mix (just to coat them) (step 5). The use a rubber spatula and fold them into the batter (step 6). Scrape the bottom and fold the batter over. Then repeat.
Portioning the muffin cups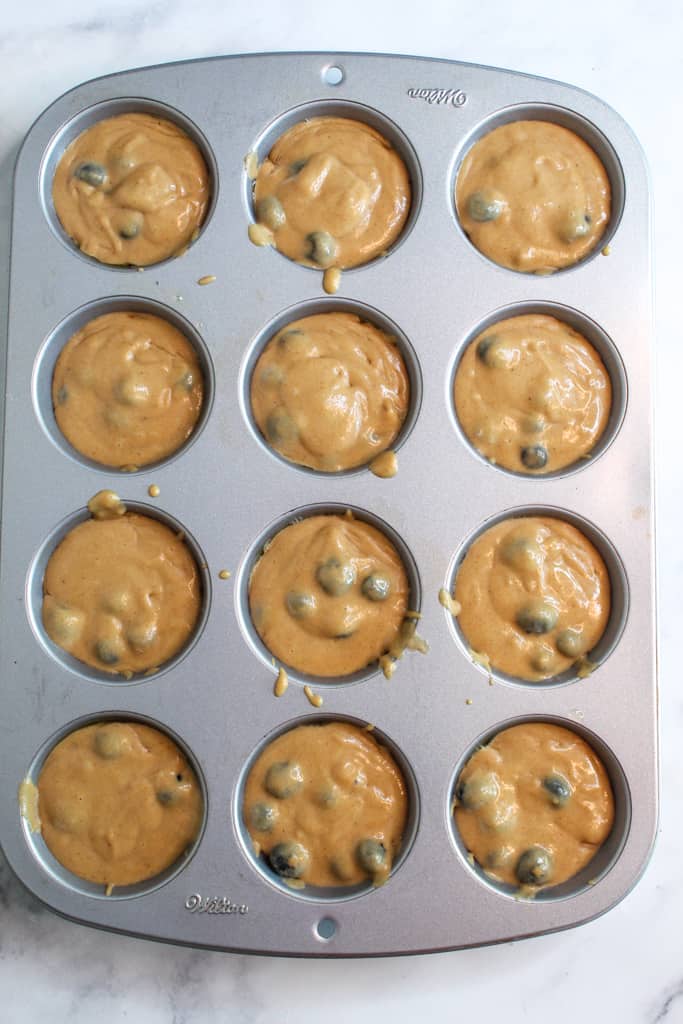 The batter will be thick enough that a large spoon should do it for portioning the muffin batter into the muffin cups. Fill each one almost to the top with batter.
Baking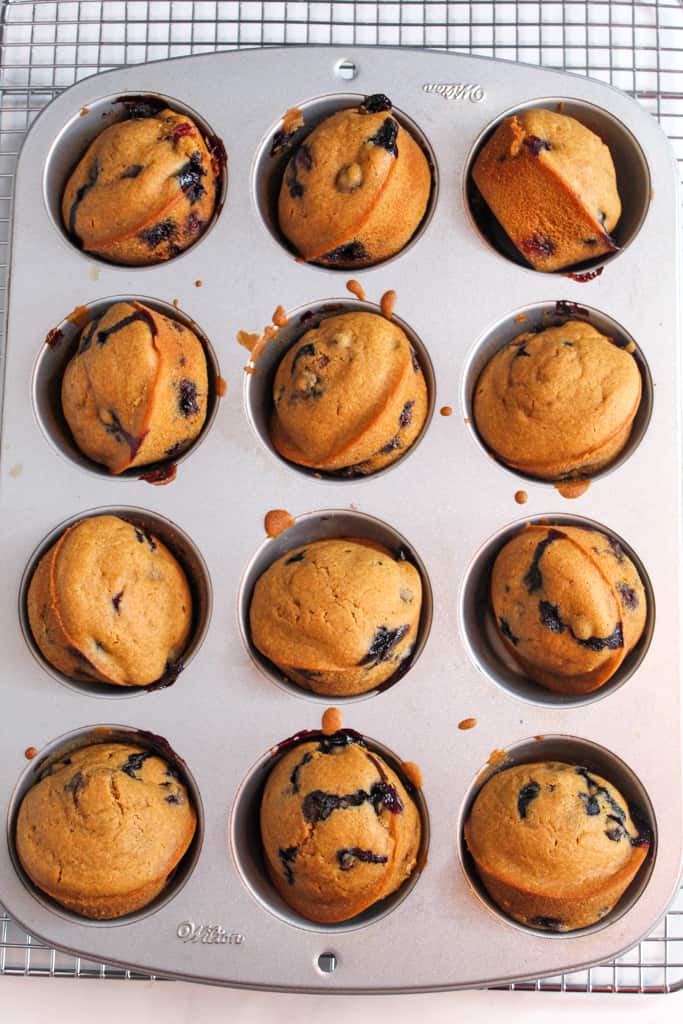 Bake the muffins at 350 F for about 25 minutes. The baking time may vary depending on your oven, climate and even your baking pans. After they've baked, let them cool in the pan on a wire rack for 5 minutes. Then remove from the pan and sink your teeth into that light, lemony blueberry muffin.
FAQ's about this recipe
What flour mix is best in these muffins?
The flour mix I swear by – the one used in this recipe and in this lemon pound cake and these cinnamon rolls is my gluten free flour blend mix. The combination of flours and starches has been specially developed for breads, muffins and rolls. I haven't tested any other brands or mixes, but I know this one works perfectly!
Can I use granulated sugar instead of coconut sugar?
Absolutely. I've been testing out coconut sugar in different recipes, like these apple muffins but the two are almost interchangeable.

Pro Baking Tip: Coconut sugar gives baked goods a darker appearance, so don't be alarmed if the muffin batter isn't golden blond. They will bake beautifully and taste amazing.
Can I make these vegan?
Yes! A couple chia eggs can easily replace the eggs in the recipe. Find some other ideas for egg substitutes here.
What's the best way to store them?
These muffins are easy to store – just place the extras in a sealed plastic bag and let them sit on the counter for up to 2 days. Any longer than that and you'll want to freeze them.
Did you make and love this recipe? Give it your review and

rating below! And make sure to follow me on Instagram, Pinterest and Facebook too!
Recipe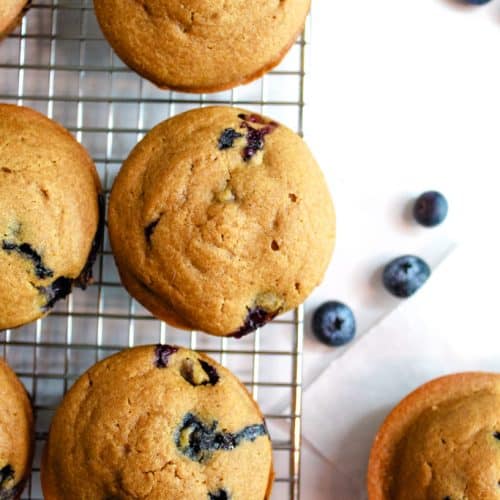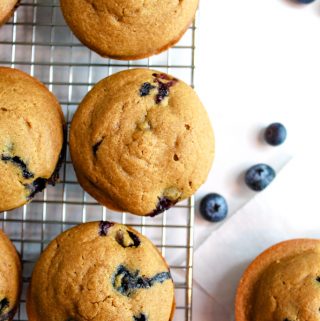 The Best Gluten Free Lemon Blueberry Muffins
Enjoy delicious, fresh plump blueberries and a burst of lemon in these gluten free lemon blueberry muffins.
Print
Pin
Rate
Ingredients
260

grams

gluten free flour mix

about 2 cups

140

grams

coconut sugar

about ¾ cup

2

teaspoons

baking powder

½

teaspoon

xanthan gum

½

teaspoon

salt

2

large

eggs

1

cup

almond milk

2

teaspoons

grated lemon zest

1

teaspoon

vanilla extract

½

cup

unsalted plant based butter

melted

6

oz.

fresh blueberries

Dash of gluten free flour mix
Instructions
In a medium bowl, add the flour mix, sugar, baking powder, xanthan gum and salt and mix with a large spoon until fully incorporated. Set aside.

In a large bowl, add the eggs and whisk until fully blended.

To the eggs, add the milk, lemon zest, vanilla and melted butter. Whisk until fully mixed.

Add the flour mix to the egg mixture and stir until fully combined, about 45 seconds.

Let batter rest for 30 minutes.

Place the blueberries in a small bowl and add the dash of flour mix to them. Gently toss to cover the berries.

Fold the blueberries into the batter.

Spray a 12 cup muffin tin with cooking spray or butter each cup. Preheat oven to 350 F.

Portion out the batter into the muffin tin, filling each cup until almost full.

Bake for 22-26 minutes. Check the muffins with a toothpick - it should come out clean.
Notes
Weigh flour and sugar for best results.
Granulated sugar can be used in place of coconut sugar.
Mix the dry ingredients together in one bowl and the wet ingredients together in another bowl.
Make sure to let the batter sit for 30 minutes before adding the blueberries.
Toss blueberries with a bit of flour mix before adding to the batter to prevent them form sinking to the bottom of the muffin cups.
Let the baked muffins cool slightly before enjoying.
Nutrition
Calories:
186
kcal
|
Carbohydrates:
26
g
|
Protein:
3
g
|
Fat:
9
g
|
Saturated Fat:
2
g
|
Cholesterol:
31
mg
|
Sodium:
203
mg
|
Potassium:
105
mg
|
Fiber:
3
g
|
Sugar:
9
g
|
Vitamin A:
53
IU
|
Vitamin C:
2
mg
|
Calcium:
80
mg
|
Iron:
1
mg
Wait, don't forget to check out these delicious gluten free recipes: