Kick off your day with this gluten free apple muffin recipe! These warm, fresh from the oven gluten-free apple muffins also make a delicious afternoon snack that everyone will love. And with scrumptious little bits of fresh apples and sprinkles of cinnamon, they're a perfectly spiced treat everyone will look forward to! Plus there's NO SUGAR ADDED!
Hungry for more gluten-free apple recipes? Check out this gluten free apple pie, this gluten-free apple cobbler, this gluten free apple cake, and this gluten-free apple crisp!
Jump to:
🍎Gluten-Free Apple Muffin Recipe at a a Glance
Apple muffins that are dairy free, gluten-free AND refined sugar free... and they still taste good? How is that possible?! I promise you any doubts about sugar-free baked goods tasting 'weird' or 'funny' will melt away after tasting these gluten-free muffins. They are undeniably delicious with a distinct 'apple cinnamon muffin' flavor and use a sugar substitute that isn't overly sweet.
For best results, use Granny Smith apples, but during apple season you may have a bigger variety of apples to choose from. In that case, Gala apples, Pink Lady or Honeycrisp apples are also great options.
Ingredients & Substitutions in These Healthy Apple Muffins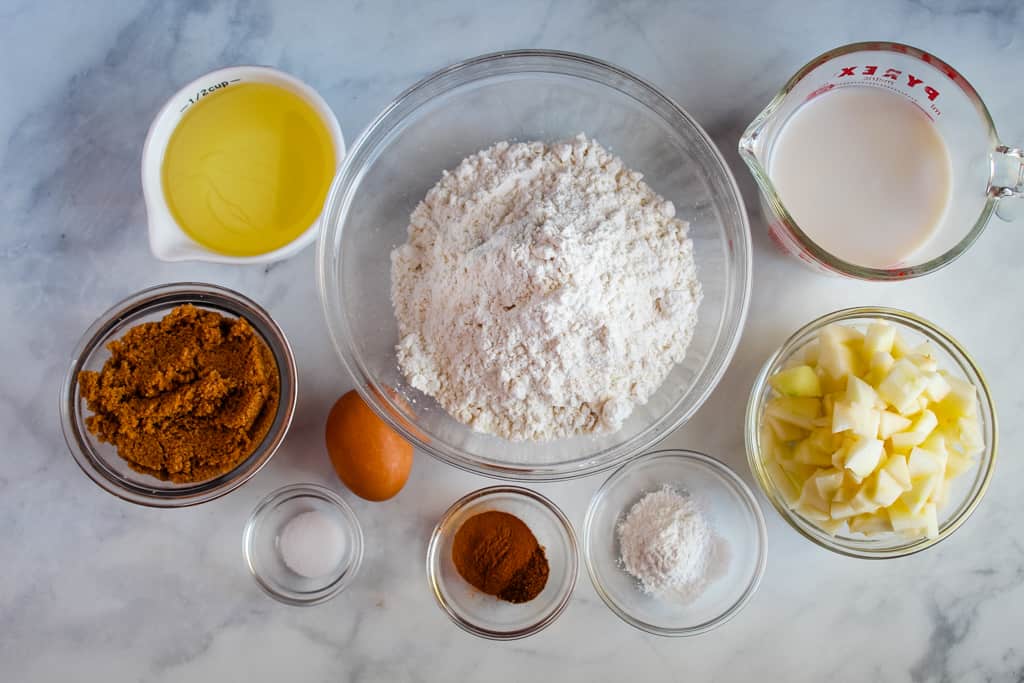 This simple ingredients list for these moist muffins includes:
Gluten-Free Flour Blend: This recipe has been tested with the gluten-free flour mix found here. Make sure your flour mix contains xanthan gum. If it does not it will need to be added (see item below). I would not recommend substituting different flours and starches like almond flour or coconut flour as this recipe has not been developed with them.
Xanthan Gum: Only add this if your flour mixture does not contain it already.
Baking Powder: There is no substitute for the baking powder (find out more about baking powder and gluten-free baking here).
Salt: The salt may be reduced or omitted if you are following a low salt diet.
Cinnamon: There is no substitute for the cinnamon.
Nutmeg: There is no substitute for the nutmeg.
Swerve Brown Sugar: Swerve brown sugar can be found here, but instead of Swerve, regular brown sugar or coconut sugar may be used.
Almond Milk: Make sure to use unsweetened almond milk. Feel free to use any dairy free milk, including coconut milk or oat milk. Regular dairy milk may be used also.
Vegetable Oil: As a substitute for the vegetable oil, melted coconut oil, canola oil or melted butter may be used. A lighter oil like olive oil has not been tested.
Egg: A large eggs was used in the recipe. An egg substitute like flax eggs or chia eggs may be used.
Chopped Apples: A variety of apples will work in this recipe - my favorite are Granny Smith apples, Honeycrisp apples, Pink Lady, and gala apples. It's best to use chopped apples, rather than just apple slices.
Exact measurements and instructions for making these gluten-free apple cinnamon muffins are in the recipe card below.
How to Make this Gluten Free Apple Muffin Recipe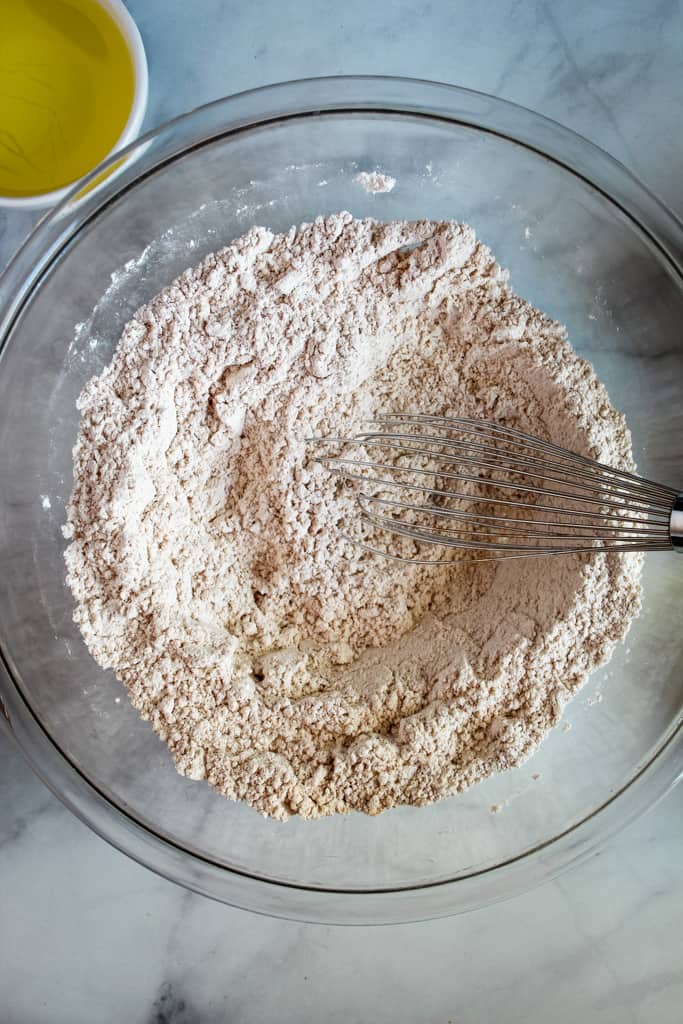 Step One: In a large bowl, combine the dry ingredients - gluten free flour mix, xanthan gum (if needed, see note in Ingredients section above), baking powder, salt, cinnamon, nutmeg and Swerve.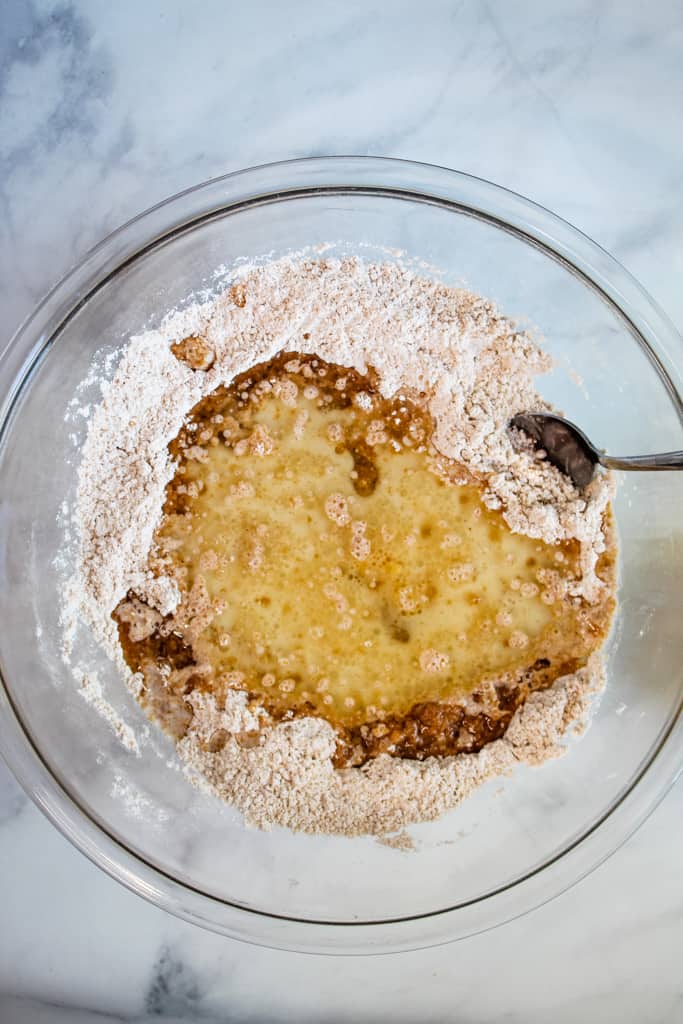 Step Two: Make a well in the center of the dry ingredients and add the wet ingredients - almond milk, vegetable oil, and egg.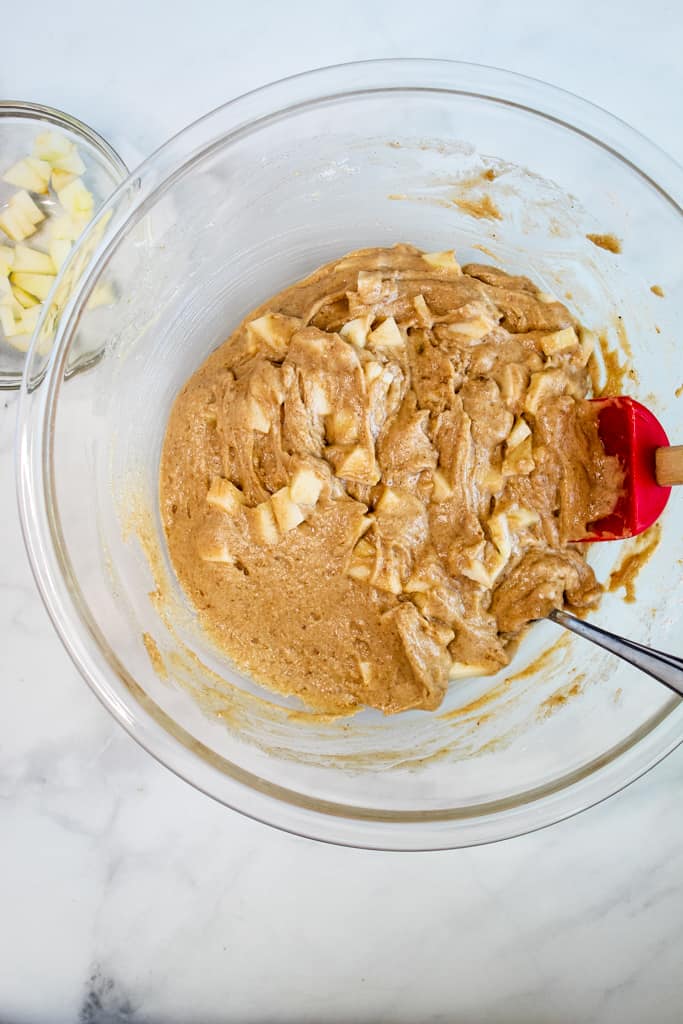 Step Three: Stir the muffin batter until combined. Then add ¾ of the peeled, sliced and chopped apple. Set the batter aside to rest for 30 minutes.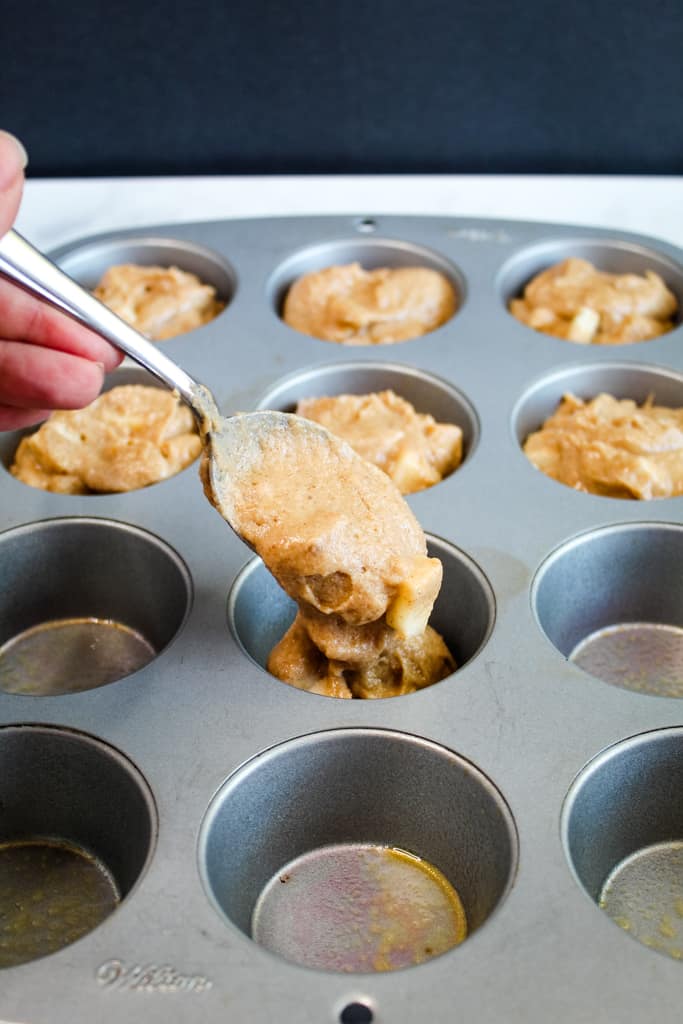 Step Four: Use a ⅓ cup measuring cup or a large spoon and spoon the muffin batter into the prepared muffin tin, sprayed with non-stick cooking spray. Sprinkle a few leftover apple chunks on top each muffin cup.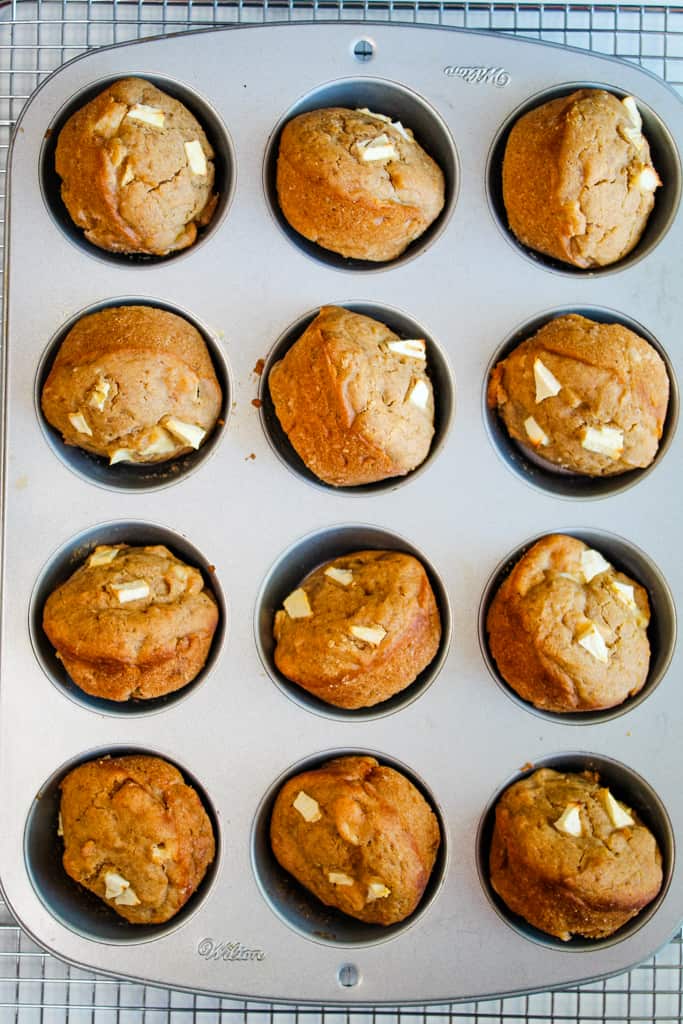 Step Five: Bake these muffins at 375 F for about 25 minutes. Serve warm from the oven!
Storing Gluten-Free Apple Muffins
These muffins store well in a well sealed airtight container on the counter for a day. They freeze really well too, so any longer than a day and just place your air-tight container in the freezer for up to 1 month.
Pro Tips for the Best Gluten-Free Muffins
1. Room Temperature Ingredients
Just like in these carrot muffins, these gluten free crepes and this gluten free French bread, room temperature ingredients are a must for gluten free baking. Warm ingredients tend to blend together better than cold ingredients so allow time to take the chill off eggs and milk beforehand.
2. Measure by Weight
On most of my recipes, you'll see a weight measurement and a cup measurement for the dry ingredients. That's because most of the time, weight measurement is a more accurate way of measuring flour than cup measurement. The reason has to do with all the different kinds of flours that are available. While I buy most of my flours from Nuts.com, Bob's Red Mill also carries those flours and 1 cup of Bob's Red Mill white rice flour could actually be 1 cup plus 2 Tablespoons of Nuts.com white rice flour. Weight is a true measurement of how much flour you really need in the recipe.
A kitchen scale is a low cost solution to the measurement problem. This one from Amazon is an excellent scale and will become an indispensable kitchen tool!
3. Grated Apple vs. Chopped Apple
The key to these delicious gluten free apple muffins is nice, big chunks of apples. All they need is a quick peel and then dice these beauties up. Chopped apples maintain a bit more texture when these muffins are baked. Grated apple tends to turn into apple sauce which results in a completely different texture.
4. What Kind of Apples to Use?
Wondering what apples are the best for these muffins, and baking in general? My favorite apples for baking are not the typical sweet apples, they are the Granny Smith variety. It's what I recommend for this recipe and for my apple bread recipe too. They're firm enough that they hold their shape when baked and they're super tasty too.
Look for Granny Smith or even Pink Lady in the grocery store. Granny Smith are the green ones that are super tart if you bite into them. They bake really well and don't get mushy like others can.
5. Helpful Tools
These gluten free apple muffins need just a few convenient items from your baking toolkit:
A large bowl – These muffins are just a one bowl prep, so just one large bowl is all you need.
A sturdy spoon – I love these spoons!
A whisk – A good whisk allows the dry ingredients to fully incorporate.
A 12-cup muffin tin – These pans are excellent for baking muffins in – highly recommend them!
Muffin scoop (optional) – While you don't necessarily need a muffin scoop, it makes filling muffin cups a whole lot easier!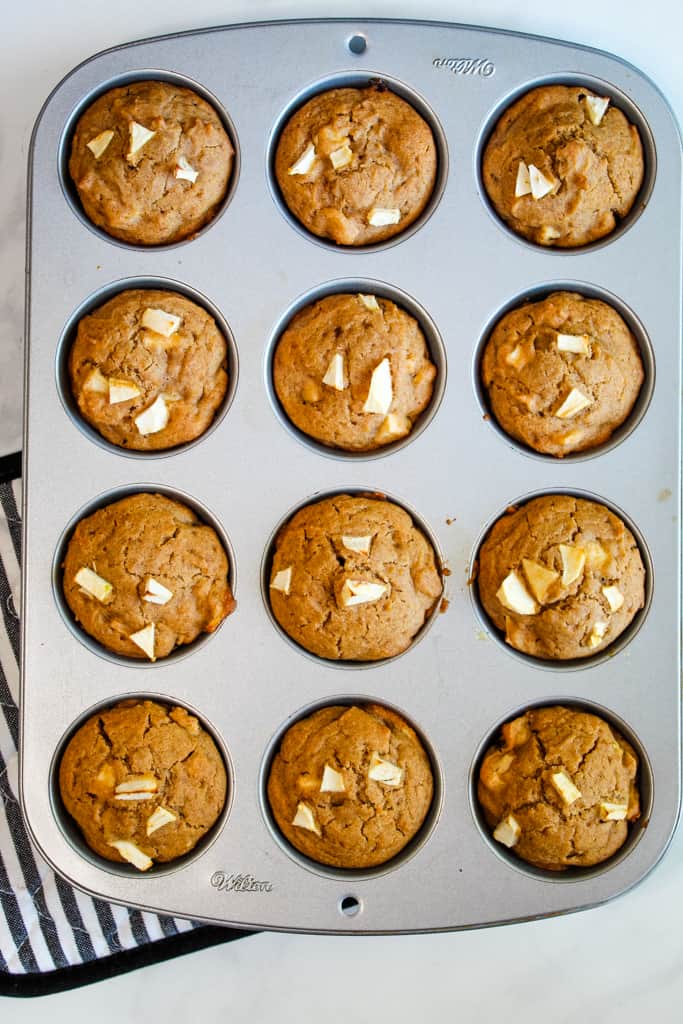 FAQs About this Perfect Fall Breakfast Muffin
What about a crumb topping on these muffins?
These muffins don't need a crumb topping! Crumb toppings are great for some muffins like these banana oatmeal muffins but in the true spirit of keeping them refine sugar free, no crumb topping is needed.
Are apple muffins healthy?
Not all apple muffin recipe are healthy, but these are - being sugar free and low salt and higher in fiber and potassium makes them a winner in healthy muffin recipes.
How do I use Swerve sweetener?
If you're new to Swerve, you are in for a treat. It's a cup for cup sweetener that functions just like brown sugar or white sugar in recipes. The only real difference I notice is when taken right from the bag, it's sweeter than brown or white sugar would be. But once it's baked, there is no difference! Find Swerve here.
More Gluten Free Resources
Did you make and love this recipe? Give it your review and

rating below! And make sure to follow me on Instagram, Pinterest and Facebook too!
Recipe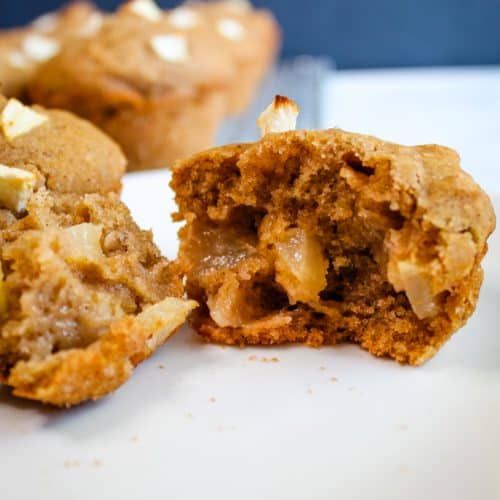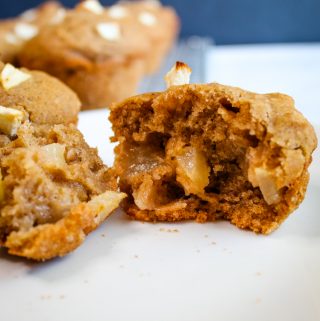 Gluten Free Apple Muffin Recipe: Easy & Healthy
Start your morning off right with this gluten free apple muffin recipe! They're dairy-free and refined sugar free too, but you'd never know it!
Print
Pin
Rate
Ingredients
325

grams

gluten free flour blend

about 2 ½ cups

3

teaspoons

baking powder

1

teaspoon

salt

2

teaspoons

ground cinnamon

¼

teaspoon

nutmeg

¾

cup

firmly packed Swerve brown sugar

1

cup

almond milk

½

cup

vegetable oil

1

large

egg

lightly beaten

1

medium

Granny Smith apple

peeled and coarsely chopped
Instructions
In a large bowl, combine the gluten free flour blend, baking powder, salt, cinnamon, nutmeg and Swerve. Mix with a wire whisk.

Make a well in the center of the flour mixture and add the almond milk, oil and egg. Using a sturdy spoon, stir the mixture just until combined.

Carefully fold ¾ of the apple chunks into muffin batter.

Set batter aside to rest for 30 minutes. Grease a 12-hole muffin tin. Set aside.

Using a large spoon and spatula or muffin scoop, drop the batter into the prepared pan.

Add the remaining apple chunks to the top of each muffin.

Bake in a preheated oven for 25 minutes or until the toothpick test comes out clean.

Let the baked muffins cool in the pan for 5 minutes. Then transfer each one to a wire rack to cool.
Notes
Use a whisk to mix the dry ingredients.
Fold in the apple chunks with a rubber spatula.
Fill the muffin cups almost to the top.
Enjoy these muffins warm from the oven or wait until cooled.
Nutrition
Calories:
181
kcal
|
Carbohydrates:
22
g
|
Protein:
3
g
|
Fat:
11
g
|
Saturated Fat:
8
g
|
Cholesterol:
14
mg
|
Sodium:
193
mg
|
Potassium:
149
mg
|
Fiber:
3
g
|
Sugar:
3
g
|
Vitamin A:
28
IU
|
Vitamin C:
1
mg
|
Calcium:
106
mg
|
Iron:
1
mg
More delicious gluten free quick bread recipes: