The light texture of these gluten free potato rolls will send your taste buds into overdrive! They have an amazing flavor that rivals any traditional potato roll and they're also dairy free!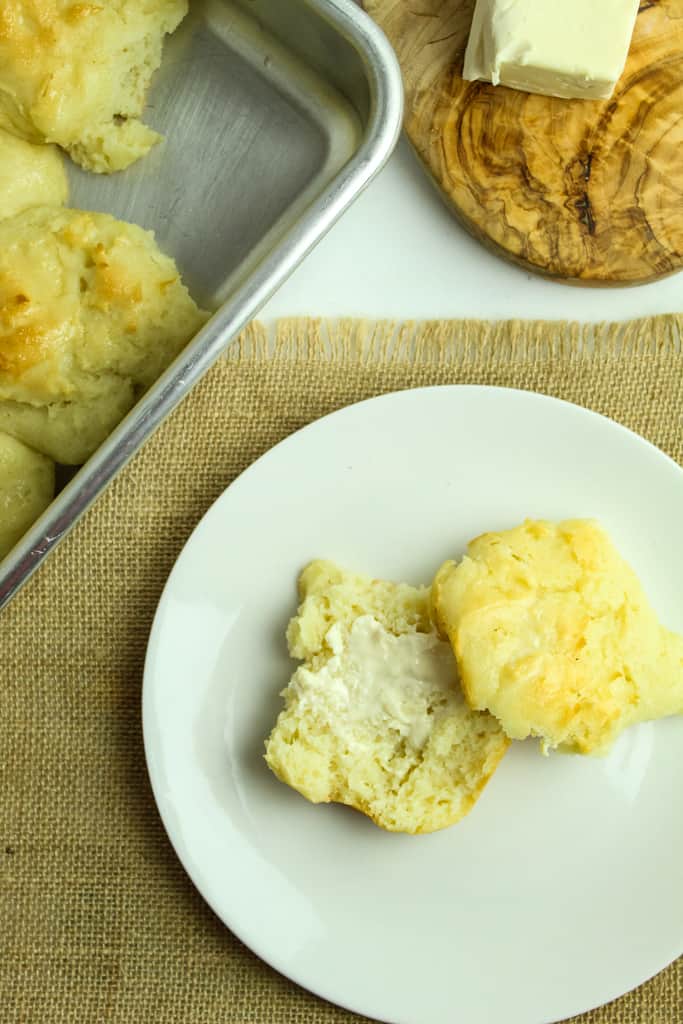 This dairy free dinner roll recipe will be your new go-to when you have leftover mashed potatoes on hand. You'll love the unique texture and flavor with the use of almond milk and non-dairy butter.
Are you looking for a distinct and super tender, fluffy, and delicious gluten free dinner roll? These potato rolls are a must-have for any occasion, rather it a weeknight dinner or holiday feast. Try a classic gluten free dinner roll that is also dairy free, but without the added potatoes.
What are gluten free potato rolls made of? (Besides potatoes!)
It's no surprise that baking gluten free comes with some challenges, from the batter consistency to the ingredients themselves, there's a lot to learn. But regardless of where you're at in your gluten free baking journey, these potato rolls need to be on your go-to recipe list. And here's why…
The recipe is not complicated!
Just make sure you have your gluten free flour mix handy, some almond milk, non-dairy butter, sugar, vinegar, and yeast. You'll be on your way to delicious perfect gluten and dairy free potato rolls in no time.
Why add vinegar to this recipe?
Adding vinegar to your bread helps increase the acidity in the dough, which yeast loves. This will result in a better rise to your dough. It also curdles the milk creating buttermilk that adds flavor.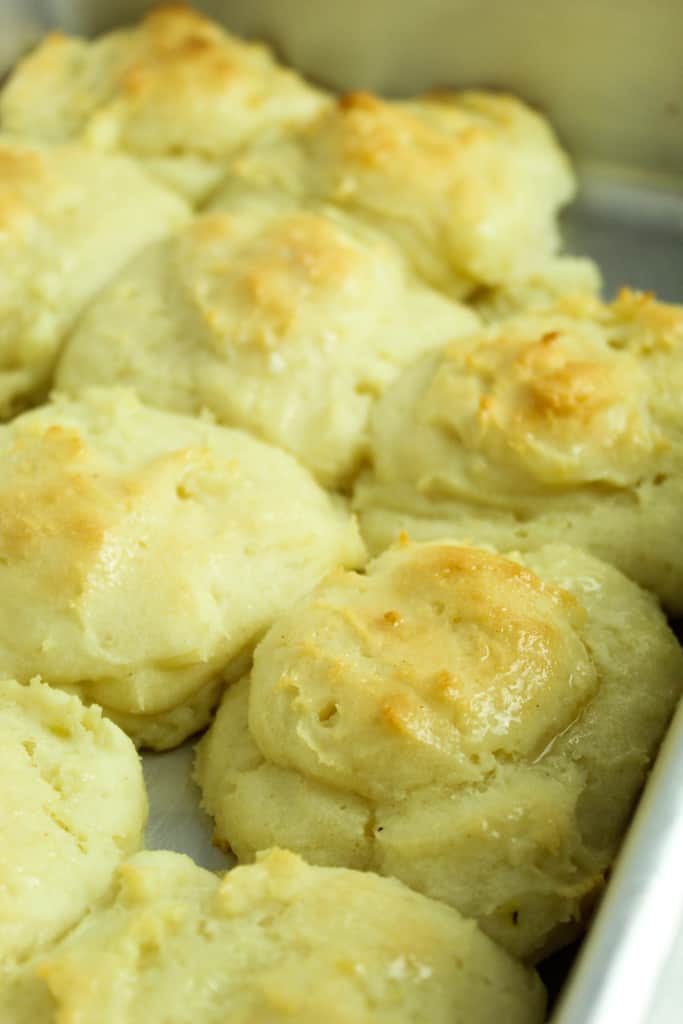 Are potatoes gluten free?
Yup! Potatoes are naturally gluten free.
What potatoes should I use?
For this easy potato roll recipe, I used russet potatoes.
Can I make substitutions in this GF potato roll recipe?
While usually a tricky task, it is super easy to substitute ingredients in this potato roll recipe without any other recipe changes.
Almond milk
You can easily use regular milk in place of almond milk if preferred.
Non dairy butter
Substitute regular dairy butter or oil for the non-dairy butter, measure for measure.
The key is gluten free flour
Are potato rolls gluten free? That's why you're here, right? These dinner rolls are gluten free and that is thanks to the flour blend we use here. Make your own versatile blend of gluten free flour to have on hand for all your gluten free baking.
Also, be sure to have your kitchen scale handy to weigh the flour.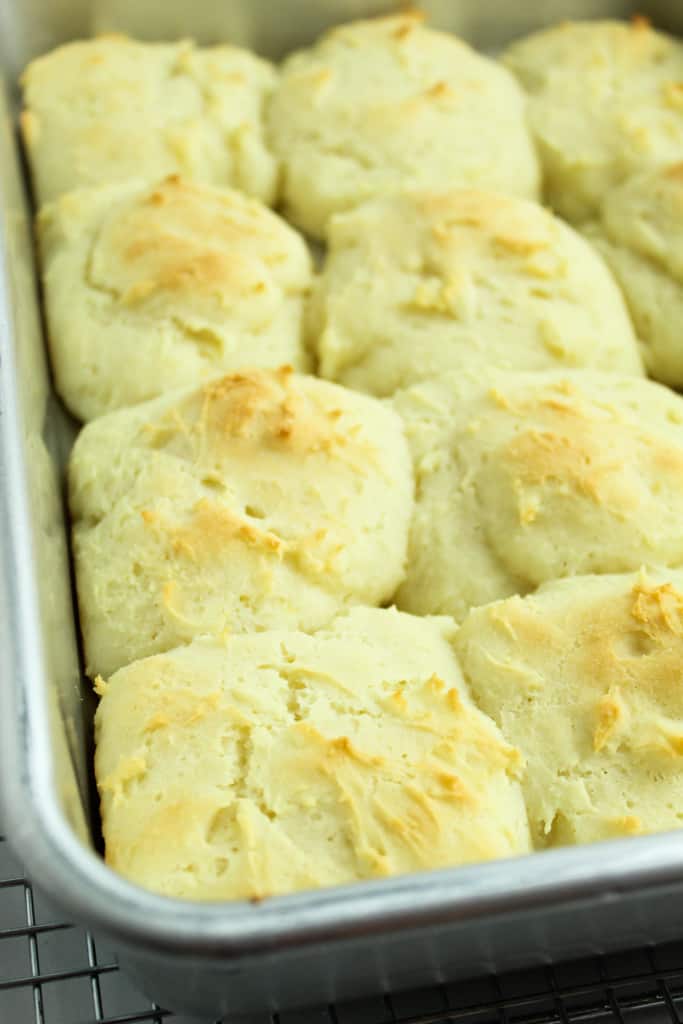 What's the best way to store potato rolls?
Gluten free breads in general are not agreeable when it comes to storage time. These potato rolls do give a little though. The moisture of the potatoes helps in that area.
The best storage is a good ole bread box. But if you don't have one of those, a plastic bag is a good alternative. A day or two on the counter is fine, but any longer than that and you'll want to freeze them.
How to make gluten free potato rolls
Start with room temperature ingredients
I can't stress how important this is for a successful roll. The only ingredients that should be a little warmer than room temperature are the mashed potatoes and the cooking water. But the rest of the spread of ingredients should be room temperature equivalent.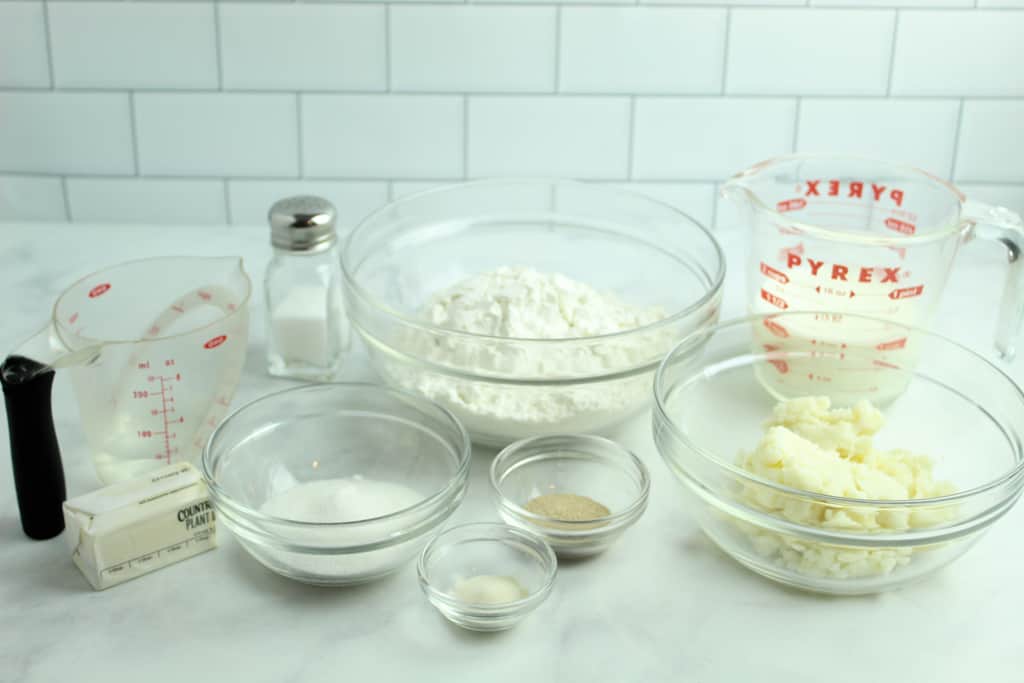 The best way to achieve this is to take out the items that would ordinarily be kept cold – milk, butter, egg – and let them sit while getting everything else prepped.
A microwave also works nicely for warming ingredients when you don't want to wait. Just be sure to start with a short time frame, check, stir, and start again if needed. Hot spots can make one area of a glass of milk super hot while the rest is cool.
Mix ingredients
In a small bowl or measuring cup, stir together the almond milk and vinegar and set aside.
Combine the warm water, yeast, mashed potatoes, sugar, and egg in a stand mixer and mix on for about a minute until combined.
After about 5 minutes the mix should start to become frothy and foamy. Pour in the almond milk and vinegar mix, melted butter, and salt, and blend until combined.
In a medium bowl, combine the flour mix and xanthan gum. With the stand mixer on, slowly add the flour and blend for about 2 minutes.
Consistency of the potato roll dough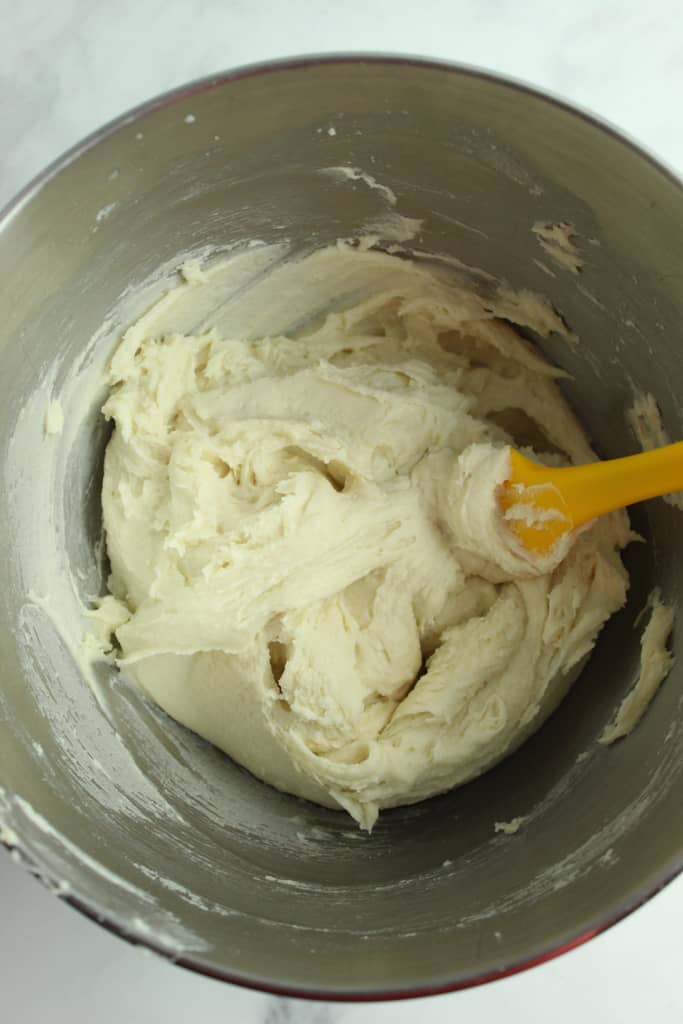 Along the way, you learn the difference in consistency of gluten free bread dough. For these potato rolls, you will be looking for a dough that is more like cake batter than bread dough.
There's a range of flour used in this recipe, therefore 390 grams (or 3 ¼ cups) should give you this consistency, but if you find it too loose add an additional ¼ cup.
The true test will be: does the dough hold shape on a scooped spoonful but still soft?
If it passes that test, then it's ready! Simply spoon large heaps of batter onto a greased pan into even rows. You should have 12 even potato rolls in your 9" x 13" baking dish.
Cover the rolls with a towel and allow them to rise for about 25 minutes, or until they have doubled in size. Preheat the oven and bake the potato rolls for about 20 - 25 minutes.
The rolls will only be slightly brown at which time you can remove from the oven and spread on some butter if you'd like. Serve warm and enjoy!
Pro tip for making uniform size gluten free potato rolls
Some things are easy to make consistent sizes of such as cookies, muffins, cupcakes – basically anything baked in a mold or tin. But for recipes like rolls that are freeform can end up being small, large and everything in between, try this tip…
.Use a large serving spoon and spatula to easily drop even portions of dough.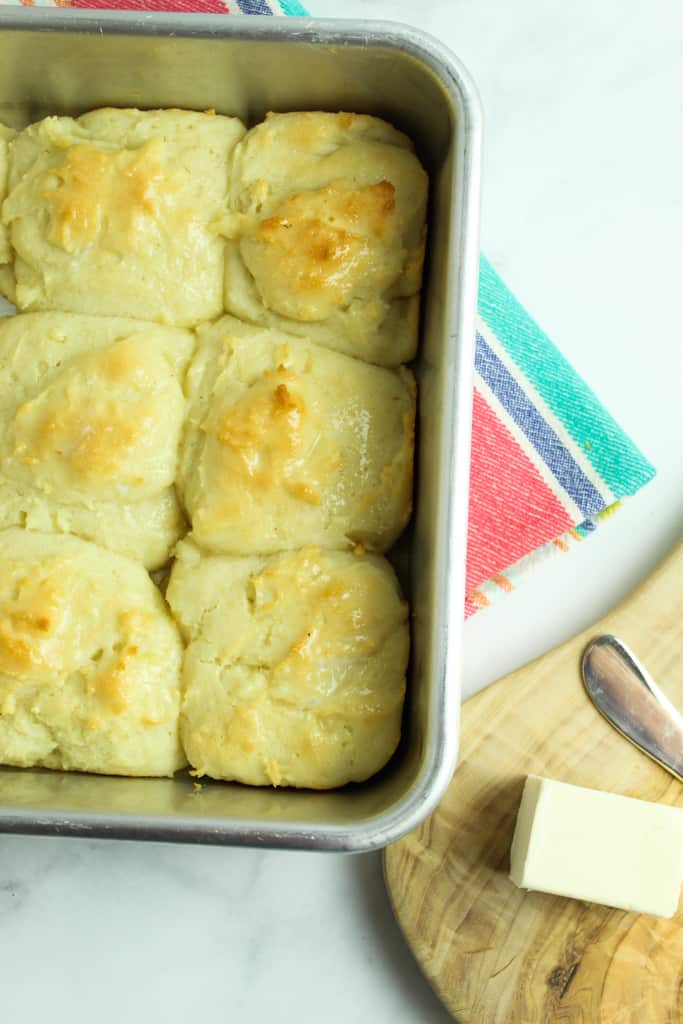 A wonderful addition to any dinner is the aroma of these baking in the oven, resulting in beautifully tender mashed potato bread rolls
Now that you have all the tips, let's get baking!
If you enjoy this soft and flavorful gluten free potato roll recipe, will you give it a rating?!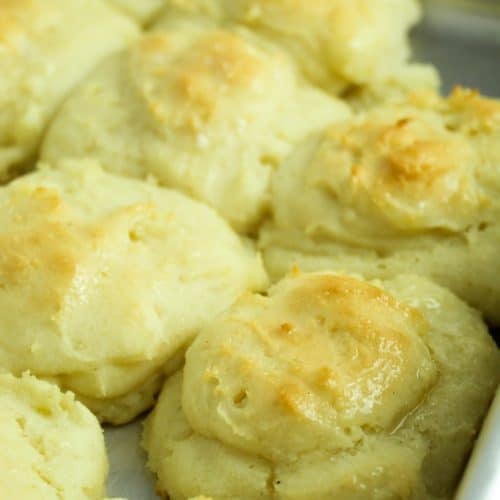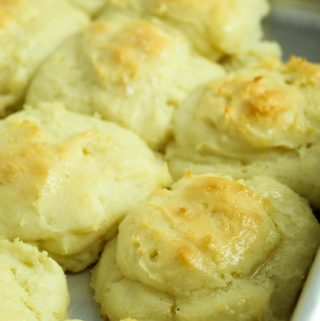 Gluten Free Potato Rolls
Delicious light and airy gluten free potato rolls that taste amazing and will have everyone asking you for the recipe!
Print
Pin
Rate
Ingredients
1

cup

almond milk

¼

cup

white vinegar

¼

cup

warm water 110 F

can use water from cooking potatoes

2 ¼

teaspoons

active dry yeast

1 packet

175

grams

plain mashed potatoes

about 1 cup

¼

cup

granulated sugar

1

egg

4

Tablespoons

Butter, non dairy

melted and cooled slightly

1

teaspoon

salt

390

grams

gluten free flour blend

about 3 cups

1

teaspoon

xanthan gum

melted butter

if desired

Sprinkling of salt

if desired
Instructions
In a small bowl or measuring cup, mix together the milk and the vinegar. Set aside.

In the bowl of a stand mixer, combine warm water, yeast, mashed potatoes, sugar and egg. Mix on low for 1 minute, until incorporated.

Allow the mixture to stand for 5 minutes, until it gets frothy and foamy.

In the mixer bowl, add in the milk/vinegar mixture, melted butter and salt. Blend until mixed.

In a medium bowl, mix the flour blend with the xanthan gum.

Gradually add the flour to make the dough – Blend this on medium for about 2 minutes.

Meanwhile, prepare a 9" x 13" baking dish by spraying generously with cooking spray.

Using a large spoon, portion the batter into the pan, making a long row of 3 and a short row of 4 heaps of batter.

Cover the rolls with a towel. Let them rise in a warm place for 25 minutes. Toward the end of the rise time, preheat the oven to 375 F.

Bake in the preheated oven for about 20 - 25 minutes. Rolls will get slightly golden, but not dark brown.

Brush with melted butter if desired and serve warm.
Notes
Russet potatoes were used in the recipe.
Potatoes can be made ahead of time, mashed and then refrigerated.
Make sure to bring all ingredients to room temperature (water should be slightly warmer).
The gluten free flour blend used in the recipe is the one found here: Gluten Free Flour Mix
Recipe can be made with dairy ingredients with no other ingredient or instruction changes.
Roll batter will look more like thick cake batter than dough.
Brushing with butter is optional and can be omitted!
Nutrition
Calories:
169
kcal
|
Carbohydrates:
29
g
|
Protein:
4
g
|
Fat:
5
g
|
Saturated Fat:
1
g
|
Sodium:
266
mg
|
Potassium:
83
mg
|
Fiber:
4
g
|
Sugar:
5
g
|
Vitamin C:
3
mg
|
Calcium:
46
mg
|
Iron:
1
mg
Find out more gluten free baking tips here:
And check out these delicious gluten free recipes: