If you're looking for a gluten free biscuit recipe that results in light, tender biscuits with a golden brown outside and a soft inside, then this is your recipe!
And even better, they can be made dairy free too! So if warm, fresh from the oven biscuits is on your palate, then heat up your oven and let's get to baking!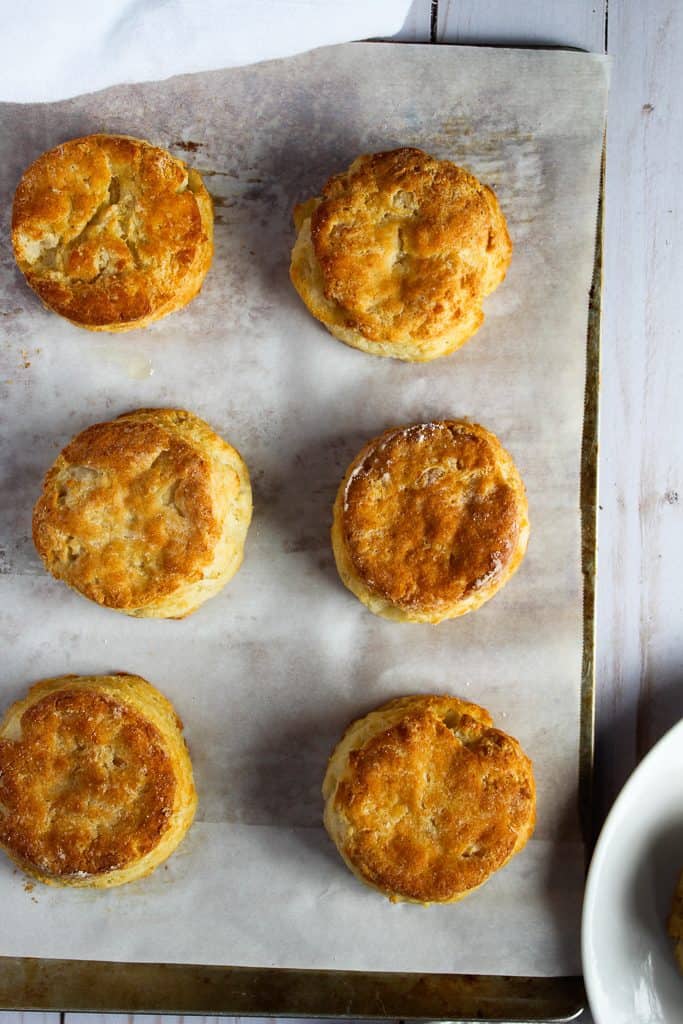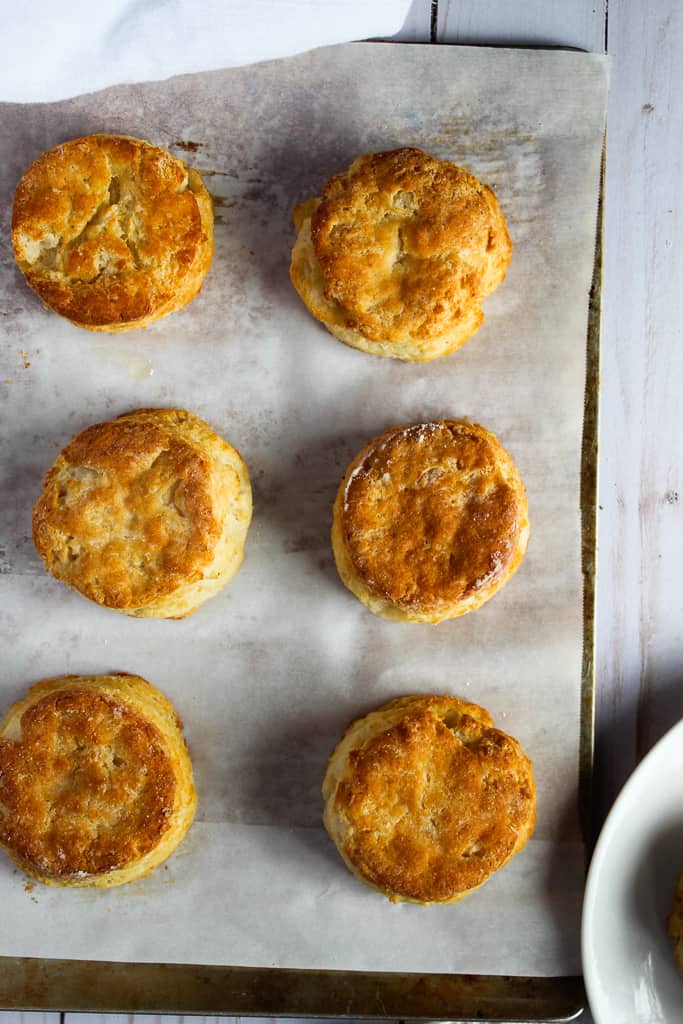 This post contains affiliate links. Affiliate links support Zest For Baking at no additional cost to you. I receive a commission if you choose to make a purchase through these links.
Being from the South, I've consumed my fair share of biscuits. Actually mine and probably 3 other people's fair share of biscuits! They're a staple for not only breakfast, but lunch, snack time and even dinner.
This recipe is for a basic gluten free biscuit. The beauty of it is that it's simple to make and can be on your table in about 30 minutes.
Why these are the best!
If you've ever craved a biscuit that is so tasty it just melts in your mouth, that just bursts with buttery flavor, these are for you. I've served them to gluten free and gluten eating people and I hear 'yum' and 'I'd never guess this was gluten free!' comments all the time!
And here's why they're so well loved:
They use a simple flour mix (that can be used for other recipes like these banana muffins and this sandwich bread too)
They can be made dairy free (just follow the directions below)
They can be on your table quickly
They rise high and stay light
They are not hard to make!
Pro tips
Even though these are fairly simple to make, there are some tips that will really help in your gluten free baking. Are they essential? Not all of them, but most of them will make your biscuits rise higher and your breads fluffier.
Use the ingredients specified in the recipe. It's tempting to swap out flours or eliminate the salt but for the best results, stick to what the recipe calls for. This recipe uses the Nuts.com brand of flours and this regular plain yogurt.
If making them dairy free, follow the same instructions but use a vegan butter (I've used both Country Crock and Earth Balance with great results) and choose the sour cream option - I've found Forager dairy free sour cream keeps the biscuits a lighter shade. Dairy free yogurt can be used, but it turns the baked biscuits darker for some reason!
Make sure flours are room temperature and butter is cold. Yogurt or dairy free sour cream should be not straight from the refrigerator, but they don't need to be room temperature either. A 10 minute sit should do it - just enough to take the chill off.
Go light on the rolling. Once the dough is formed, a couple swipes of a rolling pin should do it. Aim for the dough to stay about 1 inch thick. Any thinner that that and the biscuits will be thin.
How to make delicious gluten free biscuits
The key ingredients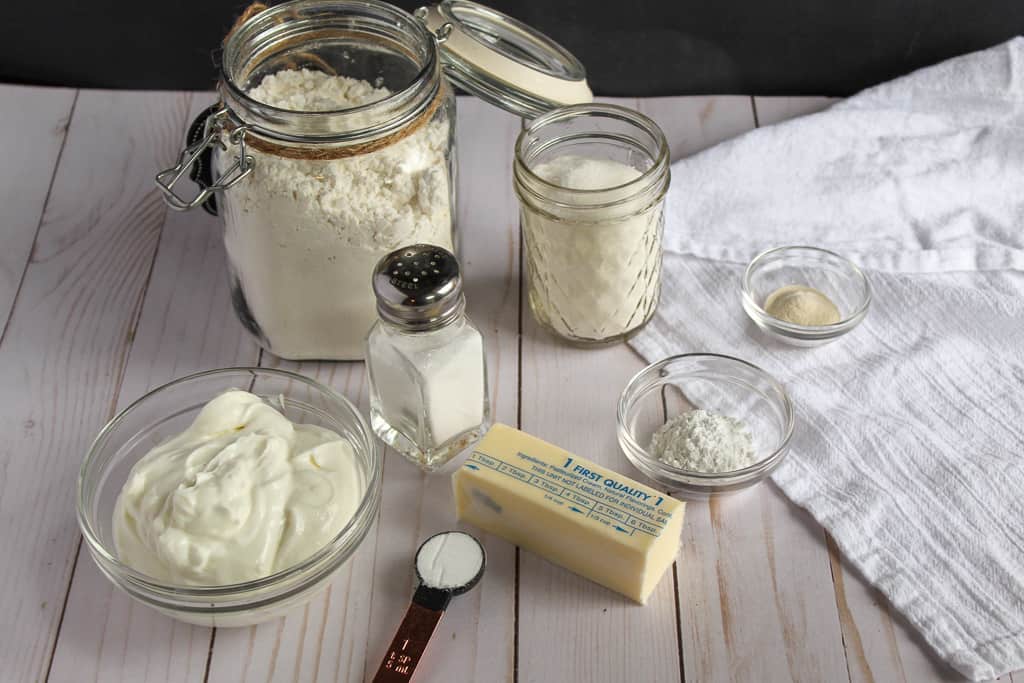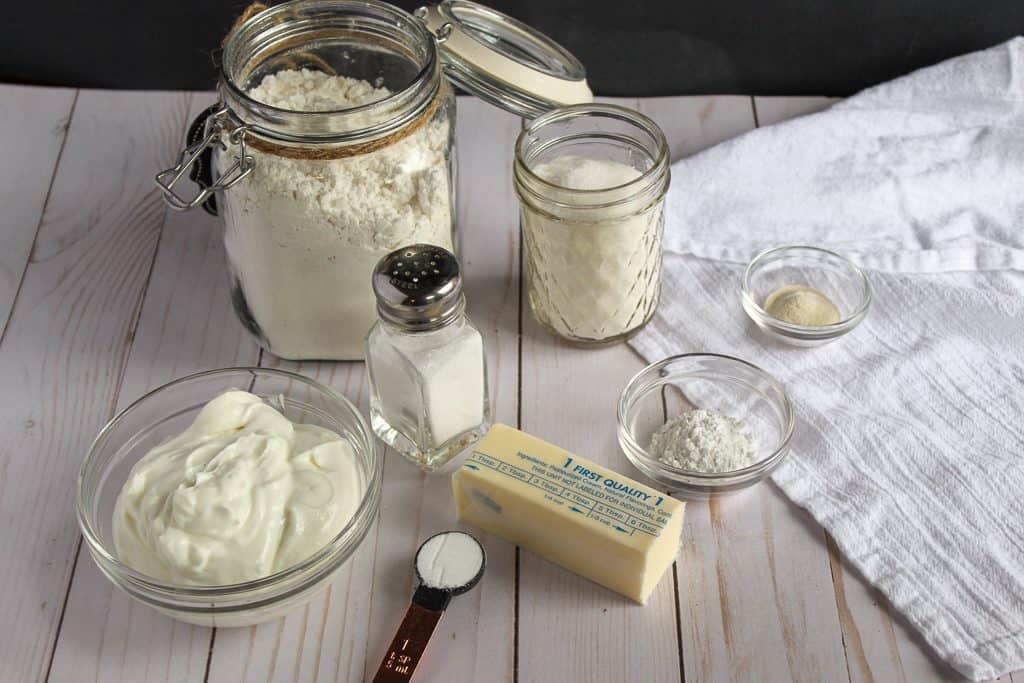 There are a few essential ingredients that go into this glorious gluten free biscuit...
Cold butter - the colder the better. Just take it right from the refrigerator and start cutting it into the flour mix. Cold butter helps produce the tall rise you want with these biscuits.
Yogurt - not fat free yogurt. A plain, unflavored whole milk yogurt is what you're looking for here. Making the dairy free version? Use dairy free sour cream.
Gluten free flour mix - here is the link to the preferred gluten free flour mix that has been tested. We use this one because it's one we make it bulk and use for recipes like these biscuits and these dinner rolls.
Cut in the butter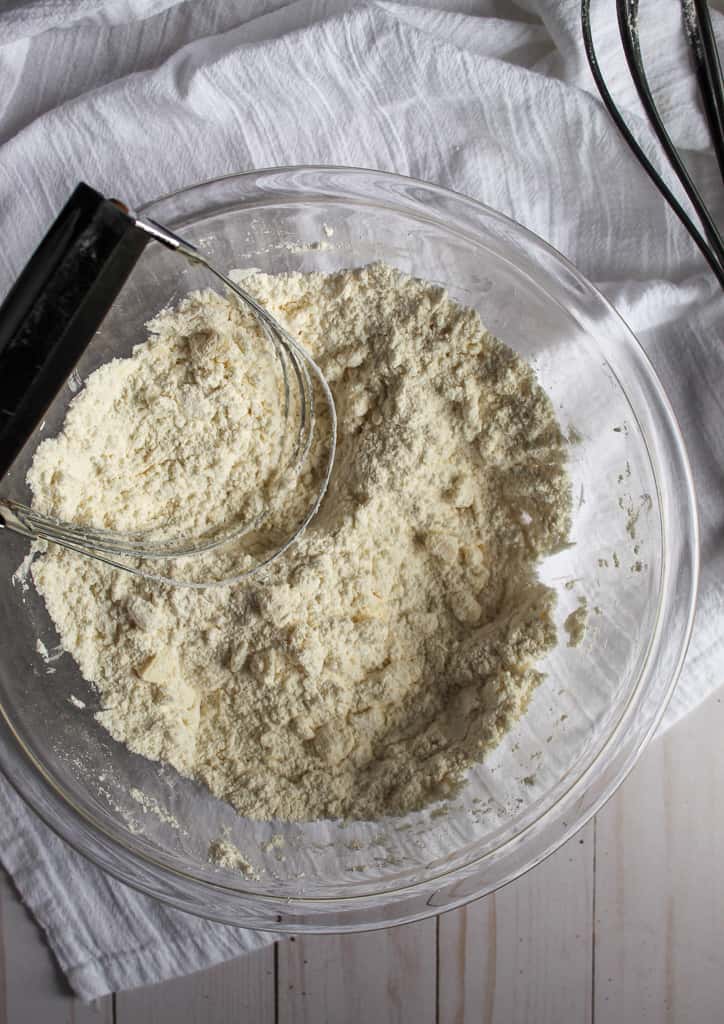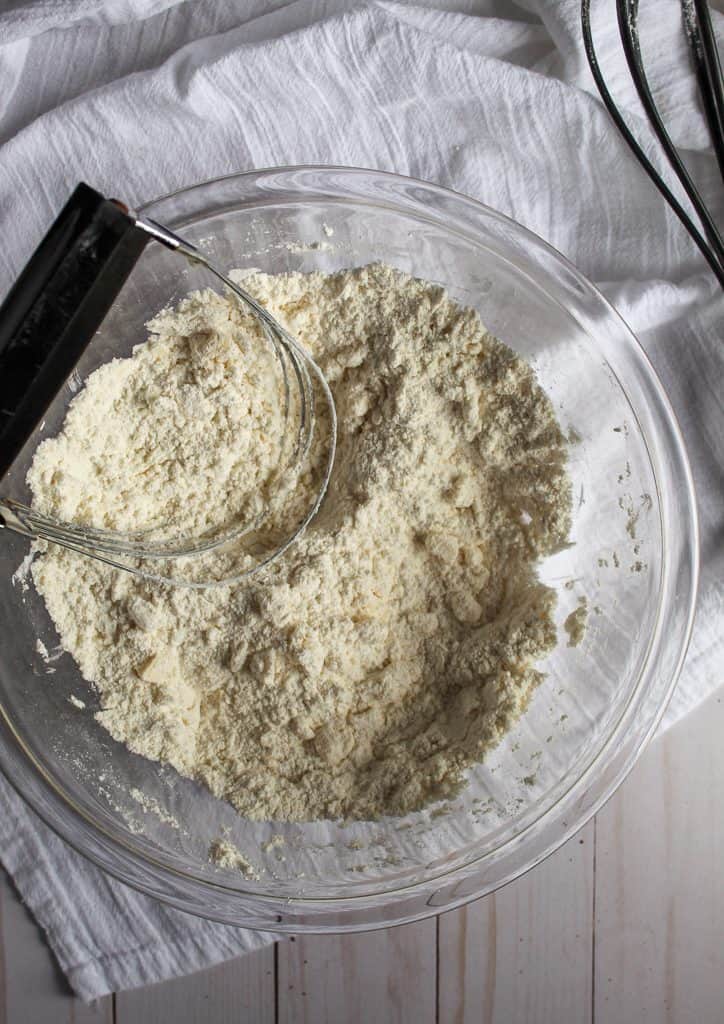 I first discovered how essential cutting in the butter was to a biscuit recipe years ago when I had a biscuit flop. And I mean really flop, like a pancake, from not cutting in the butter. For the best results for a high rising biscuit, use a tool like the one pictured above. This allows you to really incorporate the butter into the flour mixture.
Roll the biscuit dough out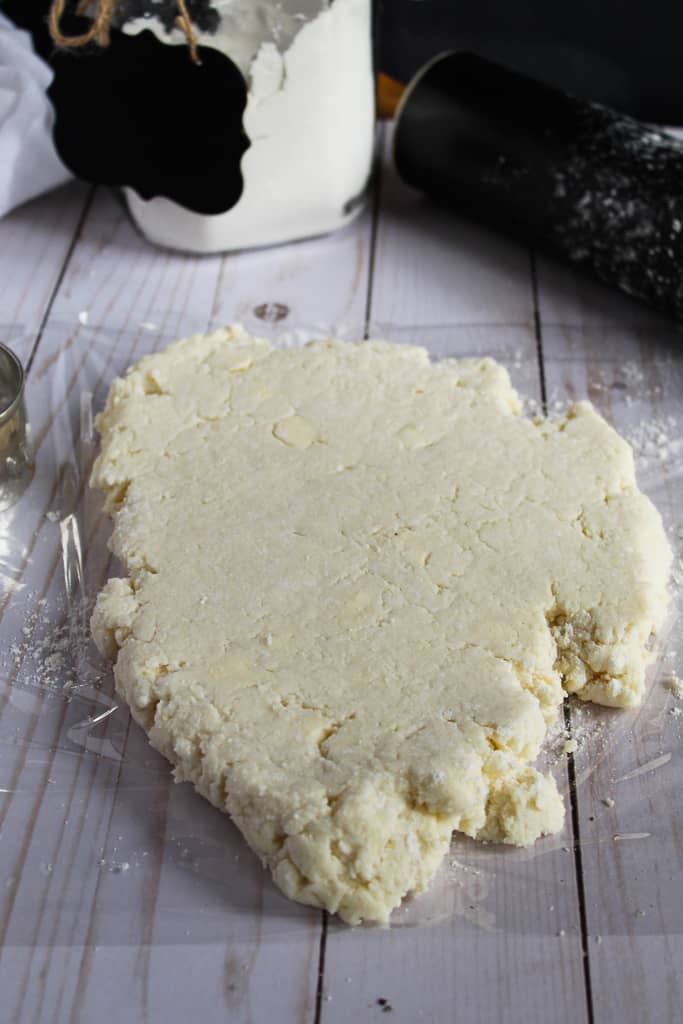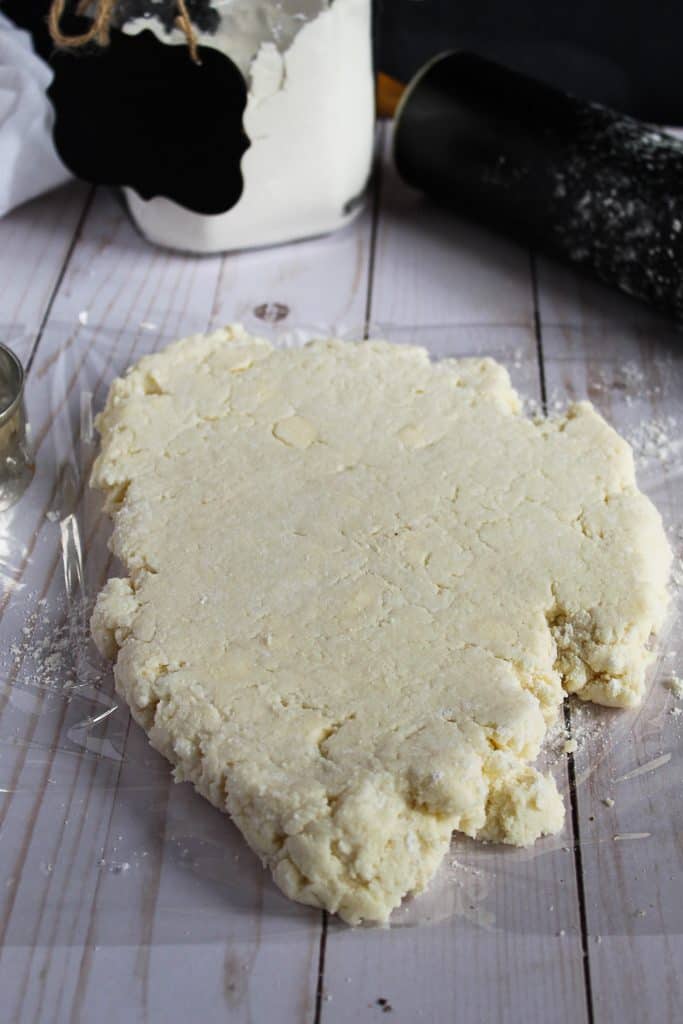 What could be more fun that rolling out bread dough with a rolling pin?! ...I sense some laughing here.
But really, I think you'll appreciate this recipe even more once I tell you that this biscuit dough rolls out really easily. It is not sticky and doesn't require loads of flour to prevent it from adhering to the rolling pin. Just a few easy rolls should have it right at that 1" mark you're aiming for.
Cookie-cut the biscuits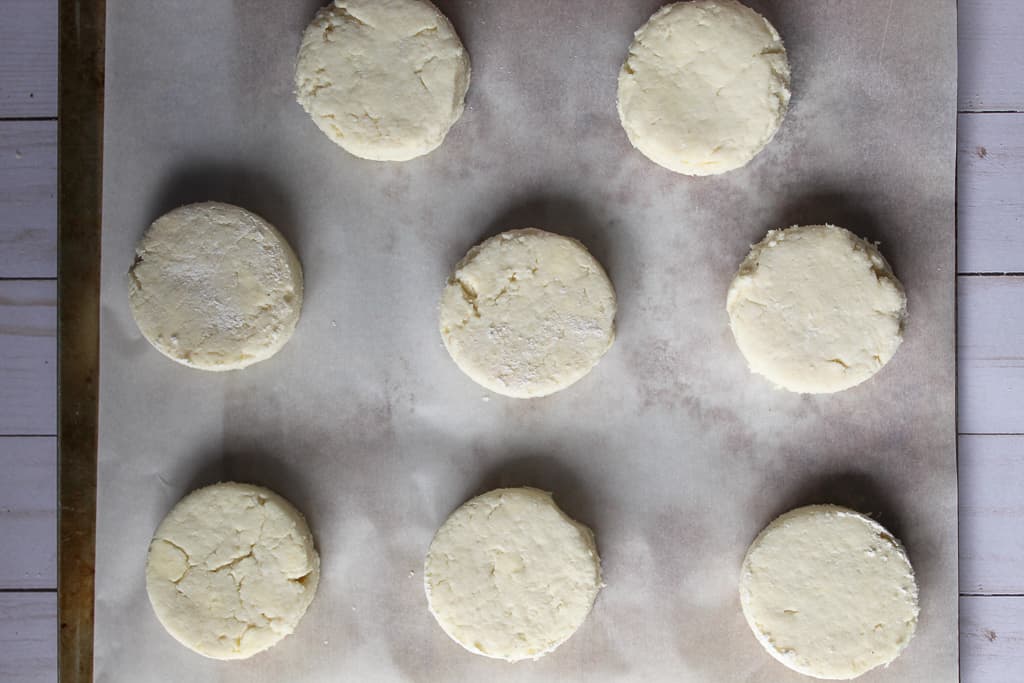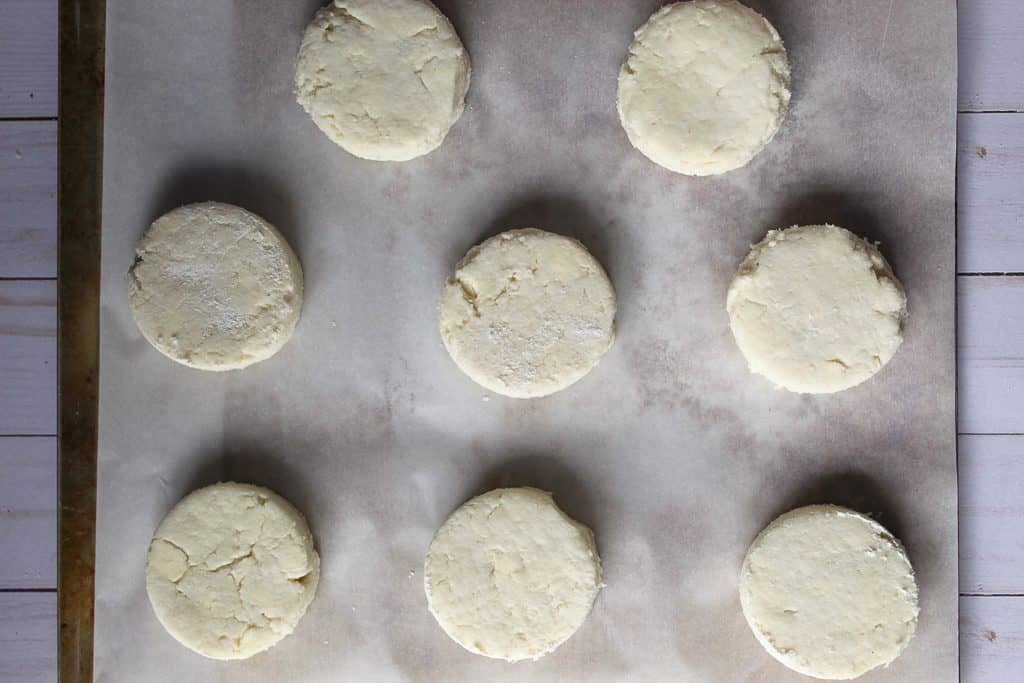 Although I love a good drop biscuit, I am especially fond of cut biscuits. Something about their high rising shape just says, "Look at me, I'm a perfectly shaped biscuit!"
Cutting these beauties out is as easy as can be - just remember to lightly dip the cookie cutter into flour before each cut.
As you know from my gluten free white bread, I'm all about sharing recipes that use convenient tools and ingredients to make gluten free baking much easier and more consistent.
Essential tools
Pastry cutter - this tool makes for some pretty easy prep work for these biscuits. You'd be surprised how often you use this handy tool!
Rolling pin - a good rolling pin makes rolling out dough so much easier! While the wooden ones are pretty to look at, I love my silicon one.
Biscuit cutter - another item you'd be surprised at how often you use - biscuit cutters work really well for cookies too!
Baking sheet - these non stick ones are ideal. And a 3 pack of them is even better!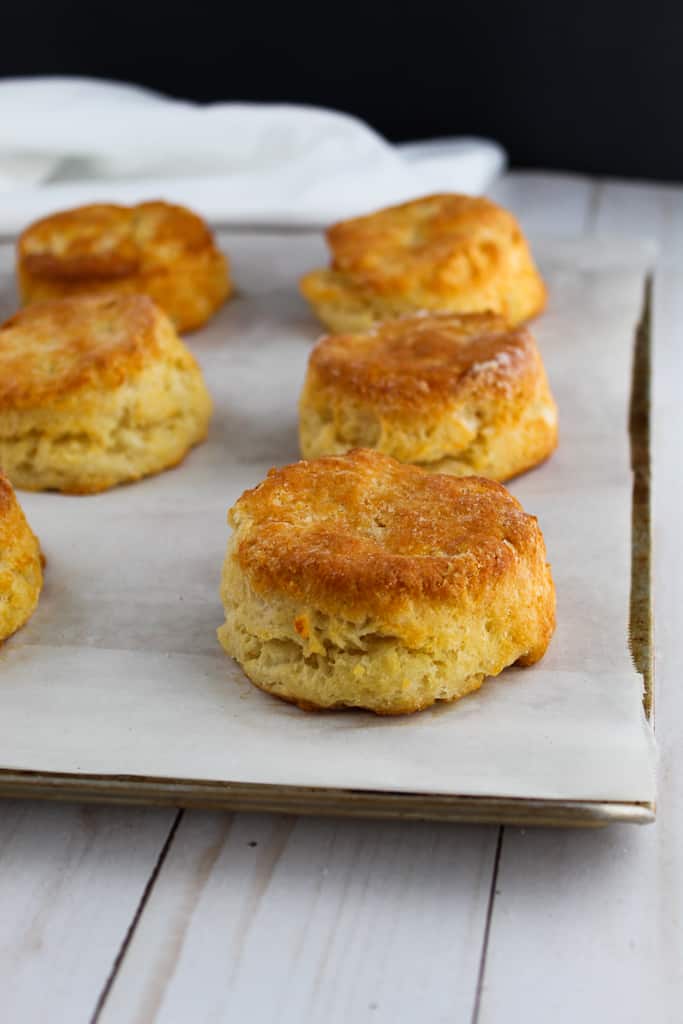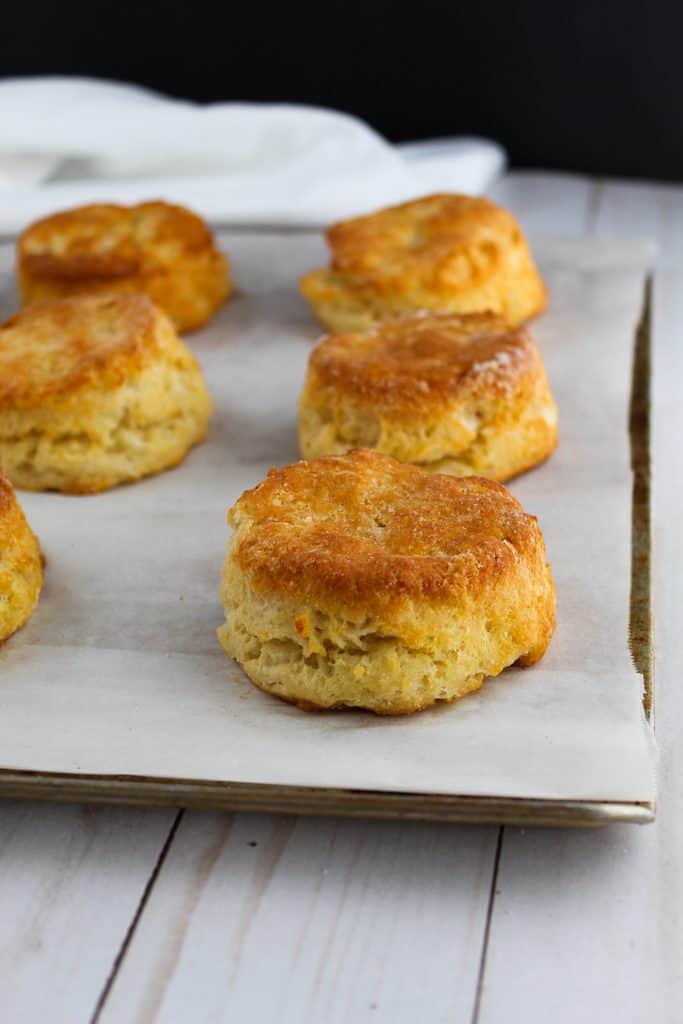 FAQ's about the recipe
Can I make these dairy free?
Yes! For the best tasting dairy free biscuits, follow the recipe instructions below but make these modifications... use a vegan butter like Earth Balance or Country Crock for the butter and then use dairy free sour cream like Forager for the yogurt. No other changes needed!
What's the best way to store these biscuits?
Storing these biscuits is a lot like storing these almond flour blackberry muffins, they can sit at room temperature for a few days (in a sealed plastic bag) but after that, you'll need to freeze them. Freezing is the best way to keep the quality in tact.
What's the best way to serve them after they've been frozen?
The best way to serve these frozen biscuits is with these steps:
1. Preheat the oven to 350 F or set a toaster oven to the 'Toast' setting and turn it on.
2. Remove the frozen biscuit or biscuits from the freezer.
3. Place the number you want on a microwave safe plate and cover with a damp paper towel.
4. Microwave for 30 seconds for 1 biscuit, increase the time by 15 seconds for each additional biscuit.
5. Place them into a preheated oven or toaster oven and let warm for 15 minutes for the oven and 3-5 minutes for the toaster oven.
Tip: Cover them tightly with foil for the oven heating. Place directly on the rack for toaster oven heating.
Can I make the dough ahead of time?
Yes, the dough can be mixed and then refrigerated for up to 3 days. Then remove from the refrigerator and roll as directed.
What are some ideas for toppings or serving them with?
Here is a short list:
Butter or vegan butter
Grape jelly
Strawberry jam
Sliced and spread with butter then sprinkled with cinnamon-sugar mixture and toasted for a few minutes
Gravy
Making these breakfast sandwiches
Spread with peanut butter (and jelly!)
Strawberry shortcakes!
Ham sandwiches
Tuna sandwiches
Chicken salad
So now that you're craving biscuits, here is my basic recipe for tender, light gluten free biscuits. And if you enjoy it, will you give it a rating?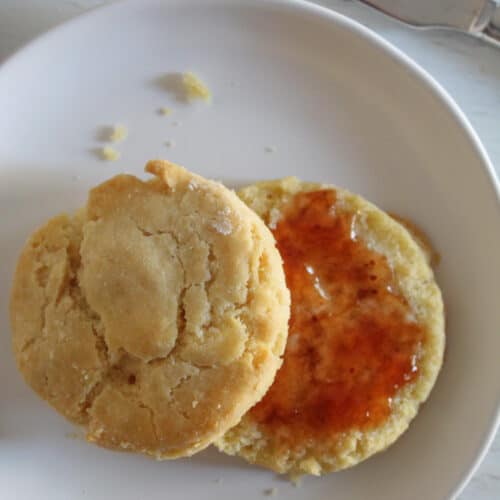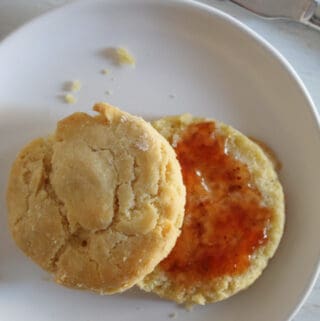 How to Make Gluten Free Biscuits: Buttery & Super Easy
A delicious, mouthwatering gluten free biscuit. Serve them for breakfast, lunch or dinner - this vegan biscuit makes a great compliment to any meal.
Print
Pin
Rate
Ingredients
240

grams

gluten free flour mix

about 1 ¾ cup

3

teaspoons

baking powder

1

teaspoon

baking soda

2

teaspoons

sugar

if you like a sweeter biscuit, add 1 tsp. more

1

teaspoon

salt

6

Tablespoons

vegan butter

very cold

1

cup

dairy free sour cream
Instructions
Preheat oven to 425 degrees F.

In a large mixing bowl, combine the flour mix, xanthan gum, baking powder, baking soda, sugar and salt and whisk to mix.

Slice the very butter into chunks and add to the flour mix.

Working quickly, cut in the butter with a pastry blender, until the mixture resembles coarse crumbs.

Add in the dairy free sour cream and gently mix until the majority of the dough comes together. Turn the dough out onto a piece of plastic wrap and roll to ¾" thickness.

Cut the dough using a 2" biscuit cutter. Place 1" apart on an ungreased baking sheet.

Move baking sheet to the upper middle oven rack the last 5 minutes of baking to get a darker shade.
Notes
Unlike most gluten free baking recipes, the dairy free sour cream and vegan butter should be very cold.
Work quickly to cut in the butter.
Start preheating the oven at the beginning of the recipe so the cut biscuits can be placed right into the oven.
Move the baking sheet up to the upper middle baking rack the last 5 minutes of baking to achieve a golden brown top.
This recipe was developed with the gluten free flour here. I don't recommend substituting it.
Use vegan butter like Earth Balance and dairy free sour cream like Forager.
A quick roll with the rolling pin is all you'll need with these biscuits. Keep the dough at least ¾" - 1" thick. 
These biscuits also make great hearts and egg shapes!
Alternatively, if you want round biscuits and you don't have a biscuit cutter, use a tin can. Simply remove the top and bottoms of the can, stick it in some flour and use it as a biscuit cutter.
Biscuits are best the same day they're made but also freeze very well. Defrost biscuits for 30 seconds in the microwave and then place in a toaster oven to finish browning. Alternatively, wrap in foil and place in the oven at 350 F for 10 minutes.
Nutrition
Calories:
194
kcal
|
Carbohydrates:
23
g
|
Protein:
4
g
|
Fat:
11
g
|
Saturated Fat:
6
g
|
Cholesterol:
28
mg
|
Sodium:
520
mg
|
Potassium:
234
mg
|
Fiber:
3
g
|
Sugar:
4
g
|
Vitamin A:
305
IU
|
Vitamin C:
0.2
mg
|
Calcium:
137
mg
|
Iron:
1.1
mg
Originally published 3/1/2013
Want more delicious gluten free biscuit and roll recipes? Check these out:
And if you're looking for some gluten free baking help, check out these tips: