If you're a fan of tender, light textured biscuits, you will absolutely love these buckwheat biscuits. They're straight buckwheat flour too - no starches or other flours included. Plus they've got the added bonus of being grain-free too.
Don't let the cracked top fool you, these biscuits have a great, high rising texture, a nice interior that's the ideal balance between pull-apart and firm and are just 8 ingredients! They are as good toasted as they are fresh. And if you like these regular gluten free biscuits and these almond biscuits, you'll definitely love these too.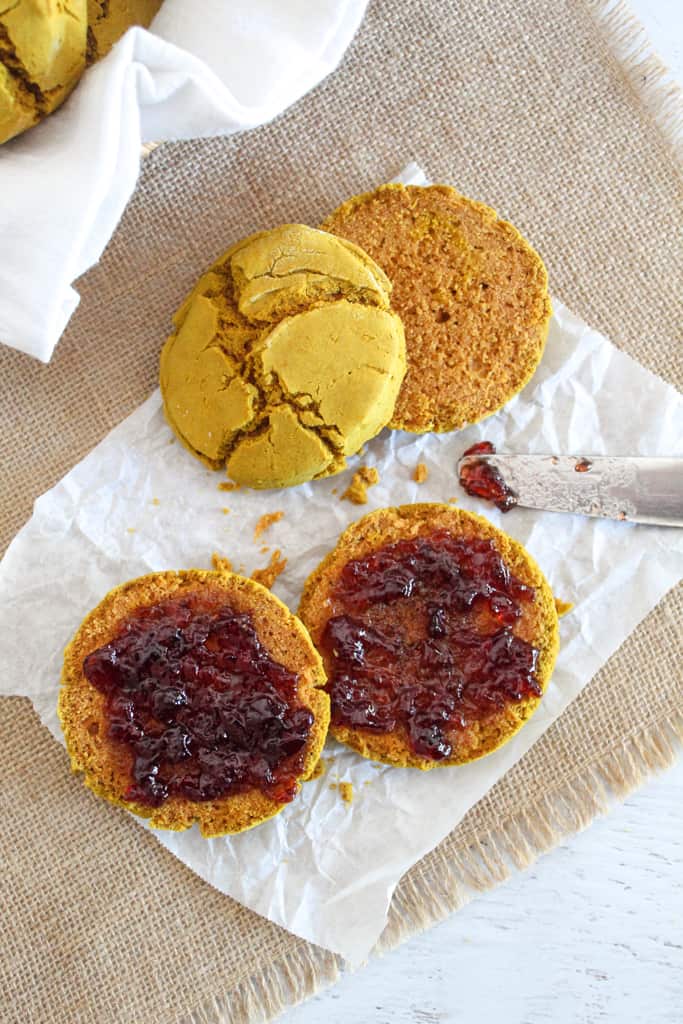 I use buckwheat flour quite often in recipes. It's a wonderful grain alternative that's naturally gluten free and hearty enough to offer a nice consistency to baked goods without being too heavy. As with other flours, there is a flavor to buckwheat - the best way to describe it is a bit wheat-y, but with an earthy undertone. It's wonderful in a variety of recipes, from pancakes to breads - keep in mind, whatever you're baking, whether sweet or savory, using buckwheat flour will result in some of the best textured baked goods.
This post contains affiliate links. Affiliate links support Zest For Baking at no additional cost to you. I receive a commission if you choose to make a purchase through these links.
Why this recipe is the Best!
From flavor to level of difficulty, this recipe is a true winner! It's naturally gluten free and even grain free too (yes, buckwheat is actually a seed!). Besides that, it's also:
Simple to prep - there's just 8 ingredients!
Dairy free
Vegan
Easy to store
And they're still delicious even after they've been frozen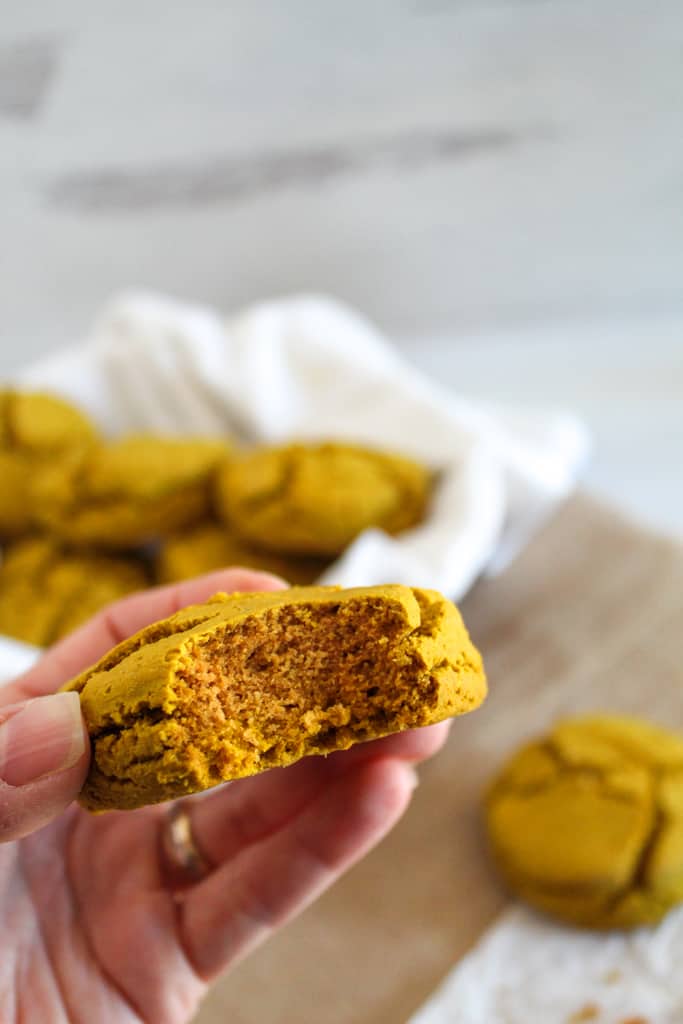 Baker's tips
For the absolute best biscuits, follow these quick and easy tips...
Room temperature ingredients - make sure the flour, baking soda, baking powder, salt, sugar, milk and sour cream are between 70-80 F. The butter can be cold as it will get cut into the flour mixture anyway. But the other ingredients should not be straight from the refrigerator, they need time to warm so they blend and mix better.
Measure by weight - a digital scale like this one is a very worthwhile investment in your baking. It will ensure you have the exact amount of ingredients (especially flours) in your recipe. Because a cup of flour can actually be a lot more or a lot less depending on the measuring cup.
Brands make a difference - in this recipe I use, and recommend, the following brands:
Bouchard Family Farms Light Buckwheat Flour
Other brands may work, but this is what the recipe was tested with.
Roll gently - for a high rising biscuit, keep a light hand on the rolling pin. It may be tempting to roll the dough out, but make sure it's an inch thick otherwise you won't have tall biscuits.
The tops may get cracked - and that's ok. They taste amazing!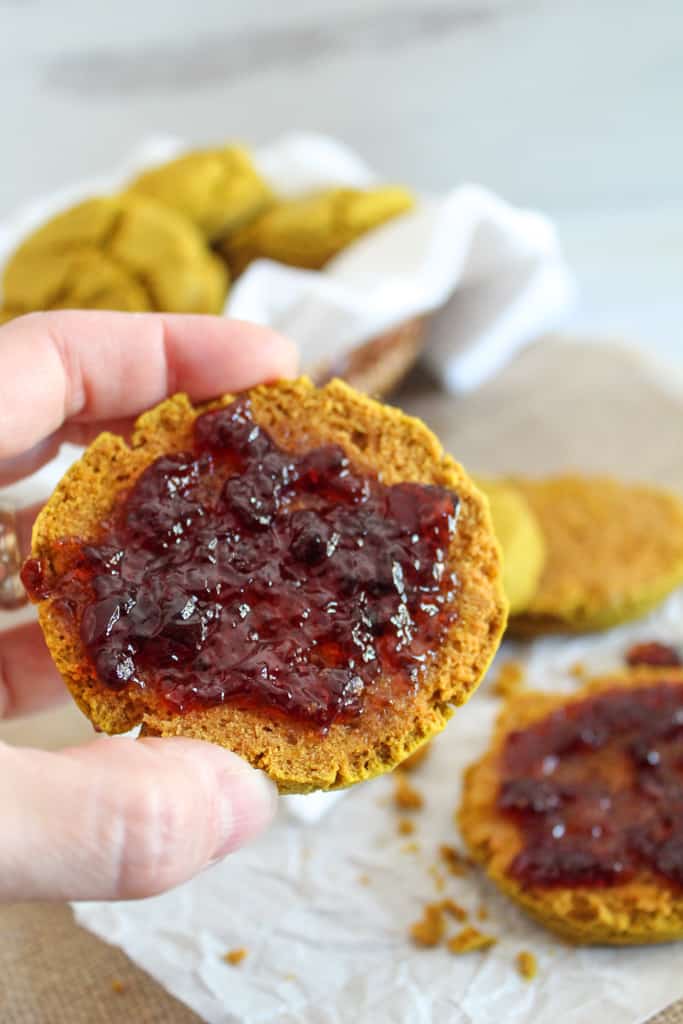 How to make this recipe
Prep ingredients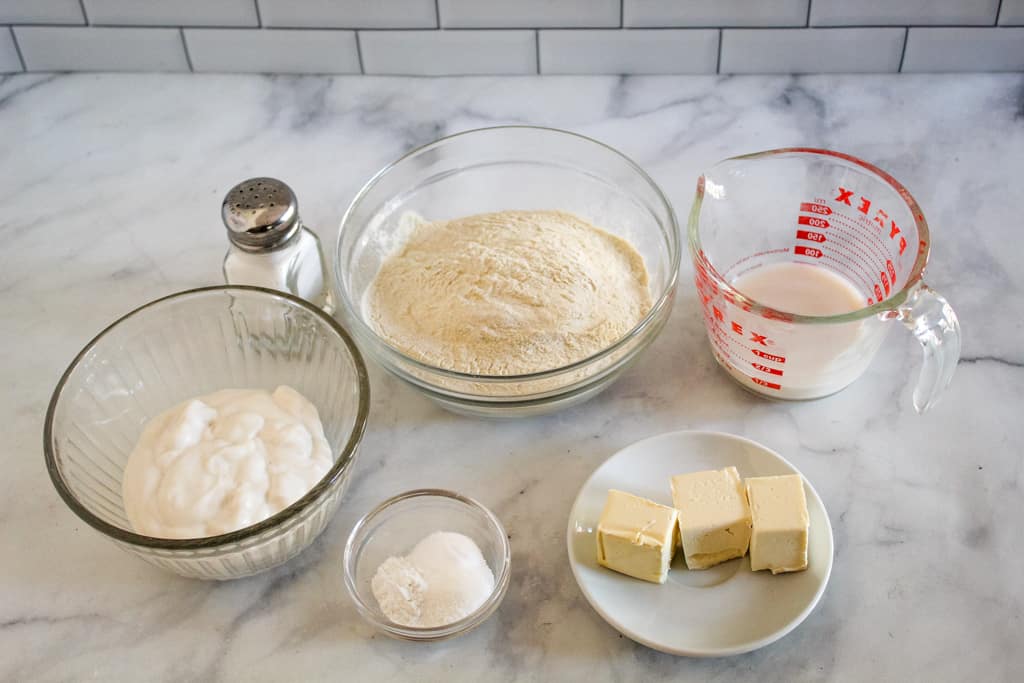 Great news on this recipe - it has a nice and short ingredients list. You'll want to bring all ingredients (except butter) to room temperature. And weigh the flour and sour cream so it's the right amount.
Mix
Use a large bowl to add the ingredients, then mix with a spoon to combine the flour, baking powder, baking soda, sugar and salt.
Cut in the butter
Using a pastry blender, cut in the butter until the mixture resembles coarse crumbs.
Add sour cream and milk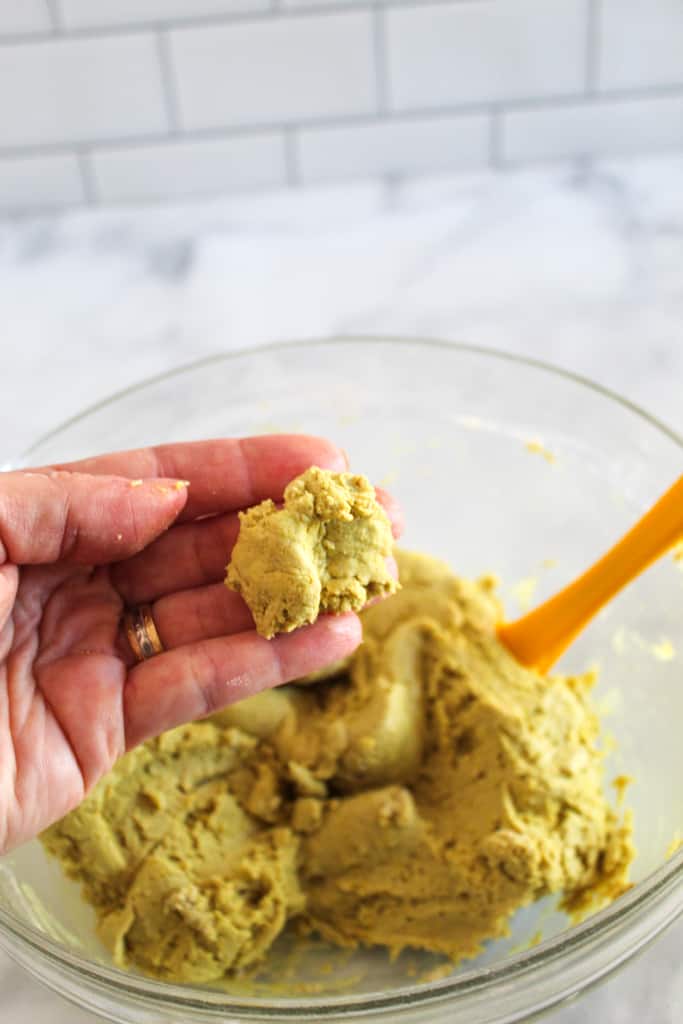 After adding the sour cream and milk, give it a few good stirs - the mixture should come together and form up nicely.
Let it rest then roll it out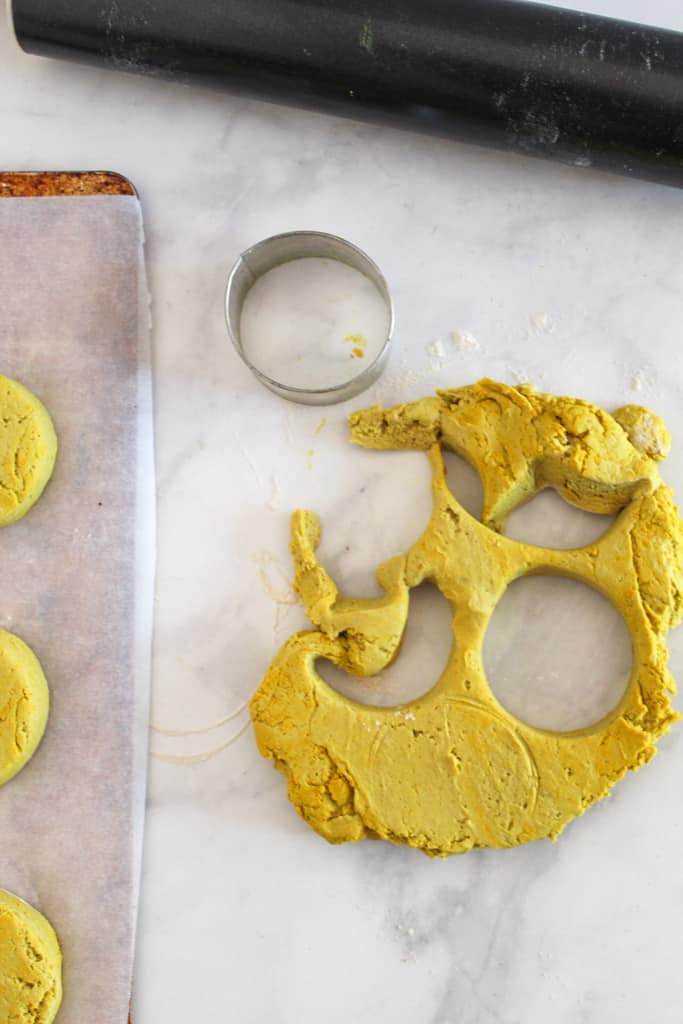 After a 30 minute rest time, use a rolling pin and give the dough just a couple rolls. Make sure it stays about 1 inch thick. Then use a cookie or biscuit cutter to cut out 2 inch round biscuits.
Bake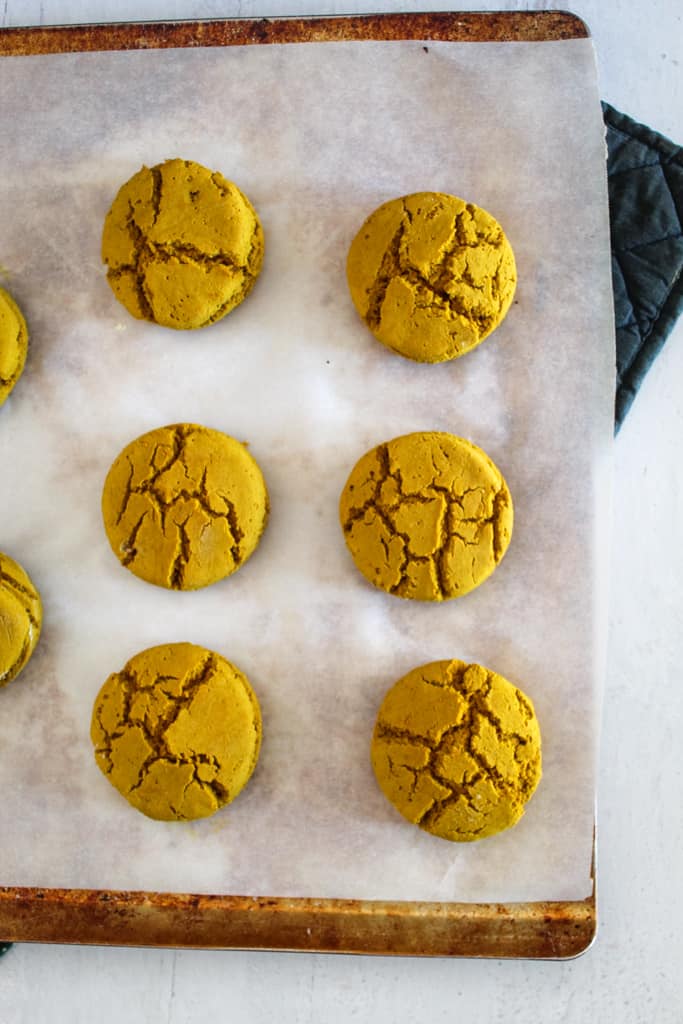 Place them on the cookie sheet and bake for 15 minutes.
FAQ's
Why does the batter need 30 minutes to rest?
The simple answer is it helps them rise higher and prevents them from being too dense. But the more complete answer has to do with hydrating the flour. This rest time gives the batter time to bring the flours and the liquids together to fully balance out the bread, or in this case, biscuits.
What dairy free products work in this recipe?
Forager sour cream, Earth Balance butter and unsweetened almond milk are excellent in this recipe.
What's the best way to store these biscuits?
These can be stored in a sealed plastic bag at room temperature for 2 days. Any longer than that and they would need to be frozen for longer storage.
What are some good serving ideas?
Besides with a spread of butter, these biscuits would be excellent with:
Strawberry preserves
Grape jelly
Peanut butter and bananas
Toasted with jelly
Biscuits and gravy
Strawberry shortcakes
Breakfast sandwiches
Tuna salad
Chicken salad
Nutella
Practically anything!
Other recipes you may like!
Recipe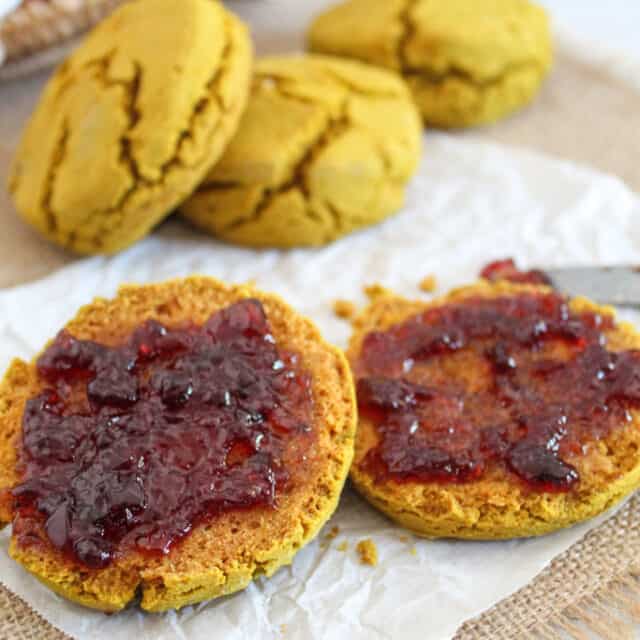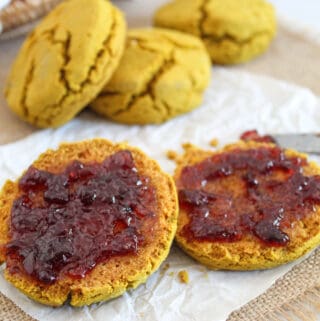 Buckwheat Biscuits
One bite and you'd never guess these buckwheat biscuits are a 'free from' bread - grain free, gluten free and dairy free!
Print
Pin
Rate
Ingredients
320

grams

buckwheat flour

about 2 cups

2

teaspoons

baking powder

1

teaspoon

baking soda

1

teaspoon

granulated sugar

¾

teaspoon

salt

⅓

cup

dairy free butter

cold

¼

cup

almond milk

185

grams

dairy free sour cream

about ¾ cup
Instructions
In a large bowl, mix flour, baking powder, baking soda, sugar and salt.

Using a pastry blender, cut in butter until mixture resembles coarse crumbs.

Add in the almond milk and sour cream and stir with a sturdy spoon until mixture comes together.

Set dough aside to rest for 30 minutes.

Preheat the oven to 400 F.

Lightly flour a surface to roll out the dough.

Gently roll the dough out to 1 inch thick. Cut 2 inch circles with a floured cookie cutter.

Place on a parchment lined baking pan.

Let cool for a few minutes then serve.
Notes
Make sure ingredients are at room temperature, except butter which should be cold.
Weigh the flour for the best texture and best tasting biscuits.
Only roll till the biscuit dough is 1 inch thick.
Bake for about 15 minutes.
Nutrition
Calories:
267
kcal
|
Carbohydrates:
36
g
|
Protein:
6
g
|
Fat:
12
g
|
Saturated Fat:
3
g
|
Trans Fat:
1
g
|
Sodium:
544
mg
|
Potassium:
333
mg
|
Fiber:
4
g
|
Sugar:
3
g
|
Calcium:
70
mg
|
Iron:
2
mg