These aren't like most buckwheat pancakes... these are light, almost a cream color, and use one single flour! And talk about tender - despite using all buckwheat flour, they're fluffy and a little taste of heaven in every bite. The secret is in the flour!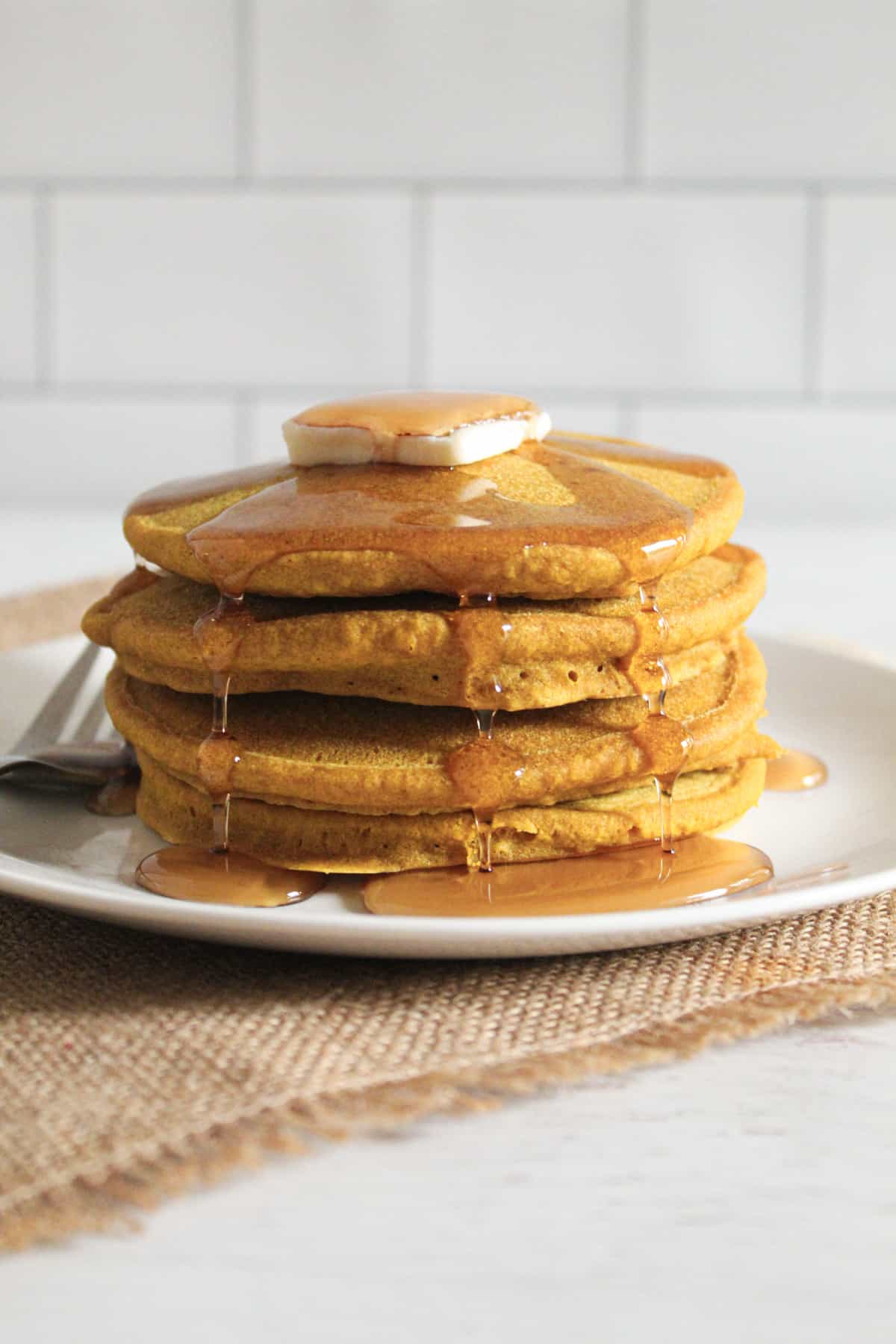 Pancakes are the quintessential, mouth-watering breakfast item. Using just a few ingredients and typically mixing in just one bowl, pancakes are the perfect quick meal. They're easy enough for breakfast and filling enough even for those 'breakfast for dinner' days. But when you add the nutritional (and gluten free!) punch of buckwheat flour, you have a super, power-packed meal.
Looking for more gluten free breakfast recipes? Check out these one bowl banana muffins, these air fryer donuts, and this easy sausage egg casserole.
Jump to:
Is buckwheat flour gluten free?
Buckwheat flour may sound like a danger zone for anyone following a gluten free diet but, despite the deceiving name, it's actually a gluten free food! In fact, it's more closely related to rhubarb than it is to wheat. 
Buckwheat flour is also:
How to make these pancakes vegan
It's super easy to make these buckwheat flour pancakes vegan! The milk and butter listed in this recipe are already vegan, so you don't have to change those. The only thing you need to substitute is the egg! I recommend using JUST egg (a substitute you can find at the grocery store) or an option from this substitution guide.
Calories in buckwheat flour
A 30-gram serving of buckwheat flour (the Bouchard Farms brand I use and recommend) is 100 calories. This recipe uses a little over a cup of buckwheat flour to make 6 pancakes. As far as calories are concerned, buckwheat flour isn't much different from all-purpose flour.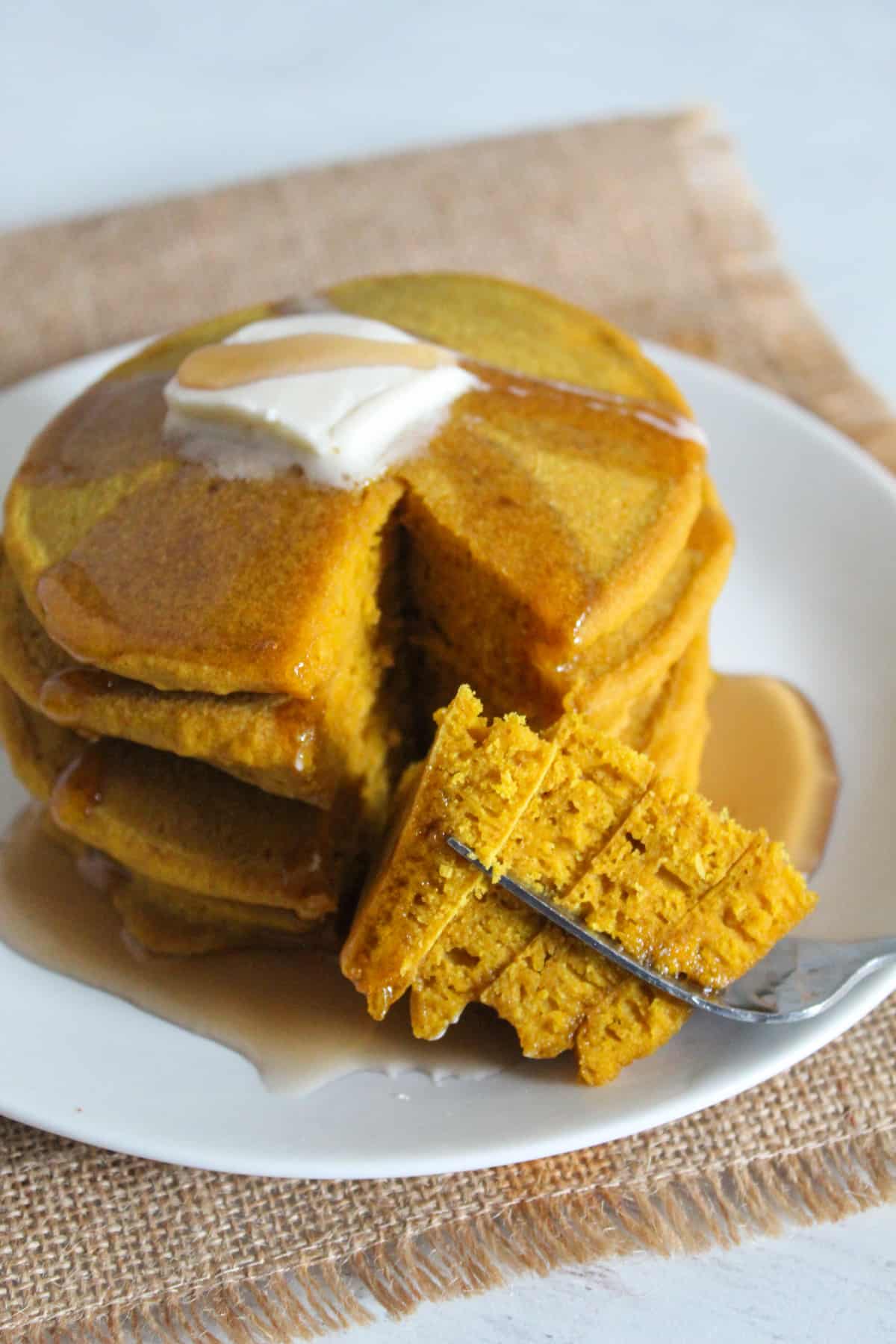 Why this recipe is the best!
Besides being super fluffy with a short ingredient list, these pancakes get high marks for flavor! Buckwheat is a fantastic flour: it has a great consistency, which closely mirrors wheat based flours so baked goods typically have a great texture. Here are a few more reasons you'll love these buckwheat pancakes:
This recipe requires less than 10 ingredients.
These pancakes take only 45 minutes to come together.
There will be minimal cleanup after making these pancakes, and they are quick enough to make for breakfast and still be on time.
These pancakes are super versatile, so you can get creative with your favorite toppings!
Ingredients & substitutions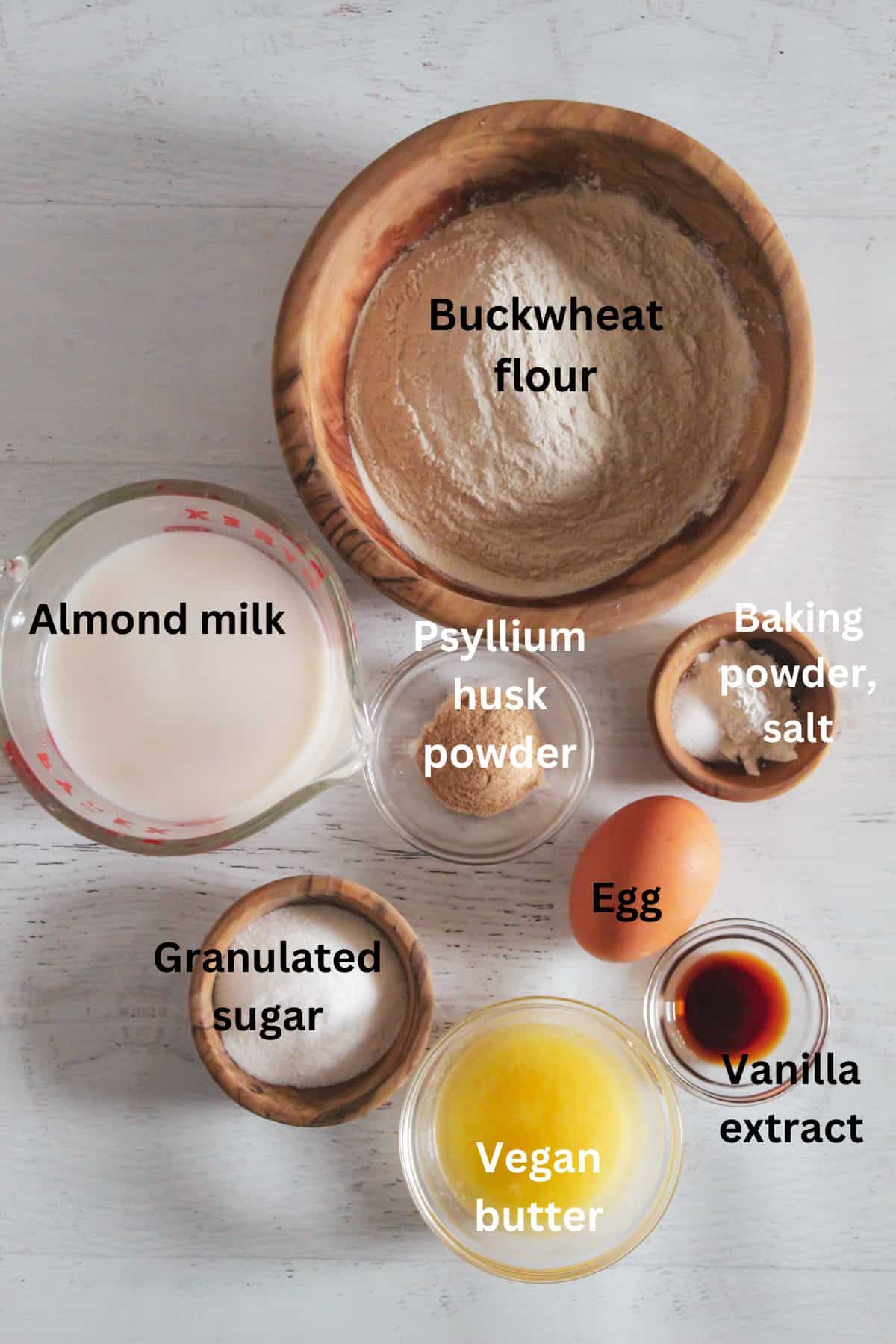 Buckwheat flour - This brand of buckwheat flour was used in this recipe. This 'light' flour is the reason these pancakes aren't deep brown as other buckwheat pancakes tend to be.
Baking powder - There is no substitute for the baking powder.
Granulated sugar - The granulated sugar can be substituted with Swerve sweetener.
Salt - The salt can be reduced or omitted if you are following a low salt diet.
Psyllium husk powder - The psyllium husk powder can be swapped with a substitute here.
Almond milk - The almond milk can be replaced with another type of milk (dairy or plant milk).
Egg - The egg can be swapped with an egg substitute here.
Vegan butter - The vegan butter can be swapped with regular dairy butter.
Vanilla extract - There is no substitute for the vanilla extract.
Measurements for each ingredient, along with instructions for making the pancakes are in the recipe card below.
Note about add-ins
Feel free to customize your pancakes to your liking! A few wonderful add-in or topping options are cinnamon, chocolate chips, berries, banana slices, nut butter, lemon zest/juice, and Nutella (chocolate hazelnut spread).
Buckwheat Pancakes step by step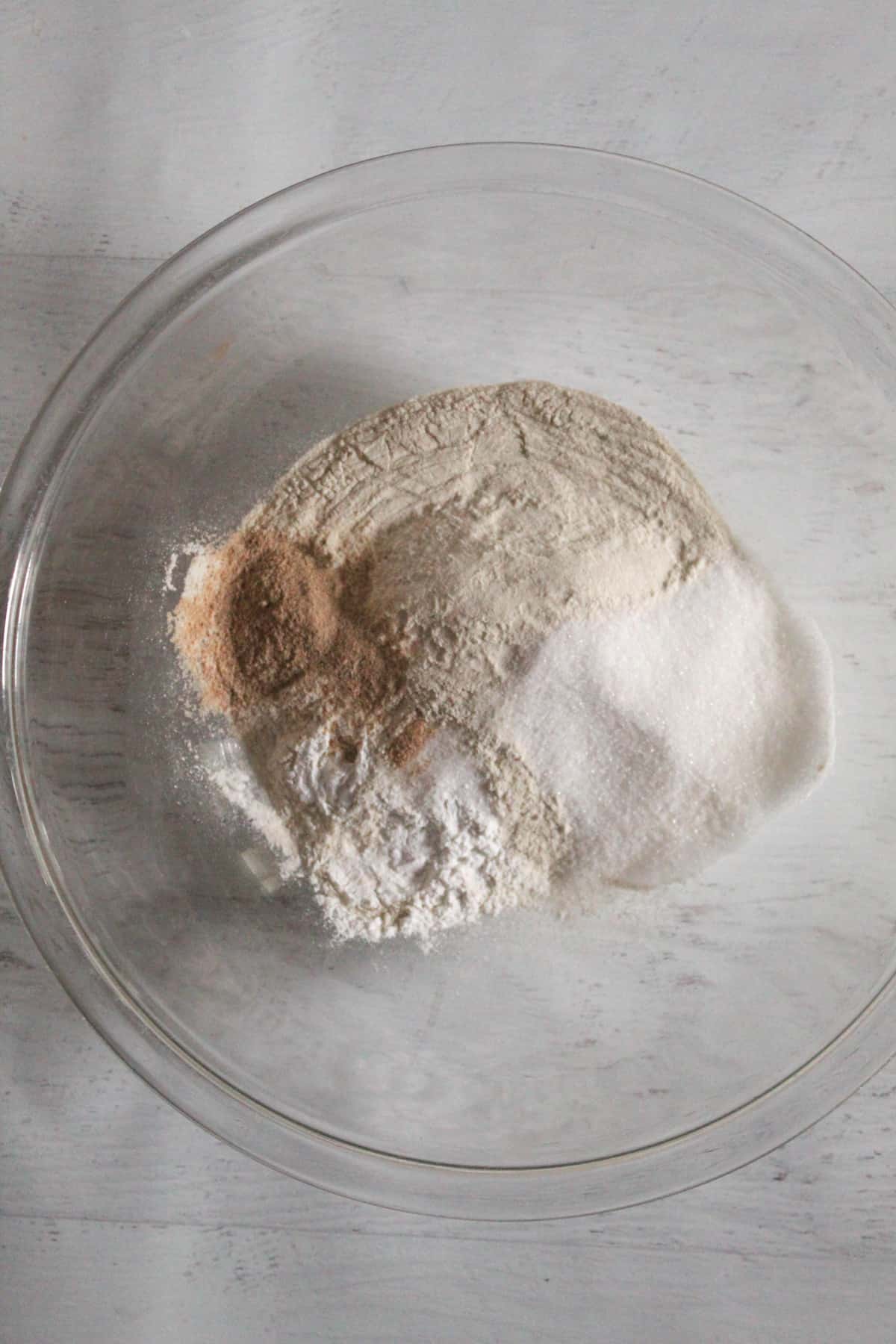 Step 1: Combine the dry ingredients in a medium bowl.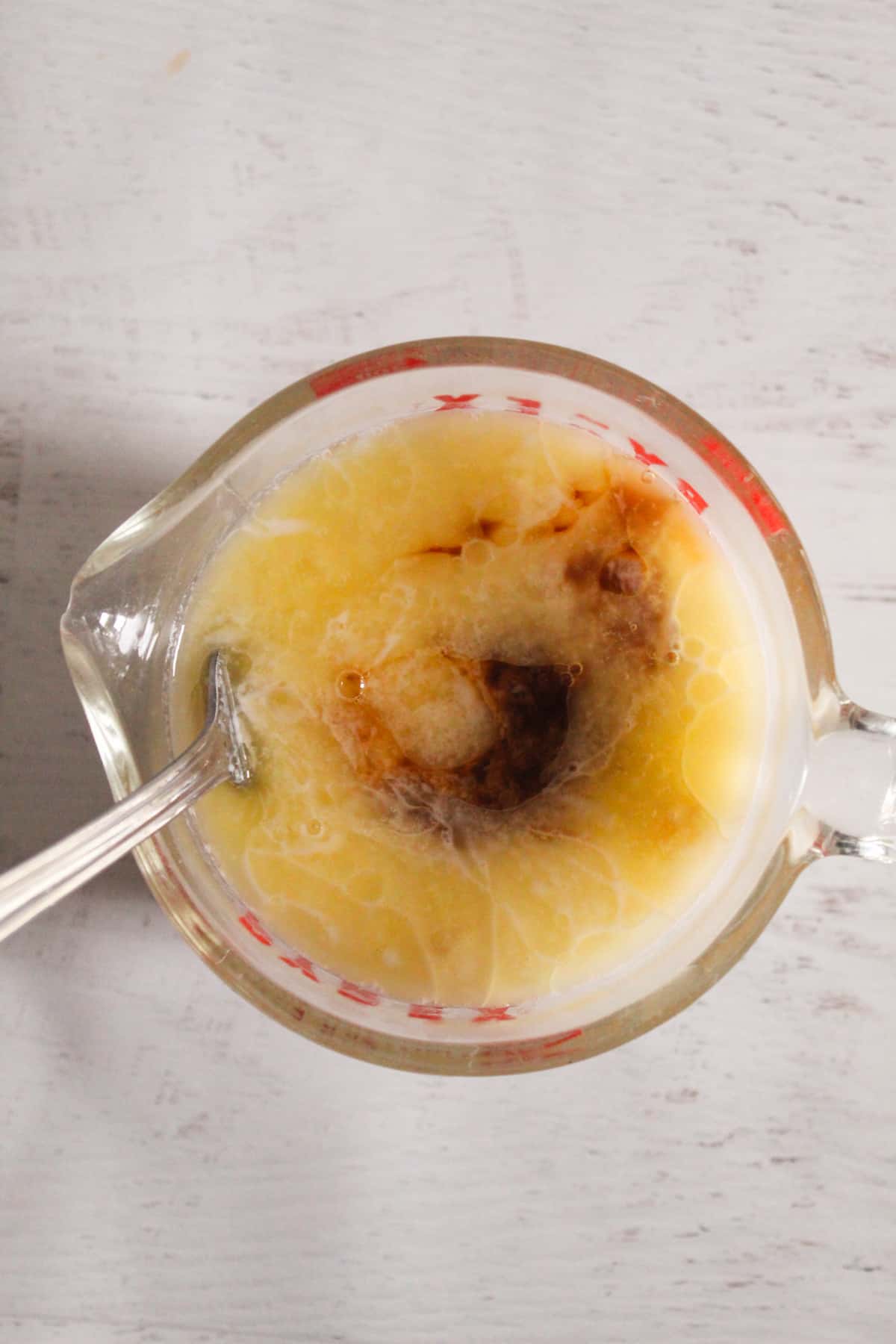 Step 2: In a small bowl or measuring glass, whisk the milk, egg, melted butter and vanilla extract together.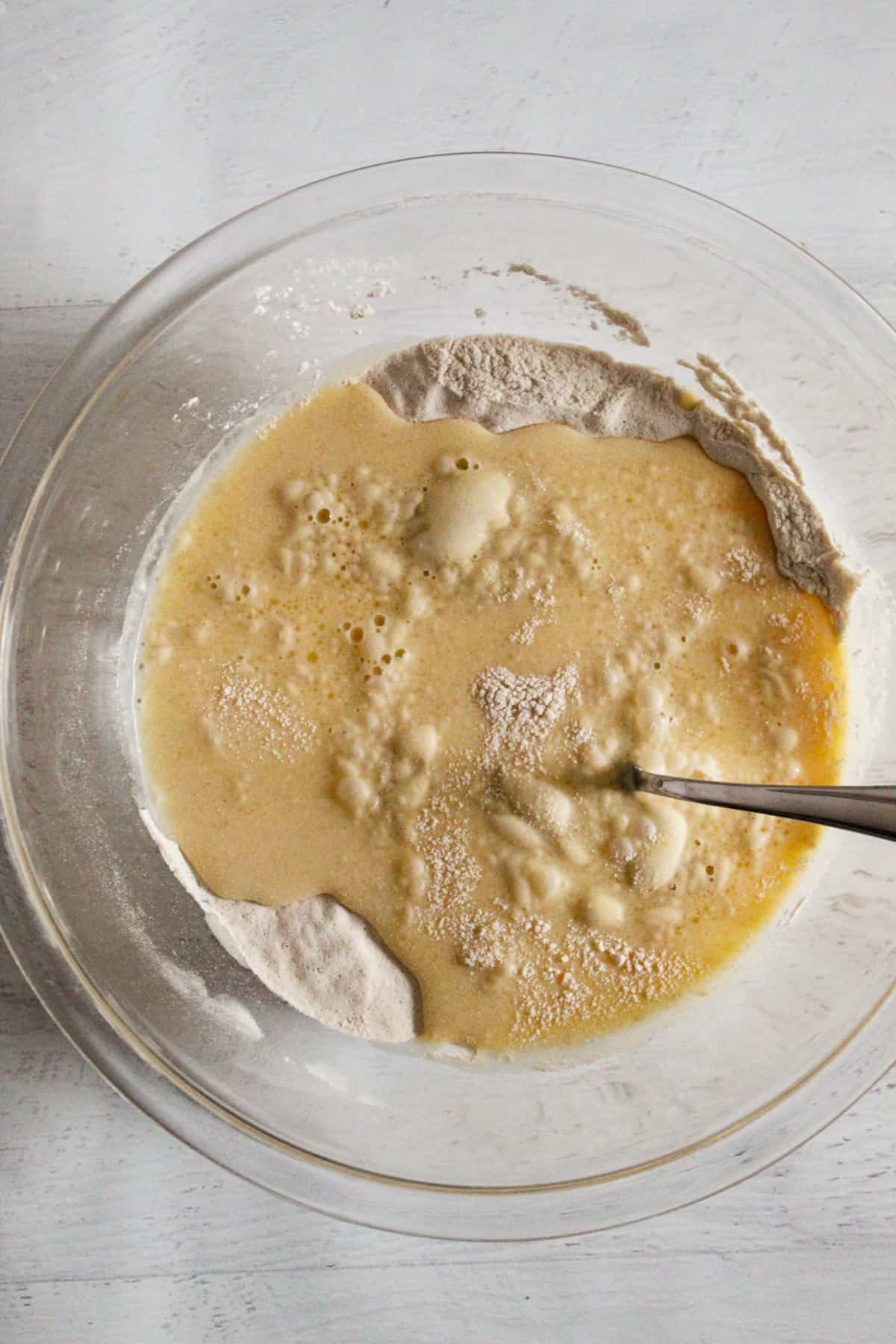 Step 3: Add the wet mixture to the dry and whisk until smooth.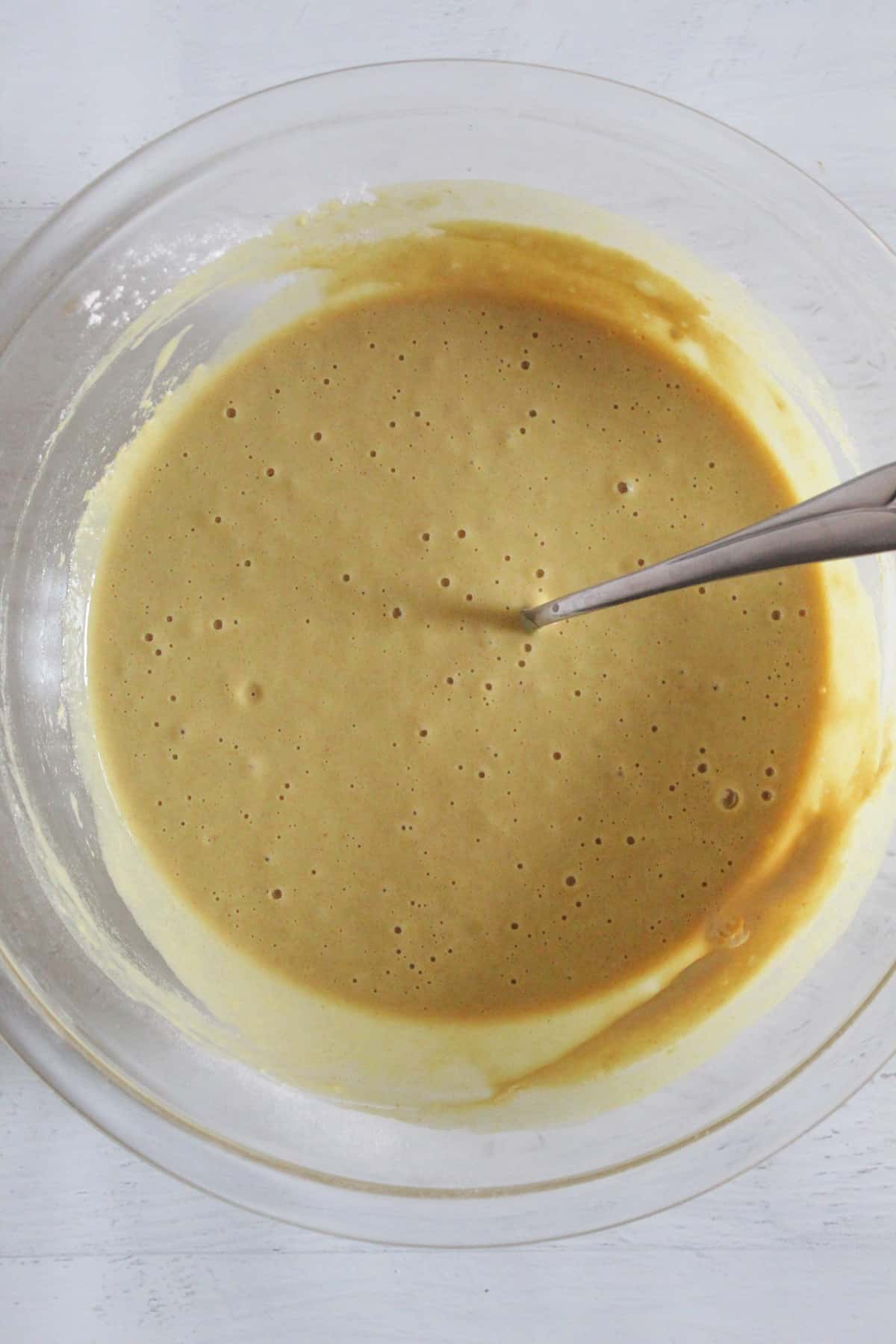 Step 4: Set the batter aside to rest for 10 minutes.
Cooking & serving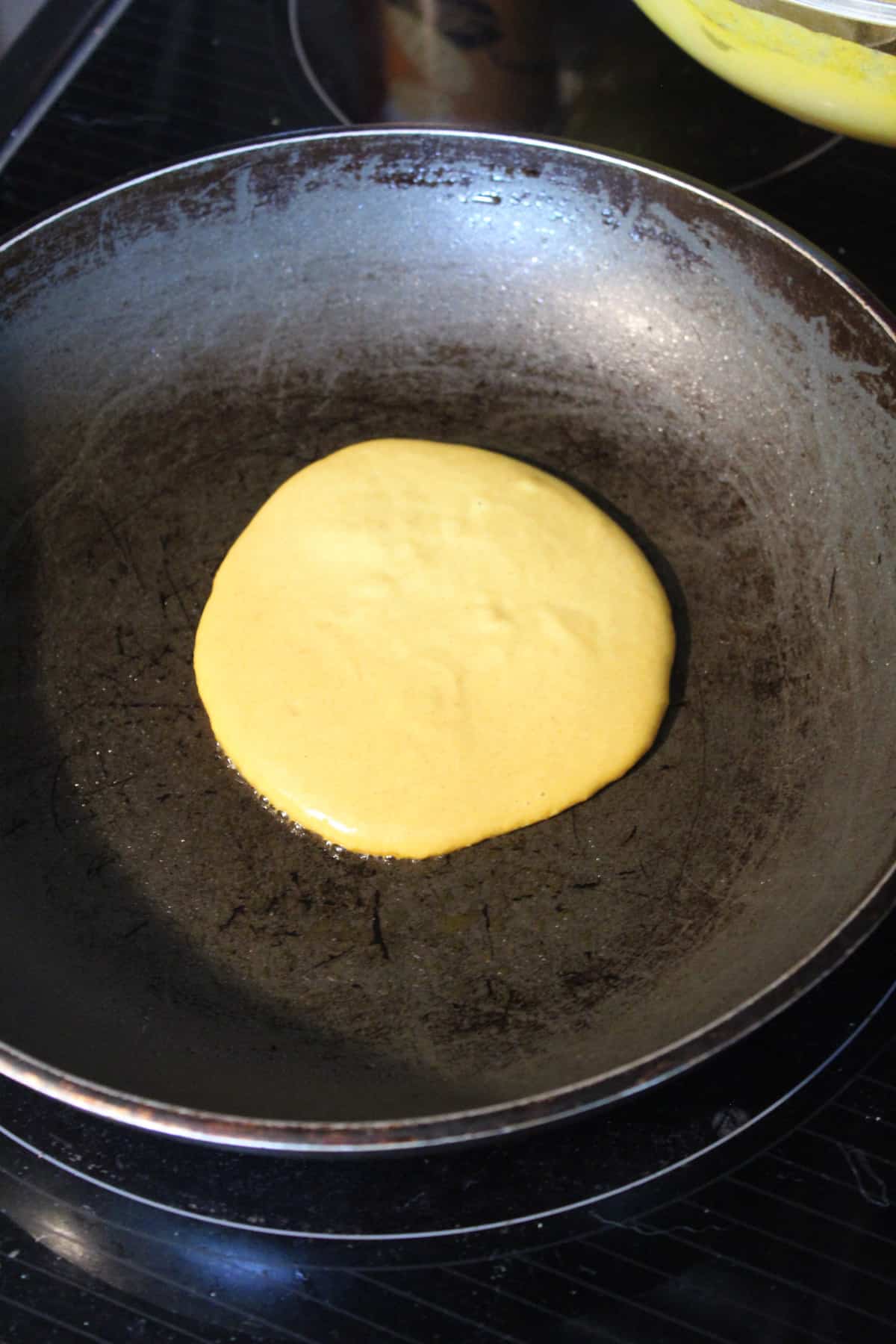 Step 5: Heat your skillet to low-medium heat and spray with cooking spray. Pour ¼ cup of batter onto the skillet and cook until bubbles form. Flip and cook until browned (2-4 minutes on each side).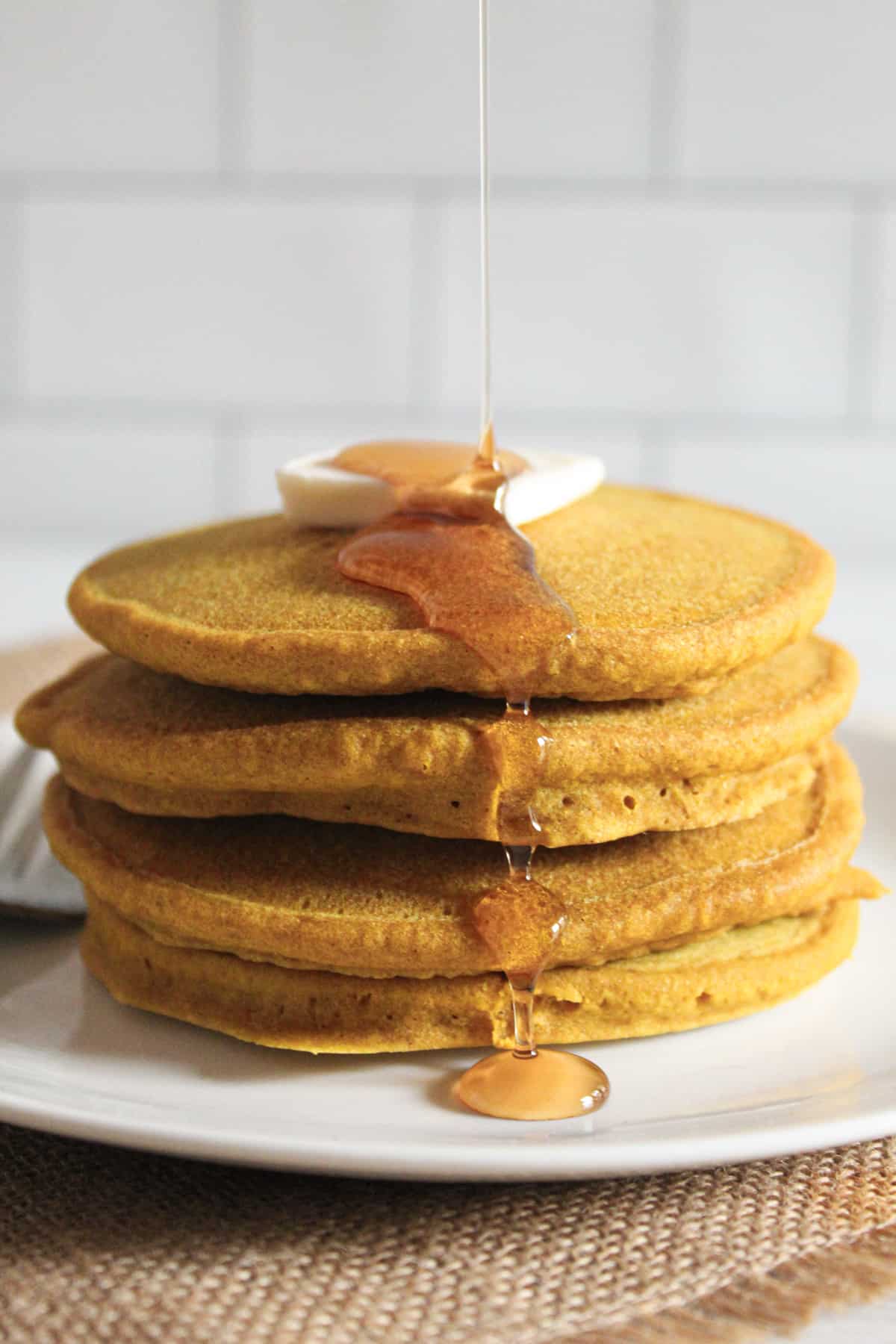 Step 6: Serve immediately with butter and maple syrup (or your preferred toppings)!
💭Pro tips for making these pancakes
1. Measure the ingredients by weight
You'll notice a few of the ingredients are listed with a weight in grams. The most accurate way to measure certain ingredients (primarily dry ones) is by weight. Use a digital scale to measure the flour and sugar for the best result.
2. Let the batter rest
After the batter comes together, let it rest for 10 minutes. It's tempting to just go ahead and start cooking the pancakes, but resting the batter is worth it! This way the pancakes will be perfectly fluffy.
3. Use a heavy duty skillet
Cook the pancakes on a heavy duty skillet over low-medium heat. Make sure to flip each pancake carefully with a large spatula.
4. Keep the pancakes warm in the oven
While you finish making the rest of the pancakes, you can keep the first few warm in the oven. Put them on a baking sheet, cover them with foil, and place them in the oven at 200F. Make sure to serve the pancakes within 30 minutes so they are nice and fresh!
Gluten Free Buckwheat Pancakes FAQs
Are buckwheat flour pancakes healthier than regular pancakes?
Sort of. With its high fiber and protein count, buckwheat is a more nutrient-packed flour than something like all purpose flour. So as far as nutritious, yes, they're definitely more nutritious. And low in saturated fat and sugar too.
Is buckwheat flour gluten free?
Despite the name, buckwheat is gluten free. There's no actual 'wheat' in it. It's made from a fruit seed that has been ground into flour. So nothing wheat about it!
Can I use buckwheat flour as a substitute for regular flour?
Buckwheat flour has many properties that make it an excellent flour to use in baking, both gluten free and not. In some recipes, buckwheat could be a cup for cup substitute for regular flour. In other recipes where buckwheat is the main ingredient, you may have to use half buckwheat and half regular (or gluten free) flour.
Why does the batter have a green tint to it?
If you've been mixing up batter or cooking pancakes and notice a greenish tint to them - don't worry, there's nothing wrong, it's just the nature of some varieties of buckwheat flour! Depending on what you're making, the green can be pronounced or very subtle. A little cinnamon or savory spice like Italian seasoning should cover up anything that's super noticeable.
Other buckwheat recipes you may like!
Did you make and love this recipe? Give it your review and

rating below! And make sure to follow me on Instagram, Pinterest and Facebook too!
Recipe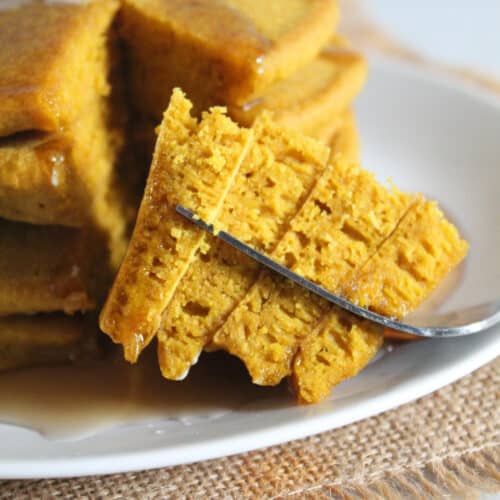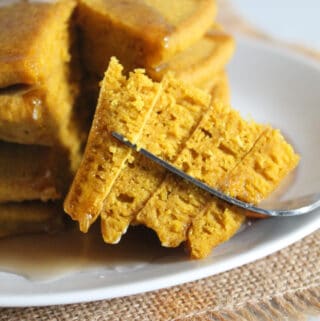 Buckwheat Pancakes: Gluten Free, Light and Fluffy
A little taste of Heaven in every bite of these buckwheat pancakes! They're the kind of pancakes that will keep hungry tummies full until lunchtime.
Print
Pin
Rate
Ingredients
178

grams

light buckwheat flour

about 1 cup + 2 Tablespoons

1

teaspoon

baking powder

30

grams

granulated sugar

about 2 Tablespoons

¼

teaspoon

salt

1

teaspoon

psyllium husk powder

1

cup

almond milk

1

egg

2

Tablespoon

vegan butter

melted

1

teaspoon

pure vanilla extract
Instructions
In a medium bowl, combine the dry ingredients.

In a measuring cup or small bowl, add the milk, egg, melted butter and vanilla extract. Whisk gently to fully mix the egg.

Add the wet ingredients to the dry and mix with a whisk until smooth.

Set batter aside to rest for 10 minutes.

Preheat a flat bottom skillet to low-medium heat.

Spray the preheated skillet with cooking spray.

Pour approximately ¼ cup of batter on the hot griddle. Cook until bubbles form. Turn and cook until browned (about 2-4 minutes each side).

Serve warm with butter and syrup.
Notes
This is the buckwheat flour used in the recipe.
The granulated sugar can be substituted with Swerve sweetener.
The psyllium husk powder may be substituted.
The egg may be substituted with an egg substitute here.
Another type of milk may be used in place of the almond milk.
Measure the ingredients by weight for the most accurate measurements.
Mix the dry ingredients separate from the wet ingredients, then add together.
For best results, cook these pancakes in a heavy duty skillet on low-medium heat. 
Flip each pancake carefully with a large spatula.
Keep pancakes warm in a 200F oven - place cooked pancakes side by side or layered on a baking sheet. Cover the pancakes with foil. Serve within 30 minutes.
Nutrition
Calories:
160
kcal
|
Carbohydrates:
22
g
|
Protein:
4
g
|
Fat:
6
g
|
Saturated Fat:
3
g
|
Cholesterol:
41
mg
|
Sodium:
145
mg
|
Potassium:
262
mg
|
Fiber:
2
g
|
Sugar:
7
g
|
Vitamin A:
230
IU
|
Calcium:
94
mg
|
Iron:
1
mg