These gluten free buckwheat pancakes are so light and tender - they're a little taste of heaven in every bite!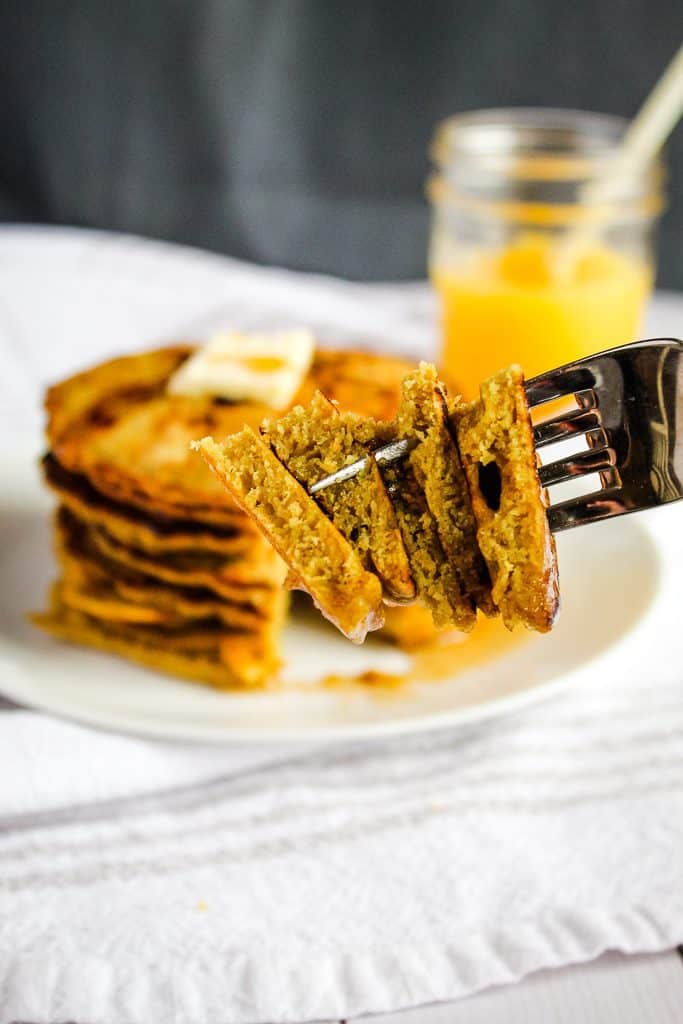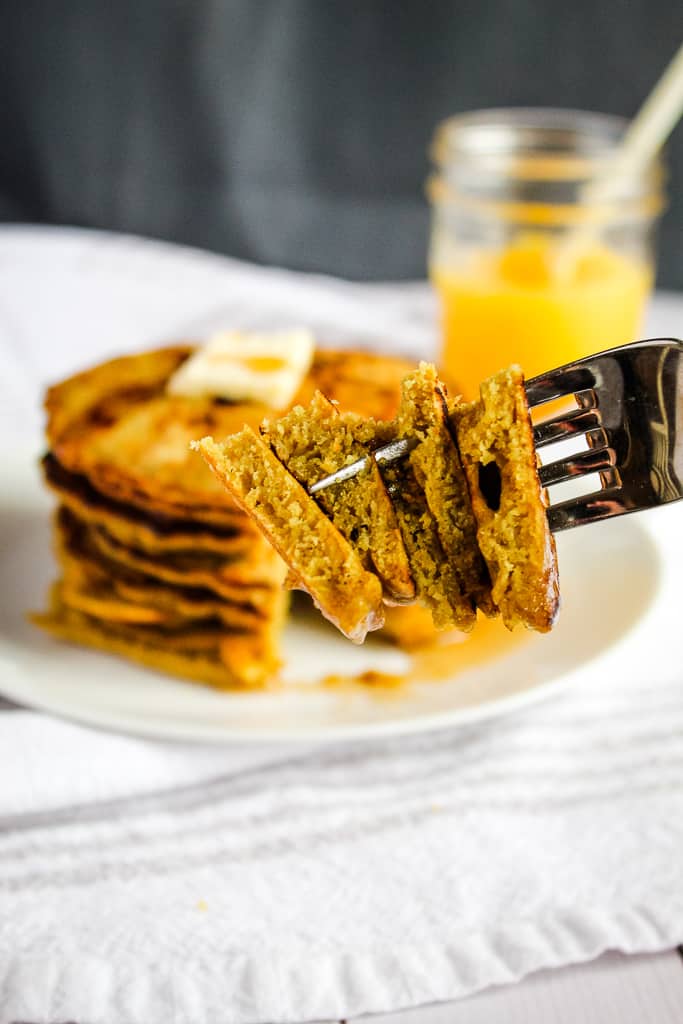 Pancakes... drool. Using just a few ingredients and typically mixing in just one bowl, pancakes are the perfect quick meal. They're easy enough for breakfast and filling enough even for those 'breakfast for dinner' days. But when you add the nutritional punch of buckwheat flour, you have a super, power-packed meal.
Why buckwheat flour?
Buckwheat flour may sound like a danger zone for anyone following a gluten free diet but, despite the deceiving name, it is actually, a gluten free food. In fact, it's more closely related to rhubarb than it is to wheat.
Buckwheat flour is also:
High in fiber and protein - coming in at 13% each (compared to white rice flour with 5% protein and 2.5% fiber)
Light, mildly flavored
Peak performer for quick breads, yeast breads and cakes
Technically grain-free
Why these are the best
Besides being super fluffy with a short ingredients list, these pancakes get high marks for flavor! Buckwheat is an amazing flour - it's got a great consistency, which closely mirrors wheat based flours so baked goods typically have a great texture.
How to make gluten free buckwheat pancakes
The ingredients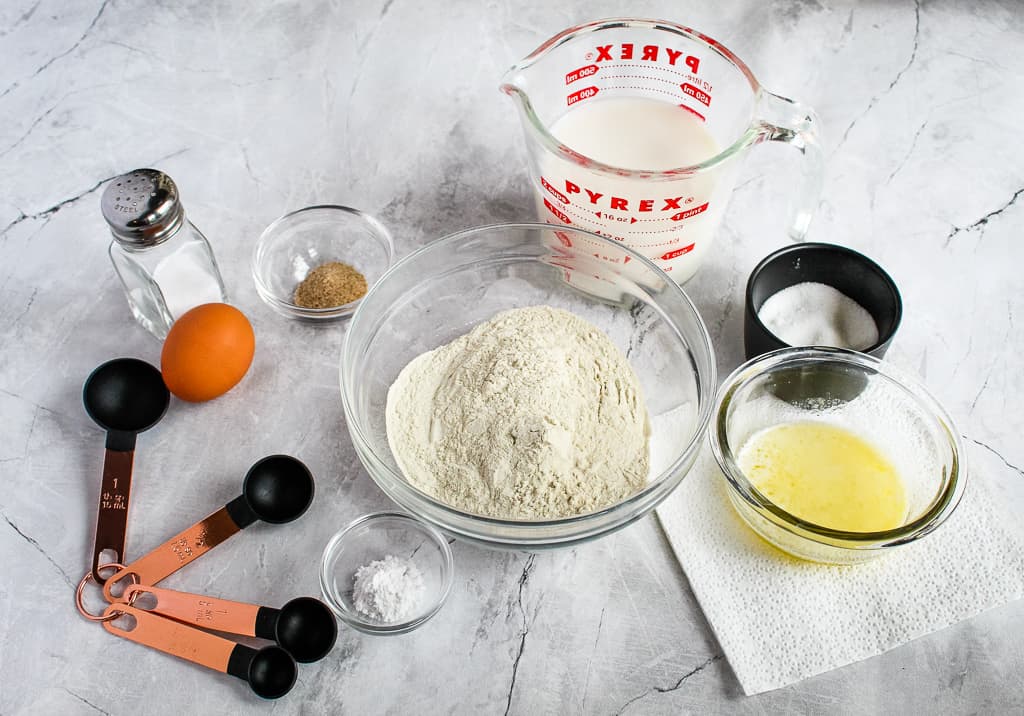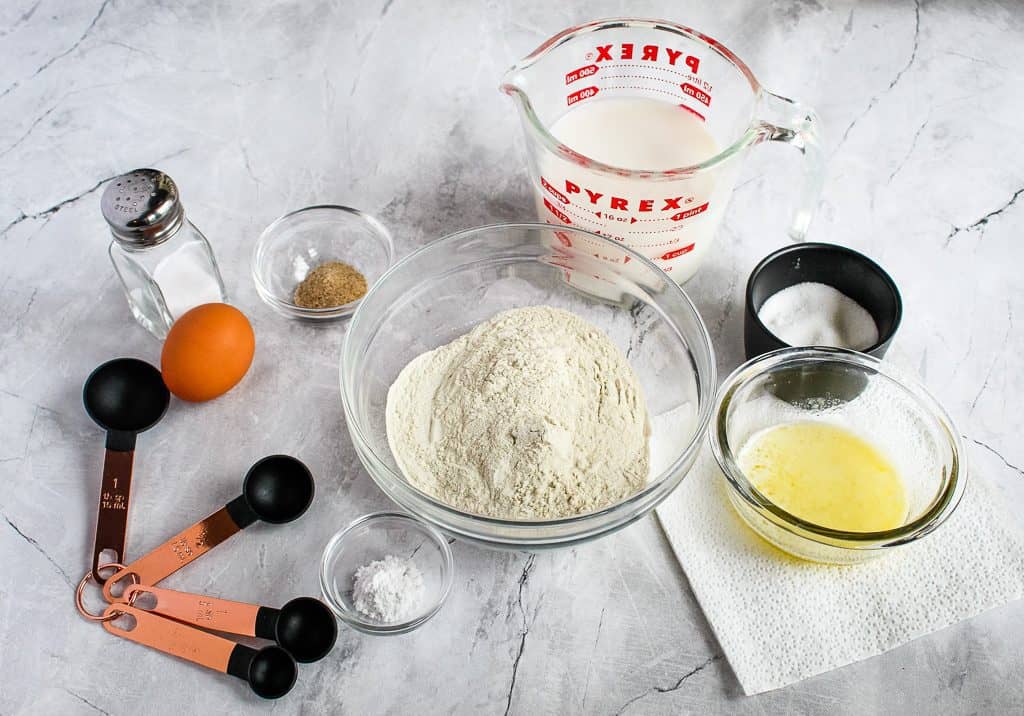 This wonderful recipe uses staples that you probably have in your kitchen right now. Things like buckwheat flour, milk, egg and butter. Nothing complicated.
You'll notice there is no xanthan gum used in the recipe (we use psyllium husk powder instead).
Mixing
When adding dry ingredients to a bowl is the most difficult part of the recipe, you know it's going to be an easy win. A quick blend of the dry ingredients and then a light beat of the egg, milk and butter is all it takes to create delicious pancake batter.

Consistency
Consistency in pancake batter can vary quite a bit. But that's the beauty of them! Prefer a thinner pancake? Add a little more milk. Like the thick pancakes? Decrease the milk. This recipe uses 1 cup to get pancake batter with this consistency...

Cooking pancakes
A good flat bottom skillet and a long spatula are key for making the best pancakes.
Aim for portioning about ¼ - ⅓ cup of batter onto the center of the skillet. Flip only when the top begins to firm up around the edges. And flip only one time.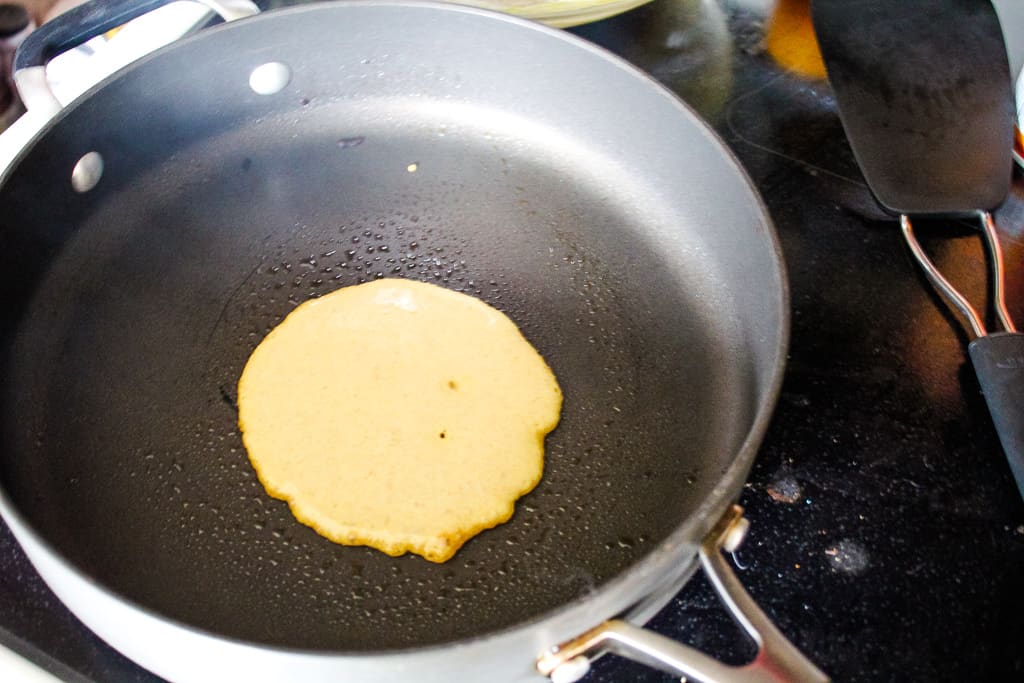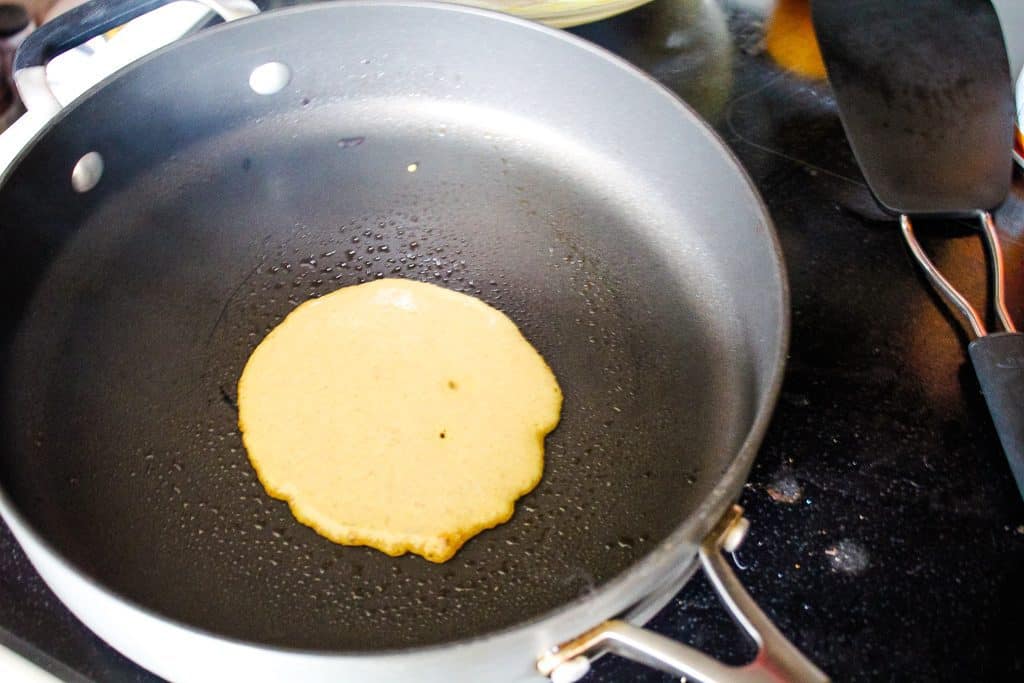 Mmm. Delicious gluten free buckwheat pancakes.
With a dollop of butter and a drizzle of syrup, they put the taste in 'tasty!'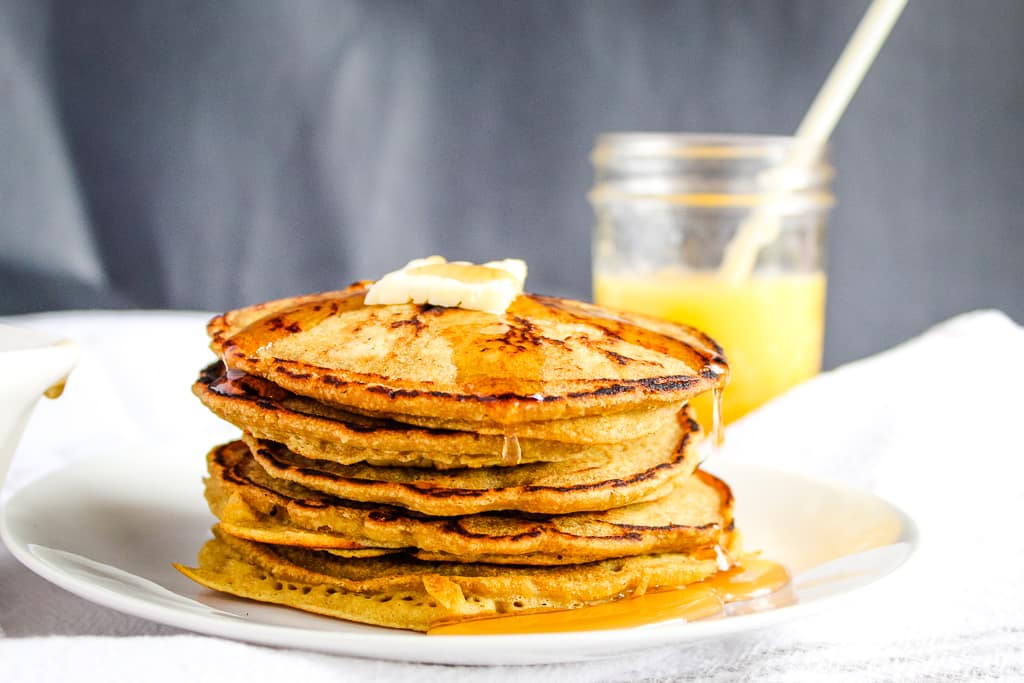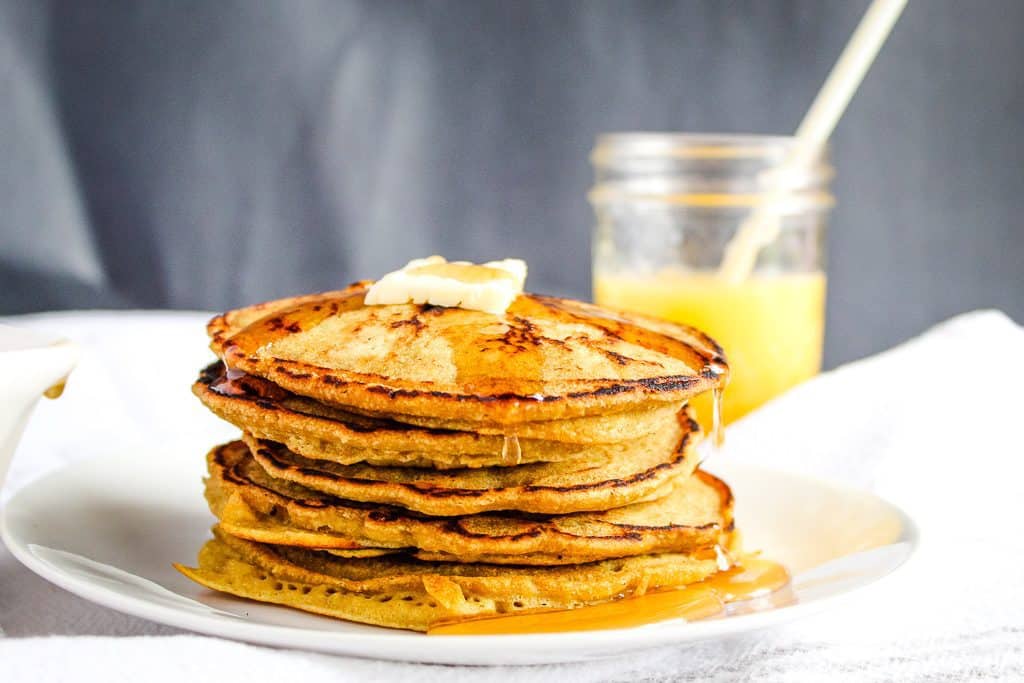 FAQ's
How can I make these dairy free buckwheat pancakes?
If you're needing a dairy free option, these pancakes are super easy to convert to dairy free! Simply use another type of milk (almond milk works wonderfully, but other milks would be equally good) and use a plant based butter. No other changes needed!
Are buckwheat pancakes healthier than regular pancakes?
Sort of. With it's high fiber and protein count, buckwheat is a more nutrient packed flour than something like all purpose flour. So as far as nutritious, yes, they're definitely more nutritious. And low in saturated fat and sugar too.
Is buckwheat flour gluten free?
Despite the name, buckwheat is gluten free. There's no actual 'wheat' in it. It's made from a fruit seed that has been ground into flour. So nothing wheat about it!
Where do I find buckwheat flour?
The buckwheat flour I use and recommend is this brand. It's a light buckwheat flour which means the buckwheat groats have been hulled, resulting in a lighter shade of flour.
Can I use buckwheat flour as a substitute for regular flour?
Buckwheat flour has many properties that make it an excellent flour to use in baking, both gluten free and not. In some recipes, buckwheat could be a cup for cup substitute for regular flour. In other recipes where buckwheat is the main ingredient, you may have to use half buckwheat and half regular (or gluten free) flour.
Why does the batter have a green tint to it?
If you've been mixing up batter or cooking pancakes and notice a greenish tint to them - not to worry, there's nothing wrong, it's just the nature of buckwheat flour! Depending on what you're making, the green can be pronounced or very subtle. A little cinnamon or savory spice like Italian seasoning should cover up anything that's super noticeable.
More delicious recipes!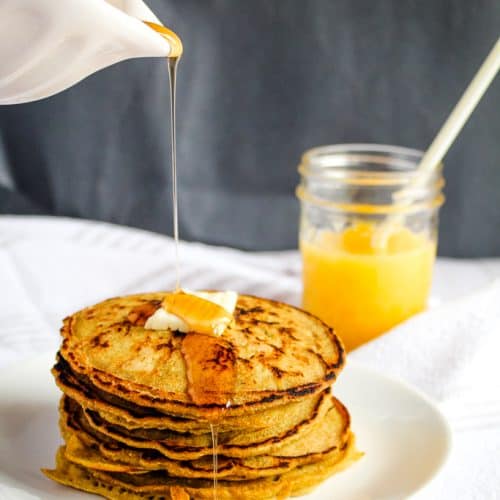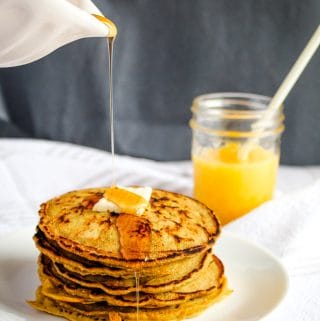 Gluten Free Buckwheat Pancakes
A little taste of Heaven in every bite of these gluten free buckwheat pancakes!
Print
Pin
Rate
Ingredients
157

grams

light buckwheat flour

about 1 cup

1

teaspoon

baking powder

2

Tablespoons

white sugar

¼

teaspoon

salt

1

teaspoon

psyllium husk powder

1

egg

1

cup

almond milk

2

Tablespoon

dairy free butter

melted
Instructions
In a medium bowl, combine the dry ingredients.

In a small bowl, gently beat the egg, then the milk and melted butter. Mix well.

Add the wet ingredients to the dry and mix with a whisk until smooth.

Set batter aside to rest for 30 minutes.

Preheat flat bottom skillet to medium heat.

Spray preheated skillet with cooking spray.

Put approximately ¼ cup of batter on the hot griddle. Cook until bubbles form. Turn and cook until browned (about 1 to 1 ½ minutes each side).

Serve warm with butter and syrup.
Notes
Measure the ingredients by weight for the most accurate measurements.
Mix the dry ingredients separate from the wet ingredients, then add together.
The consistency will be thin - but can be adjusted based on pancake preference... thinner pancakes, use more milk; for thicker pancakes, use less milk.
Flip each pancakes carefully with a metal spatula.
Nutrition
Calories:
160
kcal
|
Carbohydrates:
22
g
|
Protein:
4
g
|
Fat:
6
g
|
Saturated Fat:
3
g
|
Cholesterol:
41
mg
|
Sodium:
145
mg
|
Potassium:
262
mg
|
Fiber:
2
g
|
Sugar:
7
g
|
Vitamin A:
230
IU
|
Calcium:
94
mg
|
Iron:
1
mg