Have you ever looked at a recipe and wondered whether it was possible to substitute the eggs? The good news is that yes, most of the time you CAN use an egg substitute. Most of them are easy to find too - either online, from a grocery store, or a health food store. Here are several, most-requested items, and some tips for using egg substitutes in them.
Jump to:
Substituting Eggs in Gluten Free Breads
Think homemade bread is not possible without eggs? It IS possible and it can be delicious. In fact, we have several gluten free bread recipes without eggs.
For gluten free breads without eggs, there are a few options… you can replace the eggs with applesauce, bananas, soy yogurt, vegetable oil, water, JUST egg or flax seed (see a reference for flax seed). One of the most commonly used egg substitutes is buttermilk. Half a cup of buttermilk is usually enough to replace one egg.
When making the dough, ensure that you check on the amount of water used. If you are not careful, it might be too watery. Another option is using pureed fruits if you are not a fan of buttermilk. Three tablespoons of pureed banana is enough to replace one egg. Unsweetened and unflavored gelatin is another popular egg substitute, when baking bread. When using gelatin, mix it with three tablespoons of lukewarm water, and add the mixture to the dough.
There are those situations where you need to use more than one egg. If that is the case, using something like JUST egg will work very well or try a combination of vinegar and baking powder. One tablespoon of vinegar and one tablespoon of baking powder, mixed completely in a glass of water, can replace three eggs. You can sometimes opt for carbonated water to substitute three eggs during baking. Though this does not work for every recipe.

Egg Substitutes for Brownies
When making brownies, you can replace the eggs with tofu, applesauce, soy yogurt, flax seeds, bananas, and commercial egg substitutes. If you are using silken tofu, you'll need about a ¼ cup, which is the equivalent of one egg. Process the tofu in a blender, until it becomes completely creamy and smooth.
Ensure that there are no chunks or remaining solids. You can also use soy yogurt, if you are a vegan. Just stir it well, and then add it to the mix. Flax seeds can also be used, after they have been properly ground in a grinder. If you want something that can give a slightly different taste, use a mashed banana.
Cookies
There are several egg substitutes, when preparing cookies. These include things like applesauce, cornstarch, soy flour, and JUST egg. JUST egg is one of the most commonly used, simply because it's so easy to use. When using it, just follow the instructions on the packaging, and you will never go wrong. It seems to do well in these gluten free blondies and in cakes as well.
When using applesauce, ¼ cup of unsweetened applesauce will replace 1 egg.
Muffins
Pumpkins are a very delicious treat, and often get overlooked. A third of a cup of canned pumpkin, is equivalent to one egg. It can be used for almost all baked products, due to its ease of use. It is specifically used as an egg substitute when preparing muffins, since it gives them a subtle flavor. Moreover, muffins baked using pumpkin, tend to have a longer shelf life, than those prepared using eggs. Soy yogurt is another excellent substitute, since it has moisture preserving properties. Your baked good will last longer, without getting dry and crumbly. A quarter a cup of soy yogurt would be enough to replace one egg, when baking muffins.
Love muffin recipes? Check out these gluten free lemon poppy seed muffins, these gluten free banana muffins and these flaxseed muffins.
Cakes
When compared to brownies and cookies, finding a good egg substitute when preparing cakes, is quite tricky. This is because they have to rise well. Therefore, careful consideration has to be made, on the choice of substitutes used, to get the desired result. On that note, pureed fruit, silken tofu, yogurt, flax eggs, chia eggs, JUST egg and vinegar-baking soda can all be used. An excellent substitute that works well in a lot of cakes is the homemade egg substitute (recipe below). It works very well, especially when preparing plain vanilla sponge cakes.
Savory Dishes as Coating/Binders
When eggs are needed to coat or bind breadings or toppings, you have a few options, all of which will produce a similar 'sticking' quality, but you may have to experiment on which taste you prefer best. Buttermilk, yogurt, Italian dressing, butter, margarine or olive oil all work very well for coatings.
Egg Substitute FAQs
Is there an egg substitute that works for everything?
Unfortunately, there is not one that will hands down work with every recipe. Although flax eggs, chia eggs and JUST egg work very well.
Where can I find out more about egg and other substitutes?
Reference our guide to substitutions for more substitution help.
Does this homemade egg substitute work in yeast breads?
Not reliably well. Some recipes it works great, others it does not.
Recipe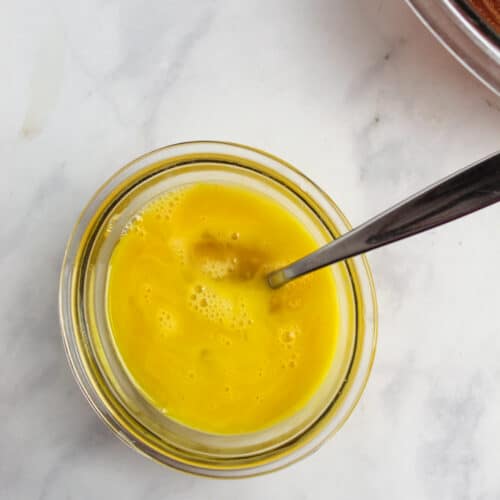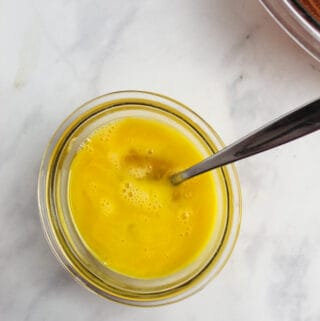 Homemade Egg Substitute
Use this homemade egg substitute to replace 1 egg in brownie and cake recipes.
Print
Pin
Rate
Ingredients
2

Tablespoons

gluten free flour mix

½

teaspoon

vegetable oil

½

teaspoon

baking powder

2

Tablespoons

Almond milk
Instructions
In a small bowl, add all ingredients and whisk until fully combined.
Notes
Use room temperature ingredients.
Recipe replaces 1 egg, make another batch for another egg.
Use no more than 2 of these homemade eggs in a recipe.
Mixture does not store well. Mix just before using.
Nutrition
Calories:
53
kcal
|
Carbohydrates:
11
g
|
Protein:
2
g
|
Fat:
1
g
|
Polyunsaturated Fat:
0.3
g
|
Monounsaturated Fat:
0.3
g
|
Sodium:
41
mg
|
Potassium:
202
mg
|
Fiber:
2
g
|
Sugar:
1
g
|
Calcium:
132
mg
|
Iron:
1
mg