Looking for the best gluten free protein bars? We've got you covered! These protein bars are delicious and loaded with hearty, healthy, good-for-you ingredients!
Protein is one of those nutrients that's usually associated with working out, energy and weight loss. But for anyone who's living gluten free, protein can also mean a filling, healthy snack. And gluten free protein bars are a great way to both get that required nutrient and have something delicious to snack on too!
That said, every brand is different, and some protein bars are healthier than others. Some bars contain fewer calories and carbs, which make them perfect for weight loss, while others are specially aimed to be consumed after exercising. And then there's some that are just good snacks 🙂
This post contains affiliate links. Affiliate links support Zest For Baking at no additional cost to you. I receive a commission if you choose to make a purchase through these links.
Here's the list of some of the top gluten free protein bars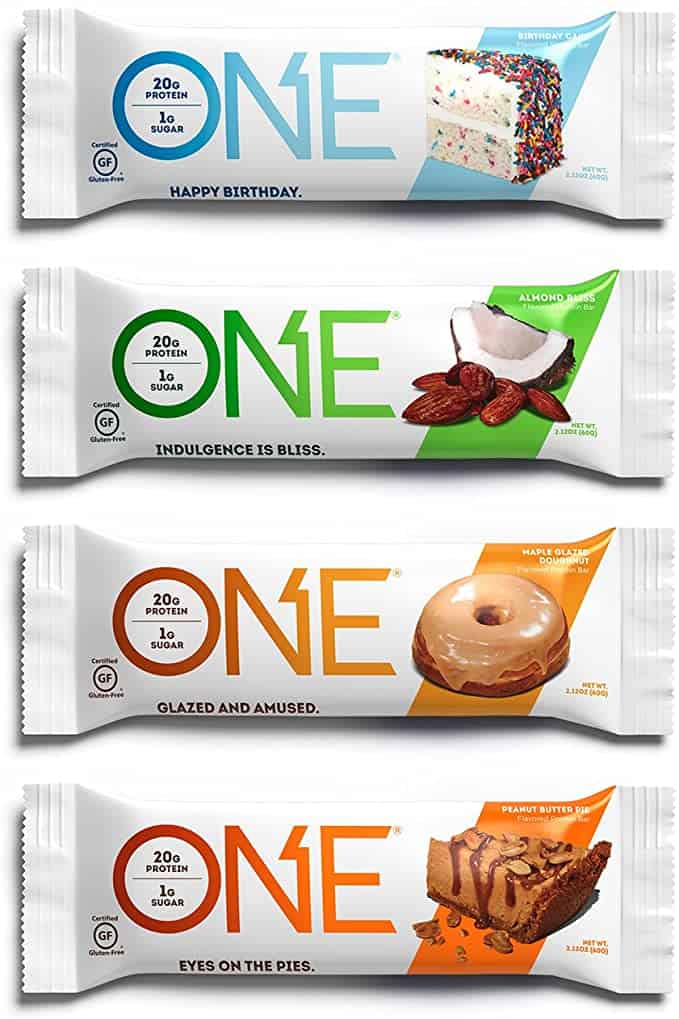 Ever get a craving for a donut?! Well these bars taste just like one, without being an actual donut!  
Discovering OhYeah's One protein bar's is pure bliss. These snacks taste like real maple syrup but healthier because these bars contain 20 grams of whey and milk protein. 
It is also packed with calories (230) - so, it will not leave you hungry after 30 minutes. 
The best part?
It's not gritty; instead, it has a cake-like texture.
It only contains 1 gram of sugar (although it has sucralose-an artificial sweetener) and 8 grams of fat.
AND it's available in LOTS of unique flavors:
Birthday Cake
Chocolate Brownie
Cinnamon Roll, and more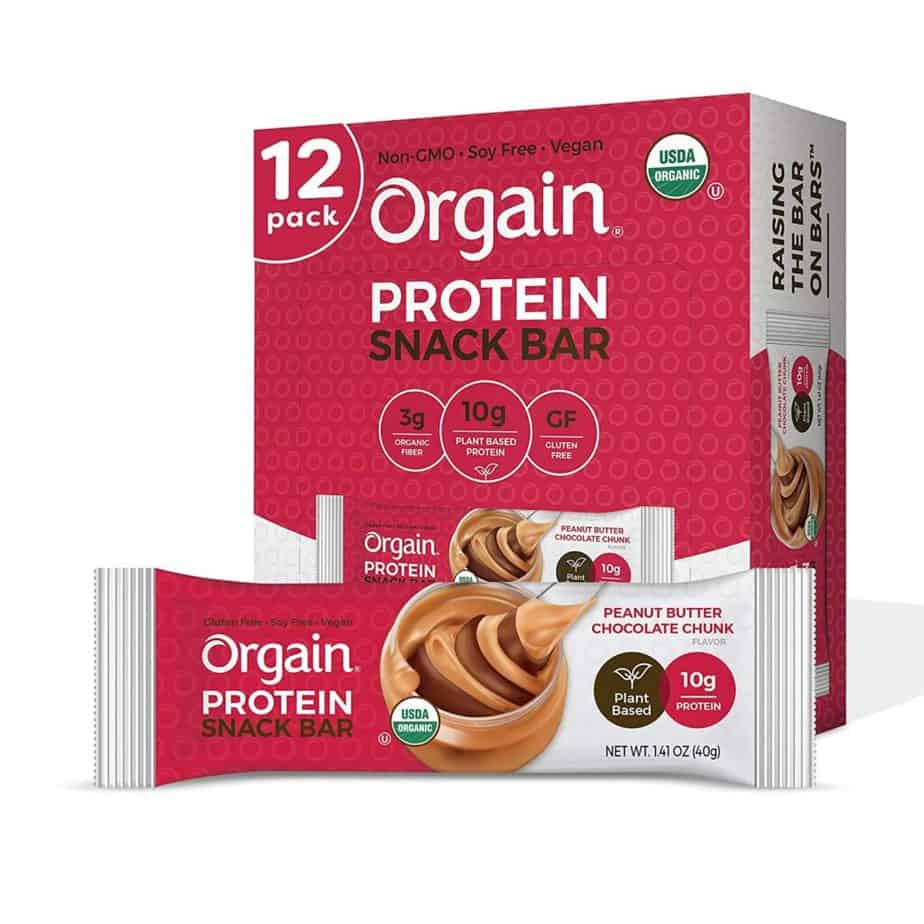 According to Harvard Health, adults should get 0.8 grams of protein per kg of their body weight. 
So, topping up your protein intake with protein snacks while in between tasks is an excellent step to your fitness goals.
This Orgain's plant-based protein bar protein punch comes from its protein blend (10 g) of brown rice, pea, rice flour, and chia seeds.
But wait, there's more. This gluten-free protein bar is also lactose-free, non-dairy, kosher, soy-free, Non-GMO, and vegan.
While it contains 5 grams of sugar, it does not contain artificial sweeteners.
It tastes good and not too sweet due to sea salt. It's also energy-riched (140 calories) and has fairly low fat (5 g).
You can choose from these yummy flavors:
Chocolate Brownie
Chocolate Chip Cookie Dough
Peanut Butter, and more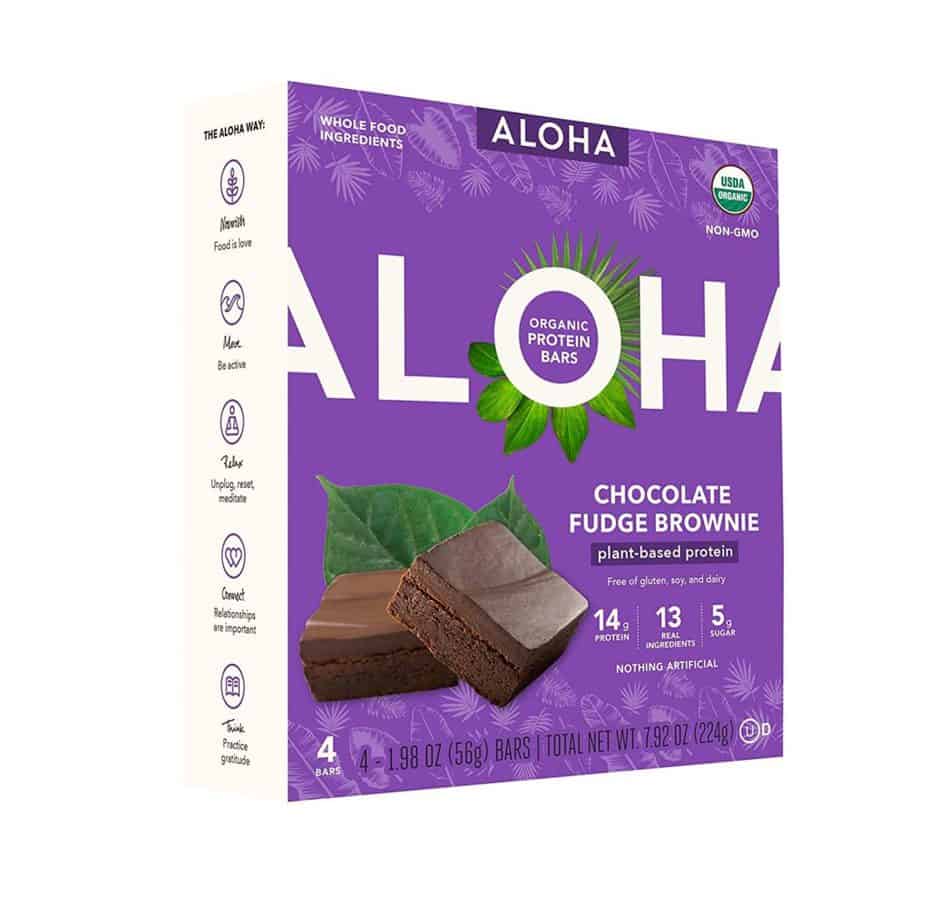 Quick, healthy, and gluten-free snack? Aloha organic plant-based protein bars have you covered.
It has a dense, cake-like consistency, much like One protein bar. Honestly, it's one of my favorites. (side note: I was first introduced to these bars in my elevate subscription snack box and they were absolutely a delicious gem!)
One bar (56 g) contains 14 grams of protein, 5 grams of sugar, and 240 calories. It's also high in fiber which helps in good digestion.
Lastly, it's not too sweet but definitely hits the spot in craving and hunger.
Flavors? They've got many:
Caramel Sea Salt
Chocolate Mint
Triple Threat Chocolate Variety, and more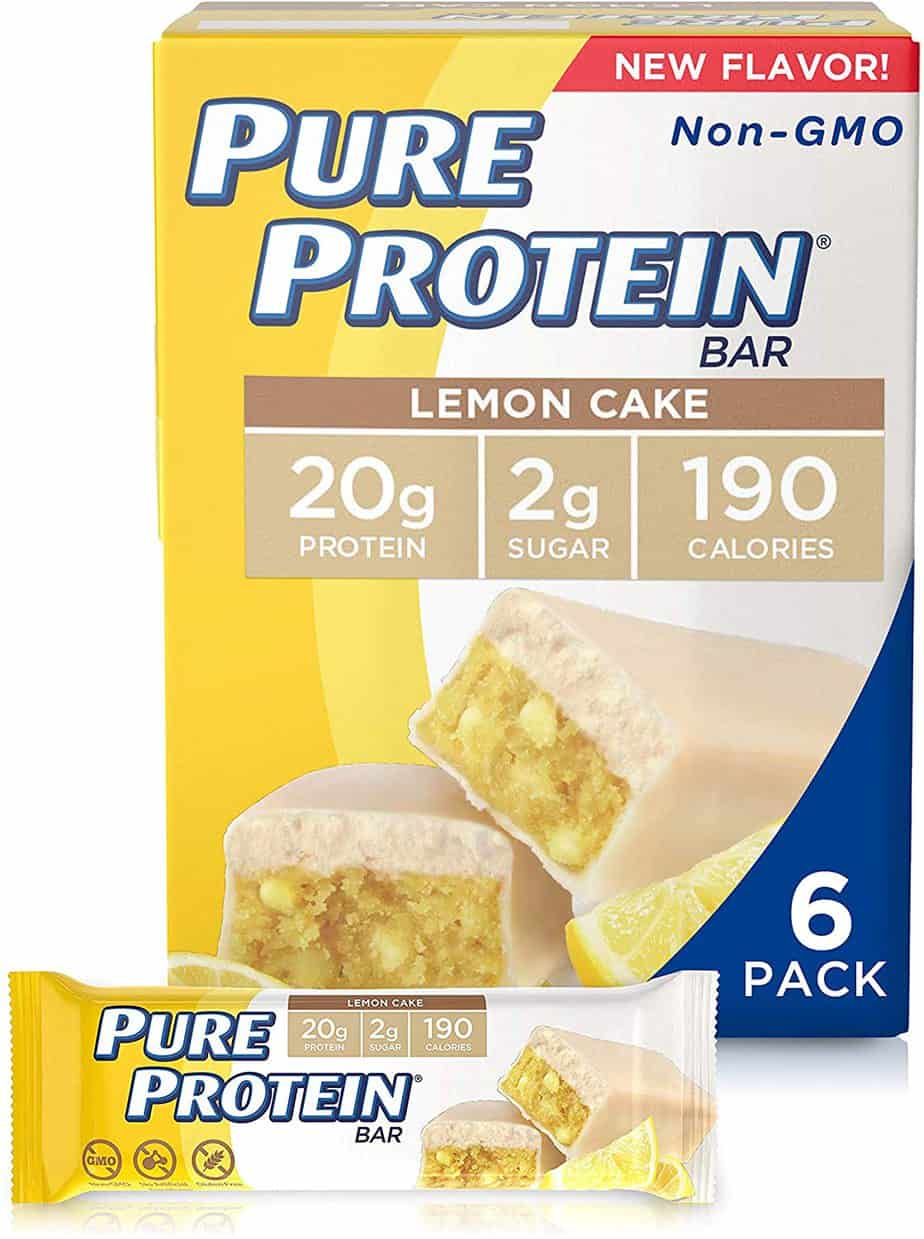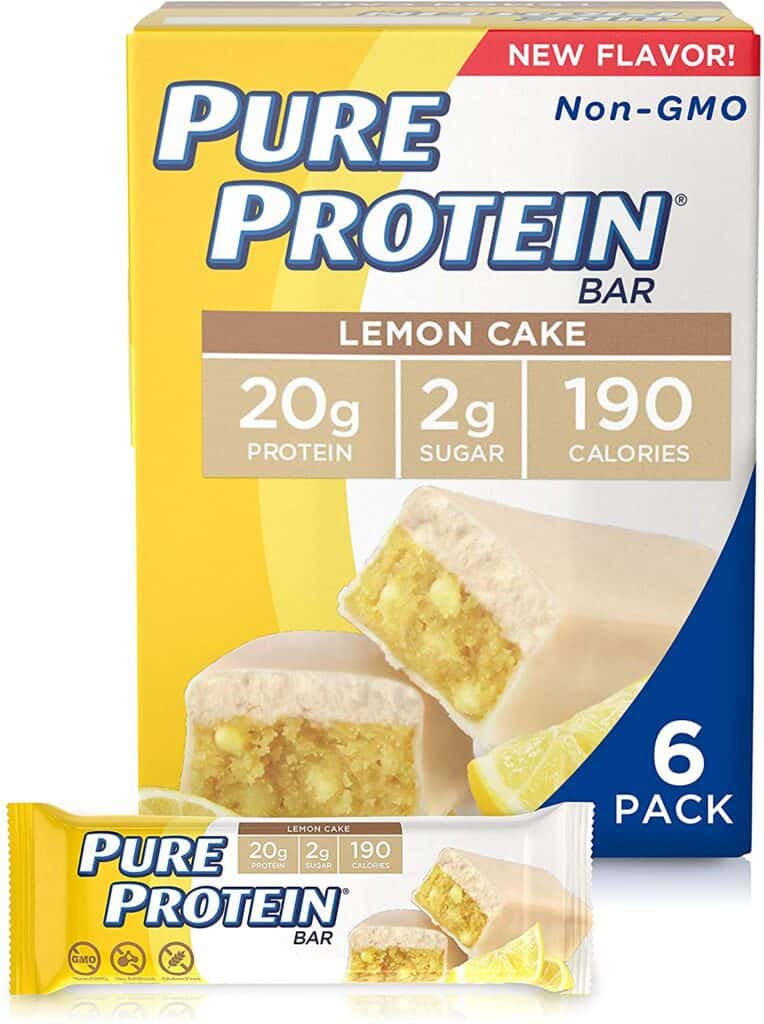 With 20 grams of protein and 2 grams of sugar, the Pure protein bar (50 g) is indeed a top-tier protein boost.
However, you need to take note that this also contains sugar alcohols (6 g).
So, if you have digestive issues, you have to keep a tab on how much of this you're consuming.
But it does taste amazing (especially the Chocolate Peanut Butter) when you have them with milk. Other flavors include birthday cake, chocolate deluxe, and more.
Plus, yes, it gets you that protein quota without worrying about calories (200).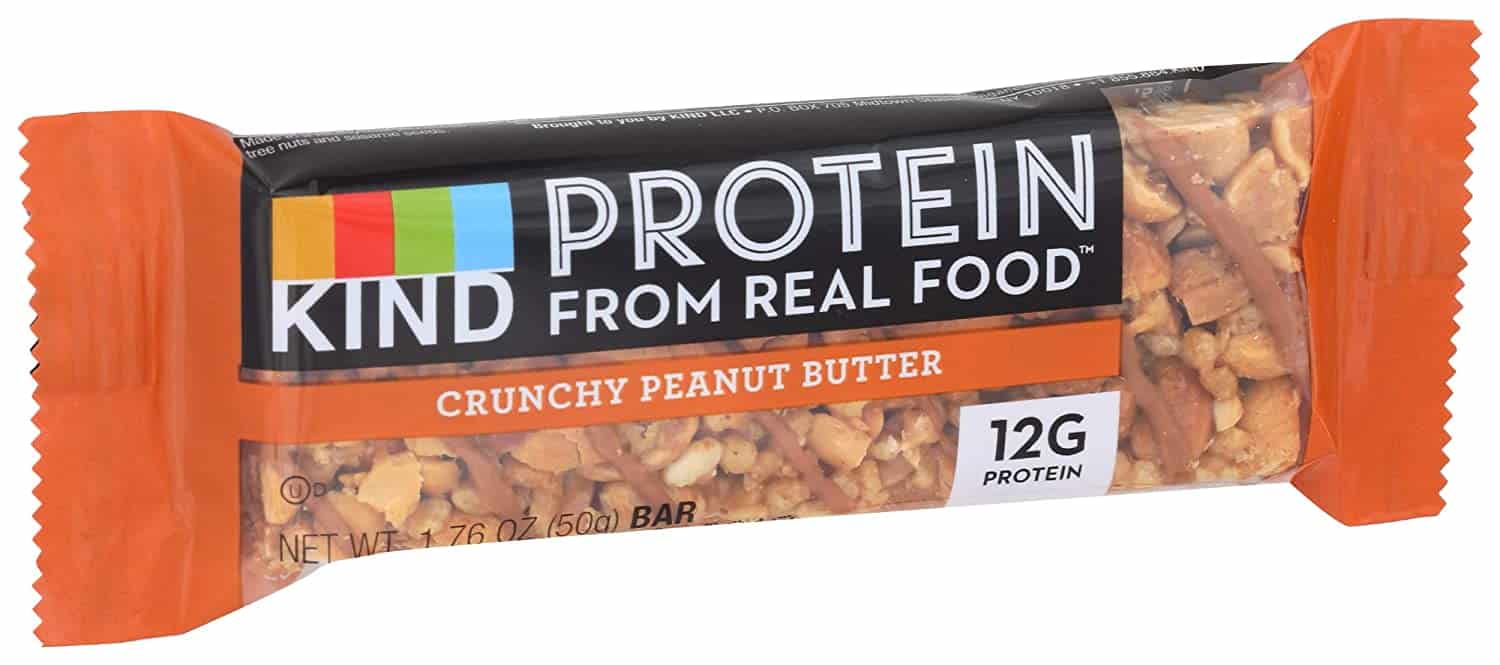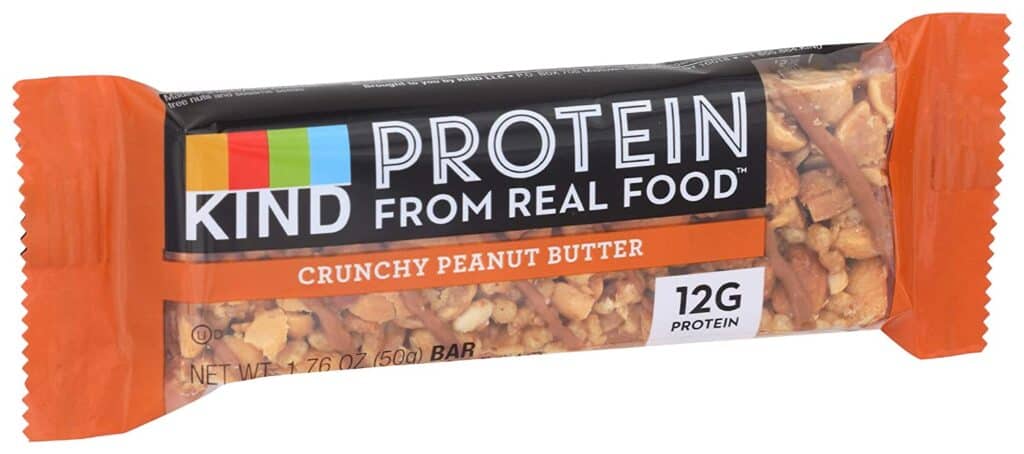 Kind protein bars are popular for a reason! They're great for people who want to snack on gluten-free and almond-free treats.
Packed with 12 grams plant-based protein, 8 grams fiber, 17 grams total fat (only 4 g saturated fat), 8 grams sugar, and about 240 calories.
I love these protein bars' taste and texture. If you don't like peanut butter, you can get a double dark chocolate nut or toasted caramel nut. (These bars are also found in another subscription box I love - the SnackSack subscription boxes!)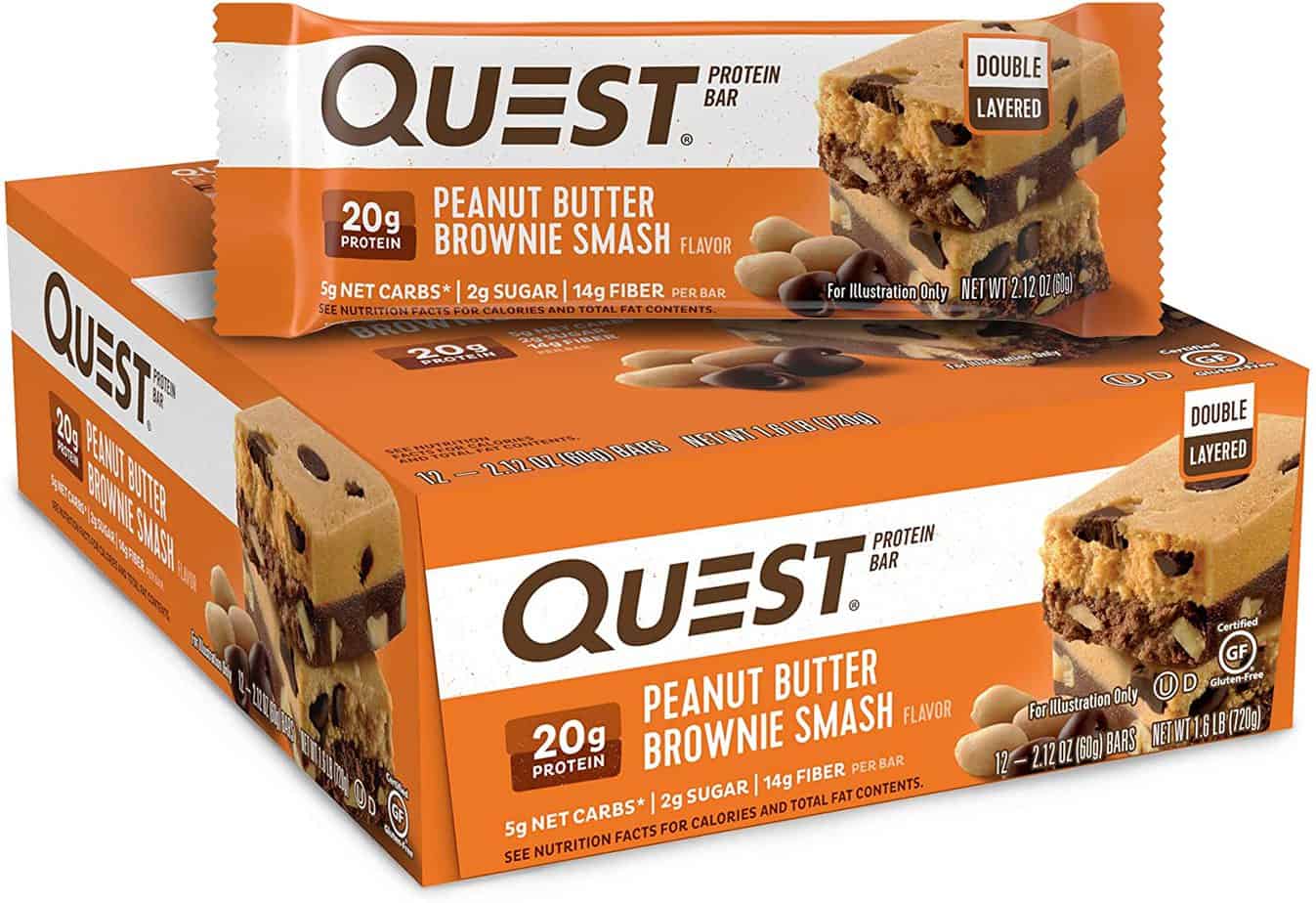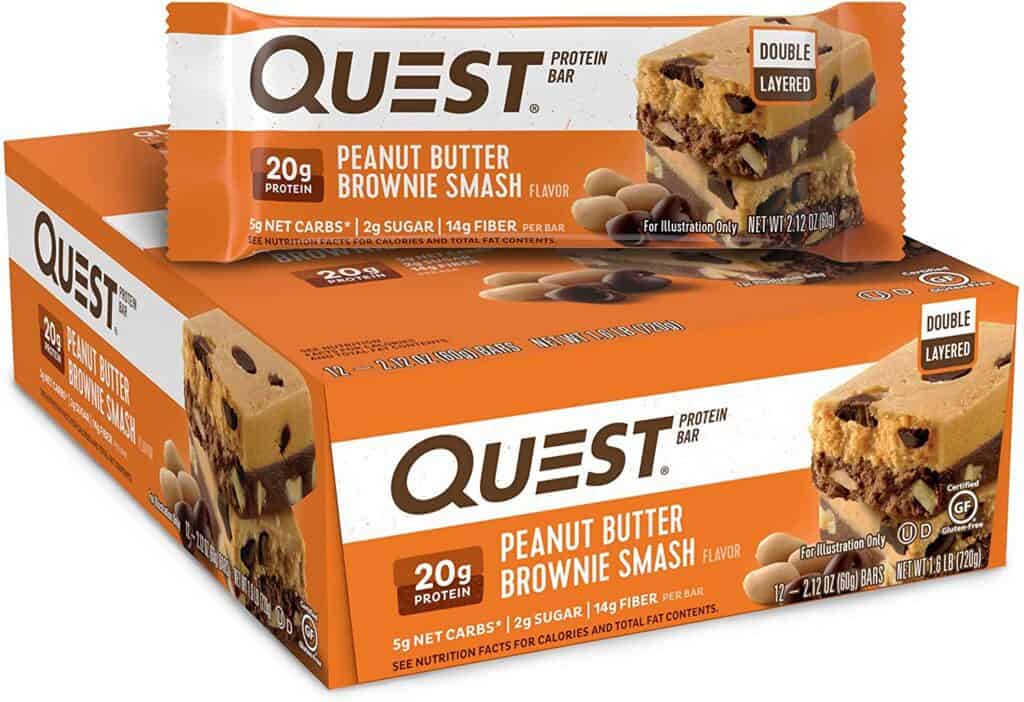 You're probably familiar with Quest snack bar. It's pretty famous, so, yes, it tastes good (and does not have that bad after-taste). It's also more accessible.
One Quest snack bar gives you 10 g of whey protein, 7 g of fiber, 1 g sugar, 15 of total fat (3.5 saturated fat), and 210 calories.
It has tons of flavors, such as sea salt caramel almond, cranberry trail mix, and more.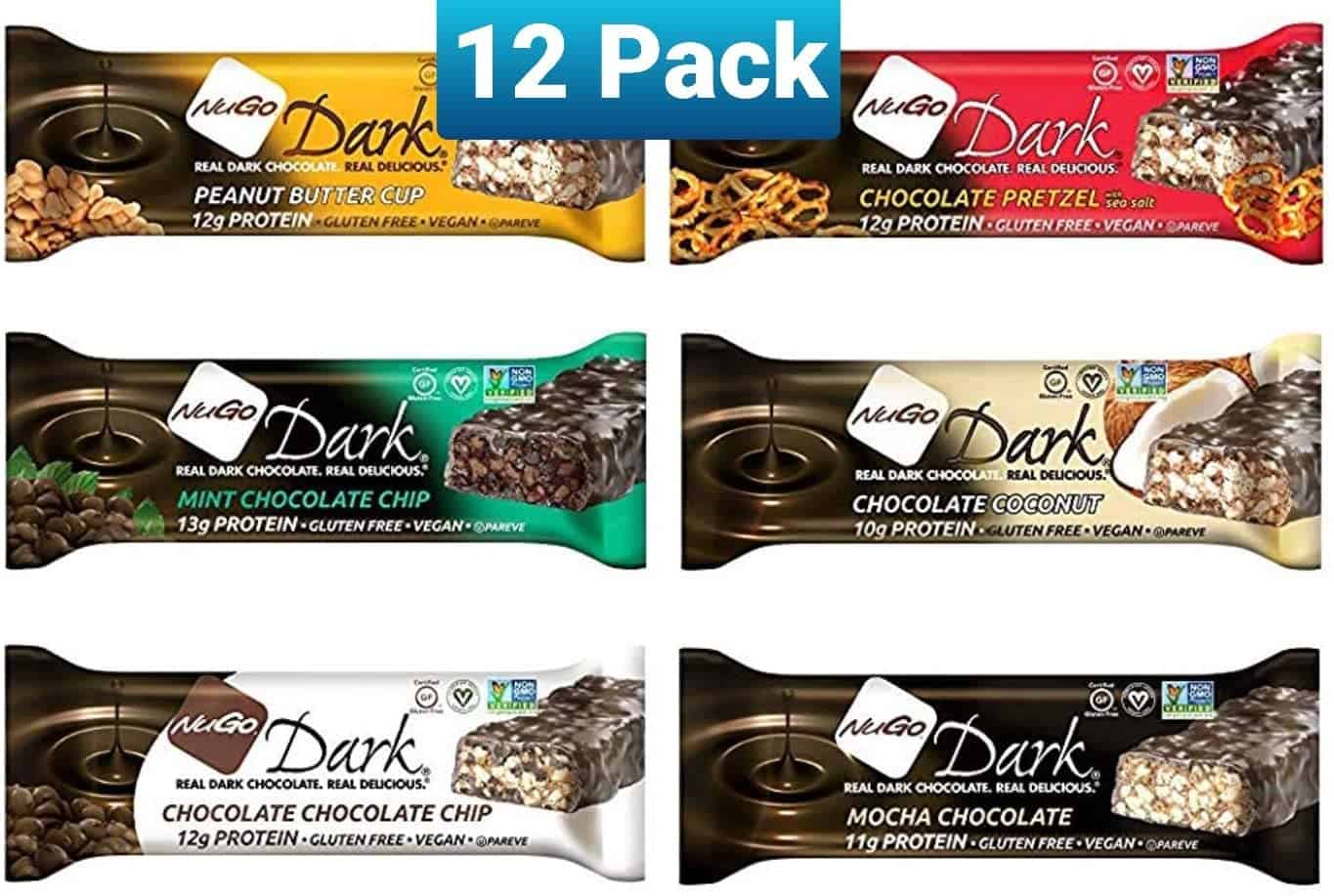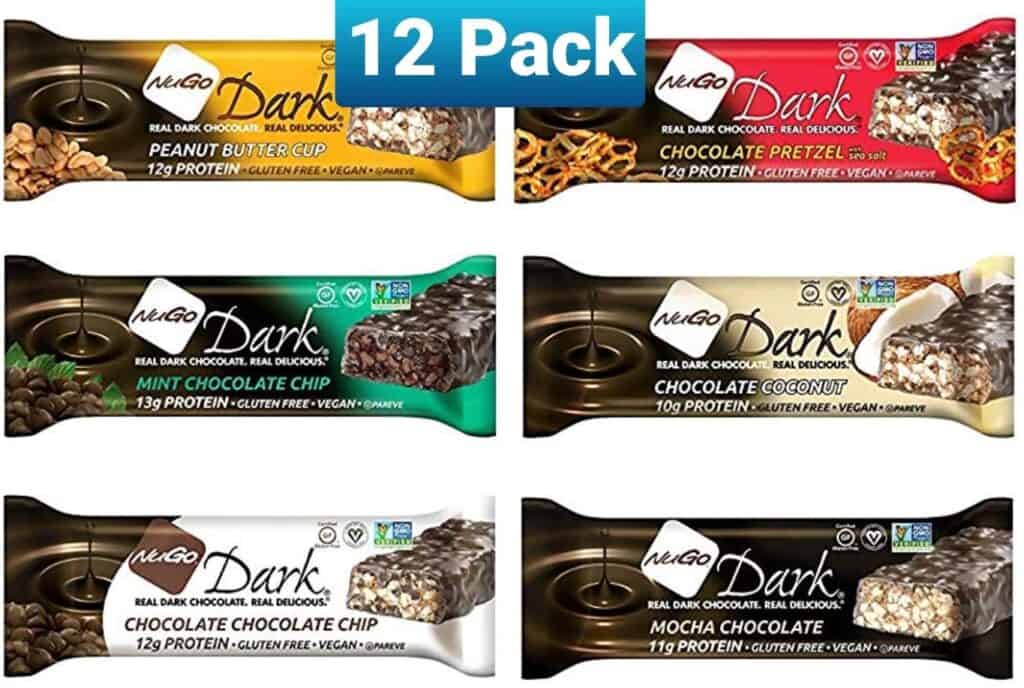 What sets apart Nugo Dark from other gluten-free protein bars is it has real dark chocolate.
While it contains a whopping 15 grams of sugar, it doesn't contain artificial sweeteners and ingredients, unlike other protein snacks.
It boasts 10 grams of non-GMO plant protein, kosher, and is vegan.
You can get Nugo Dark in chocolate chip, coconut, mint chocolate chip, and more for its flavors.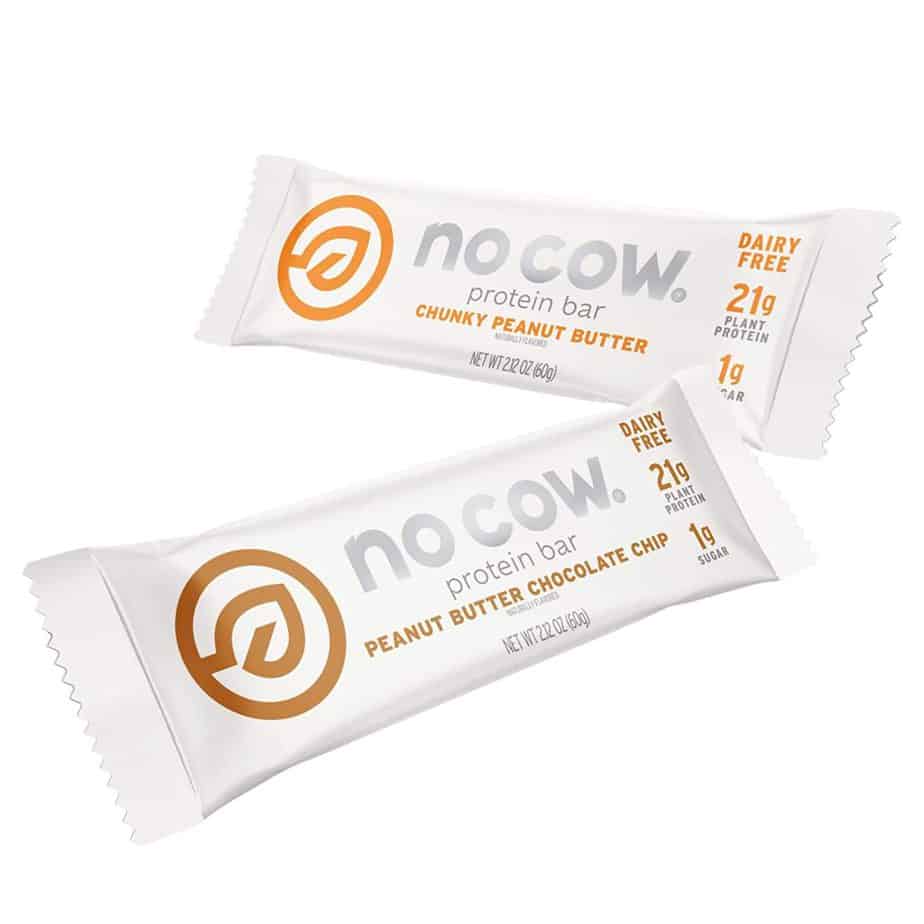 No Cow gluten-free protein bar has a protein blend consisting of pea and brown rice protein - which I love.
This treat is also suitable for people who are into a low sugar, low carb diet.
No Cow protein bar not only contains 21 grams of protein, but it also contains 17 grams of fiber and 190 calories, with only about 1 gram of sugar.
It's also worth noting that this snack is vegan, non-GMO, keto-friendly, and soy-free.
Some No Cow irresistible flavors include birthday cake, blueberry cobbler, carrot cake, and more.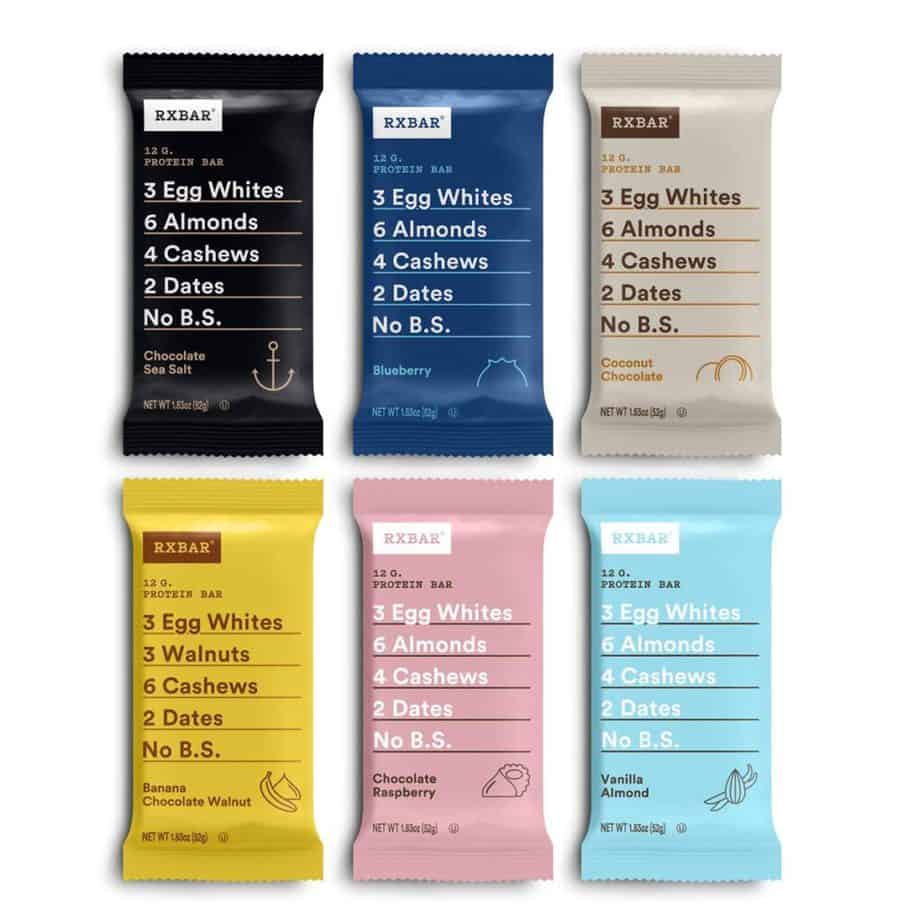 Loved chocolate but can't stand its sweetness? You definitely have to try RXBar's chocolate sea salt.
It boasts of its natural ingredients that you can actually pronounce. Energy-wise, it gives you 210 calories while giving you 12 grams of protein, 13 grams of sugar (mostly from dates and almonds), and 9 grams of fat.
Other great flavors you can get include banana chocolate walnut, blueberry, chocolate cherry, and more.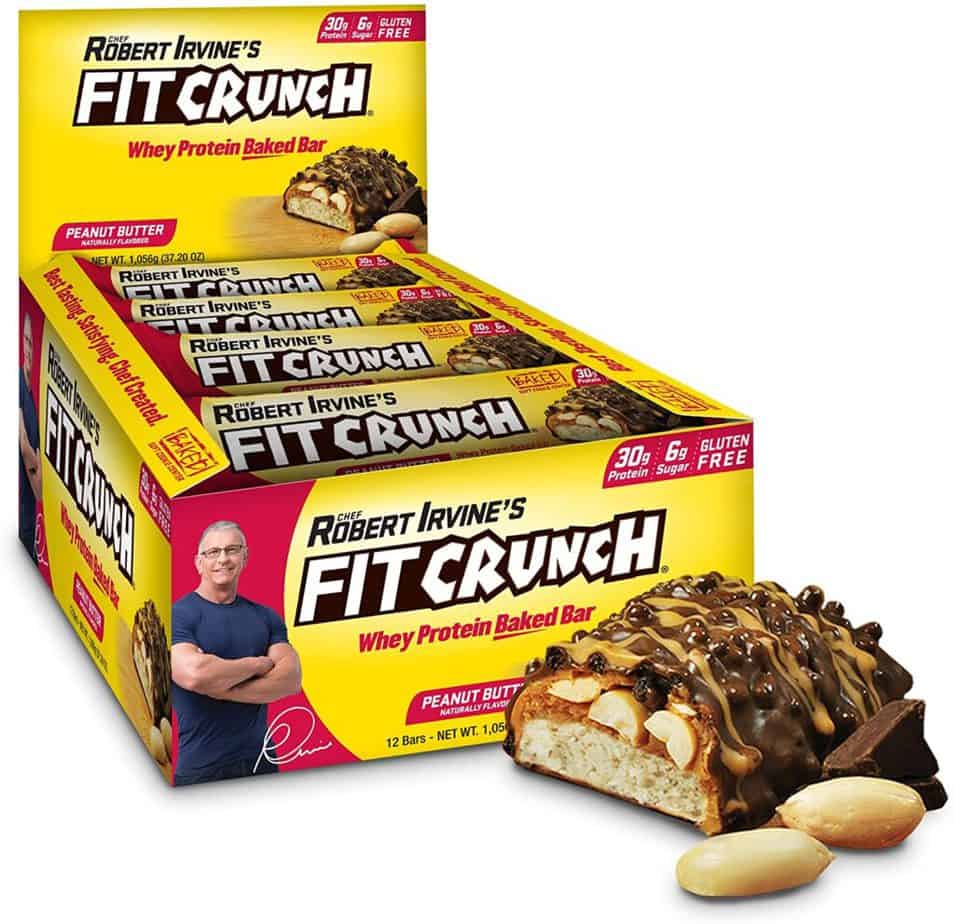 Indulge guilt-free with FITCrunch whey protein baked bar.
It is TASTY while giving you 30 grams of protein and 6 grams of sugar (includes sugar alcohols).
However, the fat (16 g) and calorie (380) content might be a little bit high for some. But if you're working out or physically active, then this works out just fine.
Aside from caramel peanut, you can try out a range of flavors, such as milk and cookies, peanut butter and jelly, and more.


Think High protein bars' brownie crunch gives you the richness of almonds and brownies without the hassle of prepping the real ones.
It can give you a relatively high amount of protein (20 g) and calorie (230), does not contain sugar (0 g), but it relies on sugar alcohols (11 g) for its sweetness, though.
Think High also relied on plant sources to refuel you, such as nuts, soy, whey, etc.
There are at least three flavors: Chocolate Chip Cookie Dough, Cookies and Cream, Milk and Cookies, and more.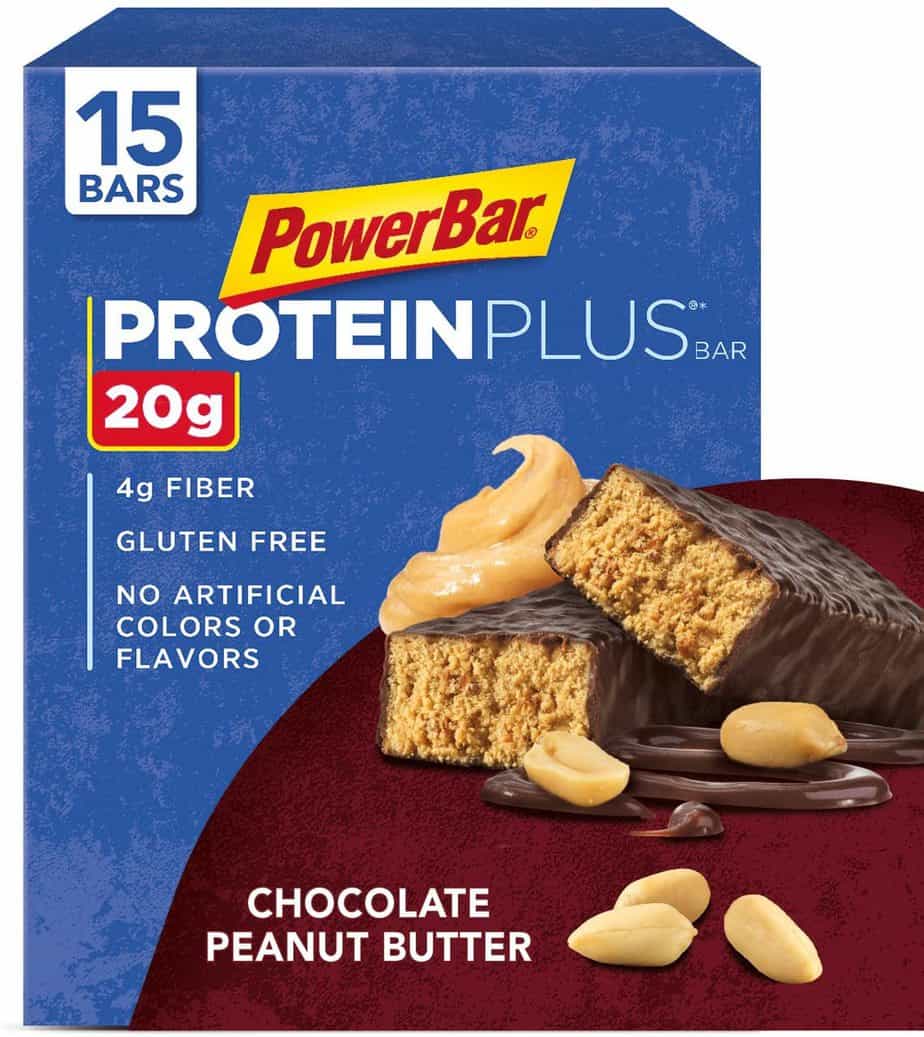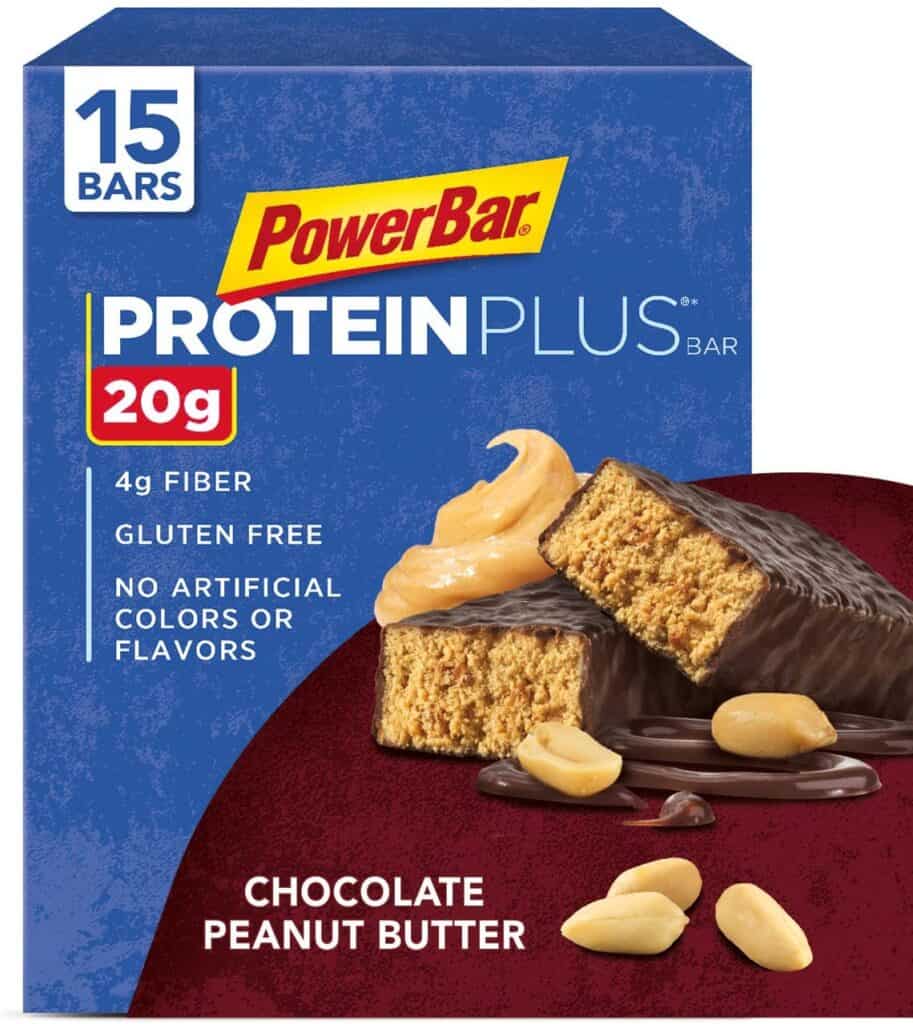 Grab one PowerBar protein bar if you want a gluten-free breakfast alternative.
Not like other bars, this one is soft, a bit grainy, yet not too crumbly.
One bar of this can act as a protein punch (20 grams) any time of the day you need one.
PowerBar contains 12 grams of sugar, but none of the artificial ones.
Delish flavors include chocolate peanut butter, cookies and cream, and more.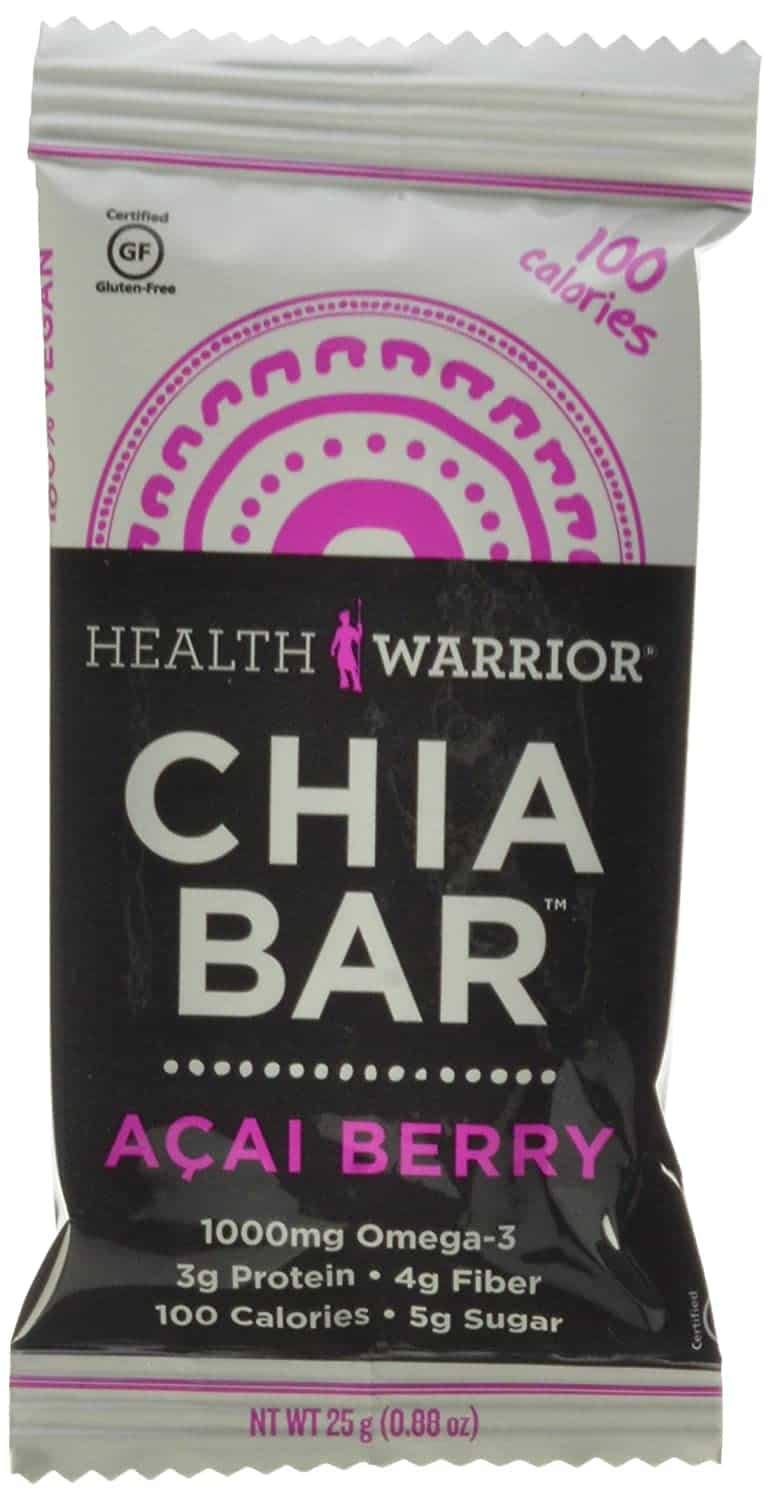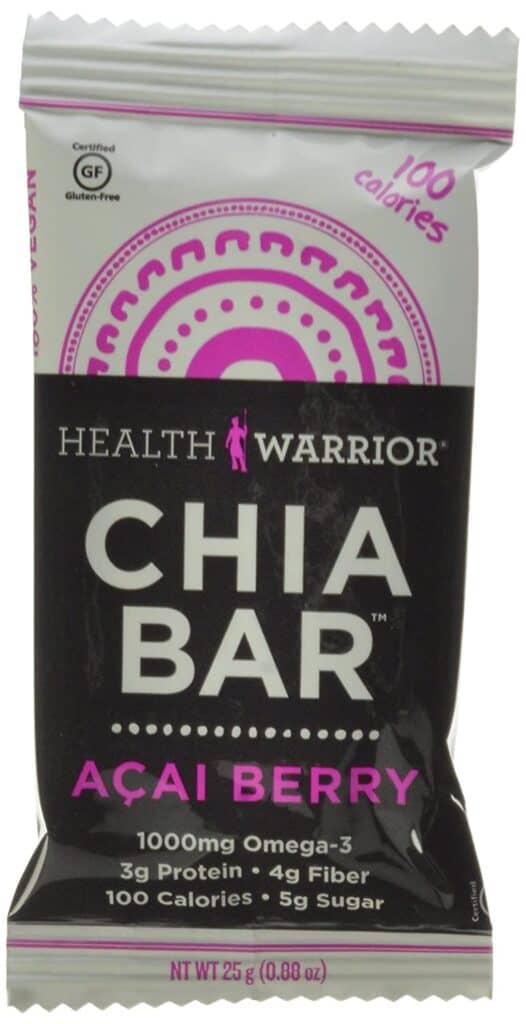 Working hard is good, but taking care of yourself while working hard is the best.
So, if you don't have time to prep healthy gluten-free snacks, fuel your day instead with the Health Warrior Chia bar.
While it contains relatively low protein from chia seeds (3 g), it's a great source of ALA Omega-3, fiber (5 g), and calories (100).
And yes, it only contains 3 grams of sugar (no artificial sweeteners and no sugar alcohols).
It also has various flavors like caramel sea salt, apple cinnamon, coconut, and more.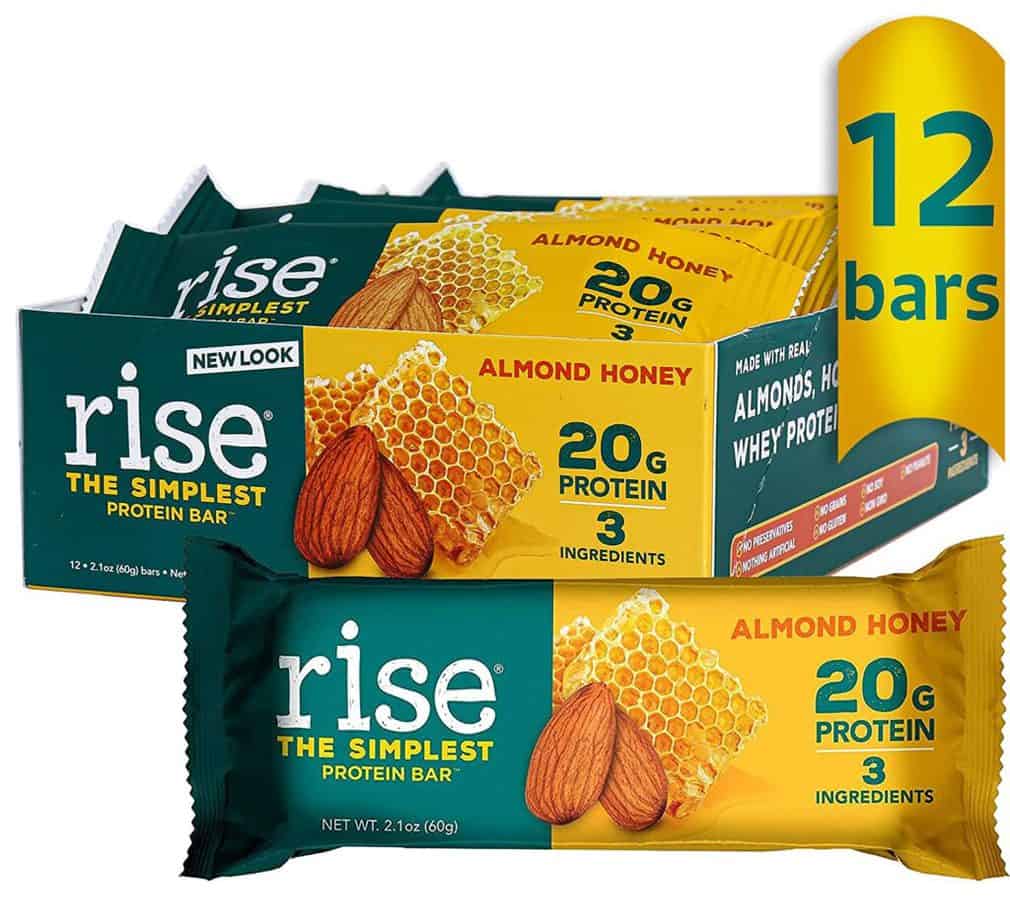 Healthy doesn't mean flavor has to suffer.
Rise Whey protein bars taste great even with only three ingredients. I haven't tried other flavors yet, but smooth and chewy almond honey is definitely worth trying.
It also has a low protein to sugar ratio (20 grams protein & 13 grams sugar).
Its calorie content is about 280 calories, which is pretty high compared to other protein bars.
You can explore and try their other flavors, such as cacao banana, chocolatey almond, mint chip, and more.
Bottomline
So which gluten-free protein bar should you get? That depends on your preferences, really. But an excellent way to try them (and not be stuck with a bundle if you don't like them) is to do a snack subscription box. It's just a month to month subscription and a great way to try several different things!
The list above contains both vegan and non-vegan options. But they all are gluten-free!
More GF snacks