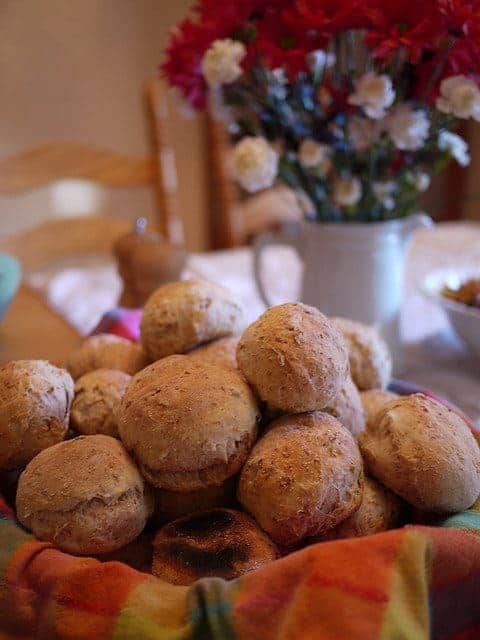 You might be concerned that if you start baking without gluten, you will never enjoy tasty bread again. Not to worry, though—with a few tips and a little practice, you'll soon be a gluten-free bread making pro.
Here are some tips when it comes to making light, tender, and tasty gluten-free dinner rolls:
Keep in mind that when baking without gluten ingredients, your dough is going to look different than typical bread dough. However odd it may look, resist the urge to add more flour. If you leave it alone and let it rise, it will turn out all right.
Make sure you use room temperature ingredients so your bread rises properly. If you store any dry ingredients in the refrigerator or freezer, let them warm up on the counter the night before you bake. Put out eggs, milk, and other ingredients that need refrigeration on the counter a couple of hours before you bake.
If you use a bread recipe with eggs in it, that will add moisture and flavor to the recipe, and it will also help the bread dough rise.
Instead of water in your gluten-free bread recipe, use carbonated water or gluten-free beer for more volume in the bread dough and more flavor in the finished bread.
If you want to add moisture to your bread, add in 1 tablespoon of mayonnaise.
OK—no gluten, fine. But aren't we hedging our bets by leaving out xanthan gum? Answer: using flaxseed or chia seed instead of xanthan gum will result in tasty rolls. The flaxseed or chia seed will take the place of xanthan gum and bind the dough together.
Gluten-Free/Xanthan Gum-Free Dinner Rolls
You'll need….
15 grams ground flaxseed meal
15 grams ground chia seeds
60 grams boiling water
1 ½ teaspoons active dry yeast
1 tablespoon sugar
1 cup water, divided in half
100 grams gluten-free oat flour
100 grams blanched, finely ground almond flour
100 grams teff flour
85 grams potato starch
85 grams arrowroot powder
70 grams buckwheat flour
30 grams milk powder
2 teaspoons kosher salt
2 large eggs
2 tablespoons apple cider vinegar
Begin by mixing the flaxseed and chia seeds. Pour in the boiling water and whisk until the mixture is thick. Set it aside to let it cool.
Meanwhile, heat ½ cup of the water to 110 degrees. Mix together the sugar and yeast and add the water. Set it aside in a warm place until it doubles in volume (this will take about 8 to 15 minutes).
In a large bowl, whisk to combine buckwheat flour, arrowroot powder, oat flour, almond flour, teff flour, and potato starch. Add salt and milk powder and whisk.
In a small bowl, whisk together eggs and apple cider vinegar. Add to the dry ingredients, then add in the flaxseed mixture and the yeast mixture, and mix together well using mixer.
Warm up the remaining ½ cup of water to 110 degrees and add it slowly to make the dough (you may need to use less than ½ a cup).
The dough may seem very wet, but that is how it should look. Put the dough into a large oiled bowl. Cover and let the dough rise for 2 hours. After this time, the dough won't look like typical bread—it won't rise as high as bread made with gluten. The dough will look elastic and dry.
Preheat the oven to 450 degrees. If you want to use a pizza stone for your rolls, put it in the oven at this time.
Form the dough into eight balls, three ounces each (get your hands a bit wet to keep the dough from sticking to them). Put the rolls on the pizza stone, or on a baking sheet lined with parchment paper.
Bake until the rolls have a crust and they make a hollow sound when thumped. The internal temperature should be at least 180 degrees.
Makes eight delicious, gluten- and xanthan gum-free dinner rolls.
Note about measurements: the measurements are given in weight for preciseness. If you don't have a kitchen scale, Amazon is the best place to go for it - this one is $15.95. Worth the investment!