Pumpkin has taken over my kitchen this month and I couldn't be happier! I am thrilled to be able to share this recipe with you and show you just how easy homemade gluten free bagels can be.
Let's face it, there are a lot of ways, or I should say, techniques, to make bagels. This recipe uses yogurt as an ingredient and can be topped with pretty much any topping you like. Then there are some varieties that rise high with yeast and then others that are boiled and then baked like this one today.
So many ways to make a bagel… but only this way makes a delicious, gluten free pumpkin bagel!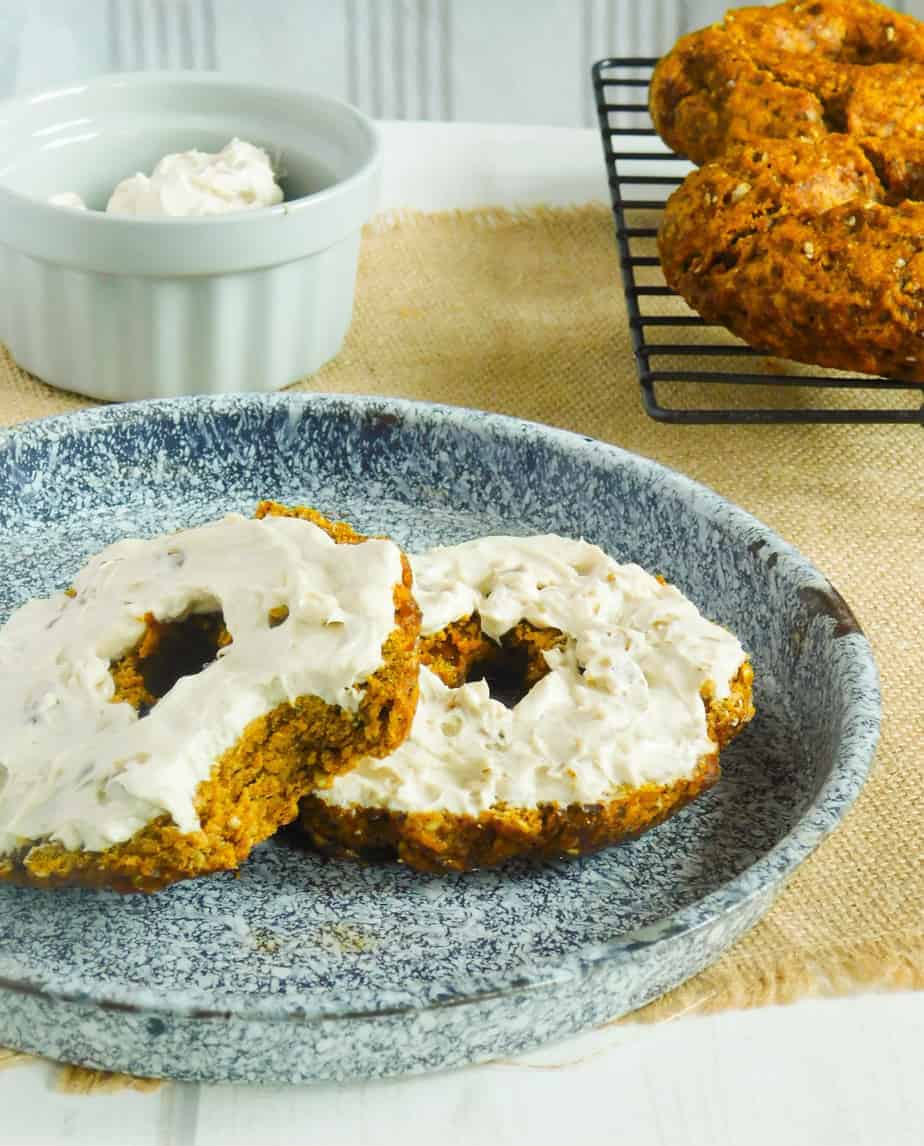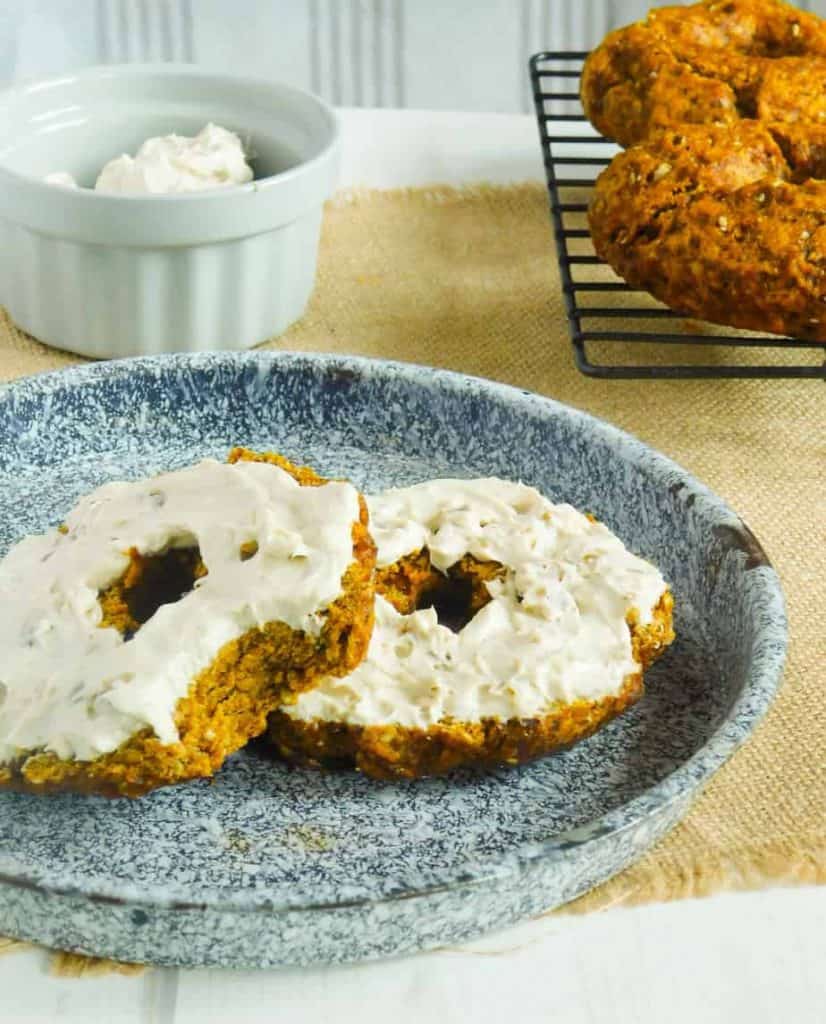 These pumpkin bagels have a superior bagel-flavor that's chewy with the right amount of dense texture that pairs perfectly with the oh-so-amazing maple walnut cream cheese. Toasted, plain or even with butter, these are truly some of the best bagels! AND, they are homemade – which makes them even better.
For the best bagels follow these tips…
Tips for Making Gluten Free Pumpkin Bagels

Make your own oat flour
This is not a must, but it's something that's good to know. Instead of buying bags of oat flour, just get out your trusty food processor. Making the flour is super easy – just add your old fashioned oats to the bowl and process until the consistency of flour.
Depending on how much oats you add, it could take 30 to 60 seconds.
Working with the bagel dough
Does the dough behave more like thick, sticky batter than a soft bread dough? Good!
Then you've got the right consistency.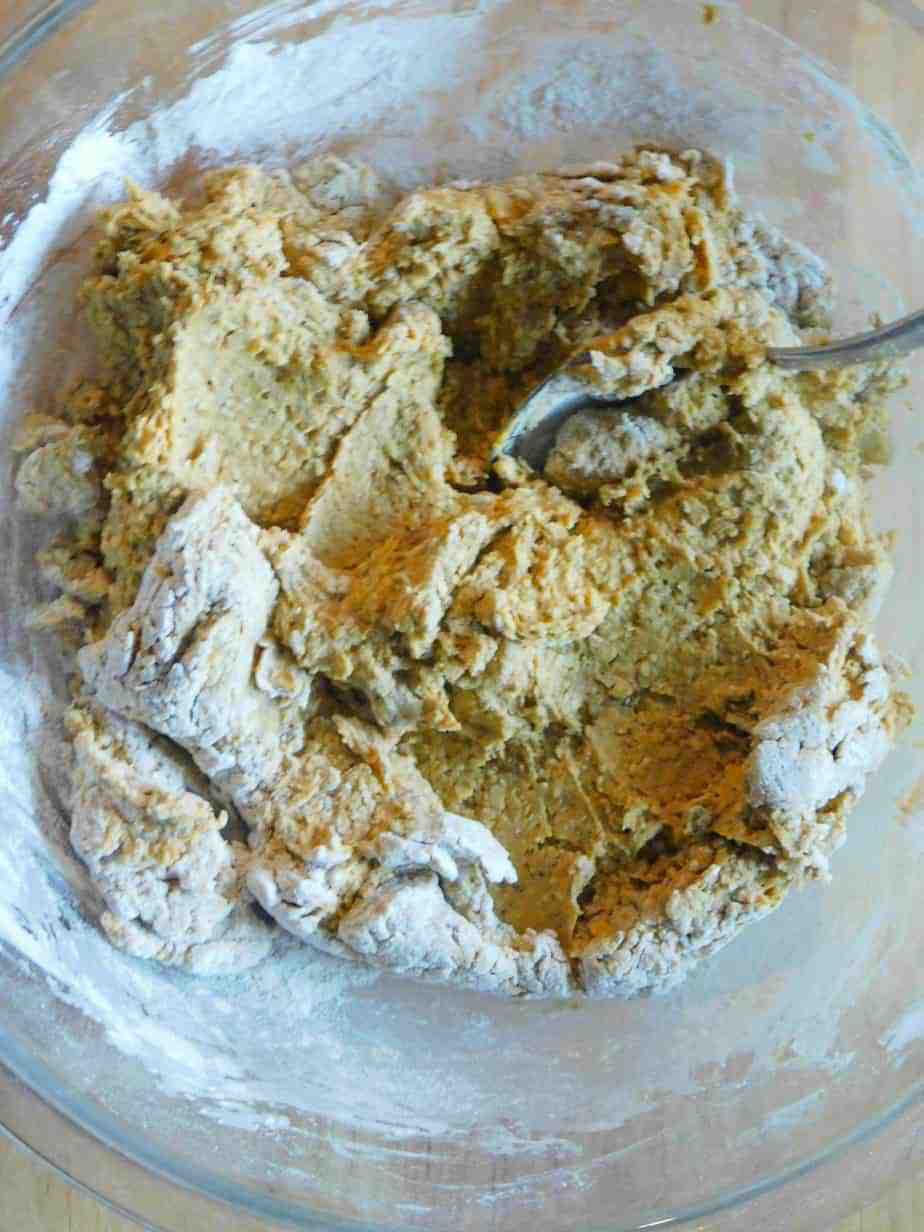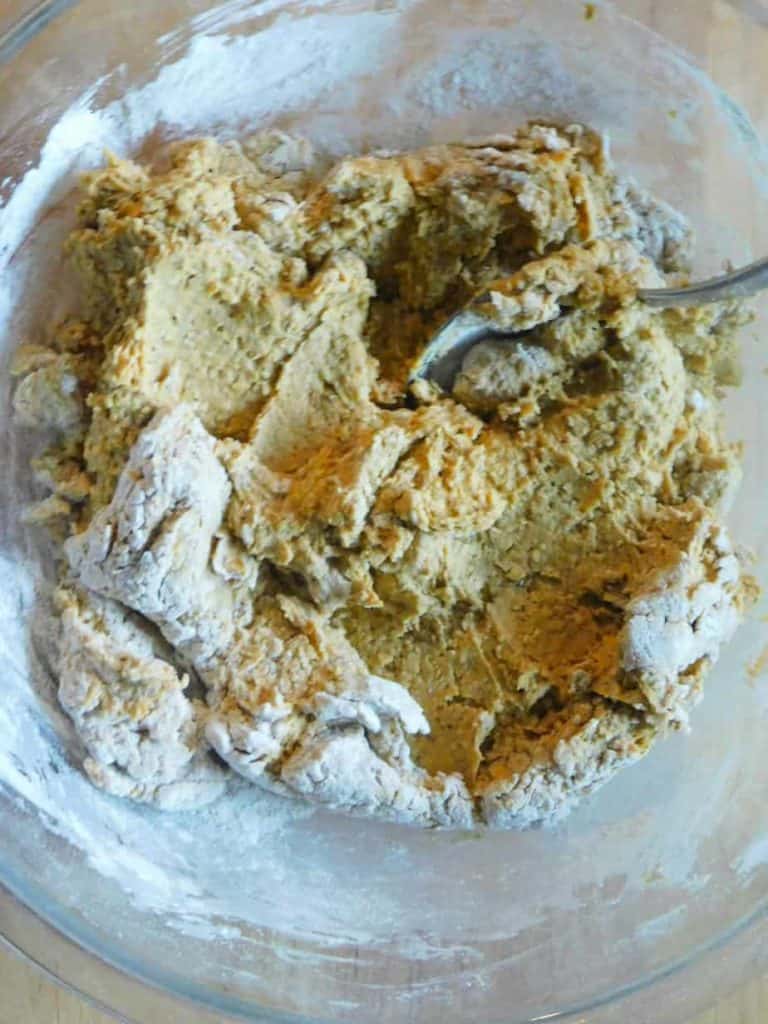 Forming the bagels may seem like something that's going to be a huge mess and really, that's not entirely true!
This dough / batter will be sticky and will stick to your hands. But you should still be able to form a bagel shape, have it stay together and drop it in the boiling water. The key to working with it is to wet your hands slightly before you go to form the bagels.
Here's what the process looks like:
Divide the dough into 8 pieces (I do this right in the bowl)
Wet your hands slightly
Pick up soon-to-be bagel #1
Quickly roll it into a ball
Position your thumb in the middle and poke it through, making a bagel shape as you go
Dunk them one by one into the boiling water
Boiling time
There are differing opinions on the 'right' length of time to boil a bagel for. I tried it several ways – 10 seconds each side, 30 seconds each side, until they float and then the ole' "just leave them in for a bit."
Well, since timing is important in recipe development, I had to narrow down to have some consistency.
60 seconds total is the official winner.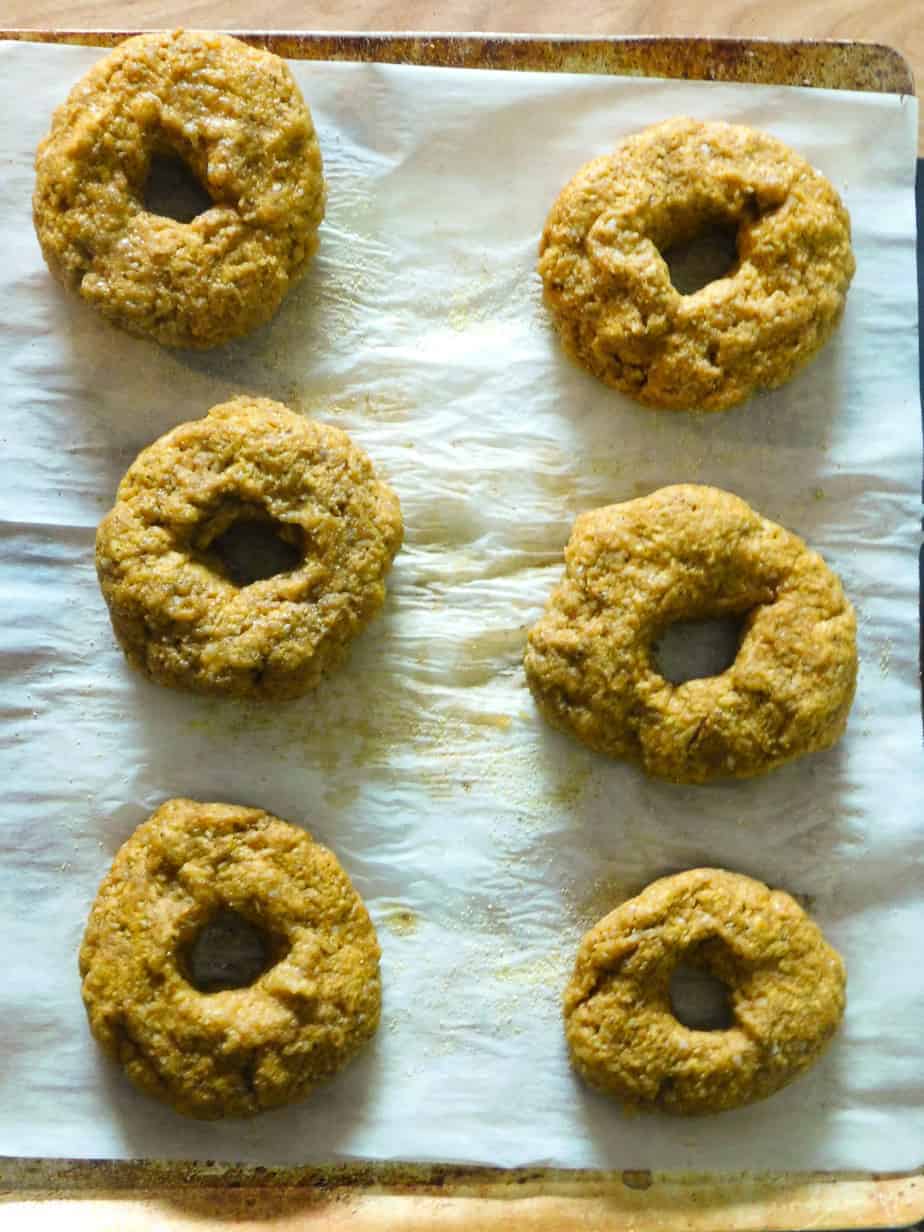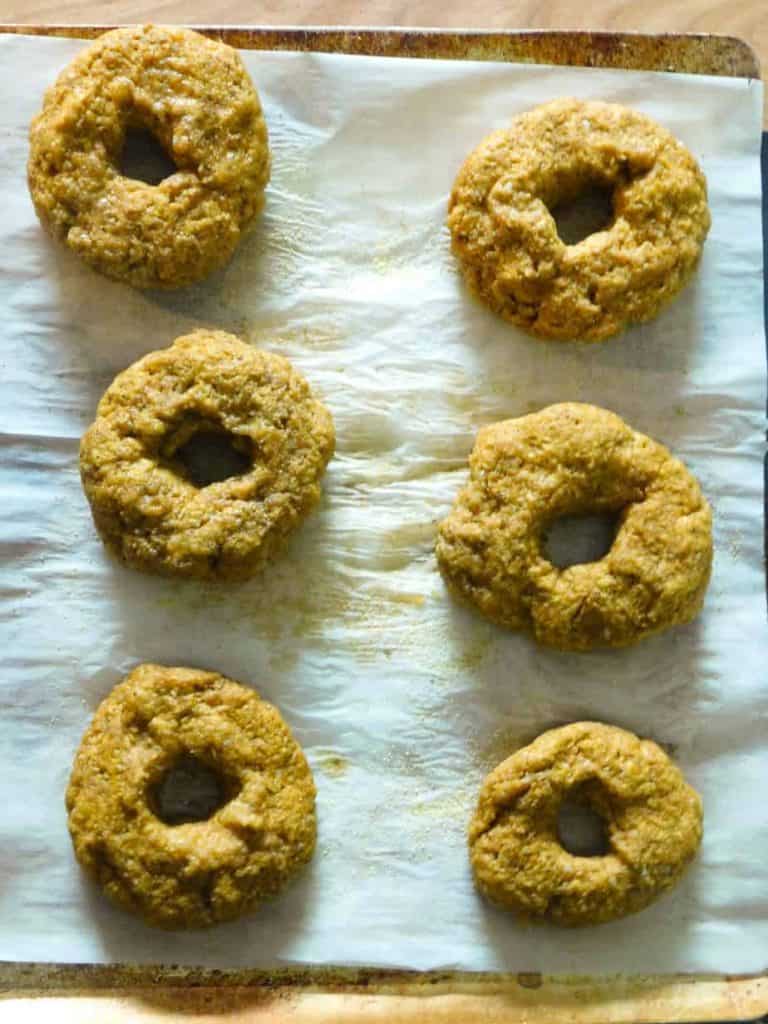 Because these bagels are dense, boiling them per side didn't work as they flip around in the boiling water anyway. So just drop them in and set the timer for 60 seconds. What I found was this was exactly enough time to form another bagel so it's ready to go in when the first one is done.
Then use a large spoon like this one to remove them.
With a big smear of maple walnut cream cheese, these bagels will brighten your fall season.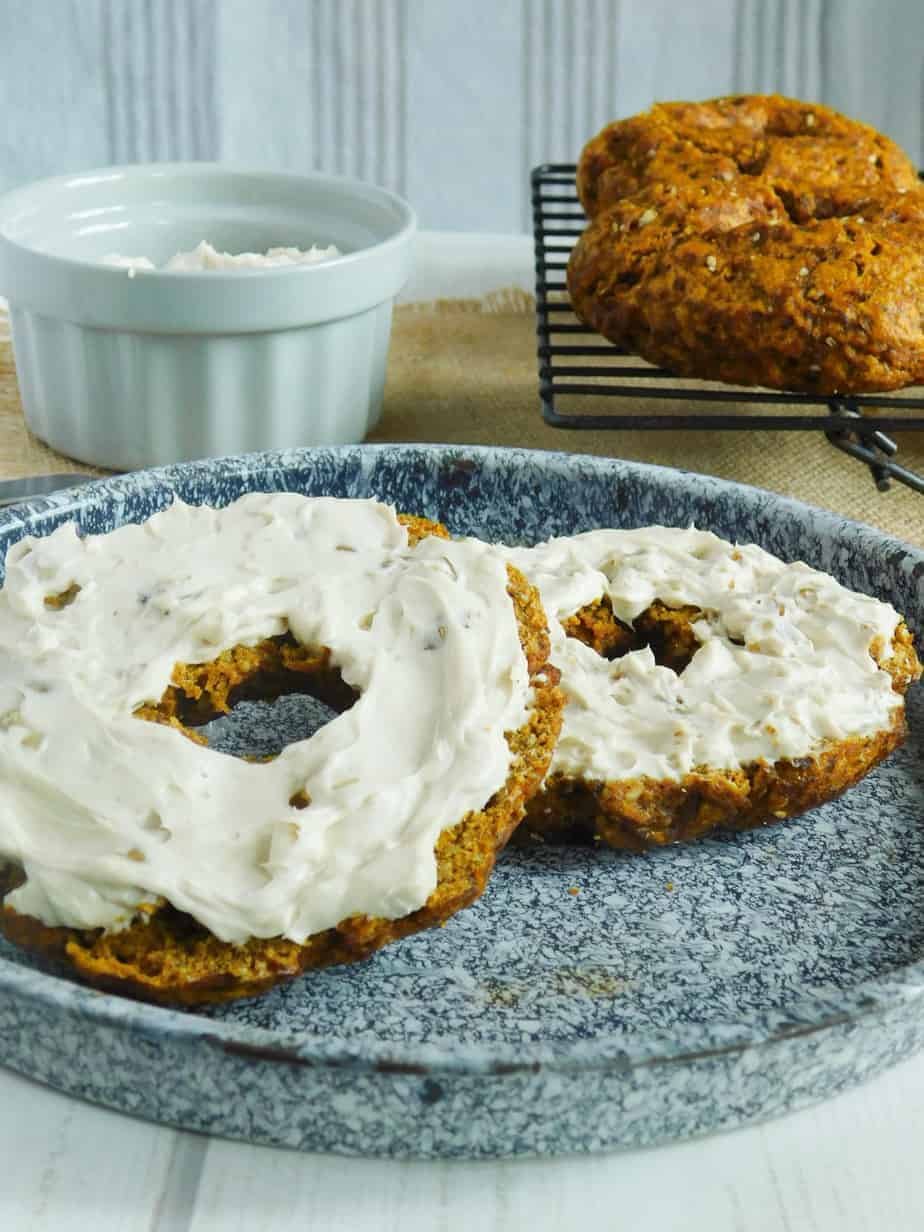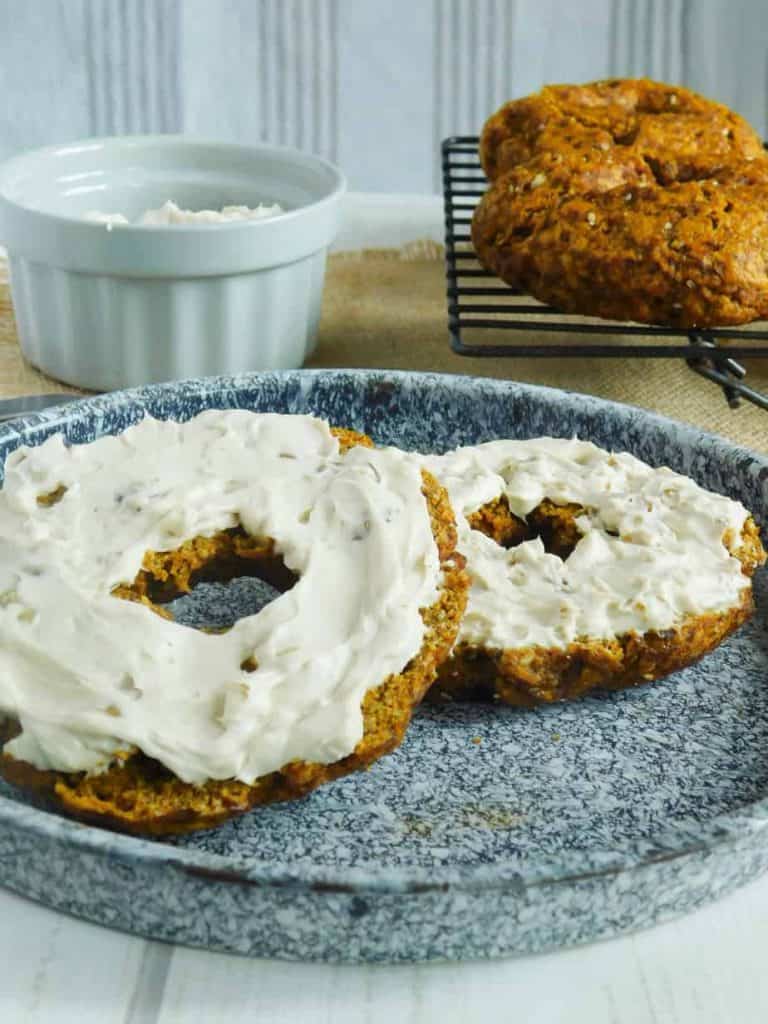 And now for the recipe…
Recipe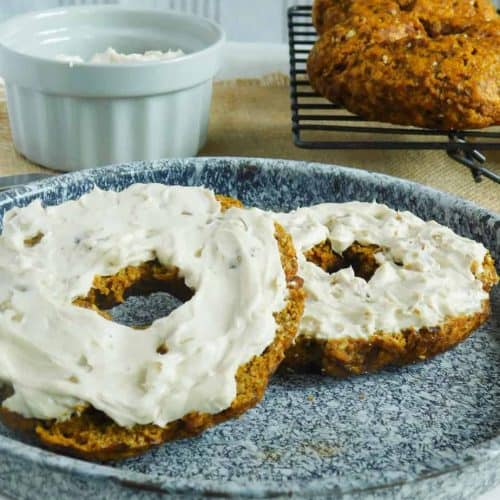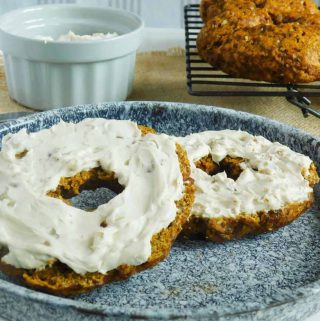 Gluten Free Pumpkin Bagels with Maple Walnut Cream Cheese
These sweet gluten free pumpkin bagel are a delicious treat for anytime. Add a smear of maple walnut cream cheese and you've got a treat you may not want to share!
Print
Pin
Rate
Ingredients
Dry Ingredients
1 ¼

cup

light buckwheat flour

1

cup

oat flour

⅔

cup

arrowroot flour/starch

¼

cup

white sugar

3

Tbsp.

coconut

finely shredded

3

Tbsp.

flax seeds

ground

2

tsp.

baking soda

½

tsp.

salt

1

tsp.

cinnamon

½

tsp.

nutmeg

½

tsp.

cloves

½

tsp.

ginger powder
Wet Ingredients
15.5

ounces

pureed pumpkin

1 can

1

Tbsp.

coconut oil

2

tsp.

apple cider vinegar

Cornmeal for dusting

optional
Maple Walnut Cream Cheese
4

oz.

cream cheese

1

tsp.

maple extract

2

Tbsp.

maple syrup

3

Tbsp.

walnuts

chopped
Instructions
Preheat oven to 350˚ F. In a large pot, heat 4 cups of water to a boil. Prepare a baking sheet by lining it with parchment paper and dusting with cornmeal.

In a large bowl, combine the flours, arrowroot starch, sugar, coconut, flax seeds, baking soda, salt, cinnamon, nutmeg, cloves and ginger. Mix well.

In a medium bowl, combine the wet ingredients.

Add the wet mixture to the dry mixture and using a large spoon, stir until the flour is completely mixed in. The batter will be slightly sticky.

Using a sharp knife, cut the dough into 8 equal pieces.

Wet your hands slightly and shape each piece into a ball. Stick your thumb through the middle and continue to form into a bagel shape.

Drop each newly formed bagel into the pot of boiling water.

Boil for 60 seconds and remove with a slotted spoon. Place on the prepare baking pan.

Bake the bagels for 20 minutes.
Prepare the maple walnut cream cheese:
In a medium bowl, cream together the cream cheese, maple extract and maple syrup. Blend well. Fold in the walnuts.

Spread on cooled bagels.
Notes
The bagel dough will be sticky. Use a bit of water if it's too sticky to handle.
Use a large pot for boiling the water - you want the bagels to have enough room to float around while boiling. 
Use a slotted spoon to remove the bagels from the boiling water and carefully place on the prepared baking pan.
The bagels will not get much darker than they are after they're boiled.
Nutrition
Calories:
369
kcal
|
Carbohydrates:
51
g
|
Protein:
8
g
|
Fat:
17
g
|
Saturated Fat:
7
g
|
Cholesterol:
16
mg
|
Sodium:
514
mg
|
Potassium:
394
mg
|
Fiber:
8
g
|
Sugar:
12
g
|
Vitamin A:
8740
IU
|
Vitamin C:
2.5
mg
|
Calcium:
80
mg
|
Iron:
3
mg