These bagels. Chewy on the inside with a delicious crust on the outside. They're perfect with a smear of dairy free cream cheese or a dab of butter. Get ready for a seriously delightful gluten free bagel.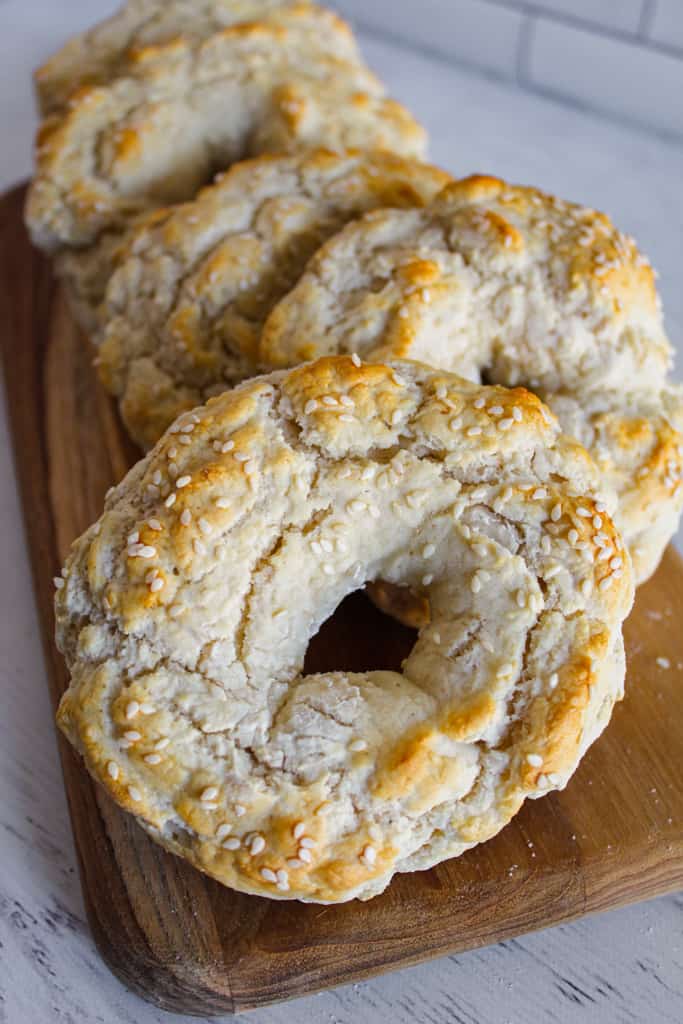 This post contains affiliate links. Affiliate links support Zest For Baking at no additional cost to you. I receive a commission if you choose to make a purchase through these links.
When you have gluten eaters tastes a recipe and their reaction is "Mmmm" you know you have a great recipe.
Why this quick & easy recipe is the best!
6 ingredients. That's all there is to these bagels. Just 6 ingredients and you have a bagel that's not only gluten free and dairy free, but gum free too. And the short ingredients list is just one reason why you need to make these bagels.
Whether you're new to gluten free baking or not, you've probably seen and heard about xanthan gum. Xanthan gum is tricky. I've got a few ways I substitute for it, but it's often different, depending on the recipe. Some preform better with chia seeds and some you need psyllium husk powder.
With this gluten free bagel recipe, golden flax seeds are the winner. Just look at that amazing bagel.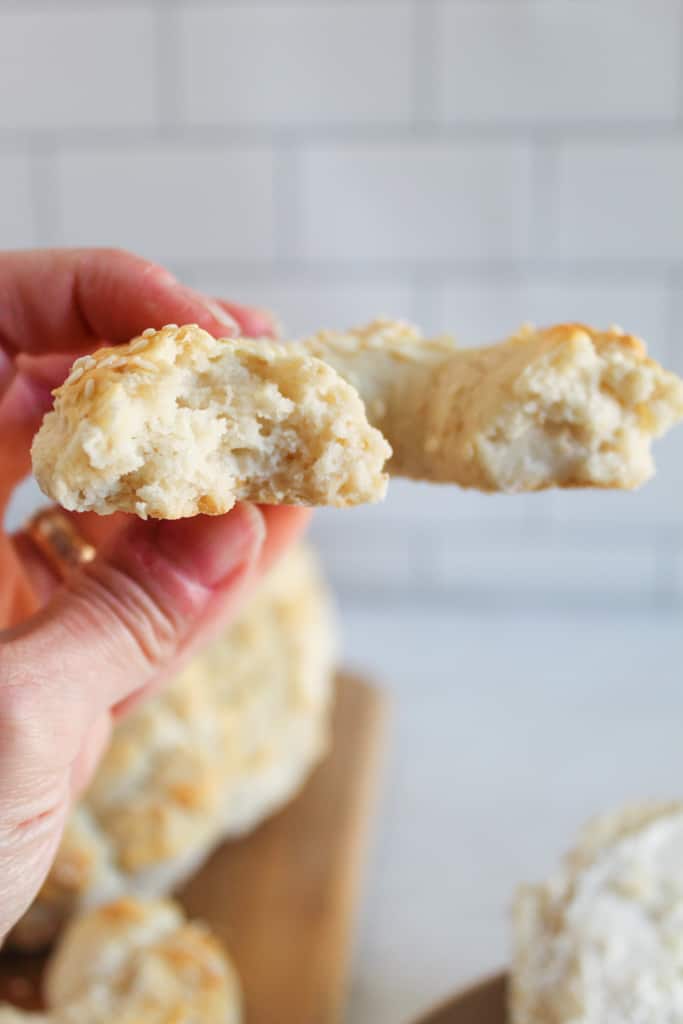 The golden flax seeds preformed best in this recipe because the end result has no trace of them – with chia seeds, there are always those little specks of seeds.
Pro tips for making these no-rise bagels
1. Egg white consistency
The egg whites aren't whipped (like they are in this white bread recipe). There's no need to go that far with them. What you are looking for is 'frothiness'. Are they nice and foamy? If they are, then they are ready to be added.
2. The size of the bagels
This one was a challenge because on the one hand, the tendency is, to roll those dough tubes, and keep rolling, and keep rolling. The dough is easy to work with, so it's tempting to just keep rolling it out. But you want the tubes to be thick, for a nicely shaped bagel. Skinny dough tubes = a bagel that's more like a large thin circle.
3. Top rack baking
Although most breads you keep on the middle rack of the oven, these bagels benefit from being on the top rack. They need that extra brown-ness that comes with being closer to the upper baking rods. Believe me, a golden brown bagel is much more appealing than a pale one.
Steps for making bagels
Ingredients & substitutions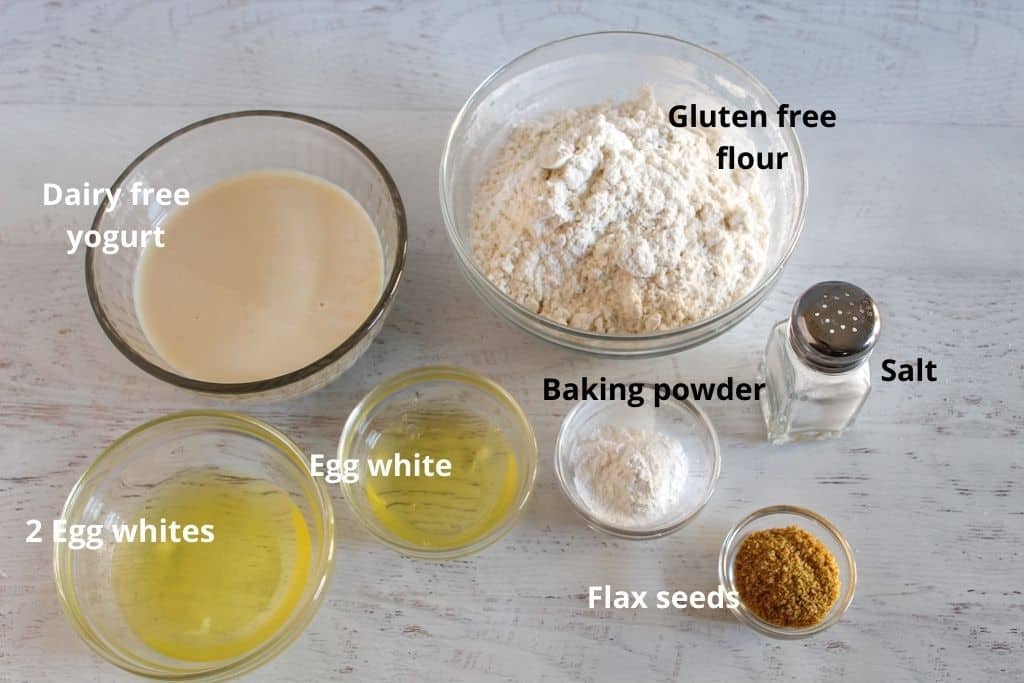 Gluten free flour blend - This recipe uses this gluten free flour mix. Other mixes may (or may not) work. They have not been tested so proceed with caution.
Dairy free yogurt - This recipe was tested with the Oatly plain dairy free yogurt. It works very well. As a substitute for the yogurt, try sour cream or another brand of dairy free yogurt would work well also. As long as it's unflavored or plain.
Baking powder - Clabber Girl was the brand used in this recipe. I would not recommend substituting this.
Flax seeds - This recipe was tested with the golden flax seed meal from Bob's Red Mill. While xanthan gum is a substitute for flax seed, it has not been tested, so I wouldn't recommend it.
Salt - If you're on a low salt diet, this can be omitted.
Egg whites - I would not recommend substituting the egg whites.
Mixing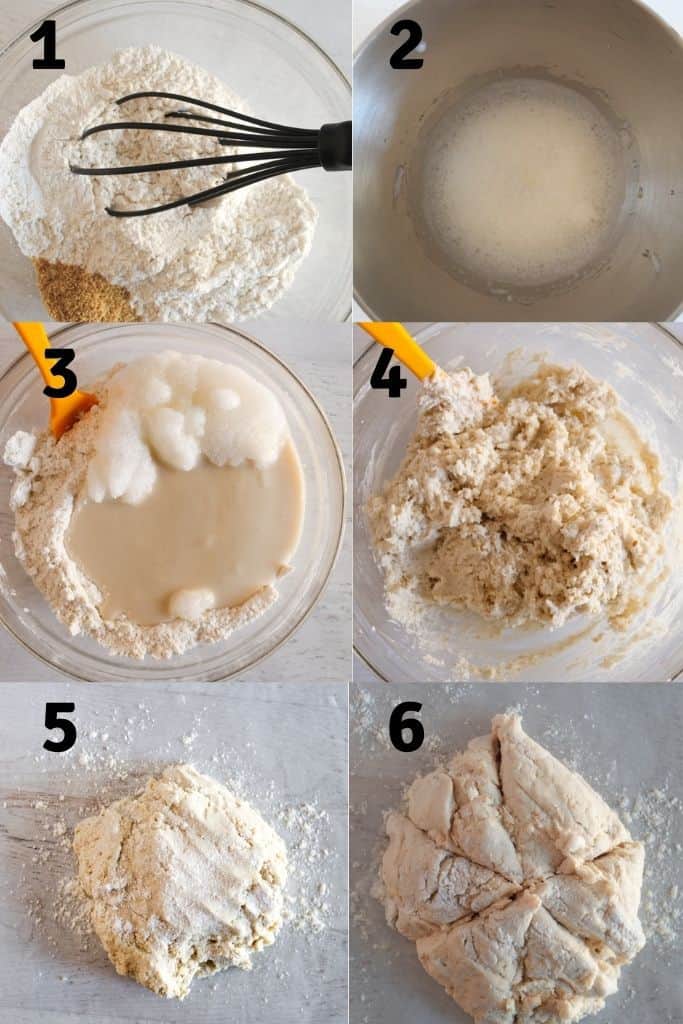 These 6 ingredient bagels are super quick to mix too. In a medium bowl, mix the dry ingredients (step 1 in image above). In the bowl of a stand mixer, beat the egg whites until frothy (step 2). Add the frothy egg whites and the yogurt to the dry ingredients (step 3) and mix well (step 4). Form the batter into a ball (step 5) and let the batter rest for 30 minutes.
Slice dough into 6 equal slices (step 6).
Forming & shaping the bagels
Roll each slice of dough into a 1 inch tube. Then form the bagels into circles. Brush each bagel with the remaining egg white and sprinkle with your favorite topping, Bake for 25 minutes or until golden.
FAQ's
Can I use a different flour mix?
I would not recommend using a different flour mix. This recipe was tested with the flour mix found here. Another brands may or may not work.
What are some other options for bagel toppings?
Besides sesame seeds, 'everything' bagel topping works well and poppy seed topping or even a sprinkling of coarse sea salt - all delicious options!
What's the best way to store these bagels?
Store these bagels at room temperature in a sealed plastic bag for up to 2 days. Any longer than that and you'll need to freeze them. (Slice them before freezing that way you can just remove from them from the freezer and toast!)
And now for the easiest gluten free dairy free bagel recipe! If you enjoyed it, will you give it a rating?!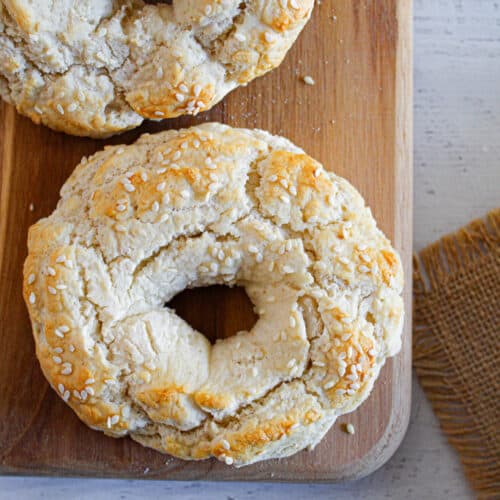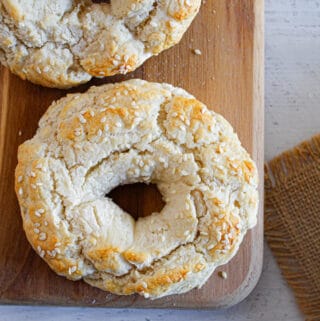 Gluten Free Bagels (Dairy Free)
A delicious, easy to make, gluten free bagel - on your table in no time!
Print
Pin
Rate
Ingredients
320

grams

gluten free flour mix

about 2 ½ cups

3

teaspoons

golden flax seed meal

4

teaspoons

baking powder

½

teaspoon

salt

3

egg whites

divided

1 ½

cups

dairy free plain yogurt

Toppings – sesame seeds

poppy seeds, everything mix
Instructions
In a large bowl, combine the flour mix, golden flax seed meal, baking powder and salt. Mix with a whisk.

Place 2 of the egg whites in a medium bowl, beat with an electric mixer on high until frothy – about 2 minutes.

Add the frothy egg whites and yogurt to the large bowl with the dry ingredients.

Mix with a sturdy spoon until mixture holds together and resembles dough.

Remove the dough from the bowl and place on a lightly floured surface or on a piece of parchment paper.

Knead the dough gently a few times.

Let the dough rest for 30 minutes.

Preheat oven to 400 F. Move oven rack to the top spot in the oven. Place a piece of parchment paper on a large baking sheet. Set aside.

Form the dough into a large rounded disk. Using sharp knife, divide the dough into 6 equal parts.

Roll each part into a 1 inch thick tube. Bring the ends together to form a thick circle.

Place each circle on the baking pan.

Brush each bagel with the remaining egg white and sprinkle with sesame seeds.

Bake on the top rack for 25 minutes or until bagels are slightly browned.

Cool completely before cutting.
Notes
Make sure to beat the egg whites for the full 2 minutes - they should be frothy.
Let the dough rest for 30 minutes before forming the bagels.
Use wax paper for easy clean up.
Bagels can be stored in a sealed plastic bag at room temperature for up to 2 days, then freeze for longer storage.
Nutrition
Calories:
251
kcal
|
Carbohydrates:
48
g
|
Protein:
13
g
|
Fat:
3
g
|
Saturated Fat:
1
g
|
Cholesterol:
3
mg
|
Sodium:
210
mg
|
Potassium:
444
mg
|
Fiber:
6
g
|
Sugar:
11
g
|
Calcium:
182
mg
|
Iron:
2.2
mg
Next check out our Gluten Free Cheddar Bay Biscuits!
Need more tips on gluten free baking? Head over here: