Crisp and golden brown Gluten Free Belgian Waffles... These lighter than air waffles are so good (no one has to know how easy the prep is!).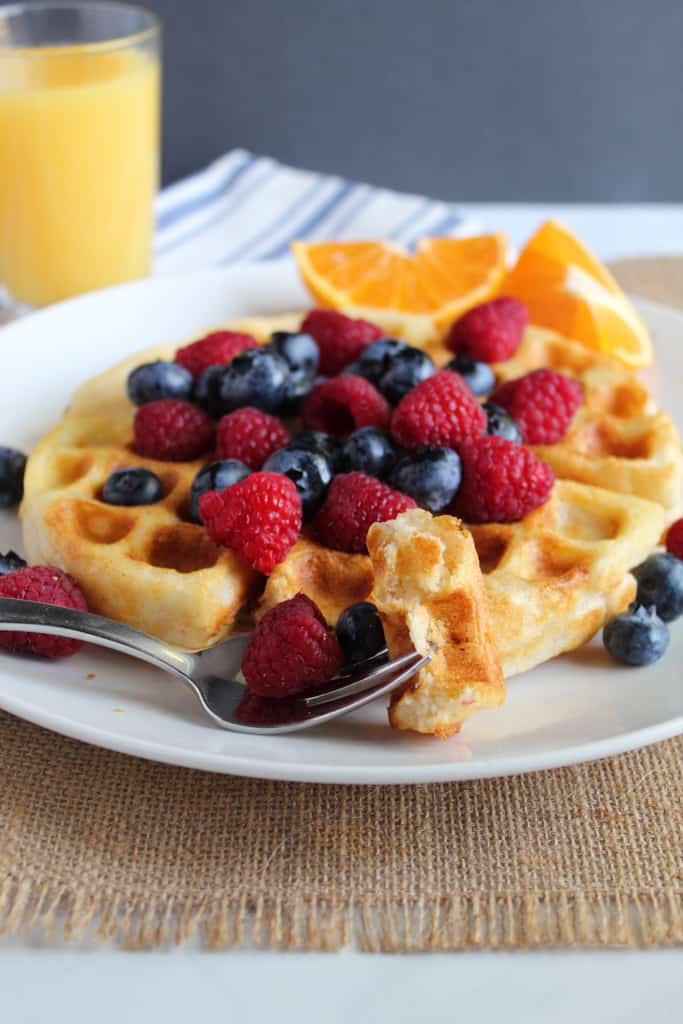 There's just something about a big fluffy gluten free Belgian waffle that makes my gluten free baking heart happy. It could be that they're so decadent and have the appearance of a super luxurious breakfast when really, they couldn't be simpler! Just one bowl, an hour rise time and a waffle iron and you have all the makings of a restaurant-quality Belgian waffle.
What Makes a Gluten Free Belgian Waffle different from a Regular Gluten Free Waffle?
There are two schools of thought with Belgian waffles and what makes them different from say, these gluten free waffles... Belgian waffles have added ingredients to give them a signature rise that other regular waffles don't have. They will often include either yeast (maximum rise) or baking powder (not as high rising). And they are typically cooked in a 'Belgian waffle maker' which has deeper and larger pockets than a regular waffle maker. Besides that, the taste and texture of a gluten free Belgian waffle is much lighter than a regular waffle, with a golden brown, crispy exterior and a tender interior.
What to Serve with Gluten Free Belgian Waffles
Gluten free Belgian waffles are amazing topped with a heaping pile of fresh fruit - berries are an excellent choice, but cooked apples would be amazing too. And you can't go wrong with syrup on waffles of course!
Can these Belgian Waffles be made ahead of time? aka, I want Belgian waffles, but don't want to have to get up at the crack of dawn for the batter to rise!
You are in luck - they sure can! And it's easy to do it! After the 1 hour rise time for the batter, just stick the whole bowl of batter into the refrigerator. It can be refrigerated for up to 24 hours. Batter prep the night before = quick and easy waffles the next morning!
Best Way to Reheat Gluten Free Belgian Waffles
Keeping foods like waffles and pancakes warm after cooking them has always been a challenge. When you've got a big batch to make, the ones that are made first sit out the longest and tend to get cold. So here's a handy tip...
Heat the oven to 200 F. As you cook the waffles, place them on a clean rack and place the rack on a large baking sheet. Place the baking sheet in the oven to keep them warm. If you end up with a lot of waffles - just use two racks. This is a good way to keep them warm, just don't extend it for too long - any longer than 20 minutes and they'll start to dry out.
Steps to Making Gluten Free Belgian Waffles
Room Temperature Ingredients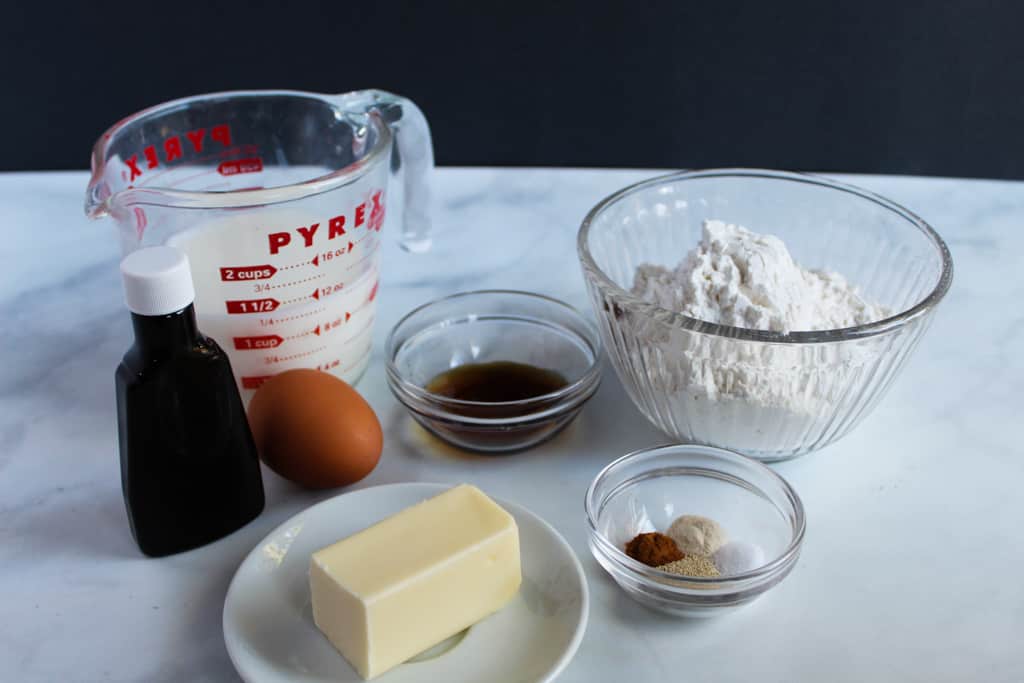 The ingredients list for these gluten free Belgian waffles is short, but it does include yeast, which is why room temperature ingredients is so important. Make sure that even the egg and the maple syrup are room temperature. If they're cold, it will throw off the temperatures and you could de-activate the yeast!
Tip on heating the butter and milk: chunking the butter into pieces helps it melt quicker. See the picture below for reference...

See those little spots in the liquid? That's the melted butter. If you don't cut it up, the large portion won't melt fast enough and you'll end up with super hot liquid.
Rising Time
For the ultimate, mouthwatering fluffy waffles, a nice rise time is essential. Using instant yeast helps speed along this process so 1 hour is all you need. After rising the batter will look full and light. Just give it a gentle mix and then get your waffle iron ready for cooking.
Cooking the Belgian waffles
The waffle iron used for these gluten free Belgian waffles is this one by Cuisinart. It works perfectly for these waffles and easily adjusts depending on how golden brown you like them.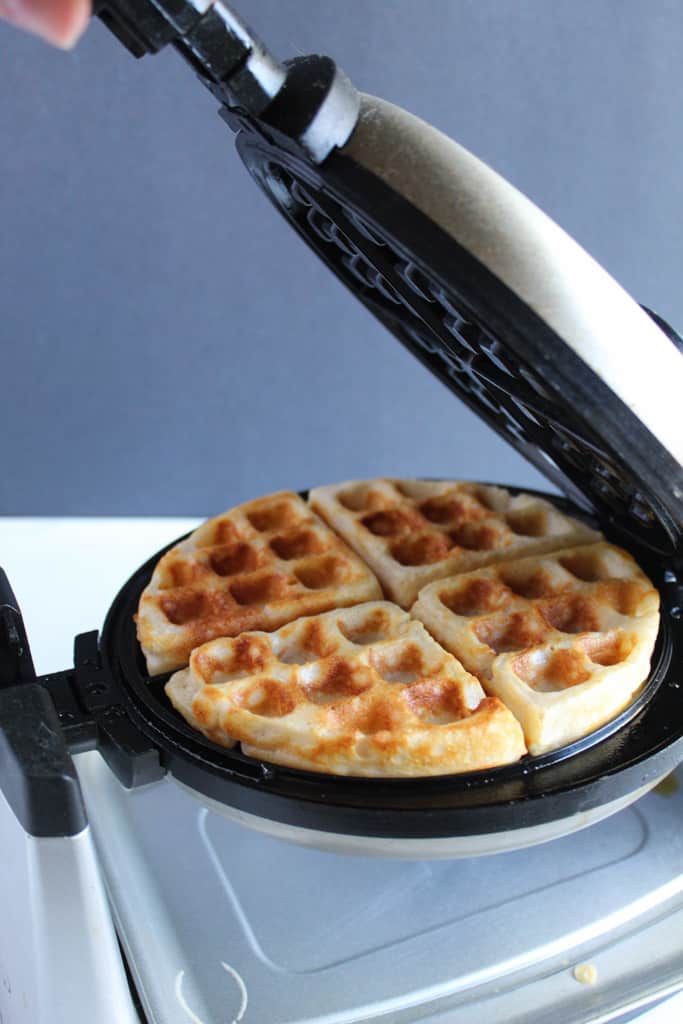 To cook the waffles, simply spray the grates with cooking spray and ladle the batter onto the bottom one. ¾ cups of the batter seems to be the perfect amount to produce a nicely filled waffle. Close it and flip the entire device (your waffle iron may be different), let it cook until the green light goes off. I usually let mine cook a little longer as we like a nice deep golden brown waffle.
Use a fork to carefully remove each Belgian waffle to a plate. Serve and enjoy or follow the steps above for keeping them warm!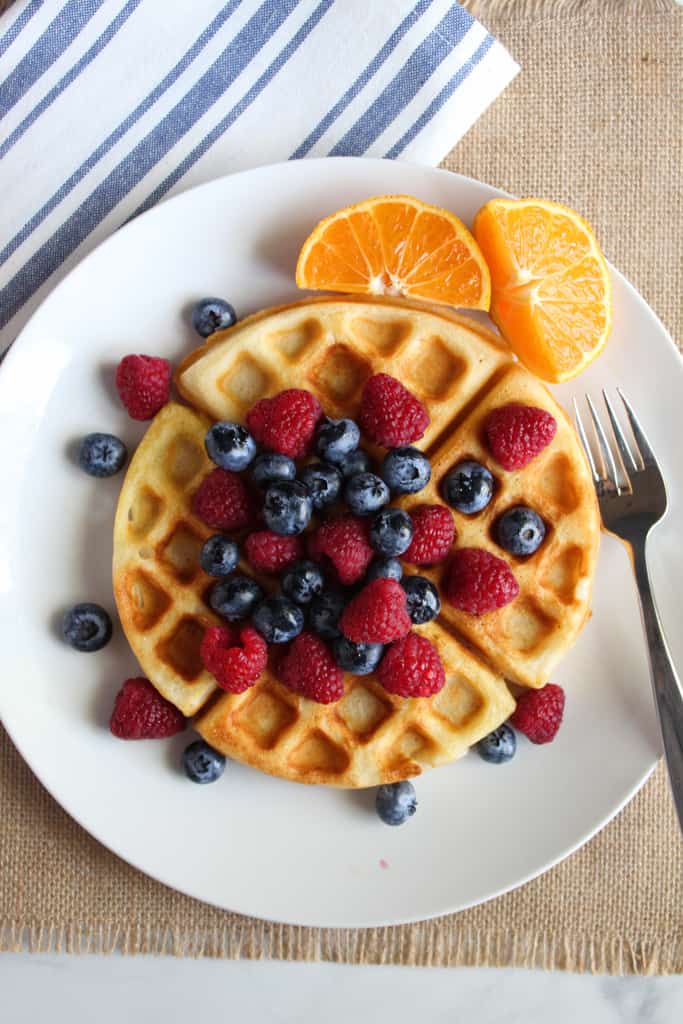 Originally published 7/26/2013. Updated with new photos and more information on 11/21/2019.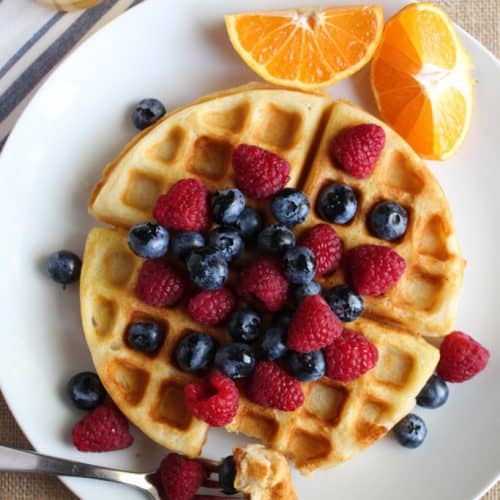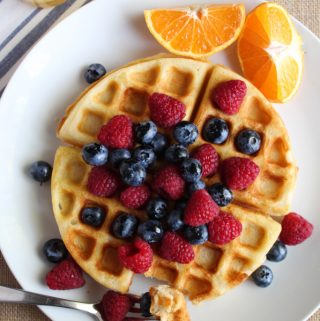 Gluten Free Belgian Waffles
Crisp and golden brown Gluten Free Belgian Waffles will take breakfast to a whole new level!
Print
Pin
Rate
Ingredients
1 ¼

cups

milk

4

Tbsp.

butter

cut into 4 or 5 chunks

1 ½

cups

gluten free flour mix

¼

tsp.

xanthan gum

1

tsp.

instant yeast

¼

tsp.

salt

2

Tbsp.

pure maple syrup

1

tsp.

pure vanilla extract

1

egg
Instructions
Place butter chunks and milk into a microwave safe bowl and heat for 1 minute. Check and stir. Microwave another 30 seconds until butter is almost completely melted. Remove and set aside.

In large mixing bowl, add flour, xanthan gum, yeast and salt. Stir to combine.

Add warm milk mixture, maple syrup, vanilla extract and egg. Whisk until no lumps remain.

Cover bowl loosely with plastic wrap and let rise in a warm place for 1 hour. Give it a gentle stir.

Preheat waffle iron. Spray with cooking spray.

Pour ¾ cup of the waffle batter onto hot waffle iron. Let cook until desired shade of golden brown is reached (usually about 4 minutes each).

Remove and serve with fruit and/or syrup.
Notes
Make sure all ingredients are at room temperature.
The batter can be prepared ahead of time - just mix it and let it sit on the counter for 1 hour, then refrigerate the batter for up to 24 hours. Use immediately after removing from the refrigerator.
Waffles can be made and then placed on a rack in a 200 F oven to keep warm.
Nutrition
Calories:
442
kcal
|
Carbohydrates:
56
g
|
Protein:
12
g
|
Fat:
20
g
|
Saturated Fat:
11
g
|
Cholesterol:
102
mg
|
Sodium:
378
mg
|
Potassium:
206
mg
|
Fiber:
7
g
|
Sugar:
13
g
|
Vitamin A:
764
IU
|
Calcium:
187
mg
|
Iron:
2
mg
For more delicious gluten free recipes, check out: