Move over blueberry, these sweet, tender, almond flour blackberry muffins might just become your new favorite muffin! Plump, delicious blackberries dot every bite and with a melt in your mouth crumb topping, they're the perfect treat for any time of day.
And as with most quick breads, these muffins are judged by the texture of the crumb - basically are they moist and do they stick together when you tear into them or do they crumble apart? Let's find out!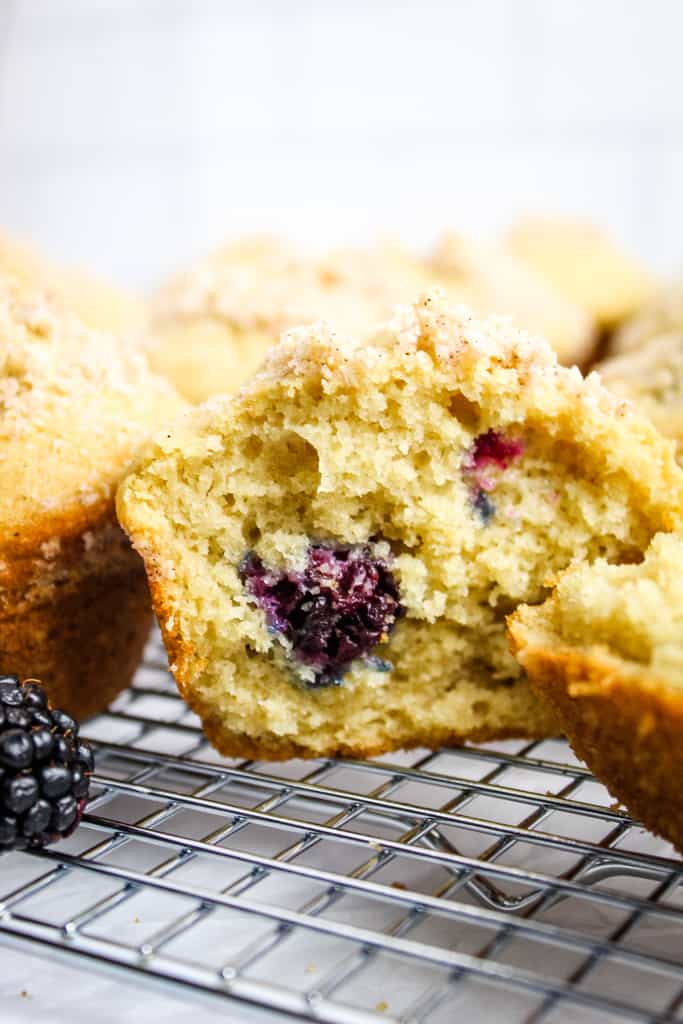 Nothing warms the heart (and tummy!) more than a plate of fresh baked, fruit-filled muffins! And the best part... unlike this buckwheat bread or this potato bread, these muffins can be served nice and warm, no long wait time needed.
And although the crumb topping can be left off, I wouldn't recommend it. It only takes a few minutes and the extra time is worth the resulting sweet, crusty crumb on top. Besides the mixing, these grab and go snack muffins are a quick win. Stick a couple in a bag for a perfect anytime treat.
This post contains affiliate links. Affiliate links support Zest For Baking at no additional cost to you. I receive a commission if you choose to make a purchase through these links.
Why this recipe is the Best!
As you may know from the many muffin recipes I happily test and retest, it's not as simple as it would seem to get that ideal muffin texture. It's really easy to tip the scale to being too dry or too wet. And because these bake in individual cups, there's no saving a batch that aren't right. Quick breads can sometimes be salvaged with longer bake times or even putting a loaf in the 'to be toasted' pile. Not as easy to do with muffins.
This recipe checks all the boxes though:
Easy to mix
Dairy free as written
Vegan option
Sweetened with brown sugar (coconut sugar can be used too)
Topped with a kid friendly crumb topping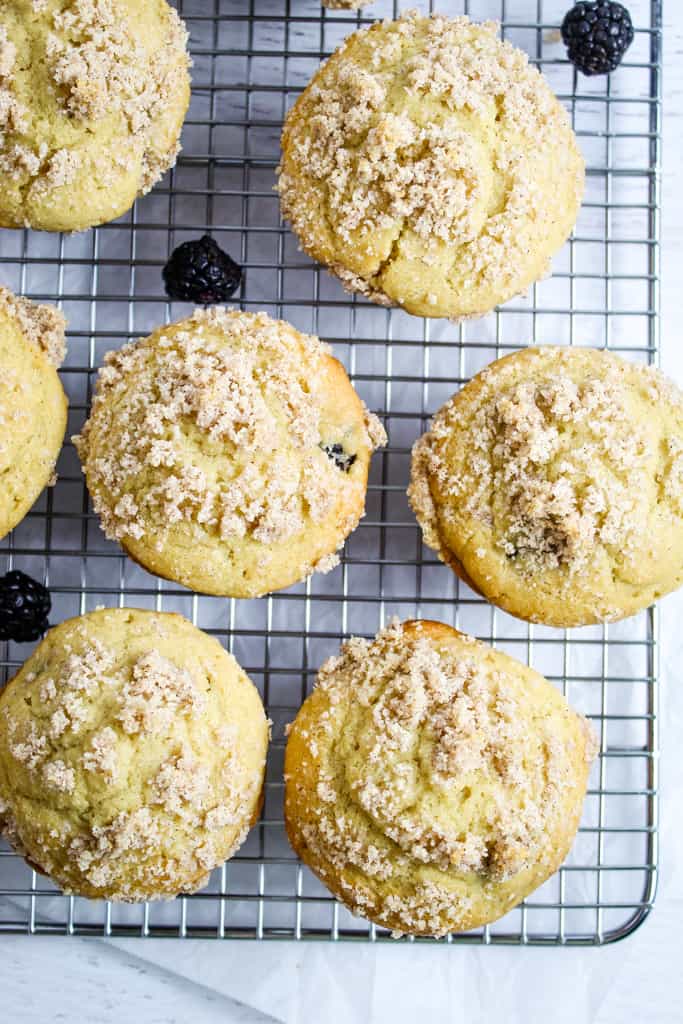 Pro tips
Want the best tasting, most palate pleasing blackberry muffins ever? Follow these tips!
Use room temperature ingredients - when ingredients (even including salt and vinegar) are at room temperature, they blend better. Take a stick of butter as an example - a cold stick of butter right from the refrigerator is solid, it doesn't 'give' much when you try to squeeze it. Try beating it and it will break apart but there will be a lot of pieces that aren't smooth. It will be choppy, not creamy. Now take a stick of butter that's at room temperature. Try beating it... it will be smooth and creamy. No large pieces or chunks. Room temperature ingredients allow air to be added in which results in lighter baked goods.
Measure ingredients by weight - I reference this quite a bit, but it's because I want you to have delicious success with gluten free baking. A scale like this one will completely transform your baking. A gram of almond flour is a gram of almond flour. A cup of almond flour may be more or less, depending on the brand, the way it's measured, the cup it's in, etc. Take it from my many baking flops, measure by weight!
Let the batter rest for 30 minutes before baking - this is a tough one because in traditional wheat baking, after you mix, you just pour the batter in and bake. But gluten free baking is different. A 30 minute rest time is needed to give the flours time to absorb the liquids, to hydrate and develop into that fluffy batter we all want. It's tough to wait, but it's essential.
Sprinkle just enough crumb topping - if you have kids helping in the kitchen this might be a tough one as it's tempting to use all of the crumb topping on the muffins, but they really only need a sprinkle each, just enough to cover the tops. Too much and it will just fall off after baking anyway.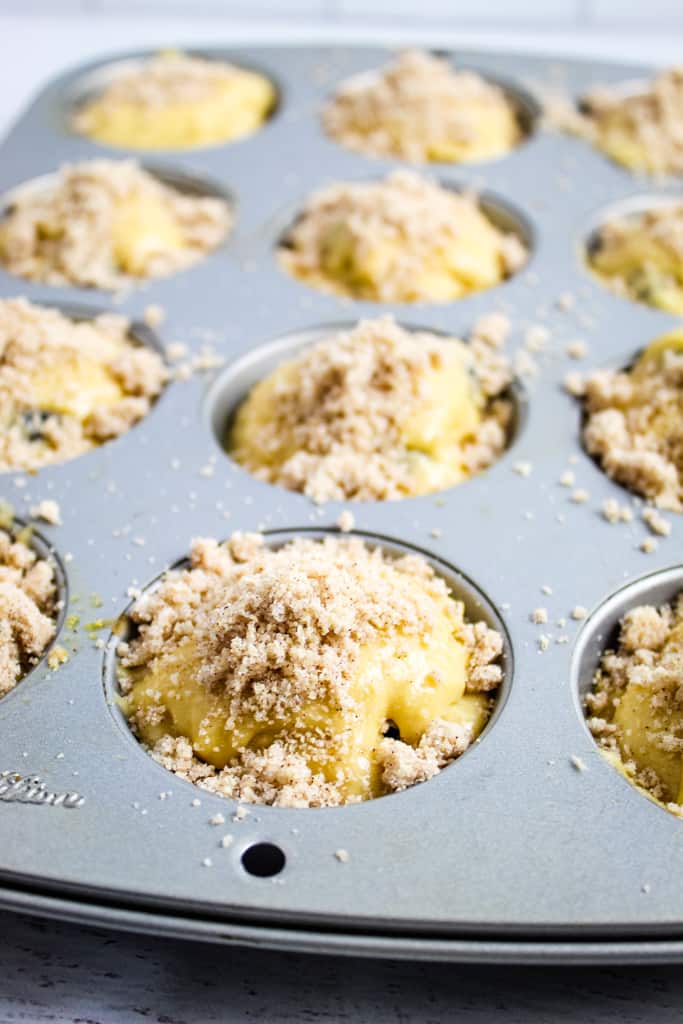 How to make this recipe
Get your ingredients ready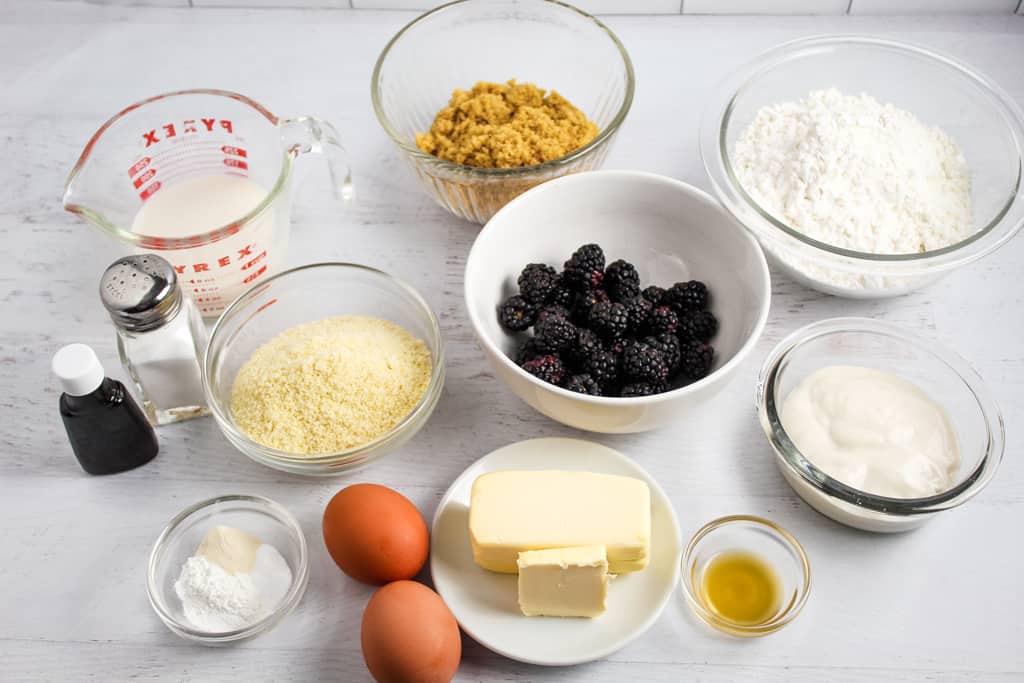 The dry ingredients you'll need are: Almond flour, gluten free flour mix, brown sugar, salt, baking powder, baking soda and xanthan gum. Also reference this list of alternatives to xanthan gum if you want to avoid it.
The liquid ingredients are: dairy free sour cream, almond milk, eggs, apple cider vinegar and butter.
And of course the washed and patted dry blackberries.
Mix the dry ingredients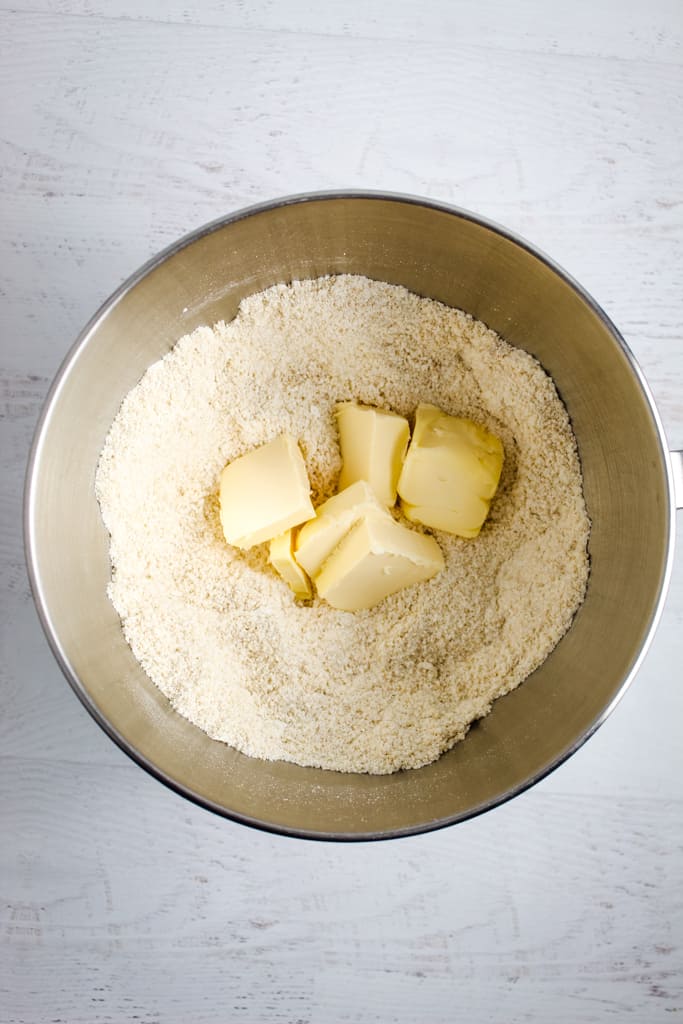 After mixing the dry ingredients in a mixing bowl, add the softened butter and mix again until the mixture comes together. It'll be crumbly and may not stick together but that's ok.
Mix the wet ingredients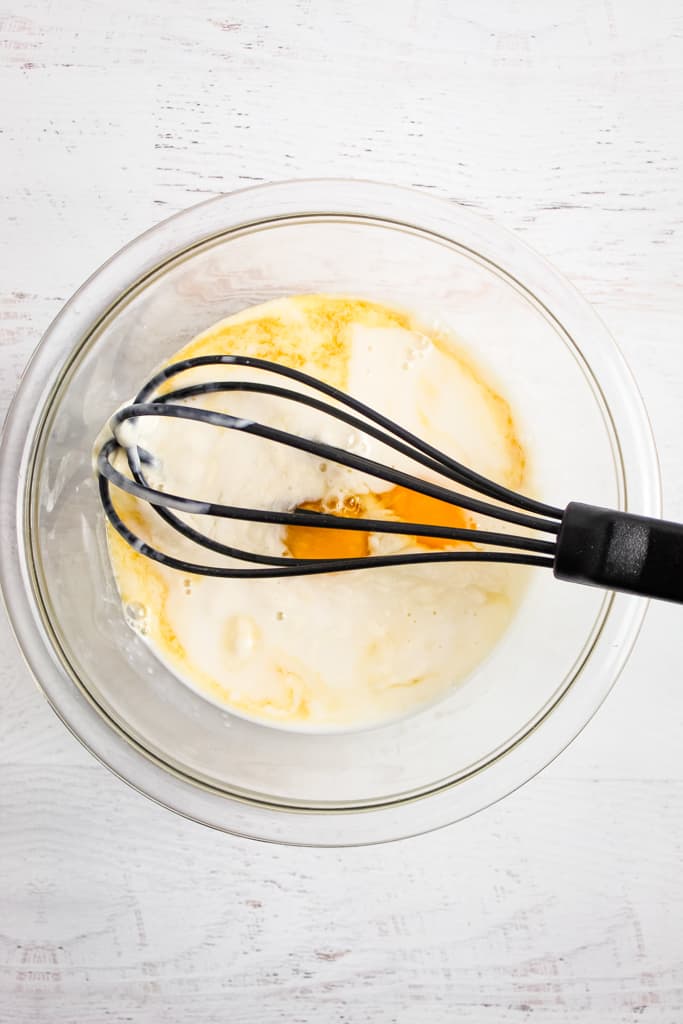 In a medium size bowl, mix the room temperature liquid ingredients. Then with the mixer running on low, add the egg mixture to the mixer bowl and mix until fully combined. Stop the mixer and scrape it down, then mix again for 3 minutes.
Add the blackberries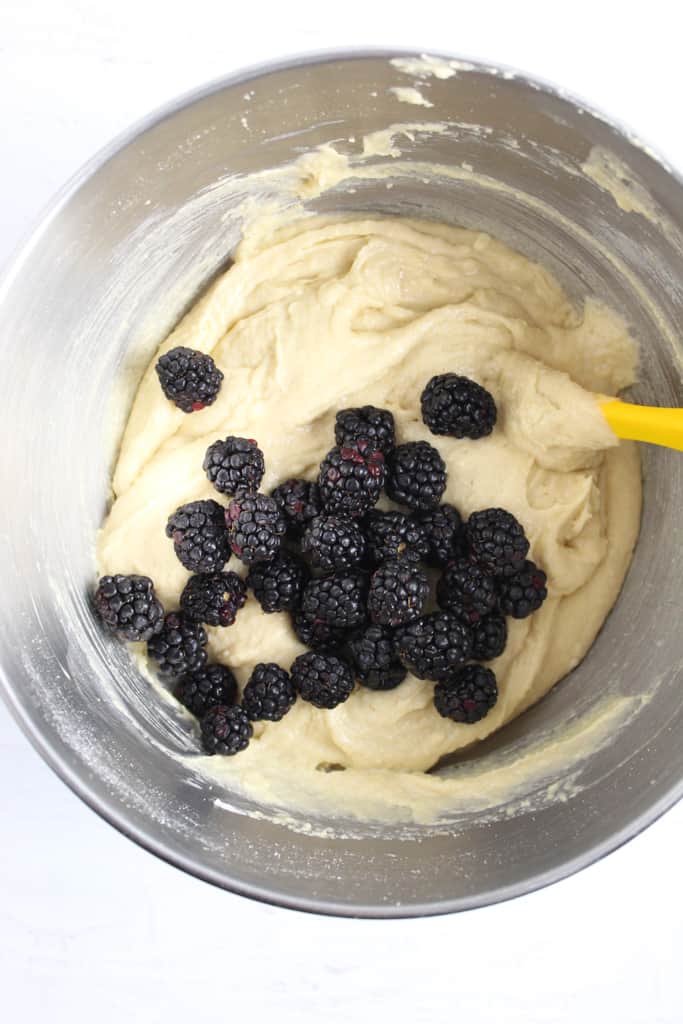 The key with delicate blackberries and any delicate fruit, is to gently fold them into the batter. You don't want to crush the berries, so use a rubber spatula and gently fold them just until they're mixed in.
Topping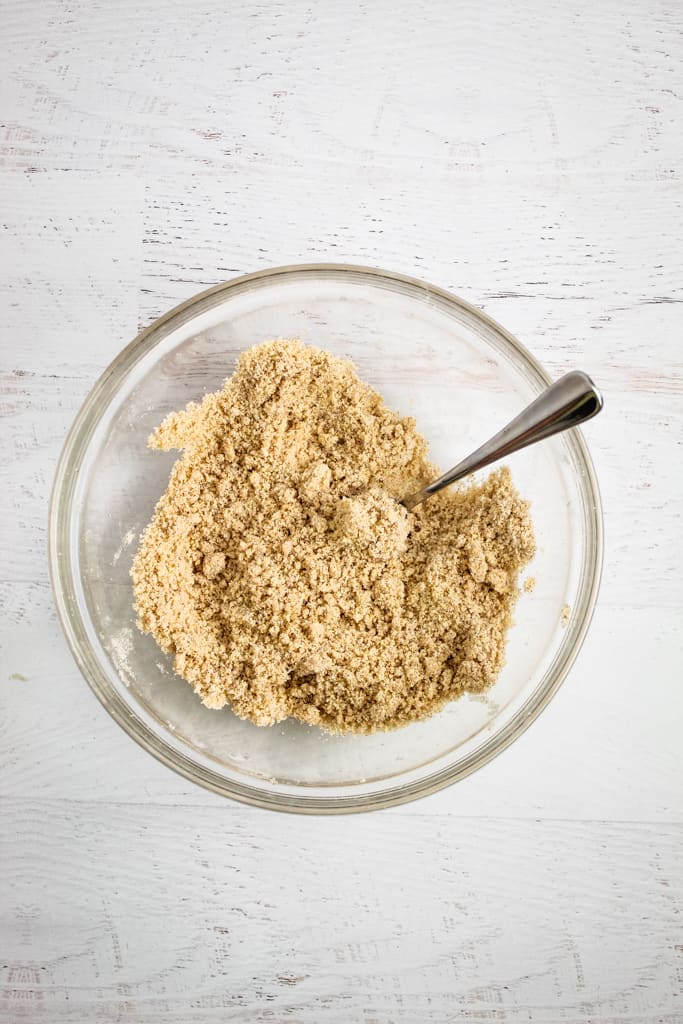 While the batter is resting for 30 minutes, mix together the topping. It's a simple mix of almond flour, tapioca starch, sugar, cinnamon, salt and butter. It's simple but absolutely delicious on these muffins!
After the batter is portioned into the cups, sprinkle a couple teaspoons on each muffin and bake until golden brown.
FAQ's
Can I use a hand mixer for these muffins?
Absolutely! A hand mixer will also work. The batter should look nice and thick after mixing.
What kind of gluten free flour mix is used in the recipe?
I use my homemade flour mix with rice flours, tapioca starch, con starch and a bit of potato flour. The recipe makes a nice big batch.
What kind of almond flour work best?
I buy my almond flour from Nuts.com. The texture is wonderful and produces excellent baked goods without being gritty or dry.
Can I use a different milk?
Yes! I've used coconut milk with success. Soy milk could also be used.
What if I don't have sour cream?
No sour cream on hand? Not to worry, sour cream can be substituted too - try using yogurt instead. A second substitute would be non dairy buttermilk. The batter will be a lot thinner and the blackberries will sink a bit but it will still taste great.
Other recipes you may like!
Recipe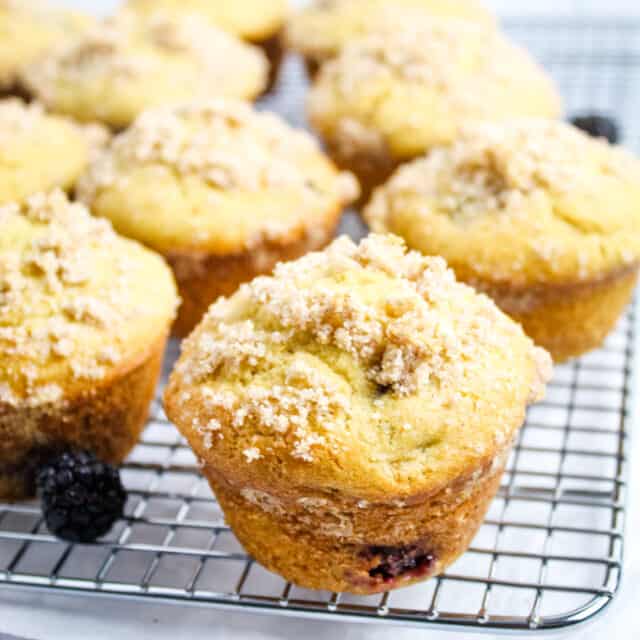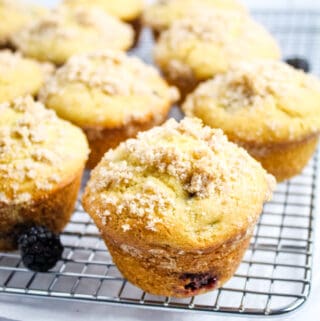 Almond Flour Blackberry Muffins
Naturally sweet and bursting with plump blackberries, these almond flour muffins are a delightful treat!
Print
Pin
Rate
Ingredients
Muffins
280

grams

gluten free flour mix

about 2 ½ cups

80

grams

almond flour

about ¾ cup

150

grams

brown sugar

about ⅔ cup

2

teaspoons

baking powder

½

teaspoon

baking soda

½

teaspoon

xanthan gum

¼

teaspoon

salt

127

grams

dairy free butter

9 Tablespoons, softened

4.5

ounces

almond milk

about ⅔ cup

140

grams

dairy free sour cream

about ⅔ cup

2

eggs

1 ½

teaspoons

pure vanilla extract

1

teaspoon

apple cider vinegar

1

cup

blackberries

washed and patted dry
Crumb topping
47

grams

almond flour

32

grams

tapioca flour

¼

cup

coconut sugar

½

teaspoon

ground cinnamon

⅛

teaspoon

salt

2

Tablespoons

butter

cold
Instructions
In a bowl of the stand mixer, add the gluten free flour mix, almond flour, brown sugar, baking powder, baking soda, xanthan gum and salt. Mix with the paddle attachment for 30 seconds or until combined.

Add the butter and mix for 45 seconds, scraping down the butter occasionally, until mixture looks crumbly.

In a small bowl or measuring cup, mix the almond milk, sour cream, eggs, vanilla extract and apple cider vinegar until combined.

With the mixer on low, slowly add the milk mixture to the dry ingredients. Mix until combined.

Scrape down the bowl and turn the speed up to medium. Mix for 2 minutes.

Gently fold the blackberries into the batter.

Set batter aside to rest for 30 minutes.

Toward the end of the rest time, preheat oven to 375 F. Make crumb topping. Spray each cup of a 12 cup muffin tin and 3 cups of another pan, with cooking spray.

Portion the batter into the cups, filling each one to the top of the cup. Sprinkle with 2 teaspoons of crumb topping.

Bake for 20-22 minutes or until toothpick test done.

Cool in the pan on a wire rack for 10 minutes. Remove from pan.

Serve warm or cool.
Crumb topping
In a small bowl, mix almond flour, tapioca starch, coconut sugar, cinnamon and salt. Cut in the cold butter until mixture looks like crumbs.
Notes
This recipe was created using our gluten free flour mix – other mixes may work, but they haven't been tested.
Make sure ingredients are at room temperature.
Mix batter well for the full 2 minutes.
Allow the batter to rest for 30 minutes before baking for the best height and texture on the muffins.
Nutrition
Calories:
272
kcal
|
Carbohydrates:
32
g
|
Protein:
5
g
|
Fat:
15
g
|
Saturated Fat:
3
g
|
Trans Fat:
1
g
|
Cholesterol:
26
mg
|
Sodium:
240
mg
|
Potassium:
95
mg
|
Fiber:
3
g
|
Sugar:
13
g
|
Vitamin A:
99
IU
|
Vitamin C:
2
mg
|
Calcium:
78
mg
|
Iron:
1
mg