Almond flour has been on our minds a lot here lately at gluten-free-bread.org. So to quell the curiosity, we did what any other baker does and started experimenting with some almond flour recipes.
Crumb coating, cakes, pies and the like are all yummy, but since we like to bake gluten free bread, we ended up looking at recipes of what else? Breads, of course!
But the one hang-up with using a delicious flour like almond flour with baking breads, is that it seems like the delicateness gets downplayed quite a bit with the end result. For example, the recipe for gluten free lemon poppy seed muffins is a good showcase of the almond flour – not spectacular by any means, as there's only ½ cup of the flour in them, but it's a good start anyway.
So for our almond flour endeavors we wanted something that really showed off the almond flour flavor – something that had pizzazz and that light, slightly nutty taste we were looking forward to.
Then, as many great solutions do, it was like a shiny bright light, staring us right in the face, and the idea hit…
Pancakes!
Pancakes are light, fluffy, and tender, so they show off ingredients quite well. They're delicate and small enough to show off even the tiniest measurement of ingredients. Add cinnamon and you can taste it, add fruit and you can taste it – add almond flour, well, you get the idea.
Pancakes are just the thing to create the most wonderful recipe, made of yummy, distinctive almond flour. Plus, they are a snap to whip together.
So without further ado, here is our version of almond flour pancakes with the wonderful fruit topping recipe right below it.
Gluten Free Almond Flour Pancakes
1 cup blanched almond flour
2 eggs
½ cup seltzer water
½ teaspoon baking soda
sweetener to taste (a dash of honey, sugar or brown sugar)
2 teaspoon cinnamon
1 teaspoon vanilla
Pinch of sea salt
6 egg whites
Directions
Step 1:
Preheat a pancake griddle over low-medium heat.
Step 2:
In a large bowl, whisk together the almond flour, eggs, seltzer water, baking soda, sweetener, cinnamon, vanilla and sea salt.
Step 3:
In another large bowl (make sure it is completely free from grease or butter), place all 6 egg whites in the bowl. Use a hand mixture and whip the egg whites until white stiff peaks form. Note: Here's how to tell if they are stiff or need more whipping - If you have your mixer in the off position sitting inside the whipped egg whites, when you lift it directly straight up, the whites will be stiff – the peak will not 'flop' over. Whipping may take anywhere from a couple minutes to several minutes.
Step 4:
Once the egg whites are stiff, use a grease-free, rubber spatula and gently fold them into your pancake batter.
Step 5:
Your pancakes are ready to cook. Before you do, grab your gluten free cooking spray and keep it handy to spray the pan in between each pancake.
Using a ¼ cup measuring scoop, pour as many pancakes as will comfortably fit into your lightly sprayed pancake griddle.
Cook pancakes over low-medium heat in a greased skillet or on a pancake griddle until bubbles pop on the top of the pancake. Then flip it over and cook the second side for a couple minutes.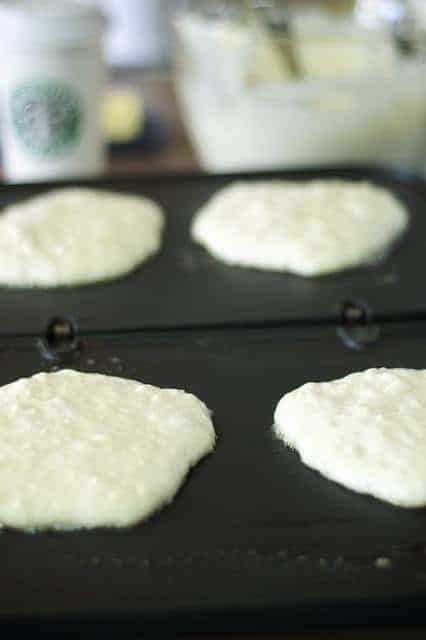 Quick and Easy Fruit Topping:
2 Cups frozen mixed berries
2 Tbls. Sugar
1 ½ tsp. cornstarch
Directions:
In a large, microwave-safe bowl, toss the berries, sugar and cornstarch in the bowl until thoroughly mixed.
Place the bowl in the microwave and microwave on High for 2 minutes. Stir the mixture well and return to the microwave.
Cook on High for another 2 – 3 minutes, until thick and steaming.
Serve this fruit topping on just about anything – pancakes, waffles, biscuits, breads – and enjoy!