There's something about the smell of gluten free blueberry pancakes cooking on a Saturday morning that gets everyone up and immediately hungry. For those who love eating them, and for those who prepare them, this is the recipe for you.
And this recipe is extra special as it's dairy free and uses delicious coconut flour as the main flour - it lends a delicate flavor that works incredibly well in these fruit-filled pancakes.
Want more gluten free pancake recipes? Check out these teff pancakes, these oat flour pancakes and these coconut flour banana pancakes!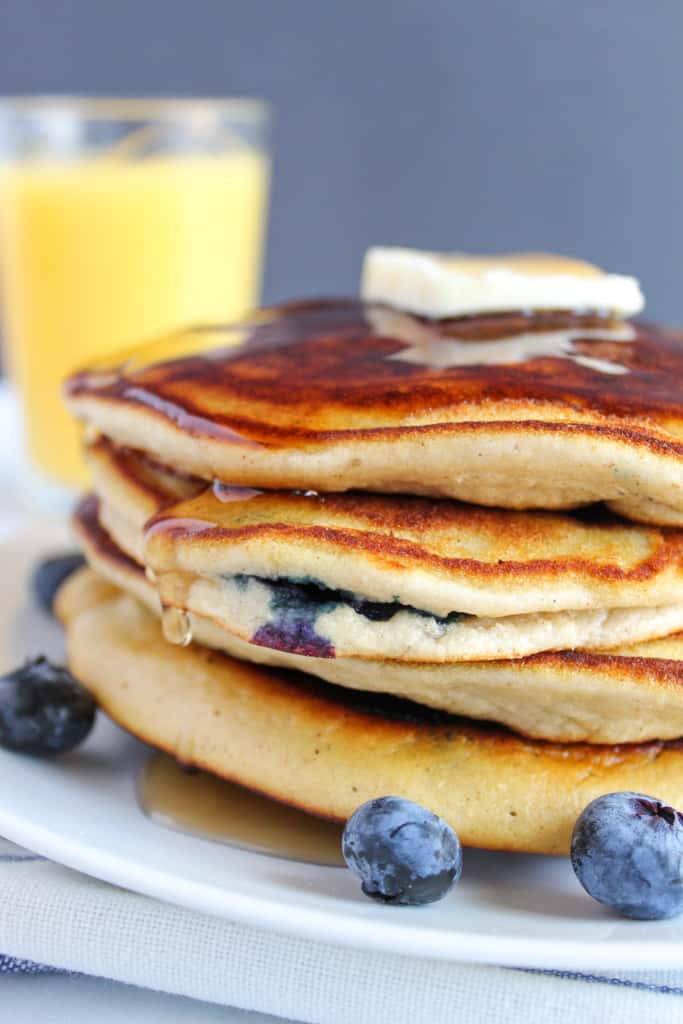 This post contains affiliate links. Affiliate links support Zest For Baking at no additional cost to you. I receive a commission if you choose to make a purchase through these links.
Pancakes have got to be one of the most fun things to make. They're great to whip up on a Saturday morning but also ideal for getting breakfast or snack prepped for the week (more info on freezing them below!) Besides these pancakes, check out these pumpkin pancakes, coconut flour banana pancakes, rice flour pancakes (these are refined sugar free!) and buckwheat pancakes... if you love pancakes you're in the right spot!
Why this recipe is the best!
These are known as the very best gluten free blueberry pancakes because they really are! They're light, fluffy, perfectly balanced with delicious ingredients and no one will even know they're gluten free. That's how good they are. Not only that, they're also:
Great with fresh or frozen blueberries
Easy to store/freeze
Wonderful for snacking and lunches
Quick to mix - a couple spoons and a whisk is all you need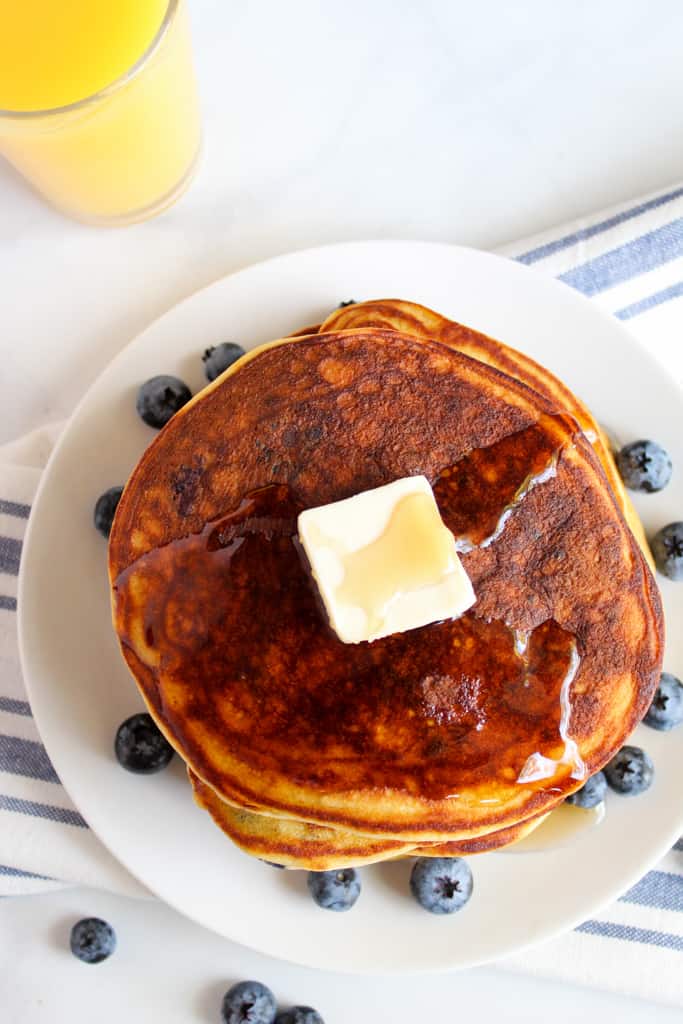 Pancake pro tips
Pancakes are typically an easy meal to make, but there are a few things you'll want to keep in mind for the absolute best tasting, lightest pancakes ever...
Use room temperature ingredients
From the eggs to the milk to the coconut flour, all of the ingredients for these scrumptious blueberry pancakes should be at room temperature. If there's any chill left in anything, the pancakes won't be as fluffy because the chill will be preventing everything from fully mixing.
Weigh your flours and starches
For the best pancakes, resist the urge to grab those measuring cups. Instead, pull out a digital scale and measure the ingredients by weight. Weight is the most accurate way of measuring so you can be sure 100 grams of flour, is exactly 100 grams of flour. And here's why - 1 cup of the way I portion flour might actually be more or less than the way you portion it. And too much flour or starch in a recipe can ruin a recipe.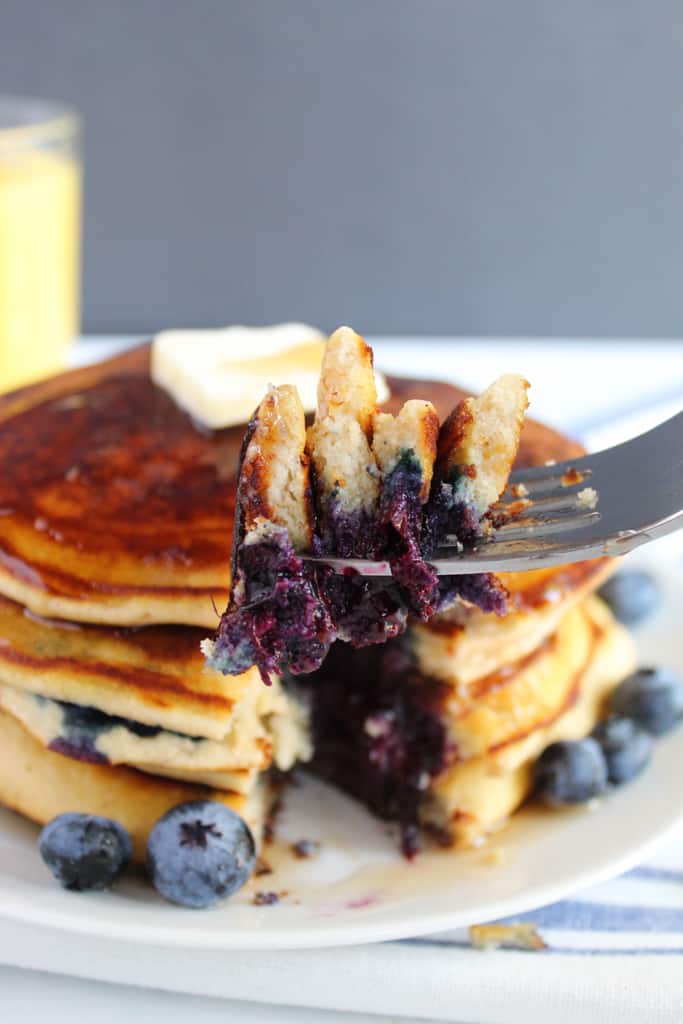 Ingredients & substitutions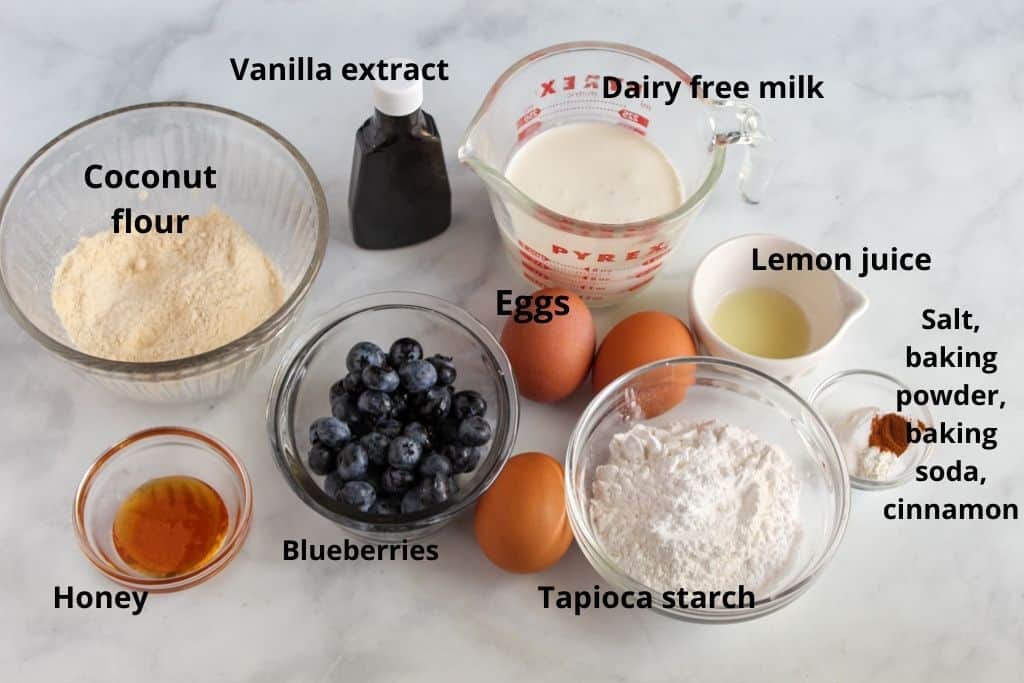 Here are the ingredient brands that I can confidently recommend because I've used and tested them multiple times:
Milk - almond milk or oat milk
Vanilla extract - use pure vanilla extract - this brand is excellent, it's a bit pricey, but it's worth it in recipes where the vanilla is a big part of the flavor profile.
Coconut flour - Nuts.com brand of flour
Tapioca flour (also called tapioca starch) - Nuts.com brand
Need to substitute an ingredient or two? Here are some suggestions:
For the eggs: Ener-G egg replacer is the closest thing to real eggs for this recipe.
For the honey: Maple syrup is a great alternative - the consistency of the batter is a bit thinner than with the honey, but it doesn't impact the taste at all.
Coconut flour: Unfortunately there is not a good substitute for the coconut flour in this recipe. According to the flour substitute guide, coconut flour is in a class all it's own.
Tapioca flour: As a wonderful gluten free thickener, tapioca has a couple good substitutes, cornstarch and arrowroot starch would both work well.
If you need more help on substitutions, check out my latest guide to substitutions!
Get all the ingredients out before starting on the recipe - once everything comes to room temperature, it'll be ready to use!
Mixing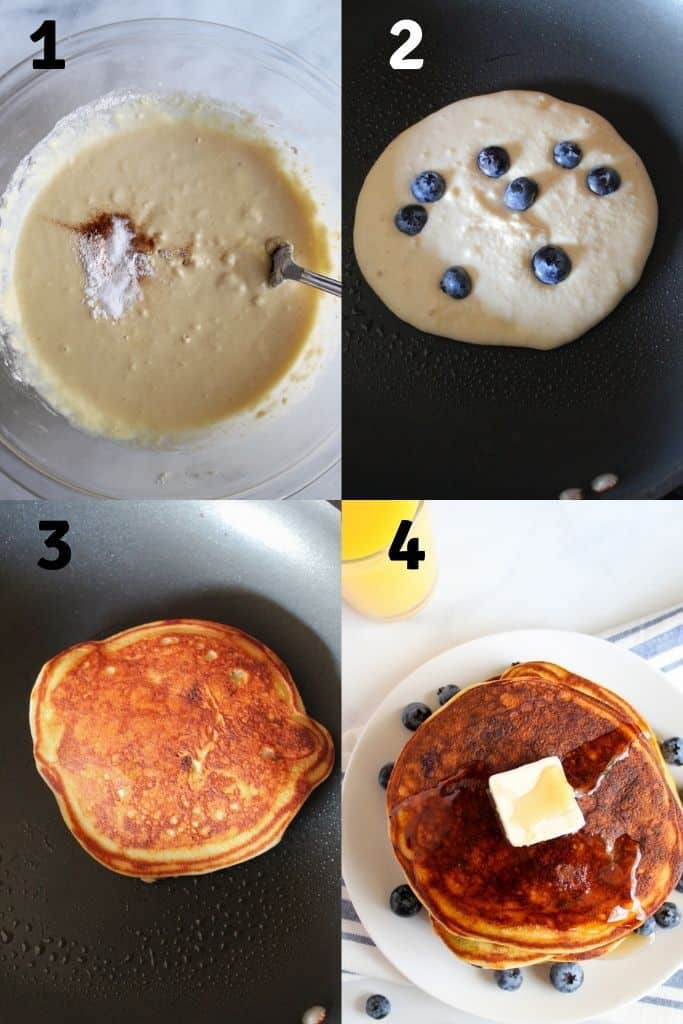 Whisking the eggs is really important to mouthwatering pancakes. Use a wire whisk and make sure the yolks and the whites are fully incorporated to the point of being fluffy. They should be closer to pale yellow.
Mix in the rest of the liquid ingredients, then add the flour and mix well (step 1 image). Add the baking powder, baking soda, salt and cinnamon last and mix again (step 1). Set batter aide to rest for 30 minutes.
Cooking
Cooking pancakes is sometimes a challenge since the bottoms can brown so quickly. But here's a little tip: If the pancakes are getting too brown on the bottom, lower the heat (keep it at least low-medium though).
After batter has rested, portion one soup ladle of batter onto a hot griddle and drop a few blueberries onto the top (step 2). Let it cook until the bubbles on the top start bursting. Then flip it over to cook the other side (step 3).
Pancakes will take anywhere from 1-2 minutes on each side.
FAQ's
Why sprinkle the blueberries on top of the pancakes vs. adding them to the batter?
You've got the pancake batter all ready to go, only without the blueberries. So why couldn't you just drop those perfectly plump blueberries right in the batter and save a step when cooking the pancakes? Well, the reason has more to do with science than anything else. When you add something heavy, like the blueberries in this case, to the light pancake batter, they can't help but sink to the bottom. This would leave you scraping the bottom of the bowl to get the blueberries in with your ⅓ cup scoop of pancake batter. Which would leave you with an uneven amount of blueberries in each pancake.
So, to save you from scraping the bowl for the right number of blueberries, just sprinkle them on the top of each one before flipping them.    
Can I use frozen blueberries in the recipe?
Depending on the size of the blueberries, yes, you can use frozen blueberries the same way you would use fresh blueberries in each pancake. However, the smaller size frozen ones will work best!
Can I double the recipe?
Yes, feel free to double! This pancake recipe makes 6 pancakes, but if you need more, simply double the amounts listed and you'll have more pancakes to share!
What's the best way to keep pancakes warm after making them?
You've got a stack of pancakes piling up and you're just not ready to serve them yet? Here's an easy solution... start by heating your oven up to 200 F. Line a baking pan with foil (and have enough to cover the pan with too). As each pancake is cooked, place them in a single layer on the baking sheet, overlapping as needed. Cover the pan with foil and place the pan in the oven to keep them warm. 
This method (with a couple modifications) can be used on these Belgian waffles and other pancake recipes too!
Are you ready for some amazing Gluten Free Blueberry Pancakes? Check out the recipe below!
Recipe
Did you make and love this recipe? Give it your review and

rating below! And make sure to follow me on Instagram, Pinterest and Facebook too!
Recipe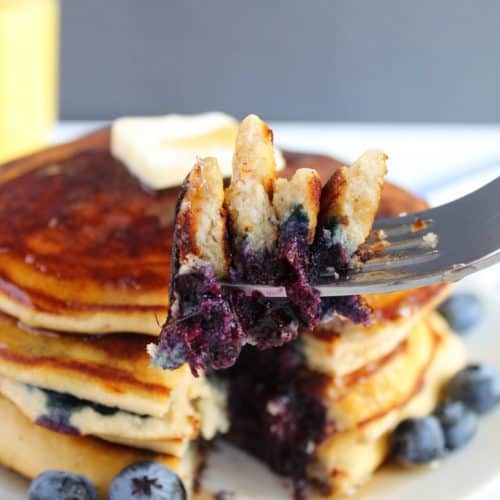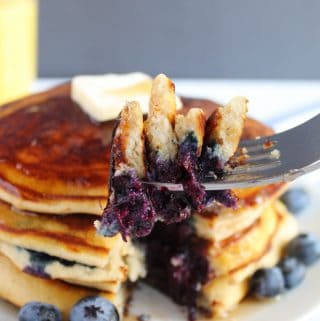 The Very Best Gluten Free Blueberry Pancakes
Calling all pancake lovers! These gluten free blueberry pancakes are fluffy, easy to make and dairy free too!
Print
Pin
Rate
Ingredients
3

eggs

¾

cup

almond milk

1

Tablespoon

honey

1 ½

teaspoons

lemon juice

1

teaspoon

pure vanilla extract

57

grams

coconut flour

about ½ cup plus 1 Tablespoon

60

grams

tapioca flour

about ½ cup

½

teaspoon

baking powder

½

teaspoon

baking soda

⅛

teaspoon

salt

Pinch

of cinnamon

½

cup

fresh blueberries
Instructions
In a large bowl, whisk the eggs with a wire whisk for 1 minute.

Add in the milk, honey, lemon juice and vanilla extract to the eggs and whisk for another minute.

In a small bowl, combine the flours and mix well.

While whisking the egg mixture, gradually add in the flour mixture one spoonful at a time (use a large spoon).

Once all the flour is mixed in, add the baking powder, baking soda, salt and pinch of cinnamon and mix until combined.

Set batter aside to rest for 30 minutes.

Heat a large griddle over medium heat.

Once the griddle is ready, give it a spray of cooking spray. Using a large soup ladle, ladle one spoonful of batter onto the hot griddle. Immediately sprinkle with 6 – 7 blueberries.

Let the pancakes cook until the bubbles on the top start bursting. Flip the pancake over and cook for another minute. Note: If your pancakes are getting too brown on the bottom before flipping time, try turning your burner down to low-medium.

Serve immediately with syrup or keep warm with the tips above.
Notes
Bring all ingredients to room temperature.
Whisk the eggs for 1 minute before adding the additional ingredients.
Sprinkle the top of each pancake with blueberries.
Lower the heat of the burner if the pancakes get too brown on the bottom.
Nutrition
Calories:
137
kcal
|
Carbohydrates:
20
g
|
Protein:
5
g
|
Fat:
4
g
|
Saturated Fat:
2
g
|
Cholesterol:
83
mg
|
Sodium:
218
mg
|
Potassium:
126
mg
|
Fiber:
4
g
|
Sugar:
6
g
|
Vitamin A:
177
IU
|
Vitamin C:
2
mg
|
Calcium:
67
mg
|
Iron:
1
mg
Originally published 1/29/2018. Updated with new pictures and better directions 11/23/2019.
For more delicious recipes, check out: