A delicious, warm from the oven gluten free yeast roll that's ready in under an hour?! Yes, please! These tasty rolls are super quick and only take about 45 minutes from start to finish!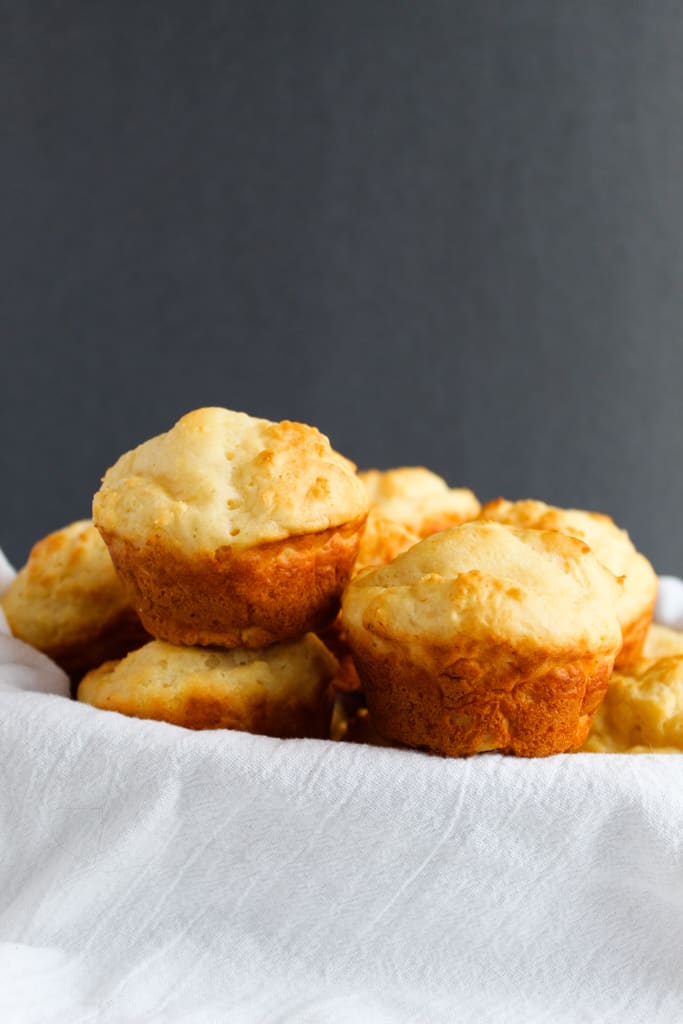 How many times have you wanted to a good gluten free yeast roll to pair with your meal, but didn't have the time to devote to mixing, rising and baking? The time from start to finish with most bread recipes can be anywhere from one hour to 2 – 3 hours. Sometimes you don't have the time to wait and sometimes it's a weekday and you just want something that's easy and comes together quickly.
This gluten free yeast roll recipe produces soft, incredibly tasty rolls without the wait time. So any day of the week is a good day for making rolls. These rolls are baked in a muffin tin, so they'll bake evenly and be on your table in about 45 minutes.
Can These Gluten Free Yeast Rolls, Ready in Under an Hour be made with Any Yeast?
Unfortunately, no. The reason these rolls are so quick is because of the yeast. The ones to look for are Instant or Rapid Rise yeast. These types are responsible for the quick 5 minute rise time!
Can I use all butter or all shortening in these rolls?
Both the butter and shortening play a vital role in the success of the yeast rolls. Butter helps produce that signature buttery taste that's only found in well, butter. The shortening contributes to a high and tight texture. Without it you'd have a flatter roll.
Can I make the gluten free yeast rolls dairy free?
This recipe has only been tested using dairy, but if you want to make it dairy free, here are some options:
These have not been tested, but judging at how these ingredients preform, this is what I'd recommend!

What's the Best Way to Store these Gluten Free Yeast Rolls?
If you needed another reason to make these rolls, here it is - they can be eaten fresh from the oven! Yes, no cooling time needed. (Huge bonus as this is not the case with the majority of gluten free breads!)
But if you happen to have some left over, store them asap in a tightly sealed plastic bag. Fair warning: they will not be as good as the day they are baked, but if you warm them or toast them in the oven, they'll be tasty.
Steps to Making Gluten Free Yeast Rolls, Ready in Under an Hour
The ingredients for gluten free yeast rolls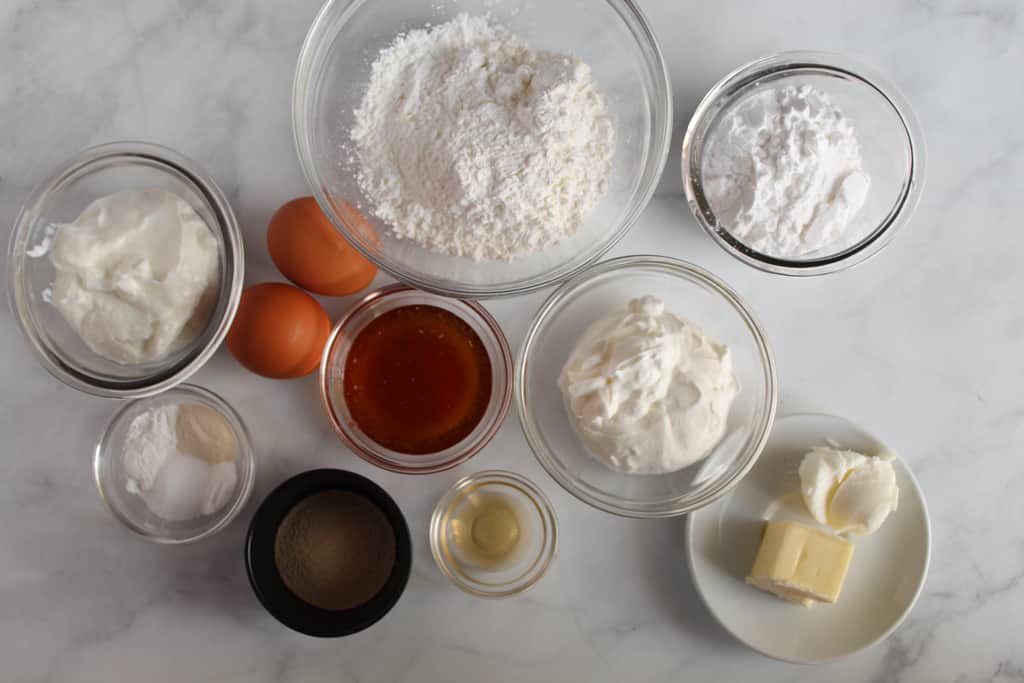 The ingredients list for these rolls is much like the list for these dinner rolls. Not super short, but not too long either. Most of the ingredients are pantry staples like baking powder, baking soda and eggs. Quick and easy combinations.
Speaking of combinations, the sour cream and Greek yogurt hits the nail on the head. Oh my. Tender and full bodied, these rolls get the benefit of sour cream with the lower fat content of the Greek yogurt. It comes together perfectly and the end result is a roll with a lot of flavor and amazing bread texture.
Add yeast directly to dry ingredients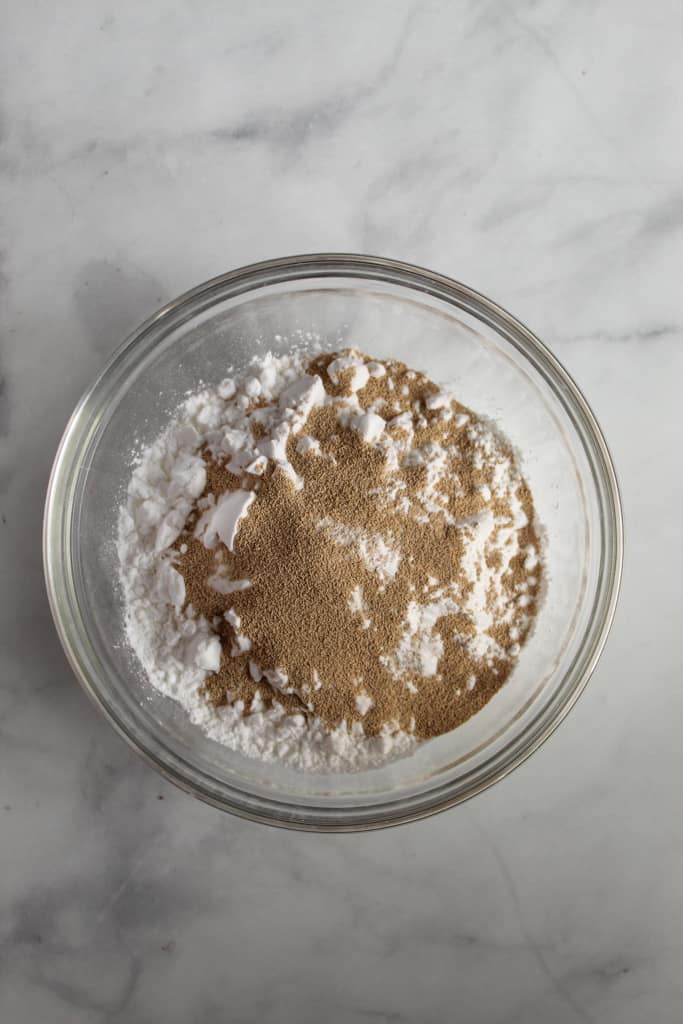 A medium size bowl is perfect for mixing the dry ingredients. Add the starches, baking soda and powder, xanthan gum and salt, then sprinkle the yeast on top and give it a quick mix.
Dough or batter?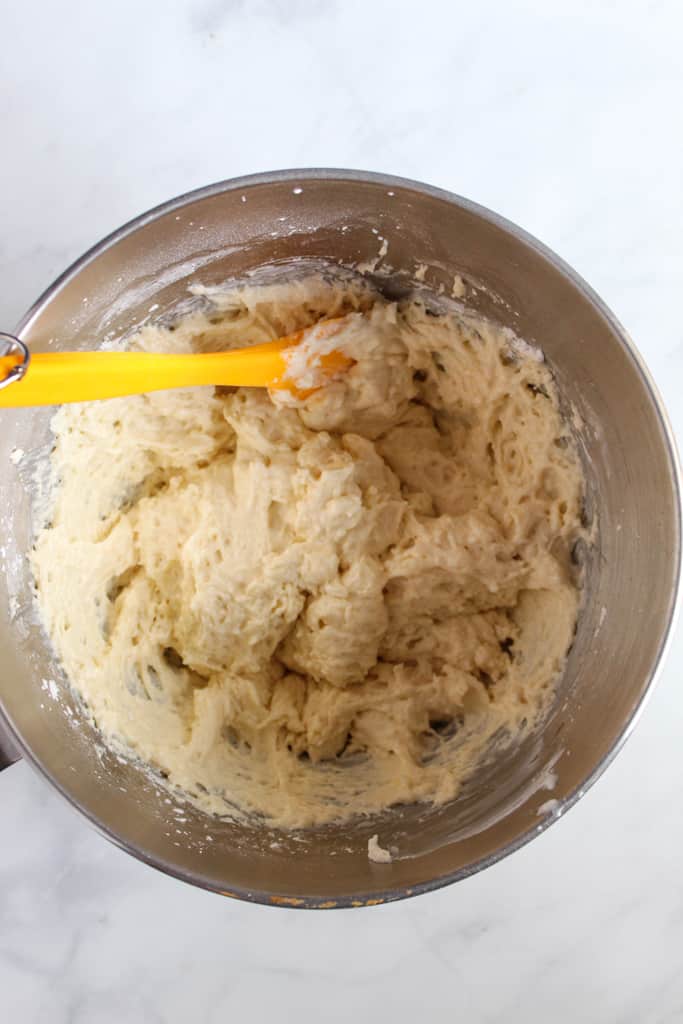 There are so many differences in baking gluten free bread, but one of the major ones is how the dough looks. The days of thick dough that's kneaded and stretched are long gone. The 'dough' for gluten free breads is more like cake batter than anything else. So if you see batter that looks way to thin to be bread, you are on the right track!
Portioning the rolls into the pan
The easiest way to portion the rolls is to use a large spoon and a spatula. Fill each muffin cup almost to the top of the cup.
Rise and Bake
A 5 minute rise time? Really, just 5 minutes? Yes, that's not a mistake! With the high starch content and the instant yeast, a long rise time is not needed.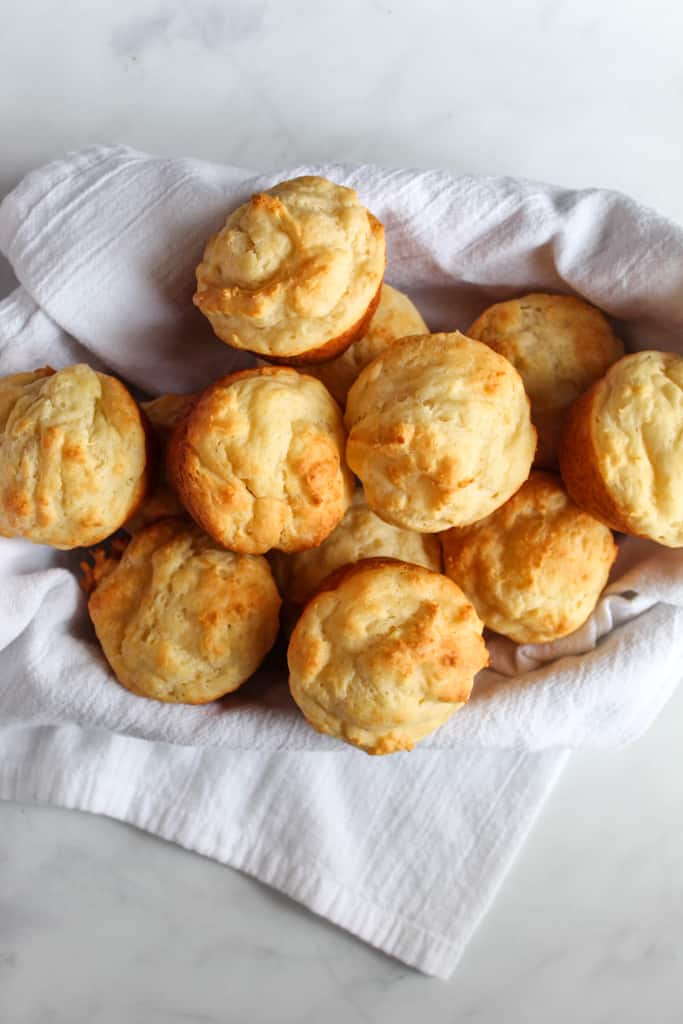 Holidays, cooler weather or just a quick dinner bread – these gluten free yeast rolls are your under-an-hour solution for a bread your whole family will love!
Recipe originally published 11/02/2017. Updated 11/26/2019 with new photos and better directions.
Recipe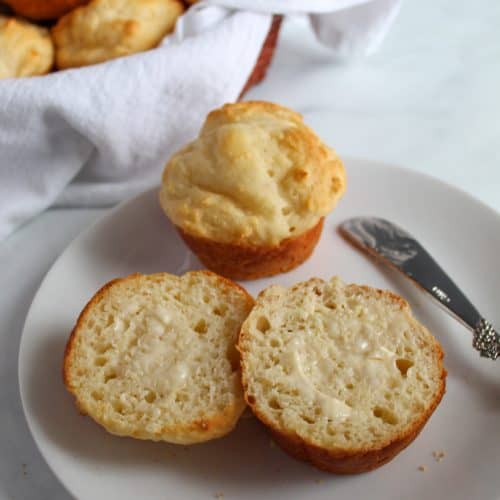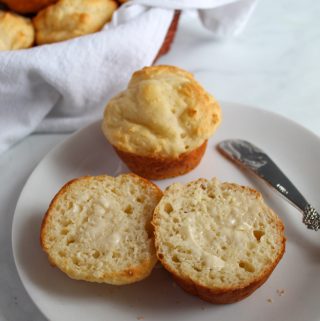 Gluten Free Yeast Rolls in Under an Hour
Don't want to spend hours in the kitchen making rolls? These gluten free yeast rolls are ready in under an hour!
Print
Pin
Rate
Ingredients
2

Tablespoons

shortening

2

Tablespoons

vegan butter

softened

3

Tablespoons

honey

2

large

eggs

½

cup

dairy free sour cream

½

cup

dairy free plain Greek yogurt

83

grams

potato starch

about ½ cup

135

grams

cornstarch

about 1 cup

½

teaspoon

baking soda

1

Tablespoon

baking powder

1

teaspoon

xanthan gum

¾

teaspoon

salt

2 ¼

teaspoons

instant yeast

also called rapid rise

¾

teaspoon

apple cider vinegar
Instructions
Preheat oven to 350 F. Spray a 12-cup muffin tin with cooking spray. Set aside.

In the bowl of a stand mixer, cream together the shortening and butter. Mix on medium until fully combined.

Add honey, eggs, sour cream and Greek yogurt. Mix on medium for 1 minute, stopping to scrape the bowl down occasionally. With the mixer running, add apple cider vinegar and let mix a few seconds longer.

In a small bowl, stir together the starches, baking soda, baking powder, xanthan gum, salt and yeast.

Add to the wet ingredients and let mix for 30 seconds, until fully incorporated. Scrape down the bowl a couple times while mixing.

Measure out about ⅓ cup of dough and drop it into the prepared muffin cups.

Let the rolls rise for 5 minutes.

Bake at 350 for 20 minutes. Remove from oven and let cool on a wire rack for 5 minutes before removing from the pan to cool.
Notes
Bring ingredients to room temperature before starting the rolls (a quick way to do this is to use a microwave for softening the butter, 10 seconds should do it, and dropping the eggs in a cup of warm water for a few minutes.)
Yeast is added directly to the dry ingredients in the recipe.
Rolls can be served warm!
Nutrition
Calories:
155
kcal
|
Carbohydrates:
20
g
|
Protein:
3
g
|
Fat:
7
g
|
Saturated Fat:
3
g
|
Cholesterol:
38
mg
|
Sodium:
215
mg
|
Potassium:
235
mg
|
Fiber:
1
g
|
Sugar:
4
g
|
Vitamin A:
161
IU
|
Vitamin C:
1
mg
|
Calcium:
82
mg
|
Iron:
1
mg
If you haven't signed up for our email list, join it for the latest recipes sent directly to your inbox!
And while you're here, check out these recipes: