Crispy, tasty and slightly sweet, this gluten free graham cracker recipe is the scrumptious way to enjoy a grain free snack made with simple ingredients. Plus these homemade graham crackers are dairy free too.
It's a great recipe for kids to help with since there's no mixer required, just a sturdy spoon (or use a food processor). And it's a one bowl prep!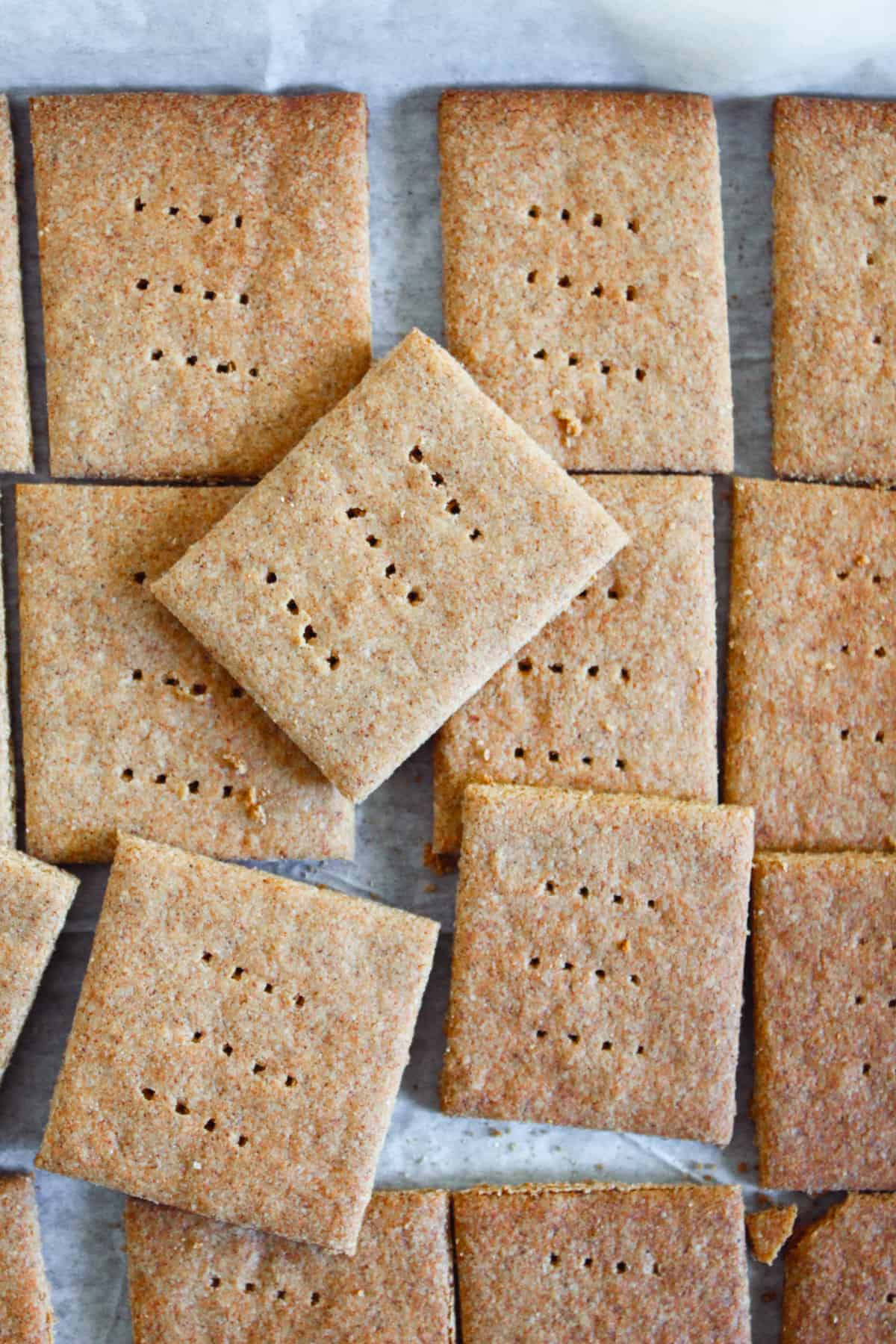 If you've never made graham crackers before, this no-compromise gluten-free graham cracker recipe is exactly what you need. It's easy to mix together, rolls out smoothly and bakes up crisp. And they even have a low carb option too! (By the way, if you're looking for a good low carb bread, check out this low carb, flour-free bread recipe!)
Use these traditional graham crackers in these tasty gluten-free recipes... Make a gluten-free graham cracker crust, make this gluten free chocolate pie or this gluten free key lime pie.
Jump to:
About These Classic Graham Crackers
These graham crackers are perfect for a gluten-free diet. If you've ever searched for gluten-free graham cracker brands at local grocery stores, you'll either be faced with a lot of choices or no choices!
That's why the convenience of making your own graham crackers at home can't be beat. These get a punch of flavor from almond flour. This grain free flour gives a nice nutty flavor to the graham crackers. And the golden brown color and kick of sweetness comes from the brown sugar (or Swerve brown sugar if opting for sugar free).
These are also dairy-free graham crackers as the easy recipe uses vegan butter.
Ingredients & Substitutions in Gluten Free Graham Crackers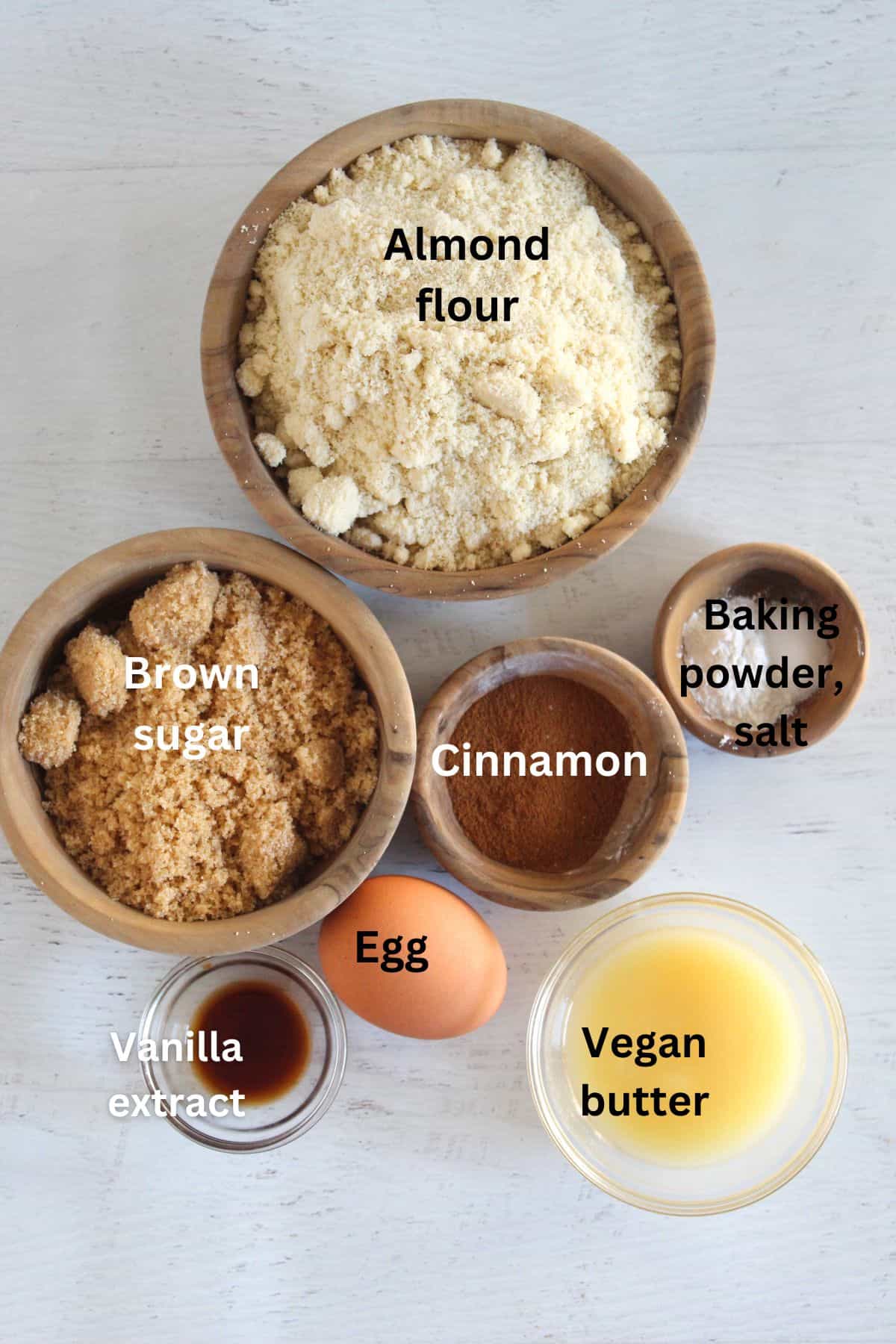 The ingredients list for these gf graham crackers is short... just like for these Gluten Free Biscuits... a shorter list means quicker prep! I'll list the ingredients and brands I recommend for the best results and then the options for a substitute if you'd like to substitute an ingredient.
Almond Flour - I highly recommend the almond flour from Nuts.com. They have the best pricing (which is a big deal with expensive flours like almond flour!) and the quality is excellent. If you'd like to substitute the almond flour with oat flour, brown rice flour, graham flour or even a gluten-free flour blend, I'd recommend starting with my substitution guide first.
Brown Sugar - If you'd like to substitute the brown sugar, coconut sugar or Swerve sugar substitute work great (check out Swerve here) - Swerve is an excellent option for lowering the sugar content in recipes. Light or dark brown sugar also work equally well. Maple syrup is not a good option as it changes the consistency of the dough.
Ground cinnamon - There is no acceptable substitute for the cinnamon.
Baking powder - I use Clabber Girl baking powder since it's certified GF. And, often you can substitute xanthan gum for the baking powder. (If it sounds strange, reference the article I linked to, it can absolutely function like baking powder!) However, in this case, there is no substitute that works as well as the baking powder.
Egg - I use a regular organic egg in this recipe, but if you need to substitute the egg, reference my substitutions guide for the best option.
Vegan butter - Earth Balance has been my go-to for a while. It works well and taste like real butter. But if you want to use Melt or Country Crock Vegan Sticks, those would work great too - or regular butter if you can tolerate dairy.
Vanilla extract - The gluten free vanilla extract I use is this brand. I recommend using a high quality vanilla extract when the recipe relies on the flavor. For example, in these crackers and this gluten free dairy free cheesecake, the vanilla flavor adds a lot to the final product. Where as in something like this pumpkin bread, where the pumpkin is so strong anyway, you could get away with a lower quality vanilla.
Measurements for each ingredient in these homemade graham crackers are in the recipe card below.
How to Make Gluten Free Graham Crackers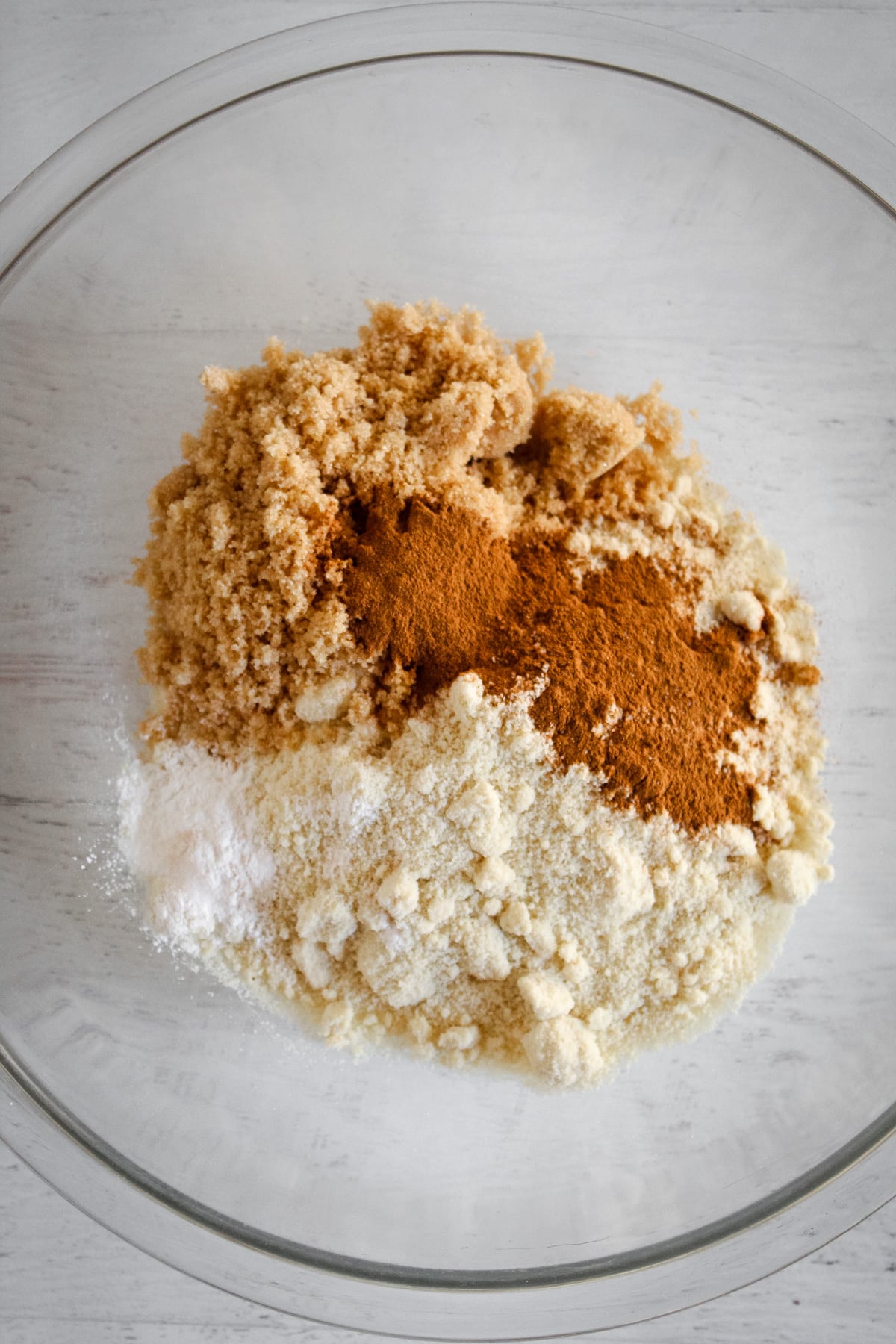 Step One: Use a whisk to mix the dry ingredients together.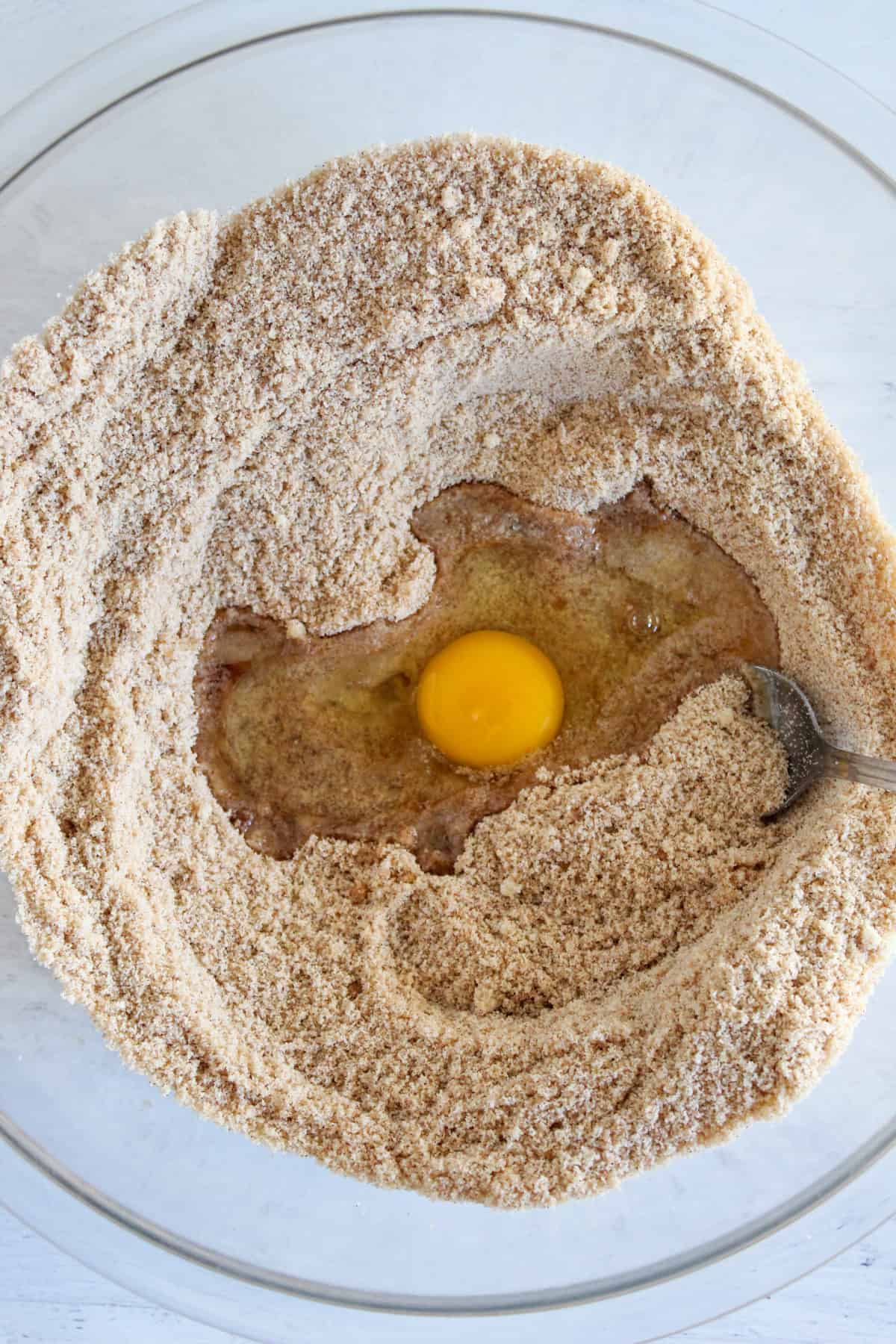 Step Two: Add the wet ingredients including the melted butter and switch to a sturdy spoon because the dough will get thick.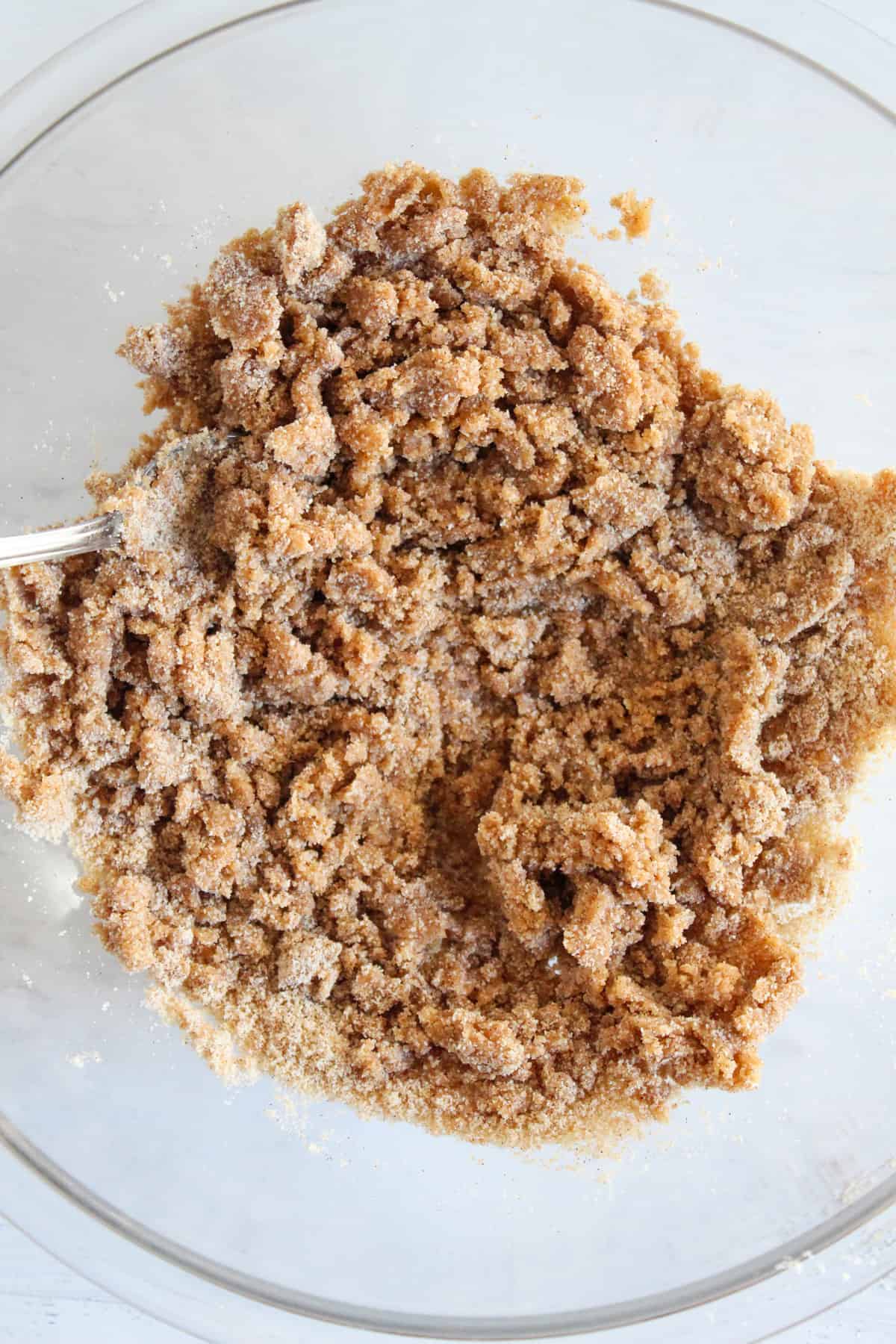 Step Three: Stir the dough together in a large bowl.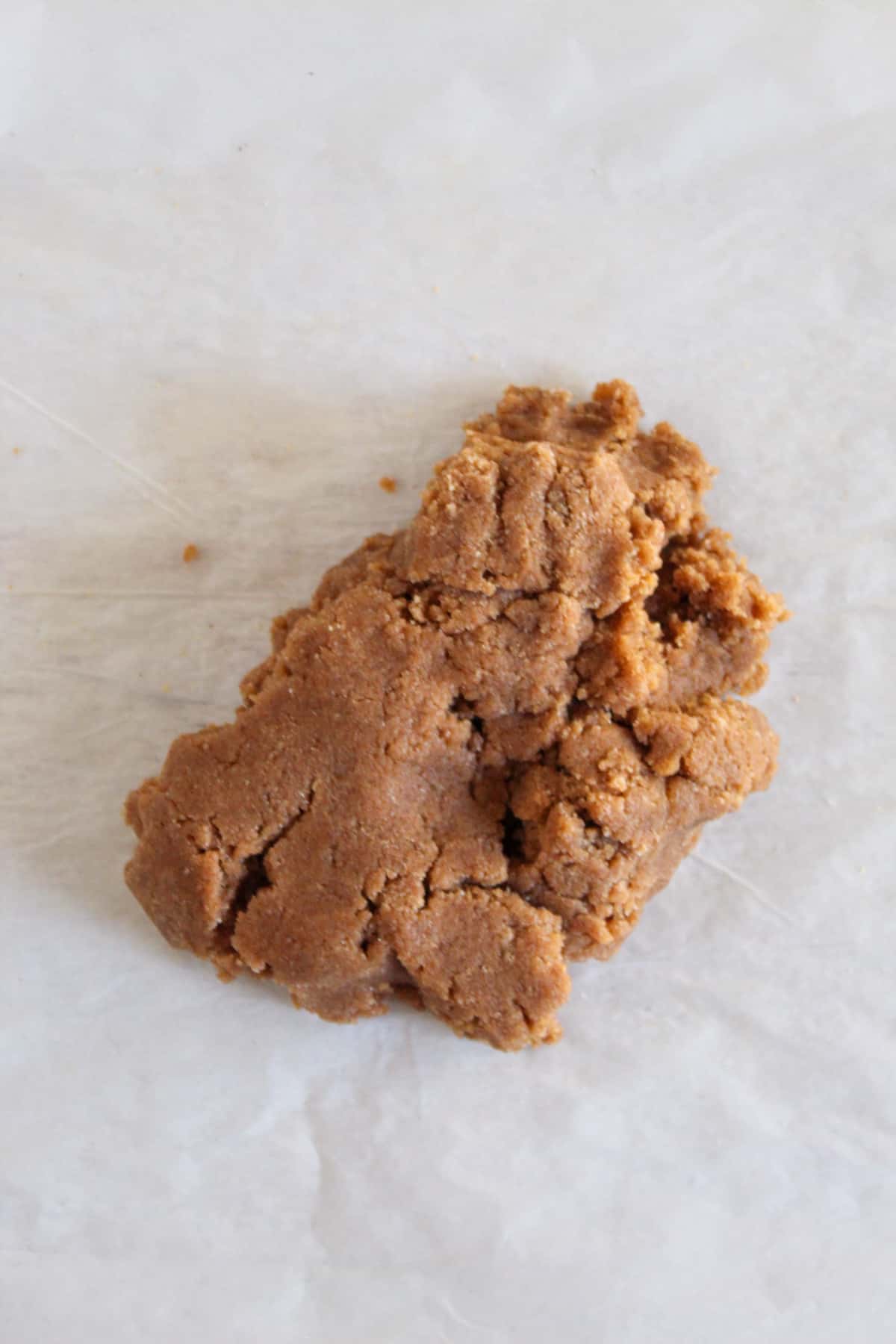 Step Four: Place the dough on a piece of parchment paper, cut to fit a cookie sheet. Form the dough into a rough rectangle.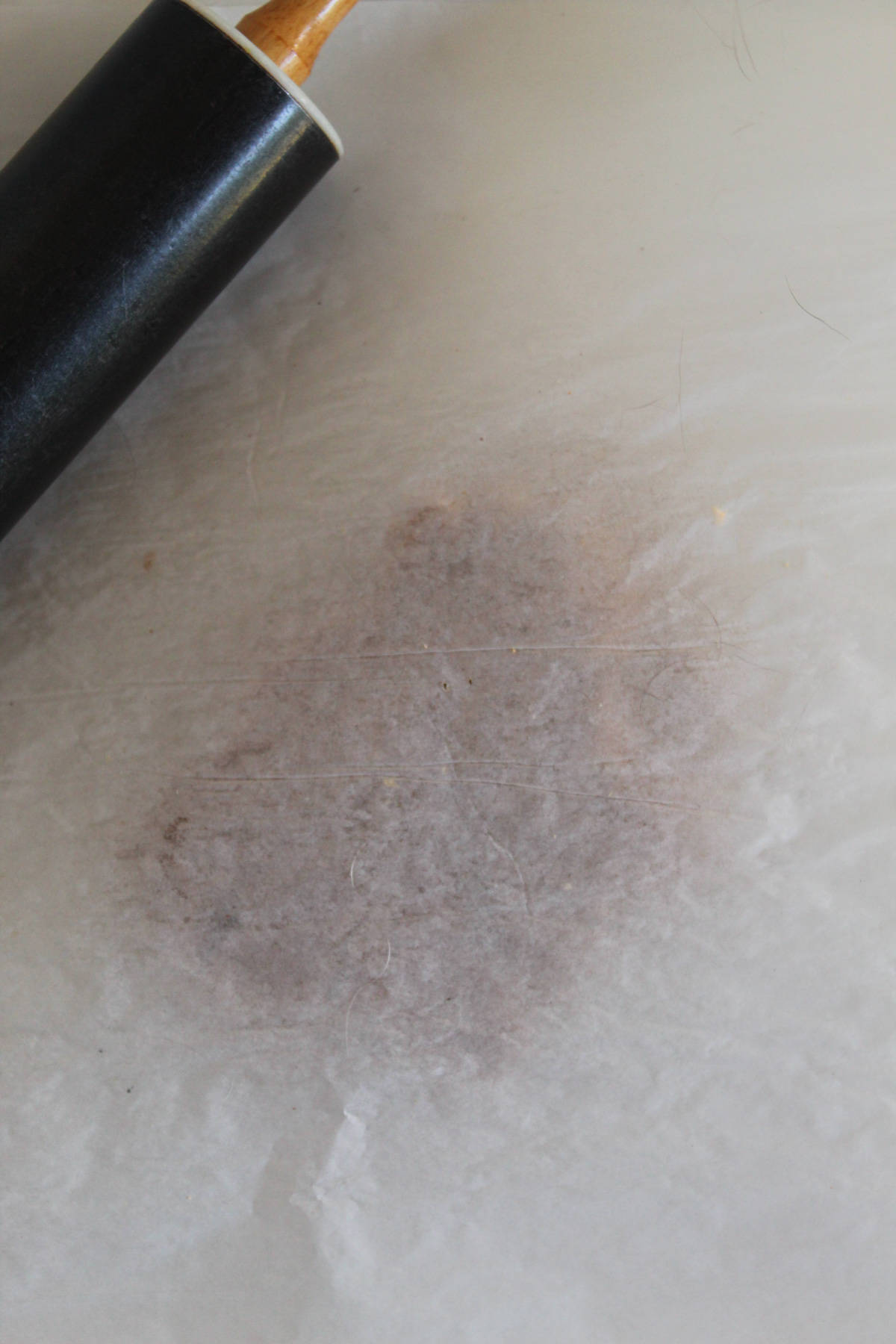 Step Five: Place another piece of parchment over the dough.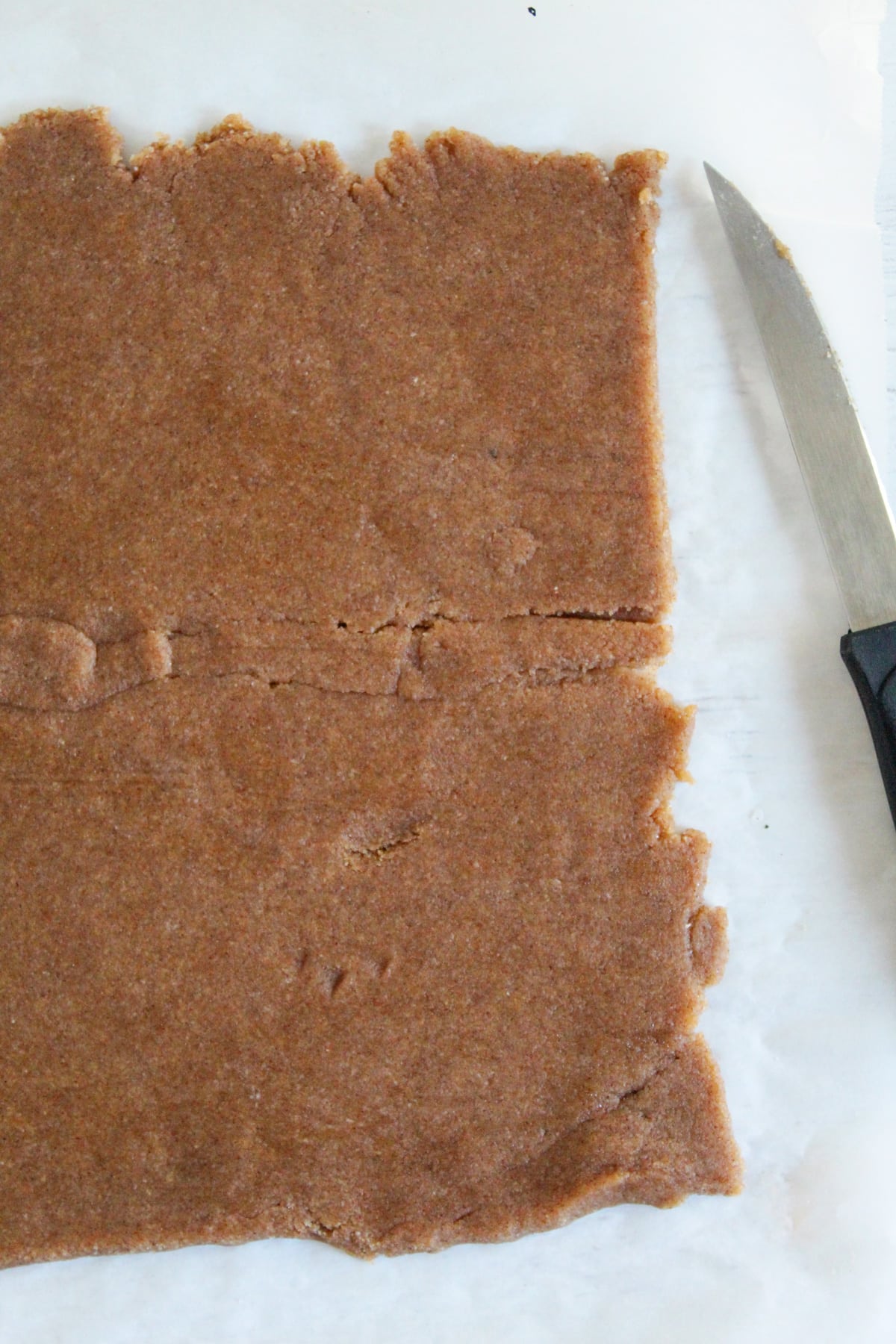 Step Six: Use a rolling pin and roll the dough out to a 12" x 10" rectangle. Tear off the edges of the dough as you go to fill in any gaps.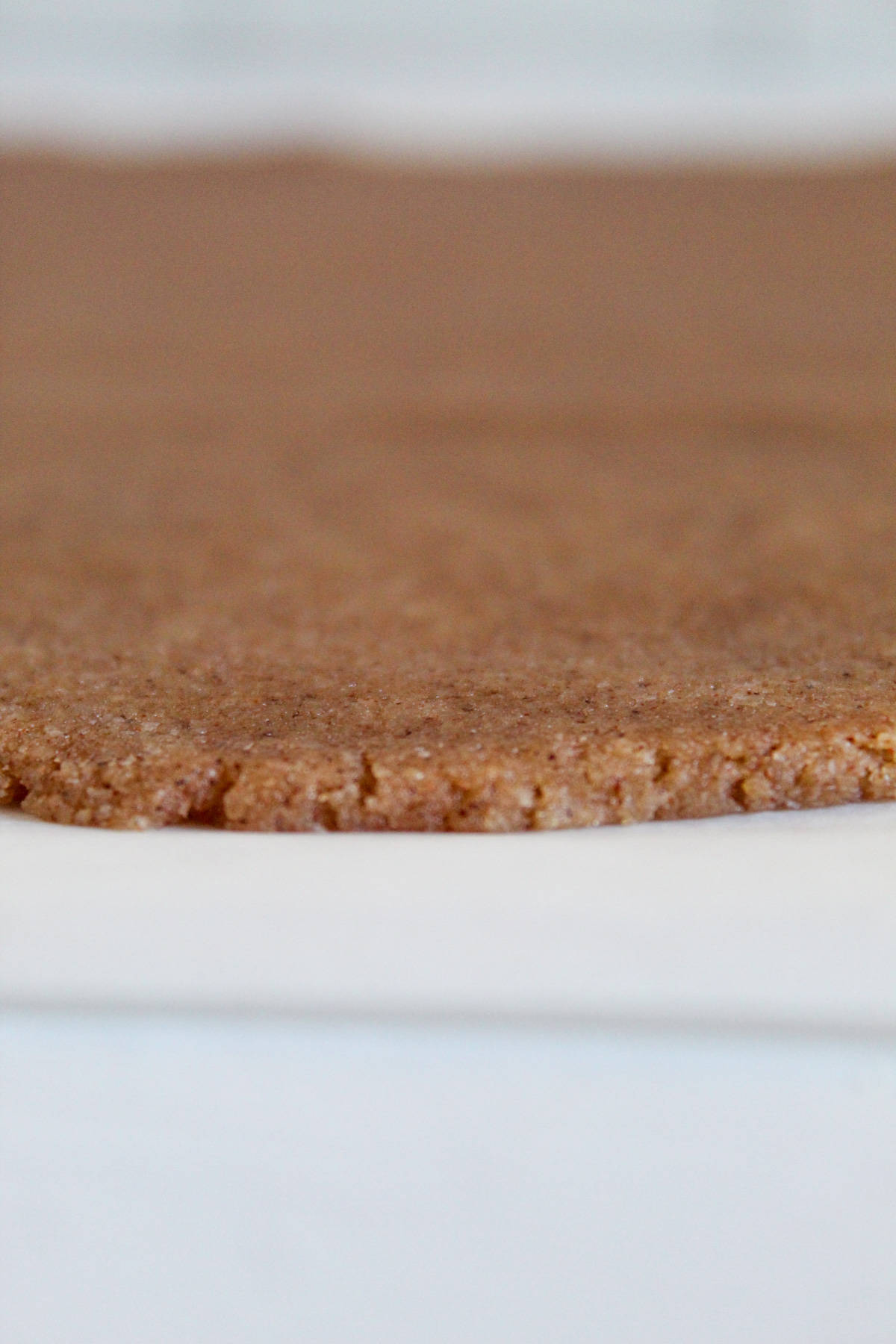 Step Seven: The dough should be ¼ to ⅛ inch thickness. The thinner the dough, the crispier the crackers will be.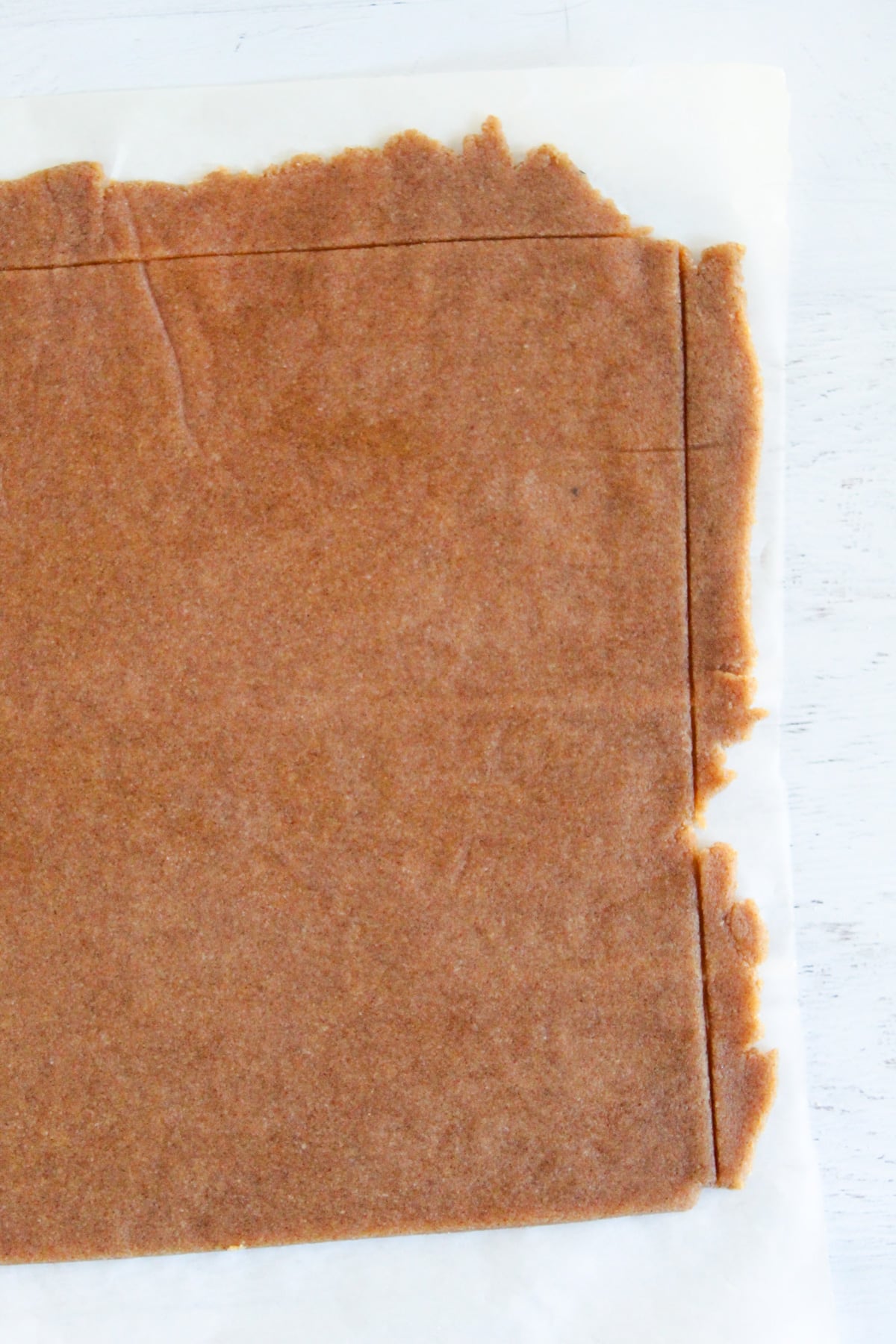 Step Eight: If desired, trim the uneven edges of the dough off for perfectly square gluten-free crackers.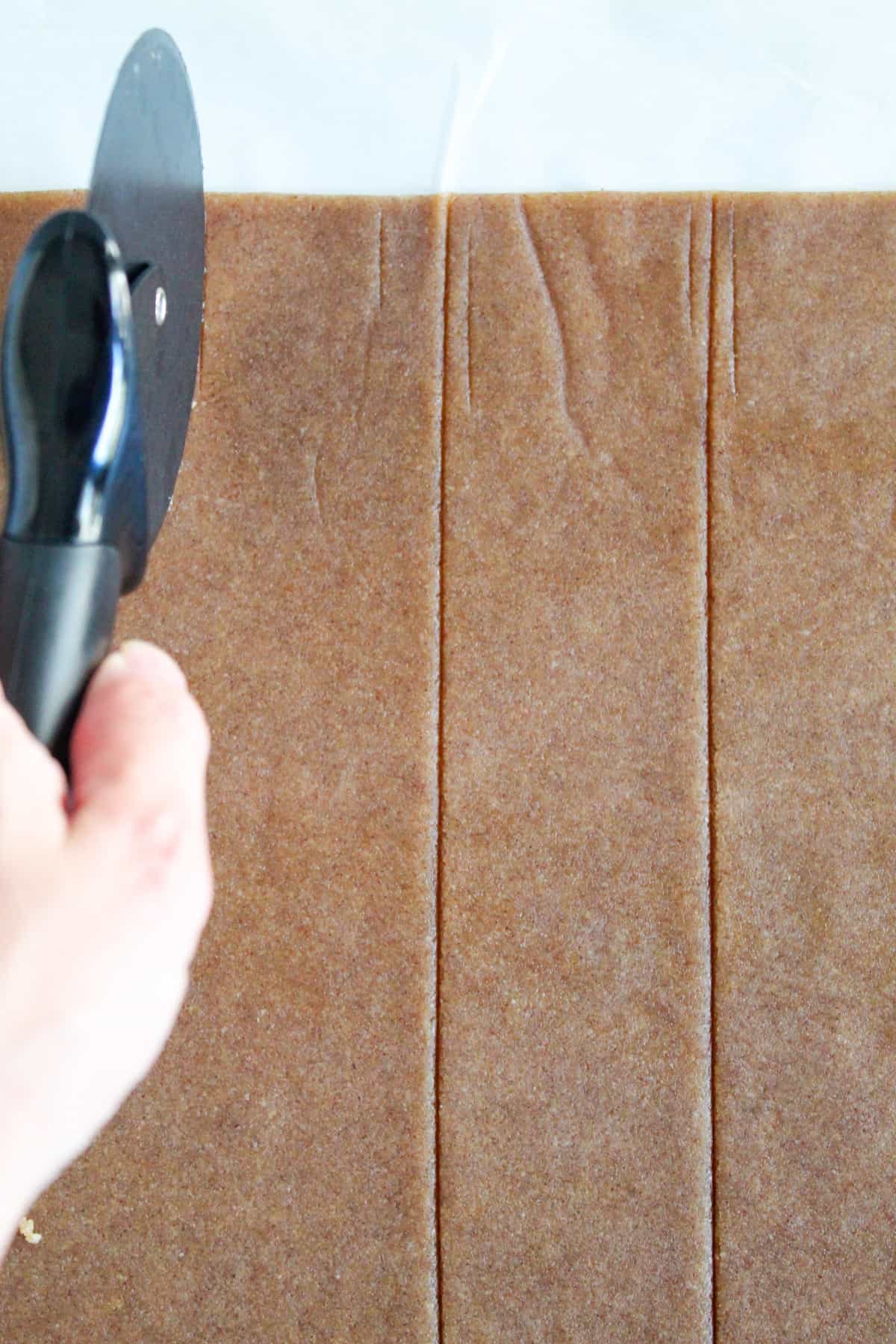 Step Nine: Use a pizza slicer or a sharp knife and make 3 long cuts, evenly spaced, lengthwise on the rectangle.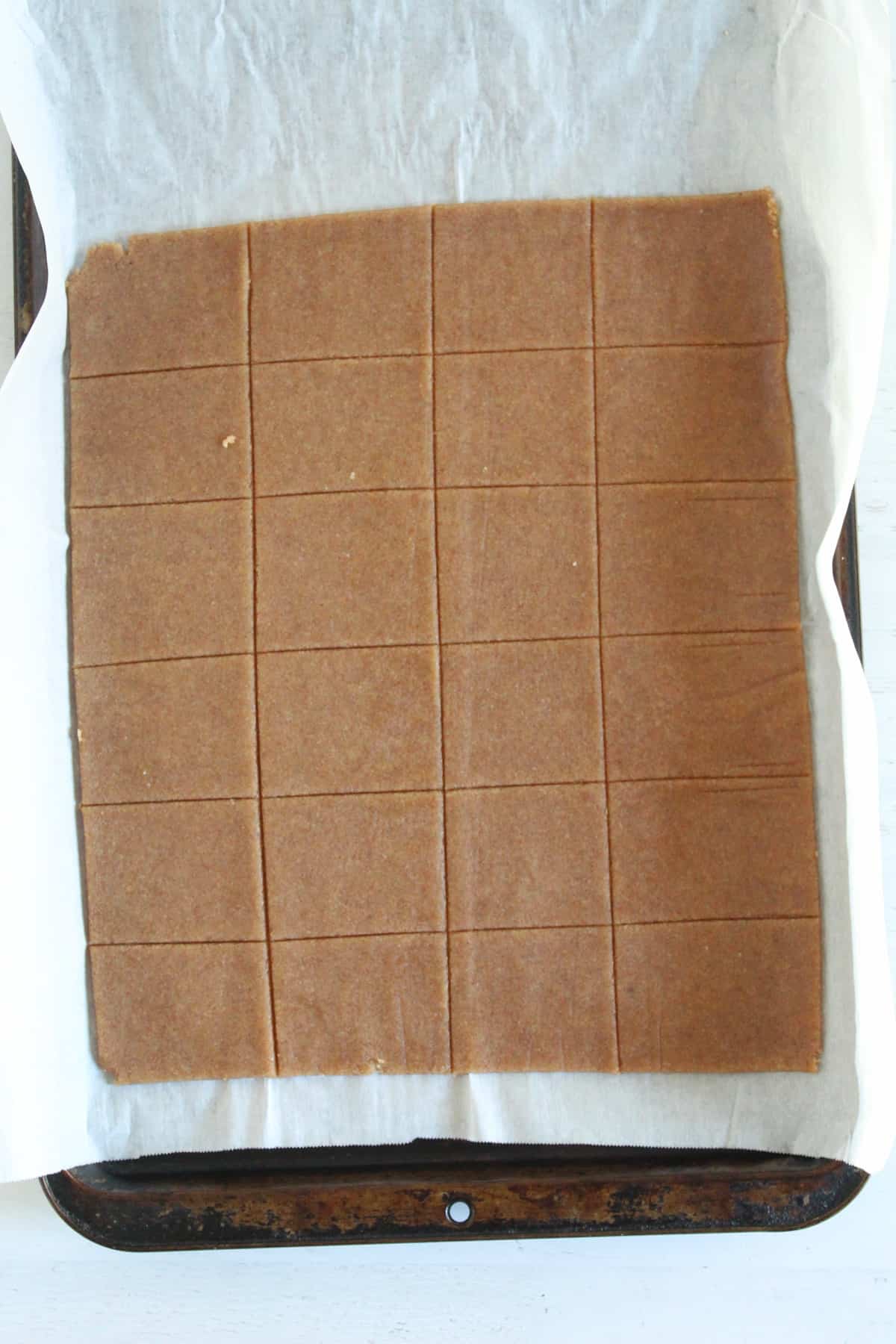 Step Ten: Then make five slices down the shorter side, also evenly space out. The crackers will be roughly 2 inch squares. Move the entire sheet onto a cookie sheet and bake at 300F for 25 minutes.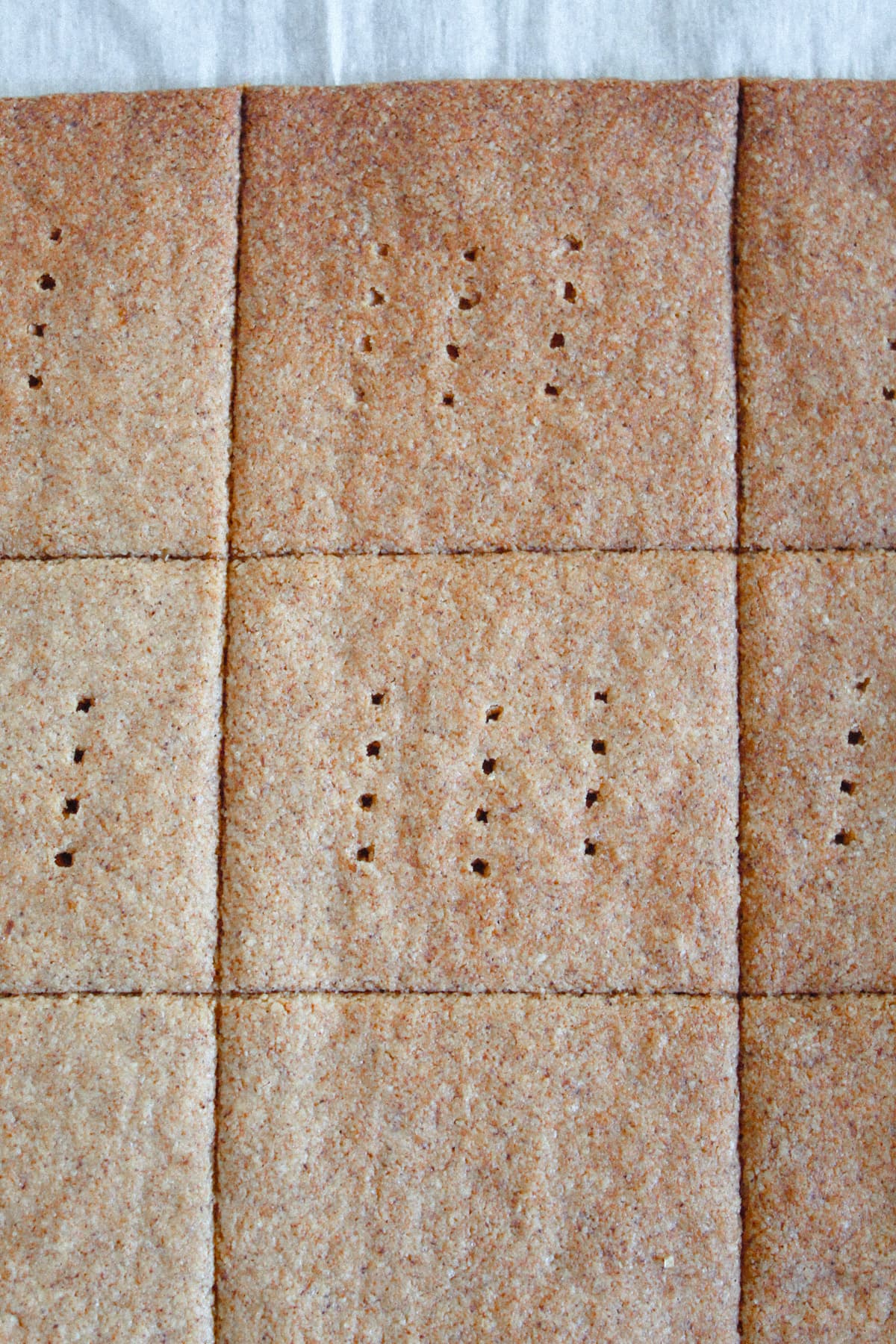 Step Eleven: Once the crackers have baked, immediately remove from the oven and place the pan on a cooling rack. Prick each cracker three times with the tines of a fork.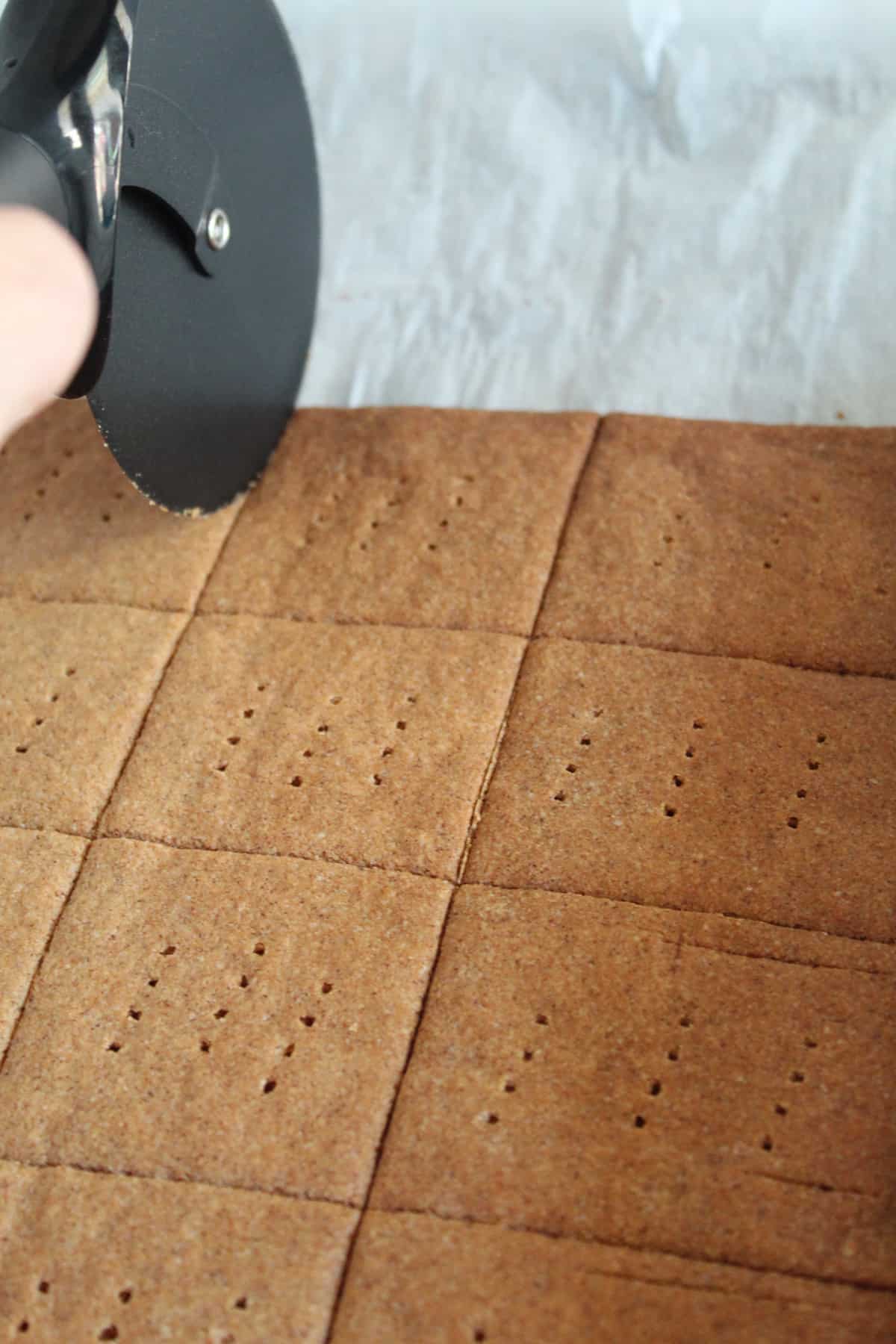 Step Twelve: Then slice each one again along the previous slice marks. Crackers will break apart. Let cool completely.
How to Store Homemade Gluten-Free Graham Crackers
Baked graham crackers store very well in an airtight container for up to a week. They also freeze well, so they can always be on hand for graham cracker crumbs for that next graham cracker pie crust!
The cracker dough can also be stored before baking... After forming the dough in step four above, wrap it well in plastic wrap and store in the refrigerator for up to 3 days.
To make the crackers: Remove the chilled dough from the refrigerator and allow it to warm for about 30 minutes. Then roll out as directed above.
Pro Tips for the Best Gluten Free Graham Crackers
There are few things as frustrating as a recipe that flops! Don't let that happen to you - while this recipe is fairly simple, make sure to follow these pro tips for the absolute best graham crackers...
1. Measure by Weight
Accuracy is super important in baking (especially in gluten free baking!). And the best way to ensure you have just the right amount of flour or starch is to measure by weight rather than cups. Use a digital scale like this one that runs about $10, and set it to grams. Then just pour the flour or starch into a bowl till you reach the exact amount you need. No leveling cups or guessing.
And the end result is great tasting cracker or some beautifully textured loaves like this sorghum bread or this oat bread!
2. Use Room Temperature Ingredients
Even though there's only 1 egg in this recipe, make sure to bring it to room temperature before mixing it into the batter. Cold ingredients resist incorporating into batter and we want the egg to be fully mixed so the crackers stick together.
A quick way to bring eggs to room temperature: Fill a measuring glass with ½ cup water. Microwave the water for 30 seconds. Float the egg in the warm water for 5-10 minutes.
3. Use Parchment Paper for the Dough
Here's what the process looks like:
Dough goes on the parchment paper
Top with another piece of parchment paper
Roll out to the right size (details in steps 6-10 above)
Transfer the entire sheet to a baking sheet and then into the oven to bake
The parchment paper prevents the dough from sticking.
4. Helpful Tools
These kitchen and baking tools will help make prep and baking these crackers a whole lot easier - I've linked to what I use and recommend on the items below...
Gluten Free Graham Cracker Recipe FAQs
Can I use a different flour than the almond flour?
I would not recommend substituting the flour as it has not been tested, but if you'd like to try something else, check out the flour options in my substitution guide.
Can I substitute the brown sugar in these gluten free graham crackers?
Swerve is a good option for a sugar substitute. It tastes and functions just like brown sugar. Only with zero net carbs! And if you buy the regular size bag, you'll have enough for these delicious lemon blueberry muffins or this sandwich bread! Win-win!  
What's the best way to store these crackers?
They crackers are easy to store - after they've cooled completely, store them in an airtight container or a plastic bag for up to a week. Then, for longer storage, freeze them!
Can these be used to make a graham cracker crust?
These graham crackers make wonderful graham cracker crumbs! Follow this recipe for making a graham cracker crust!
If I don't have parchment paper, can I still make these?
It will be tough. The parchment paper acts as a guide in both cutting and transferring the crackers to a baking pan. Your best bet would be to place the dough right into the ungreased pan and roll and cut them there.
For more Gluten Free Bread Recipes, check out:
And don't miss these helpful Gluten Free Baking Tips:
Did you make and love this recipe? Give it your review and

rating below! And make sure to follow me on Instagram, Pinterest and Facebook too!
Recipe originally published 9/2016, updated with new information and new photos 9/2019, then again on 8/24/2023.
Recipe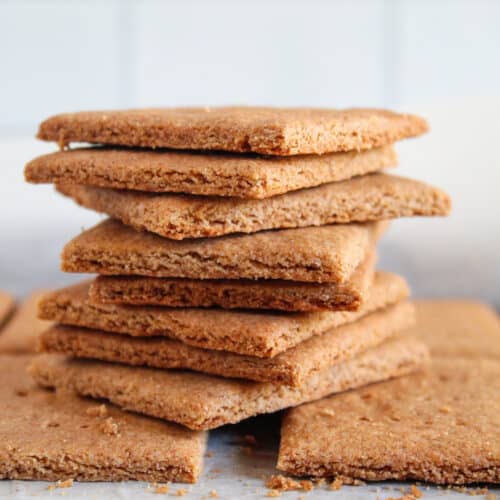 Gluten Free Graham Crackers: Easy & Homemade
Crispy, tasty, and slightly sweet, these gluten free graham crackers are the scrumptious way to enjoy a grain-free snack that's also dairy free.
Print
Pin
Rate
Ingredients
225

grams

almond flour

about 2 cups

100

grams

brown sugar

about ½ cup

2

teaspoons

ground cinnamon

1

teaspoon

baking powder

¼

teaspoon

salt

1

large

egg

2

Tablespoons

vegan butter

melted

1

teaspoon

vanilla extract
Instructions
Preheat the oven to 300F.

In a large bowl, whisk together almond flour, brown sugar, cinnamon, baking powder, and salt.

Stir in the egg, melted butter, and vanilla extract until dough comes together. You might need a wooden spoon as the dough will be firm.

Turn the dough out onto a large piece of parchment paper. Top with another piece of parchment paper. Roll out the dough as evenly as possible to about ¼ to ⅛ inch thickness. The dough should measure roughly 12" x 10".

Remove top piece of parchment paper and use a sharp knife or a pizza wheel to score into 6 pieces across and 4 pieces down. The crackers should measure about 2 inches. Transfer the entire piece of parchment onto a baking sheet.

Bake 25 to 30 minutes, until just beginning to brown and firm up. Remove crackers and prick each warm cracker, in 3 rows, with the tines of a fork.

Use the pizza cutter and cut again through the slice marks. Crackers will break up. Let cool completely and enjoy.
Notes
Swerve sweetener can be used in place of the brown sugar.
Roll the dough out on a piece of parchment paper so they transfer easily to the baking sheet.
Use a pizza slicer for slicing each cracker.
Cooling time is important for the crackers to get nice and crispy.
Nutrition
Calories:
80
kcal
|
Carbohydrates:
6
g
|
Protein:
2
g
|
Fat:
6
g
|
Saturated Fat:
1
g
|
Polyunsaturated Fat:
0.2
g
|
Monounsaturated Fat:
0.4
g
|
Trans Fat:
0.01
g
|
Cholesterol:
8
mg
|
Sodium:
36
mg
|
Potassium:
27
mg
|
Fiber:
1
g
|
Sugar:
4
g
|
Vitamin A:
56
IU
|
Vitamin C:
0.01
mg
|
Calcium:
33
mg
|
Iron:
0.4
mg
Original pictures: