If you've been looking for a simple Gluten Free Dairy Free Pumpkin Bread recipe that's easy to make and tastes amazing, this is it! It's moist, tender and has the perfect crumb texture.
There is something about the Fall season that brings out the baker in us. A random Tuesday or Thursday night might have these almond flour oatmeal cookies or this delicious beer bread baking in the oven, as if tempting us to save room for an after dinner treat.
Maybe it's the cooler weather or maybe it's the thought of fresh baked breads, dinner rolls and pumpkin muffins that are just undeniably Fall. Add in the smell of pumpkin and you have a delightful treat not just for your nose, but for your taste buds too.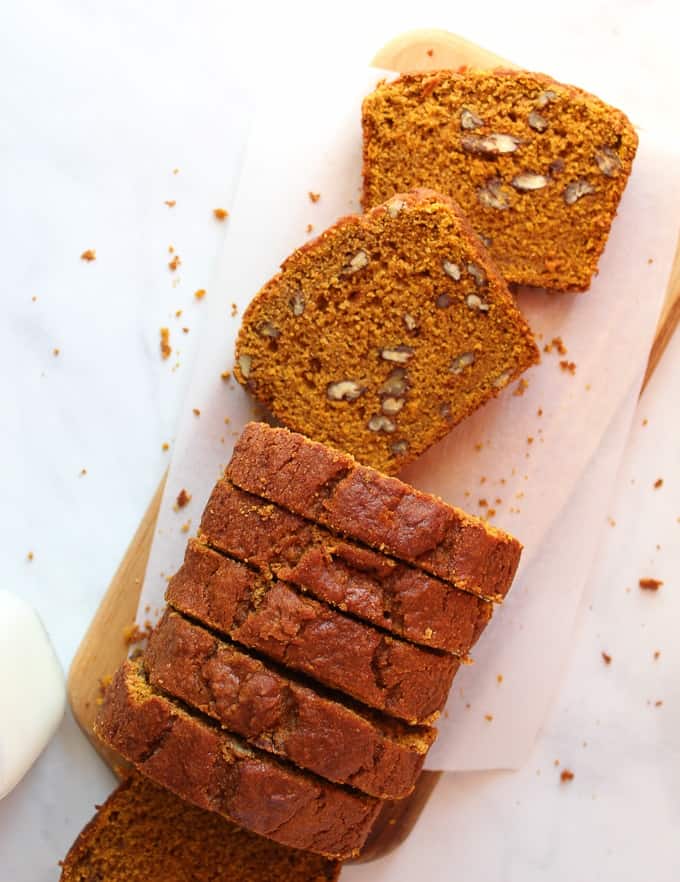 This post contains affiliate links. Affiliate links support Zest For Baking at no additional cost to you. I receive a commission if you choose to make a purchase through these links.
⭐What makes this gluten free dairy free pumpkin bread so good?
This tender gluten free pumpkin bread recipe is one of the best ways to celebrate the Fall season. It's incredibly moist, not loaded with fat and contains no oil. Make it even healthier by swapping out the eggs with egg beaters or use a substitute all together. But one look at the ingredients and you'll see that nothing in it is particularly hard to find. That might be why it's the BEST GF pumpkin bread! Nothing too complicated. Just simple, tender gluten free, dairy free pumpkin bread. As it should be.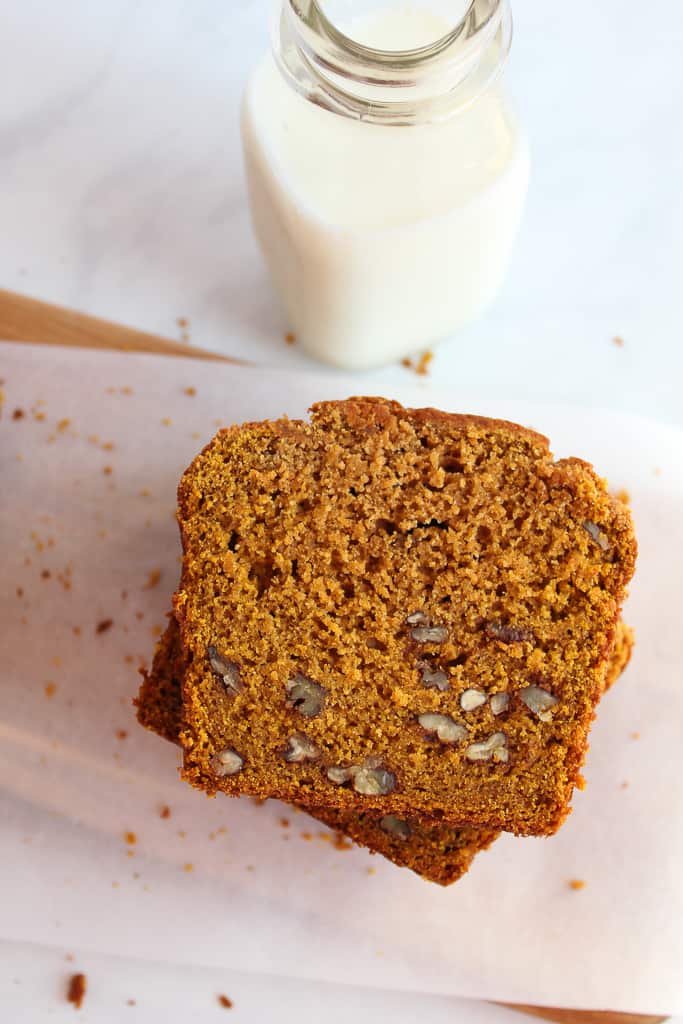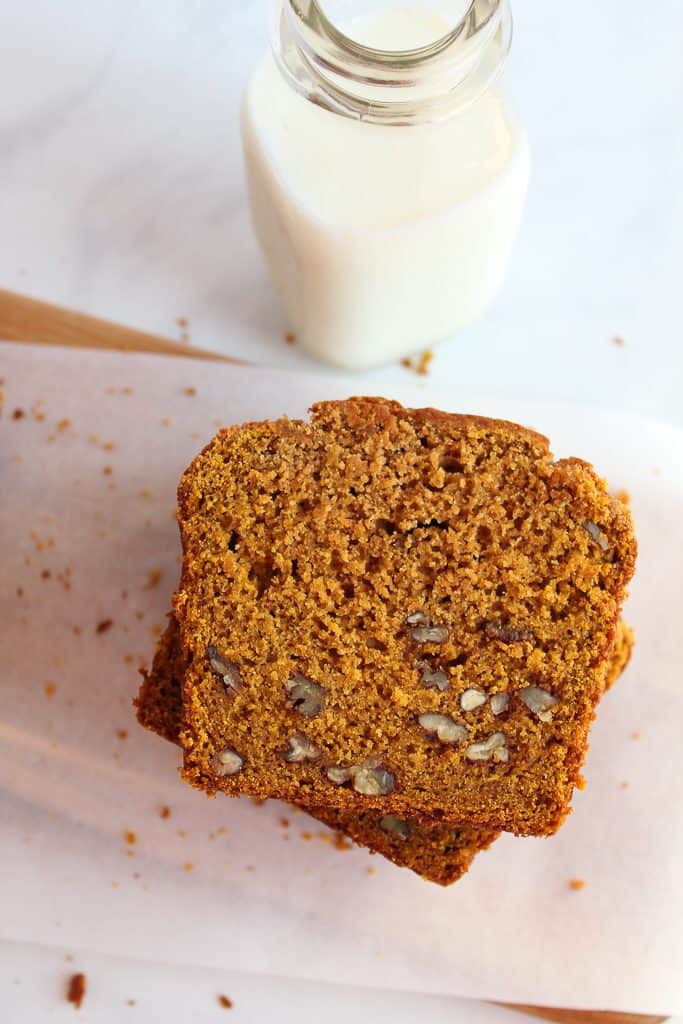 💭Quick bread pro-tips
While this bread is called a 'quick' bread, it's kind of deceiving because it may mix quickly, but the bake time is not exactly quick. You'll have that amazing aroma of baking bread tempting you for about an hour! For the absolute best tasting bread, follow these tips:
Use room temperature ingredients
This recipe isn't any different than these zucchini muffins or even this spice cake - no matter the method of preparation, the ingredients need to be at room temperature. The only exception to this rule would be in cases like these biscuits, where you'd cut in cold butter. But other than that, milk, spices, even flours and starches should all be at room temperature.
Measure your ingredients by weight
You'll notice in my recipes, cue this chia seed bread, flaxseed bread and even these millet cookies, I offer the weight measurement first and then give the cups. Weight is hands down the most accurate way of measuring flours and starches and is the measurement to use. Cups is just there to give you a visual of what it might be close to. Use something like this digital scale, and set it to grams. And I promise, the more you measure this way, the more you'll love it - just pour the flour to measure - super easy.
Use pumpkin puree
Canned pumpkin comes in a couple different varieties. You can actually find pumpkin pie filling (meaning it's already seasoned and ready to be poured into a pie crust) or pumpkin puree. This recipe uses the pumpkin puree so make sure to grab the right can!
Make homemade buttermilk
To make this recipe dairy free, and to avoid spending money on a container of buttermilk you may not go through before it spoils, just make homemade buttermilk.
Simply pour close to ¼ cup of dairy free milk (I used almond milk) into a measuring cup. I say close to ¼ cup because you'll need to leave some room to add two teaspoons of white vinegar to the cup. This is what makes the buttermilk. Set this mixture aside for at least 5 minutes, then use as directed in the recipe.
🧾Ingredients & substitutions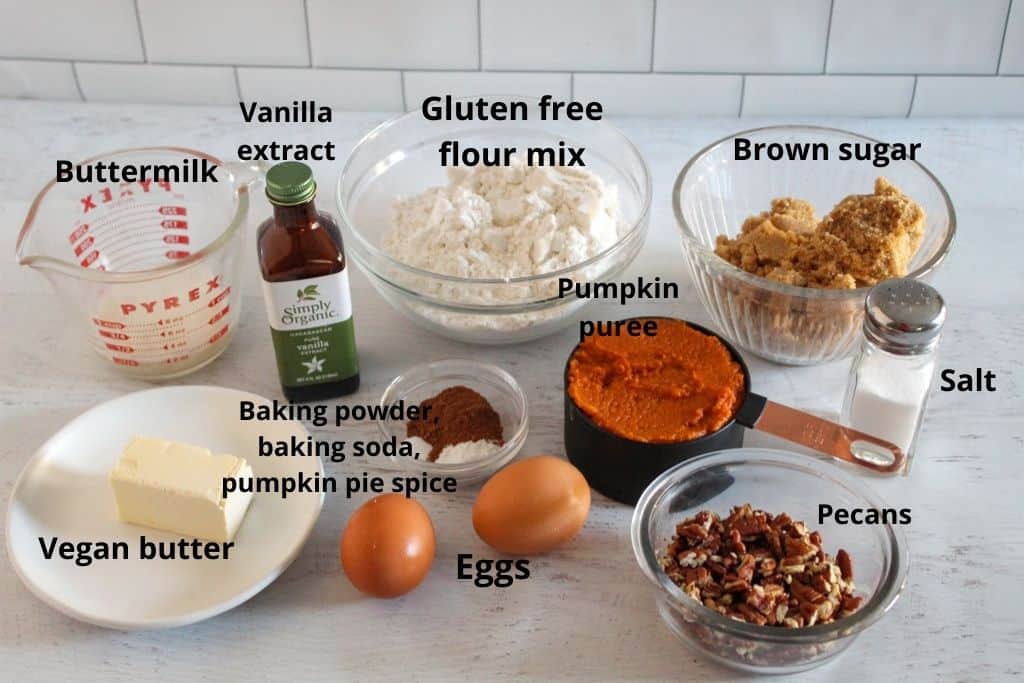 These ingredients are simple - you might even have it all on hand right now. I'll offer the ingredients I used and then the substitutes if you need to make any...
Gluten free flour mix - I used my own gluten free flour mix in this recipe, which is a nicely balanced mix that produces a loaf that bakes up beautifully. The other flour mix that I use is King Arthur Measure for Measure but it doesn't seem to work as well in this bread - it's a bit too dense so I wouldn't recommend another flour mix, the bread is just not as tender and light.
Baking powder - I used Clabber Girl brand in this recipe because it's gluten free - not all baking powder is, so always check labels. As an alternative to baking powder, you can use a teaspoon of xanthan gum.
Pumpkin pie spice - I make my own pumpkin pie spice using The Pioneer Woman's recipe. You could also purchase it here.
Vegan butter - Earth Balance is budget friendly and works very well in gluten free baking. You could also use regular butter or even Country Crock sticks.
Brown sugar - I use light brown sugar, but dark brown sugar would work well too. If you'd like a sugar alternative, try Swerve. Grab it at Thrive Market, it works the best in this recipe.
Eggs - You have a couple options when it comes to an alternative to eggs, you can use something like a chia egg or use an egg replacer. I would recommend the egg replacer as the chia egg gives a bit of a denser consistency to the baked loaf. Find egg replacer at Thrive Market.
Pumpkin puree - I used canned pumpkin puree. Another option would be to cook a pumpkin and use the puree. Either way works great - just make sure it's not flavored with any seasoning or spices. Just the puree.
Buttermilk - I used homemade buttermilk here. It's simple to make with your favorite dairy free milk and a bit of white vinegar.
Vanilla extract - This brand is Simply Organic and it's the pure vanilla extract - no imitation! You could go with another brand of vanilla extract though, the pumpkin flavor is so strong that vanilla plays second fiddle. This is the cheapest price I've found for this vanilla - check it out here!
Pecans - I used pecan halves because that's what I had on hand. Then just chopped them lightly. Walnuts would be equally delicious; the pecans just add a little something different.
🥄Mixing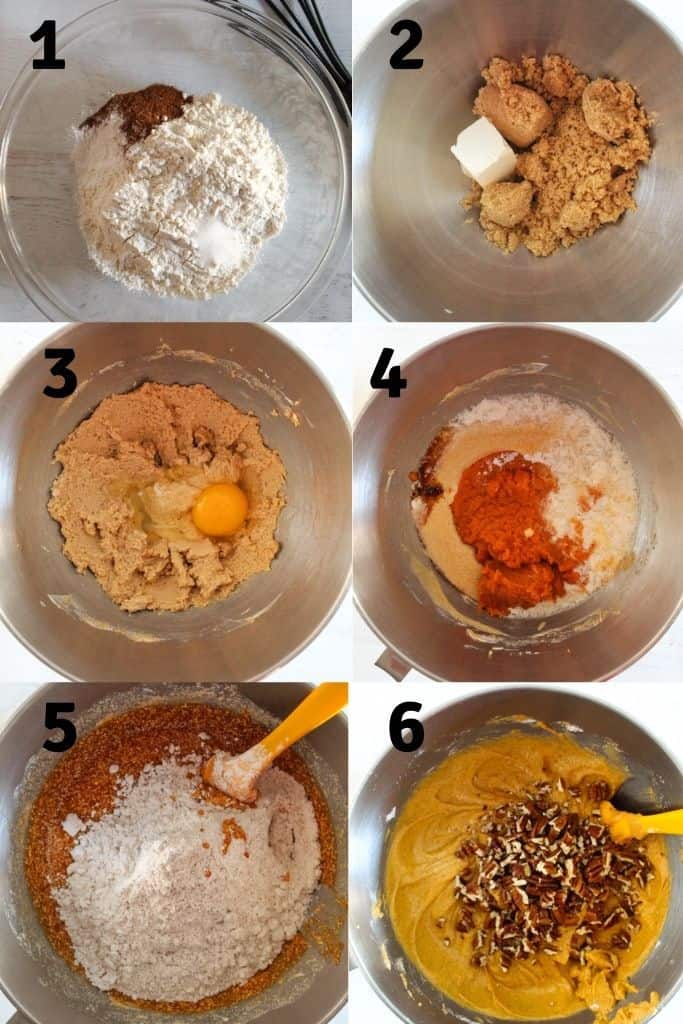 The first step to preparing this beautiful batter is to use a whisk to mix the dry ingredients (image 1 above). Then use a stand mixer (I recommend this one - they're pricey but absolutely worth it) and cream the butter and brown sugar (step 2 above). You'll beat in each egg (step 3), mixing well after each addition. Then add the pumpkin, buttermilk and vanilla (step 4) and mix again.
Add the dry mixture all at once (step 5) and mix until the batter is fully combined. Then fold in the pecans (step 6).
Rest time
After the pecans have been folded in - set the batter aside to rest for 30 minutes. This time is important to give the starches time to fully hydrate, which will result in a fluffier textured bread.
⏲️Baking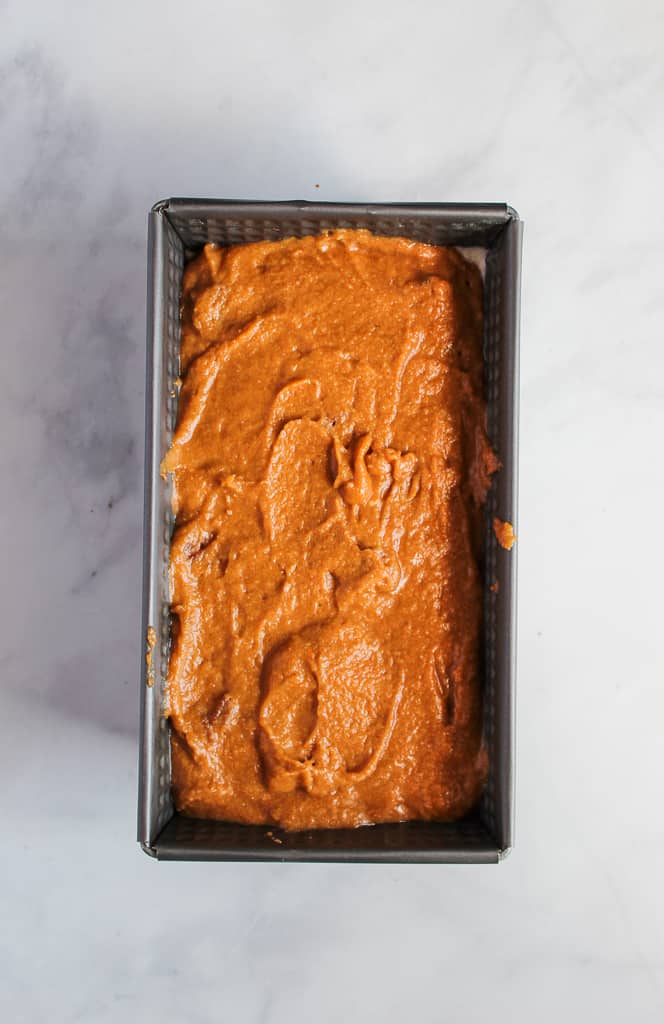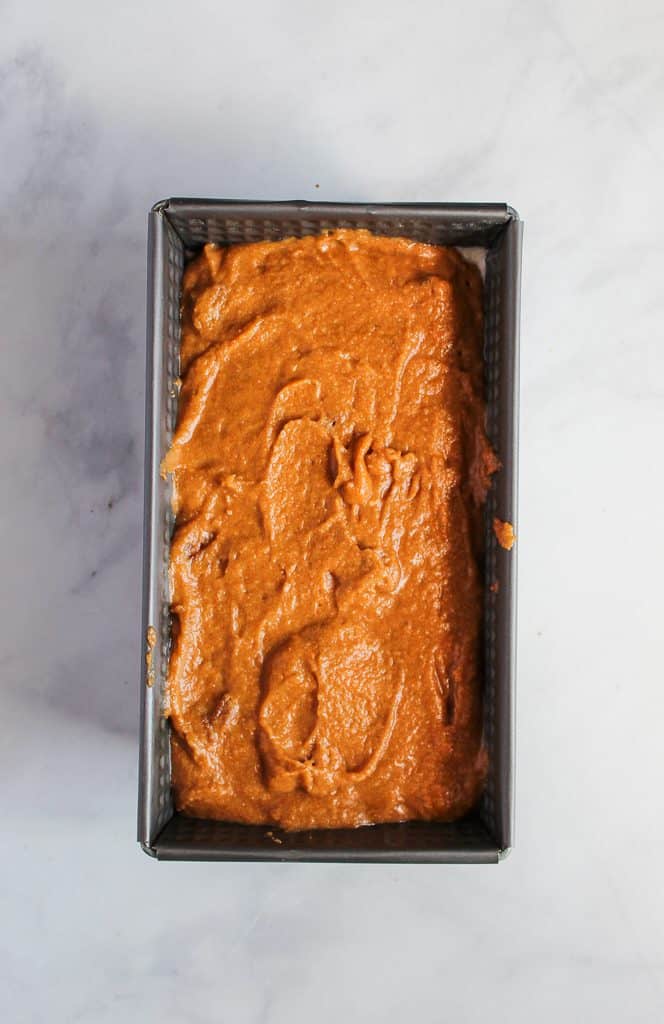 This batter is nice and thick and smells delicious. Use a large spoon (this one has the best handle in the world... anyone who's used utensils with thin grips knows what I'm talking about!) and scoop the batter into an 8" x 4.5" baking pan (with the dimpled edges like these). Make sure to smooth the top otherwise it will bake with all those little peaks and valleys.
Th baking time will vary between 50 - 60 minutes. Stat checking the bread with a toothpick at 50 minutes. Once it comes out clean, it's done.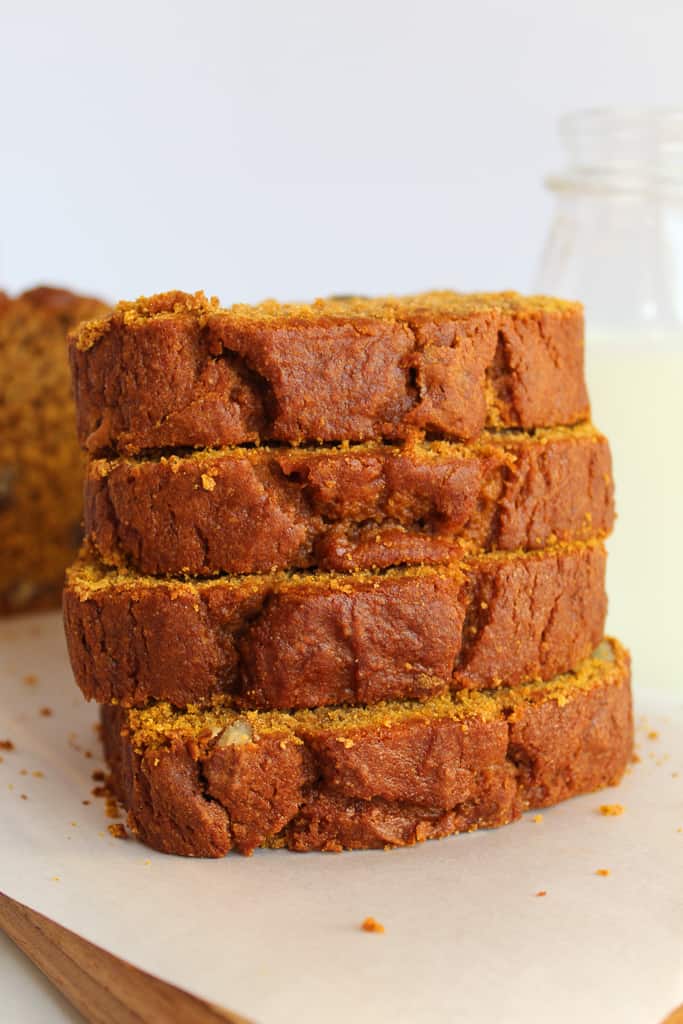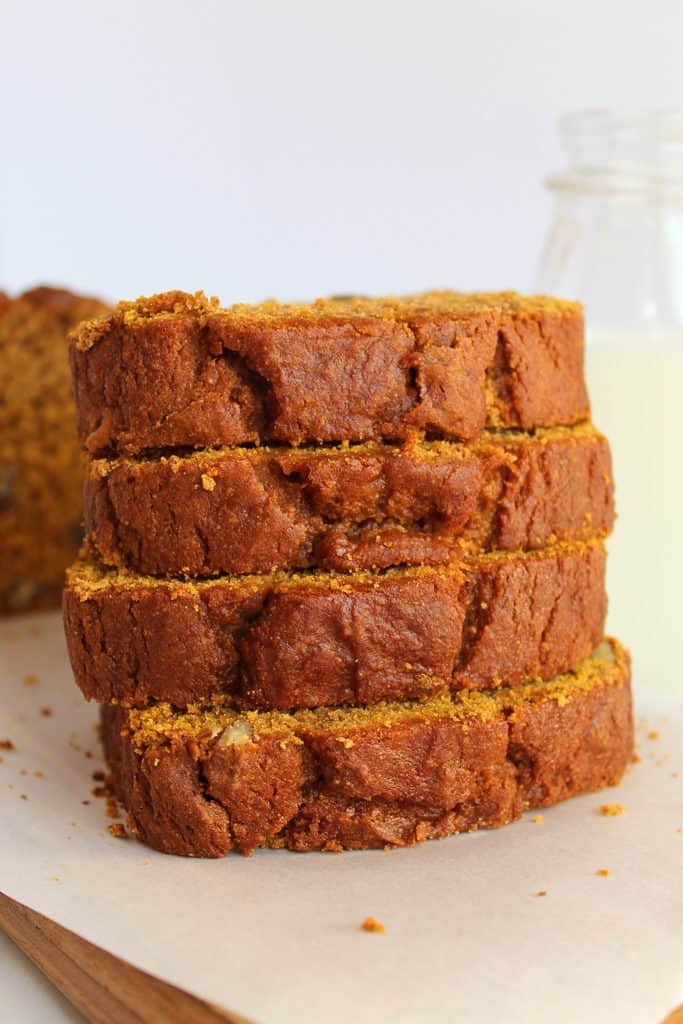 FAQ's
How should I store this pumpkin bread?
One of the wonderful things about this bread is how you can make it on a Tuesday and then still enjoy it on Friday! The trick is to wrap it well. If you plan on storing it for longer than a day or so, keep it in the refrigerator. Any longer than a few days and it's best to freeze it.
Why do I need to let the batter rest?
The rest time gives the starches time to hydrate. Think of it as a time that the batter finishes prepping for baking.
Can I use a different flour mix?
You could, but I would not recommend it. The recipe has not been tested with other mixes. Others have a tendency to make the batter too thick.
Gluten free dairy free pumpkin bread has a special place in my baking, it's seriously tasty and perfectly spiced. Enjoy this super easy recipe!
Did you make and love this recipe? Give it your review and

rating below! And make sure to follow me on Instagram, Pinterest and Facebook too!
📋Recipe
Recipe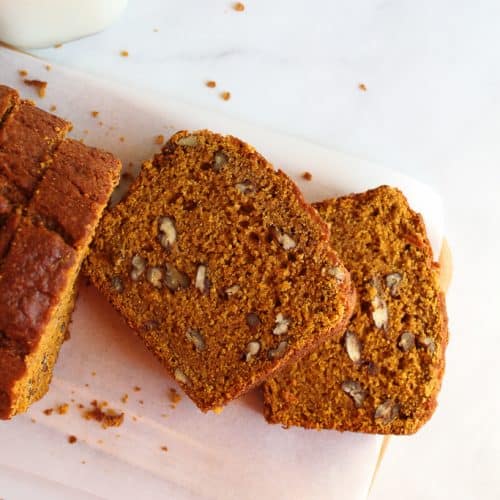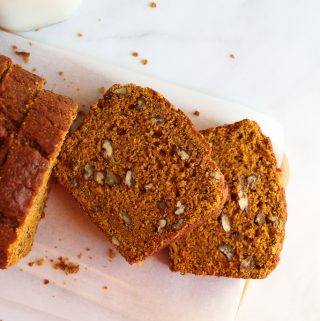 The Best Ever Gluten Free Pumpkin Bread
Delicious gluten free pumpkin bread that's perfectly spiced and stays moist for days!
Print
Pin
Rate
Ingredients
260

grams

gluten free flour mix

about 2 cups

2

teaspoons

pumpkin pie spice

1½

teaspoons

baking powder

½

teaspoon

baking soda

½

teaspoon

salt

4

Tablespoons

vegan butter

softened

210

grams

brown sugar

about 1 cup

2

large eggs

1

cup

canned pumpkin puree

¼

cup

buttermilk

made with almond milk

2

teaspoons

pure vanilla extract

½

cup

chopped pecans
Instructions
In a medium bowl, measure the gluten free flour mix, pumpkin pie spice, baking powder, baking soda and salt. Lightly mix it together with a whisk. Set aside.

In the bowl of a stand mixer, add the butter and brown sugar and beat well, about 1 minute.

Add the eggs, one at a time, beating for 30 seconds after each addition.

In with the sugar mixture, add the pumpkin, buttermilk and vanilla. Beat for 2 minutes on medium, until the mixture is combined.

All at once, add the flour mixture to the pumpkin batter. Mix the flour mixture in until combined, about 1 minute.

Using a rubber spatula, fold in the pecans.

Set batter aside to rest for 30 minutes.

Preheat oven to 350 F. Spray an 8" x 4.5" loaf pan evenly with cooking spray.

Scrape the batter into the prepared pan. Smooth out the top slightly.

Bake in the preheated over until a toothpick inserted in the center comes out clean. Start checking it at about 50 minutes in. The gluten free pumpkin bread could take up to 1 hour and 15 minutes, so extra time is not uncommon.

Cool for 10 minutes before removing from the pan to a wire rack to cool completely.
Notes
Make sure all ingredients are at room temperature.
Measure by weight where weight is given.
The gluten free flour mix is here.
Use a stand mixer for the easiest way to mix the batter.
Let batter rest for 30 minutes before baking.
The nuts can be omitted or substituted with walnuts.
Nutrition
Calories:
255
kcal
|
Carbohydrates:
41
g
|
Protein:
4
g
|
Fat:
9
g
|
Saturated Fat:
2
g
|
Polyunsaturated Fat:
2
g
|
Monounsaturated Fat:
4
g
|
Trans Fat:
1
g
|
Cholesterol:
33
mg
|
Sodium:
234
mg
|
Potassium:
187
mg
|
Fiber:
4
g
|
Sugar:
23
g
|
Vitamin A:
4088
IU
|
Vitamin C:
1
mg
|
Calcium:
84
mg
|
Iron:
2
mg
If you enjoyed this recipe, check out these other gluten free breads:
And here are some helpful gluten free baking tips: