Send your tastebuds into overdrive with this gluten free spice cake! It's topped with a delectable dairy free cream cheese frosting that's a perfect combination of sweet and spice. This one-bowl cake makes a beautiful birthday, anniversary or anytime dessert!
And another bonus for this tasty, Fall-inspired cake - there are no eggs in the recipe! That's right, no eggs, but still a fluffy, high rising cake... sounds impossible? Check out the tips for helping it to get that gorgeous height!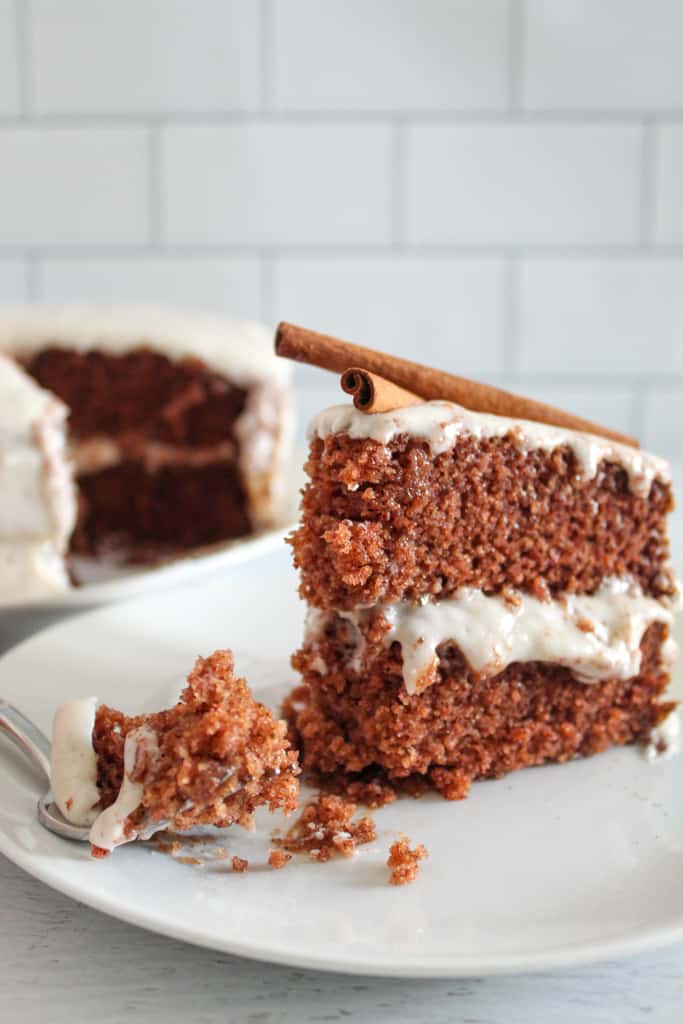 This post contains affiliate links. Affiliate links support Zest For Baking at no additional cost to you. I receive a commission if you choose to make a purchase through these links.
Why this recipe is the best!
If you're a fan of Fall spices, you'll love this cake - it's not a carrot cake or pumpkin bread, but it has all the delicious flavors of them wrapped up in one tasty cake. Beside being dairy free, egg free and gluten free, this recipe is also:
Perfectly spiced with cinnamon, nutmeg, cloves and allspice
Made one easy flour mix (not multiple flours!)
Light and fluffy
Easy to store
Convenient with multiple pan size options
Basically, it's the perfect cake for serving to a crowd with food allergies. And everyone else will have no idea, other than that it's a delicious cake! (In the mood for chocolate? Check out these almond flour chocolate cupcakes!)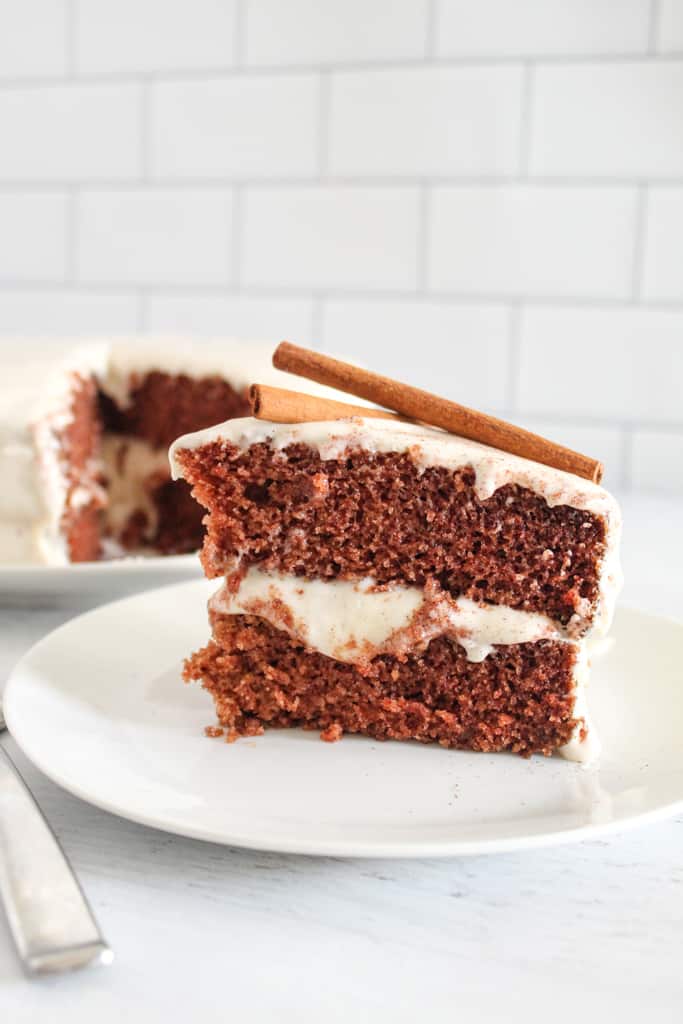 Baking pro tip's
For the absolute best textured, best tasting cake, follow these pro tips...
Use room temperature ingredients
It might be tough to wait for refrigerated flours or other ingredients to come to room temperature, but it's vitally important to the success of your gluten free baking. Your breads will rise higher, your muffins will have a nice crown and your cakes will have the best crumb texture ever. Remove any ingredients stored in the refrigerator at least 30 minutes ahead of mixing time. Measure and weigh them and let them sit to get the chill off. Then proceed with the recipe.
2. Let the batter rest
After mixing the batter, set the bowl aside to let it 'rest' for 30 minutes. The reason you want to do this has to do with how gluten free flours behave. Specifically how the starches behave. This rest period gives the starches time to hydrate from the liquid, in this case water. This helps with the texture and crumb style of the baked cake. And it's an essential tip - don't skip it!
3. Grease and flour the baking pan
Something like Baker's Joy would be great, but since I have yet to find a baking spray with gluten free flour, you'll have to do this the old fashioned way... Spray or butter your baking pans, then toss some gluten free flour mix in the pan and toss it from side to side to coat the bottom. This will prevent the cake from sticking to the pan.
4. Cool the cake completely before frosting
This may take anywhere from 1-2 hours, depending on the temperature, but it's very important to cool the cake layers (or sheet cake) completely. Otherwise, the warmth will melt the frosting, resulting in slices that are a gooey mess instead of nice and neat. This strawberry cake is another example of how the frosting looks on a nicely cooled cake.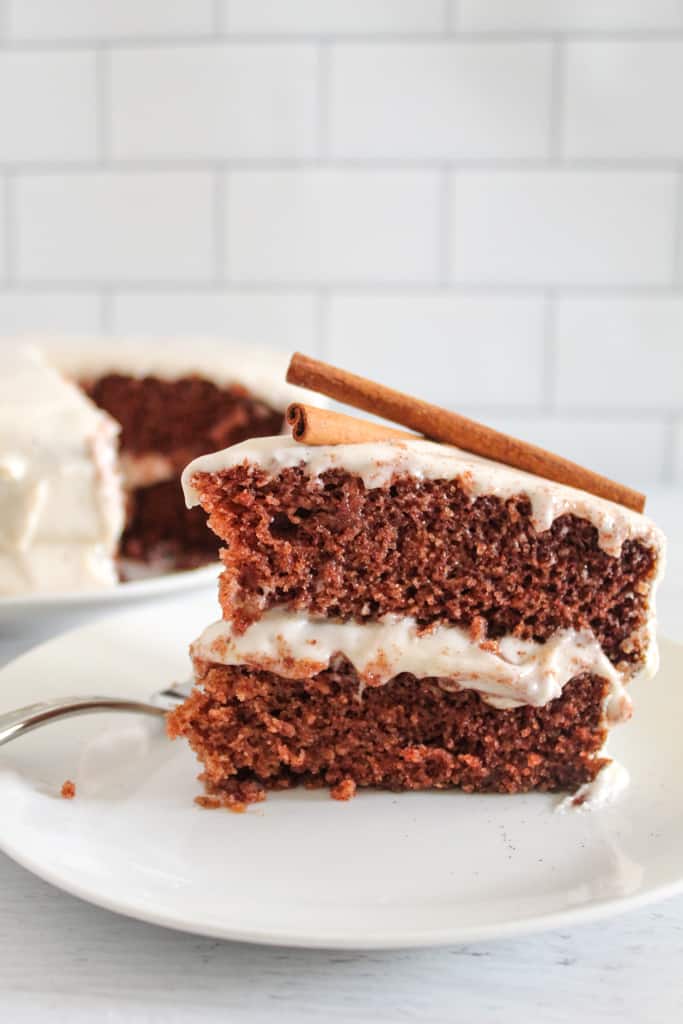 How to make this spice cake
Cake ingredients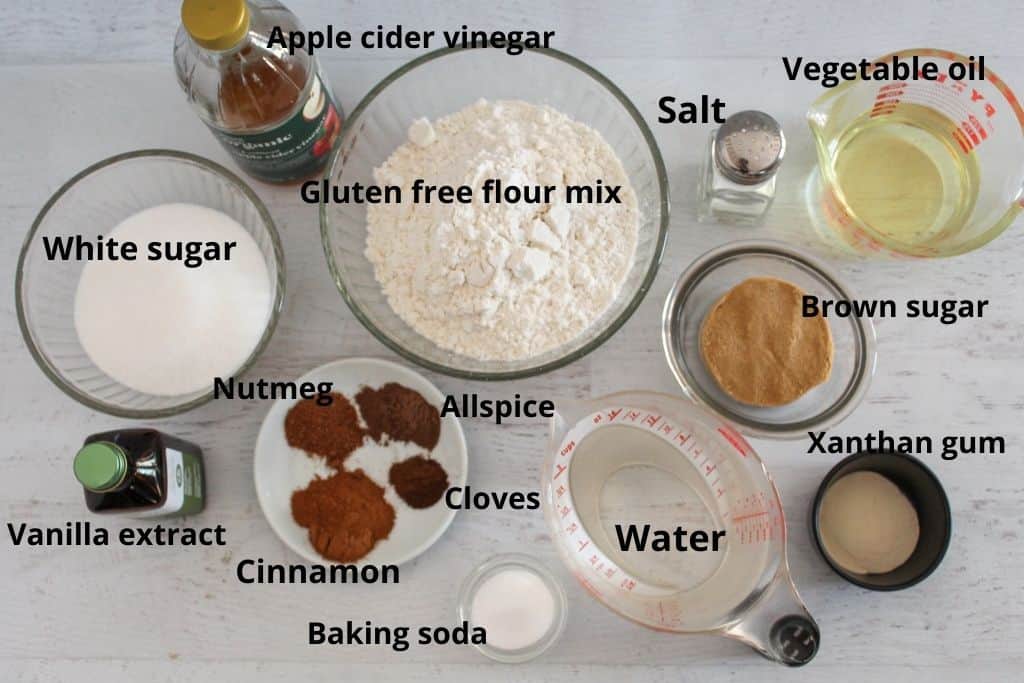 If you're thinking wow, that's a lot of ingredients - it really isn't... the ingredients list is mostly spices so that makes it look longer than it is. Once you measure everything out, it will come together quickly.
Frosting ingredients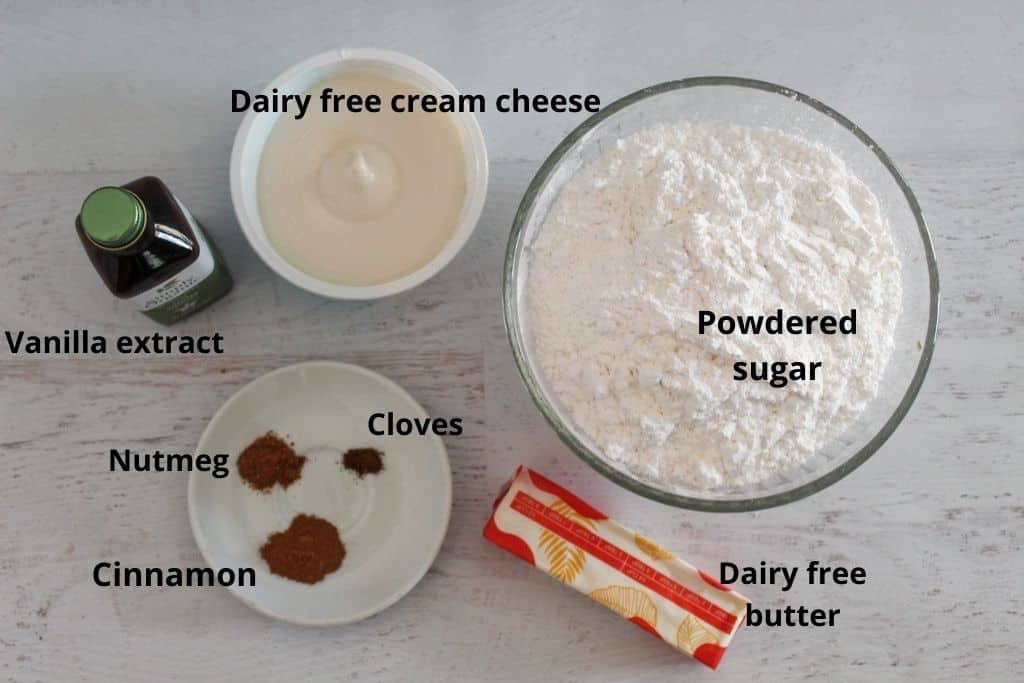 Note about the frosting ingredients: My original recipe doubled the frosting. I would suggest using the portions in the recipe as opposed to what you see in the picture - unless you want to have a lot of frosting on hand!
Mixing the cake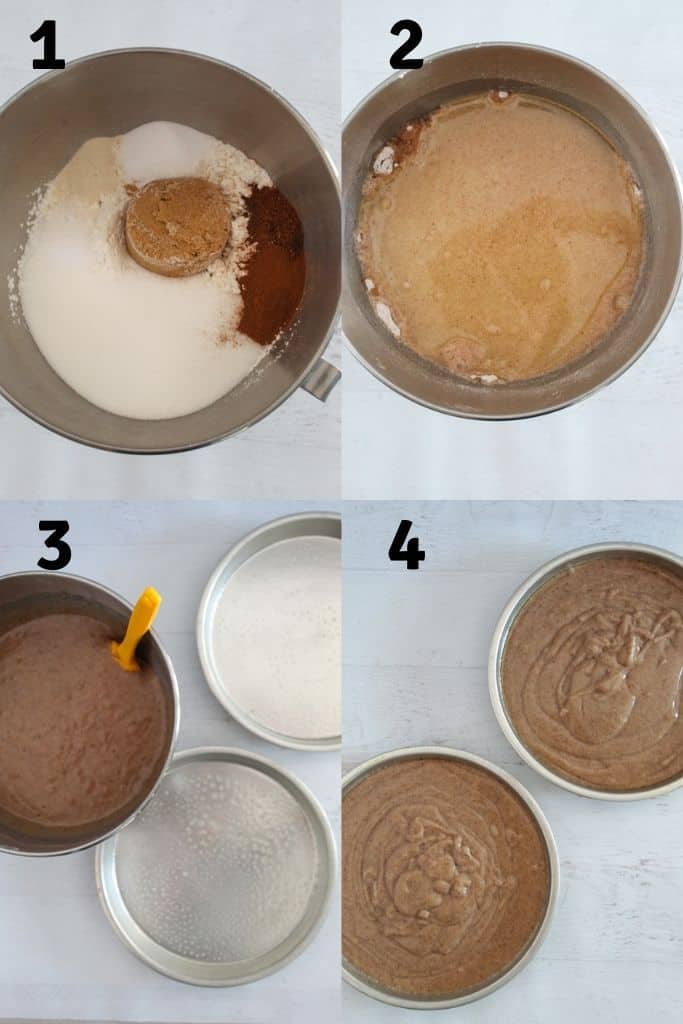 This one bowl recipe just requires, yep, one bowl! Add the dry ingredients to the bowl (image 1) and mix until fully combined. Then add the wet ingredients (image 2) and mix on medium speed for 3 minutes.
Pan prep
Set the batter aside to rest for 30 minutes. Meanwhile get the baking pans ready... Using 8" pan or a 9"x13" baking pan, spray them generously with baking spray (image 3 above). Then take a pinch or two of flour and add it to the pan - toss it back and forth to fully coat the pan.
Portion the cake batter equally into the two pans (image 4 above).
Frosting prep
While the cake is baking, prepare the frosting - mix the butter and cream cheese together in a large bowl. Add the vanilla and beat again. Gradually add the powdered sugar and spices, 1 cup at a time and beat until thoroughly mixed.
Chill until the cake is completely cooled and ready to frost.
Frosting the cake
Here's a helpful tip for frosting this cake: I recommend starting with the cake completely cooled and having the frosting chilled. Then start with the bottom layer and place it on a serving plate. Place a large amount of frosting (about ¾ cup) on the first layer and spread it out (it's easier to just scrape off access than trying to frost a cake with too little frosting).
Then top it with the second cake layer and add another ¾ cup of frosting and smooth it out. To frost the sides, take a butter knife and a good amount of frosting and smear it around the side. Use enough frosting to cover the knife as you can always take frosting off.
Note: If using a 9"x13" pan, just frost the cake in the pan.
Baking tools & ingredients I use and recommend
A lot of times you don't need every tool and latest gadget to make cakes or even this delicious white bread, But certain equipment and tools does make prep and baking a lot easier. I would recommend keeping these tools on hand as they help with your cake prep:
And these ingredients:
FAQ's
Can I make this using another flour mix?
The recipe has not been tested using another brand or mix of flours. So another mix may work, but I can't promise the results will be the same.
Can I make this into cupcakes?
Yes! Instead of the 8" round pans, two 12-cup muffin tins. Fill each cup with batter and bake at the same temperature. Use a toothpick to check for doneness after 20 minutes.
What if my frosting starts tearing the cake as I'm frosting it?
If you find that the frosting is tearing the top off the cake, it just needs to warm up a little. Just leave it sitting at room temperature for about 30 minutes and try again.
What's the best way to store this cake?
This cake stores amazing - in fact it might just be better the next day! Cover it with foil or use a cake keeper and place it in the refrigerator. It's delicious straight out of the refrigerator!
Other recipes you may like!
Recipe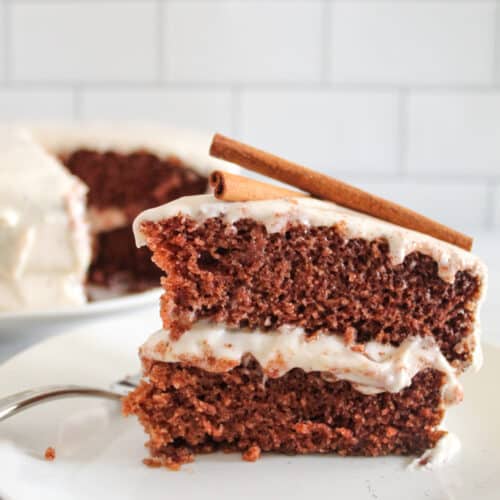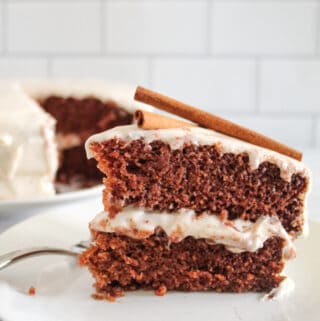 Gluten Free Spice Cake with Dairy Free Cream Cheese Frosting
A delicious, one bowl spice cake that's the perfect way to celebrate Fall!
Print
Pin
Rate
Ingredients
For cake
260

grams

gluten free flour mix

about 3 cups

250

grams

granulated sugar

about 1 ¼ cups

110

grams

brown sugar

about ½ cup

2

teaspoons

baking soda

1

teaspoon

salt

1

teaspoon

xanthan gum

2

teaspoons

ground cinnamon

1

teaspoon

ground nutmeg

1

teaspoon

allspice

½

teaspoon

ground cloves

10

Tablespoons

vegetable oil

about ½ cup plus 2 Tablespoons

2

teaspoons

vanilla extract

2

teaspoons

apple cider vinegar

2

cups

water
For frosting
8

ounces

dairy free cream cheese

softened

¼

cup

dairy free butter

softened

1

teaspoon

vanilla extract

¼

teaspoon

ground cinnamon

¼

teaspoon

nutmeg

⅛

teaspoon

ground cloves

468

grams

powdered sugar

about 4 cups
Instructions
For cake
In the bowl of a stand mixer, add the gluten free flour mix, white sugar, brown sugar, baking soda, salt, xanthan gum, cinnamon, nutmeg, cloves and allspice. Mix until combined.

Add the oil, vanilla extract, apple cider vinegar and water. Mix on low speed for 30 seconds, stop machine and scrape down the batter. Turn mixer on to medium and mix for 3 minutes until fully combined.

Set batter side to rest for 30 minutes.

Prepare baking pans by spraying 8" round cake pans with cooking spray. Toss a pinch or two of flour mix in each pan and toss to coat each pan.

Divide batter into pans and bake for 30 minutes or until toothpick comes out clean.
For frosting
In a large bowl, mix cream cheese and butter on medium speed for 30 seconds to combine.

Add spices and 1 cup of powdered sugar and mix for 30 more seconds. Scrape bowl down.

Continue adding powdered sugar, one cup at a time and mix thoroughly.

Chill frosting for 30 minutes. Then frost cake.
Notes
Use room temperature ingredients.
Let batter rest for 30 minutes before baking. 
Cake may be made in a 9" x 13" sheet cake - bake for 35 minutes and test for doneness.
For best results, chill frosting for 30 minutes before using.
Nutrition
Calories:
525
kcal
|
Carbohydrates:
85
g
|
Protein:
3
g
|
Fat:
21
g
|
Saturated Fat:
12
g
|
Polyunsaturated Fat:
1
g
|
Monounsaturated Fat:
3
g
|
Trans Fat:
1
g
|
Sodium:
492
mg
|
Potassium:
22
mg
|
Fiber:
4
g
|
Sugar:
69
g
|
Vitamin A:
2
IU
|
Vitamin C:
1
mg
|
Calcium:
41
mg
|
Iron:
1
mg