Updated 11/13/2018
This easy gluten free cornbread dressing is a must for your Thanksgiving table. It doesn't get any easier than sauteed onions and celery, herbs, seasonings and chicken broth all mixed together with day old corn bread. It's a true classic that'll become a family favorite!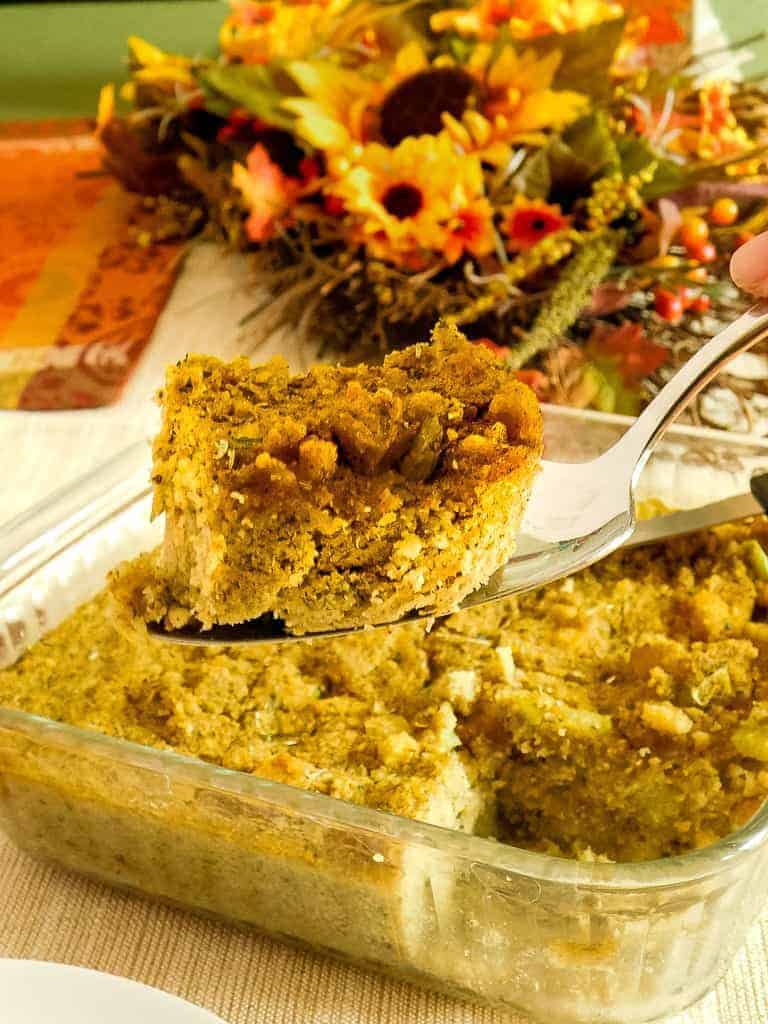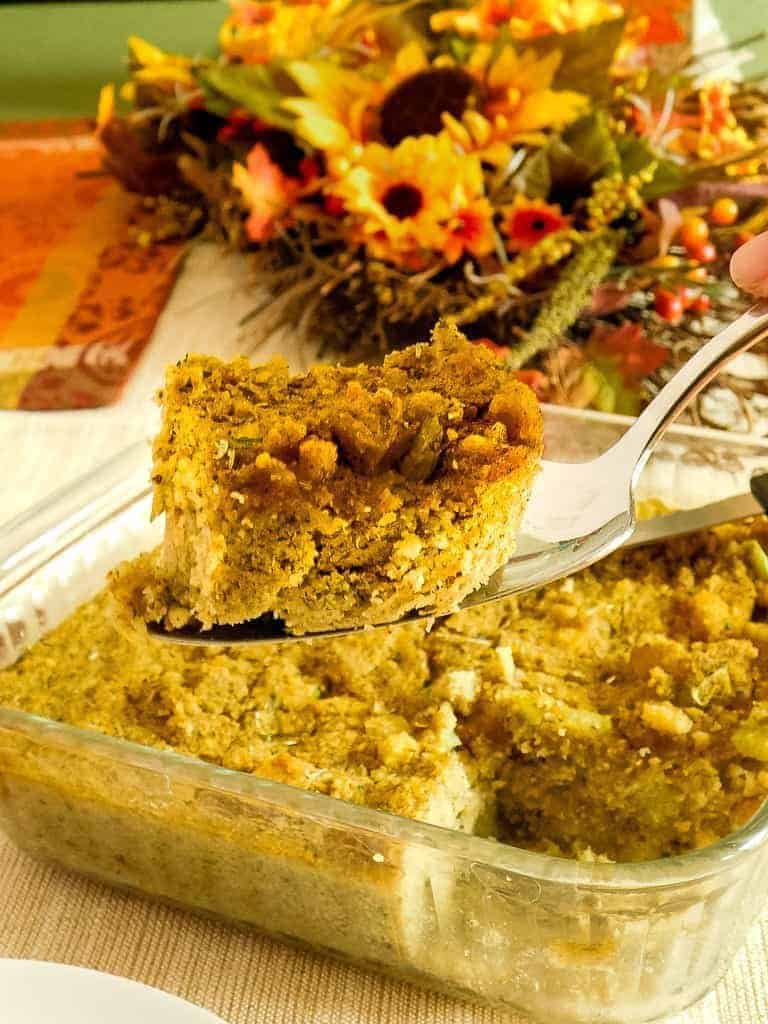 This gluten free cornbread dressing is a show stopper - from the easy prep (one bowl mix!) to the perfectly tender consistency, you'll never look at cornbread dressing recipes the same way again. This one will spoil you!
How to make the perfect gluten free cornbread dressing
Day-old Cornbread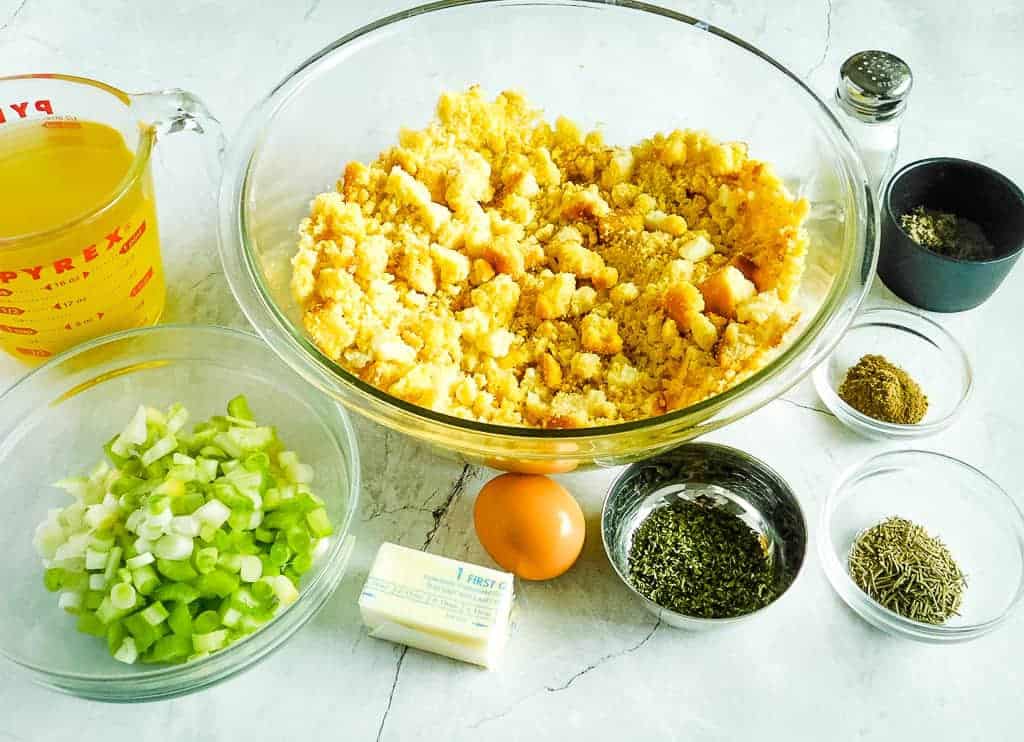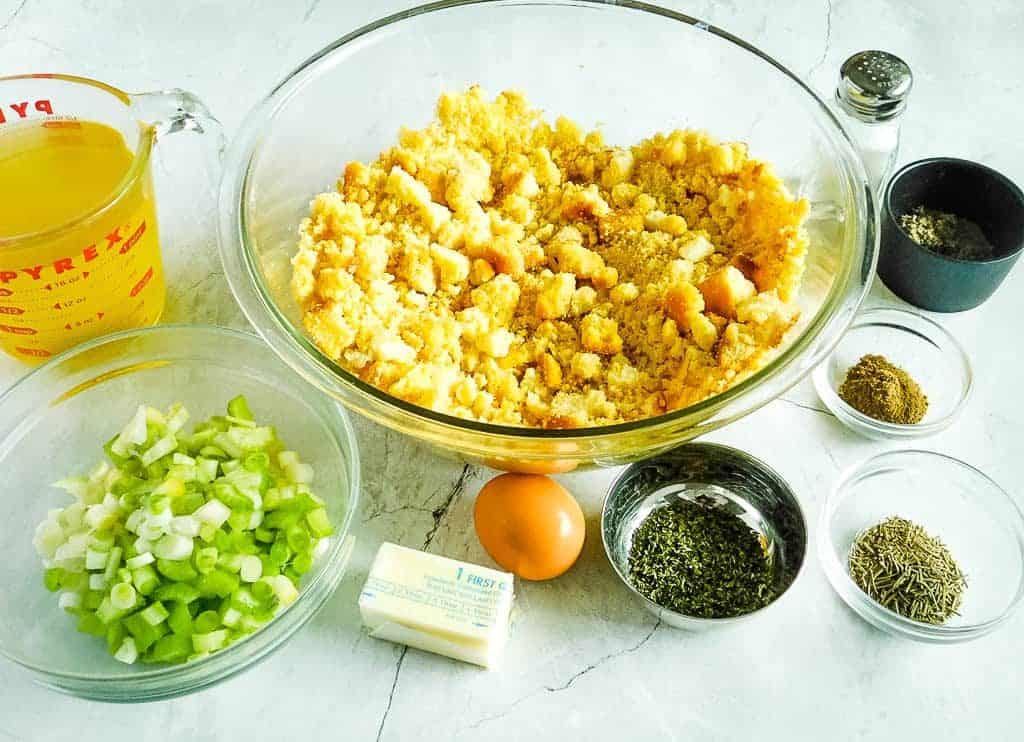 For the best cornbread dressing, start with good gluten free cornbread. Make this gluten free cornbread recipe at least a day before making the dressing. Even making it a month before and freezing it works really well too. The idea is that you want the cornbread to be firm enough to hold its shape and not get mushy when liquid is added.
Cornbread Crumbs
Crushing the cornbread is a fun part, but easy to get carried away with too! The consistency should be more like large pieces, rather than fine crumbs. In fact if the cornbread is too mushed, it will get dense. Aim for chunks, not crumbs.
Sauteing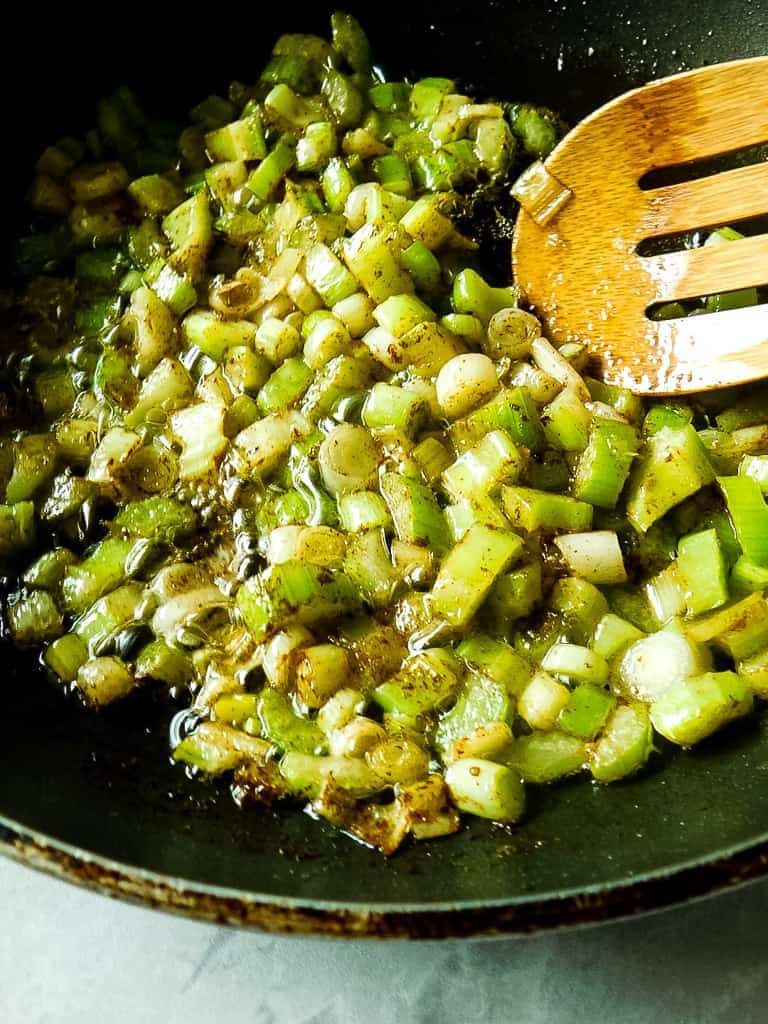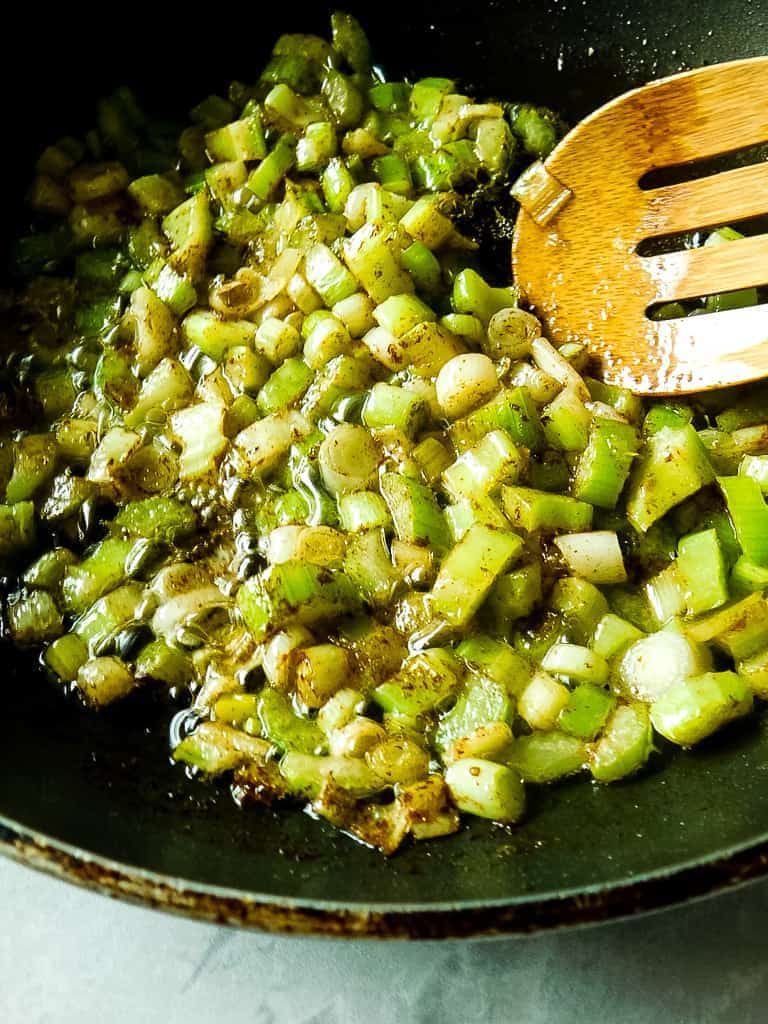 Some recipes call for boiling the veggies, but I've found sauteing them really punches up the flavor. There's just something about carmelized onions and celery that can't be beat.
The Broth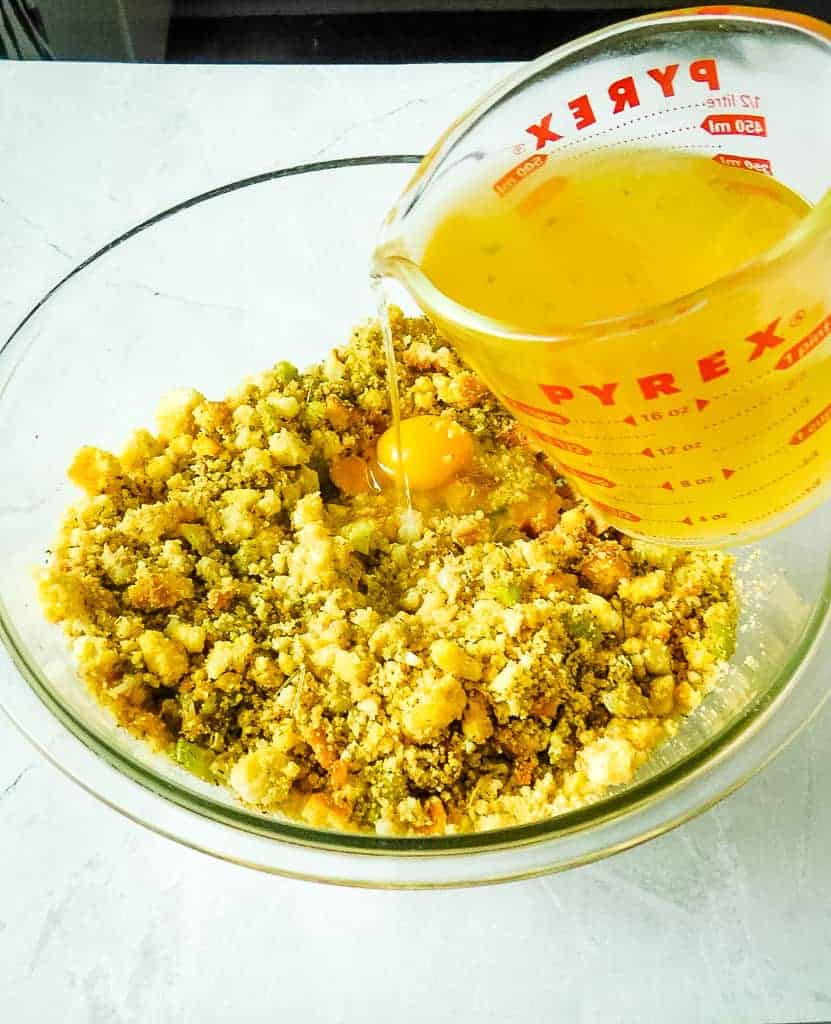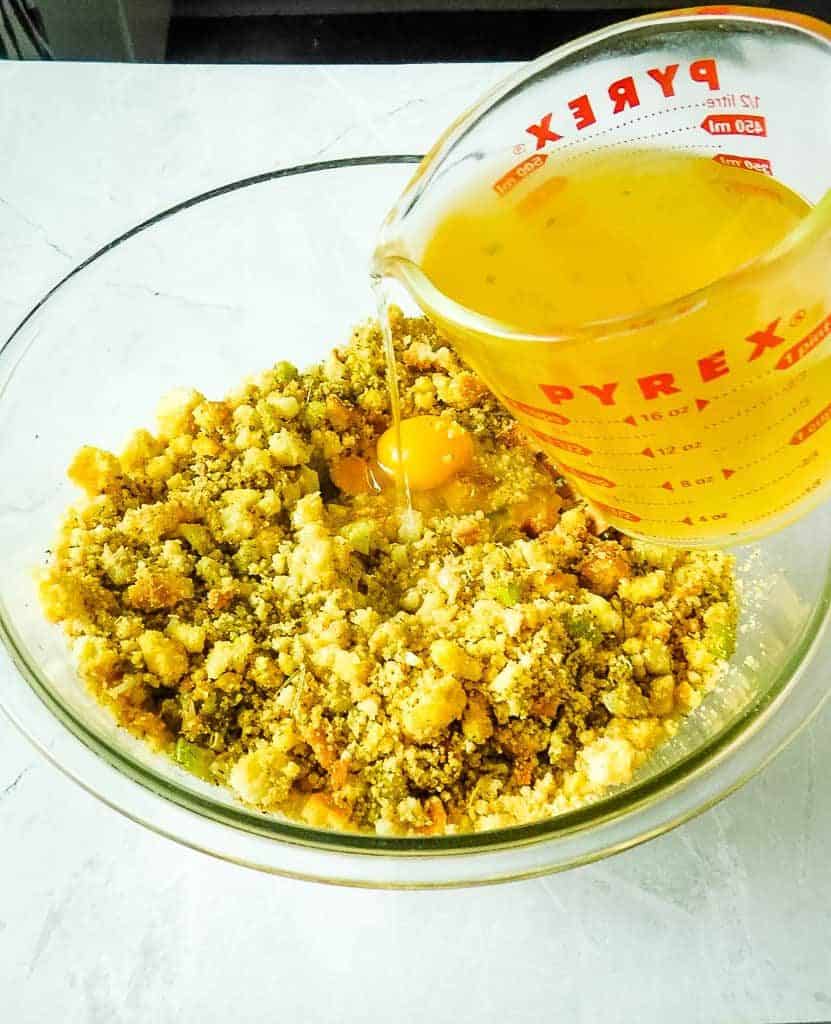 It's tempting to add liquid so that it is still fluffy and not soaked. The trick is to add some, wait a few minutes for it to absorb, then add more. Waiting until it absorbs is key.
Expert tip: It should be very wet, almost soupy.

Done-ness
Cornbread dressing looks very similar unbaked as it does when it's baked. But you'll know it's done when there's a little 'crust' on the top. Not a real tough crust, but the knife should act as through you're cutting into something with a slight crust.
The recipe is so easy and so tasty, it'll be of of your favorite parts of the holidays!
[box type="note" fontsize="15" radius="10"]If you make this Easy Gluten Free Cornbread Dressing, tag me on Instagram @gluten_free_bread and use the hashtag #glutenfreebread[/box]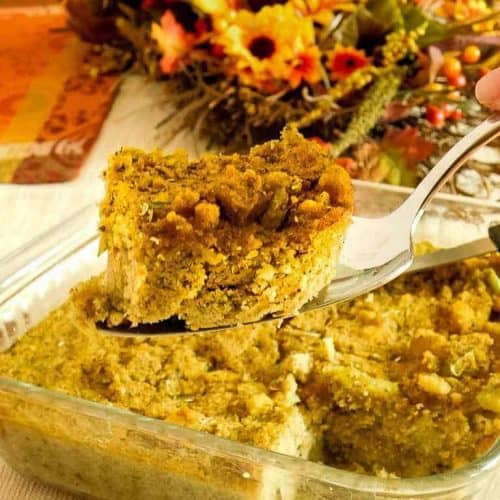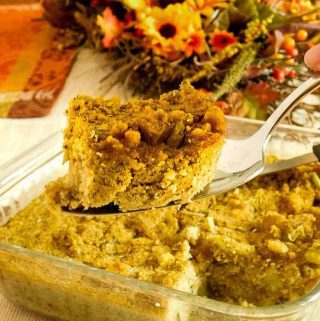 Easy Gluten Free Cornbread Dressing
A tender and deliciously seasoned gluten free cornbread dressing recipe that is so easy and so good, no one will even know it's gluten free!
Print
Pin
Rate
Ingredients
Prepare the cornbread using this recipe for the best gluten free cornbread. Cover and let it sit for at least 1 day.
For the dressing
4

Tbls.

butter

½

cup

diced celery

½

cup

diced onions

2

tsp

dried rosemary

2

tsp

dried sage

2

tsp

dried parsley

2

tsp.

poultry seasoning

½

tsp

salt

1

egg

slightly beaten

2 to 2 ½

cups

chicken or turkey broth
Instructions
Prepare the cornbread using this recipe for the best gluten free cornbread. Cover and let it sit for at least 1 day.

Preheat your oven to 350 F. Grease an 8 x 8 glass baking dish with butter or spray with cooking spray. Set aside.

Dice the pan of cornbread into small chucks and add the chunks to a large plastic bag. Crumble the cornbread into a mix of crumbs – it's ok if there are some bigger pieces.

Set the bag aside.

Heat a large sauté pan over medium heat. Melt the butter in the pan and add the onions and celery. Cook until the onions are softened and translucent, about 5 minutes.

Remove from heat and let cool slightly.

In a large bowl, add the cornbread crumbles, seasonings, salt and the onion mixture. Combine until mixed.

Add in the egg and 1 cup of the chicken broth. Mix well and let stand for 1 -2 minutes, until the mixture has absorbed the broth.

Mix in another 1 cup of broth and let the mixture sit for another 1 – 2 minutes.

If needed, add the last ½ cup of broth. The mixture should look very wet and a bit soupy.

Mix well.

Place the dressing mixture into the prepared baking dish.

Bake for about 40 minutes or until it's golden brown on top. Start checking at 35 minutes.

A knife inserted in the top should feel slightly crusty.

Serve immediately or let cool and freeze until needed.
Notes
Use day old cornbread - this cornbread recipe is perfect
Crumble, but don't mash the cornbread
Saute the veggies for the best flavor
The mixture will look more like soup than cornbread dressing
Nutrition
Calories:
93
kcal
|
Carbohydrates:
4
g
|
Protein:
4
g
|
Fat:
8
g
|
Saturated Fat:
4
g
|
Cholesterol:
36
mg
|
Sodium:
252
mg
|
Potassium:
161
mg
|
Fiber:
1
g
|
Sugar:
1
g
|
Vitamin A:
295
IU
|
Vitamin C:
1.4
mg
|
Calcium:
35
mg
|
Iron:
1
mg