This easy gluten free cornbread stuffing is a must for your Thanksgiving table. It doesn't get any easier than sauteed onions and celery, herbs, seasonings and chicken broth all mixed together with day old corn bread. It's a true classic that'll become a family favorite!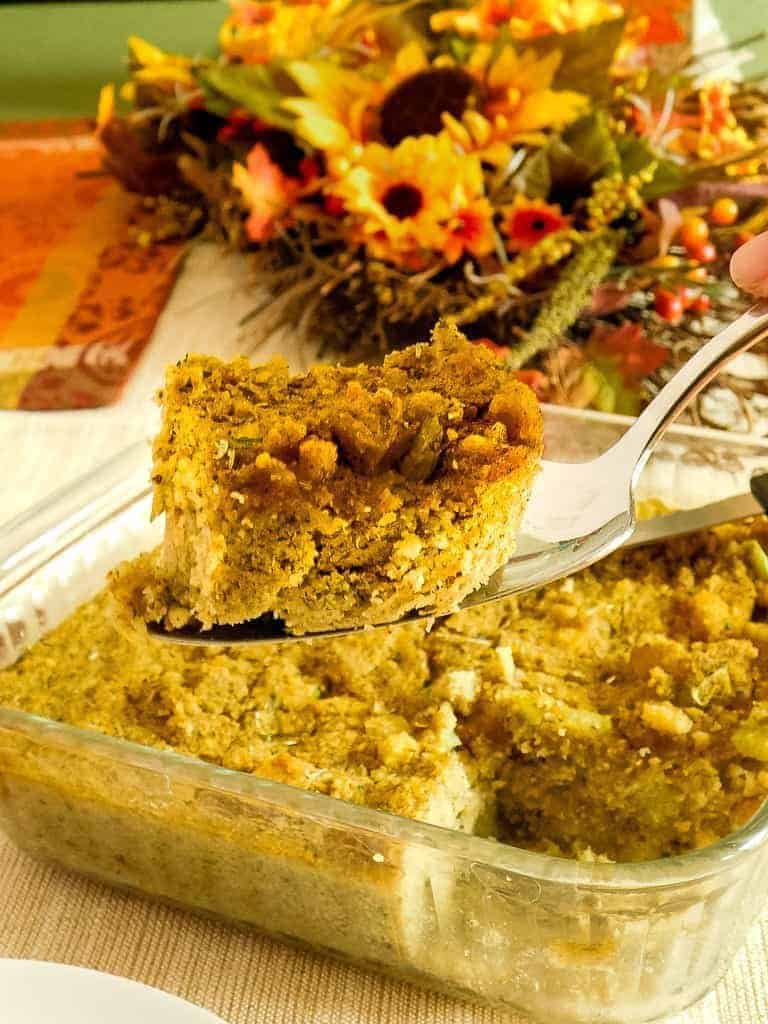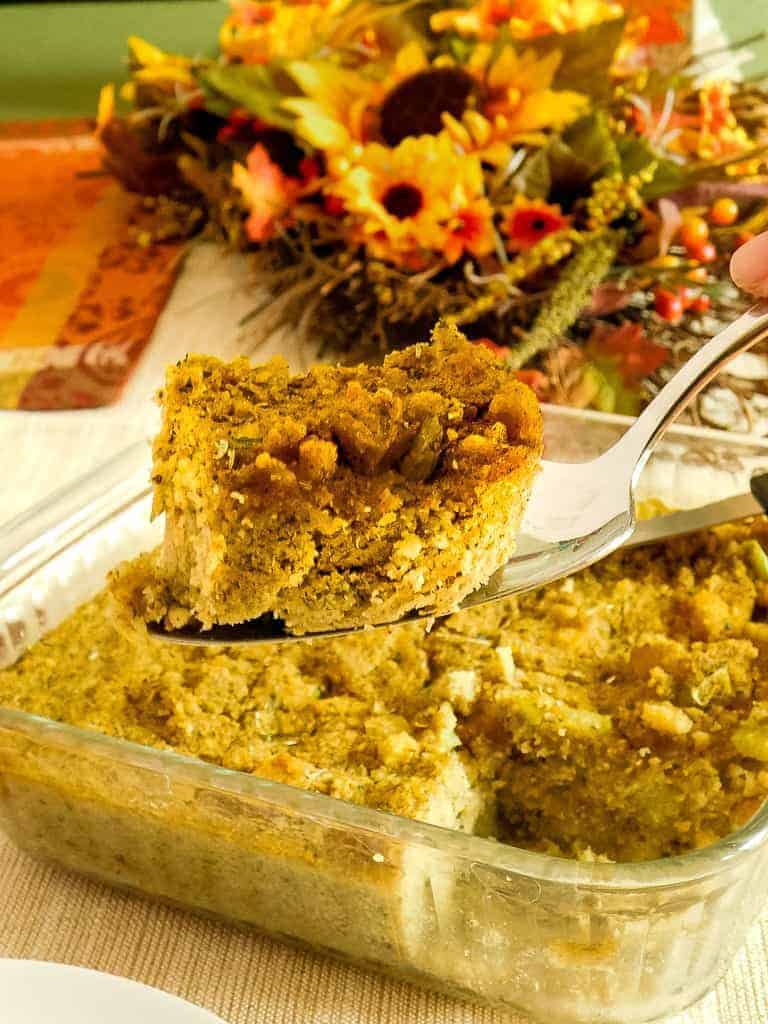 This post contains affiliate links. Affiliate links support Zest For Baking at no additional cost to you. I receive a commission if you choose to make a purchase through these links.
And did I mention it's a show stopper?! From the easy prep (one bowl mix!) to the perfectly tender consistency, you'll never look at cornbread stuffing recipes the same way again. This one will spoil you! (Making this for the holidays?! Be sure to check out our holiday eCookbook!)
Why this recipe is the best!
I mentioned how this is a one bowl prep, but this recipe is the perfect side dish for so many reasons...
It's dairy free
It's great for both baking as-is and stuffing the turkey
It's easy for kids to help prep
It's perfectly seasoned
Overall it's a mouthwatering stuffing that's as easy as the boxed mix only tastes better!
Pro tips for making stuffing
Chop or crumble the cornbread
There are a couple options for prep for the bread with this recipe. The first option is slicing it... Once you have the cornbread baked and cooled, you can slice it up into small ½ inch pieces and then lay it out to dry out. This is the same idea used in this French toast casserole recipe.
The second option is to just crumble it into large pieces. Either way works great and tastes the same. Just avoid mashing it into small pieces.
Use the right amount of cornbread
If you've ever experienced a homemade stuffing that's just a bit too dry, it's likely because there is either too much bread or not enough liquid. That's why it's important to use the right amount of cornbread here - 5 cups of dried out cornbread is the perfect amount for this recipe.
Chop the celery and onion to small pieces
You want a texture that doesn't leave big pieces of celery & onion. Not too fine but not coarse either. The vegetables are there to offer a bit of firm texture, not be a piece you have to bite into.
How to make the perfect gluten free cornbread stuffing
1. Ingredients & substitutions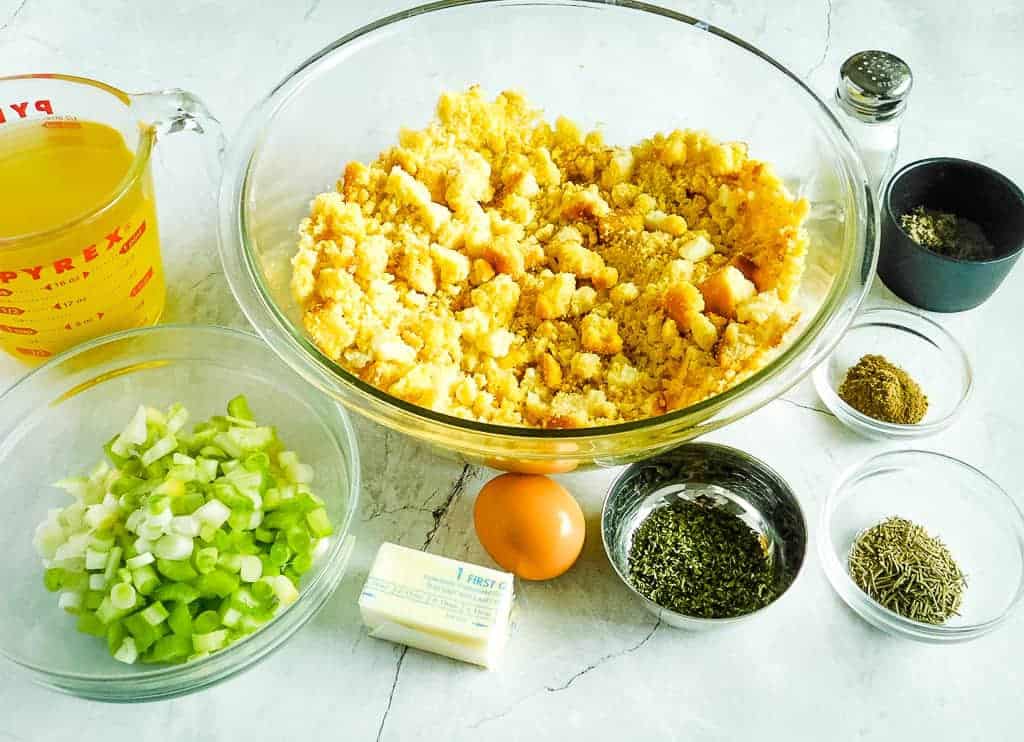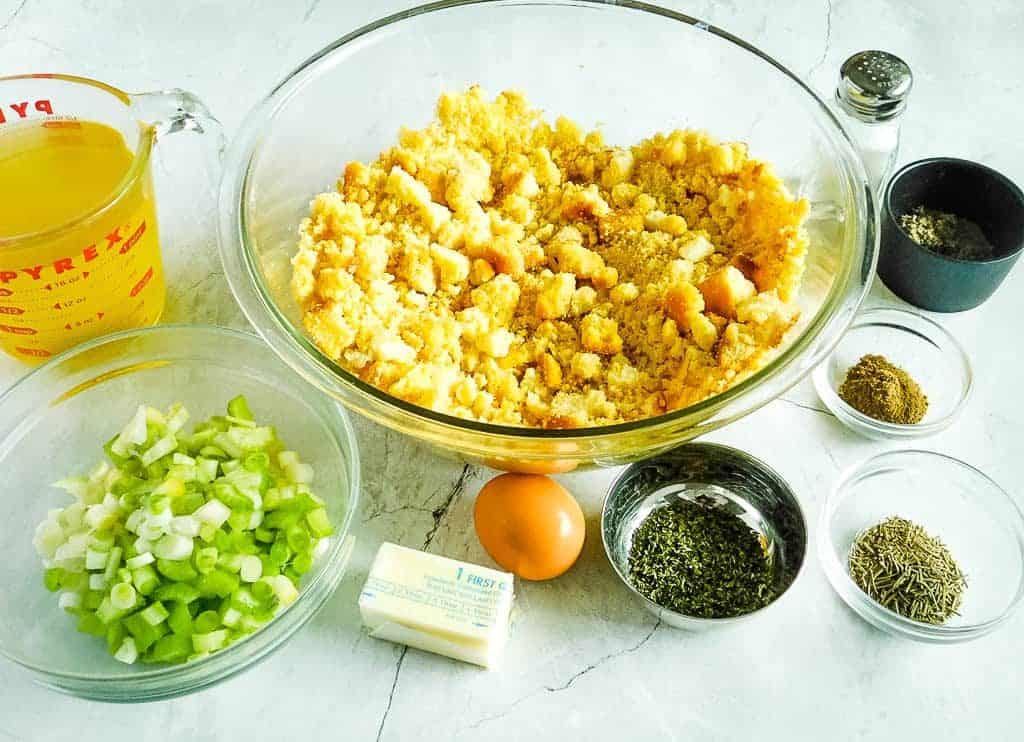 Here are the short list of ingredients you'll need and since I get asked about substitutions a lot, I'll list what would work as an alternative...
For the best stuffing, start with good gluten free cornbread. Make this gluten free cornbread recipe at least a day before making the dressing. Even making it a month before and freezing it works really well too. The idea is that you want the cornbread to be firm enough to hold its shape and not get mushy when liquid is added.
Vegan butter - I used Country Crock plant based butter sticks in the recipe but if you want to substitute this, Earth Balance would be a good option. Coconut oil would be a distance second since it doesn't have the same buttery flavor as the Country Crock does.
Celery & onion - Fresh celery and onions are essential here. Unfortunately there is no good substitute and I wouldn't recommend omitting them.
Egg - I used a large, organic egg here. If you absolutely need to substitute the egg, just something like JUST egg. It will still offer the same liquid consistency which is what we are going for with the egg.
Seasonings - The seasonings are what make stuffing, well stuffing! I would not recommend omitting or substituting any of them. You can decrease the salt however - it will not be a huge change to the flavor.
Chicken broth - I used Swanson low sodium chicken broth in this recipe. I highly recommend a good quality broth as the flavor is very high profile.
2. Sauteeing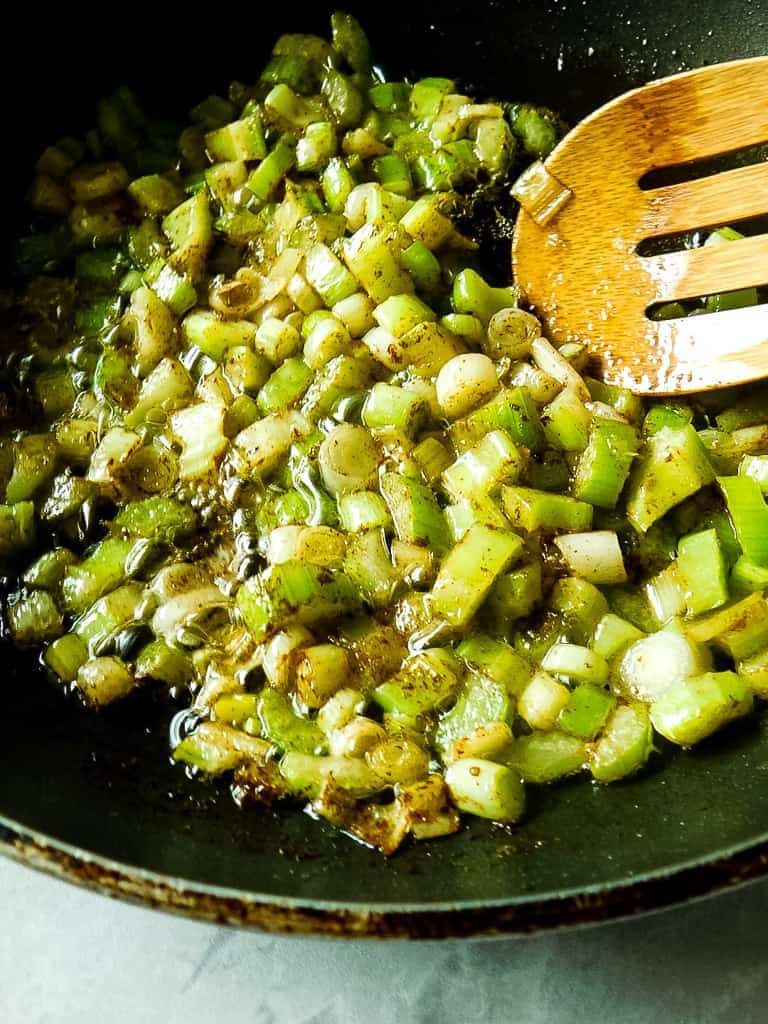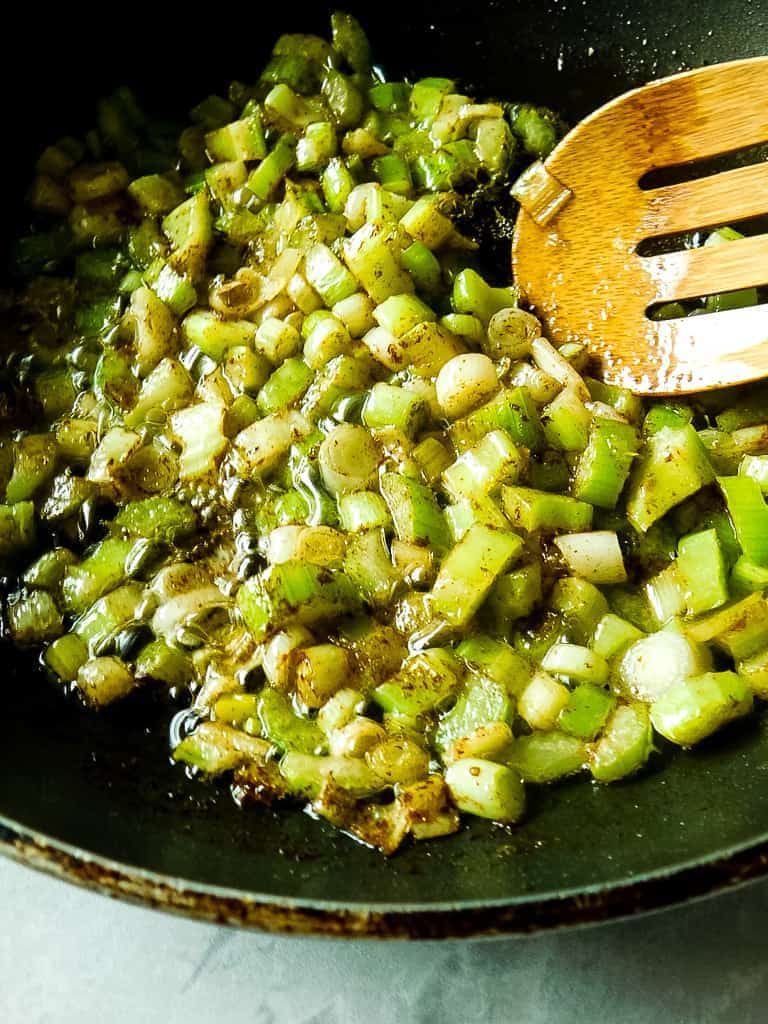 Some recipes call for boiling the veggies, but I've found sauteing them really punches up the flavor. There's just something about carmelized onions and celery that can't be beat.
3. Broth
It's tempting to add liquid so that it is still fluffy and not soaked. The trick is to add some, wait a few minutes for it to absorb, then add more. Waiting until it absorbs is key.
Expert tip: It should be very wet, almost soupy.
4. Done-ness
Cornbread dressing looks very similar unbaked as it does when it's baked. But you'll know it's done when there's a little 'crust' on the top. Not a real tough crust, but the knife should act as through you're cutting into something with a slight crust.
The recipe is so easy and so tasty, it'll be of of your favorite parts of the holidays!
FAQ's about this recipe
Can I use storebought bread?
You can yes, just make sure you have the same amount - 5 cups.
Can I use a cornbread mix?
Yes absolutely!
Can I make this ahead of time?
Yes, so this stuffing can be baked and cooled completely then frozen for longer storage.
What's the best way to store leftover stuffing?
The best and easiest way to store leftovers is to store them in a plastic container. Use a tight fitting lid and place it in the refrigerator for up to 3 days.
Other recipes you may like!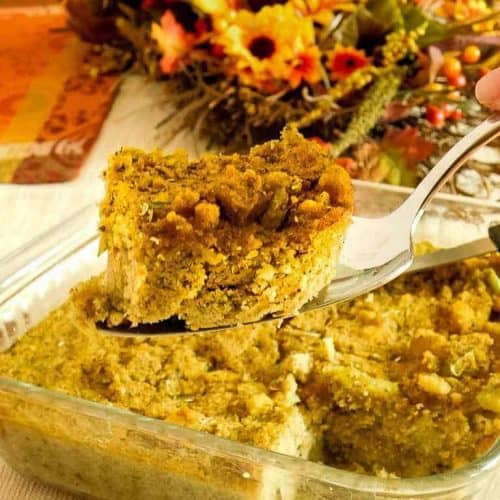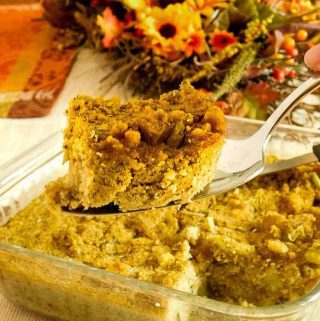 Easy Gluten Free Cornbread Stuffing
A tender and deliciously seasoned gluten free cornbread stuffing recipe that is so easy and so good, no one will even know it's gluten free!
Print
Pin
Rate
Ingredients
For the stuffing
4

Tablespoons

vegan butter

½

cup

diced celery

½

cup

diced onions

2

teaspoons

dried rosemary

2

teaspoons

dried sage

2

teaspoons

dried parsley

2

teaspoons

poultry seasoning

½

teaspoon

salt

1

egg

slightly beaten

2 to 2 ½

cups

chicken or turkey broth
Instructions
Prepare the cornbread, bake and let cool. Crumble or slice. Cover and let it sit for at least 1 day.

Preheat your oven to 350 F. Grease an 8" x 8" glass baking dish with butter or spray with cooking spray. Set aside.

Heat a large sauté pan over medium heat. Melt the butter in the pan and add the onions and celery. Cook until the onions are softened and translucent, about 5 minutes.

Remove from heat and let cool slightly.

In a large bowl, add the cornbread crumbles, seasonings, salt and the onion mixture. Combine until mixed.

Add in the egg and 1 cup of the chicken broth. Mix well and let stand for 1 -2 minutes, until the mixture has absorbed the broth.

Mix in another 1 cup of broth and let the mixture sit for another 1 – 2 minutes.

If needed, add the last ½ cup of broth. The mixture should look very wet and a bit soupy.

Place the stuffing mixture into the prepared baking dish.

Bake for about 40 minutes or until it's golden brown on top. Start checking at 35 minutes.

A knife inserted in the top should feel slightly crusty.

Serve immediately or let cool and freeze until needed.
Notes
Use day old cornbread - this cornbread recipe is perfect
Crumble or slice, but don't mash the cornbread
Saute the veggies for the best flavor
Before baking the mixture will look more like soup than cornbread stuffing
Nutrition
Calories:
60
kcal
|
Carbohydrates:
2
g
|
Protein:
2
g
|
Fat:
5
g
|
Saturated Fat:
1
g
|
Polyunsaturated Fat:
1
g
|
Monounsaturated Fat:
2
g
|
Trans Fat:
1
g
|
Cholesterol:
18
mg
|
Sodium:
202
mg
|
Potassium:
97
mg
|
Fiber:
1
g
|
Sugar:
1
g
|
Vitamin A:
304
IU
|
Vitamin C:
1
mg
|
Calcium:
15
mg
|
Iron:
1
mg