What makes this gluten free cornbread recipe the best? With simple ingredients and easy prep, this old fashioned, gluten free cornbread comes together in no time! You'll have everyone asking you how you made such a delicious, golden brown cornbread (and they won't even know it's gluten free!).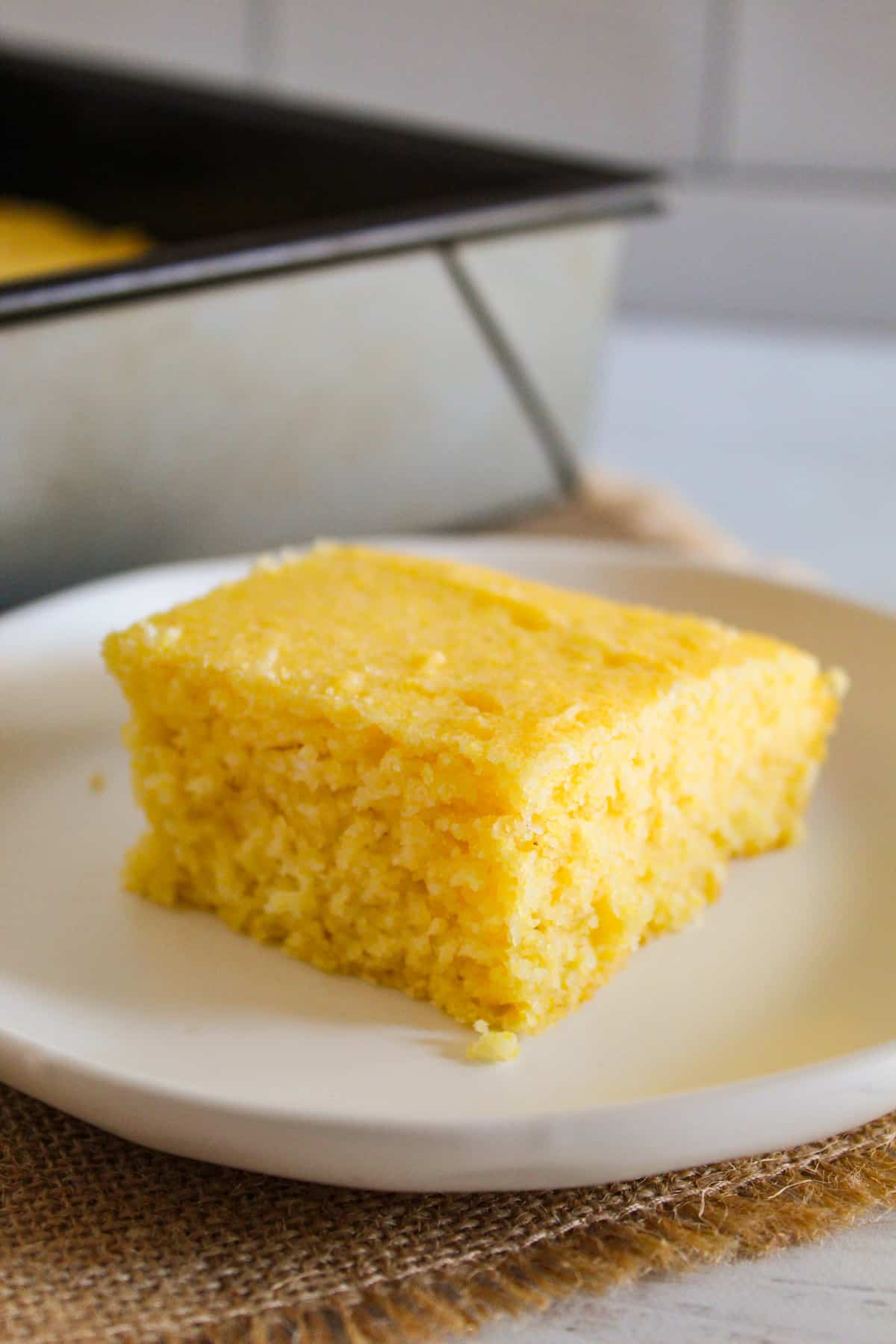 Southern-style cornbread might just be the best quick bread around. Well, maybe it's not the best, but it's right up there with these almond flour biscuits and garlic bread for sure! It's light and makes the perfect side dish as it goes with just about every meal too. And with dairy-free milk, this easy gluten-free cornbread recipe is yet another tasty dairy-free option. Once again, it just goes to show that being gluten free and/or dairy free shouldn't limit you from enjoying delicious food!
Looking for more gluten free bread? Check out this focaccia bread, this French bread, and these sourdough bread rolls.
Jump to:
Best Gluten-Free Cornbread Recipe at a Glance
Searching for a delicious homemade cornbread recipe can be frustrating. If you opt for a gluten-free cornbread mix, they're often dry and dull or full of all kinds of preservatives that the actual amount of corn meal is so small it hardly qualifies as cornbread!
This easy gf cornbread recipe is hands down the best ever because it features a good amount of cornmeal and just a small amount of sugar for a slightly sweet cornbread. Here are a few more reasons you'll love this cornbread:
This classic, old fashioned cornbread is easy to prep and bake.
It's fluffy in the middle and not overly sweet (go on and add that honey butter!).
This recipe comes together in about an hour.
It has the best texture of grainy and tender crumb.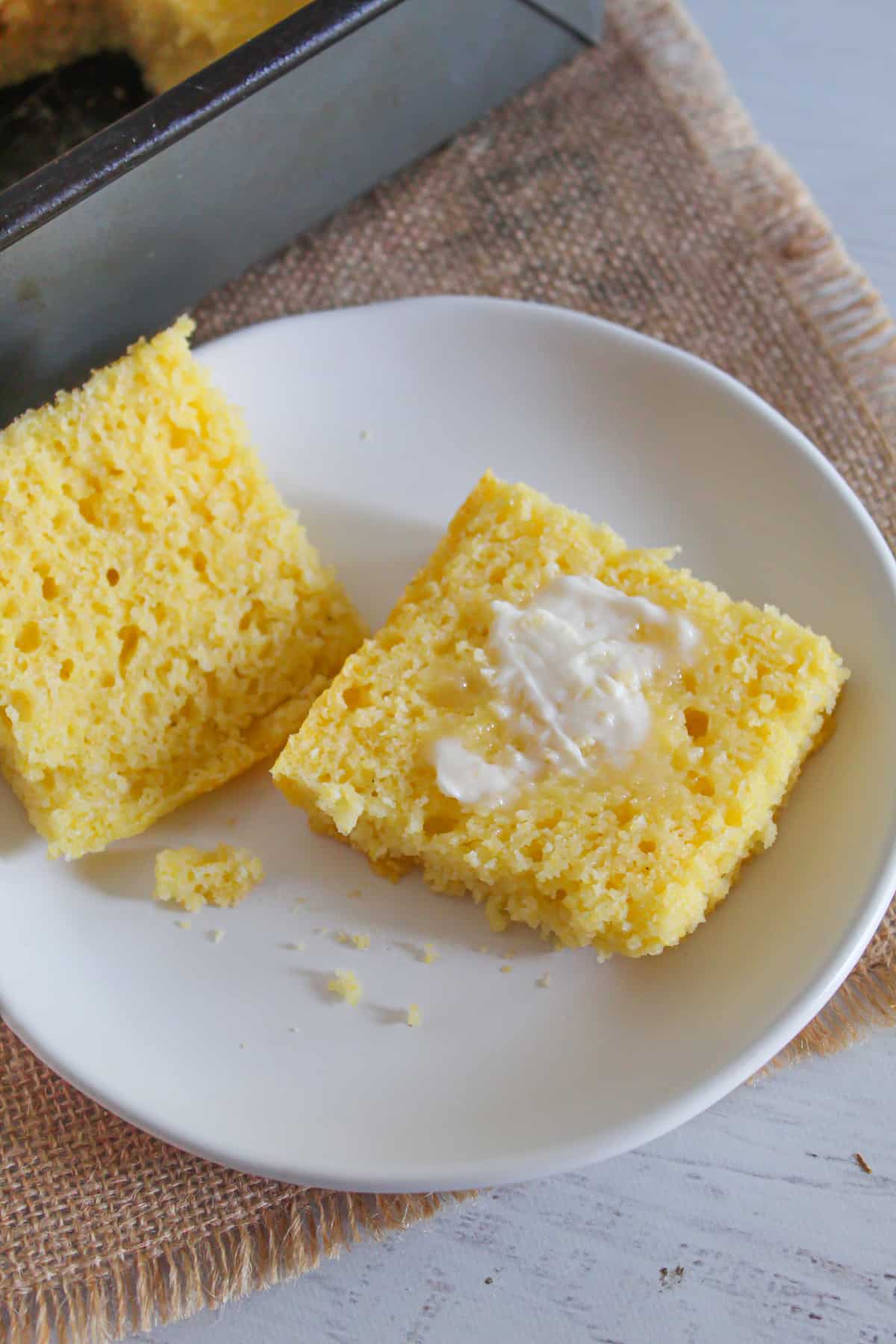 Is Cornmeal Gluten-Free?
Cornmeal is a coarse powder made from corn, so it is safe for those with celiac disease or on a gluten-free diet as it doesn't contain any gluten. It is important to make sure you get cornmeal that is certified gluten free, because this ensures there was no possibility of cross-contamination in the facility it was processed in.
Ingredients & Substitutions in this Easy Gluten-Free Cornbread Recipe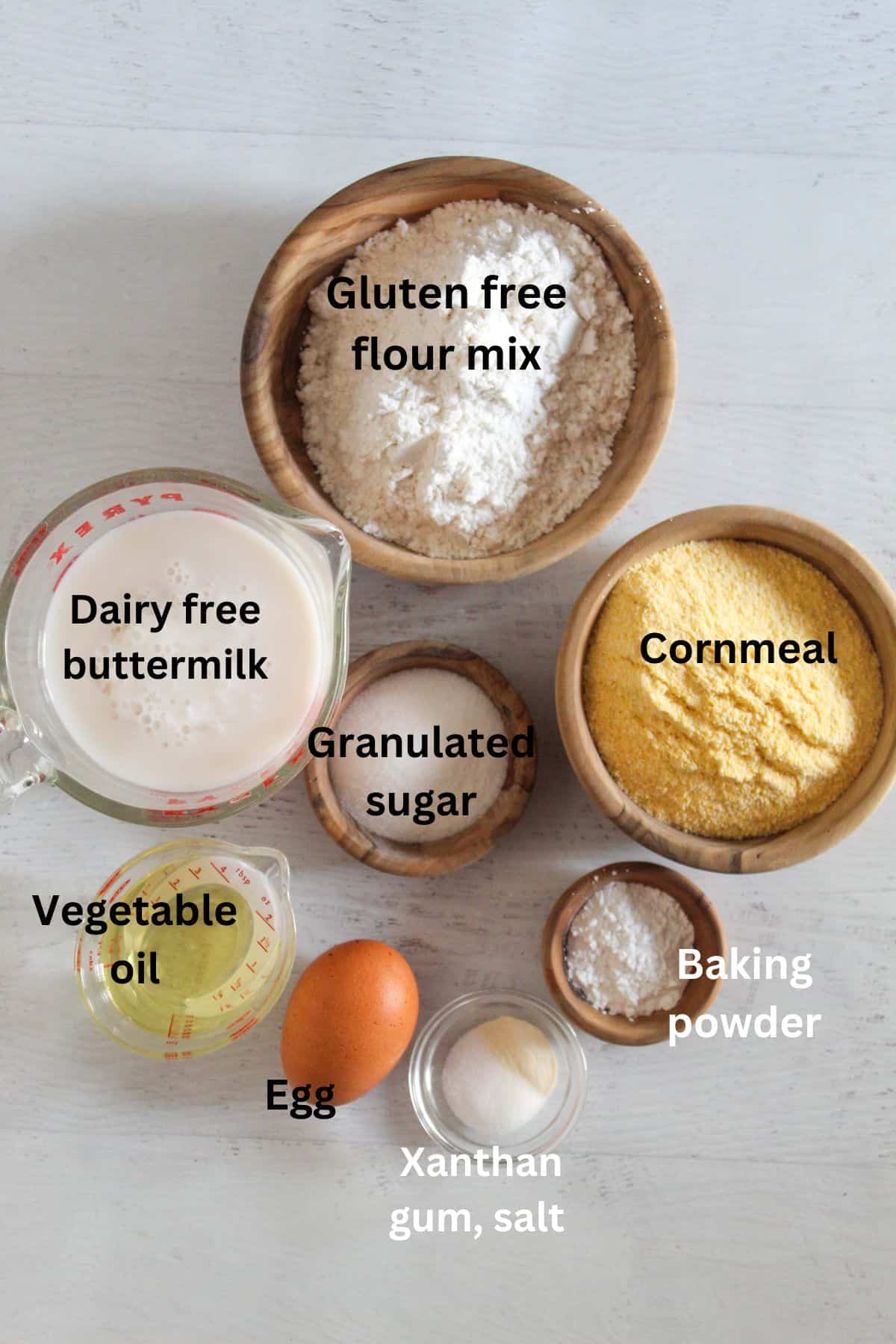 Gluten-Free Flour Blend - This gluten free flour mix was used in this recipe. Other brands, like Bob's Red Mill or King Arthur may work but haven't been tested.
Cornmeal - Yellow cornmeal was used in the recipe. There is no substitute for the cornmeal.
Granulated Sugar - The sugar can be cut down or substituted with Swerve sweetener, but it will change the taste slightly. The sugar does not make this overly sweet gluten-free cornbread, it's just enough.
Xanthan Gum - You need a binder in this recipe. If you don't want to use xanthan gum, use an alternative for the xanthan gum. You do not need to add more if your all purpose gluten-free flour mix already contains it.
Baking Powder - There is no substitute for the baking powder, however you can make your own baking powder if needed.
Salt - The salt can be reduced or omitted if you are following a low salt diet.
Buttermilk - The recipe uses buttermilk made with unsweetened almond milk and vinegar. Sour cream may also be used in place of the buttermilk. Coconut milk or any dairy free-milk can also be used. Feel free to use regular milk as well.
Vegetable Oil - Canola oil, melted coconut oil or melted vegan butter (or regular melted butter) may be used for the vegetable oil. A lighter oil like olive oil has not been tested.
Egg - The egg can be substituted with an egg substitute like a flax egg or chia egg.
Measurements for each ingredient, along with instructions for making the bread are in the recipe card below.
How to Make Dairy Free Buttermilk
The buttermilk I use in this recipe is actually almond milk mixed with a souring agent (distilled white vinegar or lemon juice). These two make for excellent and easy buttermilk! To make it, pour 2 tablespoons of white vinegar into a 1 cup measuring cup and fill the rest of the cup with unsweetened almond milk. No need to stir, just set it aside for 5 minutes to 'sour'. Then it's good to go!
How to Make This Gluten-Free Cornbread Recipe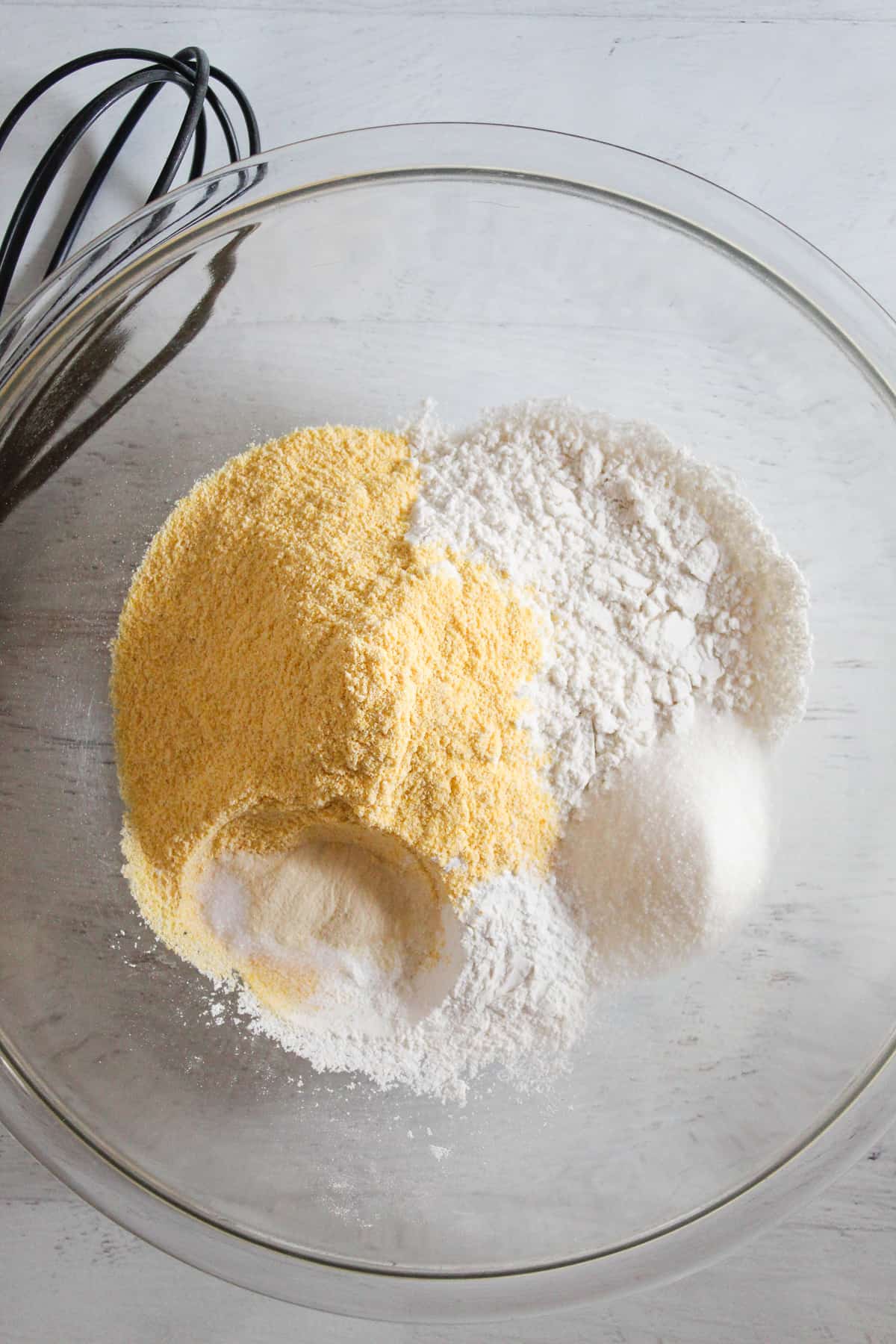 Step 1: Whisk together the dry ingredients: flour mix, cornmeal, sugar, xanthan gum, baking powder and salt in a large bowl.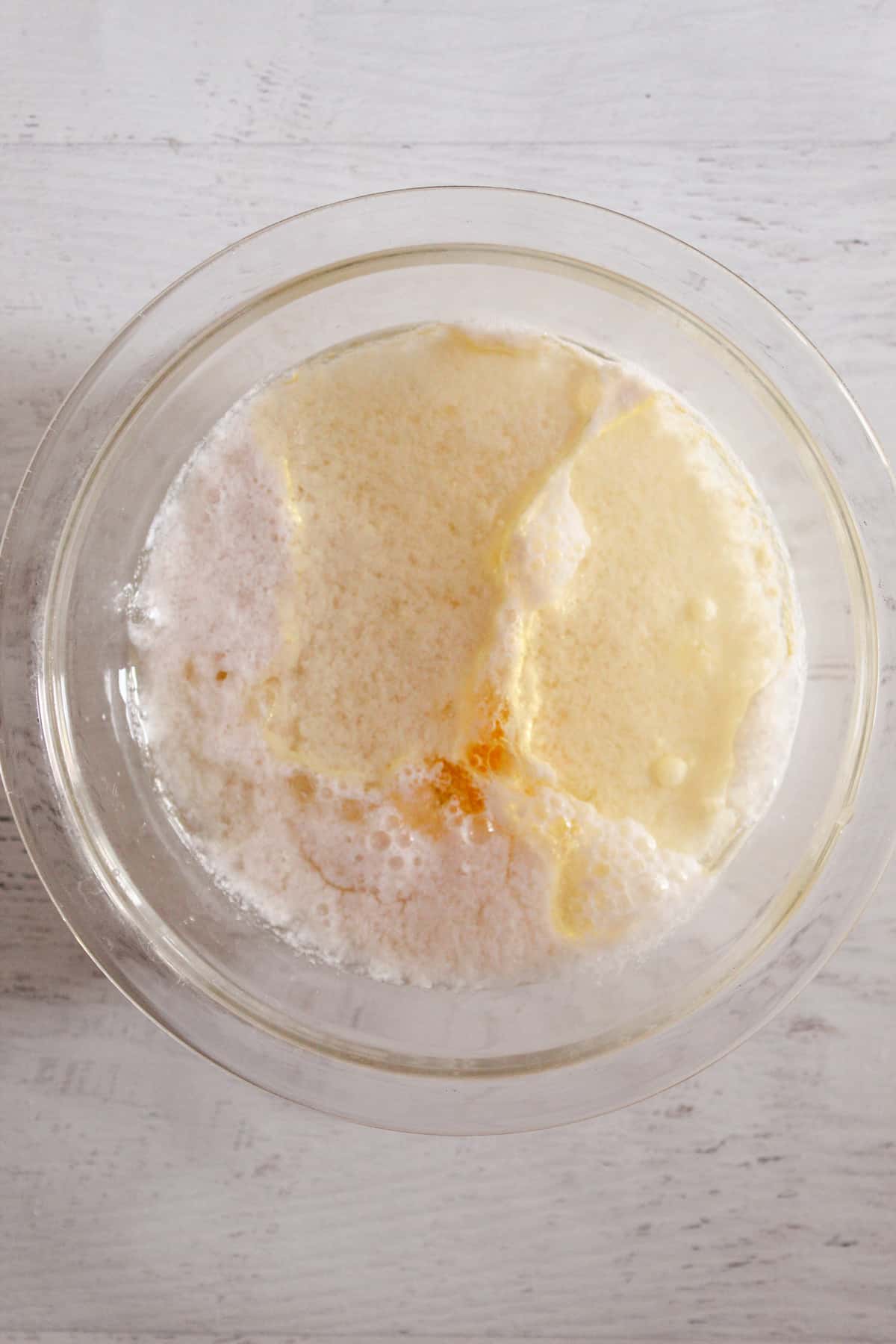 Step 2: In a medium bowl, whisk together the buttermilk, oil and egg until combined.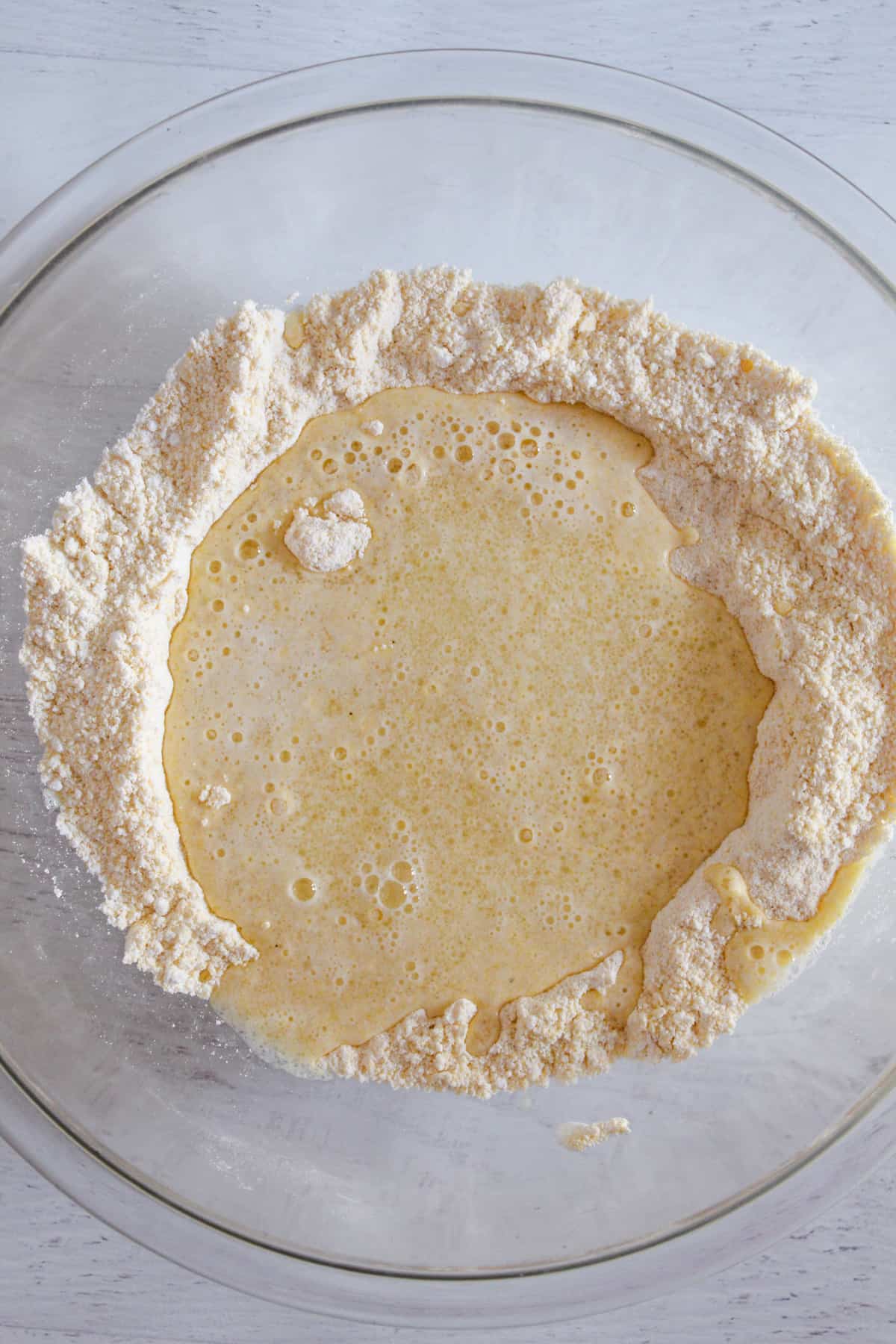 Step 3: Add the wet ingredients to the dry and stir with a spoon until there are no lumps (about 30 seconds). Let the batter rest for 30 minutes and preheat the oven to 400F.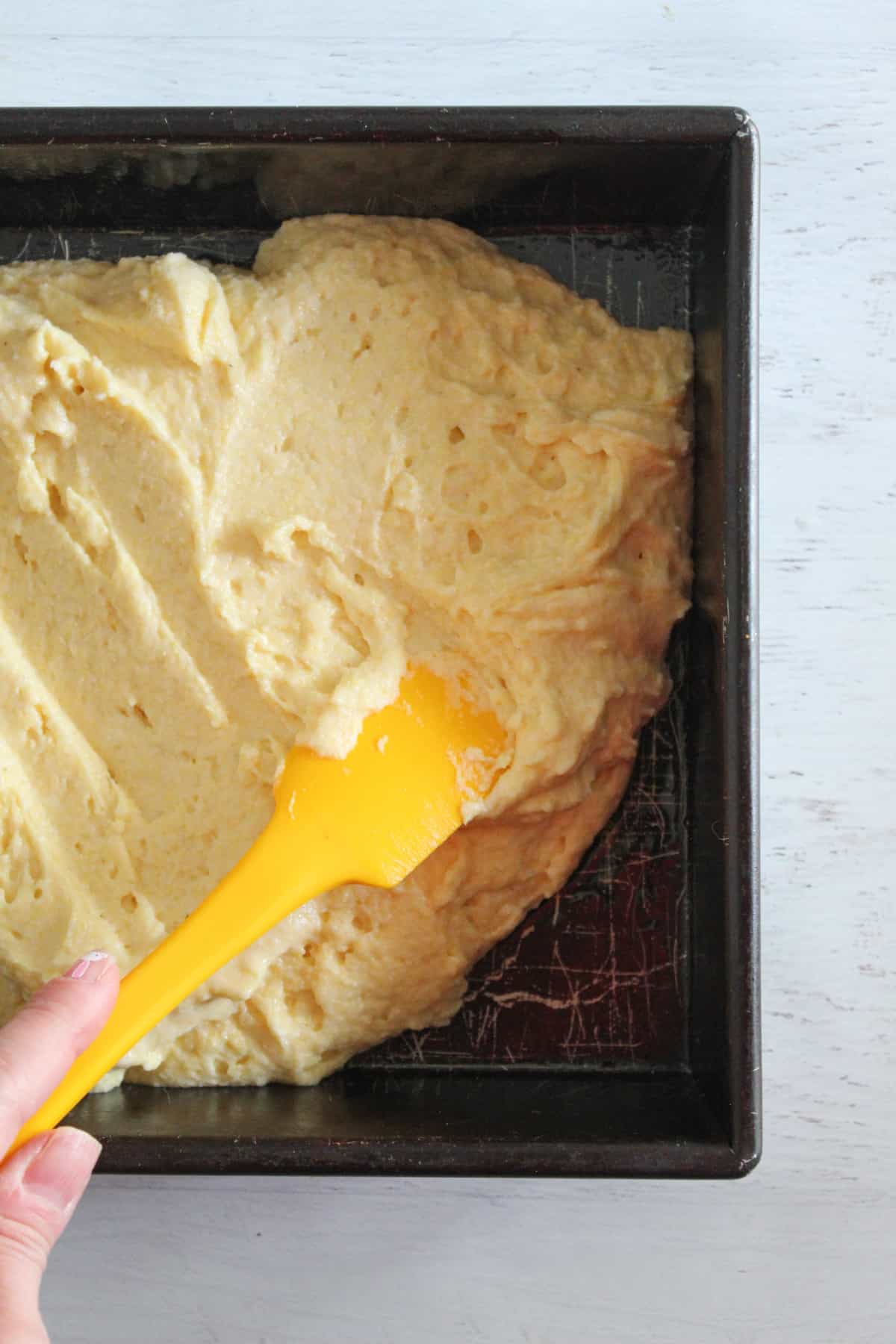 Step 4: Grease an 8x8" pan or a cast iron skillet with cooking spray and pour batter into the pan, spreading to the edges.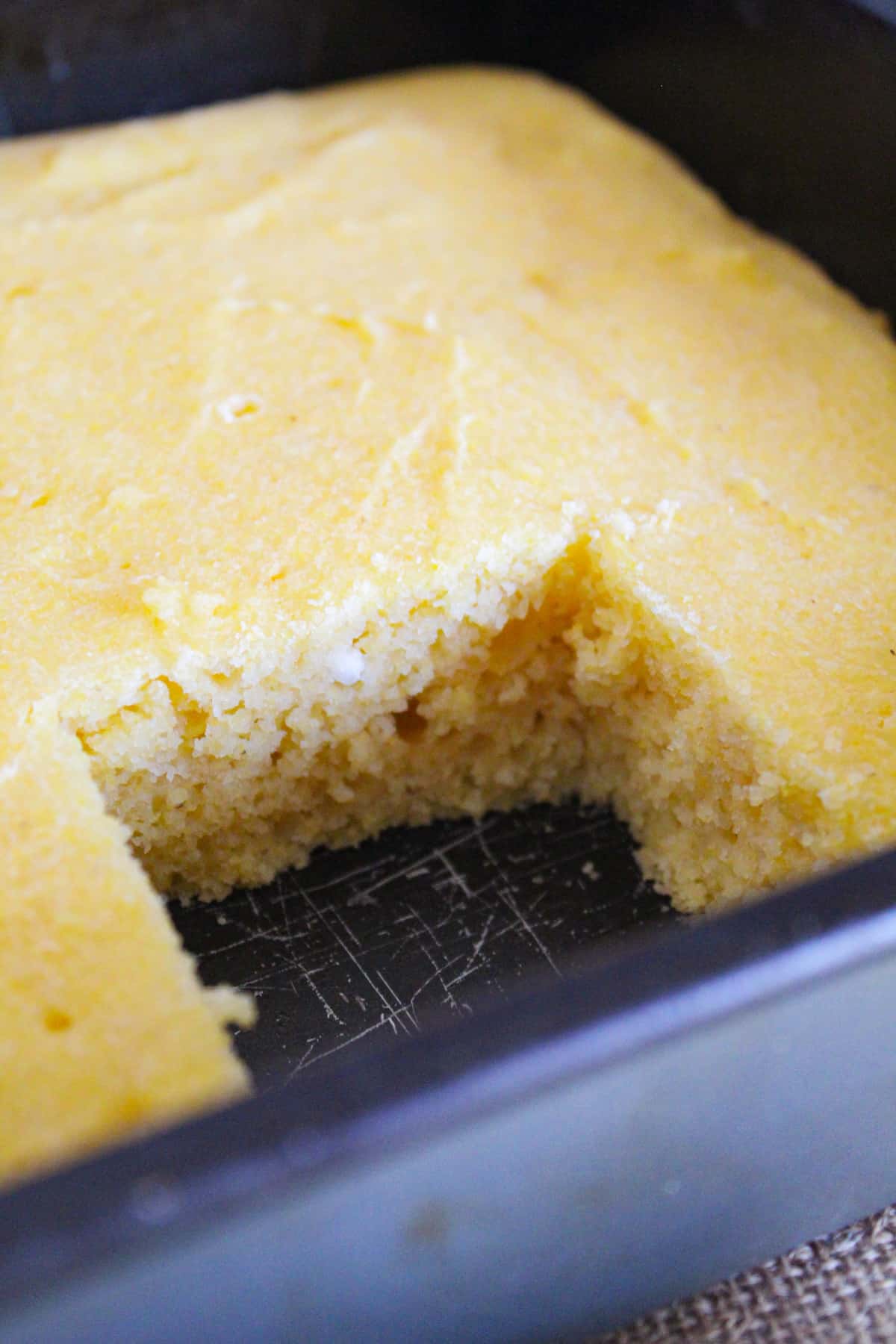 Step 5: Bake at 400F for 20-25 minutes (the bake time may vary, so check it with a toothpick - it should come out clean when inserted into the center).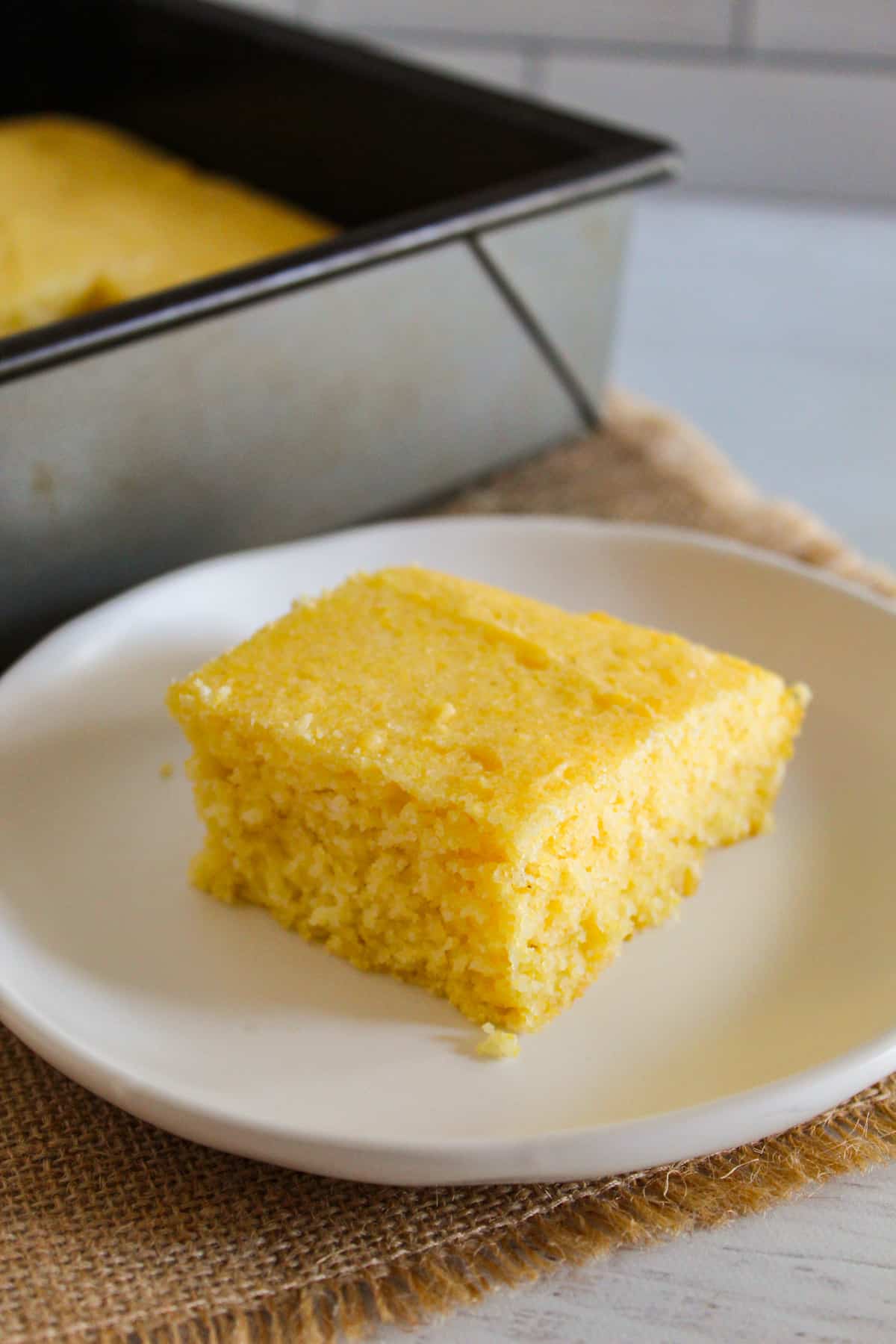 Step 6: Let cool for 10-15 minutes in the baking pan or in the cast-iron skillet on a wire rack. Cut into squares and serve while it's warm!
Serving & Storing Leftover Cornbread
With cornbread, the possibilities are endless! Serve it with a spot of dairy-free butter alongside delicious dishes like chili, gluten-free beef stew, soups, barbeque, beans, and more. Or serve it for breakfast with maple syrup.
Another great way to use cornbread is in this cornbread Thanksgiving stuffing. A better question would be what doesn't go with cornbread?
For any leftover cornbread, store it at room temperature in an airtight container and use within 2 days. Cornbread also freezes well. Store it in the airtight container and freeze for up to 1 month.
💭Pro Tips for Making this Easy Recipe for Cornbread
Even if you've never been successful in making gluten free cornbread from scratch before, you will be now. Check out these tips to create the best, most springy cornbread in the world – and no one will even know it's gluten free!
1. Use Room Temperature Ingredients
Cornbread batter can be picky, If the eggs are too cold or the buttermilk is cold, it won't bake up light and tender and the texture will be flat. Just let the ingredients sit on your counter for about 30 minutes and you'll get that high rising, lovely bread you're imagining. Follow these tips if you need to quickly bring eggs to room temperature.
2. Whisk the Batter Until it has No Lumps
Even though your gluten free recipes can't get tough due to overworking the gluten, this one needs a kick to make sure the batter is fully mixed and there are no lumps remaining. A whisk will do the job - mix until fully blended and then let it rest.
3. Let the Batter Rest for 30 Minutes
Giving the mixed batter time to rest is an important part of gluten free baking. Especially with this recipe, you'll see the batter expand a little and that helps produce the lightest, most tender cornbread. I explain this step more in my gluten free baking masterclass.
4. Making Gluten-Free Cornbread Muffins
This easy recipe can be turned into gluten-free corn muffins as well! The only difference will be with the baking time. Pour the batter into a greased muffin tin and bake - start checking the muffins at 15 minutes of baking time.
Gluten Free Cornbread FAQs
Can I use another flour mix in the recipe?
I have not tested another flour mix but other brands may work.
What's the best way to store this cornbread?
Baked cornbread, like other gluten free baked goods, tends to get stale quickly. It's best enjoyed the first day, but if you have to store it, cover it well with foil and leave it at room temperature for up to 2 days. Any longer than that and you'll want to freeze it.
Is this recipe good for making cornbread dressing?
Yes absolutely! My cornbread dressing recipe was created using this cornbread recipe. After a couple of days, it's the perfect crumbly texture for cornbread dressing!
Is cornmeal gluten free?
Yep! Cornmeal is made from corn, and it's completely free of gluten. Remember to buy cornmeal that's certified gluten free so you can be sure there was no cross-contamination.
What kind of cornmeal is best?
A finer ground of cornmeal will produce cornbread with less grit to it. A coarser cornmeal will be a bit more substantial. Experimenting with the different types might be the best thing when it comes to creating the perfect gluten free cornbread for your tastes. This recipe uses regular, yellow cornmeal – not fine, not coarse.
Other Gluten-Free Recipes
Did you make and love this recipe? Give it your review and

rating below! And make sure to follow me on Instagram, Pinterest and Facebook too!
Recipe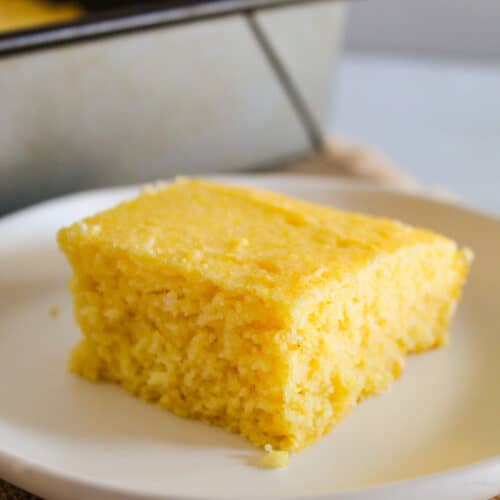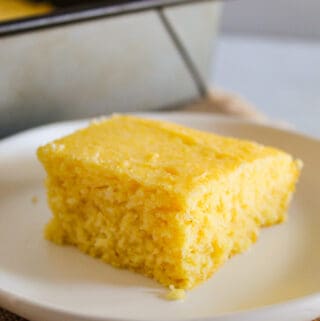 How to Make Gluten Free Cornbread (Dairy Free)
If you're looking for that perfect, easy gluten free cornbread that's the right balance of tender and light, then this is your recipe! Bonus that it's dairy free too!
Print
Pin
Rate
Ingredients
160

grams

gluten free flour mix

about 1 ¼ cup

125

grams

cornmeal

about ¾ cup

2

Tablespoons

granulated sugar

1

teaspoon

xanthan gum

2

teaspoons

baking powder

½

teaspoon

salt

1

cup

buttermilk

made with almond milk

¼

cup

vegetable oil

1

large

egg
Instructions
In a large bowl, add the flour mix, cornmeal, sugar, xanthan gum, baking powder and salt. Stir with a whisk until combined. 

In a medium bowl, whisk together the buttermilk, oil and egg. Mix until completely combined.

Add the wet ingredients to the dry mixture and stir with a spoon until no lumps remain, about 30 seconds.

Allow the batter to rest in the bowl for 30 minutes. Meanwhile, preheat the oven to 400 degrees.

Grease an 8"×8" baking pan with cooking spray. Set aside.

Pour the batter into the pan. Spread to the edges with a spatula.

Bake the cornbread for 20 - 25 minutes or until a toothpick inserted into the center comes out clean.

Let the cornbread cool for 10 - 15 minutes in the pan on a wire rack. Cut into squares to serve.
Notes
The recipe was tested with the gluten free flour mix here. Other brands may work, but they have not been tested.
The sugar can be substituted with Swerve sweetener but it does alter the taste slightly. 
Use a whisk to mix the batter to remove any lumps.
Let the batter rest for 30 minutes before baking.
Cornbread may take anywhere from 20 - 25 minutes to bake. Check it by sticking a toothpick in the middle - it should come out batter-free. A few crumbs are ok.
Serve cornbread with butter, honey or maple syrup.
Cornbread is best eaten the same day it's made, but store any leftovers covered at room temperature for up to 2 days. Warm pieces in the microwave before serving.
Freezing is not recommended.
Nutrition
Calories:
194
kcal
|
Carbohydrates:
26
g
|
Protein:
4
g
|
Fat:
9
g
|
Saturated Fat:
6
g
|
Cholesterol:
21
mg
|
Sodium:
166
mg
|
Potassium:
177
mg
|
Fiber:
3
g
|
Sugar:
5
g
|
Vitamin A:
70
IU
|
Calcium:
82
mg
|
Iron:
1
mg