Golden brown, gluten free French Bread that tastes as good as it looks? Yes, please!
This tender loaf of bread is crusty on the outside and pillow soft on the inside, making it a perfect combination to use for delicious spaghetti dinners and big bowls of soup.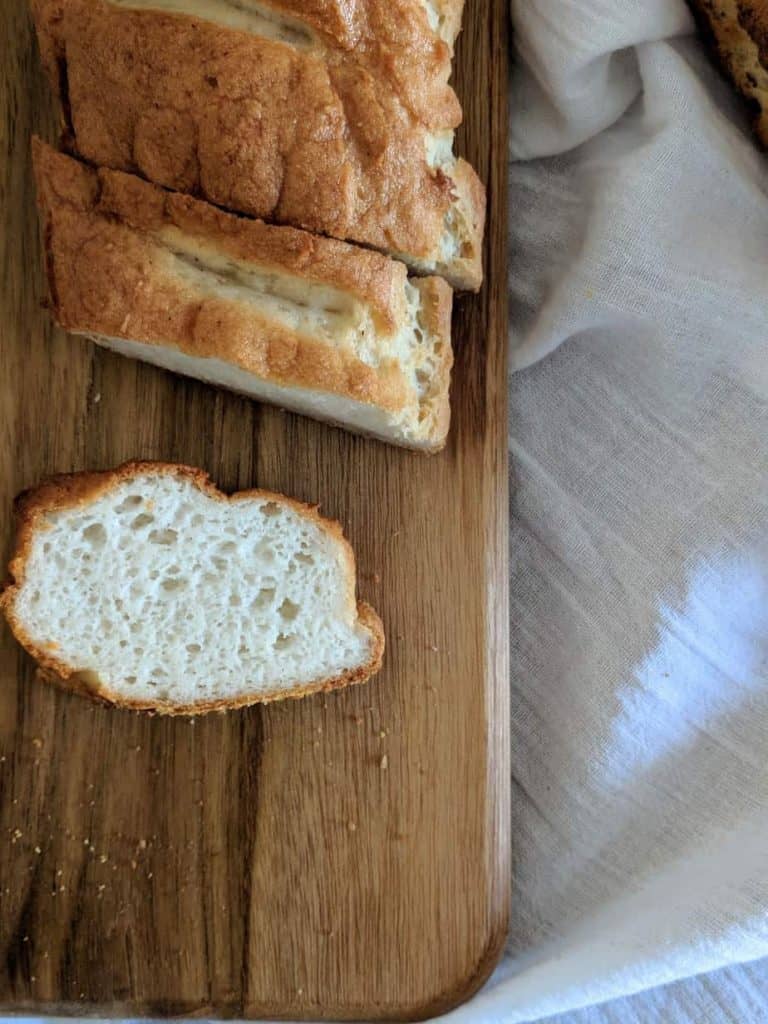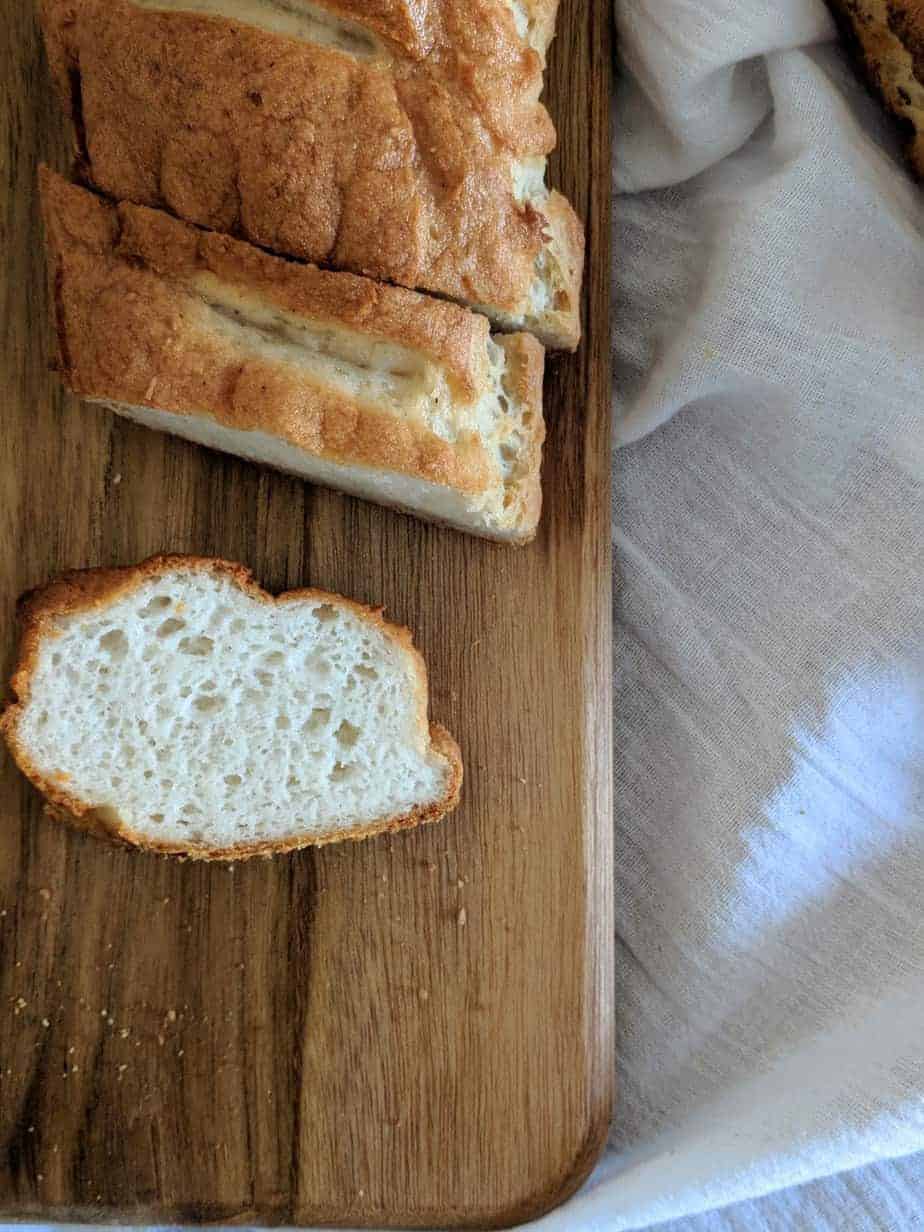 This post contains affiliate links. Affiliate links support Zest For Baking at no additional cost to you. I receive a commission if you choose to make a purchase through these links.
You've seen those loaves of French Bread at the grocery store – the ones that are right by the check-out and fresh baked so the smell just carries throughout the entire store?
Well these are those loaves! And they just happen to be gluten free AND dairy free. So that makes them even better. They are so delicious just sliced and served with butter or set a loaf aside (the recipe makes 2 loaves) for some French toast casserole.
Why this recipe is the best!
These mouthwatering loaves are the real deal – they ARE traditional French Bread loaves. With a golden, crispy exterior and an interior you can just pull apart and enjoy, they have the absolute best texture of any French Bread. And that's a strong statement, but I stand by it. Not only that, they're: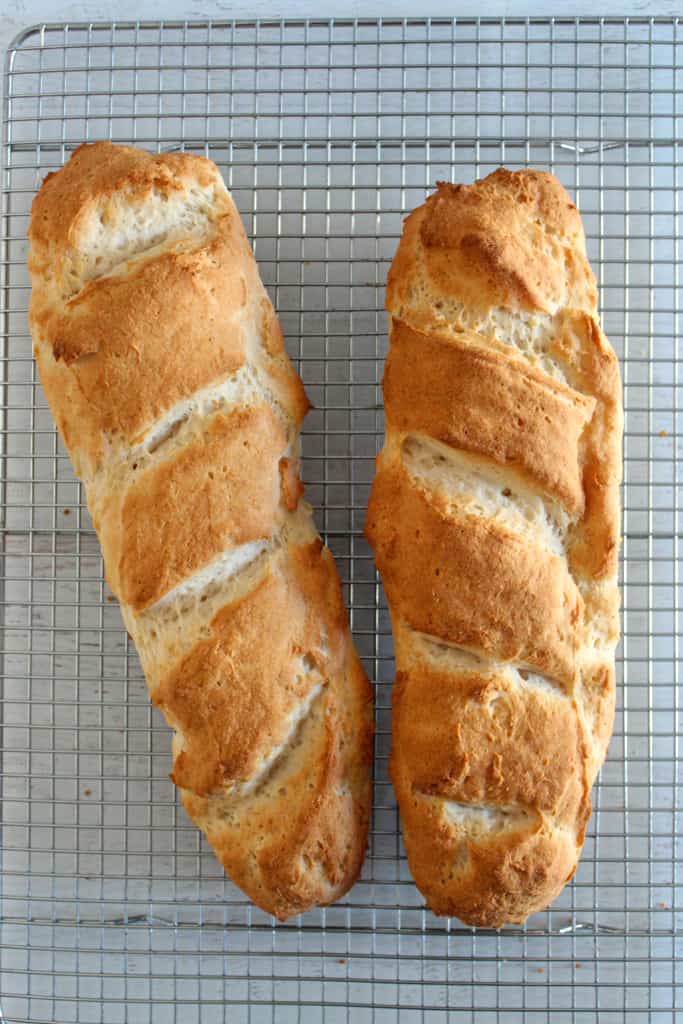 Bread baking pro tips
Nothing is as frustrating as getting all geared up to make bread and then have it flop, for no obvious reason! Follow these pro tips so that doesn't happen...
Measure by weight
Most of my recipes will offer a cups portion for ingredients. Something like 100 grams (about ½ cup) but that's just so you have an idea of how much 100 grams might measure out to. But always, always use a digital scale, like this one, to the weigh the ingredients. Weight is a much more accurate way of measuring ingredients and especially in baking, where the measurements are crucial. A few grams off, either way can ruin a recipe. Plus once you start measuring by weight it's so easy to just pour flour into a container to weigh than dragging out measuring cups!
Use room temperature ingredients
It is so tempting to just grab eggs and butter from the refrigerator and start mixing but it's very important to wait until all ingredients are at room temperature before mixing anything together. The reason why is explained in more detail in my baking class but room temperature ingredients blend together better resulting in better textured breads and baked goods.
Tip for working with egg whites: Cold eggs separate easier than warm eggs. So the trick is to separate them while they're cold... then let the whites sit at room temperature to warm before using them.
Use a French bread pan
A French bread pan like this one is what makes these loaves French bread loaves! These pans are typically curved with tiny holes. This allows the air to easily circulate through the batter and pan, making the outside nice and crusty. And typically you sprinkle the pans with a dusting of cornmeal to prevent the bread from sticking to the pans.
Check with an instant read thermometer
While quick breads like this pumpkin bread, and muffins, like these lemon blueberry muffins, can be checked for doneness just by inserting a toothpick in the middle and making sure it's clean or nearly clean, yeast breads are a different story. The best, most reliable way of making sure they are done is to use an instant read thermometer. For this bread, and most of my other breads, like this white bread and this oat bread too, you're looking for the thermometer to register between 205 - 210 F.
Using them is super simple. Basically just open it up and stick the tip into the middle part of the bread, not touching the other end of the pan, but far enough in that it's in the middle. Then watch the temperature. It should hit 205 fairly quickly. If it's far from it, stick it back into the oven for another few minutes and check it again.
How to Make Gluten Free French Bread
Ingredients & substitutions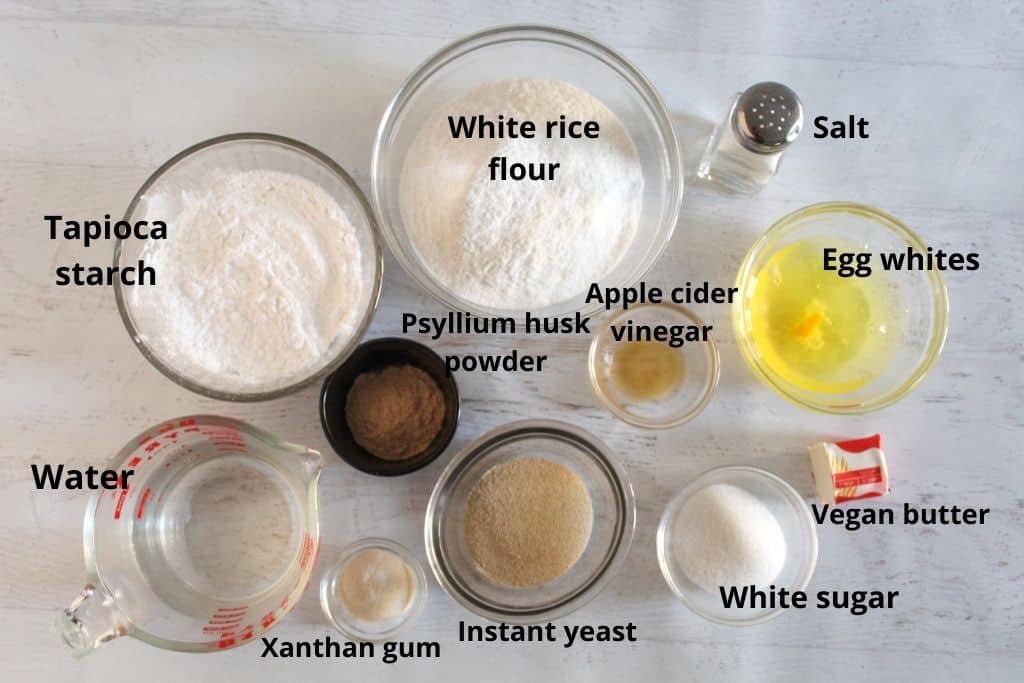 This bread uses convenient flour like white rice flour and tapioca starch... but for the absolute best results, here is a list of brands I recommend and tips if you need to use something different in its place. Also check my substitutions guide if you need to figure out what substitutions to make for other recipes!
Mixing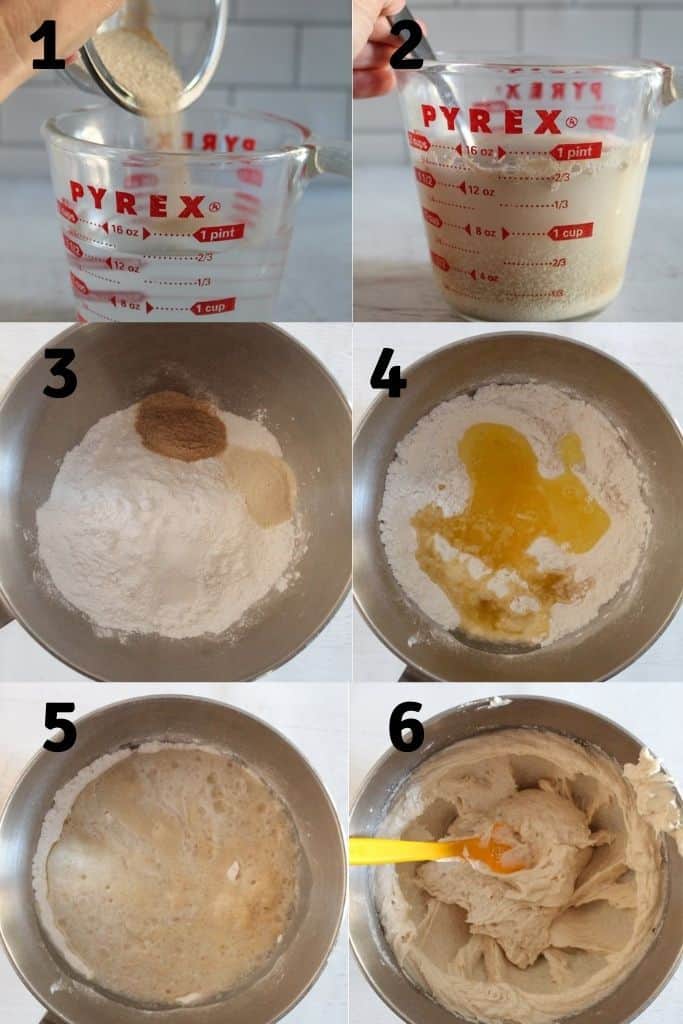 I often call gluten free bread dough, batter, because it truly resembles more of a batter than a stretchy dough. After many years of baking gluten free breads, I've finally gotten over the temptation of wanting it to be stretchy. It's not going to happen. But it does turn out to be a delicious loaf of bread!
Step one in getting this batter ready is to dissolve the sugar in the warm water as in image 1 above. After the sugar granules are completely dissolved, add the yeast (step 2) and stir to mix.
In the bowl of a stand mixer, add the dry ingredients (step 3) and mix to incorporate. Then add the melted butter, egg whites, apple cider vinegar (step 4) and yeast mixture (step 5). Mix on medium high for 3 minutes until dough forms (step 6).
So now you've got this batter-like dough ready. Now comes the fun part!
Prepping the pan
First place the French bread pan on a cookie sheet. This will prevent the cooking spray from getting all over your counter. Then spray it well with the spray. Then take a pinch of cornmeal and dust each side with cornmeal.
Forming and rising
When you spoon the dough onto the French Bread pan, you want to make sure to smooth the tops with a spatula, as it will keep the exact same shape, even after rising. So if you leave it lumpy, the loaf will be lumpy when baked.
Then take a sharp knife and cut 4 diagonal slices in each loaf.
This is what gives French bread that characteristic look!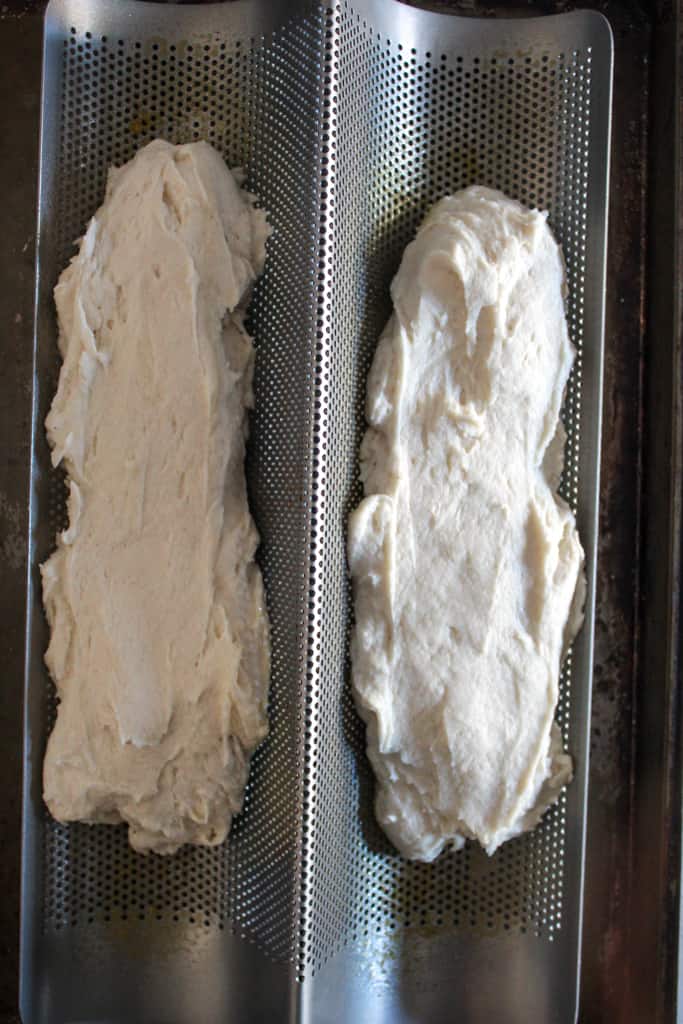 The rise time for these loaves is short - just between 15 - 30 minutes. The batter should just hit the top of the pan.
Baking
Place just the French bread pan (without the cookie sheet underneath) in the oven and bake at 400 F for 30-45 minutes or until an instant read thermometer reads 205-210 F.
A word about French bread pans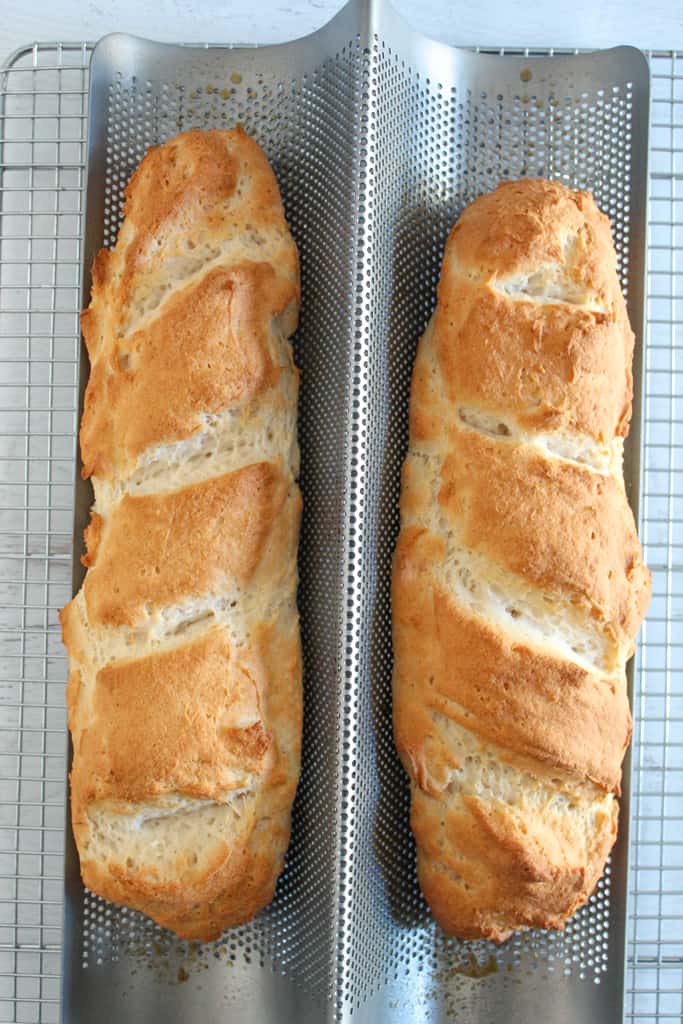 See that gorgeous crust? It gets that lovely shade from the baking process. These loaves are baked in French Bread pans. These pans have tiny holes throughout the curved bottom so they bake the loaves the way they are supposed to be baked…
French bread pans allow steam to escape through the tiny holes to allow the crust to get crispy and deep golden brown.
This is the pan I use and I highly recommend it: Commercial Non-Stick Perforated French Bread Pan.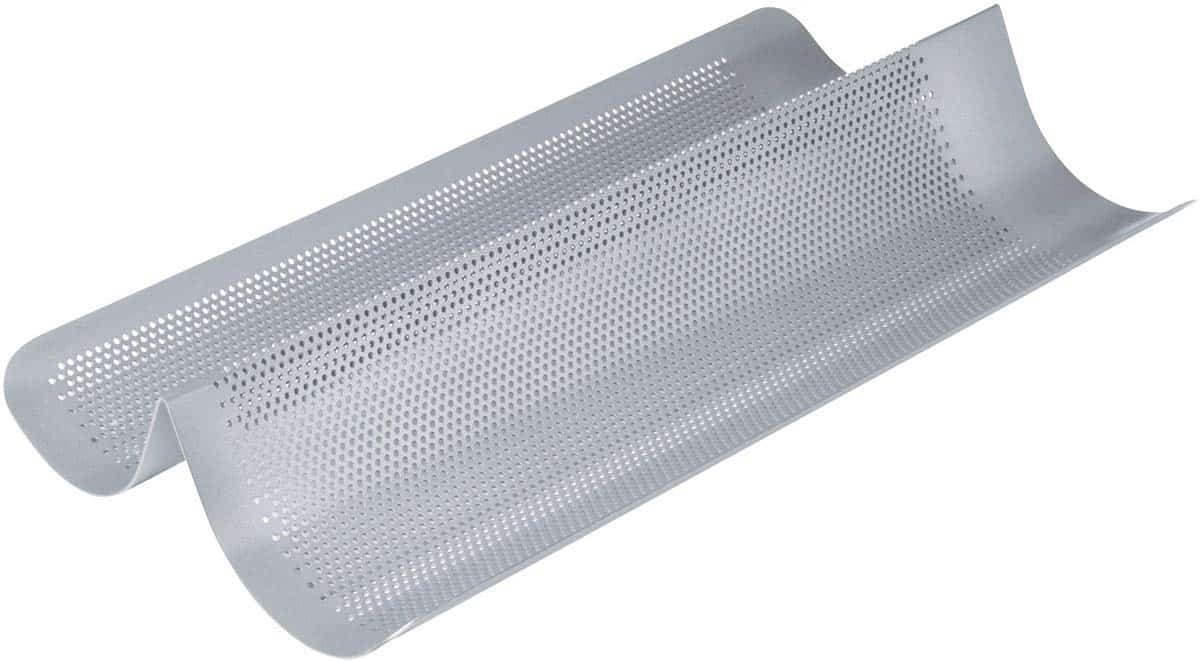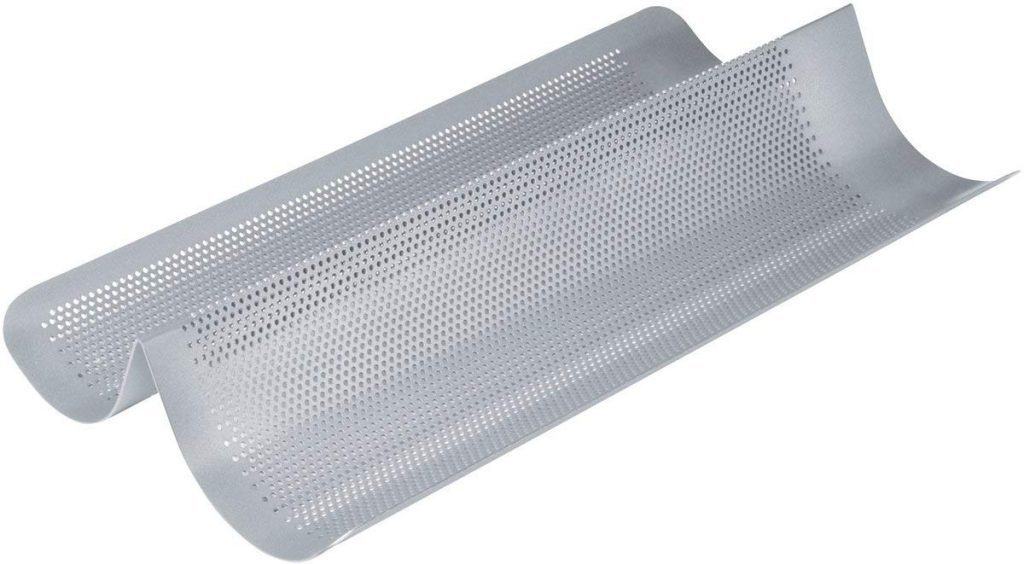 It's lightweight and bakes perfect loaves every time!
FAQ's
Can I use another flour besides the rice flour and tapioca flour?
For the tapioca flour, yes. Cornstarch or potato starch would work equally well. The second best substitute for the white rice flour would be brown rice flour but the baked bread is not the exact same texture and consistency.
What's the best way to store this bread?
So after the bread is baked, cool it completely and then you have 2 options for longer storage... either slice the entire loaf and freeze it, then toast individual pieces as needed. Or slice the loaf in half and freeze the loaf. Then place it in the toaster oven to 'toast' (heat quickly) and enjoy with butter.
Can I substitute the egg whites?
The best substitute for the egg whites would be these vegan eggs by Follow Your Heart. Because it's not just the white, the bread may be a little darker shade.
Can I make this into garlic bread?
Yes! Just slice the loaf into inch thick slices and spread butter and garlic onto each slice. Then toast each slice in the toaster oven until butter is melted. Also check out this garlic bread recipe too!
Now that your mouth is watering for this Gluten Free French Bread, here is the easy recipe... oh and If you enjoy this recipe, will you give it a rating?
Recipe was originally posted March 2018. Updated and revised May 2019
Recipe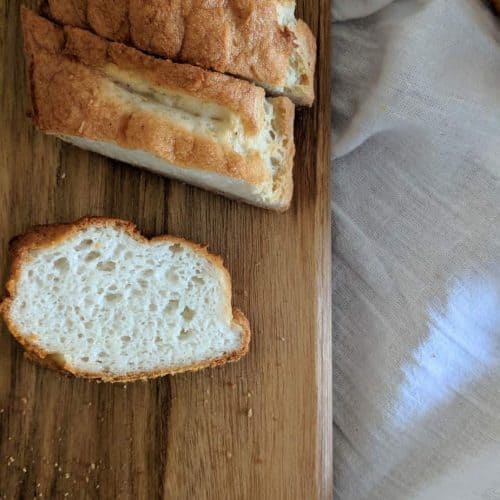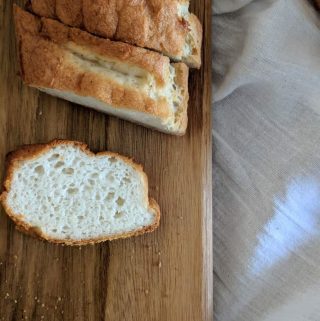 Golden Gluten Free French Bread (Dairy Free Too!)
Golden gluten free French bread that tastes as good as it looks. Serve these golden brown loaves and watch them disappear!
Print
Pin
Rate
Ingredients
29

grams

granulated sugar

about 2 Tablespoons

1 ½

cups

water

70 – 80 F

21

grams

quick rise yeast

about 2 Tablespoons

310

grams

white rice flour

about 2 cups

120

grams

tapioca flour

about 1 cup

2

teaspoons

xanthan gum

1 ½

teaspoons

salt

2

teaspoons

psyllium husk powder

2

Tablespoons

Earth Balance butter substitute

regular butter can be used, melted

3

egg whites

1

teaspoon

apple cider vinegar

Cornmeal for dusting the pan
Instructions
Prepare a French Bread pan (this is the one that works really well) by placing it on a cookie sheet and spraying lightly with cooking spray and dusting it with cornmeal. Set aside.

In a measuring cup, fully dissolve sugar and water. Add in the yeast and stir to combine. Set aside.

In the bowl of a stand mixer or a large bowl for a hand held mixer, add the rice flour, tapioca flour, xanthan gum, salt and psyllium husk powder. Beat on low speed for 30 seconds to combine.

Add the melted Earth Balance, egg whites, vinegar and yeast mixture to the dry ingredients.

Blend for 30 seconds to mix. Stop the machine and scrape the sides down. Beat the mixture on medium for 3 minutes.

Spoon the batter into the prepared pans, each side measuring 10 inches long. Smooth the tops.

Using a sharp knife, cut four, 2-inch diagonal cuts in the top of each loaf.

Cover the pan with a light towel and let the loaves rise for 15-30 minutes or until the batter reaches the top of the rim.

Preheat the oven to 400 F and bake the loaves for 35-45 minutes or until an instant read thermometer registers between 205-210 F.

Cool on the pan for about 5 minutes before removing to a wire rack to cool completely.
Notes
Proof the yeast for a few minutes before adding the rest of the ingredients.
Don't be shy about beating the batter on medium. 
Make sure to smooth the tops, the loaves will turn out very similar to the way they look before baking.
Bake just the French bread pans, not the cookie sheet used for prep.
Nutrition
Calories:
105
kcal
|
Carbohydrates:
21
g
|
Protein:
2
g
|
Fat:
1
g
|
Sodium:
179
mg
|
Potassium:
35
mg
|
Fiber:
1
g
|
Sugar:
1
g
|
Calcium:
2
mg
|
Iron:
0.2
mg
Want more gluten free bread recipes? Sign up for our email list and get the latest ones sent right to you! And while you're here, also check out:
Helpful gluten free baking tips: